Last updated on March 28th, 2019 at 06:25 pm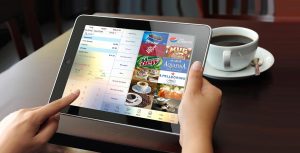 Running a restaurant isn't easy. You've got food to cook and serve, employees to manage, and customers to please.
So, you need the right POS system to keep you organized and on track, even on the busiest nights of your business.
There are a lot of restaurant POS systems out there, ones that are designed and set-up specifically for the food business. Our top five picks will help you manage tables, keep track of employees, and stay on top of your inventory.
Our Top Pick Among Restaurant POS Systems: TouchBistro
TouchBistro is the Apple app store's number-one selling food app, and for good reason. With an attractive and simple design, TouchBistro provides all the services you need for your restaurant's POS system. Their price point is affordable, too.
Top Restaurant POS Systems Comparison
[table "75" not found /]

Our Next Best Restaurant POS: ShopKeep
While ShopKeep wasn't designed specifically with restaurants in mind, a lot of its features can accommodate restaurants.
Their inventory tracking feature, where you can break it down to the smallest raw ingredients, is especially effective at reducing food waste. And at affordable pricing, it's tough to beat ShopKeep's functionality.
---
TouchBistro: Why It's Our Top Choice for Restaurants


TouchBistro has been around since 2011, and has already claimed a number of awards – including the title of top-selling app.
The program's design and simplicity definitely places it a cut above the rest when it comes to restaurant-focused POS systems.
The Features
TouchBistro is one of the most popular and comprehensive restaurant POS system out there. In addition to simple setup and design, TouchBistro's layout can handle seating and table assignments.
Menu selections and ordering, wireless transfer of order to the kitchen, split tickets and tabs – the list goes on. Whatever food service-specific feature you can think of, TouchBistro has it, and more.
You get plenty of back-end functionality, as well. TouchBistro offers basic employee management and reporting tools.
Complete with the ability to create individual employee logins and sales statistics reports.
There's nothing too fancy here, but it's enough to keep a small restaurant running.
TouchBistro's POS system can process any kind of payment transaction. Whether it's cash or cards or mobile payments, TouchBistro can handle it all.
Most other POS systems don't come with such complete payment processing functionality – giving TouchBistro a leg up on the competition.
The POS system is also fully customizable. It's easy to add modifiers even over the course of the day. You can also organize the menu how you want it to be seen, and add full-color, high-res photos.
Pricing
At $69 a month, TouchBistro remains at a reasonable price point for small businesses. You can also easily expand your subscription to two or more registers, with no contract.
Downside
TouchBistro does, however, have its limitations. The POS system was designed to manage the restaurant customer experience. But the inventory features could use some expansion: for instance, the addition of a raw ingredient tracking feature.
Verdict
TouchBistro offers a comprehensive range of features for pretty much any kind of restaurant. Whether you're large or small, table service or quick serve, TouchBistro will fulfill all of your POS system needs.
---
ShopKeep: A Great iPad POS System for Restaurants

ShopKeep is one of the most affordable, and highly praised, out of the all-in-one restaurant POS systems out there.
It's simple and easy to use but comes with a range of features that are adaptable to almost any business.
The Features
ShopKeep has all the basic features you would want out of a POS system, including employee and inventory management. Their back office features are extensive, and include the ability to manage employee access permissions.
You can configure access levels by individual employee, so they can only use the features you want them to use.
ShopKeep's inventory functionality is particularly impressive. With ShopKeep, you can track quantities of each item.
Set reorder points and generate a report detailing reorder criteria for any low-stock item. For restaurants, their raw ingredient tracking feature will be particularly useful.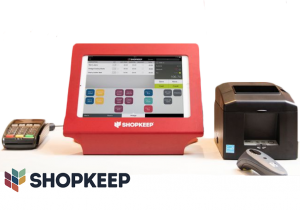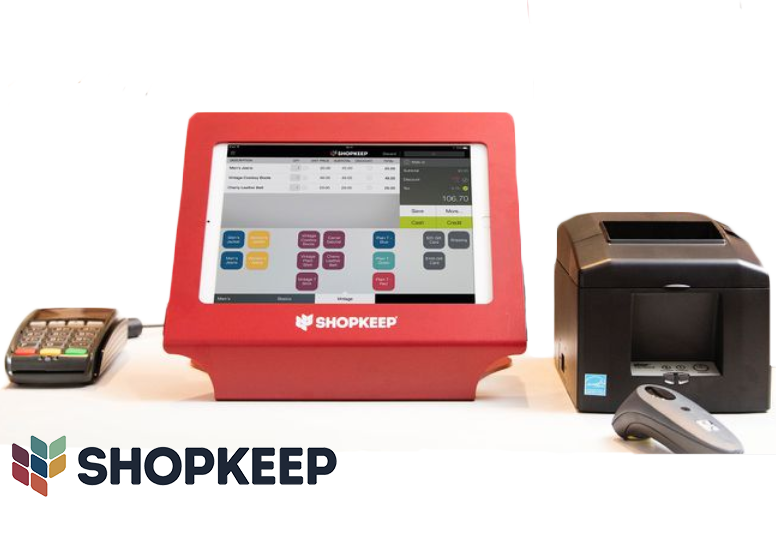 By breaking inventory down by raw ingredients and bundling together specific items.
You can keep better track of how many ingredients you have for which dishes.
That way, not only do you stay on top of the meals you can make and serve that day, but also potentially cut back on food waste.
Pricing
ShopKeep remains at an extremely affordable price point for small businesses. For $69 a month for one register.
You get 60 days of free support from a ShopKeep expert, and continued 24/7 customer support. You also get access to their full range of features.
If you're unsure about whether to commit, ShopKeep offers a 14-day free trial. And with no contract, you can cancel at any time with no penalties.
Customer Service
ShopKeep also works with the customer in mind. Unlimited support is available 24/7 with even the single-register subscription.
Customers also have access to an extensive site of articles and video tutorials to help them get started with the software.
Verdict
ShopKeep was designed with small specialty vendors in mind. If you're a café, or a similar small quick-serve restaurant, you may find that ShopKeep's features satisfy your needs.
But for full-service restaurants with more complicated menu and seating configurations, ShopKeep may not be the POS system for you.
---
Talech: Intuitive Restaurant Software & Robust Reporting
Talech is a low-cost but perfectly viable POS option. They go beyond the standard POS offerings of cloud capability, intuitive design, and integrations. You may be surprised at how much talech is able to offer.
The Features
Talech offers pretty much all the features you'd expect from a restaurant-focused POS. They have the typical register and cash management functions such as splitting tickets, till counts, and payouts.
But they do offer more than just what you would expect. With the inventory function, you can track product history and performance and configure taxes on a per-item or per-category basis.
You can also create bundled products, grouping certain items together and selling them as one unit. But you can still track the raw materials that go into these items individually, so you can still keep tabs on your sales.
Pricing
One of the most attractive points about talech is their pricing. For the standard plan, you only have to pay $49 a month – making talech easily the cheapest option on this list.
But you won't have full access to the features talech has on offer. For that, you'll have to sign up for their $99 per month premium plan.
With this plan you get more advanced inventory management, automatic gratuity, and table layout, among other features. Larger businesses may find the professional plan more useful.
Downside
Talech is a cloud-based system, so none of your data is stored locally on the devices. While it makes your data easy to access anytime, anywhere, if you experience an internet outage you won't be able to use the system.
Another knock against talech is their reporting suite. While it is perfectly functional, it's not as robust as it could be – especially if you're a larger business.
Verdict
For a restaurant just starting out, talech is pretty much the cheapest option you can find. And their functions and features are scalable in case your business grows.
---
Toast: An All-In-One Restaurant Management Solution
Toast is another POS system that specializes in the food service industry, and offers an all-in-one restaurant management solution.
The company was also named the hottest startup in the 2016 NEVY awards, so they're definitely doing something right.
The Features
Toast offers all the food service industry specific features you could want. With Toast, splitting checks is made easy with an intuitive drag-and-drop function. Transferring a check to a different table is also intuitive, made effective by a simple swipe.
The close out day function is particularly handy. With this feature, you get an audit report on the current status of all checks and employee activity.
Toast also automatically closes out all paid checks and clocks out employees, so you don't even have to manually intervene in the case of human error.
Unpaid checks, of course, will not be closed out, and you can easily review the audit and take care of any issues before close.
Customizable
Toast makes customizing service areas easy. You can choose from a variety of table shapes and just drag and drop seating as you arrange your layout. You can also assign each table a length, width, and height, creating an accurate layout of your restaurant.
Pricing
With all the features it offers, Toast is not the cheapest POS option out there. For a professional plan, you'll be paying $100 a month. But you'll have unrestricted access to their full range of features and 24/7 customer support.
But even for the higher price, you'll still have to pay extra for certain add-ons if you want them. For physical and digital gift cards or online ordering.
You'll have to pay an extra $50 a month. If you want both, that's $100 a month – doubling your subscription payment if you're on the professional plan.
Verdict
Toast is best for the larger, more established restaurant. This restaurant POS system also comes with comprehensive bar features.
So restaurants with a bar may want to look into Toast. But at its price point, Toast may not be the ideal choice for smaller establishments.
Revel Systems: Full Suite of Features to Make Your Restaurant Quicker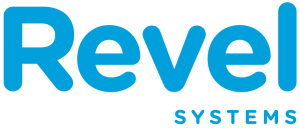 Revel Systems is one of the largest restaurant POS systems out there.
You'll find few other companies that offer as many features as Revel does, inside and outside of the food service industry.
The Features
Revel Systems comes with extensive front and back end features. From individual employee login IDs and customer-facing menu setup to data export.
Revel Systems makes it easy for you and your employees to get around. Even with all the features, Revel Systems' software is simple and intuitive to use.
Revel Systems boasts a lot of features that you'd be hard-pressed to find in a single POS system. Their software has a kiosk mode.
Kitchen view, and table listing functions, among their many, many features. It's a truly all-in-one POS system software.

Inventory Management
Managing inventory with Revel Systems is also made simple, as you only need an item and price to set up your stock.
You can easily organize inventory by color or size, and track inventory at the raw ingredient level. Revel also tracks your low stock items by highlighting them in red.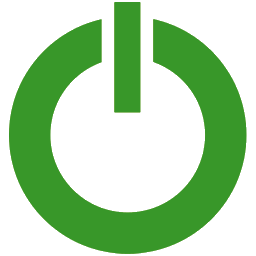 "Always on"
Revel Systems also has an "always on" mode, where you can keep doing business as usual even in the event of an internet outage. With this mode, you can continue to accept both cash and card payments, letting your day continue without a hitch.
Pricing
Revel Systems doesn't come cheap. One register will cost you $119 a month. But at this price, you get 24/7 live support and unlimited data storage.
Software updates, and QuickBooks integration. With all the features and perks you get, it might just be worth it if you can afford it.
Downside
But with all the features you get with Revel Systems, it takes a long time to set up. While functionality is simple, setting up menus, products, and inventory.
Can be a complex and even tedious process. You get what you pay for, though, with Revel Systems.
Verdict
As a feature-rich system, Revel Systems is a great POS system for larger, more established restaurants.
For smaller businesses, however, going through Revel's extensive catalogue of features may require more time and money than they can afford.
---
Maitre'D POS: A One Size Fits All Solution
Maitre'D touts itself as being one of the most feature-rich and customizable restaurant POS systems on the market.
As the name may suggest, Maitre'D was designed with the hospitality industry in mind.
The Features
Maitre'D stands out somewhat on this list, as it's not an exclusively tablet-based POS system. While you can get a tablet-based system with Maitre'D, the company continues to run a PC-based system.
Some people may find this a bit stuffy and old-fashioned, but it hasn't impeded Maitre'D's functionality.
The system can still do all the important back-office functions one needs out of a POS system. You can easily modify orders and keep accurate track of inventory.
Maitre'D is also a very reliable system – even with a high-volume business, the program is likely to keep running smoothly.
Among the features Maitre'D has to offer are floor management features, mobile POS solutions, and check splitting. For the back office, Maitre'D has sales forecasting tools, reporting and business analytics, and loyalty program add-ons.
You can also get a kitchen display system, at an additional cost. Maitre'D's POS can also automatically stock certain items based on particular recipes so that the most popular menu items will always be well-stocked.
But even with all the backend features you get, the front end is sadly, rather lacking. The system isn't wireless, and card payment capabilities are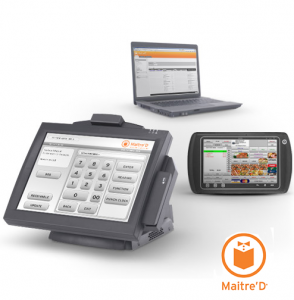 limited.
The system also limits the program's capacity for customer ordering and on the fly ticket modifications.
Pricing
Maitre'D's pricing is not too bad, at $50 per month per workstation. The hardware is also less expensive and less costly monthly.
As opposed to paying for licensing or hosting fees. You also have the flexibility to work with either PCs or tablets.
Verdict
As a PC-based POS solution, Maitre'D holds a top spot. In fact, it was named a Best POS Software of 2016 in PC Magazine.
However, those who want more front-end or mobile capabilities should best look elsewhere for a more versatile, if somewhat more expensive, program.
---
Our Final Review for Restaurant POS Systems
There are as many different types of POS systems out there as there are kinds of restaurants.
Looking at all the options you have, even for an industry-specific one, can get overwhelming.
Luckily, you don't have to look far to find a decent POS system.
We prefer the comprehensive features and affordable pricing of TouchBistro and ShopKeep, but if you're more established or a higher-end chain, Toast or Revel Systems might be for you.
Talech's price is pretty much unbeatable for the features it offers, and Maitre'D is a traditional but reliable and versatile POS system.
Why read through endless POS system reviews for your restaurant when you have us? Whether you have a large or small restaurant and need a POS solution, we hope this guide helped you.
Regardless of what you choose, you can't go wrong with any of these six POS options!
Save
Save
Save
Save
Save
Save
Save
Save
Save