(Last Updated On: 02/12/2023)
Written by Martin Nikolaev: Point of Sale Expert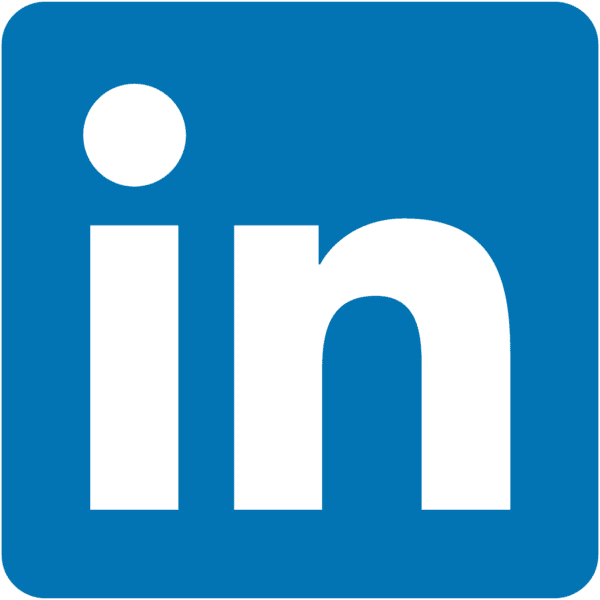 Our product review team dedicates hours of research, fact-checking, and testing to recommend the best solutions to business owners. We earn from qualifying purchases through our links, but this does not influence our evaluations. Why trust our reviews?  
Finding the Right Restaurant POS Systems for Restaurants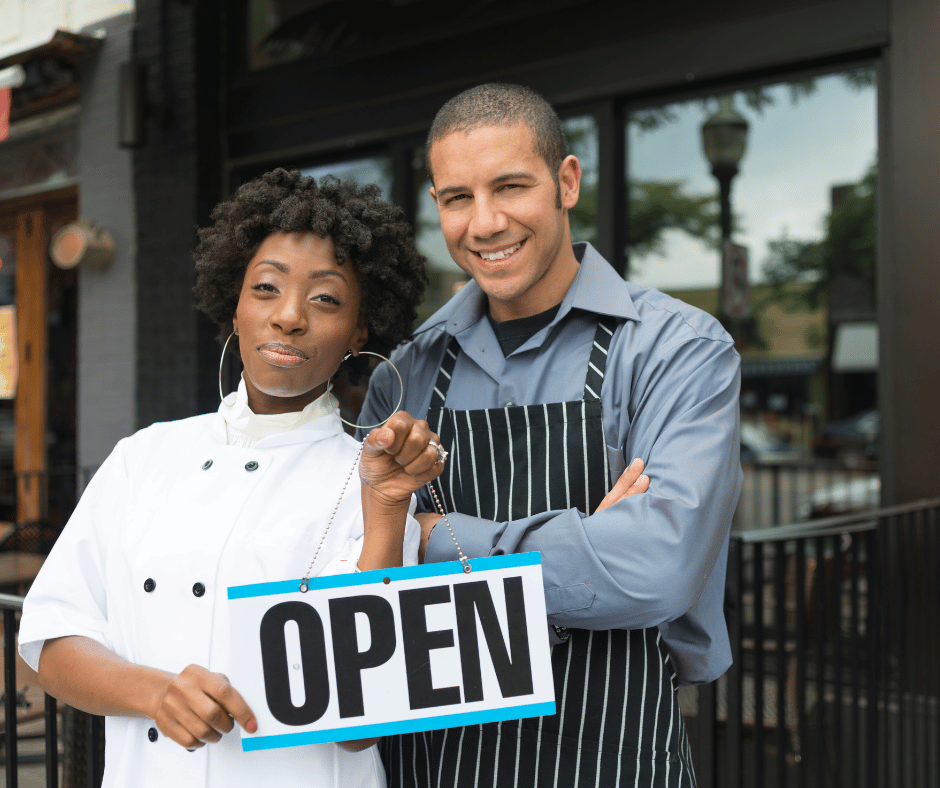 Running a restaurant can be stressful. If you own or manage one, then you're familiar with all the challenges it involves. The more tasks you can automate, the more you can maximize your results. Introducing a POS system for restaurants to your venue is the best way to achieve that (among other perks). However, over 60% (according to restaurant market research reports) of food establishments (small to large restaurants) still don't use a POS system. I think this is about to change, and statistics seem to support my opinion: the restaurant POS systems market is expected to grow steadily at a rate of above 6% per year. 
The ways in which we purchase food, clothes, or whatever you can think of have changed in just a few years. The recent global pandemic took its toll, and restaurant owners seem to be among those who got hit the hardest. It's been tough for the industry these past couple of years, but things are getting better. 
Both you and I understand that a business can only stay afloat if it's flexible enough to persevere. In the restaurant industry, the need for a change of your course of action requires a state-of-the-art POS solution. It's the one asset that would always be the competitive advantage you need to grow your business. 
In this article, I'll explain the reasons why a modern POS system is a must-have for every restaurant out there. To do that, I'll share how it would add value to your business by streamlining most managerial processes typical of any restaurant. I'll also list the advantages and drawbacks of the 25 best restaurant POS systems you can opt for. They all have their pros and cons, but that's fine. You see, there's no such thing as a universal solution, meaning that you won't find POS software that's a perfect fit for everyone. What you need is the best solution to YOUR particular needs and preferences.

You may also be interested in:
7 Best Food Truck POS Systems | Fast & Accurate Checkout
6 Best Coffee Shop POS Systems | Increase Average Spend
3 Best Fast Food POS Systems Reviewed
Here's what you'll find in the article below:
Summarized features that your new restaurant POS system MUST have

Buyers guide featuring all the aspects and features to consider 

The 25 best restaurant POS systems – individual reviews
Why Should You Trust My Opinion? | Introduction 
My name is Martin and I hope this comparison review helps you find the POS system of your dreams.
In the years I've spent reviewing POS systems for different industries, I've realized that business owners and managers sometimes find it hard to identify and pick the right POS system. This is why I've focused all my effort on presenting all possible options in an easy-to-comprehend format. This approach has already proven to be a winning combination, allowing restaurateurs and maître d's to easily compare what various POS vendors can offer them and choose the one that's a good fit. 
Everything suggested in this article is entirely based on personal experience and outlook, meaning that all suggestions and examples you find here should only be used as a source of information, inspiration, or for idea generation. The final choice is always yours and should be based on your own understanding of this matter.
The Importance of Finding the Best Restaurant POS System
A fitting restaurant POS system will allow you to plan and organize the time and tasks of your employees better, resulting in less time wasted and greater efficiency. Thus, your team will be able to focus on the ultimate goal: serving the customer and caring for them in every possible way. 
POS systems comprise software and hardware in various combinations, depending on the type and scale of your business. When it comes to restaurants, these all-in-one solutions are the perfect link between the kitchen and the front end. From my experience, people often think that having a POS system is simply a modern way to accept payments that would cost a lot to buy and run. This is not true. The best POS system for your restaurant will help you skyrocket your performance and reduce costs. Let's see how the magic happens.
Restaurant POS System Features | Summary
Mobile payments

: You already know that a growing number of clients and guests prefer payment means alternative to cash: cards, digital wallets, etc. If a client wants to use Google Wallet to pay for his meal, your POS system will have that covered.

Bill splitting

: Even if a group of friends wants to pay with credit cards, for example, you will still be able to split the bill. Many of the point-of-sale software choices have such a feature.

Tips

: Servers will not hesitate to use the POS system you chose if it supports this feature. Modern POS systems for restaurants have tipping features allowing your guests to be as generous as usual, despite not paying cash.

Table management

: This nifty feature will allow the maître d' to control the entire venue. The system will show all available tables, the time your guests have been sitting on the other tables, and more. This is how planning the entire night becomes a breeze.

Menu management

: Your restaurant POS system can allow you to modify and alter parts or whole sections of the menu with ease. You will be able to introduce special offers or discounts. The best part is that all changes applied will be automatically visible to the kitchen staff.

Kitchen display systems

: Talking about the important connection between the front end the kitchen, this is one of the features that ensures its always on the level it should be. This system eliminates the need for orders written on paper. Instead, it sends the information immediately after servers take orders. As a result, things happen faster and less mistakes are allowed.

Employee management

: Most modern POS systems have the tools you need to control your employees and evaluate their individual performance. These tools include time management, scheduling, payroll, training, etc. 

Loyalty program management

: You could choose a high-end POS system that has all the bells and whistles, including the important loyalty management suite that will take care of discounts, special and personal offers, promotions, and awards for loyal guests.

Software and hardware integrations

: With all the various software helpers you could have today, you need to make sure your new POS system for restaurants can integrate with all kinds of third-party software and hardware. This is one of the ways in which you could overhaul almost all of the processes related to venue management.

CRM management

: Chances are that your new restaurant's POS system could either connect or replace your CRM toolset. This will allow you to create campaigns and maintain the good relations you likely have with your patrons. Read:

Customer Relationship Management [System Ratings & Reviews]
Reporting

: One of the most valuable perks of modern POS systems for restaurants is the extended reporting they are capable of. The software collects all kinds of data, including personal information. Based on sales history reports, the system could give you a good idea about preferred menu items, client habits and preferences, and more.

Inventory management

: Keeping track of the products and supplies you have in stock is easy when you have the right restaurant POS system by your side. The software will update the inventory after each sale (because it would reduce the quality of the goods in storage) and it will notify you when you are about to go low on something. 
Additional features, typical for a modern restaurant POS system:
Order entry

Till Management

Inventory management

Delivery management

Menu management

Accept Credit Cards

Print Guest Checks

Split Check

Employee Tracking

Add Items To Guest Checks

Tableside ordering

Online ordering

Reservations texting

Correct Order Entry Errors

Self-serve kiosks

Caller-id On To Go Orders

Customer-facing display
Restaurant POS Systems | Buyer's Guide
Choosing the best restaurant POS system involves careful planning and research. To make the right choice, you need to consider several aspects. Let's take a look.
Intuitive interface

: It's obvious that restaurants are all about quality food and presenting your guests with the ultimate customer experience. Having a restaurant POS system with an easy-to-use interface will result in a streamlined operation and a smooth interaction with your guests.

Feature-rich

: While most high-end POS systems for restaurants have plenty of similarities, they also have distinctive differences. You need to focus on the ones that your business needs. The more tools you'll have on your disposal, the merrier. The summarized features in the previous section are all must-have ones.

Hardware compatibility

: If you simply want to replace your existing point-of-sale solution with a better fitting one, you need to make sure that it can integrate with all the hardware you already use. This will allow you to reduce the cost of the investment. 

Reliable customer support

: This is an underestimated aspect to consider. You must choose a restaurant POS system that has reliable, 24/7 customer support via live chat or telephone. This will allow you to resolve any hiccups that you might experience with the point-of-sale system and allow you to continue working flawlessly as fast as possible. 

Positive client feedback

: Relying on customer feedback is important, as it will give you a good idea of how the POS system you're considering investing in performs when put to the test. Sometimes, what's advertised as a quality product doesn't live up to its name, and client reviews always reveal such inconsistencies. 
Cloud-Based Restaurant POS vs. On-Site Hosting
A traditional or legacy POS runs on closed networks and the data is stored on local servers, while cloud-based POS or Software as a Service POS (SaaS-POS) is web-based and runs on a cloud service.
With the latter type, the data is stored online.
On-site hosting systems are where the data can only be accessed on-site, meaning that you have to be physically present in your establishment to make any changes to the items or menu, see sales reports, or check employee clock-ins.
Cloud-based systems are where the data can be accessed from anywhere and at any time. The owner or manager can look at all of the reporting in real-time from anywhere with internet access using a laptop, tablet, desktop PC, or mobile device. They can also make any changes they want online. 
People who use conventional systems (on-site hosting) risk losing everything if the system crashes or encounters a bug because all the data runs on a closed network and is stored on local servers.
The cloud stores all the data on remote servers, so there is a minimal risk of losing data. Even in the event of a system crash, the data stays safe because it is backed up automatically in the cloud, and can be restored easily.
Don't fall into the trap of purchasing sophisticated features like layaway – first make sure the POS systems you're looking at can do the basics. You need support for common payment methods like cash, credit, debit, NFC, checks, or gift cards.
It's good to have compatibility with a variety of payment processing hardware like card readers and barcode scanners to achieve integration with your payment processor of choice. Considering these baseline features is crucial to handling your day-to-day transaction needs and keeping a healthy bottom line and your customers happy.
Midsize Restaurant – 1 to 5 Locations
Owners or managers of midsize restaurants would benefit from POS systems with easy menu creation and set-up. The best software will also feature in-depth ingredient tracking and real-time alerts when ingredients are running low.
With mobile ordering, servers can take and send orders from the table directly to the kitchen. A locally installed system like Revention is best for midsize restaurants because on-site installation and training is provided. It also features table mapping and a kitchen display system that make it a good choice for midsize restaurants.
Enterprise Restaurant – 6 Locations or More
For an enterprise with 6 or more locations, adding and managing inventory should be simple.
Your POS system of choice, like TouchBistro or Aloha, needs fields such as SKU and cost, a style matrix for simple mass entry of inventory items that differ only slightly, and automatic setting of multiple tax rates, surcharges, discounts, and service fees.
Your staff should be able to set orders to-go, deliveries, repeat items, enter discounts and special requests, remove items, and add quantities.
Of course, the POS should be able to void payments, split bills, print/reprint guest receipts, allow for tips, email receipts, and even enter rewards card numbers. A system like TouchBistro or Aloha can do all of this and more.
What Kind of Hardware is Needed for a Complete POS System for Restaurants?
A POS system needs a mobile printer that can print orders at the table and instantly in the relevant kitchens or bars, a handheld tablet that will let guests sign open bills on event or company accounts, and kitchen printers, as well as the following:
POS Touch Screen: A POS system may come with a traditional monitor or keyboard or a touch screen. Some businesses find the latter easier and faster to use. The touch screen saves counter space apart from adding functionality.
POS Monitor: If you prefer, you can add a point of sale monitor to the system. If the user is tight on counter space we would recommend a flat panel LCD monitor to go along with the system. However, it may increase the cost of the system. Therefore, if space is not an issue, the user should choose the standard monitor.
Scanner: Barcode scanners read a series of numbers and lines, decipher the data, and send it to the computer. Scanners serve as a handy tool to add inventory to the POS software's database. In the event that they are used correctly, they provide accurate pricing(up to date). In addition, they save a lot of time when ringing up multiple products for a customer. Small retailers favor small, hand-held scanners, while larger retailers with heavy check-out activity would find it better to install an embedded scanner like the ones you can see in supermarkets.
Compare POS Systems for Restaurants | The Ultimate List
I'll be honest: choosing the best restaurant POS system is not easy. Still, you'd find it less of a burden if you use the reviews below and compare POS systems for restaurants based on their pros and cons. The POS vendors I've featured in this review have a lot to offer. 
My research included dozens of restaurant POS systems, but the reviews below are focused on the top 25 among them. Based on several aspects compared, TouchBistro stands out from the rest as the best restaurant POS system for most restaurants. TouchBistro boasts a fully customizable interface that makes it the best restaurant point of sale overall. Plus, the company acquired TableUp a couple of years ago (a leading entity in the loyalty management and marketing solutions niche) and integrated several of its functionalities into the TouchBistro restaurant POS system. 
Lightspeed Restaurant is a close runner-up in the "best POS for restaurants" rating, mostly due to its acquisition of ShopKeep POS. The latter was a leader in the restaurant point-of-sale space. Lightspeed brought all the experience and know-how needed to create a competitive restaurant POS system, and ShopKeep remained an independent brand (and I've featured it in a separate review). 
Square POS is third in this rating. This software is an ideal solution for small restaurants due to its integration capabilities related to orders, tables, loyalty, employees, and accounting.
Before we proceed with the detailed reviews, I need to underline that your final choice should not be limited to the top three on today's list. The specifics of your business might require a different solution that you could find in the list below. Having a large variety to choose from is both a blessing and a curse, but I've tried to simplify the process of finding the perfect fit. Read on to find more and dive in the details. 
POS Vendor
Best Feature
Price

TouchBistro

Fully mobile & Affordable

$69.99 per month

Square for Restaurants

No extra hardware needed

$60 per month for one register

Lightspeed Restaurant

Robust multi-location management tools

$39 per month for one register

Upserve POS

Strong, robust management platform

$119 per month (subscription + terminal)

Toast POS

Reporting & Analytics

$0 per month (Starter Kit)

Revel POS

Remote support

Available upon request

Linga POS

Coupons, modifiers, voids

$19.99 per month

Cake POS

Track real-time sales at different locations

$69 per month

eZee BurrP!

Fast And Efficient Tool

$575 one time

Rezku POS

Labor cost calculations based on real-time data

$69 per month

Future POS

Easy to organize menu items

Available upon request

Lavu

Rewards and loyalty

$69 per month

Loyverse

Fast and easy sales

Starts at 1 cent

POSitouch

Quickly put in or pull up an order

Available upon request

EPOS Now

Can run on any device

$39 per month

Vend POS

Rich integration features

Starter $69 per month

Talech

Simple and intuitive design

$69 per month

Maitre'D

POS terminal is easy to set up

$50 per month for one register

Clover

Table mapping

$29 per month

Brew POS

Table Screen




Hold & Fire

$69 per month

Restaurant Manager POS

Real-time Alerts

Available upon request

Aloha POS

Cloud-enabled Enterprise POS

Available upon request

Aldelo Express POS

Cloud-based POS software available on iPad

$99 per month

SpotOn Restaurant

Manage inventory, employee shifts

$25 per month

Dessert POS

Delivery management




Employee scheduling




Graphical dashboards

$69.99 per month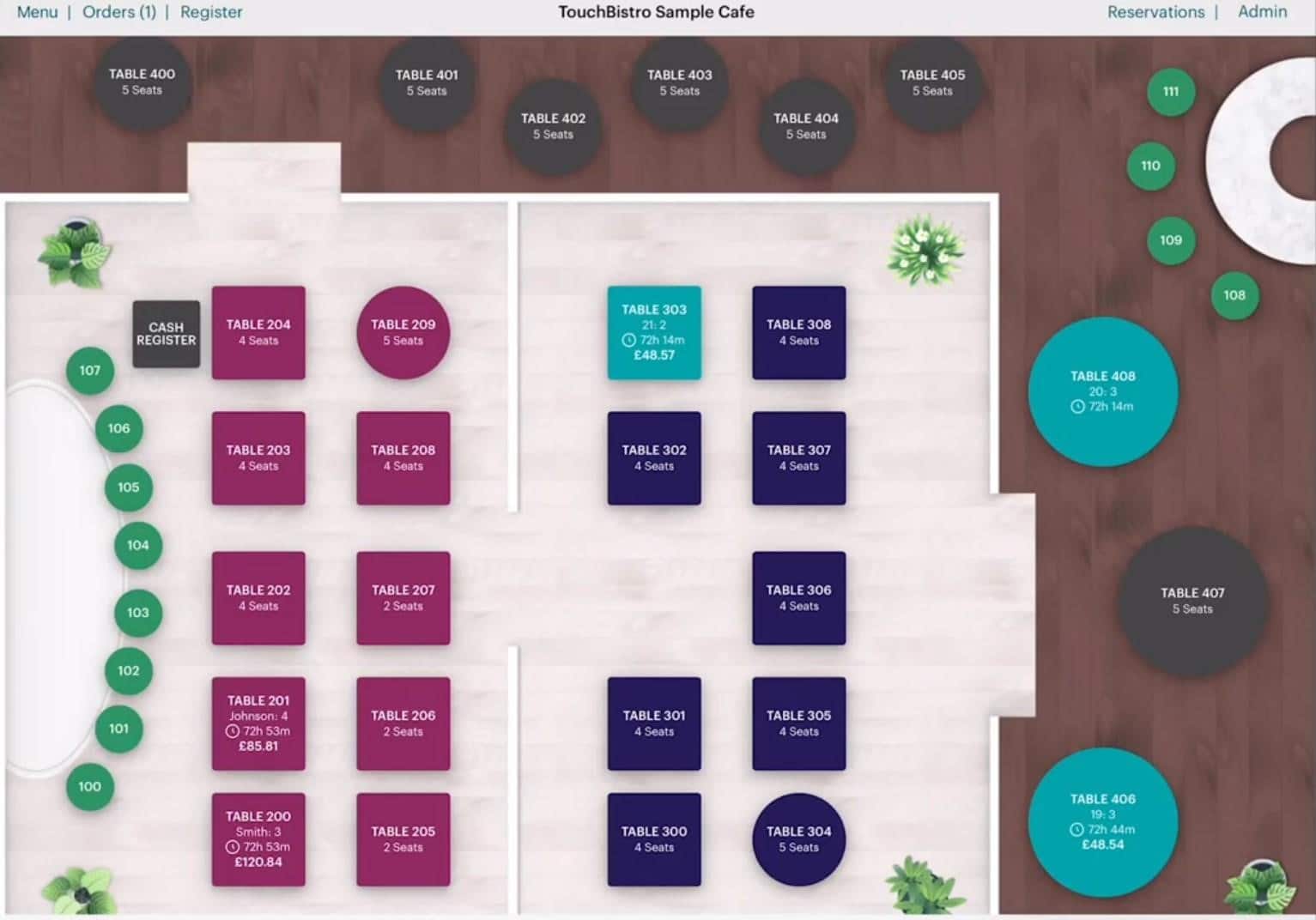 TouchBistro's table management feature.
TouchBistro POS is a multi-purpose solution that's been around since 2011. After testing the system's functionalities, I believe it's a good fit for restaurants, breweries, cafés, and pubs. It features an enviable mix of restaurant and brewery-specific features that will help you manage catering and reservations easier than ever. Still, TouchBistro is mostly popular as the best POS system for full-service restaurants, and for a handful of reasons, too.
The program's design and simplicity definitely place it a cut above the rest when it comes to restaurant-focused POS systems. It's a well-priced choice that doesn't lock you in with a long-term contract.
TouchBistro provides mobility, cloud-based reporting, and excellent customer support, among other advantages. In addition, it provides Menu selections and ordering, wireless transfer of the order to the kitchen, split tickets and tabs – the list goes on.
This restaurant POS system is fully customizable, which is another reason why I consider it the best choice in this comparison. You can easily add modifiers to the menu at any given moment. You can also organize the menu depending on how you want it to be seen, and add full-color, high-res photos.
Whatever food service-specific feature you can think of, TouchBistro has it, and more. You get plenty of back-end functionality as well. This restaurant POS system also offers basic employee management and reporting tools, including individual employee logins and sales statistics reports.
TouchBistro's POS system can process any kind of payment transaction. Whether it's cash or cards or mobile payments, TouchBistro can handle it all.
Pros
Fully mobile

Affordable
Excellent customer service
Cons
Relies entirely on Apple infrastructure
VIDEO WALKTHROUGH:


TouchBistro is only compatible with iPad, iPad Pro and iPad Mini. Hardware investments are very low, and the system is less costly to set up than most traditional restaurant, bar, and brewery POS systems because it runs with third-party POS equipment. Its low price makes it a great choice for smaller establishments.
From the multiple sources I've checked, TouchBistro receives an average overall rating of 4.0/5 or above, based on thousands of reviews. This rating takes into account ease of use, customer service, and other factors.
In my opinion, one of the notable advantages of TouchBistro is the step-by-step guides and video tutorials available. The company also offers a searchable bundle of knowledge and data to help you learn how to use the system and take full advantage of its capacity. 
The system comes with four software plans based on the number of iPads one plans to use. All plans feature full selection, cloud reporting, and support for an unlimited number of users.
TouchBistro's loyalty program gives clients an incentive to sign up for loyalty points, which they can then collect and redeem. TouchBistro does, however, have its inventory features that could use some expansion, too: for instance, the addition of a raw ingredient tracking feature.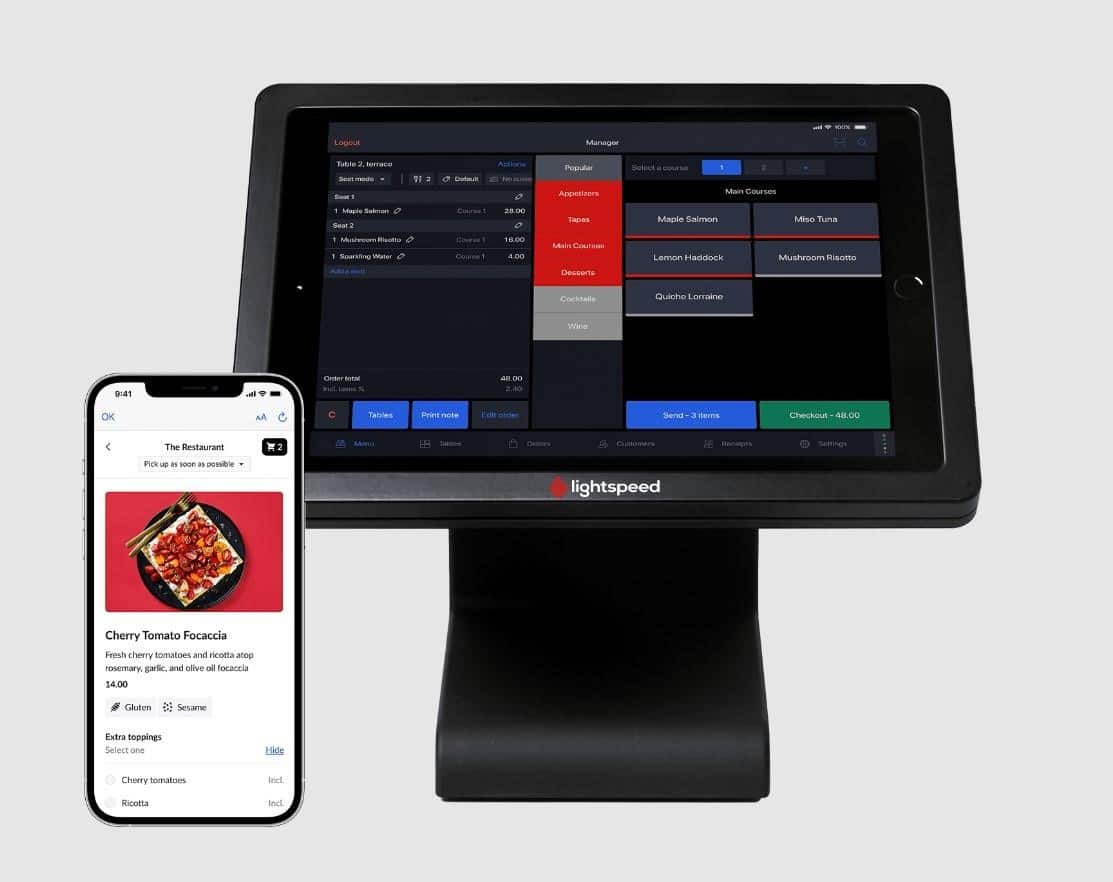 Lightspeed Restaurant's interface, mobile app, and touchscreen monitor
Lightspeed Restaurant is a modern, feature-rich POS system for restaurants and similar venues. As I mentioned above, it became a leading player in the restaurant POS scene after acquiring ShopKeep. 
The system tracks unit costs and shipping fees and provides complex inventory functionality, which is helpful if you have more than one location. This makes it possible to transfer merchandise between sites. As a result, you can maximize your profit margin by setting varying prices on a location basis.
Lightspeed will let you choose from a number of integrated merchant account providers, manage multiple locations, shift inventory between locations, and enjoy multi-user staff logins for security, time, and tip tracking. You can split inventory products to track pours, manage stock purchasing and receiving per location, and work in offline mode if you lose your Internet connection. 
Lightspeed has distinctive features, such as supporting multiple customer tabs and split checks, tableside ordering (via iPads and iPhones), drink order customization with unlimited modifier price adjustments, and drink menu lists that tie to your inventory with automated reductions per order.
Pros
Robust multi-location management tools

Multiple ready-to-use integrations
Customer loyalty program management via integrations
Automated upsells and promotion reminders
Cons
Relatively slow interface due to being an all-around POS option

Expensive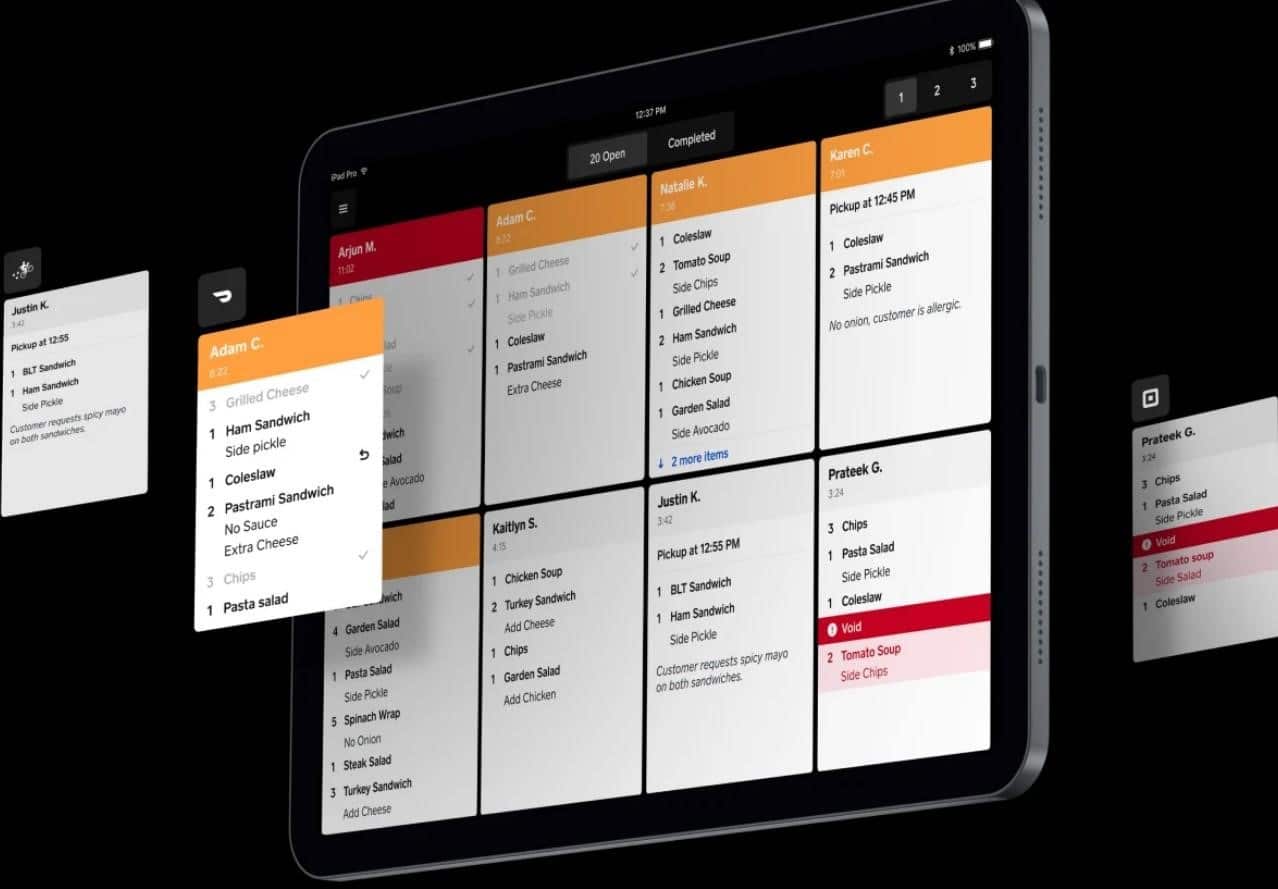 Square's KDS menu.
Square's simple and intuitive interface minimizes the average time for every transaction, which is extremely important, in my opinion. In addition, Square POS System Restauarant is very simple to implement and therefore is one of the most used POS systems in small-scale food venues.  
You can use the contactless Square Stand for your iPad. This way, it'll become a payment portal and make contactless payments, as well as payments with chip cards or NFC. You don't need extra hardware; simply turn your iPad into a POS.
Read More: 5 Best iPad POS Systems | Top Software Reviews
Additionally, Square offers a kitchen display system and an employee management toolset, complete with payroll functionalities. It also boasts a customizable layout that's somewhat similar to the one TouchBistro has to offer, as well as extended table management functionalities.
You can get a mobile POS module for your restaurant for free until mid-2023, which is beneficial for those on a budget.
Pros
Free basic plan
Online ordering
Employee management tools
KDS
Cons
Reservations management is not available
Square's distinctive features include the unique Square App Store and the proprietary kitchen display system that I believe is as good as a KDS could possibly get. This restaurant POS system takes just minutes to set up and boasts curious perks, such as third-party delivery options, real-time reporting, and an automated tipping function.
Read More: Square POS Pricing | Hardware & Software Costs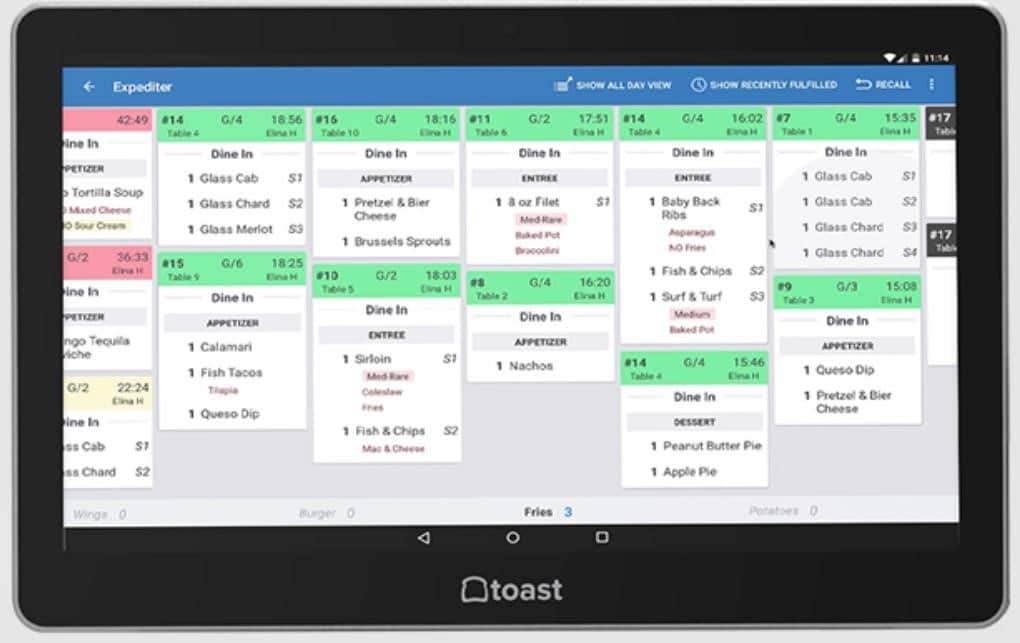 Toast Flex
With Toast POS for restaurants, your small restaurant can increase revenue and streamline operations almost instantly. It is a handheld POS aimed at letting your staff spend more time with guests and less time running around.
Toast all in one restaurant POS system offers all the food service industry-specific features you could wish for. With Toast, splitting checks is easy thanks to an intuitive drag-and-drop function. Transferring a check to a different table is also a simple process – it takes a single swipe.
Toast's durability and functionality are meant to improve table turn time and guest experience. Your clients will easily access menu item details for allergy information or drink recommendations. In addition, you will enjoy a real-time connection between the kitchen and the front end, ensuring a faster-than-ever service.
VIDEO WALKTHROUGH:

What I find great about this restaurant POS system is that it lets you view menu items by a modifier, ingredient, allow guests to pay, tip, opt for digital receipts, and even split checks at the table. In the meantime, it keeps your order stations organized with automatic course firing.
Other nice features typical for Toast are the customizable loyalty program management suite, the easily redeemable digital gift cards, the option for guests to leave a personalized message, and the quick order feature. My overall impression is that Toast was designed as a solid solution for all types of food service businesses, including small quick service and full-service restaurants.
Other distinctive features that set Toast apart from the competition (other than the clever name) are the cloud-based reporting and analytics toolset, the options for online ordering, the extended menu management functionalities, and more. Additionally, the system has a lot of proprietary gadgets, including the affordable Toast Flex KDS. Toast truly is an all in one restaurant pos system that has all the bells and whistles most venues would ever need.
Pros
Extensive add-on features
Integrations with 70+ of the most popular restaurant partners
Reliable customer support
KDS
Cons
Steep payment processing fees
Revel is the best POS for full-service restaurants thanks to its ever-expanding features, services, and integrations. The impressive things about this restaurant POS system, in my opinion, include the offline functionality mode, the remote support, partnership and integration with QuickBooks, and the intelligent reporting suite it features.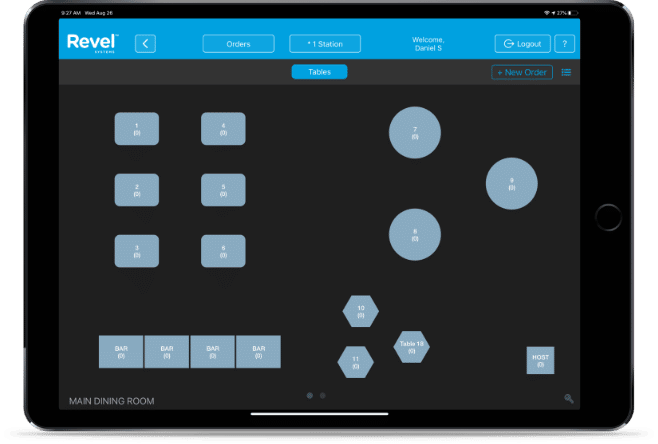 Revel Restaurant POS Table Management
Revel's prices depend on the setup and industry of the client. When it comes to restaurants, the company offers industry-specific software packages for a fixed amount per month. The software license is included in the subscription.
Revel Systems comes with extensive front and back end features. From individual employee login IDs and customer-facing menu setup to data export, you'll have every trick in the book at your disposal. Revel Systems makes it easy for you and your employees to get around without wasting precious time. Even with all the features included, Revel Systems' software is not sluggish or hard to get around. Quite the contrary, it's simple and intuitive to use.
Pros
Robust list of integrations
Excellent reporting
Modern kitchen display system
Kiosk functionality
Cons
Not as easy to set up as the majority of competitors
You can easily organize inventory by color or size, and track inventory at the raw ingredient level. Revel also tracks your low stock items by highlighting them in red. Revel's POS is both web-Based and locally installed. You can run it locally through your Apple iPad and sync all data to the cloud.
Even if you lose Internet access, the POS will continue to function. Still, keep in mind that payment authorization for credit cards may not be possible while the Internet is down, so it can be risky to accept cards without an Internet connection.
The system is solid and customizable, and as such takes a great deal of time and energy to set up. This is why it may not be suitable for a very small establishment. You do realize that most small businesses couldn't take advantage of the best part of the advanced features the system boasts. Revel Systems is meant to be the ideal POS system for larger restaurants because it can manage up to 500,000 SKUs and multiple locations.
This restaurant POS solution is also optimized for mid-sized businesses, especially those struggling to compete with their larger counterparts since it offers a plethora of applications and modular software that make it possible to customize the system to your needs.
Revel Systems has an "always on" mode (this is the so-called offline mode that you'll find in most of the competitive POS systems), where you can keep doing business as usual even in the event of an internet outage. With this mode, you can continue to accept both cash and card payments, letting your day continue without a hitch.
Upserve's extensive features include customer, table, and restaurant management, as well as specialty orders. This POS has most of the tools you'll need to run a snack bar (especially), restaurant, nightclub, or even a café.
You can download the system for free on as many iPads as you want, but only run it at the same time on as many as your plan allows.
Upserve joined forces with GrubHub to offer an online integration for ordering and delivery. This POS system boasts a strong restaurant management platform that is easy to use irrespective of your location.
VIDEO WALKTHROUGH (Online ordering feature):
This is not a universal mobile POS solution because the system is compatible with the Apple iPad only. Servers can send and take orders directly from the table, as well as collect payments and provide digital checks. Essentially, this is what you need to have as the basic set of features of any POS system you choose. Other perks of Upserve include multiple online ordering and delivery integrations and a well-structured management platform.
Pros
Online ordering
Strong reporting
Specifically designed for quick service restaurants
Customizable interface
Cons
Costly, some downtime repoted
Read More: 6 Best Bar POS Systems | Stay Compliant & Increase Profits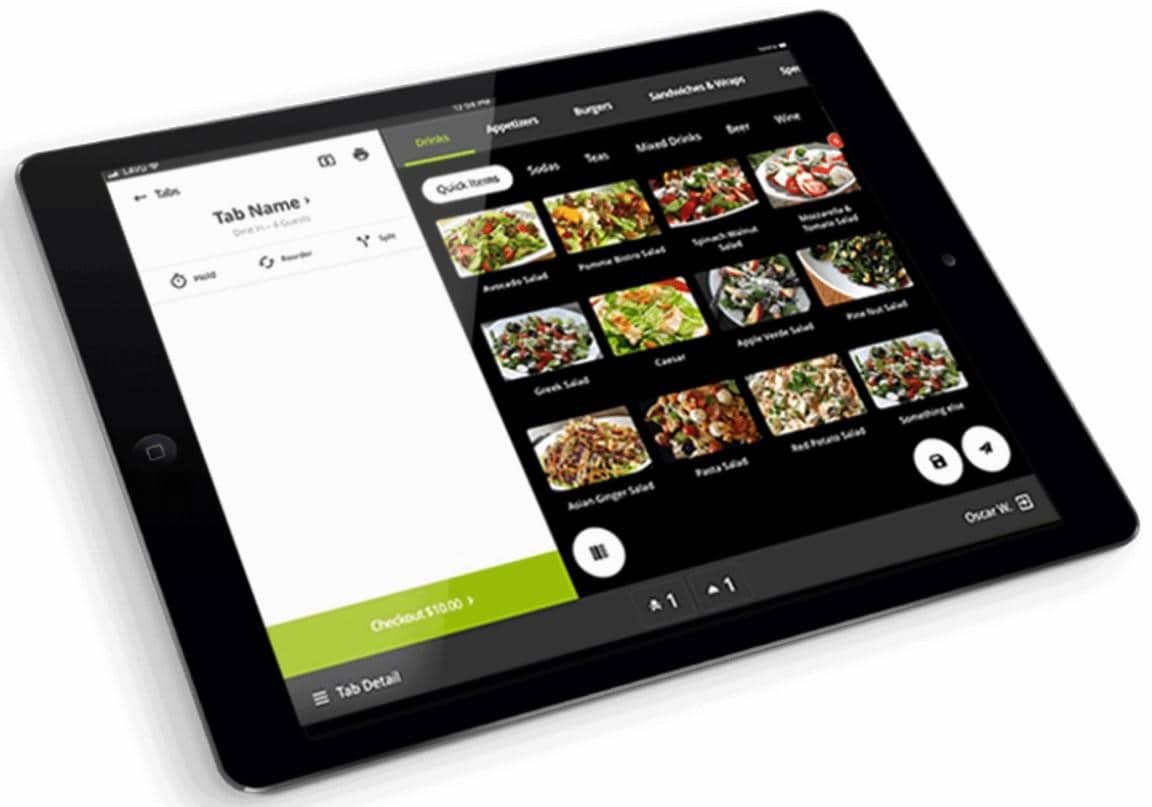 Lavu's interface is visualized on an iPad.
Lavu is a POS solution that's best for bars, small restaurants, and nightclubs, but it also works for food trucks and coffee shops. Maybe this type of versatility helped the POS system reach a famous show, such as Gordon Ramsay's Kitchen Nightmares. Lavu POS was featured in one of the episodes that I particularly loved.
You can choose between bar, restaurant, and quick-service interfaces. You can also customize most other aspects, including layout, unlimited menu modifiers, and menu item icons.
Lavu has a series of great features, including low-count warnings. Employee scheduling, payroll reports, and shift-trading are examples of what's offered in terms of employee management. This system offers a myriad of sales, expense, and inventory reports that can be accessed anywhere with an internet connection. It can also be translated into multiple languages and is being used in 89 countries, which is very impressive, to say the least.
Pros
Tableside ordering
Employee scheduling
Robust inventory management tools
Affordable
Very intuitive and easy to pick up user-interface
Fast screen operations
Cons
Needs more and better basic features
Needs better tip reporting capability for employees
Albeit somewhat lacking in functionality, Linga offers a solid, feature rich platform for quick service joints with a limited product range. Linga has a lot to offer for an affordable system. It has a decent loyalty program and inventory monitoring. On the downside, its interface can take some time to get used to, but once you get the hang of it, it won't be a problem.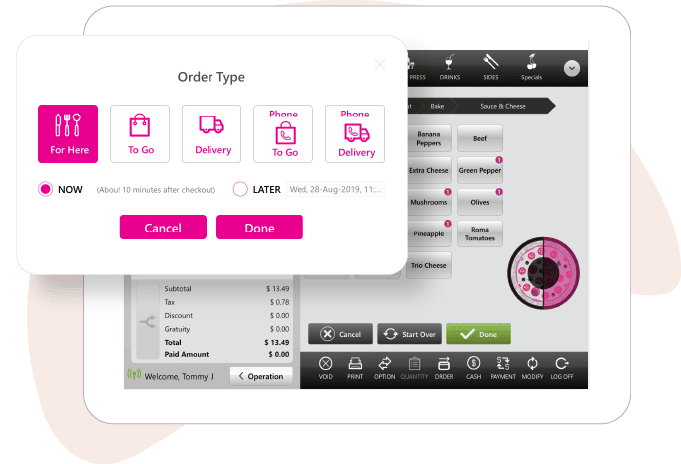 Linga Restaurant POS dashboard.
I find it to be pretty simple to use, which is one reason it's ideal for quick service restaurants. The best features it boasts are coupons, modifiers, voids, happy hour, and bill splitting.
Pros
Employee performance tracking
Returns
Sales dashboards
Cons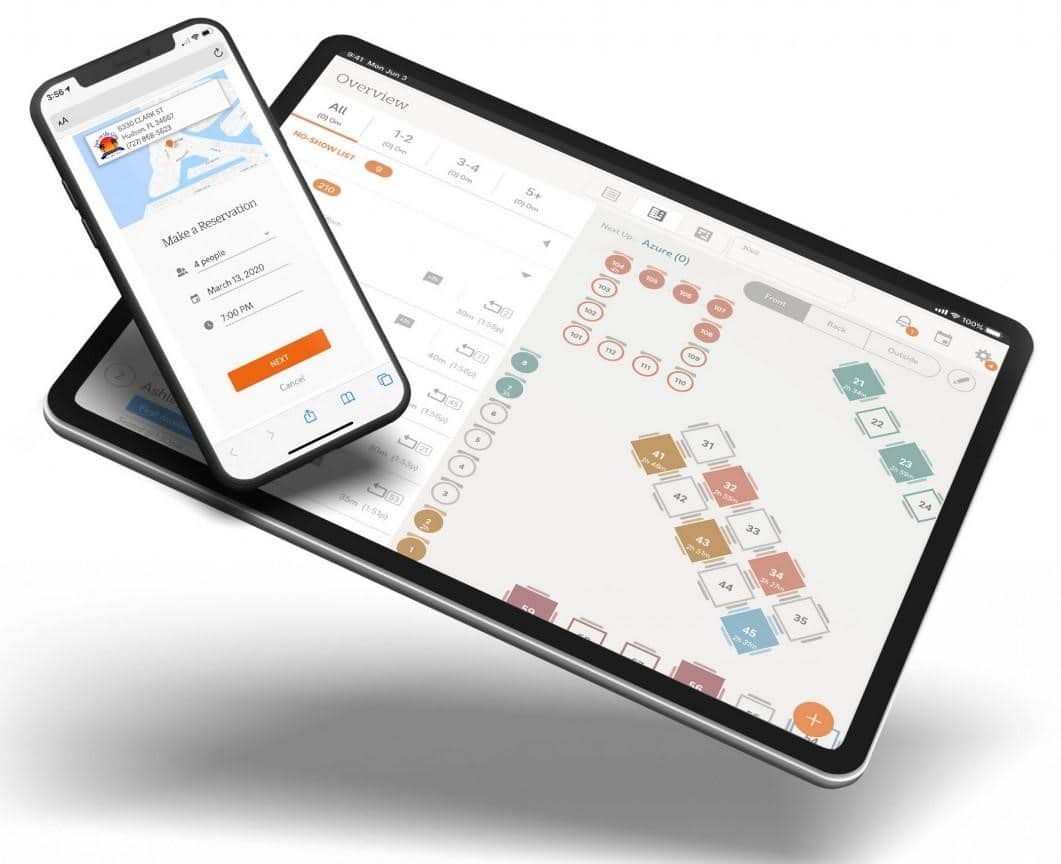 Cake's table management feature.
CAKE is a cloud-based point of sale (POS) solution that boasts the best restaurant management suite in its class. Its main features include online ordering, payment acceptance, table-side ordering, guest and waitlist manager, and gift cards.
The system's fantastic payroll reporting helps you calculate wages and overtime. You can compare sales to labor costs per hour. Real-time peak hours tracking and customer tracking are available.
The solution provides an offline mode that allows you to manage restaurants and accept payments even without internet access. CAKE can be integrated with PayPal, Quickbooks, Xero, Orca, 7Shifts, and Avero.
Read: QuickBooks for Restaurants: The Complete Guide
Windows, Mac, and Linux operating systems are supported. You can access the system by tablets and smartphones. The 24/7 customer support is available via email and by phone.
Pros
Track real-time sales at different locations
Track wages, hours, and overtime
Sales reports by week, day, or hour
Easy to add & change menu items
Great reporting tools
Cons
Pricing can't be adjusted after orders have been sent to the kitchen
Ever since its launch, this POS system has been staying on top of current trends. I find it to be one of the most user-friendly POS systems available.
The free trial offers a complete tour of the system. Each category has the added convenience of being linked to the relevant page in the dashboard for configuration.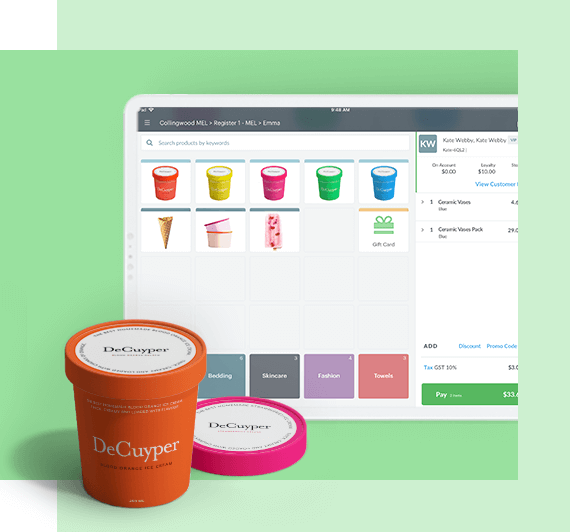 Vend food and beverage dashboard.
The system walks you through the processes of customizing the register quick keys, adding products and customers, setting up taxes, and more. This is a great way to become familiar with it. It's all self-explanatory thanks to the highly intuitive software, and that sets Vend apart from the majority of the competition.
Vend's front-end features are remarkably intuitive, and the back-end features are very rich. Not only that, but the system is affordably priced, too.
The company has a remarkable inventory management system, an omnichannel sales approach with both in-store and online capabilities, an extensive list of integrations with third-party software, and an overall well-rounded retail management solution. Other nifty features typical for Vend are the multi-level pricing options and the variety of possible integrations.
Vend's eCommerce feature was pretty decent to begin with and keeps improving. It takes only several minutes to set up an online store presence. Among the many great features of the eCommerce platform is the option to edit HTML and CSS directly.
Pros
Intuitive
User-friendly
Great updates
Cons
No item features for tipping and table management
Priority customer support costs extra
Rezku POS is a highly intuitive, iPad-based point of sale system that's best for restaurants, but also works for cafes, bars, and other similar businesses.
Restaurant owners and managers who use it are at the top of their finances, inventory, accounting, staffing, and other business processes.
With Rezku POS, users obtain maximum profit because they are able to get the right costing for items per ingredient. It's enough to enter the costs of your ingredients and the system automatically calculates the overall cost per plate.
VIDEO WALKTHROUGH:
The POS makes it a breeze to create and implement staff schedules, track working hours, and keep your employee slots filled. It has all the tools to cover staff scheduling, salary and workforce management.
Your sales information offers you a plethora of opportunities and indicates areas where you need to improve. Its sales reporting capabilities enable you to view your sales data by hour, staff, product, daily, weekly, and more.
Rezku has highly secure encryption protocols in place to protect credit card and other sensitive information. Additionally, this POS system's in-depth sales reporting, labor cost calculations based on real-time data, and deep-data exports add to its advantages.
Pros
Closely tracks your expenses
Reduces your losses
Increases your efficiency
Cons
Not PCI and EMV Compliant (the latter is a huge disadvantage for me)
Loyverse is a freemium POS system that lets you manage your café from a mobile device, generate a higher yield, acquire, keep and engage customers, manage inventory, and visualize sales analytics. These are part of the reasons I consider it to be an ideal point-of-sale solution for small coffee shops and eateries.
Loyverse will make sure you get instant notifications when inventory is running low or out. Orders can be dispatched to the kitchen automatically, faster, and with fewer errors. Plus, your staff will always know what to prepare from all orders.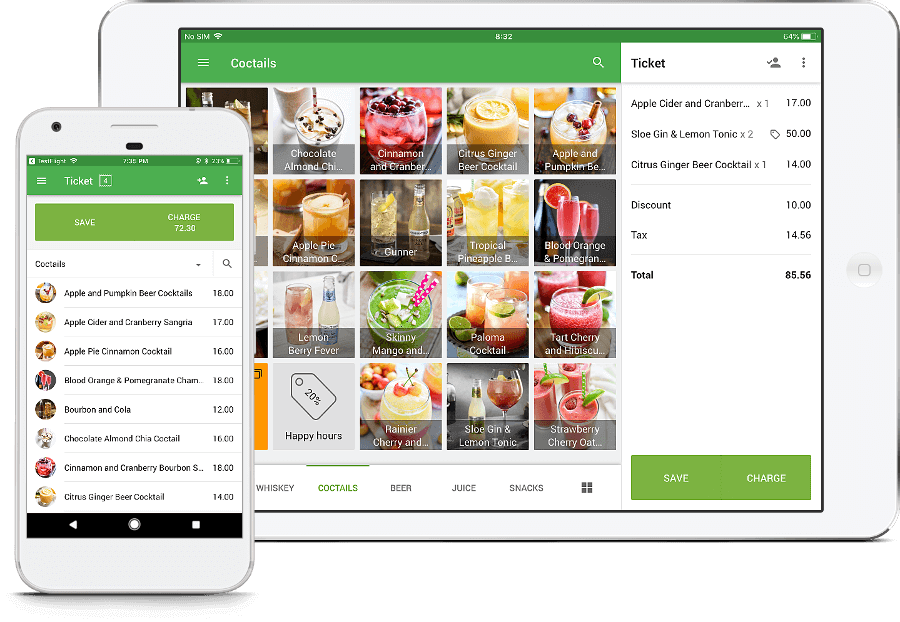 Loyverse iPad POS System 
Sound notifications ensure you will never miss a new order. You can see all the tickets at a glance with colors indicating the anticipated waiting time. You can also view the list of completed orders and reopen orders if needed.
It's also possible to manage one or more cafes from the same account, which is an awesome feature in case you're running more than one location.
Pros
Versatile and easy to use
Limits waste
Stock levels can be viewed at a glance
Cons
Not very convenient to use with smartphones
This intricate system offers you solutions for back office management, online ordering, kitchen display systems, and more.
It's simple to perform various customer management tasks in a timely fashion. While you can get a tablet-based system with Maitre'D, the company continues to run a PC-based system.
Maitre'D's features I find worth mentioning include the floor management features, mobile POS solutions, and check splitting. For the back office, Maitre'D has sales forecasting tools, reporting and business analytics, and loyalty program add-ons.
VIDEO WALKTHROUGH:
However, those who want more front-end or mobile capabilities should best look elsewhere for a more versatile program. I believe this POS solution would not be a fitting one in such cases.
Pros
POS terminal is easy to set up
Sales Reporting
Inventory Management
Employee Management
Real-time Sales Data
Online Ordering
Tablet-based POS System
Integrated Transaction Processing
Gift Card Generation
Cons
Not as user friendly as I thought it was
Restaurant Manager's Pizza POS Interface
Restaurant Manager's Pizza POS System lets you quickly serve customers, send accurate orders to the kitchen, manage special orders, and hurry orders out the door for speedy delivery.
RM is bug-free and works great, which was a pleasant surprise for me. It supports chip card processing and is very helpful to employees no matter what they're doing: working the counter, manning the phones, preparing orders, or expediting delivery.
This intuitive pizza shop system is tailored to prompt staff through their specific job tasks with ease and accuracy.
Read More: 10 Best Pizza POS Systems | Maximize Profit Margins
Restaurant Manager's Pizza POS System provides restaurant owners with management controls and information regarding sales, menu mix, payments, inventory, time and attendance, and marketing options.
Pros
Easy to use
Updates included
Pay-at-the-table
Real-time alerts
Gift Card management
Cons
You might have to upgrade your server PC
Read More: The Restaurant Manager POS System Review
Aloha POS offers superb guest and table management, payment processing, and kitchen production. A chain owner or manager is guaranteed good speed, accuracy and ease of use.
You can use Aloha POS to enter orders and payments, streamline food preparation and delivery, and improve overall operations.
This POS solution's programming and architecture are consistent across sites, so employees can operate the system if they have previously used it at a different site. Important features include credit card processing, a barcode scanner, special orders, and sales commissions.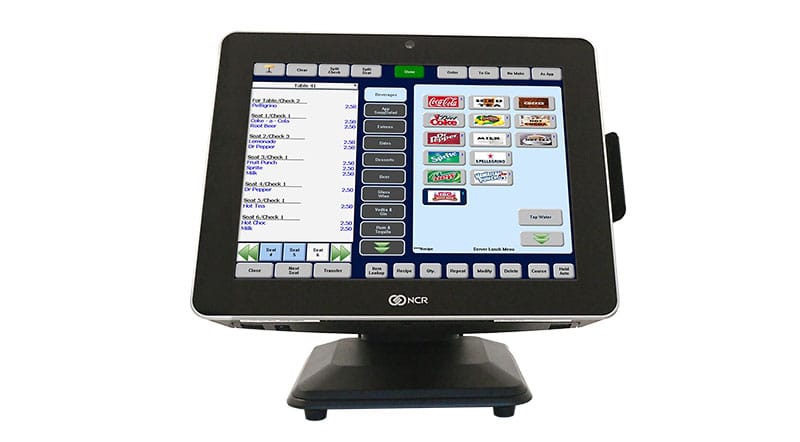 Aloha POS for Restaurants Monitor Display
Pros
Kitchen production
Restaurant hardware
POS system designed for small businesses
Cloud-enabled enterprise POS
Consumer engagement and loyalty programs
On-Premise Self-Ordering
Cons
Deleting and adding buttons complicated
Aldelo Express Cloud POS enables superior reliability and productivity by utilizing iPads for app mobility, and AWS cloud for enterprise scalability.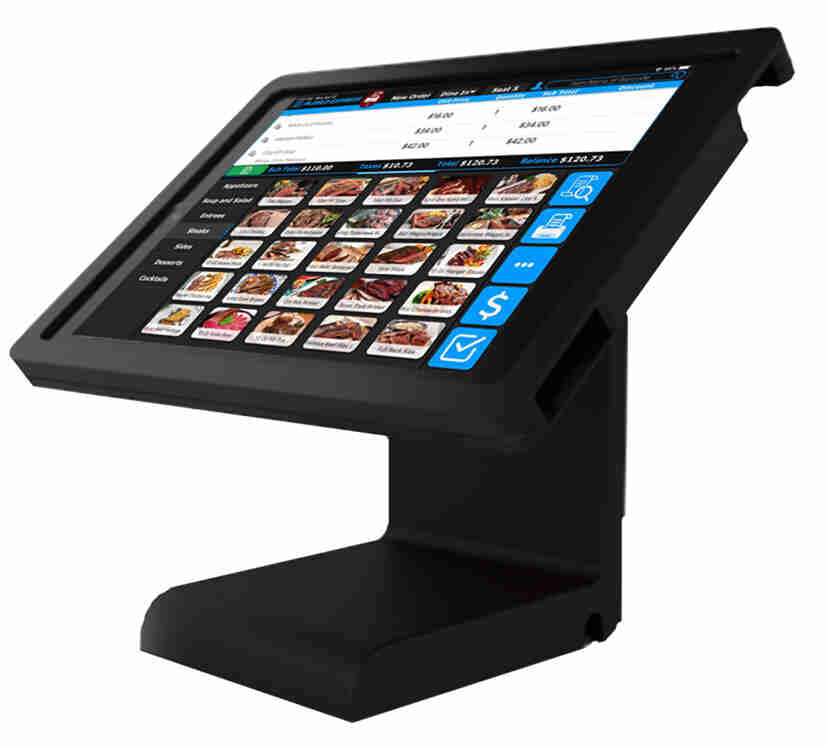 Aldelo Restaurant iPad POS
In the event of an Internet outage, there will be no downtime with Aldelo Express. Offline capabilities are seamless for both employees and clients. However, the best thing about this POS is that you don't need to have an extended background in computer tech or networking to use it.
The interface supports visual table management and floor plans with a block interface and a lot of primary colors. Additional restaurant features include wait lists, guest reservations, discounts, bill splitting, surcharges, and gratuity.
Pros
Supports delivery service operations
Driver dispatches from the app possible
Seamless offline capabilities
Fast
Cons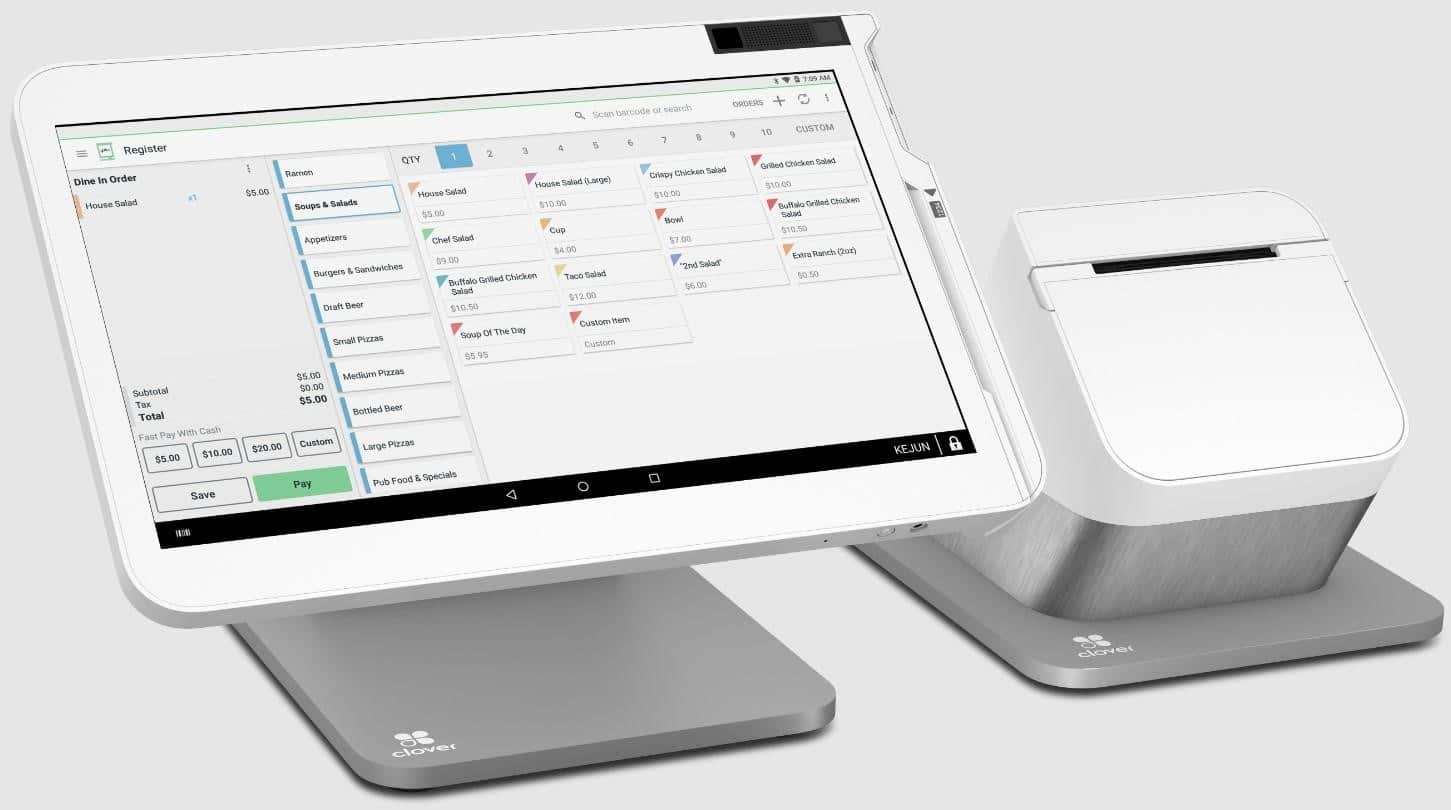 Clover's Solo station
From my experience so far, I believe that Clover POS is best-suited for quick-service restaurants, but it works for any other food service establishments as well.
For example, it can handle full-service restaurants, especially with the addition of Clover Dining. This POS system also boasts tableside ordering, table management and mapping, and, best of all, an app store offering lots of integrations (similar to the Square App Store). Most apps are either free or quite cheap.
Clover Station is best for small to mid-sized businesses. Its system is incredibly intuitive and a breeze to set up and learn, making it ideal for small business owners just starting out.
Clover combines a robust POS system with a terminal, printer, and cash register. This product makes traditional supplementary hardware unnecessary.
Clover can be a powerful tool that helps you manage employees and customers, create and view reports, track inventory, and monitor your revenue stream.
Pros
Large app store and wealth of integrations
Easy to set up
Aesthetic appeal
Cons
Hardware is proprietary only
Can't separate POS from payment processing
Future POS has been used by high volume restaurants for almost two decades and is based on Microsoft SQL for speed and reliability. It is best known as a multi-location and multi-terminal pos system. For example, it can handle a 72-terminal stadium pos system, which is impressive, to say the least.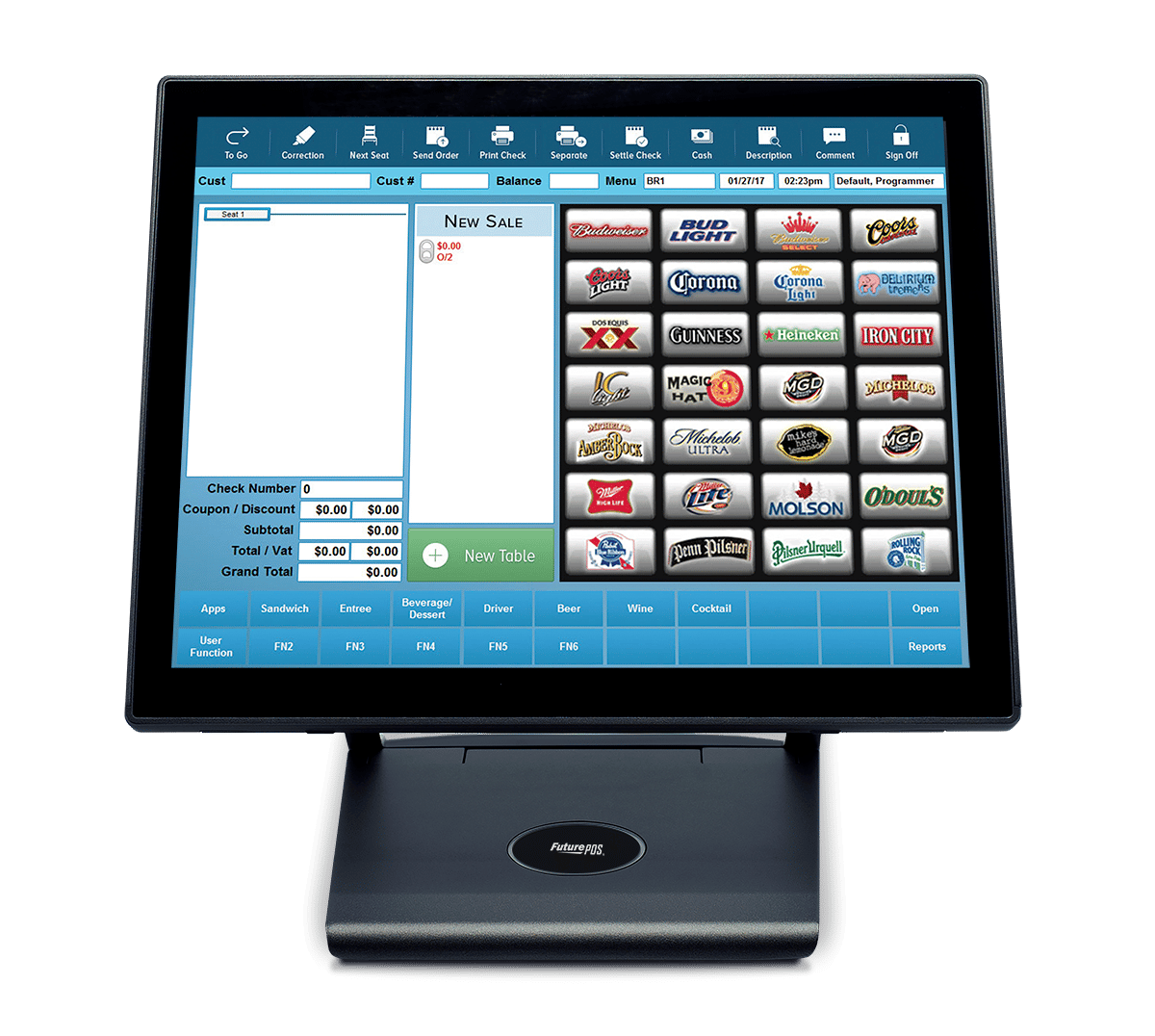 Future Restaurant POS Ordering Interface
The system organizes menu items by color and category, making it easy to find your selections even at peak hours. Future POS almost never crashes and helps balance the registers at the end of the day, but it can be a bit sluggish. True operational freedom is delivered by Future POS's cloud-based technology. You can control your business whenever and wherever you choose, using nothing but a handheld device.
Pros
User-friendly
Easy to train on
Intuitive
Easy to organize menu items
Very high uptime
Cons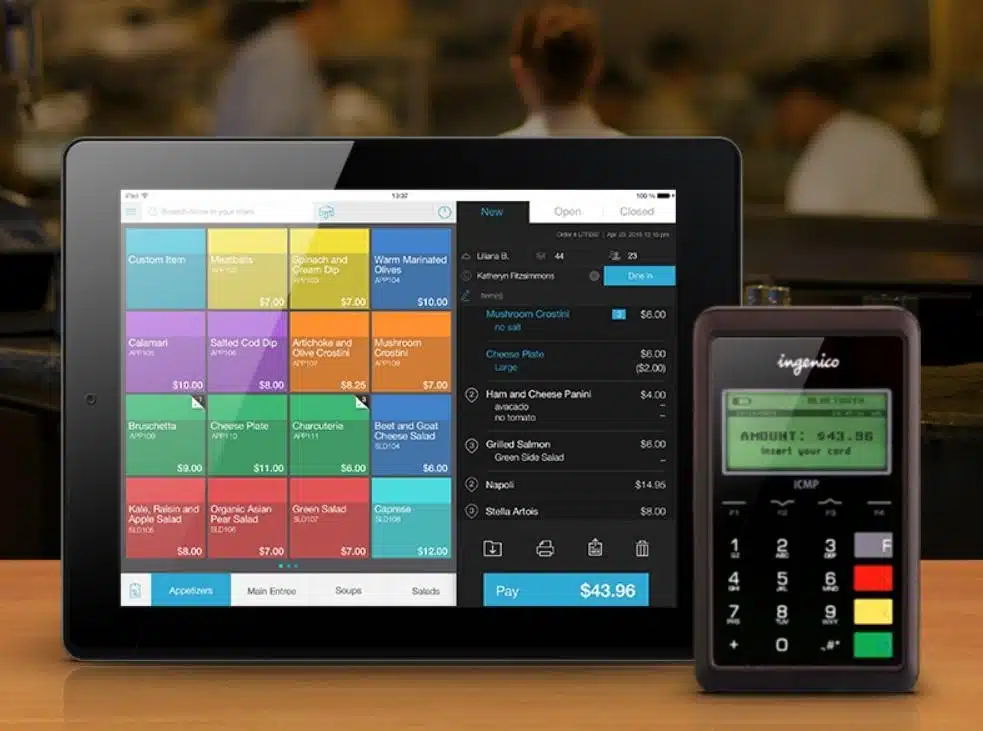 Talech's interface
Talech is a POS system equipped with the ability to integrate with most payment processors, advanced inventory features, and in-house marketing capabilities. This highly versatile POS  is fully cloud-based. External servers store your data, communicate via the cloud with your device, and need an Internet connection to work.
A lot of the system's users are impressed by how easy the system is to use and navigate. I tend to agree with them. Many integrations with e-commerce and third-party accounting programs are possible as well. Talech is quite a scalable system. It can serve both small single-location businesses and franchises well. Talech's Standard version is best suited for small restaurants and food trucks, cafes, clothes shops and bookstores.
You can also create bundled products, grouping certain items together and selling them as one unit. But you can still track the raw materials that go into these items individually, so you can still keep tabs on your sales.
The Premium version is better for bars and full-service restaurants, as well as more complex retail businesses.
Pros
Simple and intuitive design
Good integrations
Great reporting suite
Ease of use
Competitive prices
Good customer service
Integration options
Cons
Limited reporting tools
Limited offline functionality
Hardware limitations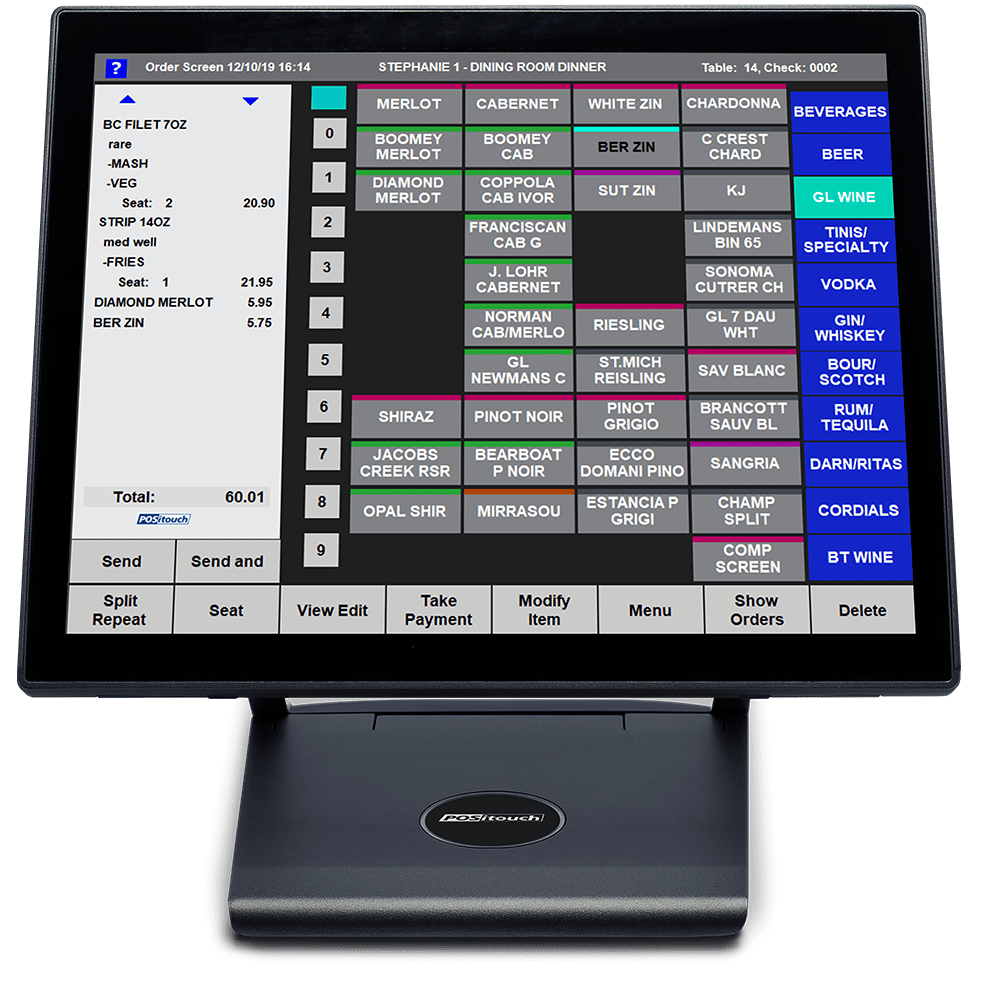 POSitouch Restaurant POS System
POSitouch is a restaurant POS that I can always determine as the best POS system for rewards and loyalty program management. It is very convenient and easy to use.
POSitouch is a great choice for those who want something that is easy to use and will increase productivity and sales. It will solve issues related to time management and training.
The system allows you to perform your tasks quickly and with greater accuracy. This is very important in a fast-paced setting where you can't afford to take your time doing whatever you must. The rewards system tells you automatically how many points a customer has after a quick scan.
Positouch fully addresses the requirements and needs of restaurants and similar establishments. It has been branded as the most stable point of sale system in the food service industry.
Among its best features are that information is saved forever. The system can also integrate with video monitoring, has good reporting tools, payroll and time sheets, short installation time, and above-average support. On the downside, it is too hard to process refunds and adjust payments.
This system is capable of handling any food service environment according to its creators. It can manage country clubs, complicated table service restaurants, high-end dining establishments, as well as quick service settings such as bars, cafeterias, and stadiums.
It is the perfect point of sale solution whether your business requires a single mobile device or tens of fixed terminals. POSitouch is integrated with all the features you may require to make sure you can work up to your highest potential without compromising accuracy, flexibility, and speed.
Pros
Quick scan of customer cards
Easy to see establishment floor plan
Easy takeout and delivery orders
Quickly put in or pull up an order
Easy to use
Cons
Costly
The system is not cloud-based
Hard refund processing
eZee BurrP! is a fully integrated, user-friendly, intuitive Chinese Restaurant POS ideal for small restaurant operations. It entails an approach that is unique in its simplicity. Moreover, it is highly reliable. The system is good for both a single location or multi-location.
With this solution, it is easy for employees to track order type as they can choose from Takeout, Dine In, and Delivery. The Kitchen Display System (KDS) displays all orders in the kitchen at once to ensure fast order preparation and service.
All the updates between orders are kept in check and the entire billing process is well-managed, which includes splitting checks, adding or removing items from an order, and more.
Another great feature is table reservation management and the options to customize orders with item modifiers, to create multiple menus, and to make different menus with different taxes and rates.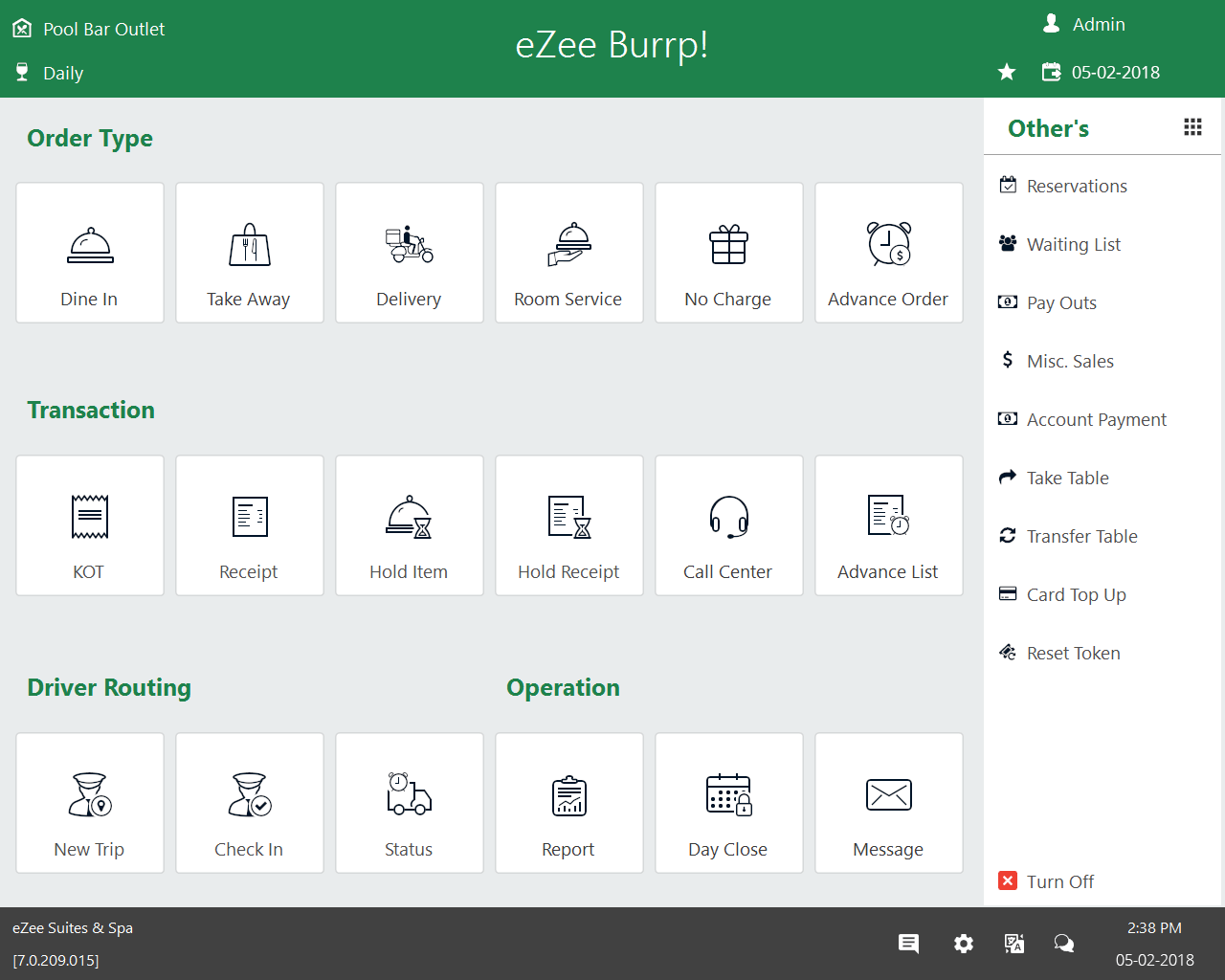 eZee Burrp Chinese Restaurant POS dashboard
Finally, eZee BurrP's sophisticated inventory and stock management module makes it possible to reduce waste, track items, and efficiently manage stock. The reports and advance tracking keep you up to date with the stock levels.
You will cut costs because you can see the fluctuating demands in your deli. The real-time inventory option lets you set stock levels, customize inventory and stock rates and initiate item transfers.
Pros
Customizable options
Direct access to all operations modes from the central dashboard
Convenient display of all orders in kitchen
Works on touch screen devices and desktops
Streamlined billing
Inventory management toolset
Cons
Interface too heavy for a POS
No loyalty program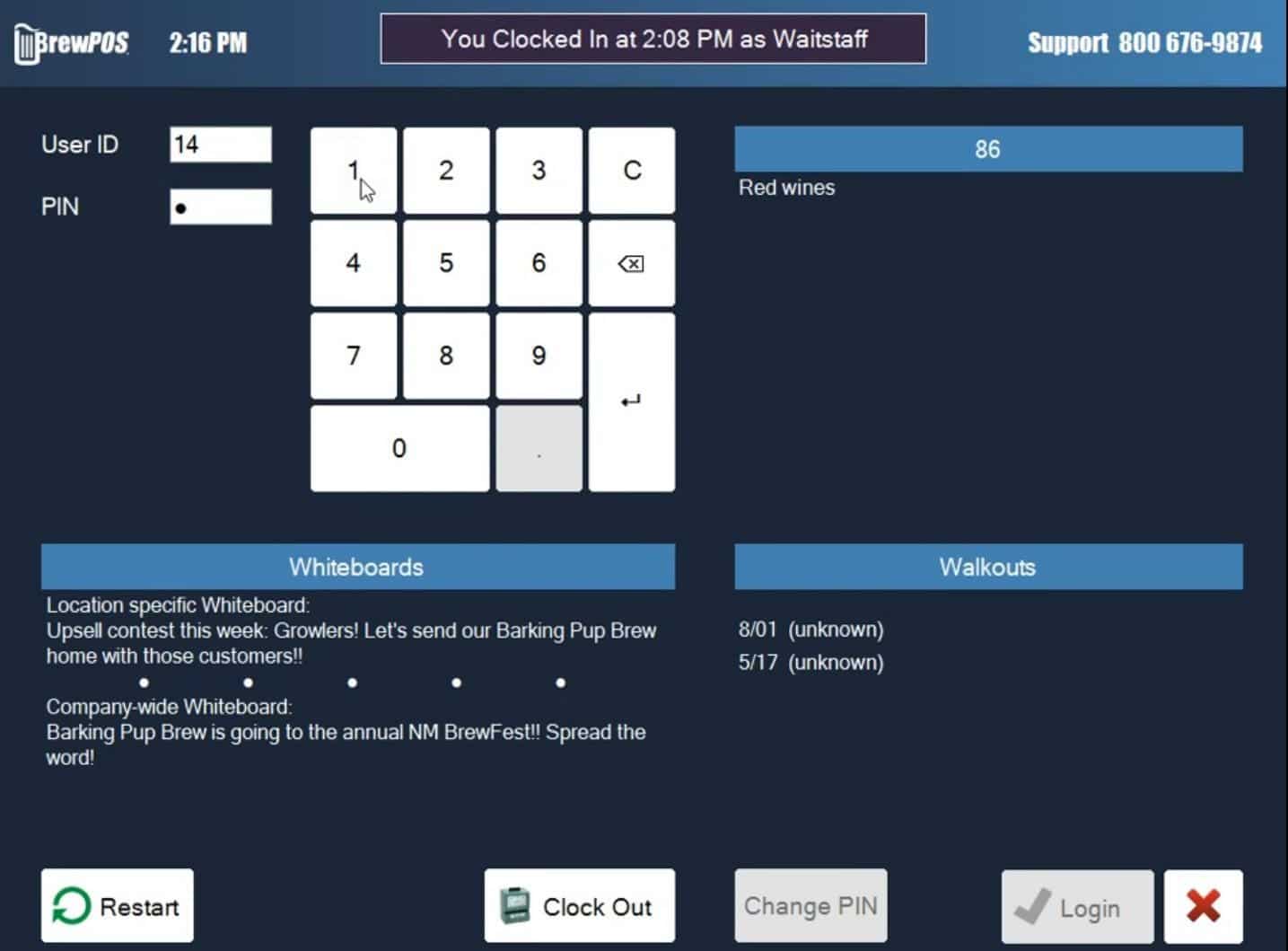 BrewPOS' interface
BrewPOS is one of the lesser-known entries in my list. It is a Windows IOT solution for restaurants. It will allow you to keep open tabs with EMV chip cards and close them without the presence of the client, allowing you to avoid keeping credit cards behind the counter. This POS system requires no settings, as you'd receive it completely programmed, including the preset information about your employees' and products.
I believe one of BrewPOS' biggest advantages is the real-time training included. You can even opt for onsite installation (available at additional fee). The extensive reporting toolset allows you to track most, if not all, aspects of running a restaurant or a brewery – from timecards to Individual product performance (which is how you identify the bestsellers on your menu). Comprehensive Employee activity tracking allows you to see everything that happens in your restaurant. Say goodbye to employee fraud with employee tracking.
BrewPOS boasts specific features, such as item removal tracking, automated employee food and drink discount tracking, and more nifty functionalities that will reduce costs. The system can run multiple checkouts at your restaurant without a server, which I find to be a huge advantage. There is an offline mode as well.
Pros
24/7 customer support
Cloud-based
Free trial
Free version
Cons
EPOS is a specific POS system designed for all-scale restaurants. It will allow you to connect the system with delivery and online ordering apps, making it as versatile as needs to be. EPOS will help you track your inventory and calculate your profits. The automated reordering functionality and the extended sales reports are among this POS system's most impressive features.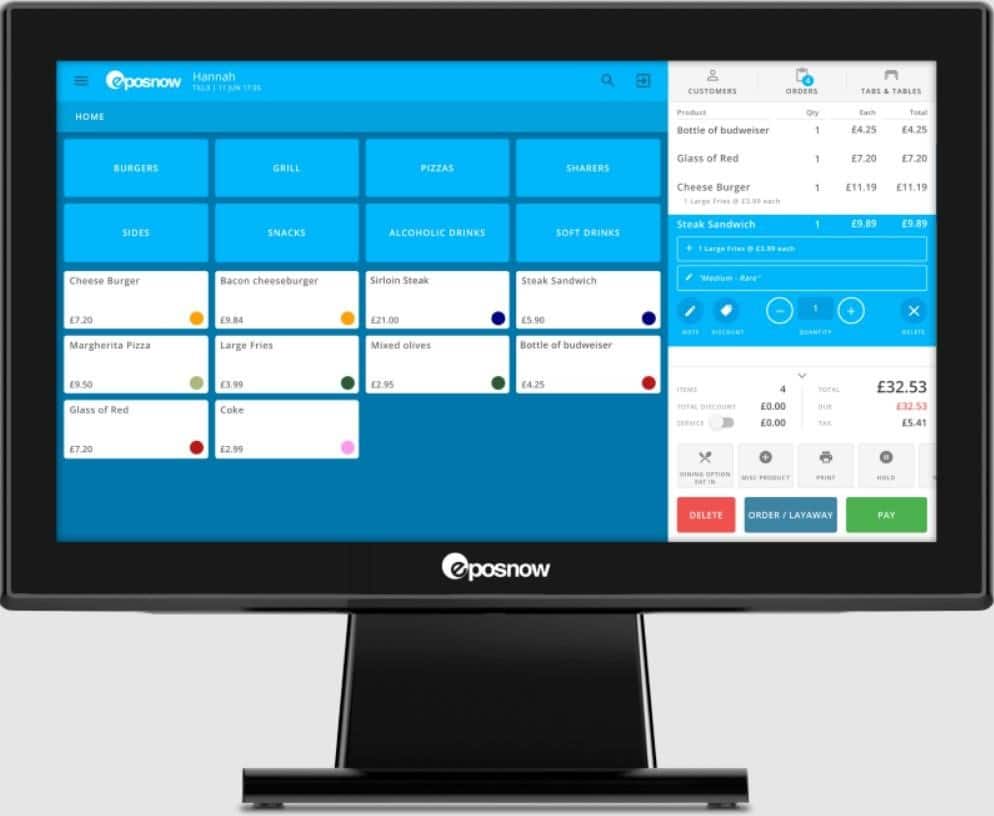 EPOS' interface and touchscreen monitor.
EPOS has one of the best kitchen display systems I've ever seen. Connecting the front end with the kitchen using such a reliable solution allows for real-time order updates and a faster-than-ever service. The result will surely be the shortest turnaround time possible. The same goes for online orders. In short, EPOS' KDS feature eliminates paper order tickets completely.
Overall, my impression of EPOS is that it's a great solution if you need the proper tool to streamline your entire operation and deliver immaculate customer service. This POS solution will easily enhance everything related to order management. Plus, it will allow you take advantage of table management tools in real-time.
Pros
Table management
Kitchen display system
Online ordering
EPOS NOW Payments – processing tool
Integration with more than 100 apps
Cons
Relatively expensive turnkey POS solutions
I can agree with some experts who say that they menu is the backbone of any restaurant. Having this in mind, Dessert POS may be a good solution for any restaurant. The system has an exceptionally flexible menu management suite. You can add categories and products as fast as possible.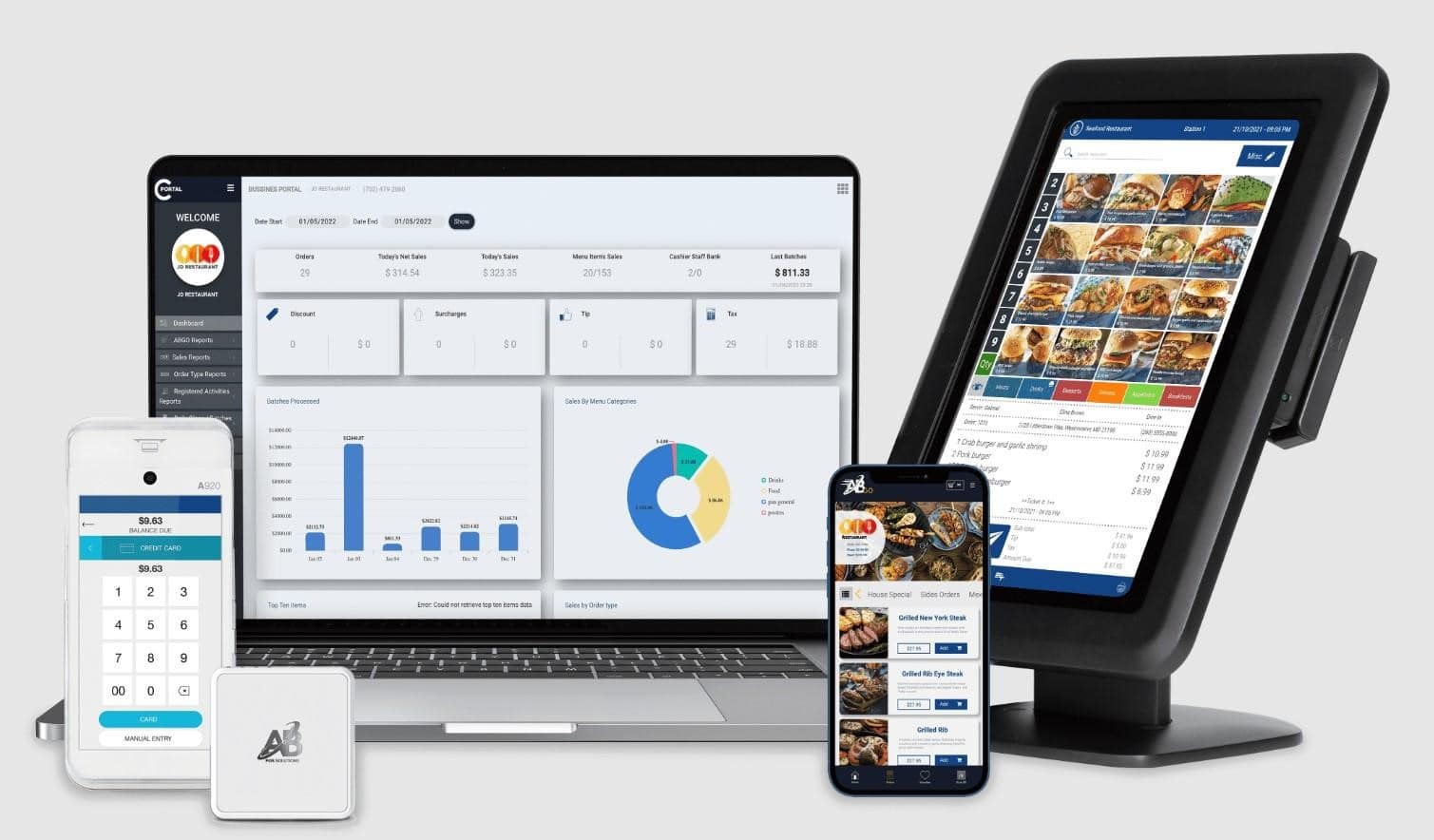 Dessert POS' interface and proprietary gadgets
Dessert POS will also help you improve guest experience by reducing staff training time. The system can create and automate schedules and promotions. One of its biggest perks is the tableside service toolset, complete with full-color picture menu that you could add to or reorganize at your will.
This restaurant POS system also boasts an enhanced reporting suite. You will have access to extended sales and operational reports related to income, profits, and employee performance.
Pros
Floor plan management
Detailed reports
Employee management
Contactless orders
Cons
SpotOn POS is a complete restaurant POS solution that's more than enough to let you manage every aspect of the venue with ease. I was surprised to see that this point-of-sale solution has surpassed popular industry players, such as Square and Toast, in Capterra's user rating comparison. What's even more curious is that the other POS vendors in the ranking are left far behind in terms of the overall score.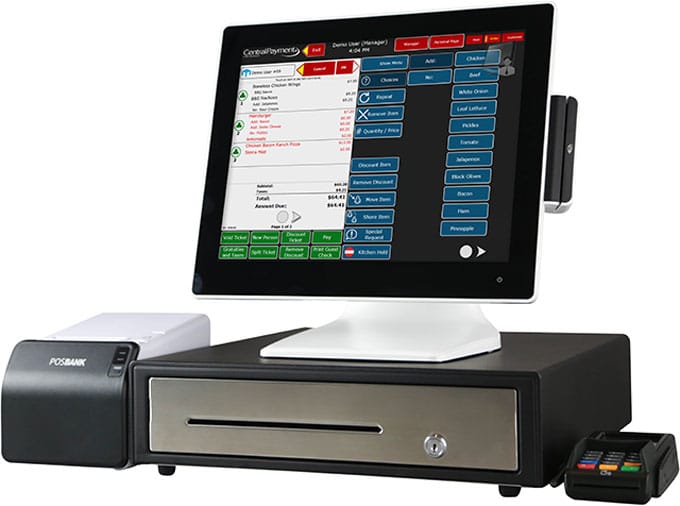 Spoton Restaurant POS Terminal
SpotOn offers it all: online reservations and ordering, kitchen display system (complete with a printer), customer-facing display (as part of a touchscreen station), menu builder, table management and layout planner, and more.
This POS solution can handle multiple locations and monitor every aspect of their management. As a result, you will have more than 100 detailed reports, alongside automated subscriptions and alerts.
Pros
Labor management
Multi-location management
Interactive reports
Manager subscriptions and alerts
Mobile reporting app to access data anywhere, anytime
Great reputation
Excellent customer feedback
Cons
Possible glitches when used on mobile devices
The Conclusion
There are as many different types of POS systems out there as there are kinds of restaurants. Looking at all the options you have, even an industry expert can get lost or feel overwhelmed.
I tried to label each system with its appropriate intended application, but there's often more than just one specific role to underline. I hope that if nothing else, you can use that to make your decision regarding the best restaurant POS system for your business.
Once you're certain you've outlined the best POS solution, then I suggest you go for it! You will realize soon enough that modern point-of-sale systems are irreplaceable and they can become the backbone of all the managerial aspects of running your business.
Frequently Asked Questions
What POS system is most popular among restaurateurs?
Restaurant POS systems need to be feature-rich, all-in-one systems capable of providing restaurant managers and owners the tools they need to run their venues efficiently and apply the changes they need to stay afloat. Some of the best restaurant POS systems today include TouchBistro, Square for Restaurants, Clover, Revel, Lightspeed Restaurant, Clover, Toast, and Upserve.
Which restaurant POS system is the best?
There isn't a restaurant POS system that's equally fitting for every type of restaurant, coffee shop, or brewery. Still, the best point-of-sale systems overall include TouchBistro, Lightspeed Restaurant, Toast, and Capterra's best-ranking system in terms of customer reviews – SpotOn POS.
What is the main purpose of a fitting POS solution?
POS systems allow your restaurant or similar venue to accept payments from customers in various ways and create sales reports. POS systems are different and they depend on various factors, such as online sales, physical stores, or eCommerce integrations. Today's point-of-sale systems are not only cash registers like they used to be.
Do I need a restaurant POS system?
Using a restaurant POS system has numerous benefits, but it's not a strict requirement. Running your restaurant without a specific restaurant POS system is possible, and you can even choose to not invest in any POS system whatsoever.
How much does a restaurant POS system cost?
Restaurant POS systems are not priced equally. The cost depends on the features and the peripherals you need. Some systems are expensive, but others are very affordable, as they only require a couple of devices and cloud-based software in its basic plan. There are free plans to choose from as well.
What is the cheapest POS system for restaurants? 
Square is among the cheapest systems for restaurants. Its free basic plan has the basic features most restaurants would ever need.