Disclosure: This Website is Reader Supported. As an Amazon Associate I earn from qualifying purchases.
Last updated on March 1st, 2020 at 04:51 pm
Epos Now POS is one of the best retail management systems for small to mid-sized businesses that you can currently find online.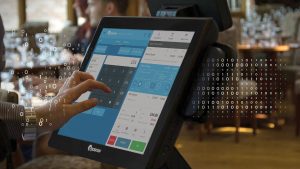 Epos Now is a highly-versatile retail point of sale system.
In addition, the Epos Now also offers integrated Inventory Management, Customer Management, and Retail Accounting. 
The list of functions goes on with general ledger, purchase orders, and payroll processing.
Epos Now is cloud-based, and compatible on Windows, Mac, Android, and iPad. Hardware can be purchased directly through Epos Now, or through a third-party vendor of your choice.
Key Applications
Epos Now is used by retailers in a variety of industries, including apparel, furniture, and home décor, grocery(one of the most popular grocery POS systems), sporting goods shops, etc.
The POS module includes electronic scale integration, which means you can comfortably sell weight-based items.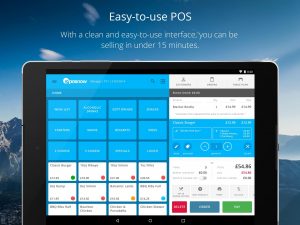 It also features barcode and credit card scanners, a staff time clock, age verification, and the ability to discount items or void transactions.
The inventory application helps keep track of purchase orders, inventory reports, the supplier database, and more.
Epos Now will also migrate all customer data, products, and stock data from your old POS system to the new one as part of the implementation process.
How Much Does Epos Now Cost?
In the table below you can find the software cost of this POS solution. It comes in two price schemes and the fees are paid monthly.
| | | |
| --- | --- | --- |
| Plan Name | Price per month | Cost of extra registers |
| Standard | $39 per month | $24 per mo/ per register |
| Premium | $69 per month | $45 per mo/ register |
Epos Now is a subscription-based solution. Merchants can choose to pay either $39 a month or $750 upfront.
This is just the price of the software and does not include the hardware you'll need to run the company's POS system on.
The company even offers a free 30-day trial so that new users can test the system out for themselves. Epos Now has two pricing plans: Standard and Premium.
The Standard plan costs $39 per month and includes email support and setup assistance. Any additional registers you want to add to the system will each cost $24 per month.
The Premium plan costs $69 per month and includes 24/7 phone support and account management.
Merchants that would like to add extra registers to this plan will pay $45 per month for each register. The loyalty program module is available separately and costs an additional $39 per month.
Hardware Costs
Epos Now sells a number of POS system bundles that are designed for retail and hospitality businesses. There are also bundles for specific business types.
Each POS system bundle includes one of the company's own terminals, POS software, a receipt printer, and a cash drawer.
Installation, configuration, and training are also included in the price of Epos Now's hardware bundles. They all cost $1,799 regardless of which configuration you choose.
Main Features of Epos Now
In the paragraphs below you can find some of the most noteworthy features of this POS system:
Reports & Back Office
Epos Now is cloud-based which means that you can access your reports and back-office tools from any browser, even when you're away from your office.
When it comes to reporting, the software's dashboard provides you with a real-time overview of your sales data.
Epos Now allows you to view both your best and worst-performing products. It also shows the brands or products with the highest profit margins.
Staff Management 
You can also track the performance of your employees with the software's staff reports. All of the reports made in Epos Now can be exported to Excel, QuickBooks, Xero, and Sage.
CRM
The company's software has a built-in customer management system which you can use to collect information from your customers, and then use this data to analyze customer behavior.
Customers can provide feedback on your business directly from the receipts you've emailed them.
Loyalty Program
As we mentioned above, a loyalty module is available for an additional fee, and any other integrations or apps you wish to add to your POS system can be implemented through Epos Now's own app store.
Inventory Management
The retail version of Epos Now includes inventory management tools that support up to 60,000 items and can be used to track products across your physical and online stores.
The restaurant version of the software can tell you how many dishes you can prepare with your remaining ingredients.
Low stock alerts can also be set in the system to alert you when supplies are about to run out.
Epos Now can also be configured to automatically generate purchase orders when your supplies are running low.
Epos Now Customer Support
This pos provider deliver amazing customer service via their Technical Support Phoneline, and they also have an international customer support phone number.
You can also send them an email, or contact them via the form on their official website. On the whole, the company's customer service is at a very high level.