(Last Updated On: 12/03/2020)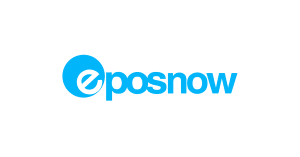 Epos Now is a renowned point of sale (POS) and business management software provider for retail and hospitality businesses. It may be applied in such businesses as general retail, tobacco shops, liquor and wine, vape shops and apparel stores. 
In addition to the cloud-based specialty POS software, the provider also offers proprietary hardware solutions. Expand the functionality of your POS system by integrating it with the right apps from the AppStore.  You will also get premium, 24/7 customer support by the provider. Throughout this Epos POS system review, you will learn why thousands it is a preferred retail and hospitality POS solution. 
Epos POS System Alternatives 
| | | |
| --- | --- | --- |
| POS System  | Software Subscription Cost  | Best Suited for  |
| Epos  | Starting from $39.00/Month | Retail and hospitality businesses of all sizes |
| QuickBooks Enterprise  | Quote-Based | Contractor, wholesale, manufacturing, nonprofit, and retail businesses |
| UpKeep | Starting from $35.00/Month per user | Manufacturing, Fleet, oil and gas, Facilities management, warehousing, food processing, and churches |
| Xero | Starting from $9.00/Month | all small and medium-sized businesses as well as accounting and bookkeeping practices |
Epos POS System Benefits 
Features built-in accounting and CRM capabilities

Exceptional product and stock organization functionality

Backed by quick and reliable customer support

Offers improved POS and data security

Supports more than 80 third-party integrations 
Possible Drawbacks 
You may end up incurring additional costs for customer support. 
Epos POS Pricing 
The provider offers a 30-day free trial period for you to try software capabilities first hand. While registering for the free trial period, you will not be required a credit card, as is the case with some of the leading hospitality POS systems. 
The provider offers three main price plans to meet different business requirements and budgets. All the paid Epos software subscription plans include support for unlimited users as well as free software, and security updates. If this is your preferred POS system, here are the three pricing plans you should consider:
Standard ($39/Mo)
This is the most affordable Epos POS system plan and only offers a basic point of sale and business management features. The plan features email support, cloud reporting, help with set-up, and support for unlimited products. 
For such functionality, you will be required to pay a subscription fee of $39/month for the first register. Additional registers will be charged an additional $24/month each. 
Premium ($69/Mo)
This plan will offer you more advanced capabilities, including 24/7 telephone support, account management, and cloud reporting. The $69/month price is just for the first register, extra registers on this plan will be charged $45/month each.
Enterprise (Quote-Based)
This plan is priced based on the functionality you need in your business. Some of the capabilities offered by the Epos Enterprise plan include On-site support, Enterprise reporting, Enterprise account management, and support for unlimited products. 
Epos POS Hardware and System Requirements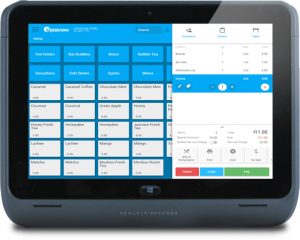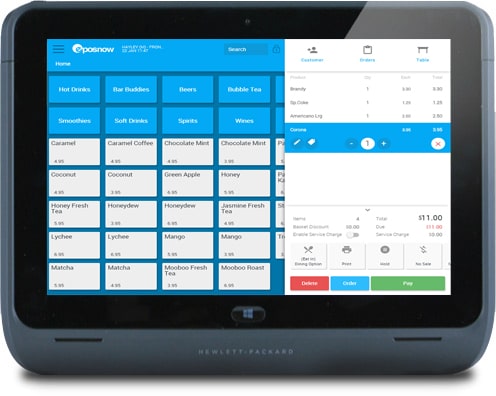 Both Epos retail and hospitality software options may be used with compatible third-party hardware solutions. If you do not have existing hardware, you may source for compatible solutions on your own or buy your hardware components through the Epos website.
Hardware solutions sold through Epos official website are fairly priced as the pricing includes installation, configuration, and training. Being one of the best cloud-based retail and hospitality POS solutions, Epos only requires minimal hardware to run. The system may also be deployed through a web browser, such as Safari and Google Chrome. 
Epos POS System Key Features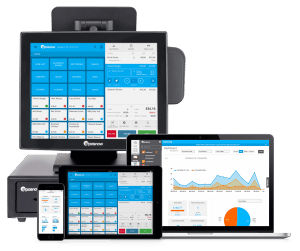 Epos Now is a retail POS and management solution for mid-sized businesses. The modular solution offers such modules as a point of sale, customer management, and inventory management modules. The retail accounting module of the software includes such capabilities as purchase orders, general ledger, and payroll processing. 
The system is suited for use in various retail businesses, including furniture and home décor, apparel, sporting goods, and grocery stores. This may be attributed to the many industry-specific features the system has to offer, including;
Reporting 
The EposNow retail POS system offers a customizable Dashboard for enhanced overview and control of the entire business. With this feature, you may access real-time product, sales, and employee performance reports from anywhere, at any time and on any device.
It allows you to set custom dashboards, hence access key information metrics you require quickly without having to run individual reports. Again, the system may be used to generate reports and analysis on various aspects of your business, particularly sales. 
The reporting Dashboard allows retailers to monitor revenue and identify areas that require more attention to improved performance. The detailed reports and analytics generated by this system may be used by retailers to identify their specific needs and boost sales. 
Security 
Just as is the case with some of the best retail POS systems, EposNow allows you to restrict access to the POS system for enhanced security. In addition to setting different authorization levels for employees, the system may be used to regulate discount levels.
You may also use this capability to stipulate who can offer refunds and void sales in the business. You will also be able to monitor discount levels by an employee from your Back Office. Preventing unauthorized access to the POS system, the system will help prevent employee fraud. 
In this regard, your staff will have to use their PIN numbers or staff swipe cards to access the POS system, which enhanced accountability. 
Back Office 
Epos Now back office offers retail business owners and managers added convenience and complete control at their fingertips. With this portal, you will be able to access the entire management system from any device, and from anywhere. 
This functionality has been proven to offer retailers improved control and visibility into all business operations. For instance, it will offer you convenient control and visibility into your inventory, staff, and sales. Easily add or edit products, start a spontaneous promotion. You may also access the AppStore through the award-winning and easy to use web-based Epos Back Office.
Inventory Management 
Get complete awareness of inventory levels in your business, eliminating the need for many unnecessary stock takes.  With this functionality, you will also be able to monitor inventory shrinkage and wastage. 
Coupled with analytics tools, this feature will ensure that you always have the best-selling products in stock. In an effort to streamline the ordering process, Epos Now allows you to raise purchase orders, and manage inter-location stock transfers conveniently from the POS system.
Allows vendors to update their catalogs effortlessly. With this system, you will be able to add or edit product information with ease. You may also bundle different items and accessories from the inventory manager. 
Staff Management 
Streamline operations and boost staff performance in your business. Features a built-in clock that allows your employees to clock in and out through the till. Your Epos Back-Office will then generate their hours and pay automatically. 
Extensive employee reporting allows you to identify the best performing staff, and highlight those that are under-performing. Get to know which of your employees are more successful at upselling as well as the best-selling products at a glance. This way, you will be able to identify and bridge any gaps in training for improved efficiency. 
Customer Relationship Management (CRM)
Manage your customers more efficiently for more repeat business. The system allows you to add customers quickly they make purchases. As such, you will be able to invoice them, collect essential marketing information, and offer them credit. 
Integrating the loyalty module to your Epos POS system allows you to offer branded loyalty cards to your customers. With these cards, the customers can collect points for their purchases and receive preferential pricing. This has been proven to be effective at encouraging repeat business, and brand loyalty in different retail businesses. 
Accounting Tools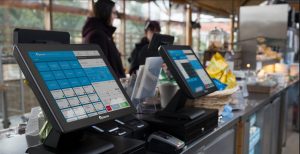 Many retailers love the fact that the Epos Now POS System can do much more than just monitor their revenues. The solution may be preset to generate quarterly and end-of-year tax returns automatically. Though basic, this functionality eliminates the need for an accountant or a third-party accounting integration. 
Customer Support 
Epos offers customer support through several channels, including phone, chat, and email. Their customer support professionals are known to respond swiftly, regardless of the contact method you use. 
According to the many users of this retail POS system, the customer support team at Epos is patient, accommodating, and helpful. As such, the provider is known to facilitate fast resolutions to many problems their customers encounter while using Epos Now.  The provider offers priority phone support 24/7, unlimited one-on-one coaching, and training. They also have onsite engineers available throughout the US.
Integration Support 
The Epos Now the retail point of sale is customizable and relatively easy to scale to different business needs. In addition to the various modules and features offered by the provider, the software also supports third-party integrations. As a matter of fact, the solution supports more than 80 partner applications and programs.
Final Verdict 
Epos offers a fast, responsive, and intuitive POS and business management system for retailers of different types and sizes. The system allows you to customize powerful promotions, accept all payment types, and access a powerful booking solution for your business. 
With this solution, you may also customize receipts with images, and special offers, as well as monitor historic transactions. Exceptional support, hands-free installation, enhanced ease-of-use, and scalability ore other aspects that make Epos Now a preferred retail POS system.