(Last Updated On: 02/12/2023)
Written by Business Expert Wale Ameen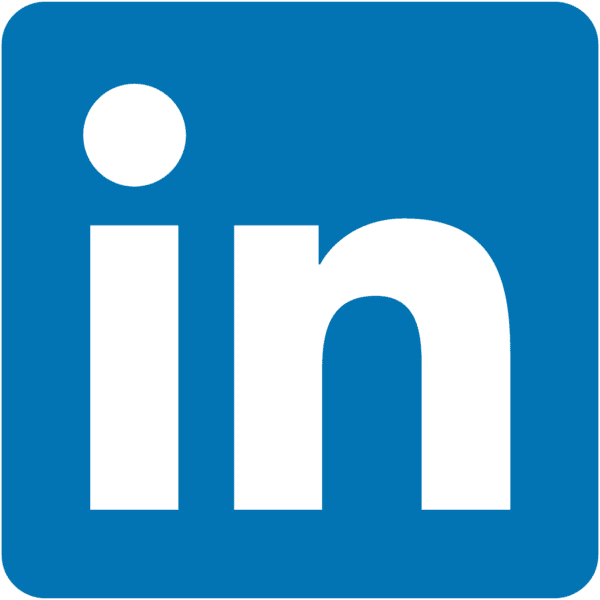 Our product review team dedicates hours of research, fact-checking, and testing to recommend the best solutions to business owners. We earn from qualifying purchases through our links, but this does not influence our evaluations. Why trust our reviews?  
This review highlights all you need to know about Runit POS, including its features, pros and cons, and how it fits the needs of the various retail verticals. In coming up with this review, I have analyzed its features and reviewed users' submissions about it.
Runit POS
Specifications

Retail centric point of sale system

Use any hardware of your choice

Integrates with third party apps

Mobile app for Android and iOS

Features receipt and advanced business intelligence capabilities 

Supports EDI integration 

Offers retailers convenient auto distribution tools 

Reliable accounting general ledger functionality 

Easy layaways and special order management
Runit POS – An Overview
Runit POS is one of the best retail point of sale (POS) systems on the market. This cloud based point of sale retail software is designed for specialty retail verticals, including apparel, footwear, and gift stores. The cloud-based system offers one of the most comprehensive inventory management features in its class. 
Read: 8 Best POS System Options for Retail Business Owners
Starting out in New York, the solution has grown since it was launched in 1992 to now offer retailers across the world one of the fastest, easiest to use, and most effective point of sale systems.
The software requires a great solution at an affordable monthly subscription fee without any commitment and allows you to use your own hardware, which can be any of a large number of hardware models it supports. It also supports integration with several third-party services, such as Shopify and BigCommerce. 
The Runit POS module features barcode, credit card reader, and electronic scale integration support. The system also features some of the best age verification, void and discounting capabilities, as well as purchase order capabilities. By going through this RunIT POS review, you will learn what makes it one of the best retail POS systems. 
Runit POS Alternatives 
| | | |
| --- | --- | --- |
| POS System  | Software Subscription Fees  | Customer Support Options  |
| RunIT  | Starting from $258.00/Month | Live Online  |
| Google Cloud Platform | Quote-Based | In-person, live Online, webinars and documentation  |
| NetSuite | Quote-Based | In-person, live Online, webinars, and documentation  |
| ShopKeep | Quote-Based | Live Online and webinars  |
Runit RealTime Cloud POS System Key Features 
The Runtime RealTime Cloud is renowned for its superior security and reliability. This may be attributed to its fault-tolerant equipment as well as a high-capacity, scalable architecture. As such, the provider guarantees that all your operations will run smoothly.
This allows you to achieve optimal efficiency and profitability. Additionally, the cloud-based retail POS system has a number of specialty features to offer, including: 
Inventory Management 
Get all your stock information updated in real-time with the powerful inventory tools offered by the Reality POS system. The solution reduces the time needed to replenish inventory across all your business locations and allows you to time stock replenishment in your store with the utmost accuracy. 
With such a system in your store, you will be able to re-order orders from vendors, replenish from the warehouse, and stock balance between stores. Each inventory item has a three-level department structure on the Runit RealTime Cloud POS system.
In this regard, the system features a dedicated price-point field and multiple user–defined categories. You can also track each of the stock items by attributes such as brand, vendor, style, type, subtype, color, season, gender, material, and size. 
Business Intelligence 
Runit software is designed to generate a series of automated reports to keep you updated on different aspects of the business. The system also allows you to choose from more than 1000 different management reports. 
It allows for easy access to management, merchandising operations, and retail transaction information. With the detailed Runit sales and historical analysis reports, you are able to compare store performance across all your locations. 
You may also manage the inventory by comparing existing stock to current sales and preset automatic reorder levels on the POS system. The reporting functionality will also let you monitor profitable trends by different attributes, including department, classification, brand, season, or store. 
eReceipts 
The eReceipts functionality on your Runit POS system will help you go green, capture customer email addresses, and drive follow-on sales. It features custom receipt designs and allows you to include banner ads, logos, and custom designs on your eReceipts. 
These receipts also link to your social media platforms, allowing the customers to submit and tweet feedback after each purchase. Each of the eReceipts generated by the system will have your logo prominently displayed and feature a custom border and background. 
Purchase Order Management
All retailers need to boost sales by introducing their customers to new and exciting merchandise. At the same time, you also need to maintain optimal stock levels for their tried and approved products. The Runit software couples real-time and accurate reporting with powerful purchase order management tools for effective purchasing management. 
The system will automatically analyze buying trends across all your locations, allowing for optimum replenishment quantities at any given time. The Auto-Order tool will calculate suggested orders from the minimum and maximum stock levels and historical sales performance from any date range.
You will be able to generate purchase orders using the pre-set maximum and minimum levels on items and by location. Improve inventory control with instant reports on order status, such as open, overdue, and closed.
Customer Management 
A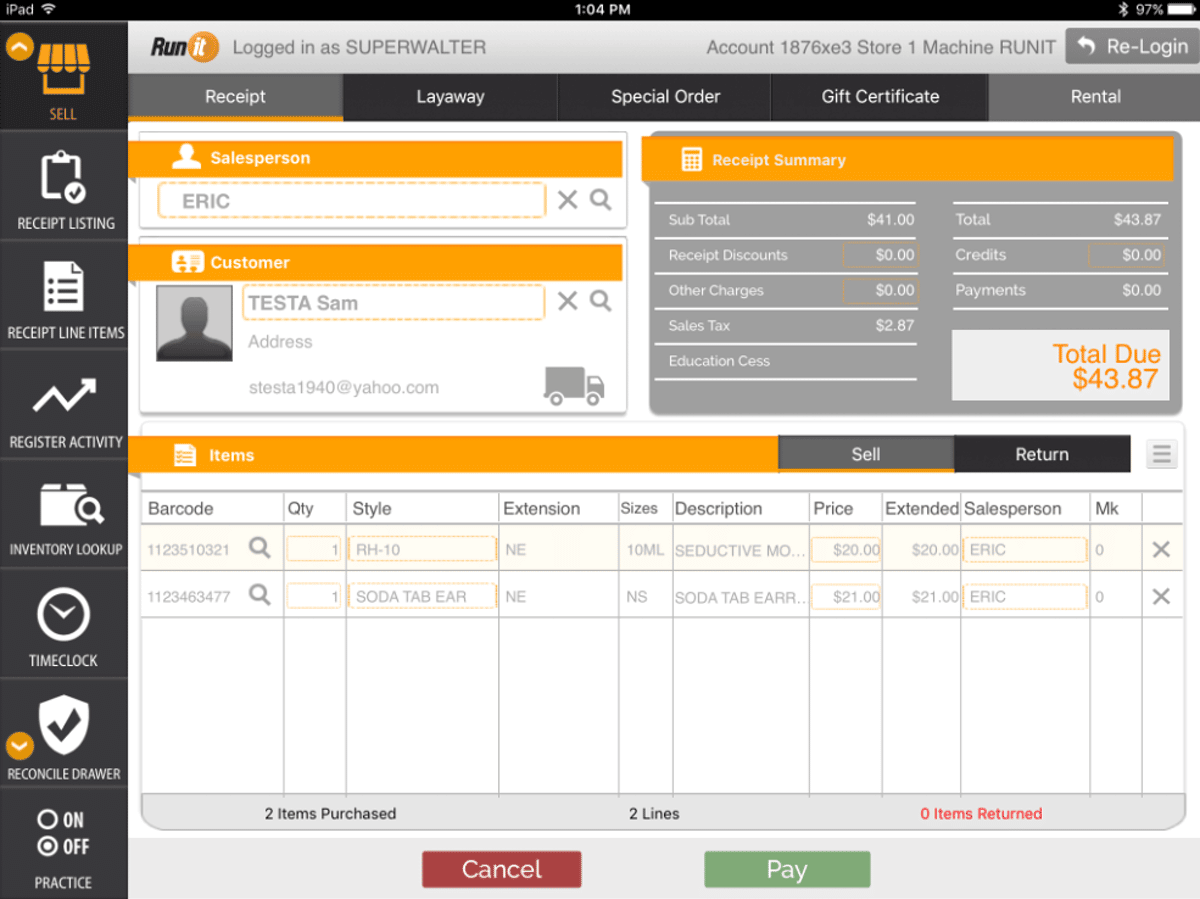 utomatically capture and share customer information across all your store locations, allowing you to offer a better shopper experience consistently. All customer records will always be current, reflecting any change to the respective customer's history, gift certificates/gift cards, and store credits instantly.
Runit POS is capable of detailing customer purchase history through a receipt, item, and summary. It allows you to view the history of each piece of merchandise a customer purchased and each of their receipts. A breakdown of the customer's total purchases by department, brand, style, price point, and size.
The system supports unlimited customer records, including name, address, phone number, ship-to address, email, and comments. Each customer record features User-Defined Fields, helping you classify important personal, non-merchandise details like organization memberships and birthdays. 
Loyalty Programs 
Implement reward programs to reward the most loyal customers in your business. Runit focuses your marketing efforts and money on the right customers at the right time. In this regard, you may reach relevant customers through phone, mail, or email right from your POS register. 
With Runit POS, you may target customers who have spent a certain amount of dollars in your stores within a certain date range. You may also classify them by department, color, size, style, and brand. You may also choose to focus your marketing campaign on customers in a specific zip code. 
Layaways and Special Orders 
Just like many other types of retailers, layaways will come in handy in your store. Runit layaways functionality allows the customers to put a purchase aside without having to pay for it in full upfront. It features a module that is specifically dedicated to helping you manage such sales. 
You may retrieve special orders and layaways by receipt number, customer name, special order number, or store layaway number. While reserving special orders, the system will let you enter a new inventory for the item in question. 
Review each payment and tender type used for any particular layaway or special order in your business. Automatically generate purchase orders for items on any particular special order. This functionality also features advanced promotional and discount capabilities. 
Integration Support 
Runit supports integration with a number of third-party services, including Shopify, Magento, WooCommerce, SPS, and BigCommerce. Additionally, the solution integrated seamlessly with the leading provider of electronic data interchange (EDI).
This integration will offer you easy access to a web-based EDI portal, helping you streamline transactions with your trading partners. It will improve efficiency by simplifying the processing of your business documents. 
Runit POS system also features ready-made connectors to such eCommerce platforms as Shopify, WooCommerce, and BigCommerce. 
Customer Support 
Customer Support The provider has a team of trained technicians ready to respond to their customers' concerns 24/7. With Runit, you will get unlimited technical support that is bundled to your monthly subscription plan. The skilled, and knowledgeable IT technicians at Runit will help you manage upgrades and solve technical software issues. 
They will also respond to your "how-to" questions regarding the software at any given time. 
Pros and Cons of Runit POS Software
Pros
Easy to use and setup

Allows the use of any hardware
Supports multi-store operations
Free customer service
Many options for reports
Ideal for small and big stores
Offers phone app integration
Offers both Android and iOS apps
Cons
Website can be hard to navigate

The learning curve for a new user can be a bit steep
Runit is comparatively more expensive when compared to other leading retail POS software solutions
No free trial
What Type of Business is Runit POS Ideal For? 
Runit is ideal for any vertical business in the retail industry. This ranges from apparel to footwear, sporting goods, or even retail gift shops. In terms of size, Runit will meet the needs of both small and large businesses alike. For retailers looking to try it out first, it is also possible with its free demo, during which you are able to get an overview of how it works and its processes. It does not offer a free trial. 
Is Runit Retail Software Easy to Use? 
Although as a first time user it might take a little while to get used to its entire array of features and their placements and how things work around them, once you get the hang of it, it's a breeze and easy to use solution. Many users also agree with this, as they acknowledge that it is easy to use in their reviews. Overall, you will find it a great solution, especially with its array of features and all the possibilities it has to offer.
Should you get into trouble at any point, you can easily reach out to its customer support team with 24/7 availability.
How Do Other Retail Business Owners Rate Runit POS?
Even though Runit does not appear to be that popular compared to other brands like Shopkeep, it nevertheless holds its own where it matters. As such, many users testify to the solution's robustness and rich features, which they say come in handy.
A review of user reviews on Capterra, GetApp, and Softwareadvice shows a largely satisfied number of users. Many users praise the company's customer care support, which they say is very responsive and helpful in resolving issues. Its ease in setting up new inventory, and customization for the sporting and apparel retail industry are specific highlights users point to as delights. The only major drawback they point to is its relatively higher cost when compared to other systems, especially for startups and small businesses.
Runit's POS Overall Star Rating on Review Platforms
Capterra: 4.7 out of 5
Softwareadvice: 4.71 out of 5
GetApp: 4.7 out of 5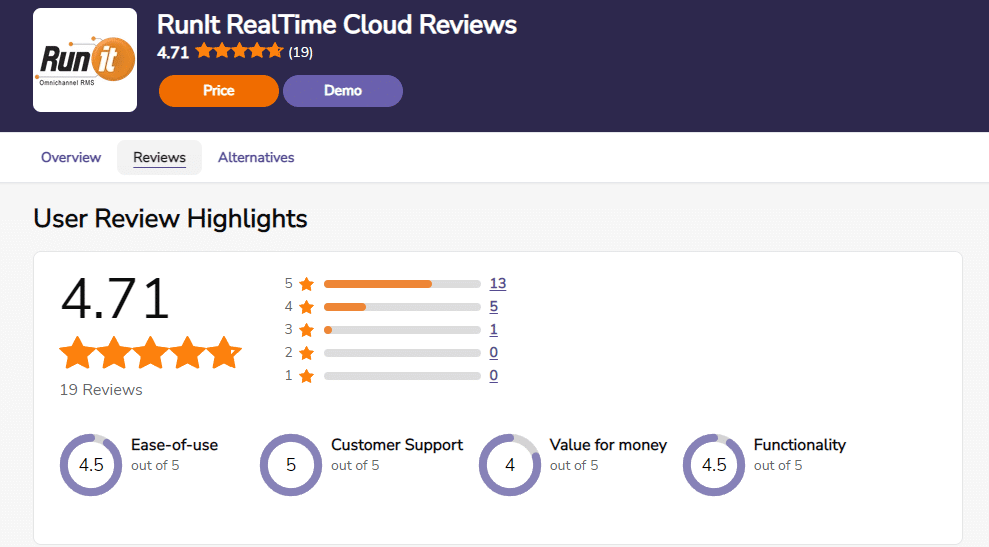 Runit POS Pricing 
A downside to Runit system pricing is that it doesn't offer a free trial period during which you can test run the solution although it does offer a free demo which you have to book for with the company.
The provider does not require you to commit to anything, just pay the subscription fee and you are ready to go. 
Depending on the size of your business, and the number of registers you require, the provider will send you a custom quote. However, it is worth noting that the Runit RealTime Cloud software subscription cost starts at $258/month. 
Runit Hardware and System Requirements 
This is probably one of the best features of Runit Systems and what sets it apart from other POS solutions out there. While many other providers will have you buy hardware from them and make the solution only compatible with their own hardware, Runit is different in this regard. 
Runit systems function on most third-party hardware solutions that you may already have. The software can run on almost any PC with a Windows 7 to Windows 10 operating system. The runit retail software may also be installed on Mac, iPhone, iPad, and Android devices. This goes a long way to cutting down on the cost and how much you have to part with at the end of the day.
For iOS devices, you will need to install the Runit Open Pro App. This features POS, employee time clock, and inventory lookup capabilities. To get a real-time management dashboard for your business, you need to install the Runit Pulse App. 
It's also important to note that the Runit Pulse application can also run on Android devices. 
Final Verdict 
The Runit RealTime cloud-based software is essentially designed to offer retailers a centralized POS system for simplified business control and management. The runit retail software comes with different modules that are specifically developed for a specific retail vertical. 
Runit software offers specialty POS modules for clothing, apparel, sporting goods, footwear, and shoes as well as gift stores. Each of the modules is equipped with a unique set of retail point of sale and management features. Every retail business in the clothing, apparel, sporting goods, footwear and shoes venture will certainly find its features an ideal fit for their businesses.
With Runit software, you can rest assured that you are getting a solution that has been developed to meet your specific business requirements. Such a diverse set of capabilities makes the Runit RealTime Cloud POS system worth every penny. To get started, get a free quote from Runit POS now. 
FAQs
Who are the typical users of RunIt RealTime Cloud?
The typical users of Runit RealTime Cloud POS include small businesses, mid-sized businesses, and large enterprises in the retail sector, including sports goods, apparel, footwear, and shoes. 
What is a cloud based POS?
A cloud based point of sale system is a web based point of sale system that gives you ability to access seamlessly from anywhere. This lets you process payment without the need for bulky or expensive hardware systems. You can easily access such things from a web browser or via an app that is easily installed on your laptop, smartphone, or tablet.
How does a cloud based POS system work?
Cloud based POS systems store your data in the cloud online as opposed to your local machine or on-premise server. You can easily access cloud based point of sale systems from interfaces built for laptops or mobile devices that need to be internet enabled.
What are the benefits of a cloud based POS system?
Some of the benefits of a cloud based POS system are:
No need for heavy hardware

Easily accessible from anywhere once you have an internet connection
Less costly
Increased speed and accuracy
Inventory management
More possibilities