(Last Updated On: 02/07/2023)
Written by: Software Expert Hamza Shahid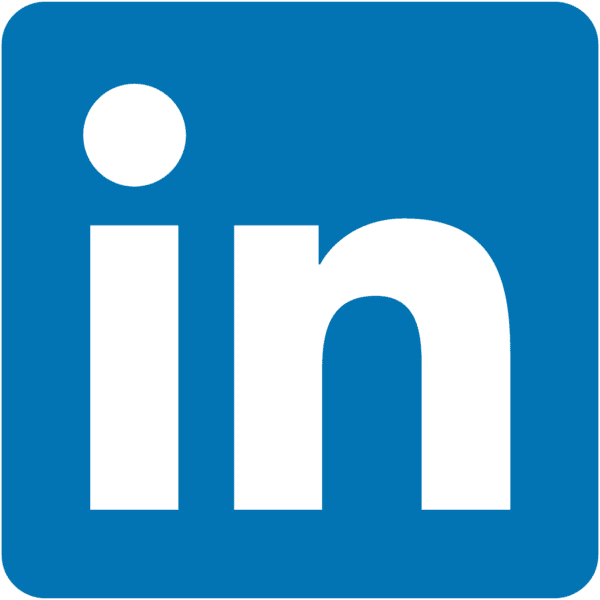 Affiliate Disclaimer: Our product review team dedicates hours of research, fact-checking and testing to recommend the best solutions to business owners. We earn from qualifying purchases through our links, but this does not influence our evaluations. Why trust our reviews?
The best POS systems for juice bars should make it easy to track sales, ingredient inventory, and staff schedules. Additionally, it can facilitate the training of staff in the preparation of complex smoothie and drink mixtures. Your customers will be satisfied with the right solution if it is flexible, intuitive, and reliable. To achieve the best results, you need a system that allows for fast and accurate ordering with easy item modifications. The best software should include features like inventory management, line bustling, menu customization, and juice barcode scanning. The best software for juice bars should include features like inventory management, line bustling, menu customization, and juice barcode scanning.
The market is flooded with juice bar POS systems, and choosing the right one can be a challenge. In order to determine the best POS for juice bar, I reviewed five of the best, based on pricing, features, and user reviews. To come up with this top 5 best POS system for juice bar, I reviewed over ten products on Capterra, G2, and Trustpilot based on their features, pricing, and pros and cons.
Our Experts' Choice:

The Best Juice Bar POS Software

Clover POS System

The best Juice bar POS system is Clover. Clover POS juice bar offers:

Third Party Apps

Customized POS solution

Robust Inventory Management System

Loyalty Programs

Online Ordering and Much More!
Don't have time to review all the products and features? Here's a quick list of our recommended tools and guides for POS software for juice bars:
Clover POS – Best POS Software for Juice Bar Overall
Toast POS – Best POS for Standalone Juice Bars
TouchBistro POS – Best POS for Ease of Use and Fast Training 
Revel POS – Best for Large Juice bars
Upserve by Lightspeed – Best Cloud Based Juice Bar POS
Buyer's Guide: Why Do Juice Bars Need a POS System?
Juice Bar POS Software – An Overview
Juice bar POS software tracks sales and tracks customer orders, processes payments, and analyzes the juice bar's performance metrics. The best POS for juice bar should be capable of pre-authorizing credit cards, managing juice bar tabs, and tracking cash transactions. In addition to being user-friendly, the best POS systems for juice bars update inventory as it sells.
The POS system for juice bar is a software platform that enables juice bars to process payments, manage tabs, track inventory, and run sales reports. With POS systems, you can manage your business digitally and increase security and transparency without adding to the workload.
In this article, you will learn how to choose the best POS system for your juice bar based on your specific needs. In the following sections, we will evaluate the elements that make the best juice bar POS system, and review the top POS systems for juice bars. You can make your juice bar more profitable and keep your servers and customers happy with the right system.
Top 5 Juice Bar POS Software Picks
| Juice Bar Software | Clover | Toast | TouchBistro | Revel | Upserve by Lightspeed |
| --- | --- | --- | --- | --- | --- |
| Best Feature | Robust ingredient management and low stock notifications | Quick transaction times for busy juice bars | Customer management and loyalty programs | Wide array of menu customization and display options | iPad, Cloud-based POS good for juice bars that need mobility |
| Pricing | Starts at $9.95 a month for software | Pricing packages vary | Starts at $69/month for software | Pricing ranges; very low processing rates | Starting at $59/month |
1. Clover POS – Best POS Software for Juice Bar Overall
With Clover, small and midsize businesses have access to a user-friendly point-of-sale system that comes with a wide range of software and hardware options that meet your specific business requirements. Clover is a point-of-sale (POS) system for all types of businesses, including retail, restaurants, and services. Clover isn't the cheapest platform on the market, but it's got a huge list of payment partners that make it a good choice for all kinds of businesses.
In addition to its third-party apps, Clover POS bar is known for its customizable features. Juice bar owners can customize Clover POS juice bar to meet their needs. Apps include loyalty programs, payment processing, and more. It doesn't matter if you need an app to track happy hour promos or payroll, there are apps for every need. Using Clover's inventory management system, juice bar owners can keep track of how many products they have on hand.
Salient Features
ACH Payment Processing

Access Controls/Permissions

Accounting

Activity Dashboard

Appointment Management

Juice barcode / Ticket Scanning

Juice barcode Recognition

Billing & Invoicing

Cash Management

Commission Management

Credit Card Management

Customer Accounts

Data Security

Delivery Management

Discount Management

Electronic Payments

Electronic Signature

Employee Management

Feedback Management
Pros
Wide variety of apps

Offer a loyalty program

Easy-to-use system
Cons
Expensive hardware

Unreliable customer support
Why Clover POS Juice Bar Software is Unique
You will be able to boost up your juice parlor with faster and more efficient customer service using Clover POS juice bar POS system, specially designed for juice shops. In addition to keeping track of inventory, raw ingredients, food management, loyalty programs, and more, Clover POS juice bar POS system streamlines the billing process. Juice shop owners can use Clover POS juice software to improve POS billing, and streamline management processes.
Clover Pricing
Clover has two pricing options:
Register Lite
It costs $9.95 per month after the first 30 days. You are charged 2.7% + 10 cents for in-person transactions and 3.5% + 10 cents for keyed-in transactions. In Register Lite, you can track sales, view reports, set employee permissions, and purchase third-party apps.
Register
It costs $39.95 a month for the first 30 days, and for keyed-in transactions, 2.3% + 10 cents are charged. As well as everything in Register Lite, this plan features inventory management, customer loyalty programs, and advanced reports for business growth. You can integrate a weighing machine, juice barcode scanner, cash drawers, and other accessories with the POS if you run a restaurant or retail store.
Hardware Costs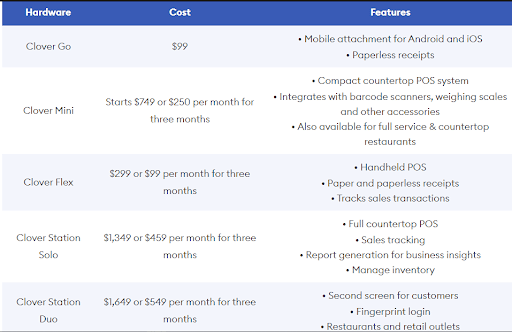 As a Fiserv-backed company, Clover offers its customers a variety of financial solutions to make their lives easier. Here are some examples:
Clover Capital
In order to qualify for Clover Capital's merchant cash advance program, you must have been in business for six months and process $1,000 in MasterCard and Visa transactions each month. On a slow day, you will repay less, while on a good day, you will repay more.
Rapid Deposits
If you are eligible, sales transactions can be credited to your account immediately at a 1% processing fee. There is no limit on the number of transfer requests per day, and you can receive up to $10k per request.
When you scale your team, you won't have to worry about paying more because Clover doesn't charge based on the number of users.

2. Toast POS – Best POS for Standalone Juice Bars
Many popular food-service organizations, including Jamba Juice, and Pieology, have embraced Toast's point of sale system. As POS requirements for the restaurant and juice bar industries overlap, Toast has developed many features tailored specifically to the juice bar industry as well.
With Toast, juice bar owners can streamline day-to-day processes and manage their stores more efficiently. You can accept payments, track inventory, manage staff, and even offer extras such as promo codes and gift cards. Because it fits so well with the day-to-day duties of restaurant management as well, it's also our pick as the best restaurant point-of-sale system. It offers an ideal balance of features, value, and usability.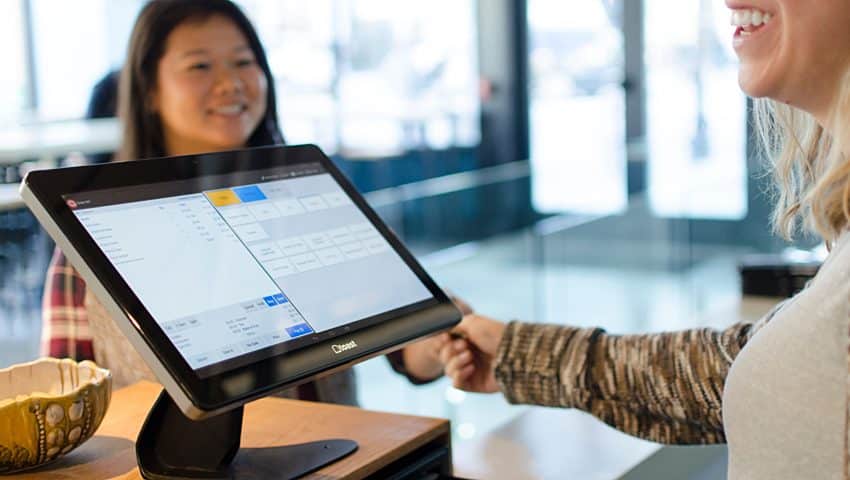 In our tests, Toast was the most juice bar-friendly POS. With an easy-to-use interface and comprehensive management, it can simplify daily operations.
Salient Features
Order Management

Manu Management

Online Ordering

Inventory Management

Data Reporting & Analytics

Employee Management

Time Monitoring

Cost Management

Customer Management

Loyalty and Gift Cards Management

Take Credit Card and EMV Payments

Collet Guest Notification

Online Access to Data 
Pros
Specializes in tab management

Great employee management tools

Good data-reporting features

Multiple payment methods accepted

Built for the eatery industry

Live 24/7 customer service at all price levels

Easy to use for several locations

Low-cost entry-level packages
Cons
Inconsistent customer service

Requires a contract

Cancellation fees and switching plans are costly
Why Toast POS is a Good Pick for Juice Bars
A big selling point for Toast is its inventory management system, which allows juice bar owners to keep track of their products inventory at all times. This feature saves juice bar staff a great deal of time, so they can spend more time serving customers and less time managing juice bar inventory. Overall, Toast POS is best for:
Standalone juice bars

Busy juice bars that need help keeping track of customer orders
Juice bars that want faster transaction times
Toast Pricing
Pricing for Toast varies depending on which software and features you require. Small juice bars can choose from the following starter packages:
For juice bars that would like Toast without upfront hardware costs, but do not want a monthly subscription, they offer the Starter Pay-as-you-go plan, which requires a two-year contract and charges $2.99% + $0.15 per transaction.

With Toast's Starter Standard plan, you have to pay $799 upfront for the hardware bundle and $69 per month for the monthly fee. For card-present payments, the processing fee is $2.49 percent + $0.15 per transaction. A two-year contract is required.
If you choose not to use the pay-as-you-go plan, you'll also have to pay for the hardware. You can explore the hardware bundles on Toast's website. Keep in mind that the bundles start at $799. If you decide to open another terminal, you can add as much hardware as you need.
Get a free quote from Toast here.

3. TouchBistro POS – Best POS for Ease of Use and Fast Training 
TouchBistro is an iPad POS system that was designed for food and beverage businesses, as its name suggests. It is a user-friendly, self-installable POS system made for hospitality businesses. It is easy to install, and like Square for Restaurants, it has a small footprint. From basic employee scheduling to speed screens and real-time inventory tracking, the baseline POS has everything you need to run a small juice bar.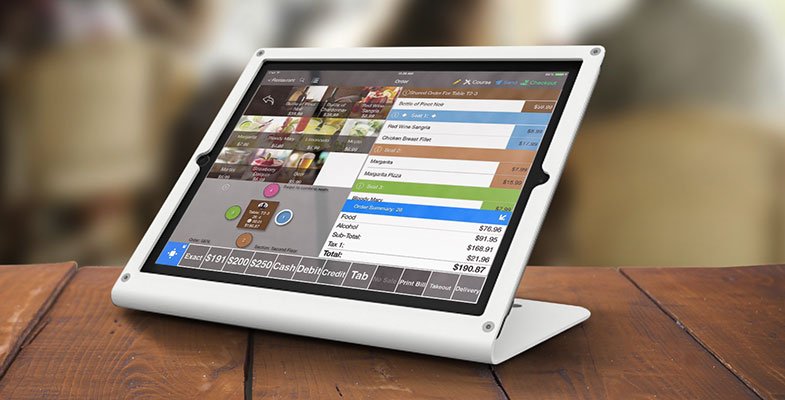 Moreover, juice bars will find its inventory useful for tracking individual items such as juice bottles and juice glasses. In addition to marketing itself as the #1 iPad restaurant POS system, TouchBistro also offers a juice bar POS with several unique features that will simplify your juice barista's job. TouchBistro is a great choice for juice bars that need mobility because it is tablet-based.
Salient Features
Easy-self install

IOS based user interface

Flexible payment processing

Built-in Inventory Options

Reports to Go

Inventory Tracking

Table Management

Table side ordering

Menu Management

Staff Management

Reports and Analytics
Pros
Tailored for the restaurant industry.

Loaded with helpful features.

Customizable add-ons.

Easy-to-use interface.

Excellent customer support.
Cons
No free or pay-as-you-go options.

No transparency on hardware or payment processing costs; quote only.

Contract without the option to cancel.

Automatic contract renewal.
Why TouchBistro for Juice Bars?
With TouchBistro's tab management system, juice bar staff can keep track of customers' orders. TouchBistro makes it easy for customers to split bills at juice bars that use their POS system.
TouchBistro Pricing
A unique feature of TouchBistro is that its pricing system is based on licenses, not per month. The company's most popular plan, TouchBistro Solo, costs $69 per month for one user. The Dual plan for two users costs $129, and the Team plan for five users costs $249.
Additionally, TouchBistro Unlimited can accommodate an uncapped number of users for $399 per month if your juice bar requires an unlimited number of POS licenses. In addition, reservations and online ordering can be added at an additional cost.
Depending on your hardware and software packages, your TouchBistro monthly cost will vary.
Several payment gateways are used by TouchBistro to process payments. TouchBistro Payments is a white label payment processing service through Chase that they do not disclose on their website, but they claim that their payment processing rates are transparent.

Unlike most POS companies, TouchBistro lets you shop around for your hardware.

4. Revel POS – Best for Large Juice Bars
Revel's Point of Sale is a great choice for juice bars with multiple locations or large juice bars. Revel offers an immense host of integrations, making it among the most scalable on this list. 
It includes a POS module with integrated inventory, social media and customer management support, and is designed for large juice bars. Revel Systems is a cloud-based business solution that unites operations, customer channels and POS functionality into a single dashboard. Users are able to make better business decisions based on real-time access to inventory, customer insights and sales data through the reporting and analytics suite.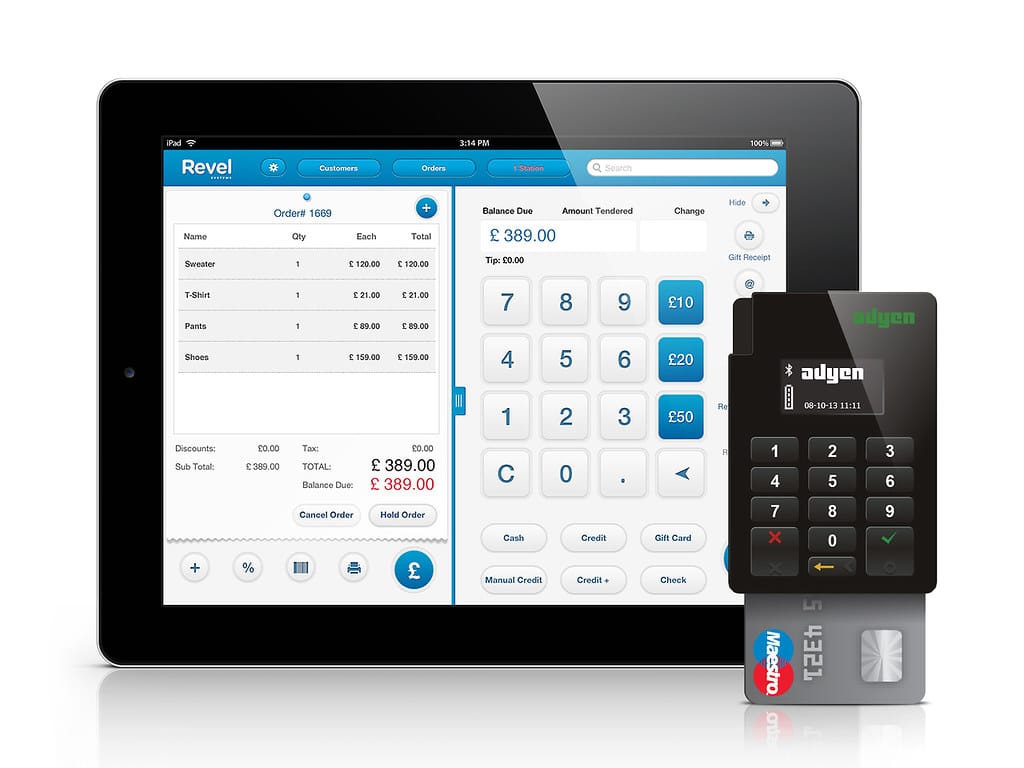 This software runs on iPads and allows users to access reports via a browser from any device. It integrates with both in-house and third-party services. By using Revel's dashboard, users can easily display upcoming events and drink specials on digital menu boards.
Salient Features
Online Ordering

Self Service Kiosk

Mobile Payments

Delivery Management

Quick Drive-thru Platform

Employee Monitoring

Comprehensive Menu Building

EMV Cards

Open API Integration

NFC Contactless Payments

High till alerts

Security Integration

Robust built-in inventory

PCI-compliant point-to-point encryption.
Pros
Can integrate with numerous software options

Access to processed data

Loads of back-office tools

Interesting additional features

Can be used at multiple stores
Cons
Smaller players will have to pay more for additional features

There's a steep learning curve to understand the POS

Can be expensive compared to competitors

No free trial to test
Why is Revel a Good Pick for Juice Bars?
Juice bar owners can opt Revel POS as their point-of-sale software due to following reasons:
By using the Revel's juice bar POS system, you can offer your customers multiple toppings and modifiers.

Get more customers with the best POS for juice bar and design attractive combo packs of different flavors.

To meet your customers' expectations, keep track of your seasonal fruits and veggies and stock them up.

Ensure your customers have a pleasant dining experience and provide them with a variety of payment methods.

Taking orders via Revel POS will enable you to note each personalized fruit combination, toppings, and flavors.
Revel Pricing 
Some features—like online ordering—are available at a custom-quoted rate. In contrast to many of the systems on this list, Revel POS offers a single subscription level. In addition, it's a good idea to request a general custom quote; if you need more than one terminal, you can likely get a lower rate per terminal. However, you should also keep in mind Revel's installation fees.
The Revel payment processors have the lowest processing rates. You can set high cash alerts when the till reaches a percent amount with Revel Systems' dual till cash registers. 
There is a $674 installation fee for Revel, which is higher than most other POS systems on this list. So, if you've got a big project, or need more than five stations, you'll probably need to budget more for installation.

5. Upserve by Lightspeed – Best Cloud Based Juice Bar POS
Upserve by Lightspeed POS management system is designed for restaurants, cafes, juice bars. It is optimized for iPad and iPhone. As well as flexible point-of-sale tools and payment solutions, the platform offers functionality such as table and check management, as well as a time clock.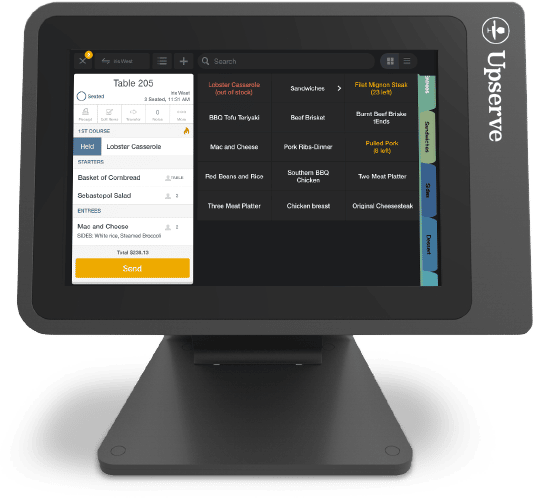 In addition to helping businesses operate more efficiently, Upserve by Lightspeed lets users search for menu items and edit menus instantly. By using a credit card, users can split, transfer and merge checks, open and close tabs, and hold items or courses for future delivery. Automated item countdowns and 86 alerts are also available on the menu.
With Upserve by Lightspeed, managers can track sales and items, as well as monitor trends over the course of the week. Different views and menus can be set up for distinct roles, and managers can specify which features each employee has access to. Inventory countdown alerts servers when items run low, and automatically adds 86'd items when they run out, as well as void or comp items. Users can void or comp entire checks or items by dollar amount or percentage.
By signing electronic payments, users can add customized tip suggestions and complete electronic payments. Employee productivity, cost management, and scheduling can all be improved with time clock integration, which allows managers to pay workers accurately and monitor labor insights. Sales reports, sales and tax statistics, guest counts, and check counts can be viewed by owners and managers at any time.
Salient Features
Check Management

Order Management

Seat Management

Course Management

CRM

Integrations

Visual ecosystem

Streamlined Screens

API

Access Controls/Permissions

Activity Dashboard

Alerts/Notifications

Juice barcode / Ticket Scanning

Cash Management

Contact Database

Contact Management

Cost Management

Credit Card Processing
Pros
Operates on iPads or proprietary Android tablets

Transparent pricing

Deep-level analytics and automated reporting

Marketing and reputation management included in the baseline POS

Detailed data reports

Training mode for new staff

24/7 customer support
Cons
Locked into Upserve Payments

Contracts are three years

High upfront cost

Relatively expensive system

No free trial version
Why Upserve for Juice Bars? 
Upserve by Lightspeed cloud-based juice bar POS system offers juice bar owners a number of advantages. Firstly, juice bar owners can access their POS system from anywhere. Secondly, juice bar employees can keep track of their customers' orders using the Upserve juice bar tab management system. You can create custom orders or choose frequently ordered drinks by simply tapping the Upserve interface. Upserve by Lightspeed is best for:
Restaurants that want an iPad POS

Upscale juice bars

Juice bars / restaurants needing advanced inventory

Juice bars that need touch screen POS
Upserve by Lightspeed Pricing
Software Cost
Plan
Pricing
Features
Core

$59 per month plus $60 per terminal.

Upserve POS software.

Training mode.

Offline mode.

Upserve Live mobile app.

24/7 customer support.

Sales, labor and guest trend reports.

Marketing campaign tools.

Reputation management tools.

Upserve Payments.

Logbook for streamlining communication between staff and management.

Upserve Workforce for creating staff schedules and managing clock-ins.

Pro

$199 per month plus $50 per terminal.

All features in the Core plan plus:

Menu optimization tools.

Server performance data.

Inventory management plus low inventory alerts.

Recipe costing.

Vendor management.

Upserve Loyalty program.

Pro Plus

$359 per month plus $40 per terminal.

All features in the Pro plan plus:

Data API for integrating the software into your own tech platform.

Dedicated account management and consulting.
Hardware Cost
Along with receipt printers, cash drawers, card readers and iPad stands, Upserve offers its own POS terminal and tableside ordering device:
Upserve POS Terminal: $1,350.

Upserve Tableside Mobile POS: $499.99.

Lightspeed iPad Stand: $219.99.

Credit Card Swiper for iOS Terminal: $104.99.

Upserve Cash Drawer: $129.99.

Wireless Thermal Receipt Printer: $299.99.

Kitchen Display System Touchscreen Monitor: $449.99.

Buyer's Guide:
Why Do Juice Bars Need a POS System?
There are a number of ways juice serving businesses can benefit from POS systems in today's increasingly tough business climate.
Increased efficiency
The best juice bar POS system streamlines processes and saves time for staff. From stock control to customer management, valuable POS features can streamline these processes and save staff valuable time.
Improved customer experience
In addition to improving customer experience, POS systems can also be used to streamline order taking, which can result in shorter waiting times, as well as cross-channel selling capabilities that can simplify buying processes. In addition to benefiting the business, these features are likely to ripple across the business since satisfied customers are more likely to make repeat purchases.
Increased revenue
As well as enhancing customer service levels and increasing productivity, point-of-service systems help businesses minimize service time by taking orders and handling payments efficiently and slickly.
Important insights
Modern point of sale systems can help you unlock valuable, data-driven insights if you want to drive up growth even further. Business owners can use this information to gain a better understanding of their juice bar's performance, which helps them maintain their competitive edge.
Reduced errors
There will always be human error when handling orders. However, POS systems can reduce the number of errors by eliminating the need for servers to enter information manually.
Important Considerations when Exploring Juice bar POS System 
If you are running a juice bar, you need a POS system that has a powerful engine and an intuitive user interface. It needs to be a feature-rich solution that is designed specifically for this industry. POS systems for juice bars should include ingredient-level inventory management, recipe costing, as well as powerful back-office reporting capabilities.
These are some of the important considerations you should take into account when choosing a POS system for a juice bar:
Inventory Management
The software you get for your juice bar should be capable of tracking inventory items down to the ingredients level, just like it is with other businesses. Optimizing inventory will boost your profitability exponentially. It should be possible to view food costs and wastage at the recipe and ingredient level through the robust inventory feature.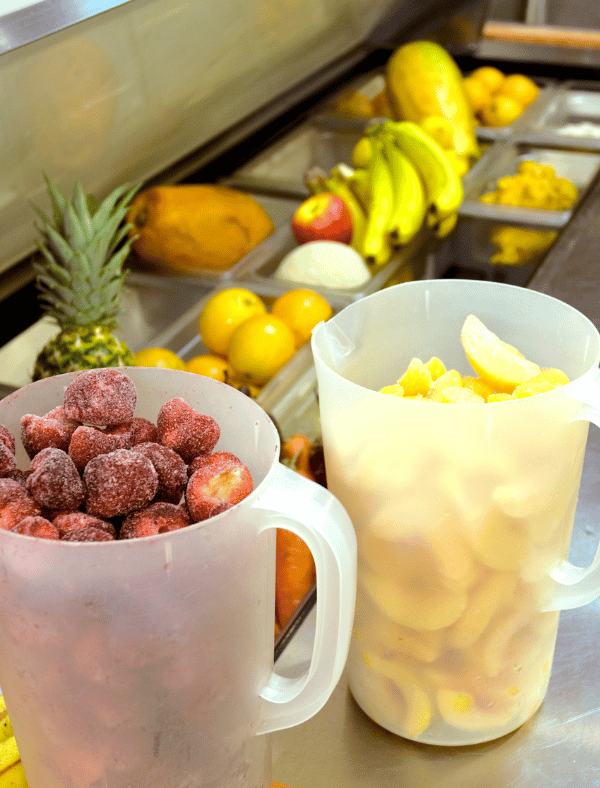 It can be challenging to manage inventory costs in a juice bar. The POS system you choose should have the tools you need to monitor product usage and order information. Inventory management tools make it easier for your business to decide when and what to order. Some of the benefits of inventory management tools are:
Reduced Wastage
With an industry-specific juice bar POS system, you can generate sales trends and customer demand reports, helping you plan your inventory accordingly and reducing raw material wastage.
Optimized Stock
When your POS system is equipped with inventory reporting capabilities, you can determine which items are in demand and which are not. This allows juice bar owners to stock the right amount of ingredients and inventory items.
Swift Transaction Processing
To make your customers more satisfied, you need to be able to process transactions faster and accurately. You will need the right register tools in your preferred POS system to accomplish this. A simple, department-driven menu screen, for instance, is a good choice.
When processing transactions, your staff should be able to easily find items with the system. A single-screen juice bar POS system will also speed up the process. In this case, a system that allows orders to be routed to the preparation area will also be useful.
Line Bustling
Keeping the lines short and reducing wait times will boost your business' customer experience. For this purpose, you should consider getting a POS system that allows self-ordering through kiosks or tablet POS stations.
Self-ordering stations will not only speed up the ordering process, but will also reduce labor costs. This is because you won't need more employees to take orders and the stations should allow for customized orders through an easy-to-use interface.
Customers will be able to order more quickly and customized, so they are more likely to return. In addition to reducing wait times, increasing order accuracy, speeding up service, and empowering customers to customize their drinks, this technology has also been proven to reduce wait times.
Integrated Sales
There are many juice bars that offer weighed items as well. For example, you may have frozen yogurt on your menu that must be weighed when processed.
It is important to choose a POS solution that integrates weighing scales to speed up transactions. If this is the case, the scale will automatically enter the weight reading into the POS, then calculate the price and subtract the weight from inventory. Thus, transaction processing is sped up and human error is prevented.
Juice bar Code Scanner Integration
A juice barcode scanner integrated into your POS system will make cashier transactions faster, easier, and more accurate if your juice bar sells nutritional products.
Customizable Menus
A juice bar reporting and analytics tool will help you always know what ingredients and juices are driving sales in the business, so you can keep them coming back again and again.
Custom juice bar menus will also allow your customers to order exactly what they want. You can use this information on loyalty programs to offer targeted promotions.
Flexible Ordering
In spite of the fact that you may offer a few standard beverages, you must realize that customer preferences differ greatly when it comes to these items, especially when it comes to toppings, fruit combinations, and flavors.
They should be able to customize their order according to their preferences during the ordering process. You will be able to understand your customers' preferences as a result of the system remembering what they order every time they visit your juice bar. You may even be able to offer them personalized offers in the future based on this information.
Reporting and Analytics
Analyze, understand, and improve your business performance with industry-leading reporting and analytic capabilities. A POS system designed specifically for a juice bar can generate reports such as costing and gross margins, employee performance, and product mix reports.
As well as reporting and insights on labor costs, profitability, gift and loyalty programs, and other important business functions, your POS system must generate unique, organized, and easy-to-follow reports.
It should be able to display detailed sales reports, preferably by order, payment type, or item, as well as store accurate information about voided orders, employee timesheets, discounted transactions, and cash drops.
Optimize Shelf Life
In juice bars, products such as milk, cream, and fruits often have a short shelf life, which is why POS tools are critical to boosting profitability. Choosing the best juice bar POS system is a simple task with this guide. Just like the four POS solutions reviewed above, you should look for one that is specifically designed for this type of business.
Features
Most juice bar point of sale systems have a few general features. These features enable a POS system to meet the unique needs of a juice bar. For example, a juice bar POS must split checks, create highly customizable menus, and manage alcohol inventory.
Ease of Use
Juice bars move fast. Your POS needs to be intuitive to keep up with your business' pace. A POS will need a little practice at first, but it should make it easier to run your business with a little practice. Most POS providers have refined their systems over the years. The majority of POS systems have become easier to use as new features are added.
Customer Service
There are a lot of juice bars that operate outside of regular business hours. The majority of juice bars get a lot of business on the weekends, so 24/7 technical support is essential when selecting a point of sale system for your juice bar. If your system goes down during a late-night rush, then you need to have someone on the phone as soon as possible. Before you make a purchase, read online reviews, and speak to the technical support team.
Final Thoughts
Our research shows that Clover is currently the best POS system available to juice bars. Compared to other solutions, the solution offers the highest customer experience and the best value for money.
Clover for Restaurants app and a card reader are all you need to begin using the system, and users can start in just a few minutes. Lightspeed and Toast are also great options if you want packages with the most hospitality-friendly features. There are, however, many users who cannot use Toast due to its Android-only hardware.
Last but not least, TouchBistro POS is a good option for product-oriented establishments like upscale juice bars. Stocking individual items is made easy thanks to the system's sophisticated inventory tracking system, and its user-friendly interface can significantly reduce service time. Combining all the features and parameters, we can conclude that Clover POS is the best match as a Juice bars POS system. View latest Clover POS pricing at Amazon.
Frequently Asked Questions
What is the best POS system for a juice bar?
Overall, our expert evaluation found that Clover is the best POS for most types of juice bar businesses, regardless of your business type and sales volume.
What does a juice bar POS system do?
In addition to managing orders and processing payments, juice bar POS systems can track inventory in real time, act as employee time clocks, and provide detailed cash tracking features. You can use these tools to grow sales and increase speed of service while reducing costs and theft opportunities.
How much does a POS system for a juice bar cost?
Software costs range from $0 to more than $100 per month, while hardware costs range from $0 to more than $1,000 per juice bar. With an iPad and a cloud-based POS app, small juice bars can get started with little investment. If you handle a lot of cash, however, you're better off with a system with cash management tools. In that case, you'll be looking at around $100 per month for the software and around $800 for each terminal.
Is a POS system necessary for my juice bar?
POS systems make it easier to track inventory, manage juice bar tabs, and process orders. If you accept credit and debit cards, you'll need one.
POS systems for juice bars have many benefits. What are they?
You can manage your juice bar's inventory, process orders, accept credit cards, as well as track customers' orders and juice bar tabs with a juice bar POS system.