(Last Updated On: 10/02/2022)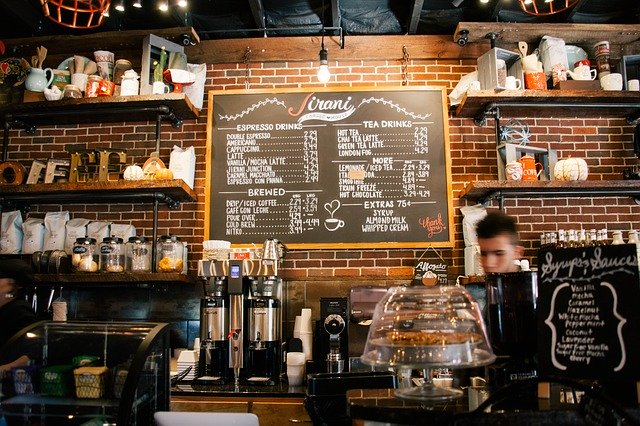 One of the biggest challenges in a coffee shop is Increasing average spend per customer. If you're looking to grow your coffeeshop business and streamline your operations, you need a solid POS system. By using your coffee shop point of sale system you can find out which items are selling and which are not. Other than that, the system can help you process payments faster, automate inventory and ingredient management, view back-end reports, and improve your overall profitability. 
POS systems are a vital part of running a coffee shop. They enable you to sell your products quickly and easily, and also control the cash register and payment processing. It's important to choose a reliable and easy-to-use system, so that you can be more productive and avoid errors.
A good POS system can help you meet your business goals and help your employees perform better. It should also offer speed, mobility, and comprehensive analytics. Essentially, it should become another member of your staff, able to help you improve customer service and sales. Whether you're a small cafe or a large, high-volume chain, a coffee shop POS system can help you keep track of customer information and improve your business's profitability.
One of the best options for coffee shops is Poster. This system helps coffee shops manage their orders and allocate them to tables and counters. If you offer online orders, you can also take advantage of Poster's integrated delivery service, which allows you to handle orders from the web or through third-party services. Poster also helps you track your couriers and optimize your costs.
Besides allowing you to keep track of customer data, a POS system can also simplify the daily operations of a coffee shop. It helps coffee shop owners handle their orders and expenses, manage payroll, and analyze sales data.
Based on our research, we found that the best coffee shop POS software is Lightspeed. It balances affordable pricing with powerful features, which include customer and employee management, easy payment processing, and automated inventory management. Additionally, the platform includes back-end reports, powerful third-party integrations, and much more. 
As you look for coffeeshop POS software, look for the ability to create a customized menu and customer loyalty programs. You should be able to integrate with payroll and accounting systems, as well as manage employees directly from the platform. Additionally, try to find a system that will pull detailed sales reports. That way, you'll always know where your business stands.
It's also important to keep an eye out for the kinds of hardware you'll need. Kitchen printers, barcode scanners, receipt printers, and large displays are all a must. Additionally, it's important to consider monthly subscription fees, hardware costs, transaction fees, and one-time onboarding fees when comparing prices.  Let's dive into the top 10 coffee shop POS systems and review their features, pricing, and support options.
Best Coffee Shop POS Systems
System
Price
Our Score
Key Features
Lightspeed Restaurant
Starting at $69/month
4.8/5
- Order ahead
- Self-serve kiosk
- Loyalty program

TouchBistro
Starting at $69/month
4.5/5
- Tableside ordering
- Table management

Square
Starts at 2.6% + $0.10 per swipe, dip, or tap
4.5/5
- Menu management
- Bulk additions

Toast POS
Starts at $69/month
4.3/5
- Tableside service
- Menu management

Loyverse
Free, with $5/month & $25/month upgrades
4.2/5
- Sales analytics
- Loyalty program

1. Lightspeed Restaurant – Best Overall POS System for Coffee Shops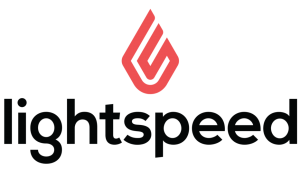 Keep the lines moving and customers happy with Lightspeed Restaurant's future-proof POS features. Here are some of the features that can help your coffee shop serve more customers faster. 
Help customers avoid long lines with commission-free online ordering via desktop or mobile. Lightspeed's Order Ahead feature offers a simple, app-free method for online ordering with no extra hardware required. 
You can also build a complete online presence, sell merchandise (if applicable) and strengthen your brand identity, building loyalty and recognition among the coffee lovers in your city. 
Self-Order Kiosk
With so many customizations available for coffee orders, it's sometimes easier for the customer to put it in directly. Lightspeed Restaurant's self-order kiosk helps keep orders straight, reduces errors, and can make your entire shop more efficient. 
Kitchen Display 
Keep a screen of your coffee and food orders available at a single glance, with color codes to help your baristas see what's on deck and what's ready to go. The KDS comes with a dynamic, customizable layout, and both visual and sound notifications when orders are ready. 
Loyalty Program
Lightspeed offers a highly targeted rewards program with a branded, customer-facing web app to track points. Track customer spending habits, marketing campaigns, and promotional efforts all from one dashboard. 
Accounting
Lightspeed Accounting integrates with a broad range of accounting software, including Quickbooks, Xero, Sage, and more, giving you choice over how you balance your books. Avoid costly errors by integrating sales data directly with your POS back office via a stable, secure cloud-based system.
Lightspeed also sends an automated daily summary of sales, so you'll always stay on top of your business performance. 
Pricing
Lightspeed Restaurants starts at $69 per month for the initial register, then $34 per month for each additional register. Add-ons like customer-facing display, kitchen display, advanced reporting and more cost $12 per month. Premium add-ons like loyalty, accounting, and more cost $39 per month. 
In terms of payment processing fees, the cost for tapped, inserted, or swiped cards is 2.6% + 10¢. The manually keyed-in rate is 2.6% + 30¢.
April 2021 Update: Shopkeep was acquired by lightspeed. 
2. TouchBistro – Best ipad Based POS for Cafes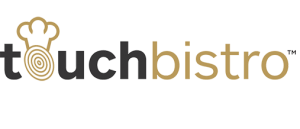 TouchBistro is designed specifically for the iPad, which is excellent if that's your preferred POS hardware device. Check out some of the powerful features from this leading platform.
Overall TouchBistro has built a strong foundation for its customers. Like most companies, you get complaints here and there. But for the most part, their reputation is next to spotless among users. Reps are available to help you ease into the program.
Tableside Ordering & Management 
Fulfill orders faster and more accurately with TouchBistro's tableside ordering system. The system includes pop-up modifiers for suggestive selling, prompting customers to purchase high-margin drinks. 
Design a restaurant floor plan, take orders by table, move parties freely, and manage multiple sections of the restaurant with TouchBistro's table management feature. Add tables, walls, sections, and floors to your floor plan design with intuitive touch controls.
Payment Processing
With TouchBistro payment processing, there are no hidden fees or long-term contracts. The platform accepts contactless options like Apple Pay, Google Pay, and Samsung Pay. With a POS integrated solution, you can eliminate double entry and reduce errors.
Inventory Management
Use TouchBistro's inventory management to track recipes against menu items and determine ingredient-level costs with ease. Additionally, the platform's in-service alerts notify staff members when inventory levels drop to a specific level. 
CRM Software
TouchBistro features one of the top CRM systems for restaurants. With payment history, key customer information, and loyalty features, you can keep your customers engaged so they come back for more. 
Menu & Employee Management
Merchandize your menu items with full-color pictures to help your staff sell more effectively. TouchBistro's menu management tools allow you to automatically schedule mens and promotions, and remotely respond to low inventory alerts, 86s, and emergencies within seconds. 
Keep tabs on your employees, including clock-ins, clock-outs, and staff activity, with the staff punch clock. Maintain payroll details and personalize accounts with employee-specific settings.
Empower front and back of house communication with simple, integrated, in-app messaging.
Reporting & Analytics
Keep an eye on all the key metrics pertaining to your business, including profit margins, staff performance, comprehensive end-of-day summaries, and over fifty other detailed reports.
Pricing
Pricing starts at $69 per month, with add-ons like gift cards, reservations, and online ordering costing extra. TouchBistro does not disclose their credit card transaction fee on their website, requiring you to contact them for a quote. 
TouchBistro starts at $69/month for a single license. There are perks for those who require more than one terminal, though. Namely, TouchBistro's discounted multilicense plans:
$129/month – Two licenses  

$249/month – Up to five licenses

$399/month – Unlimited licenses
3. Square POS – Best POS System for Small Coffee Shops & Cafes

If you run a small coffee shop, Square offers you a streamlined, easy-to-use POS system with enough features and functionality to keep your bar running at full speed. We recommend Square POS for startups and small coffee shops because it's a free system that can be customized to your specific service needs.
Square provides you with a fully customizable menu layout. Place your top-selling items in a main menu and build display groups for your various categories. If you need to make a layout change, it will sync across all of your stations instantly.
Updating your menu shouldn't take all day. When you want to add a series of new drinks, Square's bulk addition feature has got you covered. This includes seasonal beverages, so you don't have to sweat it when the holidays come around. Plus, you can even apply taxes and modifiers across your whole menu in just a few clicks. 
Advanced Discounts
Set up house specials and other discounts in seconds. It's easy, automatic, and repeatable. 
Floor Plan Management
Whether you have a coffee bar, dining room, or both, Square allows you to create a completely custom floor plan. If you want to host an event or a larger party, reorganize your seating with intuitive, drag-and-drop layouts. 
Reports
Gather important insights to help you make more strategic business decisions. Square provides reports on sales by category, item, or payment type; monthly trends; shift productivity, and much more. 
Square Online
Create a custom online site for delivery, curbside pickup, or contact-free ordering within your bar. Any orders placed online automatically sync with your coffee shop POS for easy integration. 
Pricing
Square does not charge a setup or monthly fee. Instead, you pay 2.6% + $0.10 on each swipe, dip, or tap. Their online payment fee is 2.9% + $0.30 for each transaction. 
For most coffee shops, this basic plan should be sufficient. However, if you're looking to expand to new locations or grow your team, there are other features you can add on like advanced team management, payroll, or inventory. 
4.Toast POS –  Best POS System for Integrated Marketing & Promotions
With a powerful suite of features that integrate your point of sale with marketing and seasonal promotions, Toast is the best system for bringing those two key aspects of your business together. 
Leverage handheld tech to accelerate service, speed up checkout — all without your customers ever having to leave their tables. Toast accepts payments of all kinds, including all card and mobile pay options. 
Build your standard menu and then customize from any terminal at any time. This includes seasonal deals, or custom menu items for particular sporting events. Avoid an awkward 86 with real-time item coutdowns, so everyone stays in sync. 
Email Marketing 
Whenever a specific sporting event approaches, you want the teams' loyal fans to flood your bar. Use Toast's email marketing services to build your list automatically from your POS. Then, send your enticing messages to that list. 
Self-Serve Kiosk
Free up your servers' time and energy by allowing your customers to order via a self-serve kiosk. Set up your customized menu — complete with pictures of each item — that automatically updates when you make changes. And then when an order is ready, shoot your customers a text to make sure they know about the deal. 
Reporting & Analytics
Keep tabs on how your sports bar is performing from anywhere; Toast allows you to view reports on any device. View key insights, including sales performance, net sales, labor costs, and more. Filter by a specific location, or see your entire operation in aggregate. 
Pricing
Toast's platform comes in three tiers. The Starter plan is currently $69 per month and includes POS features, customer care, and payment processing, with the option to add on additional features. 
At $99 per month, the Essentials plan includes online ordering and delivery, as well as the Toast Takeout App. Finally, the Toast Growth plan is $199 per month and includes gift cards, loyalty, and marketing tools.  Add-ons include restaurant grade hardware, payroll and team management, delivery services, and more. They do not disclose their payment processing fees on the website.
Kitchen Display System
Toast's KDS connects the front and the back of the house seamlessly. The whole shop is on one single system. Your customers can order from anywhere in the shop with the trademark ToastGo® feature and the order will be sent to the KDS instantaneously. One obvious effect of that is short wait times. The system offers suggested tip percentages and helps maximize efficiency for breakfast sandwiches and coffee orders.
 5.Loyverse POS – Best Free POS System for Coffee Shops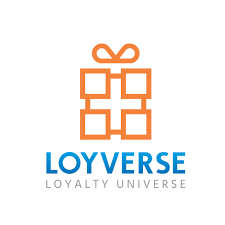 Loyverse POS is a basic point of sale system with all of the core features your coffee shop needs to get started. Here are some of the features and functionality you can expect from the Loyverse POS free plan.
Sell directly from an iPhone, iPad, Android smartphone, or tablet. Apply discounts, refunds, variants, and modifiers to each item or order. Keep a close eye on the items and ingredients in your stockrooms, as well as their valuation.
Receive daily low-stock notifications to make necessary replacement orders. Easily increase and decrease stock levels for received items, damages, and loss. 
Employee Management
Track the metrics you need to know exactly how your employees are performing, like sales by employee, workload per hour, or shift-end cash lack. With multi-level access, you can control which employees have access to which features.
Sales Analytics & Dashboards
Track growth or decline to see how your sales are trending, and view receipt history to monitor each transaction. Determine your best-selling items to guide future stock or sales decisions. Save time when tax season rolls around by pulling tax reports in just a few clicks. 
CRM & Loyalty Program
Identify your most loyal customers based on the number of visits and purchase amounts. From there, you can build a points reward program to motivate recurring purchase. Instantly identify customers with scannable loyalty cards, and print addresses on receipts to streamline delivery orders. 
Customer Display Units
Maintain order transparency with customer display units, allowing customers to see and confirm order information before the final payment. Allow them to see their loyalty points accumulate in real time, and they can enter their email to get an e-receipt. 
Users of this POS system receive instant notifications when inventory is running low or out.  Orders are dispatched to the kitchen automatically, faster, and with fewer mistakes. Sound notifications ensure you will never miss a new order. 
Back and Front Office Sync
The back office works in sync with the POS system. A coffee shop owner can see what their best-selling items are and browse the transaction history. The free dashboard app provides instant access to your cafe's stock and sales analytics at all times.
Pricing
The free version of Loyverse includes point of sale, inventory, loyalty programs, analytics, and both kitchen and customer display units. Employee management costs an additional $5 per month, and advanced inventory is $25 per month.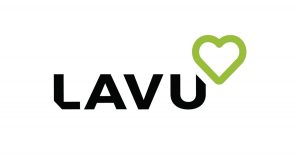 Lavu is a great POS solution for small businesses like coffee shops, bars, small restaurants, and food trucks.  Most aspects can be customized, including layout, unlimited menu modifiers, and menu item icons. 
Employee Management 
Employee scheduling, payroll reports, and shift-trading are examples of what's offered in terms of Employee Management. Lavu has a series of great features, including low-count warnings. 
Inventory Reports 
Lavu offers a myriad of sales, expense, and inventory reports. These can be accessed anywhere with an internet connection. It can also be translated into multiple languages. 
Price 
Lavu costs $ 69/month per terminal billed annually. Tiered pricing for multiple-terminal plans is available upon request.
Coffee Shop POS Hardware
When buying a POS for your coffee shop/s, certain hardware is essential to consider. This includes kitchen printers, large displays, and barcode scanning.   
Kitchen Printers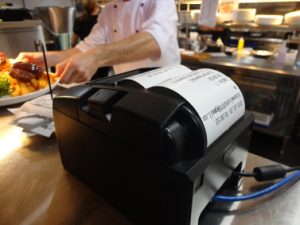 Your kitchen printer or kitchen display system (KDS) can send orders to the kitchen for chefs and cooks to prepare.
You would need this only if your coffee shop serves sandwiches or dishes.
For coffee makers, the printer can be used as a screen. These screens speed up service by listing out order details, specifically for people who like their coffee a particular way.  
The server taps a button to send an order to the kitchen with any special requests for order or degree of preparation. For better control or coordination, you can also have orders printed on more than one printer.
Barcode Scanners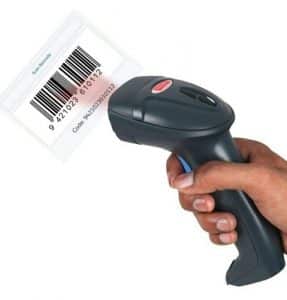 The barcode scanner is used to add inventory, check out items, and scan driver license for age verification. Bigger shops should install an embedded scanner like the ones you can see in supermarkets, while smaller ones would do better with a small, hand-held scanner.
Coffee shops selling products with a barcode need these scanners and a holder because they let you register items very quickly, ultimately reducing queues and transaction times. Barcode scanners also eliminate mistakes that would've happened from mistyping a product manually. 
Some POS apps for mobile devices have the capacity to "scan" barcodes via an integrated mobile camera.
However, we'd recommend a system with a purpose-built barcode scanner if you're high-volume or simply want to be able to add items to the bill in the most efficient way possible.
Receipt Printers
While modern till systems frequently come with the option of sending an electronic receipt via email or text message, receipt printers are still considered essential because the customer will (almost) always ask for a paper receipt.
Coffee shops selling more expensive products or anything that might be deducted as a business expense will find a receipt printer indispensable. 
You need ongoing paper refills for a receipt printer. For portable printers, a belt clip would come in handy so you don't need to hold it in your hands. You also need receipt paper rolls and a mount for fixing to wall or countertop.
Large Display Screens 
Large display screens are great for suggestive selling, also known as add-on selling or upselling. This sales technique involves an employee recommending an extra product that a customer might like or asking a customer if they would like to include an additional purchase.
It is used to increase the purchase amount of the customer and the revenues of the shop. The idea behind the technique is that it takes minimal effort in comparison to the potential additional revenue because you've already gotten the customer to buy something, which is often seen as the most difficult part. 
Why Large Displays are A Must
It is for this reason that large displays have become an integral piece of hardware for any quick service location, especially coffee shops.  TVs display high-resolution images of menus and prices. Digital menu boards are also a great way for coffee shop owners to highlight new items or showcase specials. 
To keep lines moving and orders coming in, streamlining the checkout process has become a necessity for coffee shops. Customer display systems engage customers, allowing them to follow along as their order is being input into the system to see if everything they've ordered is accurate.
The display system will prompt payment options and ask the customer if they would like to leave a tip. Adding a customer display system is like adding the digital equivalent of a tip jar to your counter. A study found retail owners who used iPad POS systems received more tips than those who used legacy systems.  
Let your Customers Enjoy Interactive Virtual Experiences 
Your customers can experience their favorite beverages interactively in a virtual environment.  Videos, product images, and PDF brochures can be controlled intuitively on giant touch screens. Customers will have fun placing interesting articles in a virtual shopping cart and ordering them via a virtual keyboard by entering their data.
It pays off to be ahead of the time. Your customers will experience the product presentation of the future by seeing interactive digital information superimposed on the product virtually behind a transparent touch screen.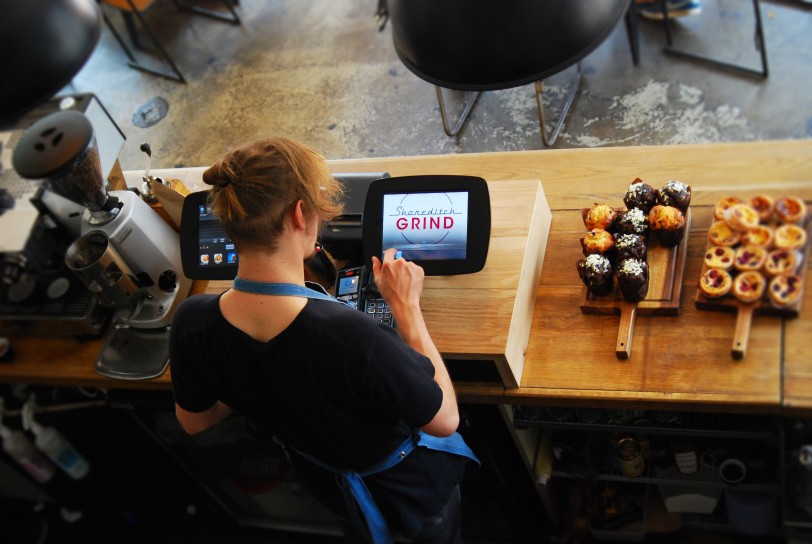 Integrations & Options 
| | | | | |
| --- | --- | --- | --- | --- |
| Name | Accounting Integration | App Integration | Multiple Login Options  | Highly Customized Menu |
| Square  | Yes | Yes | Yes | No |
| Shopkeep (now Lightspeed) | No  | Yes | No  | No |
| Toast  | Yes | Yes  | No   | Yes |
| Loyverse  | No | Yes  | Yes  | No |
| Lightspeed  | No | Yes  | Yes | No  |
| Lavu  | Yes | Yes  | No | Yes |
| bePoz | Yes   | Yes  | No  | Yes  |
Coffee Shop POS Features
Name
Ease of Use 
Sales Reports 

 

Loyalty Programs 

  

Payroll Integration 

Square 

Yes

No 

Yes

No

Shopkeep (now Lightspeed)

Yes

No 

Yes

No

Toast 

Yes

Yes 

Yes

Yes

Loyverse 

Yes

No 

Yes 

No

Lightspeed 

50/50

Yes 

No

Yes

Lavu 

50/50

No 

No

Yes

bePoz

Yes

No 

No 

No 
Buyers Guide: What to Look For 
This section talks about the main things to look for when buying a coffee shop POS system. These include ease of use to ensure a gentle learning curve for your staff, payroll integration, app integration, accounting integration and more.
Ease of Use 
In the world of coffee shops, there is a high customer and employee turnover. This is why you need a system that is easy to use and easy to teach.
You need a simple interface as well. A clean, modern front-end helps staff cut down on ordering errors and serve customers faster. Ideally, a solid coffee shop pos system should support tableside orders and payments via mobile devices. In addition, it must offer clear menu listings and prices, manage open tickets and customer tabs.
Finally, it should enable customization of order entry, fire orders or tickets to a kitchen display screen, and offer time-specific menus and prices.
Detailed Sales Reports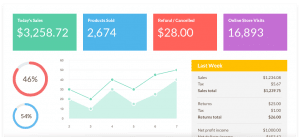 In the same sense, having detailed, yet easy to read and easy to access sales reports can save you a ton of headaches.
The ability to analyze data as well as possible and identify your best-selling items and busiest times of day can be extremely valuable. The best POS systems come with detailed sales reports. 
As a coffee shop owner, you want detailed sales reports on the amount of coffee you sold, percentage of sales, etc. Detailed reports will assist you in reassessing many of your coffee shop business decisions.
This data would include which items you are selling the most and the least and what hours you are making your biggest sales.
Coffee shop owners and managers need to be able to manage remotely, track sales and leverage available data to make better decisions. This will also help cut down on or even completely eliminate waste.
Loyalty Programs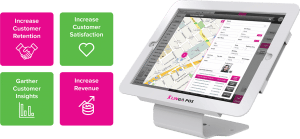 It's not that coffee shops created the gift card boom, but it's time you jumped the bandwagon.
When we hear "loyalty programs", the green-logo coffee giant immediately springs to mind.
Having a strong loyalty program with gift card functionality is a nice bonus to keep customers coming to your shop. Loyalty programs are key to any coffee shop's success.
The best POS systems provide the right tools to reward your customers in a way they can comprehend and appreciate.
The right POS system will integrate easily with advanced customer loyalty programs if you have multiple locations, so you can share gift cards and rewards across locations.
Payroll Integration 
You can use your POS system as the single payroll tool to the point of having it replace traditional payroll services.
It would be an understatement to claim a POS system can function like a punch card. A POS system is the best way to have staff 'clock in' and 'clock out' when you're managing the payroll of coffee shop employees.
Time clock features let your employees use unique codes to sign in and out of their shifts directly on a mobile device, which is used as your cash register.
You can also manually add information later. Let's say you're managing an employee who forgot to clock in or out or doesn't use the register. The option will come in real handy. 
Solid Employee Management
Always choose POS software with solid employee management tools. You should also be able to see sales reports by employees so you can identify your most efficient staff and reward them apart from adding employees and editing employee privileges. 
It's easy to do payroll with work tracking reports. Payroll is made simple when you have the ability to track your employees through your point of sale.
You often won't need any other payroll functions to know what to pay your staff. Run work tracking reports to receive an overview of all the hours your coffee shop staff worked, including any overtime if applicable.
Accounting Integration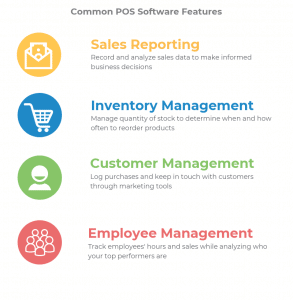 A POS system with this feature can help you track income and expenses, manage all your transactions, and obtain meaningful business insights. Online accounting is easy and convenient.Your POS system of choice should let you explore different reports including expenses, profit and loss, and balance sheet.
It's much better than using Excel spreadsheets to keep track of accounting. With this integration, you can link receipts to expenses through an app and do your taxes more easily.
The tools you can use to customize your accounting solution include inventory management, time tracking, and payment processing.
The decent coffee shop point of sale will also help you perform small business accounting using individual login to access reports like the general ledger, balance sheet, or cash flow statement whenever you need to because your accounting system is connected to the cloud. You can authorize staff to access these using their login. 
App Integration
Good coffee shop POS systems integrate with a lot of companies. For example, Lightspeed's add-ons page includes applications and services like scheduling, rental, and more. Coffee shop owners or managers who need to rent equipment can avail of this feature.
They can use NimbleSchedule, Agendrix, Chronogolf, Booxi, or Homebase to schedule and track employee hours online. This allows employees to ask for time off, trade shifts, and clock in or out from different locations.
Today, it is more important than ever for coffee shop owners to track sales, manage remotely, and have real-time analytics.
Your POS system should offer effective integration with other POS registers you have for your coffee shop and (ideally) integrate with QuickBooks and similar software.
Multiple Login Options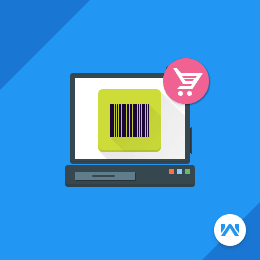 A multi-user system is a system with multiple users and functionalities.
This is usually when there are two systems: one POS operating at the front end (dealing with customers directly) and one at the back or in an inside office that manages other functions such as order placement, inventory control, account management, and receiving stock.
A multi-user system links computers that can use the same sources of information or exchange information between them. This allows the coffee shop to have shared access to a database and keep shared storage of information.
Share devices 
Devices are also shared and a single server or type of software is used by all the computers. A POS system permitting multiple login options also requires a multi user supporting hardware, software, and devices. 
The network connection must also be quick and reliable and able to handle various computers and systems without impacting the speed or quality of service.
The best POS systems for coffee shops operate seamlessly on devices like Android tablets, which is why multiple user can access them at any given time.
This will let you and your staff use the POS system anywhere in your store.  
Highly Customized Menu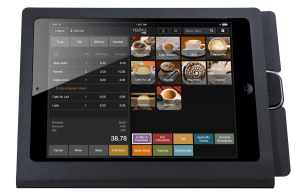 The best menus – the ones that influence a customer's decision on a subconscious level – aren't created by accident. They are specially developed to influence buying decisions by item placement, appearance, and upselling potential.
According to recent studies, the trend of "menu engineering" is proven to increase profits by 10–15%. It is not misleading to say that thoughtful, considerate coffee shop menu design is worth the investment.
To achieve this, your staff should be trained to use the right ingredient portions. However, with a coffee shop POS system that tracks ingredients, you don't have to rely on your memory.
A good system will let you tap the item to find the recipe and description. This way even new, inexperienced employees will know exactly how to make the products on the menu. 
Creating a Customized Menu 
A customized menu is created by studying cost reports carefully. When you do that, you'll be able to see some trends. What sort or blend is selling best? Which sorts or blends are cost effective and which aren't?
You'll uncover the key to good menu design when you're paying close attention to highest-selling items and most profitable items. This way, you'll see what belongs in the area of your menu that customers see first.
The first step to creating a customised menu is to set its scope. The scope refers to the particular menu item. To do this, use the menu item wizard. You can then add items to your menu by selecting them and clicking "Create New". Then, drag and drop to rearrange the items.
Conclusion
When choosing a POS system for your coffee shop, it's important to understand exactly what value you're getting from that system, and if it's relevant to you. Many POS platforms are built for generic restaurant use, so you have to make sure you're not getting loaded with a bunch of features that you don't need.
For example, you may not need a kitchen display unit if you're just making drinks behind the counter. If you only manage one coffee shop, multi-store management is probably not going to help you much.
It's also important to look at pricing. There are a number of free, basic POS systems like Square and Loyverse that are a great place to get started with very little risk. Especially if you're just starting out, you don't want to overload yourself with overhead. 
All in all, the goal of a POS system is to automate certain tasks so you can focus on serving the customer and growing your business. Regardless of your specific choice, we can say that all of the platforms listed above can help you do just that.