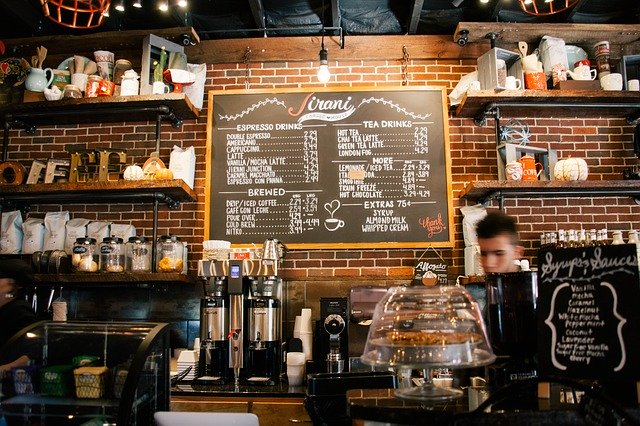 One of the biggest challenges in a coffee shop is Increasing average spend per customer. If you're looking to grow your coffeeshop business and streamline your operations, you need a solid POS system. By using your coffee shop point of sale system you can find out which items are selling and which are not. Other than that, the system can help you process payments faster, automate inventory and ingredient management, view back-end reports, and improve your overall profitability. 
Based on our research, we found that the best coffee shop POS software is ShopKeep. It balances affordable pricing with powerful features, which include customer and employee management, easy payment processing, and automated inventory management. Additionally, the platform includes back-end reports, powerful third-party integrations, and much more. 
As you look for coffeeshop POS software, look for the ability to create a customized menu and customer loyalty programs. You should be able to integrate with payroll and accounting systems, as well as manage employees directly from the platform. Additionally, try to find a system that will pull detailed sales reports. That way, you'll always know where your business stands.
It's also important to keep an eye out for the kinds of hardware you'll need. Kitchen printers, barcode scanners, receipt printers, and large displays are all a must. Additionally, it's important to consider monthly subscription fees, hardware costs, transaction fees, and one-time onboarding fees when comparing prices.  Let's dive into the top 10 coffee shop POS systems and review their features, pricing, and support options.


Comparing The Top Coffee Shop POS Systems 
| | | | | |
| --- | --- | --- | --- | --- |
| Name | Accounting Integration | App Integration | Multiple Login Options  | Highly Customized Menu |
| Square  | Yes | Yes | Yes | No |
| Shopkeep | No  | Yes | No  | No |
| Toast  | Yes | Yes  | No   | Yes |
| Loyverse  | No | Yes  | Yes  | No |
| Lightspeed  | No | Yes  | Yes | No  |
| Lavu  | Yes | Yes  | No | Yes |
| bePoz | Yes   | Yes  | No  | Yes  |
1. ShopKeep POS – The Best Coffee Shop POS System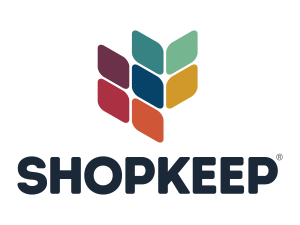 Another program that offers tons of amazing features and at a price that won't make your jaw drop. ShopKeep is a top of the line pos system that can help you keep your small business in check and without much of a hassle. Let's break down its features.
Nurture Customer Relationships
ShopKeep is excellent for customer management and is a great system for boosting sales. This is because this system helps you gather relevant information on your customers after they make a purchase.
You can then re-purpose said information for email marketing campaigns. This feature should not be underestimated, as the ability to (properly) build relationships with customers is key to good business.
ShopKeep allows you to capture information on loyal customers. For example, how much they have spent, and the specific time frame those sales were made. Information at your disposal includes purchase trends, and who your standout customers are.
Manage Employee Performance From the POS System
Worried about measuring employee performance? ShopKeep makes gauging employee performance a breeze, as you can do this straight from the POS system. Many users are fond of the built-in time clock that allows employees to clock in/out. It also records their work hours, which makes it an asset to handling payroll and managing shifts.
Reporting Tools
The ability to generate reports is an asset in itself, but this program also incorporates analytics tools to provide you with analysis of sales data that are crucial to the direction of your business.
Naturally, this is inclusive of insight into company sales, and sales at specific hours of days. You can also narrow things down to specific products, sales summaries, most profitable items, daily comparisons, etc.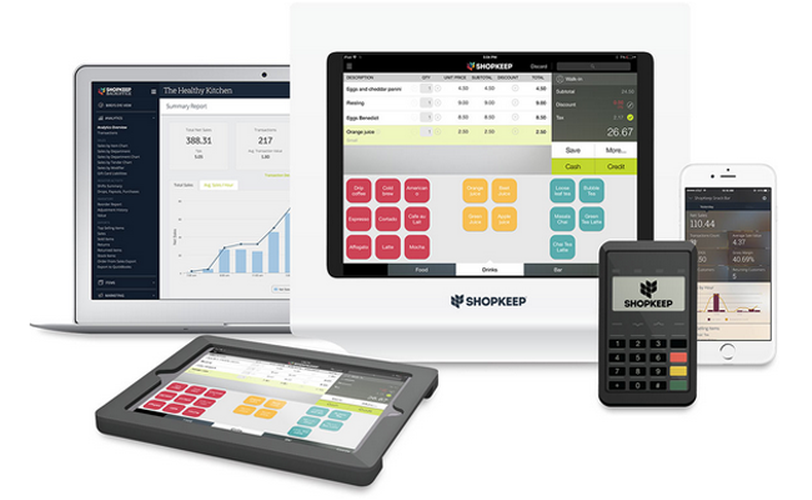 Offline Mode
Internet downtime isn't rare by any means. That said, you don't want the internet to determine whether a workday goes smoothly or not.
Thanks to ShopKeep's offline mode you have a bit of control over such scenarios. A lot of cloud-based POS systems rely solely on an Internet connection. But with ShopKeep your transactions can be saved locally. Once your connection is back up again, all you have to do is upload them.
Third-Party Integrations
Running a great deal of your business from your iPad practically embodies convenience. But that doesn't change the fact that there are other tools that can prove useful to you.
ShopKeep makes integration seamless, as the POS system can be connected with software and apps you are familiar with. In other words, you don't have to worry about manual entry.
Client Support
The ShopKeep system is pretty customer-centric. In the monthly price, users are offered unlimited 24/7 support, whether email, live chat, or web inquiry. Users who feel the need to call inbound (at anytime) will have to pay a fee of $30/month for premium care.
I should also mention the support microsite where you will find articles (and video tutorials) that are useful for understanding the software.
Staff and Inventory Management
ShopKeep has staff and inventory management and generally every front and back end feature you'd need. It is easy to ring up items, accept payment, add modifiers, give refunds and make returns. It's also possible to make discounts at order and item level. 
In-Depth Reporting 
ShopKeep also offers in-depth worker shift reports that show you not only what items are selling, but who's selling them. You can see which the busiest hours of the week are to help set the staffing schedule accordingly. 
The Negatives
Easily one of the best POS systems out there for coffee shops, ShopKeep has more than earned its spot on this list. But this isn't to say it doesn't have some drawbacks.
For starters, inventory count is rather limited. ShopKeep can maintain about 10,000 individual stock-keeping units. Some might say that will work out fine for small businesses.
And they'd be right. But not all small businesses stay small forever. Of course, you can also argue that those stock units will do fine for most coffee shops in any case.
The biggest gripe with ShopKeep would probably be that your choice of hardware is heavily limited. Keep in mind this program is an iPad POS system. So if Apple doesn't quite cut it for you, you may want to look elsewhere.
While this last point is not a negative, be sure to consider if ShopKeep's monthly fee is ideal for your small business. While not pricey, that type of payment system just might not work out for the way your business is set up.
Analytics
The analytics show which items are selling and which aren't. This way you can decide what to restock and replace better. The inventory functionality feature helps you track quantities of each item, generate a report with the reorder criteria in detail and set reorder points. You can import inventory in bulk or item by item.
Cost 
ShopKeep's system costs $69 a month, which includes 2 months of free support from a ShopKeep expert and continued 24/7 customer support thereafter. Given its price, it targets small businesses.
Easy Processing 
You can easily process cash, credit cards, and various mobile payments. You can even process a combination of these, such as cash and credit cards for the same transaction. If you have gift cards, you can use the system to integrate your gift card purchases and processing. You can print or email receipts to grow your email list quickly. 
2. TouchBistro POS – Best Cloud-Based Coffee Shop POS System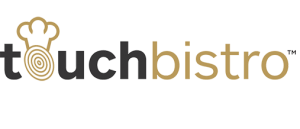 Many times when people stop by a coffee shop (particularly during the morning rush), they want to place an order (or three) and keep things moving.
They'd prefer if you avoid skipping out on any finer details as well. TouchBistro is a POS system that was created with just that in mind.
With TouchBistro managers are able to track the system in order to stay abreast of inventory, or create reports to document how well the business is doing at any particular time. You can also manage your workers seamlessly.
But wait, there's more! Servers aren't tasked with going through the process of writing down an order, then taking it to a communal computer station where they'd have to wait however long to input said order.
Believe it or not, there is a different way to do things!  In fact, this coffee shop pos system eliminates that and makes the process less of a chore.
The order is wirelessly transmitted to the kitchen, which means the server has the opportunity to give their full attention to the customers and their needs.TouchBistro scores tremendously in the convenience department and I'm sure you see why.
Cloud Reporting
Earlier I mentioned that TouchBistro pos system is cloud based. This is super convenient in terms of accessibility but there are other perks as well.
For instance, you are able to stay on top of sales, and the number of customers. Even better, you can gain useful knowledge such as orders that are becoming a crowd favorite.
This system allows you to view the sale of items using bar charts where you can view what customers prefer during each season.
This kind of information can prove invaluable to how you serve your customers and respond to their needs. It's exactly the kind of service that creates frequent guests.
Charts are available to break down the usage of inventory, illustrating how quickly inventory items are used up. This will aid in knowing when to stock up on inventory items, and over a period of time recognize a pattern.
The visual heat map on the TouchBistro app will indicate the busiest hours that your coffee shop experiences.
This program integrates with tons of apps allowing mobile users to book reservations, make payments (securely), process loyalty rewards, and even call a taxi if needed.
Customer Support
Overall TouchBistro has built a strong foundation for its customers. Like most companies, you get complaints here and there.
But for the most part, their reputation is next to spotless among users. Reps are available to help you ease into the program, but depending on how much time you need to get into the swing of things, you may need to buy additional time for training.
Pricing
Not only is TouchBistro one of the most efficient POS systems out there, but it is also one of the most cost-effective systems available.
For one, you don't have to worry about expenses like hardware as would be the case with traditional POS systems. In fact, all you need is an iPad or iPad mini, as well as a cash register, and you are pretty much in business.
This would run you under $1,000, compared to a significant $2,000 if you went with alternatives, considering touch-screen monitors, computers, receipt printers, credit card readers, etc. And that's only for a single terminal.
Even if we set hardware aside, you will still need to pay a monthly fee for the service. With TouchBistro you have the option to opt for low-cost monthly plans that are more than suitable for most coffee shops that don't have extravagant budgets.
Users will appreciate that these plans are not feature-based. Instead, it comes down how many licenses you require.
In other words no matter how cheap the plan, you have access to all the best features, not to mention top of the line customer support, and an unlimited amount of users.
TouchBistro starts at $69/month for a single license. There are perks for those who require more than one terminal, though. Namely, TouchBistro's discounted multilicense plans:
$129/month – Two licenses  

$249/month – Up to five licenses

$399/month – Unlimited licenses
If your shop has particular needs, custom quotes are also available. To be on the safe side, you can always make use of the free trial.
Downside
TouchBistro is a great pos system that comes at a reasonable price. However, some people may not be fond of some.
Of this program's limitations (i.e cost for 'additional' training). This system also has occasional issues with iOS updates in that they are sometimes unreliable or cause hiccups for a short period.

3. Square POS

We recommend Square POS for startups and small coffee shops because it's a free system that can be customized to your specific service needs.
Square POS software provides a full suite of counter sales, ticket management tools, and inventory designed to help any small coffee shop run efficiently.
Pros
Easy to use 

Advanced employee management tools & built-in payroll

Access to all software features via smartphone, tablet, and computer

Built-in customer feedback tracking, email and Facebook marketing integration
Cons 
Take Orders and Payments Anywhere 
You can take payments and orders anywhere in your cafe via countertop register or mobile device and run the POS on whatever devices work best.
You don't even need to invest in new register hardware If you already have iPads and/or Smartphones. You can take orders and payments using your phone or tablet from the get-go using Square's digital payment system that supports e-signing and emailed receipts.
Free Version 
Of course, lots of coffee shop owners would rather run at least one register station, and you can do that too. The free version can run on up to 100 separate registers with hardware being the only added costs.
Secure Payment System
Square's secure payment system is built right into the POS software. This POS delivers what most small cafes need when you add a complete suite of tools that help you create and categorize menu items, track inventory items, manage staff time, and market to customers.
Gift card sales & redemption
This feature is very useful. Attract new customers with Square's built-in gift card sales feature. Loyal customers can redeem points through the system. 
Price 
The free version entails no monthly, startup, or cancellation fees. The company does charge a processing fee per-sale if you accept credit or debit card payments. This amounts to 2.75% of the total ticket for most in-store coffee sales.
4.Toast POS 
Toast lets coffee shops generate revenue and streamline operations with ease. The handheld POS will let your employees spend as much time as possible with customers.
Easy Access to Menu Item Details
It is easy to access menu item details for brew recommendations and connect the front of house and back of house in real time. There is an option to issue digital receipts and keep your order stations organized with automatic course firing. 
Loyalty Program
The mobile POS feature lets you gain insight into your customers' preferences with a loyalty program linked to card purchases. You can invest your processing fees in your shop technology this way. 
Ease of Use
The time spent on staff training is minimal if you choose Toast. The easy, intuitive POS system makes taking orders with a touchscreen terminal effortless. The guest-facing display encourages upselling and keeps everything in one place. You can train new staff fast, increase loyalty member signups, get more tips, and keep an eye on your shops from anywhere at any time.
Kitchen Display System
Toast's KDS connects the front and the back of the house seamlessly. The whole shop is on one single system.
Your customers can order from anywhere in the shop with the trademark ToastGo® feature and the order will be sent to the KDS instantaneously.
One obvious effect of that is short wait times. The system offers suggested tip percentages and helps maximize efficiency for breakfast sandwiches and coffee orders.
Pros 
Reporting & Analytics

Cloud-based reporting

Extensive add-on features 

Great Customer Support
Cons
Relatively High Credit Card Processing Fees 
5.Loyverse POS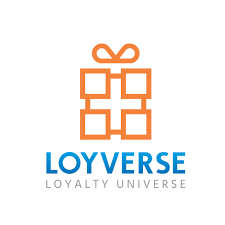 Loyverse lets you manage your coffee shop from mobile devices, generate a higher yield, acquire, keep and engage customers, manage inventory, and visualize sales analytics. Sales become fast and easy, and growing your customer base does as well. 
Inventory Tracking
This cafe POS software tracks inventory and indicates if you are losing money due to high amount of food waste, for example.
If you are tracking your sales with ingredient inventory accurately, you should have a good idea of how many raw ingredients you're using each day. 
Instant Notification 
Users of this POS system receive instant notifications when inventory is running low or out.
Orders are dispatched to the kitchen automatically, faster, and with fewer mistakes. Sound notifications ensure you will never miss a new order. 
Smart Management
With Loyverse, you can manage multiple shops from the same account. Your data is uploaded to the cloud. You can boost sales and even run your own loyalty program.
The visual analytical reports will also make it easier to make informed business decisions. 
Easy Viewing 
You can view profit, revenue, and average sales and follow sales growth, making comparisons to previous periods of time, from days to years.
You can view the list of completed orders and reopen orders if needed. It's possible to see all tickets at a glance with colors indicating the anticipated waiting time.
Back and Front Office Sync
The back office works in sync with the POS system. A coffee shop owner can see what their best-selling items are and browse the transaction history.
The free dashboard app provides instant access to your cafe's stock and sales analytics at all times. 
6.Lightspeed POS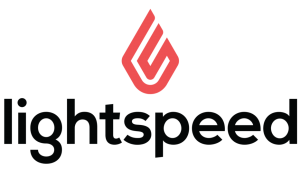 Lightspeed has been on the market for over a decade. Their POS system for coffee shops is one of the top-ranking niche POS systems.
The system makes it possible for clients to pay however they want on the front end, including by means of store credit.
You can also easily place items on layaway or on hold and apply discounts. 
Rich back end features 
The back end features inventory, staff, and PO management. There is also merchandise return management, which is useful when you have damaged goods or shipment errors. 
Good budgeting 
This coffee shop POS easily tracks unit costs and shipping fees. If you have more than one location, you'll enjoy complex inventory functionality. You can transfer merchandise between sites, and you have full visibility of all goods in stock. 
Create Quotes 
If your coffee shop offers services apart from goods, Lightspeed can help you create quotes or estimates, assess service and repair orders, and determine labor costs.
You can also set varying prices on a location basis for the same SKU, helping you maximize your profit margin.
Price 
The cheapest Lightspeed Retail plan is their small plan, which costs $99 a month for a single register with access for up to five staff members. The medium plan costs $169 a month and offers up to two registers and access for ten employees.
You will need to pay more if you want to add more registers or employee accounts than your plan allows.
The good news is that even the smallest plan includes free software updates, 24/7 support, multichannel capacity, and secure cloud backups.
7.Lavu POS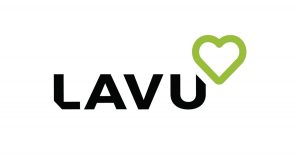 Lavu is a great POS solution for small businesses like coffee shops, bars, small restaurants, and food trucks.
Most aspects can be customized, including layout, unlimited menu modifiers, and menu item icons. 
Employee Management 
Employee scheduling, payroll reports, and shift-trading are examples of what's offered in terms of Employee Management. Lavu has a series of great features, including low-count warnings. 
Inventory Reports 
Lavu offers a myriad of sales, expense, and inventory reports. These can be accessed anywhere with an internet connection. It can also be translated into multiple languages. 
Price 
Lavu costs $ 69/month per terminal billed annually. Tiered pricing for multiple-terminal plans is available upon request.
8. bePoz POS
Our final choice also has a series of great features. These include order taking, mobility, and multi-location capacity.   
Hybrid system
Bepoz can be installed locally, but the system also has a cloud, so you can choose from a private, public, or hybrid option. The last offers a master database along with remote task management from virtually any device with internet access.
Inventory
With Bepoz, you manage inventory from a till, handheld device, or the back office. You stay up to date with extensive reporting features. The automation rules that can send reports and re-order products save you time and money.
Thanks to the system's inventory management capabilities, you can transfer and receive stock at any location. There is requisition inventory from a central warehouse, and price changes instantly appear across all locations. 
Detailed Reports
In depth inventory analysis reports include stock on hand, stale inventory, ROI, and cost changes. You will also be notified of overstocking and understocking, inventory turns, and which products are selling poorly. 
Order taking
There is a user-friendly, color coding system separating different menu item types. It is simple to add orders to the ticket.
When you click on items, the software takes you through any add-ons quickly and effectively. The ticket is displayed on the left at all times. It is easy to access custom modifications. 
Multi-Location Capabilities
Managers and owners can access inventory or sales information from anywhere. You can send out messages to employees working at multiple locations telling them about items to push or incentives.
You can offer special benefits and customized promotions to customers who have reached certain reward levels.
9.Revel Systems POS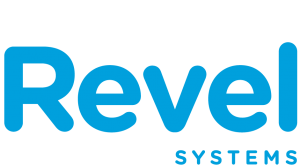 Revel Systems is a flexible POS system that is more than capable of helping you run your coffee shop. Like TouchBistro.
Revel Systems was created specifically for the iPad. It employs HTML markup language, meaning it is also accessible for mobile devices.
Users have the freedom to choose their own payment processor. What's more, should you lose Internet access, the system saves sales information and syncs it all to the web account once your connection has been restored.
Top of the line management tools
Revel Systems is equipped to help you run many facets of your business. Such as employees, sales, and inventory. With this program, you can also better manage modifiers.
Kits purchase orders, vendor information and more. You can check for variances within inventory that may point to errors.
As far as sales reports go, Revel Systems has quite the variety, from summaries, and hourly sales to sales by employee. Also, users can run customized sales reports, regardless of time increment.
Product sales graphics are implemented, which make it a great deal easier for you to discern what products are doing well.
Revel Systems also makes managing employees less of a hassle. The program was designed with an integrated time clock, allowing you to manage overtime pay as well.
In addition to overtime pay, this program accounts for tip payout and configured commission pay. Revel System's flexibility really shines when we take a moment to observe how it handles varying pay rates.
For instance, if an employee spends a certain amount of hours working in one capacity, then another amount of hours working another. The system records the number of hours said employee works in either role.
Revel Systems goes as far as capturing images of the person who clocks in. That way you can be sure no one is up to any funny business. Also, you can email schedules to employees, or they can check their schedules within the system.
Customer Management Features
Revel Systems helps business owners nurture customer relationships with its customer management features.
It allows you to store a variety of information relevant to customers such as customer names, addresses, email addresses, shipping addresses, etc. You can even create more personal notes on customers, such as preferences.
Or whether or not they are allergic to something on the menu. Even better, this POS system tracks gift card balances and loyalty card points.
Revel Systems integrates with social media platforms like Facebook and Twitter and even lets you export customer information to SugarCRM, Magento or Salesforce.
Costs
Revel offers its monthly subscription starting at $99 per month for the first terminal and $50 per month for each additional terminal.
You would need to contact a representative on Revel's website and request a quote directly. Each subscription includes 24/7 live support, unlimited data storage and security.
QuickBooks Integration, and unlimited software updates. Revel also charges a one time on-boarding fee, starting at $649. This includes hardware installation, payment set up, and training.
Easy as Pie
Most users find Revel Systems to be a top of the line POS system with an ideal sales interface. This program even makes the accounting facet of your business much smoother, as it directly integrates with QuickBooks (software and online versions).
Not to mention creating purchase orders, managing table layouts, supporting online ordering, and payroll — among a myriad of other tasks that can be straight-up daunting.
Hardware is sent to you preconfigured, and ready to go. What's more, it shouldn't take more than 30 minutes for a new employee to make themselves familiar with it.
Customer Support
Naturally, users can be concerned with customer support. Revel Systems provides various means for you to get the assistance you need, such as 24/7 contact support via phone or email.
Further, users have the option to request replacement hardware via overnight shipping. For those who need information online, there are support materials like FAQs. Need help with data migration and setup? Revel Systems has got your back there too.
The Downside
Issues that most users have with Revel Systems turn out to be rather circumstantial. For instance, while the majority of business owners find the sales interface to be quite intuitive, there are some people who will tell you otherwise.
It's safe to assume that the interface is rather easy to get the swing of if you are accustomed to navigating the software, or a bit tech-savvy from the jump.
The next gripe with this system is that it is geared more towards businesses that clock in $100,000 in annual card sales.
Coffee Shop POS Hardware
When buying a POS for your coffee shop/s, certain hardware is essential to consider. This includes kitchen printers, large displays, and barcode scanning.   
Kitchen Printers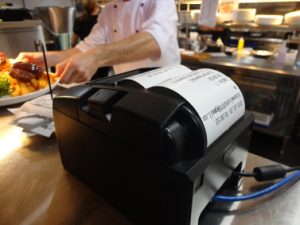 Your kitchen printer or kitchen display system (KDS) can send orders to the kitchen for chefs and cooks to prepare.
You would need this only if your coffee shop serves sandwiches or dishes.
For coffee makers, the printer can be used as a screen. These screens speed up service by listing out order details, specifically for people who like their coffee a particular way.  
The server taps a button to send an order to the kitchen with any special requests for order or degree of preparation. For better control or coordination, you can also have orders printed on more than one printer.
Barcode Scanners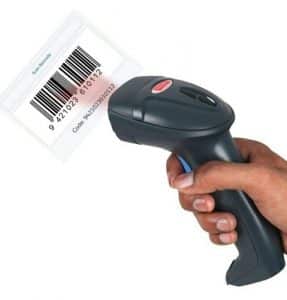 The barcode scanner is used to add inventory, check out items, and scan driver license for age verification. Bigger shops should install an embedded scanner like the ones you can see in supermarkets, while smaller ones would do better with a small, hand-held scanner.
Coffee shops selling products with a barcode need these scanners and a holder because they let you register items very quickly, ultimately reducing queues and transaction times. Barcode scanners also eliminate mistakes that would've happened from mistyping a product manually. 
Some POS apps for mobile devices have the capacity to "scan" barcodes via an integrated mobile camera.
However, we'd recommend a system with a purpose-built barcode scanner if you're high-volume or simply want to be able to add items to the bill in the most efficient way possible.
Receipt Printers
While modern till systems frequently come with the option of sending an electronic receipt via email or text message, receipt printers are still considered essential because the customer will (almost) always ask for a paper receipt.
Coffee shops selling more expensive products or anything that might be deducted as a business expense will find a receipt printer indispensable. 
You need ongoing paper refills for a receipt printer. For portable printers, a belt clip would come in handy so you don't need to hold it in your hands. You also need receipt paper rolls and a mount for fixing to wall or countertop.
Large Display Screens 
Large display screens are great for suggestive selling, also known as add-on selling or upselling. This sales technique involves an employee recommending an extra product that a customer might like or asking a customer if they would like to include an additional purchase.
It is used to increase the purchase amount of the customer and the revenues of the shop.
The idea behind the technique is that it takes minimal effort in comparison to the potential additional revenue because you've already gotten the customer to buy something, which is often seen as the most difficult part. 
Why Large Displays are A Must
It is for this reason that large displays have become an integral piece of hardware for any quick service location, especially coffee shops.
TVs display high-resolution images of menus and prices. Digital menu boards are also a great way for coffee shop owners to highlight new items or showcase specials. 
To keep lines moving and orders coming in, streamlining the checkout process has become a necessity for coffee shops.
Customer display systems engage customers, allowing them to follow along as their order is being input into the system to see if everything they've ordered is accurate.
The display system will prompt payment options and ask the customer if they would like to leave a tip. 
Adding a customer display system is like adding the digital equivalent of a tip jar to your counter. A study found retail owners who used iPad POS systems received more tips than those who used legacy systems.  
Let your Customers Enjoy Interactive Virtual Experiences 
Your customers can experience their favorite beverages interactively in a virtual environment.
Videos, product images, and PDF brochures can be controlled intuitively on giant touch screens. Customers will have fun placing interesting articles in a virtual shopping cart and ordering them via a virtual keyboard by entering their data.
It pays off to be ahead of the time. Your customers will experience the product presentation of the future by seeing interactive digital information superimposed on the product virtually behind a transparent touch screen.
Additional Comparison 
Name
Ease of Use 
Sales Reports 

 

Loyalty Programs 

  

Payroll Integration 

Square 

Yes

No 

Yes

No

Shopkeep

Yes

No 

Yes

No

Toast 

Yes

Yes 

Yes

Yes

Loyverse 

Yes

No 

Yes 

No

Lightspeed 

50/50

Yes 

No

Yes

Lavu 

50/50

No 

No

Yes

bePoz

Yes

No 

No 

No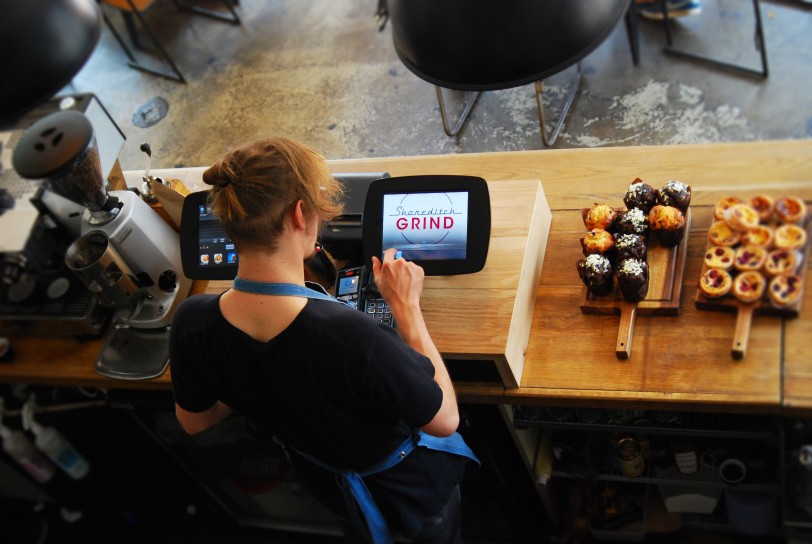 Buyers Guide: What to Look For 
This section talks about the main things to look for when buying a coffee shop POS system. These include ease of use to ensure a gentle learning curve for your staff, payroll integration, app integration, accounting integration and more.
Ease of Use 
In the world of coffee shops, there is a high customer and employee turnover. This is why you need a system that is easy to use and easy to teach.
You need a simple interface as well. A clean, modern front-end helps staff cut down on ordering errors and serve customers faster. Ideally, a solid coffee shop pos system should support tableside orders and payments via mobile devices. In addition, it must offer clear menu listings and prices, manage open tickets and customer tabs.
Finally, it should enable customization of order entry, fire orders or tickets to a kitchen display screen, and offer time-specific menus and prices.
Detailed Sales Reports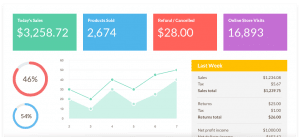 In the same sense, having detailed, yet easy to read and easy to access sales reports can save you a ton of headaches.
The ability to analyze data as well as possible and identify your best-selling items and busiest times of day can be extremely valuable. The best POS systems come with detailed sales reports. 
As a coffee shop owner, you want detailed sales reports on the amount of coffee you sold, percentage of sales, etc. Detailed reports will assist you in reassessing many of your coffee shop business decisions.
This data would include which items you are selling the most and the least and what hours you are making your biggest sales.
Coffee shop owners and managers need to be able to manage remotely, track sales and leverage available data to make better decisions. This will also help cut down on or even completely eliminate waste.
Loyalty Programs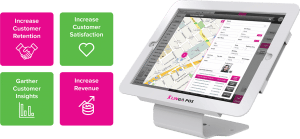 It's not that coffee shops created the gift card boom, but it's time you jumped the bandwagon.
When we hear "loyalty programs", the green-logo coffee giant immediately springs to mind.
Having a strong loyalty program with gift card functionality is a nice bonus to keep customers coming to your shop. Loyalty programs are key to any coffee shop's success.
The best POS systems provide the right tools to reward your customers in a way they can comprehend and appreciate.
The right POS system will integrate easily with advanced customer loyalty programs if you have multiple locations, so you can share gift cards and rewards across locations.
Payroll Integration 
You can use your POS system as the single payroll tool to the point of having it replace traditional payroll services.
It would be an understatement to claim a POS system can function like a punch card. A POS system is the best way to have staff 'clock in' and 'clock out' when you're managing the payroll of coffee shop employees.
Time clock features let your employees use unique codes to sign in and out of their shifts directly on a mobile device, which is used as your cash register.
You can also manually add information later. Let's say you're managing an employee who forgot to clock in or out or doesn't use the register. The option will come in real handy. 
Solid Employee Management
Always choose POS software with solid employee management tools. You should also be able to see sales reports by employees so you can identify your most efficient staff and reward them apart from adding employees and editing employee privileges. 
It's easy to do payroll with work tracking reports. Payroll is made simple when you have the ability to track your employees through your point of sale.
You often won't need any other payroll functions to know what to pay your staff. Run work tracking reports to receive an overview of all the hours your coffee shop staff worked, including any overtime if applicable.
Accounting Integration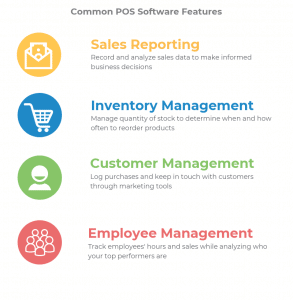 A POS system with this feature can help you track income and expenses, manage all your transactions, and obtain meaningful business insights. Online accounting is easy and convenient.
Your POS system of choice should let you explore different reports including expenses, profit and loss, and balance sheet.
It's much better than using Excel spreadsheets to keep track of accounting. 
With this integration, you can link receipts to expenses through an app and do your taxes more easily.
The tools you can use to customize your accounting solution include inventory management, time tracking, and payment processing.
The decent coffee shop point of sale will also help you perform small business accounting using individual login to access reports like the general ledger, balance sheet, or cash flow statement whenever you need to because your accounting system is connected to the cloud. You can authorize staff to access these using their login. 
App Integration
Good coffee shop POS systems integrate with a lot of companies. For example, Lightspeed's add-ons page includes applications and services like scheduling, rental, and more. Coffee shop owners or managers who need to rent equipment can avail of this feature.
They can use NimbleSchedule, Agendrix, Chronogolf, Booxi, or Homebase to schedule and track employee hours online. This allows employees to ask for time off, trade shifts, and clock in or out from different locations.
Today, it is more important than ever for coffee shop owners to track sales, manage remotely, and have real-time analytics.
Your POS system should offer effective integration with other POS registers you have for your coffee shop and (ideally) integrate with QuickBooks and similar software.
Multiple Login Options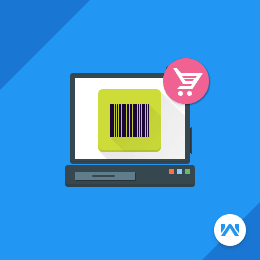 A multi-user system is a system with multiple users and functionalities.
This is usually when there are two systems: one POS operating at the front end (dealing with customers directly) and one at the back or in an inside office that manages other functions such as order placement, inventory control, account management, and receiving stock.
A multi-user system links computers that can use the same sources of information or exchange information between them. This allows the coffee shop to have shared access to a database and keep shared storage of information.
Share devices 
Devices are also shared and a single server or type of software is used by all the computers. A POS system permitting multiple login options also requires a multi user supporting hardware, software, and devices. 
The network connection must also be quick and reliable and able to handle various computers and systems without impacting the speed or quality of service.
The best POS systems for coffee shops operate seamlessly on devices like Android tablets, which is why multiple user can access them at any given time.
This will let you and your staff use the POS system anywhere in your store.  
Highly Customized Menu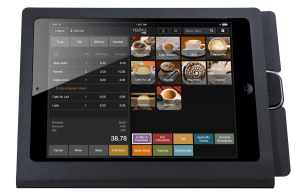 The best menus – the ones that influence a customer's decision on a subconscious level – aren't created by accident.
They are specially developed to influence buying decisions by item placement, appearance, and upselling potential.
According to recent studies, the trend of "menu engineering" is proven to increase profits by 10–15%. It is not misleading to say that thoughtful, considerate coffee shop menu design is worth the investment.
To achieve this, your staff should be trained to use the right ingredient portions. However, with a coffee shop POS system that tracks ingredients, you don't have to rely on your memory.
A good system will let you tap the item to find the recipe and description. This way even new, inexperienced employees will know exactly how to make the products on the menu. 
Creating a Customized Menu 
A customized menu is created by studying cost reports carefully. When you do that, you'll be able to see some trends. What sort or blend is selling best? Which sorts or blends are cost effective and which aren't?
You'll uncover the key to good menu design when you're paying close attention to highest-selling items and most profitable items. This way, you'll see what belongs in the area of your menu that customers see first.
TouchBistro A Clear Winner 
When trying to figure out which POS system is best for your coffee shop, you'll want to consider several things.
Some of these include which system can help you streamline workflow, developing a relationship with customers, and expanding your small business. It also wouldn't hurt if it didn't cost you an arm and a leg!
TouchBistro is a cloud based POS that users can access from any device they so choose. You can essentially maintain and monitor the performance of your coffee shop, merits to secure logins and solid reports — not to mention an intuitive dashboard.
TouchBistro was designed to meet the specifications of Apple iPad. This can either make it a dream come true or the last product you'd want to purchase, depending on your preference.
We believe TouchBistro is the ideal POS system for coffee shops, as the efficiency it offers is unbeatable at the price.