(Last Updated On: 07/22/2022)

While Square is free POS software, the hardware & add-on costs can really add up. Here are some of the costs you need to be aware of if you're considering Square POS.
One of the reasons that Square is such a popular POS platform, especially among small businesses, is because it's a free platform. Unlike other competitors, there are no monthly fees to get started, only a transaction fee. 
Currently, square pos costs 2.6% + $0.10 per transaction for swiped, inserted, or tapped cards. Payments that are manually keyed in cost 3.5% + $0.15 per transaction. Invoices cost 2.9% + $0.30. 
Even if customers choose to stick with the basic, free software, there are plenty of features that make Square a worthwhile choice. The platform is intuitive and easy to navigate, allows you to set up custom product listings or menus, and orders can be rung up with just a few taps. 
But many businesses need more powerful features, like advanced inventory management, bulk additions, discounts, and more. Plus, a simple card reader may not be sufficient hardware for processing payments. Card readers, terminal & iPad stands add more to that final bill. For example, Square's contactless card reader costs $49. 
Retail- or restaurant-specific features, like bulk product transfers across locations or the ability to reopen closed checks, are available through Square's package deals, which require a monthly fee to access.
In this article, we'll walk through all the Square POS costs that you should expect to see if your business chooses to move forward with this popular POS system. 
Is Square POS Right for Your Business? 
Whether you'll be able to maximize the value of Square POS and generate a return on investment depends on the size of your business: 
Solo traders

: Square POS is a great solution that makes taking mobile payments easy and simple.

Small businesses

: Square offers great value for a very reasonable price. You'll probably require additional hardware, but it likely will still be a cost-effective choice. 

Large businesses

: If you process more than $3,800 per month in transactions, it's possible that Square may not be as cost-effective as some other flat-rate POS systems. If you make over $250,000 per year in Square transactions, you may be able to get a custom quote. 
Plan 
Free
Retail
Retail Premium
Restaurant
Restaurant Premium

Price

Free

$60/mo

Quote-based

$60/mo

Quote-based

Transaction fee

2.6% + $0.10 per transaction

2.5% + $0.10 per transaction

2.5% + $0.10 per transaction

2.6% + $0.10 per transaction

2.6% + $0.10 per transaction

Loyalty program

Add-on

Add-on

Add-on

Add-on

Add-on

Benefits

– No monthly costs

– Free card reader

– Fully functioning free POS system

– 24/7 support

– Advanced inventory & reporting tools

– CRM system

– Custom pricing

– Account management

– 24/7 support

– Kitchen Display System

– Online ordering

– Employee management

– Custom pricing for Square Online
Plans and Pricing
As long as you have access to a card reader, you can start using Square POS software and start selling immediately. A simple card reader runs as low as $10 (Square provides you with the first one for free). 
One you set up and start accepting transactions, that's where the expenses start to come in:
2.6% + $0.10 per transaction for swiped, tapped, or inserted transactions

3.5% + $0.15 per transaction for keyed in transactions

2.9% + $0.30 per transaction for online sales
Depending on your setup, you may incur some additional hardware costs (see our full section on hardware costs below). Additionally, there are some advanced features that will require a monthly fee. 
Because there are no flat fees for the basic package, Square POS can offer an excellent return on investment for small businesses. When you only pay a small percentage of revenue for your POS costs, it minimizes the risk of investing in the platform. 
For a business that's on a budget, this places Square a cut above the competition, many of which charge monthly flat fees. For businesses that have higher revenues coming in, however, the costs will scale up much faster than with a flat-rate POS system. 
Thus, it's important to consider the size and scope of your business, and whether percentage or flat rate POS software is the choice that will maximize your return on investment. However, there are some additional options for large businesses as well. Square offers custom rates to businesses with a high sales volume. If your business processes over $250,000 in card sales with an average ticket size of over $15, you may be eligible for this program. 
Square POS Restaurant and Retail Plus
While the basic Square POS software is excellent for businesses in all sectors, they do offer more specific, upgraded plants for retail and restaurant businesses. These packages feature functionality that is specific to each business type, allowing for a more tailored and customized experience. 
Square for Retail
Square for Retail Plus costs $60 per month, per location. Transaction fees are reduced to 2.5% + $0.10 for in-person sales and 2.9% + $0.30 for online sales. Specific features in the Retail plan include a number of powerful add-ons, including the following. 
Inventory Management
Add unlimited items, transfer stock across multiple locations, and run smart stock forecasts. Auto-generate purchase orders to replenish low stock, print barcode labels, and manage all of your vendors from one location. 
eCommerce
Leverage multi-channel marketing tools to sell on your website and via Instagram. Generate gift cards, send invoices, and take payments directly from your computer. 
Customer Relationship Management (CRM)
Auto-create customer profiles, with complete sales history from all channels. Build customer groups and custom fields, send custom email campaigns, and create loyalty programs to engage your customers even further. 
Reports & Analytics
Generate all the reports you need to keep an eye on your business, including profit margin reports, cost of goods sold reports, vendor sales reports. Keep your entire system secure with passcodes to protect sensitive info. 
Employee Management
Manage employees with built-in timecard reporting, team permissions and break tracking, and automated payroll so you can spend less time on back office tasks.
Square for Restaurants
Square for Restaurants Plus costs $60 per month, per location as well, but you get a 30-day free trial, and it costs just $40 per month per added POS device. Here are some of the additional features that come with Square for Restaurants. 
Kitchen Display System
Keep your entire restaurant aligned, especially during rush hours, with Square Kitchen Display system. Digital tickets and single-screen for order management can help your restaurant move faster and avoid errors. 
Online Ordering
Take orders on your free restaurant website, and allow for delivery, curbside pickup, and self-serve ordering. Easily import menu items, integrate your online platform with the Restaurant POS and Square KDS, and increase your margins with commission-free delivery software. 
Floor Plan Management
Create a completely custom floor plan for both the bar and the dining room. Reorganize your seating for larger parties by using Square's intuitive, drag-and-drop layouts. Monitor every seat in the house so you know when a seat is about to turn. 
Order Manager
Manage all your Square Online and third-party delivery orders directly in your point of sale and Square KDS. Consolidate online order reporting, skip manual order entry to reduce errors, and automatically print or view kitchen tickets on the KDS. .
Employee Management
Just like the Retail package, Square for Restaurant allows you to manage your entire team through built-in time clocks, hour tracking, and even sales by team member. You can run payroll in minutes, import time cards and tips, offer health insurance and other benefits, and get automated state and federal tax filings and withholdings.

Hardware Costs
Having great POS software is one thing, but unless you're running an exclusively online shop, you're going to need a significant amount of hardware in order to take advantage of that software. 
And while Square POS software is free, the hardware is far from it. There are a number of ways for you to keep these costs down (e.g. using an iPad instead of a terminal), but you may find that some of these tools are well worth the overall investment. 
Here's a brief breakdown of Square's hardware costs: 
$10:

non-contactless card reader to fit iPhone/Android (you can get your first one free)

$49:

contactless card reader for chip or Apple Pay

$299

: portable terminal

$169

: iPad stand and card reader

$799

: Square terminal and stand

$646

: register kit with stand for iPad

$1,329

: full Square register and terminal
While that list isn't exhaustive, it will give you a good idea of what Square offers in terms of hardware. We'll break these down by type and cover them in more detail below. 
Card Reader Costs
One of the most affordable ways to get started with Square POS is to use a portable card reader connected to an iPhone, iPad, or Android device. While they start at as little as $10 (and your first reader will be free), the basic model doesn't work with contactless cards or NFC mobile payments, like Apple Pay. 
Considering that your alternative is to key in these transactions, which will cost you an additional 1% and $0.05 per transaction, it will likely be worth it to invest in one of the card readers below: 
$10

: basic card reader for iPhone or Android (does not accept contactless payments)

$49

: contactless card reader (works with chip or Apple Pay)
If you want to step up to the next level, the Square POS terminal accepts all major cards, contactless payments, and prints receipts directly. This unit costs $299 each. 
Terminal & iPad Stand Costs
Using an iPad instead of a terminal is a great way to keep your Square POS costs down. An iPad could end up working out cheaper than a Square terminal. However, you'll need to also consider the cost of an iPad stand to maintain a professional look and function efficiently. 
There are two options when it comes to a stand. You can pay for the iPad stand, or a standard POS stand with the terminal included. The price difference is significant, so make sure you've thought through all the pros and cons before making the purchase: 
$169

: Square stand for iPad, plus contactless card reader

$799

: Square POS Stand with contactless card reader
While the Square POS stand is more expensive, it does present an all-in-one solution, which could be more valuable to your business. 
Register Costs
If you want an all-inclusive register, either for an iPad or with a terminal included, this is where the costs start to go up. Here are some of your options for a Square POS register: 
$646:

Square Register for iPad plus contactless card reader and receipt printer

$1,329:

Square POS full Register kit with Stand and receipt printer
While some people may get sticker-shock looking at that last price, an all-in-one register could be a valuable investment that your business can leverage for a long time to come. 
Add-On Costs
As we've mentioned several times thus far, the basic Square POS software is free. However, there are a number of additional features that you may want to leverage that require additional fees. You should consider whether any of them will factor into your overall Square POS cost. 
If you're only interested in a couple of these add-ons, odds are that Square will remain the most cost effective option for you. Here are some of the most relevant: 
Employee Management.

For $5 per employee per month, you can define roles, allow clock in/out ability, set employee-specific access restrictions, and generate timecard reports.

Square Marketing.

Starting at $15 per month, you can craft custom email campaigns and track them through the Square POS system.

Square Loyalty.

Starting at $25 per month, you can create loyalty programs that customers can easily enroll in after their initial check out.

Gift Cards.

Create gift cards, tracking activations, redemptions, and refunds through your POS. Physical custom cards cost $0.80 each, while digital ones come at a 2.9% + 30 cents transaction processing rate.

Square Payroll.

For $29 per month plus $5 per employee, run an IRS-compliant payroll system that automatically tracks and records your employees' timecards.
Many of Square's competitors will package these features with their main services. Depending on how essential they are, or how many of them you need, a flat-rate POS platform that costs $70 per month may be more cost-effective. However, if you only need one or two, Square POS will likely remain your most profitable option.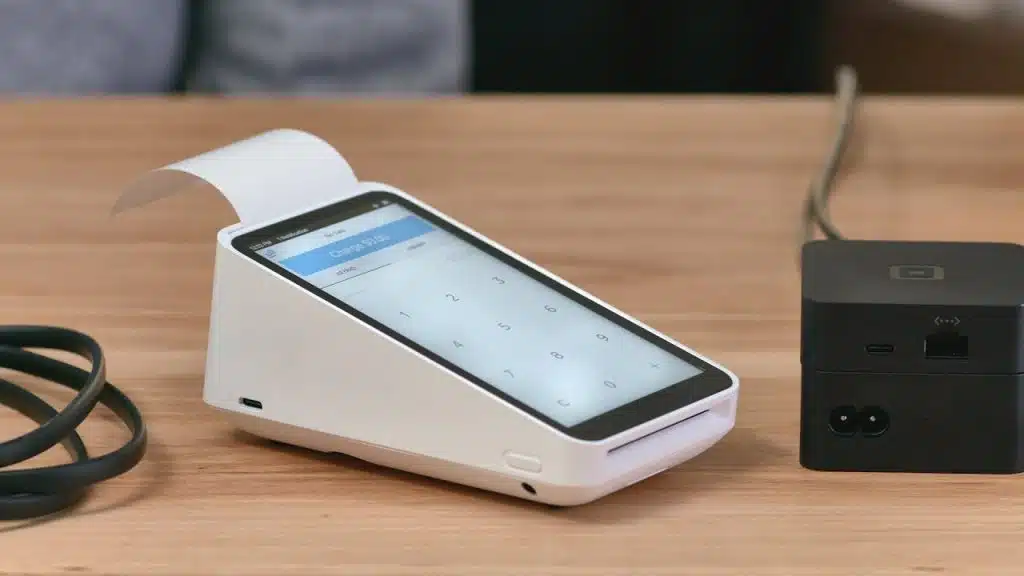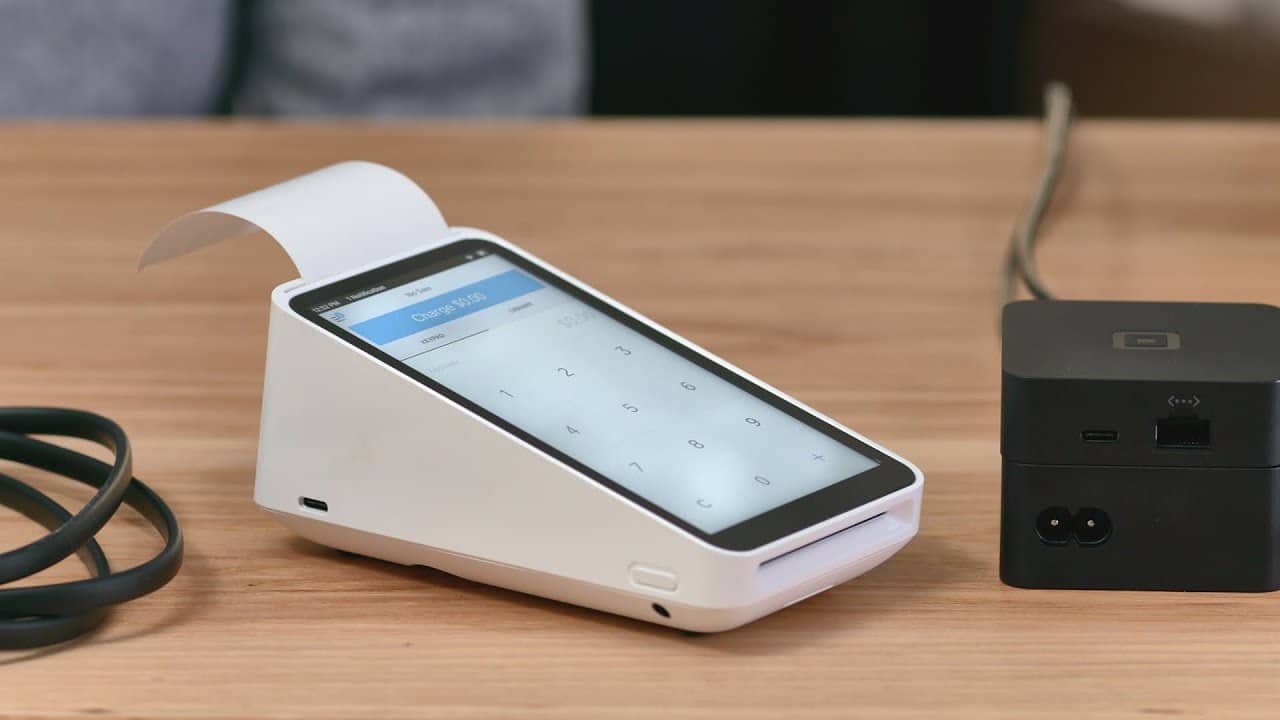 Core Features
Regardless of your business size, you need a POS system that takes orders, allows you to do basic inventory, and helps you maintain financial and legal compliance. Here are some of Square POS' most notable core features.
Payments
Accept all payment types your customers want at the same rate. Square Reader allows you to accept chip cards, Apple Pay, and Google Pay from any terminal. 
Save time by storing payment details for your regulars with Card on File, and charge them with just the tap of a button. Send custom invoices straight from your POS directly to your customers. 
Square helps you maintain your security with dispute management, fraud protection and monitoring, encrypted payments, PCI compliance, and account protection tools. 
Checkout
Keep your checkout line moving and customers happy with an efficient, intuitive checkout screen. Customize your menu with item modifiers, organize your products on the screen by category or frequency, import items in bulk, and provide itemized refunds. 
Offer both print and digital receipts, leverage custom and split tender, set decimal quantities (weight, length, etc.), let customers choose custom tip amounts, and generate automatic discounts for specific items, categories, quantities, daily specials, or limited-time offers.
Customer Service
Create a customer directory to store customer information, purchases, and interaction history. Add notes to specific orders or input custom amounts at the time of sale, reducing the number of questions or disputes you have to handle. 
Allow for customer feedback through digital receipts, and customize your receipts directly from your Square Dashboard. You can create custom receipts for each of your locations. 
eCommerce
Sync both your online and in-store ordering, with sales and inventory integrated among all your channels. Send your customers a checkout link through an email or Square Marketing campaign. Set up eGift Card purchasing on your website, and enable customers to send them via email. 
Inventory Management
Receive a daily email detailing items that are low or out of stock, and export your stock levels at any time via a printable spreadsheet. Plus, you can integrate your POS with inventory management partners like Shopventory, SKU IQ, Stitch Labs, and more.
Reporting and Insights
View business insights via Square Analytics, and set up advanced reports on specific metrics you want to track. Pre-built reports include gross sales, sales count, and refunds by time period. Easily export data for your own records. 
Setup and Customer Support
Square sets you up for success with a database of explainers, FAQs, and user guides, all available for free. There is also a community forum with real users asking and answering questions. 
Phone support is available to "active Square sellers", who must provide their 12-digit customer code in order to talk to a specialist. Specialist availability may vary, and users are encouraged to look up their issues through the support center or forum first. Although email support is available, Square doesn't offer live chat support.
Square POS Alternatives
While Square is a solid POS system, there are a number of alternatives on the market that could be a better choice for your business. We'll walk through a few of the top ones to make sure you're considering all the options. 
Vend POS
Vend POS starts at $99 for a single-location license, and includes features like inventory management, reports, payment integration, customer support, and more. What makes this platform competitive to Square is that they charge no payment processing fees. So if you make more than $3,800 per month in sales, this could be a better option.
Future POS
Future POS provides restaurants and hospitality centers with powerful and intuitive point-of-sale software. Their features include check-splitting and pre-authorized tabs, advanced security functions, multi-device back office, digital signage, powerful custom reports, and their proprietary POS hardware. Unfortunately, their pricing isn't publicly available, but we've done some digging and figured out that it's $69 to $79 per month, per terminal.
Revel Systems
Revel Systems is undeniably one of the most popular cloud-based iPad POS systems on the market. This robust platform features inventory management, online ordering, and state-of-the-art hardware. However, their pricing structure is less enticing: a $99 per terminal per month fee, a one-time $674 onboarding fee, and a flat-rate payment processing fee that's not disclosed on their website. 
Conclusion
One of the great things about Square is its accessibility for smaller businesses. By charging only a payment processing fee and no extra charges, companies of all sizes can try using the basic software with little if any risk to their business.
However, larger businesses that are scaling fast may find that this model is less advantageous to them. A flat-rate or custom pricing model may be a better choice for them. 
It's important to keep these factors in mind when deciding whether Square could be a good option for you. Another thing to keep an eye on is the litany of add-ons that Square offers. While the basic POS doesn't require a monthly fee, each individual monthly fee for the add-ons adds up, and may change the dynamics of Square's cost-effectiveness. 
Overall, however, Square POS is an excellent platform and delivers excellent value for the amount you spend on it. It should be a serious contender when choosing a POS platform for your business.