(Last Updated On: 02/12/2023)
Written by Business Expert Wale Ameen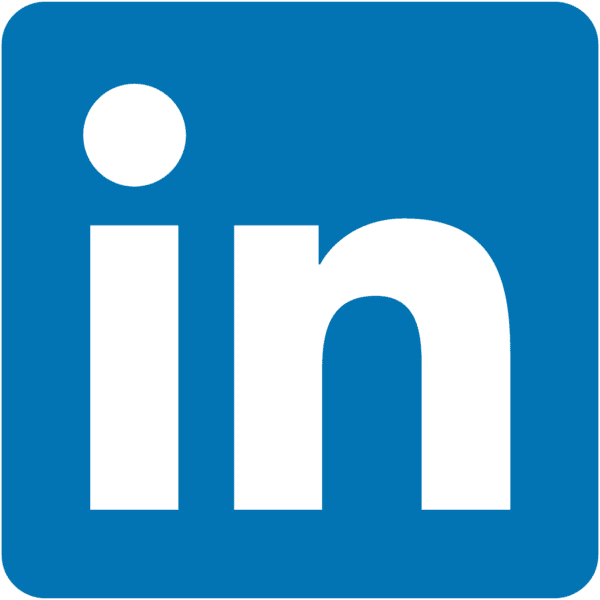 Our product review team dedicates hours of research, fact-checking, and testing to recommend the best solutions to business owners. We earn from qualifying purchases through our links, but this does not influence our evaluations. Why trust our reviews?  
Our Experts' Choice
TouchBistro Restaurant POS
The best POS system for fast food restaurants is TouchBistro Restaurant POS.

An overview of its features:

Fast food and restaurant centric

It is highly customizable

Supports third party integrations

Loyalty program

Inventory management
Don't have time to read this whole review? Skip ahead to: 
The best POS system for fast food restaurants will help guarantee that you are able to process each of your customer's transactions smoothly and, very importantly, quickly. Just like the name indicates, a fast food outlet should be fast and efficiently deliver to each customer their orders. It should essentially reduce the wait time in fast food restaurants. 
In order to ensure prompt and efficient service, the system uses kitchen printers, bump bars, menu display screens, and other POS hardware.
A fast food point of sale system should make it easy for staff to manage orders and track customer satisfaction. The point of sale should support a wide range of payment methods, including credit cards, debit cards, and even smart phones. This type of software should also provide customer engagement, real-time inventory management, and visual analytics.
Having accurate information about daily sales is important for fast food restaurants. This information helps owners make better decisions and take risks. A POS system should provide owners easy to retrieve and view daily sales reports and personalized reports. It should also be affordable and come with features that are useful for the fast-food industry. In addition, fast food POS systems should also be easy to learn and use.
An integrated video display for the kitchen can be a key component of a fast food POS system. This enables multiple employees to see orders as they come in, and can quickly make them. This saves time and reduces the risk of mistakes. It also allows the prep crew to know which items they need to replenish.
A self-sufficient kiosk is another feature that can cut down on staff workload. These kiosks allow customers to place their orders without interrupting the flow of service. They also allow customers to pay after placing their orders, thus increasing efficiency.
In this review, I have analyzed the best fast food POS systems based on their inventory management, integrated drive-thru features, pricing, cloud functionality, and embedded credit card processing.
Additionally, I'll also be taking a look at each system's features, pricing, pros and cons, and how fast food owners rate them. 
You may also be interested in related reviews: 
1. TouchBistro Restaurant POS – Overall Best POS System for Fast Food Restaurants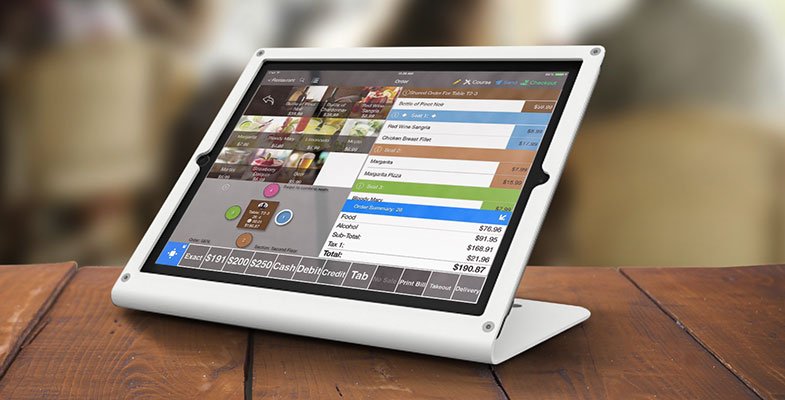 It is no mystery why TouchBistro is the number one food selling app on Apple's App Store.
TouchBistro is an iPad based point of sale system that provides all the services a fast food restaurant needs in its point-of-sale system. The price is good, even for smaller fast-food restaurants.
The TouchBistro point of sale brand is one that is built to address the needs of the restaurant industry with its various components. From its front of the house to its back of the house and guest engagement features, it is an ideal solution that helps restaurants reduce operations time and deliver more to customers.
Why Choose TouchBistro POS?
TouchBistro has been around since 2011 and has already won several awards, including Best Restaurant POS in 2017. Moreover, it is the top-selling Apple app for food service. The point-of-sale system is simple to use and well designed, making it the best restaurant-focused system.
Features of TouchBistro Restaurant POS
TouchBistro is one of the most popular point-of-sale systems available for fast food restaurants. The features are simply unbeatable. Some of these include menu selections and ordering, wireless transfers of orders to the kitchen, and more.
Any feature that is specific to the food industry, TouchBistro has it. Fast food restaurants require their point-of-sale system offer industry specific features in order to run efficiently, making TouchBistro a great choice.
Highly Customizable
The TouchBistro POS system is all about customizing. The system can be modified so easily, and it can be done over the course of a day.
A fast food restaurant could organize the menu in any way and add pictures, which is excellent for a new menu roll-out.
This makes it easier for employees to use, and allows them to work quicker as they don't have to spend time looking for something in a POS system menu.
Back Office Operations
Not only is TouchBistro good for managing orders and processing payments, it can also be used for back-office type work. Basic employee management along with reporting is also available.
This includes the ability to create individual employee logins and monitor sales reports. Anyone who has worked in the fast food industry understands the importance of keeping labor down to a minimum.
Payment Processing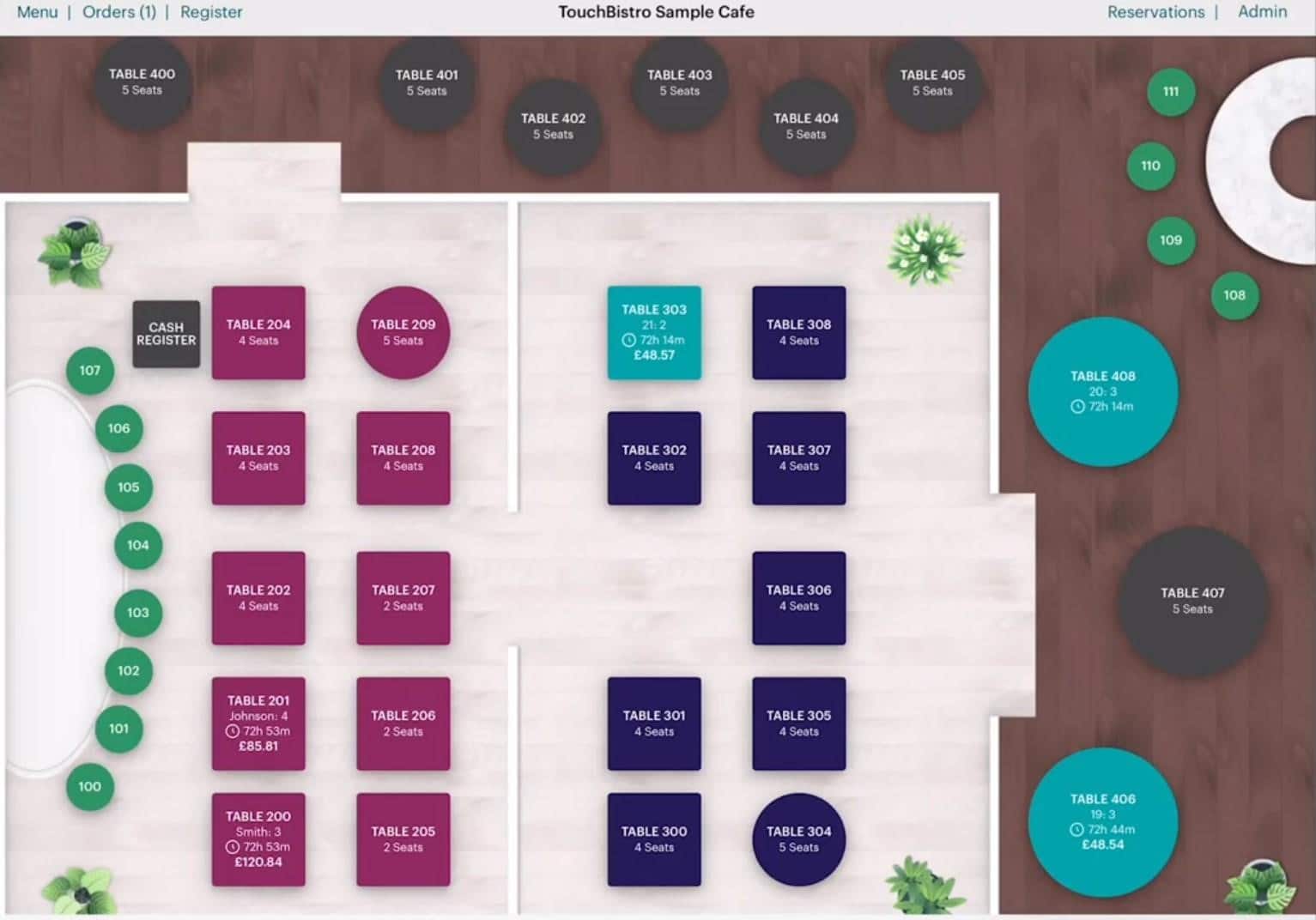 One unique feature that TouchBistro offers is its ability to process all forms of payment. This includes cash, credit cards, and mobile payments.
Any TouchBistro plan includes all forms of payment processing in their price, and there are no additional charges.
Many point-of-sale systems out there aren't able to handle such diverse payment options, which really puts TouchBistro ahead of the game.
Inventory Management
One important need any restaurant and fast food business needs is the ability to document and keep track of its inventory in order to know what ingredients are available, which needs to be restocked and how much moves around per time. TouchBistro inventory management provides you with a rich tool that helps reduce waste and maximize profit.
Other Important Features of TouchBistro include:
Gift Card Management

Inventory Tracking

Loyalty Program

Supports third party integrations
Pros and Cons of TouchBistro
Pros
Lots of features

Easy to use
Purpose built for restaurants
Supports offline mode
Can he highly customized
Cons
It is iPad based and as such cannot be used on other operating systems

Due to so many features, learning curve may be steep for some users
Add on options can be very pricey
Is TouchBistro Easy to Use? 
TouchBistro features an intuitive mobile user interface with large and bright colored icons, thereby making navigation very easy. However, a downside to this solution is that you have to purchase lots of hardware in order to increase functionality, and since this is a software that only runs on Apple devices, you are restricted to a large extent in the choice of hardware you can use. You have to make do with those that are compatible with Apple, and the price can pile up quite easily due to this. Aside from that, it is a great point of sale for fast food businesses and the restaurant industry in general. 
What Do Restaurant Owners Say About TouchBistro?
My analysis of reviews from over 350 users, ranging from brewery retail store owners to restaurant owners on the Apple App Store, GetApp, Trustpilot, and Softwareadvice, reveals that TouchBistro is slick, powerful, and user friendly. However, some users also complain that the software can be unreliable sometimes and also say the company's customer support service is not that great.
TouchBistro's Overall Star Rating
Below are TouchBistro's overall star ratings across different platforms:

How Much Does TouchBistro Restaurant Cost? 
The cheapest price plan for TouchBistro is Solo, which is priced at $69 a month. It covers one terminal and is perfect for a single-stand. You will need to reach out for a quote to know exactly what you will be settling for based on your specific needs.
Add Ons
Online Ordering – Starts at $50/month
Loyalty – Starts at $99/month
Marketing – Starts at $99/month
Gift Cards – Starts at $25/month
Contract Length and Termination Fees
TouchBistro offers month on month sign up for its software, although you may want to double check this as some users have mentioned that sales reps talked them into signing up for a year's plan.
This pricing is excellent for all the features that are offered. From cloud reporting, tableside POS, unlimited users for yourself and your staff, and networking support.
TouchBistro offers many different features for all types of fast food restaurants. From small fast food restaurants to larger ones, all would enjoy and benefit from having TouchBistro to fulfill their needs.
The price is good considering all the features that are included with it, and you have plenty of pricing plans to choose from. Touchbistro is also a great food truck POS system.
2.
Lightspeed Restaurant POS – Best Inventory Management Focused Fast Food POS
Originally, Lightspeed wasn't only designed for fast food restaurants. In fact, it is used for businesses in many different industries like retail and restaurants.
However, it still has useful features for fast food restaurants. Their inventory tracking feature is useful in helping fast food restaurants reduce waste.
This works by allowing business owners to track every food ingredient used in the store. Reducing food waste has been proven to be the most effective way to keep food costs down. Its pricing is affordable, making Lightspeed's functionality well worth it.
Features of Lightspeed Restaurant POS
Lightspeed has all of the basic features that a fast food restaurant needs in their point-of-sale system.
Employee Management
Some key features include employee and inventory management. This includes extensive back-office features.
Such as the ability to manage employee permissions. One unique feature is that you can configure access levels for each individual employee, meaning they can only use the features you want them to use.
Lightspeed has impressive inventory functions. You can track quantities of each individual item, set reorder points, and generate a report detailing what your reorder criteria is.
This is something that fast food restaurants will find especially useful, as it will prevent them from running out of important items.
Inventory Management
Everyone who has ever worked in the fast food industry knows how detrimental running out of one simple ingredient can be, and Lightspeed prevents this.
With Lightspeed, you can bundle specific items. This means you can stay stocked on the ingredients necessary for your fast food restaurant's most popular items.
This can also help business owners monitor which perishable items aren't being used quickly enough, which can cut back on food waste.
This small change can greatly increase a fast food restaurant's profits while lowering overhead, which is why Lightspeed is so preferred.
Multi-Store Support
Lightspeed will help you seamlessly manage multiple stores all from one central point.
Customer Facing Displays
Reduce wait times in your fast food restaurant and ensure order accuracy with Lightspeed's customer facing displays. Customers can easily punch in and select their orders and send them in, and these are received in the kitchen and promptly processed.
Integration with Delivery Apps
Expand your options and take orders from delivery apps like UberEats, Foodora, or DoorDash and increase the efficiency of your deliveries by getting all your orders on one single screen.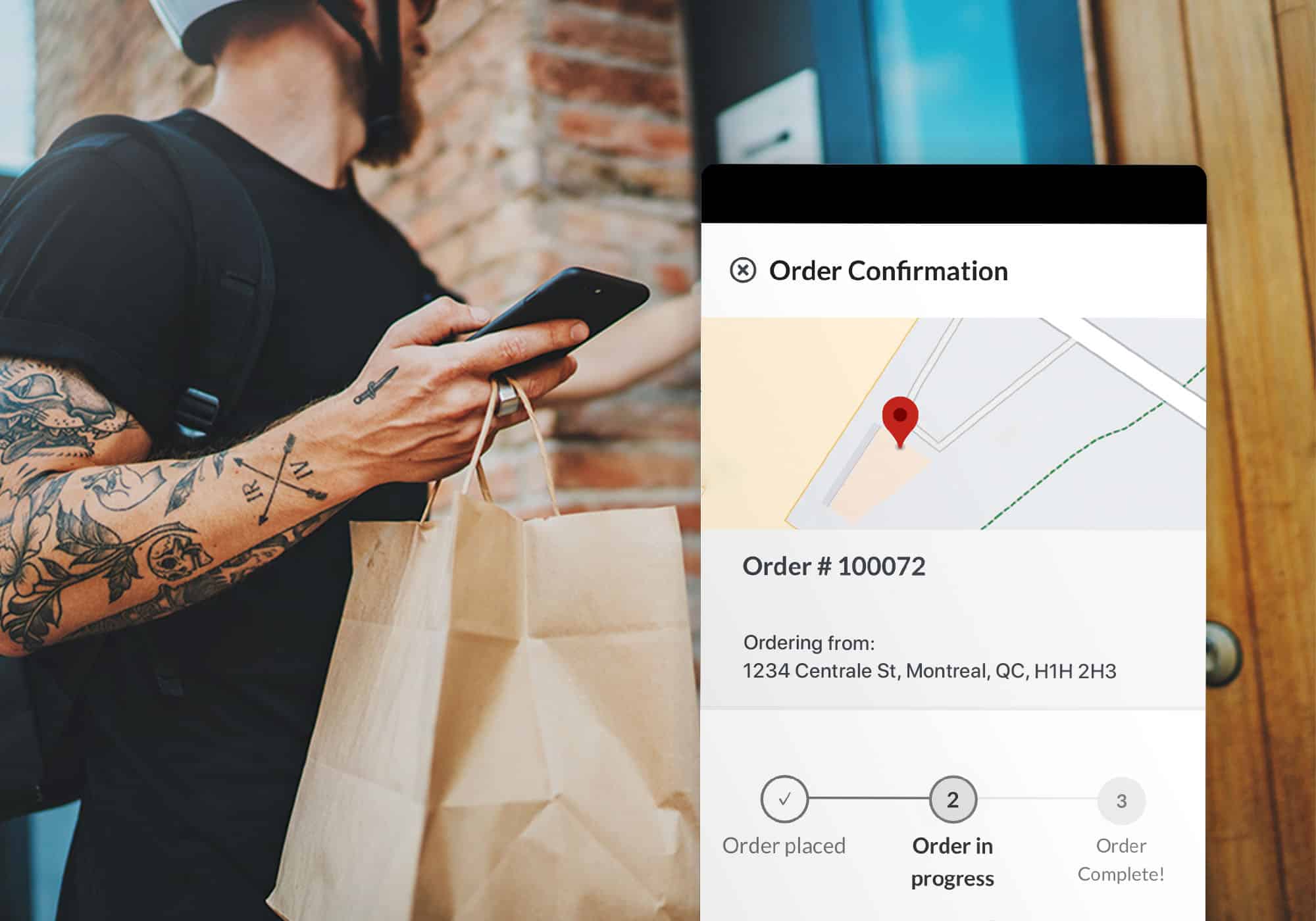 Reporting and Analytics
With Lightspeed's reporting and analytics, you can easily see what's working and what needs to be adjusted. Easily spot new areas of opportunity and stay up to speed with your restaurants performance.
Client Service
Lightspeed keeps their customers in mind at all times. Unlimited customer support is available 24/7. Business owners who use Lightspeed will have access to many articles and training videos to help them understand the software.
Pros and Cons of Lightspeed POS
Pros
Quick and easy setup

Cloud based
Round the clock support
Offers 14 day free trial
Robust inventory capacity
No contract, cancel anytime
Cons
Can be expensive for small business

Learning curve can be steep for some users
Is Lightspeed Easy to Use? 
Lightspeed is an easy to use solution with a very intuitive interface. However, given its robustness and array of features, getting a hang of all of its features may take a while for some users. You will agree with me that this is a rather good problem to have. Some users also attest to the fact that it takes them a while to get used to all of its features. Apart from this, it is a great POS solution for fast food restaurants.
What Size Fast Food Restaurant is Lightspeed Ideal For? 
Lightspeed is a great point of sale solution for small and medium fast food restaurants. Although it may be more ideal for medium to large scale fast food businesses who already have a large database and turnover, smaller fast food businesses just starting out may want to consider other options due to its price, which is more ideal for medium to large scale outfits.
What Do Other Restaurant Owners Say About Lightspeed POS?
Lightspeed POS scores high among users on various platforms reviewed. Users describe it as fantastic software for the retail industry, commend it for its ease of use, and report that it does take a while to get used to and settle down to. But they say it does not take away the usability of the solution, which is an all resourceful solution.
Lightspeed Users Overall Star Rating
Below is Lightspeed POS's rating on the various platforms: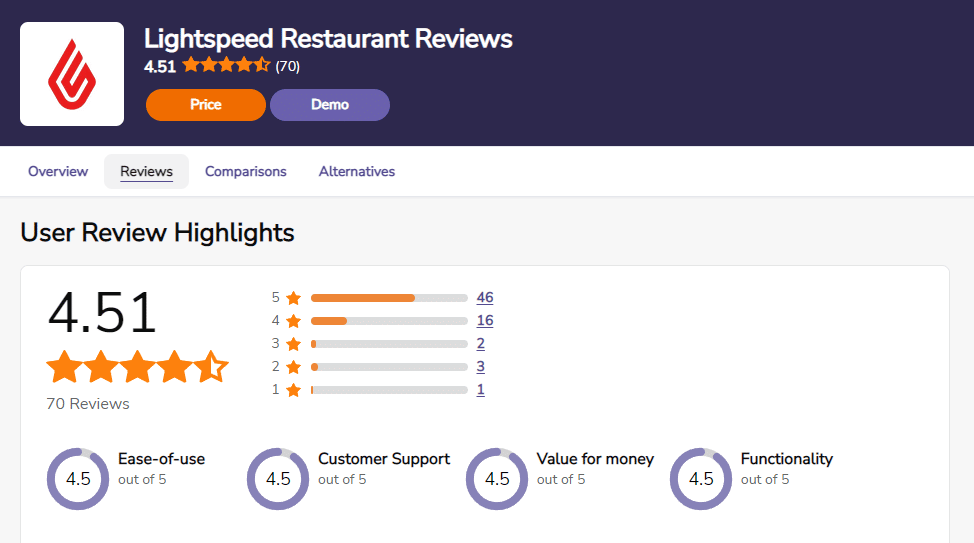 How Much Does Lightspeed POS Cost? 
Lightspeed entry plans cost $69 a month for one register for fast food restaurants. It has two other plans which are highlighted below:
Essentials

: $69/per month or $90 billed annually

Plus

: $189/per month if billed annually or $246 if billed monthly

Pro

: $399 per month annually or $519 if billed monthly

Enterprise

: Custom plan tailored to your specifications
Payment Processing
Apart from the monthly payment, payments processed are charged at 2.6% +10 ¢ for tapped, swiped, or inserted cards. Manual card entry is charged at 2.6% +30 ¢.
All plans come with 24/7 customer support, and you can easily request a 14 day free trial of the software.
Also, it is contract free, meaning you can cancel at any time without penalty.
Lightspeed is a point-of-sale system that was designed with small businesses in mind. This is ideal for fast food restaurants. It has many features that are extremely beneficial for fast food restaurants.
Using Lightspeed is a cost effective way to improve a fast food restaurant's functionality. So many important management tasks can be done with the Lightspeed point-of-sale system, and that is why it is one of our favorites.
3.
Toast Restaurant POS – Best Fast Food POS for Established Fast Food Chains
Toast is an ideal fast food point of sale. It is a point-of-sale system that specializes in food service. Toast offers a full restaurant management solution that enables business owners to cut down on costs and increase their outlets' efficiency, thereby increasing their productivity.
It is a category leader in restaurant management, bar POS, and fast food. Toast is a cloud-based software that offers features such as online and mobile app ordering, delivery, contactless payments, e-gift card purchase, contactless payment, and many others designed to simplify restaurants and fast food businesses' operations.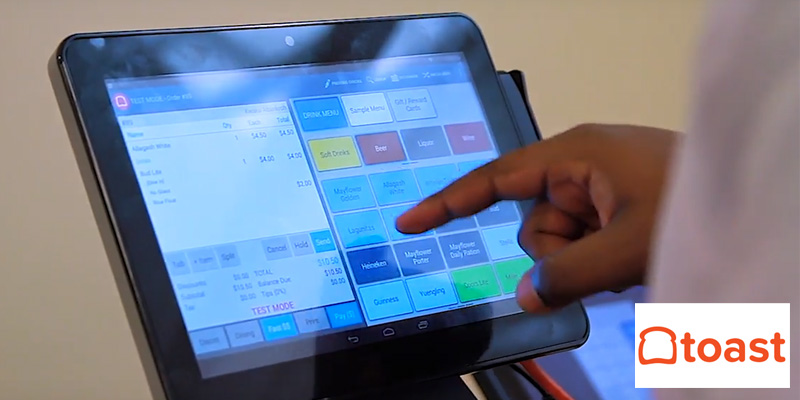 In the 2016 NEVY awards, Toast was named the hottest startup company. Simply put, this is a reputable POS system for food establishments.
Features of Toast Restaurant POS
Toast offers unique features that are specific to the foodservice industry, and this makes it an ideal fit for fast food restaurants' operations. With Toast, it is easy to split checks, and anyone who has ever worked in a restaurant understands how crucial that can be.
Contactless Ordering
Toast offers a QR function whereby guests can simply scan a QR code and make their orders as well as pay seamlessly. This helps to reduce human contact to the barest minimum and increases your fast food manpower needs by ensuring that the available hands are sorting out orders.
Close Out Day Function
There is also a close-out day function with the Toast point-of-sale system. When using this feature, you get an audit report on all current checks opened as well as employee activity.
This is useful for fast food restaurants, as managing things such as employee activity is important for keeping labor down.
Toast will automatically close out all paid checks and clock out all employees. This saves fast food business owners the headache of having to manually change information. You can always review the audit before closing time, and make sure everything is correct.
Marketing Campaigns
Easily reach out to your customers through tailored email campaigns and get them to make repeat visits to your fast food outlet. With the marketing function, you easily keep in touch with your customers, never missing an opportunity to send out periodic and tailored offers and promotions.
Payroll Management
Toast makes employee and payroll management a breeze. With its robust payroll management, you can easily onboard new employees faster with its digital onboarding capabilities, and you are both ready to roll.
Pros and Cons of Toast POS
Pros
Easy to use

Specifically built for the restaurant industry
Dedicated support for all pricing plans
Hardware available
Low entry cost
Supports multi location
Supports text notification
Reliable kitchen display systems
Runs on Android
Supports offline mode
Cons
Customer staffing appears limited

Contract termination can be expensive
Structure of pricing plan makes it difficult to know what you're paying for
Complicated drop down menu on online ordering
Who is Toast POS Ideal For? 
Essentially, Toast is specifically built for the restaurant industry, and as such, it is an ideal solution for small, medium, and large scale restaurants and fast food businesses. Its pricing is especially favorable for small businesses as it has a starter plan which is ideal for single location restaurants and fast food outlets with one or two terminals to get started and running. 
It is also ideal for medium to large scale fast food businesses with multiple locations, as it has plans to cater to such businesses as well. It is scalable as your business evolves and expands. So, regardless of your size, there's a Toast plan ideal and suitable for you.
Is Toast POS Easy to Use? 
From my analysis of the solution, the answer to this is yes. It is easy to set up and use, and should you be in need of a walk through, the company's customer service team is on hand to lend you a hand. Many users have praised the company's customer support, which they say is prompt and right on time.
What Do Other Fast Food Restaurant Owners Say About Toast POS?
From my analysis of users' submissions on various review platforms like Softwareadvice and GetApp, I found out that users' feedback is largely positive, with most users acknowledging the software's ease of use and line up of features.
Toast POS Overall Star Rating
As seen below, Toast scores highly overall on both platforms:
Softwareadvice: 4.06 out of 5
GetApp: 4.1 out of 5

How Much Does Toast Restaurant POS Cost? 
Toast is not the cheapest point-of-sale system available. In fact, at $100 a month, it is one of the higher-priced point-of-sale systems for fast food restaurants.
However, this plan includes unlimited access to their full range of features along with 24/7 customer support.
Below is a full description of Toast POS's four pricing plans:
Starter Kit
Ideal for single-location restaurants who need 1-2 terminals to get up and running.
Starts at $0/month but you will be required to pay hardware terminal subscription
Point of Sale
This is ideal for restaurants looking to get started with Toast's core functionality and flat-rate processing. It starts at $69/month and you will be required to pay hardware terminal subscription
Essentials
Plan for fast food restaurants looking to grow sales by bundling POS with the Digital Ordering suite. It starts at $165/month.
Custom
Tailor made a plan according to your needs, with the option to choose your own desired hardware. Comes with monthly software subscription
Specials Offer For New Restaurants
Toasts offers a basic package for new restaurants for $110 for a bundled POS and payroll. 
For extra add-ons with Toast, you have to pay a higher price. For example, if your fast food restaurant offers gift cards, whether digital or physical.
You will have to pay an extra $50 a month. If your business offers online ordering, it is another $50 a month. This may be too high for some fast food restaurants to consider.
For a larger, more established fast food restaurant, Toast could be the perfect point-of-sale system. It offers many features that make managing a fast food restaurant easier than ever.
For smaller fast food restaurants, the price might be too high for it to be worth it. Determining if this POS system is right for your business really depends on the needs and size of your fast food restaurant.
Buyers Guide: Must Have Features in Fast Food Point of Sale Systems
The fast food and restaurant industry in general, is a fast paced world where customers expect a fast turn around time to get their orders. As such, you need a fast food point of sale to help deliver on this.  The best fast food point of sale should have some specific features that will enhance your service delivery. Some of these features are highlighted below:
Online Ordering Integration
Online ordering integration is a nice thing to have. With phone orders, the operator can key in payments manually, noting the type of order (call in for pickup or delivery) and other information.
With an online ordering and delivery system, online orders and other orders are sent into the queue.
Again, this is where the feature comes in handy. Many fast food POS systems have built-in online ordering and delivery functionality that integrates with your restaurant's website. Some POS systems support third-party online ordering apps.
Most popular tablet POS systems integrate with other apps. This way, you can expand your system's functionality ever more with each new integration that is released.
There are restaurant apps for tip tracking, liquor inventories, and even social media management. Web-based systems undergo frequent updates to add and improve features.
Inventory Management
Inventory management makes adjusting menu items easy and keeps availability updated because you always know what you have in stock. Normally, it's possible to do this with a back-office function online.
It's also possible to update your menu to include daily specials and special time-sensitive offers or manage several different menus for different days of the week or locations.
Cloud-Based
Fast food point of sale being cloud-based means that everything gets saved to the cloud—not onsite.
The decision to go with a cloud-based system is not an easy one.  There are advantages and disadvantages to both structures. 
Advantages of Cloud Based System For Fast Food Restaurants 
Updates and Maintenance  
If your POS system is cloud-based like most of the systems below, you won't need any onsite servers. If your server goes down, there will be no call out charges and no need to get consultants to come down and install the latest versions of the software.
You're reducing the cost of maintenance and hardware by removing the need for servers on each site. With traditional onsite systems, roll-out programs often take weeks or months because upgrades are so slow. With the cloud, you do the system upgrade once and centrally. 
Simple Installation 
The cloud keeps things simple by working on the principle of plug and go. You just switch it on and you're connected at the press of a button. There is no need for a complicated server installation.
Syncing & Detailed Reports 
The fast-food industry is precisely that—fast. Therefore, it's necessary to identify and deal with underperforming promotions or items on the menu as soon as possible. Since the cloud allows data syncing (in real-time or at the end of the day), it provides fast-food managers with up to date information. 
The Disadvantages of Cloud-Based System
A Cloud-Based system offers security risks. An onsite server is a lot harder to hack into. However, most point of sale systems carry the most up to date anti-virus software and security patches.
Embedded Credit Card Processing
Every time a card leaves a customer's sight, you run a risk. You know the risks—identity theft, credit card fraud, skimming, etc. In some cases, this risk can be minimized with mobile payment and pay-at-table features.
Moreover, these options mean no waiting to get the card back. Ultimately, this all makes your restaurant more efficient.
Less time passes between taking and placing orders. Likewise, it takes less time to complete payment transactions. Tables turn faster, and you have more and happier customers who aren't stuck waiting.
What's Different About Fast Food Point of Sale? 
There are certain things that make fast food POS systems unique as compared to other POS systems. 
Suggestive Selling Prompts
Effective fast food systems do not assume the customer wants the default option. They prompt staff to ask for choices.
For example, a system can prompt a server to upsell on the spot and enter the customer's choice of dressing, side dish, condiments, and more. All of this information is sent to the kitchen with no need to ask for special orders.
Additionally, using a large display screen, the system may suggest popular items based on hot selling item reports that are generated automatically by the system.
Smart Tender
The smart tender feature controls the sales register, day reporting, pricing, and inventory. It generates simple, comprehensible financial data. The best POS systems should allow you to split tenders.
For example, a patron may want to pay for their order with three different cards and cash. In this case, your POS system should be capable of splitting the order into four different tenders.
The best fast food point of sale systems should also be capable of inputting the split payments into the appropriate ledger accounts.
Order Recall Screen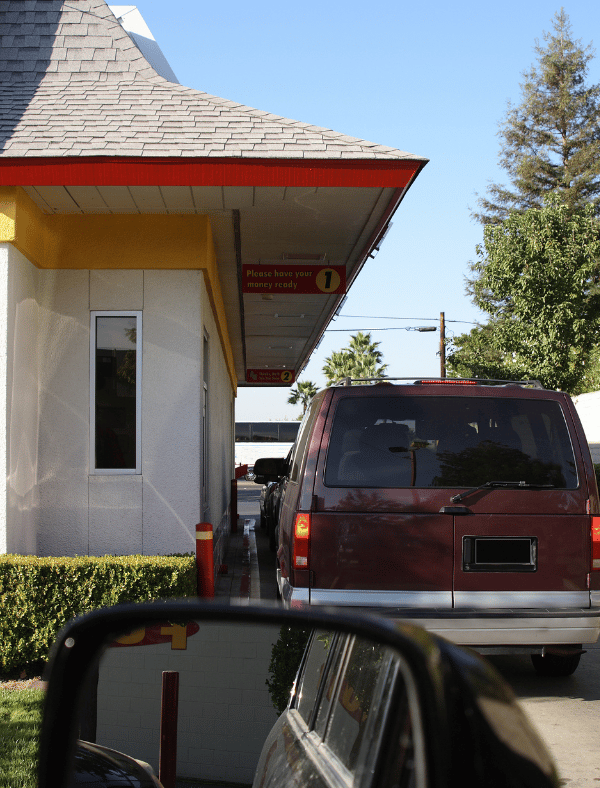 Once an order is placed, it might have to be recalled. To be recalled, it must have been saved first. You'll need to restart the process if the order is discarded.
The interface should be simple – for example, tap an Orders button to view your open/closed orders or a table layout option showing the table number, the guests, and the server currently assigned to the table.
This feature is useful because speed is critical for a fast-food restaurant. You can't face off against hungry and thirsty customers with a slow POS system lacking this feature.
With an order recall screen, servers can set the sorting of open orders to just show their orders.  This prevents time-wasting when looking through orders and eliminates confusion when recalling orders. 
Typically, an order recall screen will have sorting buttons down one side to help servers create personal orders and eliminate those that do not need to be worked on.  When the server uses the system again, the defaults that are used are remembered by the system. Sorting can be done by destination, order type, staff member, date, or a general search. 
Integrated Drive Thru
Fast food restaurant managers and owners place a high priority on their drive-thru operations. Furthermore, a highly efficient drive-thru operation leads to high profits and a better overall customer experience.
What is Integrated Drive-Thru Functionality?
An integrated drive-thru is specifically designed for fast-food restaurants to enable reliability and speed. Mutual satisfaction is guaranteed. Orders are sent to the kitchen automatically, appearing on kitchen video systems so staff can efficiently and quickly fulfill requests.
Integration is arguably the best feature of drive-thru POS software. It should integrate with hundreds of POS hardware devices seamlessly. You shouldn't have to change your online ordering system or your customer loyalty program.
Therefore, integrated drive-thru functionality in a fast-food point of sale is a must.
Video Confirmation Boards 
Fast food restaurant employees make mistakes like everyone else, and they can get orders mixed up. Video confirmation boards prevent employee errors from hurting your bottom line. In addition, video confirmation boards reduce waste and improve accuracy at the same time.
Therefore, fast food venues must install a POS system with an integrated drive-thru and video confirmation boards synced with your POS hardware and designed to withstand harsh weather elements.
Fast Food Restaurant Hardware
The System Components
The most important hardware components a fast food POS needs. These include thermal receipt printers, kitchen printers, customer display units, and, last but not least, a cash drawer.    
Thermal Receipt Printer
A fast food restaurant can benefit from a thermal receipt printer in many ways. Thermal receipt printers print labels, receipts, and other media quickly and accurately. They come with a paper save mode for energy conservation and, in some cases, an optimized design for efficient counter space.
The forerunner of the thermal printer was the impact printer, which is being replaced by the former because of how noisy and slow it is. Fast food places, in particular, appreciate the ability to deliver fast services to customers.
Kitchen Printer
Opt for a kitchen printer with an internal power supply, because this will do away with the need to snake power cords around. This way, printers can be placed at different work stations. If you can't boast much in the way of space, an internal power supply can free up a few valuable inches.  
Choose a restaurant kitchen printer that loads paper easily. A fast-food restaurant kitchen printer will help staff reduce the time it takes to prepare food, but you shouldn't waste that saved time on struggling with paper jams or reloading paper. 
Finally, a fast food restaurant should have a high-speed throughput of at least 10 receipts per minute, which increases staff efficiency and productivity in the kitchen. Clear, easy-to-read tickets save your staff the inconvenience of guessing about orders. They can print tickets quickly and put the dishes together even faster. Faster service means higher profit and more throughput.
Customer Display
Some POS systems offer the option of placing tablets at every single table. Of course, this can be costly. On the other hand, it lets people enter their own orders and split the check, which in turn saves money.
Fast-food chains like Wendy's, McDonald's, Chili's, and others are now using self-service ordering and self-ordering kiosks at tables. 
If you have regular customers, it will pay off to get a good CRM system to keep track of what these cherished patrons order. You can't reasonably be expected to remember what "the usual" was.
You can also use customer data for targeted marketing, like sending emails about events, discounts, or promotions. Moreover, your CRM can include a loyalty program to reward regulars with discounts, free entrees, etc.
Your POS system should have different types of notifications for both customers and servers. For example, some restaurant POS systems can inform servers when orders are ready with a text message or an in-app notification sent to their mobile device.
If the server uses a smartwatch to get these notifications, text messages are probably more effective. Customers can also receive texts alerting them that their table or takeout order is ready.
Cash Drawer
Some POS systems come with a cash drawer that connects to your receipt printer. When you finish a cash sale, it opens automatically. Most systems have a special cash drawer connector, usually the RJ11 type. Check your manual to see if your receipt printer and cash drawer are compatible.
A cash drawer also opens when opening shifts for employees to enter the initial cash amount, when a refund receipt is printed for cash refunds only, when closing shifts for employees to calculate the final cash amount, or when action is taken to put money in or out of the cash drawer. You don't have to make a sale to open a cash drawer.
Conclusion: Larger System, or Smaller? 
There are almost as many different point-of-sale systems available as there are fast food restaurants!
POS systems for fast food restaurants offer a variety of features and benefits. These include an advanced stock control feature that allows restaurant managers to track and manage inventory from multiple sources. These features are especially useful for restaurants that operate in mobile environments. With the right POS system, fast food restaurants can shift stock quickly and efficiently.
When deciding whether or not to go with an industry-specific point-of-sale system, the stress can double. Fortunately, you don't have to look too far to find the perfect point-of-sale system for your fast food restaurant. You could read through endless point-of-sale system reviews all day in hopes of deciding which one is right for you. Or, you could let us spend all day reading reviews, and then read our reviews of the best systems available.
We strongly recommend either TouchBistro or Lightspeed for your small to medium sized fast food restaurant's point-of-sale system needs. The features are comprehensive and the price is affordable for just about any sized business.
More established fast-food chains may want to consider a higher-end option such as Toast. The price is higher, but it is better equipped to manage larger businesses.
FAQs
What is a POS system for restaurants?
POS is an abbreviation for point of sale and this is a solution that is used to process customers payment during checkout. A restaurant or fast food point of sale system is specifically built and tailored to meet the specific needs of restaurants and fast food outlets. A POS system usually includes the POS hardware and software, which is used to process sales, take credit card payments, print receipts and many more.
What POS system does McDonalds use?
McDonalds is a large fast food chain that requires an extremely specific and powerful POS system. McDonald's uses NewPOS.
What is the best POS system for fast food restaurants? 
For smaller to mid-sized fast food restaurant owners, TouchBistro Restaurant and Lightspeed POS are great options. For more established and larger fast food chains, Toast POS is a robust and feature rich option.
What POS system does KFC use?
KFC currently operates by utilizing Oracle's MICRO POS system in their restaurants.