(Last Updated On: 09/13/2022)
Our product review team dedicates hours of research, fact-checking, and testing to recommend the best solutions to business owners. We earn from qualifying purchases through our links, but this does not influence our evaluations. Why trust our reviews?  
Written by Business Expert Wale Ameen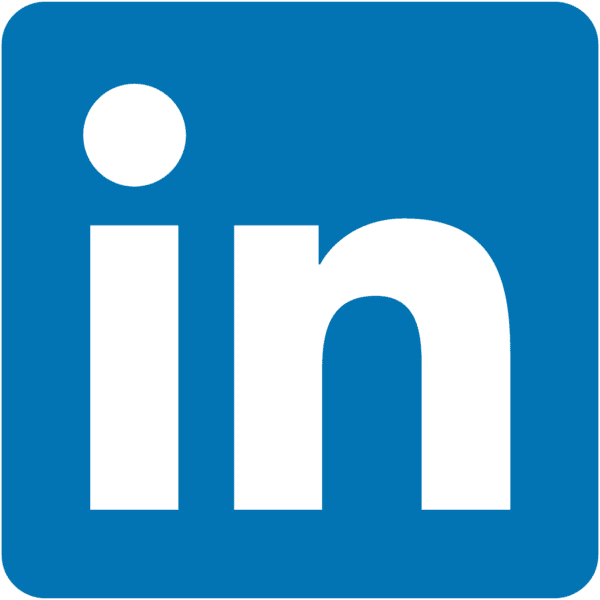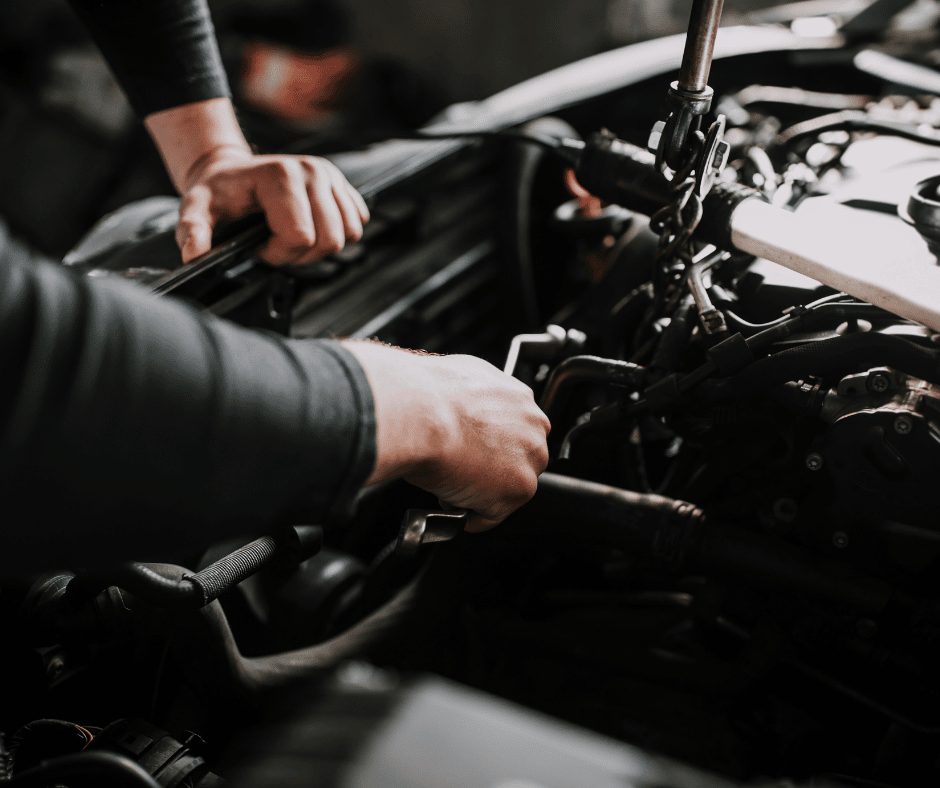 Before you purchase a POS system for your auto repair shop, there are certain things you need to consider.
First, an automotive shop is quite similar to a car wash business in the sense that a fast turnaround time is crucial to being profitable. Every shop has a limited number of bays; therefore, getting customers in and out of the shop quickly is a top priority.
Second, every mechanic needs good software to help estimate repair costs. Automotive point-of-sale systems are unique POS systems that specifically help auto repair shop owners streamline their business and handle daily tasks such as billing, inventory, estimates, customer records, and the sending of inspection reminder notices.
To find the top 4 auto repair POS systems on the market, I put over a dozen to the test.
Don't have time to read this whole review? Here's a quick overview:
How I Evaluated Automotive POS Systems
In coming up with this review, I have carried out an extensive analysis of automotive POS systems available on the market. In order to narrow down the top 4 choices, I personally carried out demos of all the software options and analyzed the features. I took software costs into consideration, as well as users' reviews on trusted sites such as Software Advice, GetApp, and Capterra. The POS systems for auto repair shop I have reviewed here have thus passed the test of usability, have the recommended features, and come highly recommended by other automotive shop owners as well.
Click here for more on WiseSmallBusiness.com research process
Detailed Overview of the 4 Best POS Systems for Auto Repair Shops
1. Maxx Traxx – Best Overall Auto Repair Shop Software
Based on the above considerations and after a careful review of the popular systems available, the ideal automotive point of sale system I recommend for an auto mechanic shop is Maxx Traxx. Maxx Traxx is easily the most recommended based on the fact that it is probably the most inclusive and easy-to-use solution out there. In fact, quite a number of other reputable sources, such as Software Advice and GetApp agree with this, as it ranks top on the list of auto repair POS systems. It has a highly rated support team, is fully functional, and is ideal for a wide range of auto shops.
Maxx Traxx is a desktop and cloud-based automotive software developed by Scott Systems, based in California, USA. Although the company doesn't invest much in marketing, which is likely why not enough auto repair shops know about it, it is about the best automotive POS system on the market.
I would certainly recommend this POS system for auto repair shop, or mechanic shop owners. Maxx Traxx software is all-inclusive, easy to use, and affordable. Even though it is specifically built for automotive, heavy truck, RV, motorcycle, restoration, and specialty repair shops, it is still flexible enough to be used by any repair business.
Maxx Traxx features a wide variety of versions depending on the size of the shop, with the most comprehensive version being the corporate version.
Maxx Traxx is also one of the first systems of its kind, as it dates back to 1987. It is made in the US, which is important for anyone committed to supporting American businesses.
It boasts the highest-rated support in the industry. The manufacturers are so confident that you will be satisfied with the software that they even offer a full-running free trial. It's much easier to add parts that were built in the shop earlier than it is to do so with other systems. Also, data transfer from previous systems is easy and convenient.
The system is quickly customized and integrates well with vendors. Their customer service is very fast and helpful; all of your issues will be resolved at the speed of light!
Features of Maxx Traxx POS System for Auto Repair Shops
Quick, fully functional software
The software is quick and fully loaded. You get a constantly updated software solution as updates are automatically included in the next update.
The program can be used on the level of your choice. Clients say the company takes the time to call and see how you're getting along with the system. They understand the importance of a personal touch, and they make you feel appreciated.
If you are a shop owner looking for a system that boasts super financial accountability and a customer base system, then Maxx Traxx is recommended.
Maxx Traxx will make your transition to upgraded software versions seamlessly.
Easy to use
With Maxx Traxx, you never have to worry about time spent getting used to a system as it is very easy to use and even new staff members will find it easy to adjust to.
I recommend you use the full accounting features because this will save you the time and trouble of having to export, import, or enter data twice. Moreover, the integrated credit card processing is wonderfully simple to set up, unlike with other systems that use separate terminals with thermal paper rolls. The credit card confirmation is printed out directly on the invoice, which leaves a nice impression.
Supports third party Integrations
Maxx Traxx supports integration with Quickbooks, major online parts sites, digital inspection providers, CRM, and credit card processors.
Pros and Cons of Maxx Traxx
Pros
Easy to set up and use
Great customer support
It is feature-rich
Integrated payroll and extensive reports
Cons
It does not have many marketing features
The dashboard looks outdated in comparison to some other auto repair software solutions
Video overview of Maxx Traxx software, courtesy of Maxx Traxx
How Much Does Maxx Traxx POS Cost?
Maxx Traxx runs three pricing models: Express, Service, and Corporate plans.
Express: $99/month, one-time setup fee of $139
Service: $149/ month, one-time setup fee of $299
Corporate: $189/month, one-time setup fee $399
All three plans come with one workstation. Each additional workstation costs an extra $14/month.
How Do Other Auto Repair Shop Owners Rate Maxx Traxx?
Maxx Traxx users have nice words for the solution. One thing that stands out from a number of reviewers on softwareadvice.com is that many have been using the solution for long periods of time, some as much as 15 years. This says quite a lot about the solution and certainly adds up to why it is my most recommended automotive POS solution. It has a 4.92 out of 5 overall rating on the platform.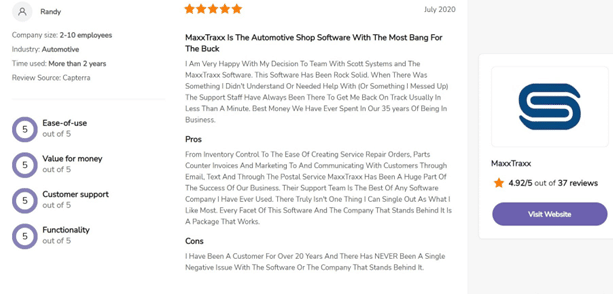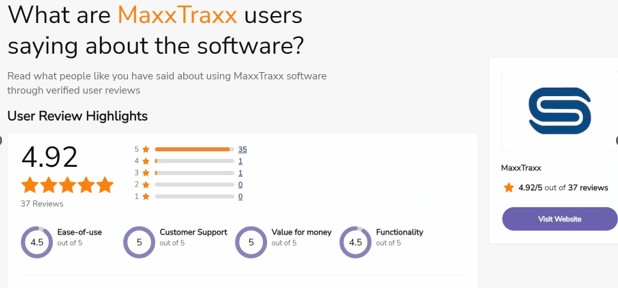 Bottom Line
You can rest assured that Maxx Traxx's capabilities will meet and even exceed your expectations, especially with their kind, committed customer support center.
They are based in California, but you can expect a prompt reply and friendly, cooperative approach even if you're on Eastern time. On the downside, clients have complained that the menus are relatively old-school, and it hasn't been possible for them to stretch out big jobs over more than one day, leading to an excessive number of duplicate appointments.
2. Shop-Ware – Multi-Location Automotive Software
Shop-Ware is a cloud-based vehicle inspection and repair shop management solution that allows you to provide an informed service with well-informed staff across multiple locations.
Shop-Ware offers inventory management, payment processing, native parts ordering, and canned jobs. It helps repair shops to manage their profit and keep track of parts inventory.
With Shop-Ware, you can easily connect to necessary third-party apps. It also has a large selection of direct integrations with brands such as Quickbooks and Mitchell.
Shop-Ware is the ideal solution for any repair shop that seeks to deliver great service to customers from multiple locations. Easily prepare quotes in seconds, issue cloud-based repair orders with native car inspections, and increase your shop's overall efficiency and profitability with its built-in tools.
Features of Shop-Ware Automotive POS
Multi-platform enabled
Being a cloud-based solution, Shop-Ware easily runs on various devices and operating systems. It works well on Windows, Android, and iOS-powered devices. You can also easily access it from almost anywhere.
Job estimator
By using intelligent canned jobs and searches, you can easily come up with more accurate estimates for jobs.
Built-in digital vehicle inspection
With Shop-Ware's built-in digital inspection function, you can prepare and give customers an update on the result of your inspection, and this helps give the customer more information to make an informed decision on the next step to take.
Digital vehicle inspection
You can easily pair integrated DVIs with photos, files, videos, and others. You can easily reach out to your customers by sending photos, videos, and service history.
Intelligent inventory management
Shop-Ware comes with great inventory management, with which you can easily track and monitor your inventory to know what is out and what is left.
Electronic Parts Ordering
You can easily batch orders and place them online with dynamic search tools.
SMS and email to alert customers on a repair estimate
Shop-Ware comes with an SMS and an email alert feature that lets you send notifications to your customers to let them know the repair estimate. Your customers can also respond and either approve or decline the estimate, at which point you know whether to continue with the service or put it on hold.
Pros and Cons of Shop-Ware
Pros
Easy to use
It can be used on multiple platforms and devices
It can be easily customized to fit into the way the shop runs
Great customer service
Constantly upgraded with new features
Cons
Pricing plan not publicly available
How Much Does Shop-Ware Cost?
Although a great product with quite a number of positive reviews, Shop-Ware does not provide its pricing plan on its website; as such, you need to reach out to get a quote.
Do Other Mechanics Recommend Using Shop-Ware?
Shop-Ware has an overall rating of 4.8/5 on Capterra, a total of 39 5-star rating on G2, and more than 120 5-star rating on Software Advice.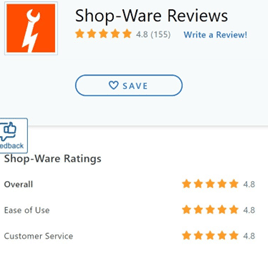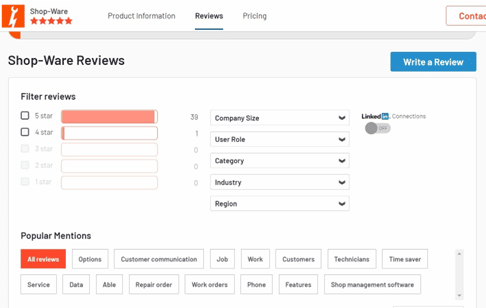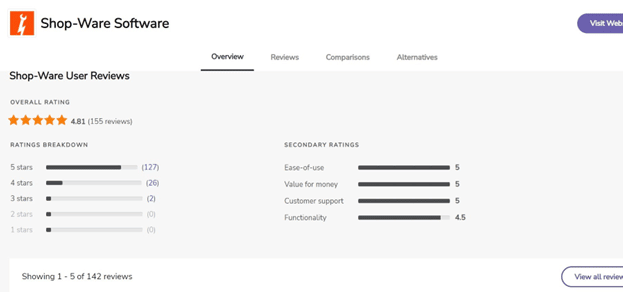 Video highlight of Shop-Ware by Shop-Ware
3. Web-Est – Technical Automotive Software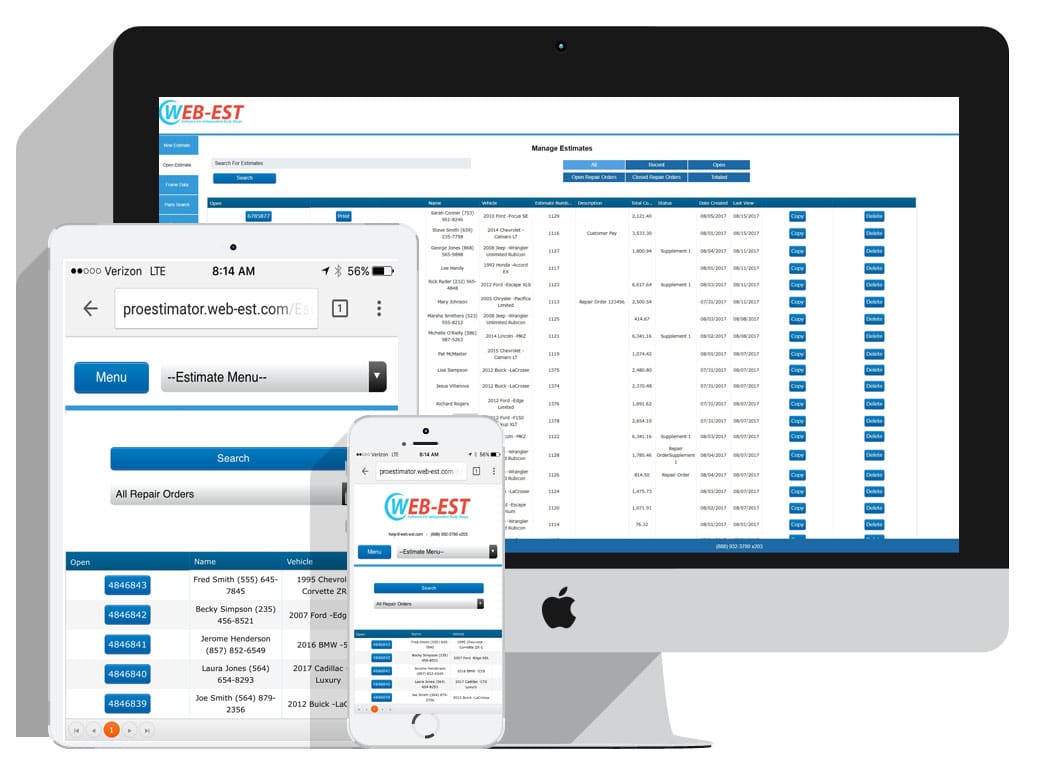 Web-Est supplies online auto evaluation and collision estimation for auto repair shops. It is a collision course estimation software ideal for small and medium size auto shops with billing and invoicing, quotes and estimates.
It is a relatively cheaper option compared to Maxx Traxx.
The POS software integrates raw OEM data from Mitchell International and gives its licensed clients access to the figures by configuring them into their online platform.
The company services the small to average-size auto repair market by providing software that is of good value, logic-based, and at a relatively reasonable cost.
Web Est comes with parts and pricing, labor database, labor rates, estimating, and repair tracking. It's known to be one of the best auto repair software platforms for independent vehicle repair shops.
The most important functions and features are top OEM data, aftermarket information system, worldwide access, availability of frame data, support for unlimited imaging, point and click graphical system.
These are all supported by the highly advanced Mitchell database and affordable pricing. These features and functions make this system one of the top ones for auto repair because it is based on the system of configuration and customization and is very easy to use as well.
Features of Web-Est POS System for Repair Shop
Multiple Rate profiles
Estimators can offer rates for fleet accounts, walk-in customers, wholesale accounts, and/or non-taxable accounts. You can select from a pre-set profile for every situation.
This helps your business account by using preset charges for expenses when estimating each repair. Web Est uses labor and paint times, price info, part numbers and under-hood dimensions for all types of vehicles, regardless of make and model.
Point-and-Click Graphical
It's quite simple to choose parts to repair or replace, including paint time, labor time, and part pricing. Paint time includes two-tone, one stage, clear coat, or three stage. You can also choose to add underside, edging, and blending in any combination.
Hassle-free upgrades and data availability
All updates are made instantly because Web Est is an online product. You don't need a new computer, apps to download, or software to upgrade. As mentioned, the system utilizes Mitchell Full Frame and Opening Data.
This universally valid information is available to Web-Est clients as a guaranteed option and can be used with any frame machine or pulling device.
Worldwide Access and Unlimited Imaging
Web-Est's collision estimating software gives auto repair shops the ability to develop an estimate from home, the shop, or in the field. All clients need is their log-in data, and they have access to their estimating program, any place and time.
The system also provides the ability to include as many photos as necessary on your estimate, making smoother repair cost settlement between you and an owner or adjuster possible.
Aftermarket data
The system includes most aftermarket vendor's parts information for free. If you don't see the vendor you are working with within the system, simply call support, and the data team will include that company's information in the system.
Pros and Cons of Web-Est
Pros
Easy to use
Cheaper compared to others
Free 14-day trial
Cons
The company does not update its prices often. As a result, they are frequently lower than the dealer prices.
Some users have complained that the software occasionally experiences glitches, which leads to loss of productive hours.
How Much Does Web-Est Cost?
Although Web Est has not provided a breakdown of pricing plans on its website, it states that it does state that it begins from $123 a month.  You can try out the software for free for 14 days. You can sign up to try it out here.
Auto Repair Shop User-Ratings of Web-Est
Many users rate Web-Est highly. Its ease of use and speed is something they commend, although a few complain about having glitches intermittently since an upgrade was carried out. The solution scores an overall rating of 3.2 of 5 stars on Capterra.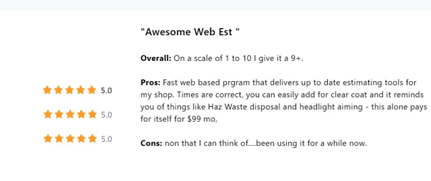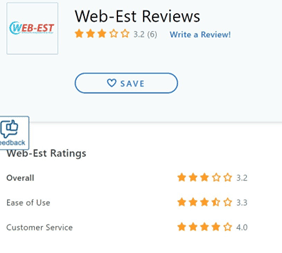 4. Workshop Software – Best All-in-One Auto Repair Management Software
Workshop Software automotive POS system is a web-based software as a service (Saas) solution for repair shops.
It is the most comprehensive auto repair POS system. It offers an impressive list of features which includes: online customer bookings, vehicle history, cost-saving stock management, loan car management, and a host of others.
Workshop Software is an ideal solution for every type of repair shop, both small and large. Any repair shop that is serious about integrating modern technology in their garage should select the workshop Software system.
Features of Workshop Software
Intuitive Interface
Workshop Software has an intuitive and easy-to-navigate interface. This makes navigating around its features a breeze and a pleasure to work with.
Carfax Integration
The system offers Carfax integration for accurate in and mileage tracking. In addition, many times, mechanics are able to diagnose the problem easier if he/she knows that the car has been in an accident. This carfax integration with the POS system is very handy.
Parts Vendor Integration
The parts vendor (in this case, Partech) integration is extremely important. This integration will save the mechanic precious time in locating and ordering parts.
The system integration provides the mechanic with easy access to pricing and availability.
Mobile App
Workshop software has a mobile app available on the Android and iOS stores which makes working on the go seamless and possible.
Tire Vendor Integration
Similarly to the parts-vendor integration, this system offers tire integration with Tire Connect. Using this feature, the mechanic shop is able to save time on looking up tires for different vehicles. The system is able to display the right tire size, availability, and pricing with one click.
In addition, Workshop Software integrates with most accounting software such as Quickbooks, Sage and Xerox, and MailChimp for marketing. It also offers a free 14-day trial within which you can try it out.
I took a dive-in and set up a free trial account. Below are screenshots and a video of the process.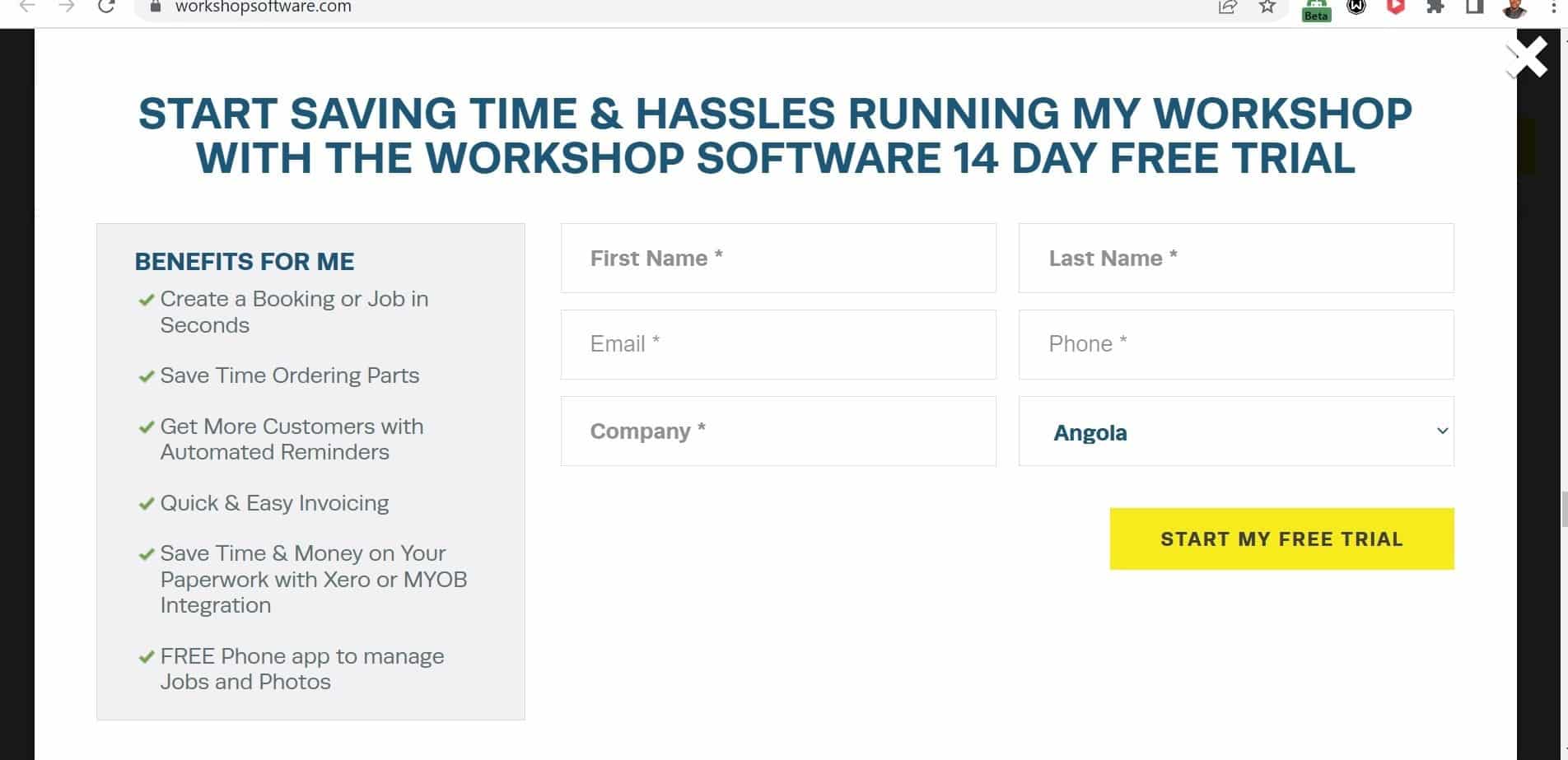 I filled in my details on the sign-up page, and with this, I was sent an unlock code which I had to input on the next screen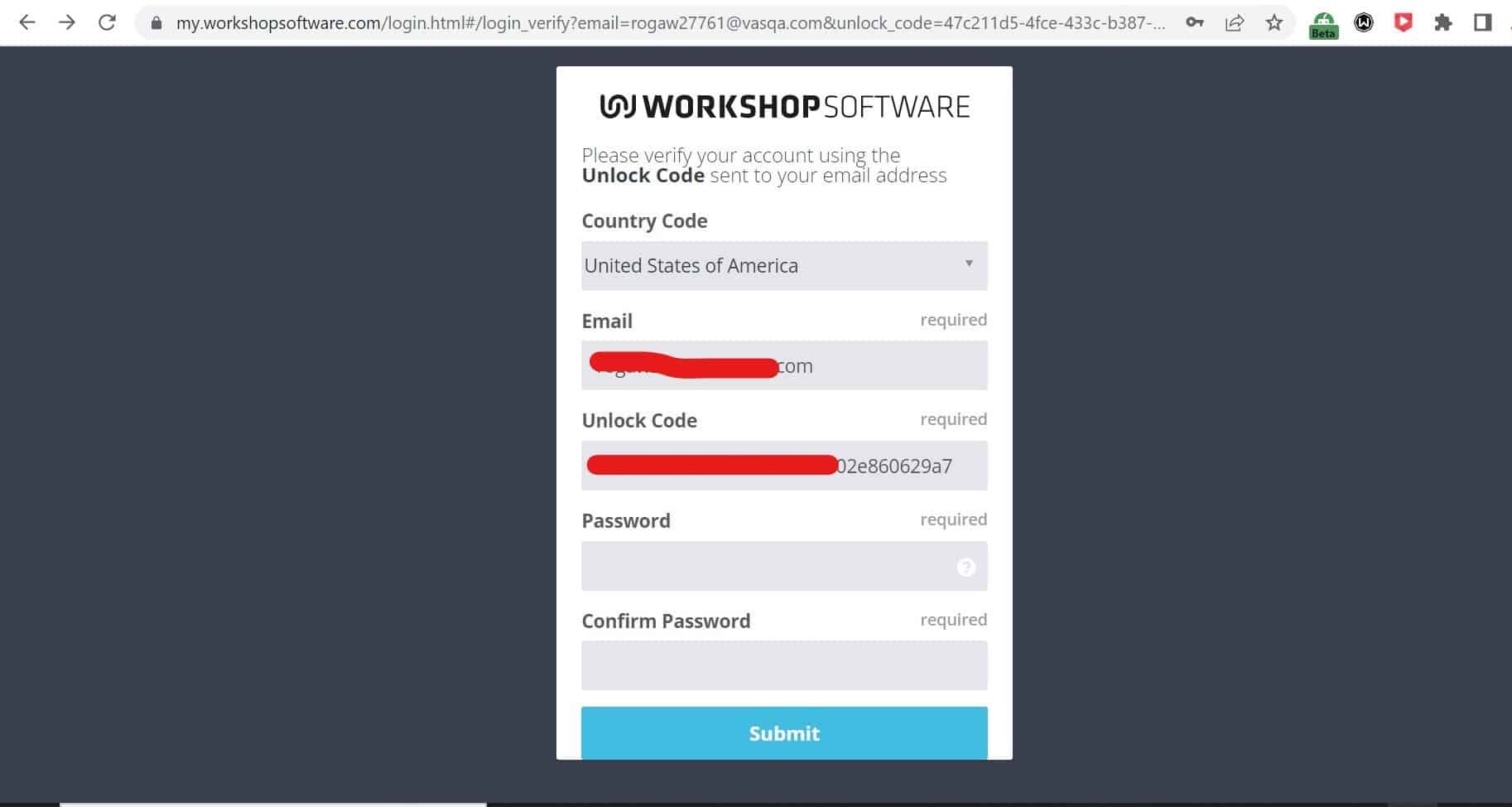 My look through of the features of the Workshop Software
More Important Features
Scheduling
Vehicle Management
Strategic Integrations
Motor Labor Times
Email/SMS
Pros and Cons of Workshop POS System for Auto Repair Shop
Pros
Mobile friendly
Easy to use
Very user-friendly for mechanics
Offers free trial
Rich reporting history
Constantly updated
Cons
Users complain that some reporting functions do not carry dates
How Much Does Workshop Software Cost?
Workshop Software has three pricing plans: Bronze, Silver, and Gold.
Bronze: $39.99/month on Yearly plan, $49.99/month on Monthly Plan
Silver: $59.99/month on Yearly Plan and $69.99/month on Monthly Plan
Gold: $79.99/month on Yearly Plan and $69.99/month on Monthly Plan
Do Auto Repair Shop Owners Recommend Workshop Software?
Workshop Software scores an overall 4.0 out of 5-star rating on Capterra and 4.0 on GetApp.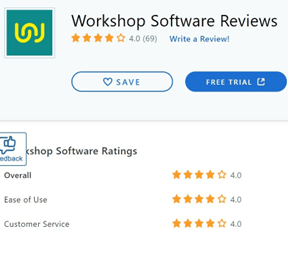 Buyers' Guide: What to Look Out for in an Automotive POS System
There are certain features that a good automotive POS system should have. I have listed in detail four of the most important below:
Scheduling
Every decent automotive POS system should have calendar and appointment scheduling capabilities. In particular, the scheduling of private inspections. The system should notify the shop manager of customers due for routine maintenance, such as oil change.
Accounting Integration
The repair shop owner is busy as it is. Accounting should not take up much of his/her time. Therefore, every effective auto pos system should include accounting software integration such as Quickbooks.
Third-Party Integration
A robust automotive point-of-sale system provides the mechanic shop with third-party integrations such as carfax integration, parts integration, and tire vendor integration.
Motor Labor Times
Every auto repair shop POS must include motor labor times. Those are the estimated time it takes to replace a part or conduct a repair.  The motor labor times help with providing customers with fair estimates.
Many Choices… So Choose Wisely!
The market is flooded with auto repair software systems. I couldn't review them all even if I wanted to. A lot of the software available for auto repair shops is very outdated.
If you're looking for the best and most efficient POS for your auto repair shop to help you grow your business and run it more smoothly, I suggest Maxx Traxx. Reach out to schedule a free trial and get started.
FAQs
What is an automotive POS system?
An automotive POS system is a point of sale system that is specifically built and targeted to automotive shops to help manage your auto parts business. These POS systems will help manage inventory, customer billing and records, as well as help you manage multiple locations should you be running such.
What software do mechanic shops use?
Some top recommended auto repair POS software for mechanic shops are: Maxx Traxx, Shop Ware, and Workshop Software.
What is the best POS system for auto repair shop?
Our best overall choice is Maxx Traxx, as detailed in this review. Apart from those mentioned in this post, other Auto Repair Software with Point of Sale (POS) are AutoLeap, Shopmonkey, AutoFluent, Fullbay, AMS Protractor, and Digital Wrench.
What is the best auto shop management software?
Workshop Software is a robust automotive point-of-sale system that offers many helpful management features.
What's a good auto repair estimate software?
Auto repair shop owners looking for estimate software should consider investing in a feature-rich automotive POS system such as Maxx Traxx.
What is Maxx Traxx software?
Maxx Traxx software is an auto repair shop-specific point-of-sale software designed to help mechanics run their shops more efficiently.
What is Tekmetric used for?
Tekmetric is the cloud-based shop management system designed for auto repair professionals.
What is a POS terminal machine?
POS terminal machine is a computerized system that can be used to process credit and debit card payments. It is the modern version of a cash register.