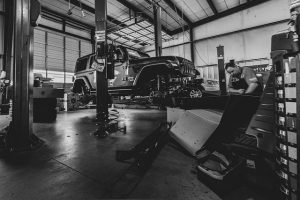 Automotive repair estimate software help mechanics estimate the cost of repairs, While automotive POS systems help garage owner streamline their business.
Similar to the car wash business, mechanic shops depend on fast turnaround time to remain profitable.  Each shop has a limited number of bays. Therefore, getting a customer in and out of the shop is paramount.
The Best Automotive POS Systems take over the daily tasks such as billing, inventory, estimates, customer records, and sending inspection reminder notices. The auto repair POS systems we reviewed below will help your business achieve high business efficiency and profitability.  Go ahead and throw out those paper logs!
Best Automotive POS Systems
1. Maxx Traxx – Best Auto Repair Shop Software
Maxx Traxx by Scott Systems doesn't
invest much in marketing, which is likely why not enough auto repair shops know about it.
However, we would certainly recommend this POS software system. Maxx Traxx software is all-inclusive, easy to use and affordable. It's designed for use in auto, RV, heavy truck, motorbike, bike, marine, restoration, and specialty repair shops. It features a wide variety of versions depending on the size of the shop, with the widest encompassing version being the corporate version.
Maxx Traxx is also one of the first systems of its kind, dating back to 1987. It is made in the US, which is important for anyone committed to supporting American businesses.
It boasts the highest-rated support in the industry. The manufacturers are so confident that you will be satisfied with the software that they even offer a full-running free trial. It's much easier to add parts that were built in the shop earlier than it is to do so with other systems. Also, data transfer from previous systems is easy and convenient.
The system is quickly customized and integrates great with vendors. Their customer service is very fast and helpful; all of your issues will be resolved at the speed of light!
Quick, fully functional software
The software is quick and fully loaded. All the new features that are released are automatically included in the update that follows.
The program can be used on the level of your choice. Clients say the company takes the time to call and see how you're getting along with the system. They understand the importance of a personal touch and they make you feel appreciated.
This system is recommended to any shop owner looking for a super financial accountability and customer base system. Maxx Traxx will make your transition to upgraded software versions seamlessly. Further, this POS is a great orientation for new staff.
We recommend utilizing the full accounting features because this will save you the time and trouble of having to export, import, or enter data twice. Moreover, the integrated credit card processing is wonderfully simple to set up, unlike with other systems that use separate terminals with thermal paper rolls. The credit card confirmation is printed out directly on the invoice, which leaves a nice impression.
Bottom line
Generally, you can rest assured that Maxx Traxx's capabilities will meet and even exceed your expectations, especially their kind, committed Customer Support center.
They are based in California, but you can expect a prompt reply and friendly, cooperative approaches even if you're on Eastern time. On the downside, clients have complained that the menus are relatively old-school, and it hasn't been possible for them to stretch out big jobs over more than one day, leading to an excessive number of duplicate appointments.
2. CarVue – Easy To Use Automotive POS System
CarVue is a simple, easy-to-use garage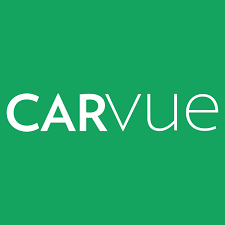 and shop management system that runs in your web browser.
You don't need to download or install anything! It's designed to save time on everyday jobs that car sales and auto repair businesses are tasked with.
The system is accessible on any web-enabled device. Any independent or franchise workshop in the world can benefit from the comprehensive garage management it offers.
Easy sign up
The first major advantage of CarVue is how easy it is to sign up for. The sign-up process is simple, fast and logical. They require a few details from prospective clients on their sign-up page. Shortly after, you'll get a verification message to your email in order to confirm your details.
From there, you'll be taken right to your account setup and you can start using CarVue right away. No billing or credit card details are required to sign up – the trial is free.
Dashboard and Control Tower
This feature is customizable based on your specific needs. The dashboard is your personal view of the POS software. It's where you come each time you log in, giving you a 360-degree view of your shop from one screen. The dashboard is your business control tower! It utilizes metrics and charts to offer you a high-level overview of your business.
Monthly Invoice Breakdown
The Invoice Widget shows your sales performance in the current and previous month, broken down by nominal account codes.
The Account Widget features a half-a-year trend of your business revenue and expenses. The Repair Shop Widget shows you what's in progress, what's due the following week, as well as what has been completed.
You can access various CarVue modules quickly by using Quicklinks, allowing you to delve into your business areas more effectively.
For example, the Repair Shop module helps you organize and simplify the repair process in your car shop with fantastic visibility of everything that is incoming. You can also see what jobs are being worked on and what has been completed.
The Super Search feature lets you type in search words and see suggestions pop up as you type. If there are no results, there are some quick-add options to save you some time. Using the Pre-Repair Dashboard you can add new reservations, send pre-visit messages, and view shop capacity in a calendar view.
You can also design your own layout – the system templates are reliable and flexible, letting you add your company log and change the layout the way you want it to look.
Quick Contact and Vehicle Editing
You don't need to access the record to view and edit the vehicle and contact details on the repair order – that's just one click of a button away.
Additionally, you can choose individual lines to set up invoices, which you can then print and send to your clients. Another great feature is that you can post directly on your account with accounts integration.
You can add a vehicle and a contact, and schedule the repair all from one screen.  The repair order and line items can be filled out afterward. Customizable Repair Boards let you manage reservations and repairs, moving them around by clicking and dragging. You can also fill in your repair order quickly by adding repair lines for parts, labor, and packages for common types of products.
Disadvantages
The downside is that you have to load the system up all the time. Also, there is no phone app yet, nor are there shortcuts for desktops.
Bottom line
The system is generally reliable with lots of convenient features.
3. Web Est – Technical Automotive Software
Web-Est supplies online auto evaluating

and collision estimation for auto repair shops.
At $119/month, its price is relatively steep compared to Maxx Traxx. The POS software integrates raw.
OEM data from Mitchell International and gives its licensed clients access to the figures by configuring them into their online platform.
The company services the small to average-size auto repair market by providing a software that is of good-value, logic-based, and at a relatively reasonable cost.
Web Est comes with parts and pricing, labor database, labor rates, estimating, and repair tracking. It's known to be one of the best auto repairing platforms for independent vehicle repair shops.
The most important functions and features are top OEM data, aftermarket information system, worldwide access, availability of frame data, support for unlimited imaging, point and click graphical system.
These are all supported by the highly advanced Mitchell database and affordable pricing. These features and functions make this system one of the top ones for auto repair because it is based on the system of configuration and customization and is very easy to use as well.
Multiple Rate profiles
Estimators can offer rates for fleet accounts, walk in customers, wholesale accounts, and / or non-taxable accounts. You can select from a pre-set profile for every situation.
This helps your business account by using preset charges for expenses when estimating each repair. Web Est uses labor and paint times, price info, part numbers and under hood dimensions for all types of vehicles, regardless of make and model.
Point-and-Click Graphical
It's quite simple to choose parts to repair or replace, including paint time, labor time and part pricing. Paint time includes two-tone, one stage, clear coat or three stage. You can also choose to add underside, edging, and blending in any combination.
Hassle-free upgrades and data availability
All updates are made instantly because Web Est is an online product. You don't need a new computer, any apps to download or software to upgrade. As mentioned, the system utilizes Mitchell Full Frame and Opening Data.
This universally valid information is available to Web-Est clients as a guaranteed option and can be used with any frame machine or pulling device.
Worldwide Access and Unlimited Imaging
Web-Est's collision estimating software gives auto repair shops the ability to develop an estimate from home, the shop, or in the field. All clients need is their log-in data and they have access to their estimating program, any place and time.
The system also provides the ability to include as many photos as necessary on your estimate, making smoother repair cost settlement between you and an owner or adjuster possible.
Aftermarket data
The system includes most aftermarket vendor's parts information for free. If you don't see the vendor you are working with in the system, simply call support and the data team will include that company's information in the system.
Disadvantages
On the downside, Web Est does not update their prices often. As a result, they are frequently lower than the dealer prices. Moreover, clients have complained that the software has had many glitches over time.
Bottom line
This system offers a good price to performance ratio, and the universal accessibility and reliability of its data are a major advantage. The pros outweigh the cons by far.
4.Workshop Software – Best All in One Auto Repair Management System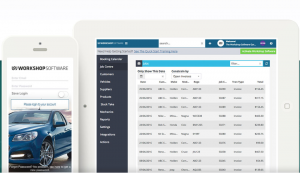 Workshop software is the most comprehensive auto repair pos system.
Any repair shop that is serious about integrating modern technology in their garage should select the workshop Software system.
Carfax Integration
The system offers carfax integration for accurate in and mileage tracking. In addition, many times, mechanics are able to diagnose the problem easier if he/she knows that the car has been in an accident. This carfax integration with the POS system is very handy.
Parts Vendor Integration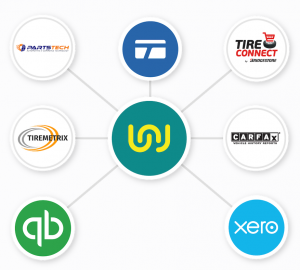 The parts vendor(in this case partech) integration is extremely important. This integration will save the mechanic precious time in locating and ordering parts.
The system integration provides the mechanic with easy access to pricing and availability.
Tire Vendor Integration
Similarly to the parts-vendor integration, this system offers tire integration with Tire Connect. Using this feature the mechanic shop is able to save time on looking up tires for different vehicles. The system is able to display the right tire size, availability, and pricing with one click.
More Important Features
Scheduling
Vehicle Management
Strategic Integrations
Motor Labor Times
What To Look For Automotive POS system?
Scheduling
Every decent automotive POS system should have calendar and appointment scheduling capabilities. In particular, scheduling of private inspections.  The system should notify the shop manager of customers that are due for routine maintenance such as oil change.
Accounting Integration 
The repair shop owner is busy as it is. Accounting should not take up much of his/her time. Therefore, every effective auto pos system should including accounting software integration such as Quickbooks.
Third-Party Integration 
A Robous automotive Point of Sale System provides the mechanic shop with third-party integrations such as carfax integration, parts integration, and tire vendor integration.
Motor Labor Times 
Every Automotive repair software must include motor labor times. Those are the estimated time it takes to replace a part or conduct a repair.  The Motor labor times help with providing customers with fair estimates.
Many Choices So Choose Wise
The market is flooded with auto repair software systems. We couldn't review them all even if we wanted. A lot of those are very outdated software. In addition, many of those software manufacturers failed to automotive repair estimate software to a fully integrated POS system or auto repair management system.
The auto repair software we reviewed below is the closest thing to true automotive pos systems. Many programs are hard to learn. A good idea would be to schedule a demo before you commit to one system. Our first choice might be too complex for beginners. Therefore, Maxx Traxx will be a better choice.