(Last Updated On: 02/12/2023)
Written by Software Expert Hamza Shahid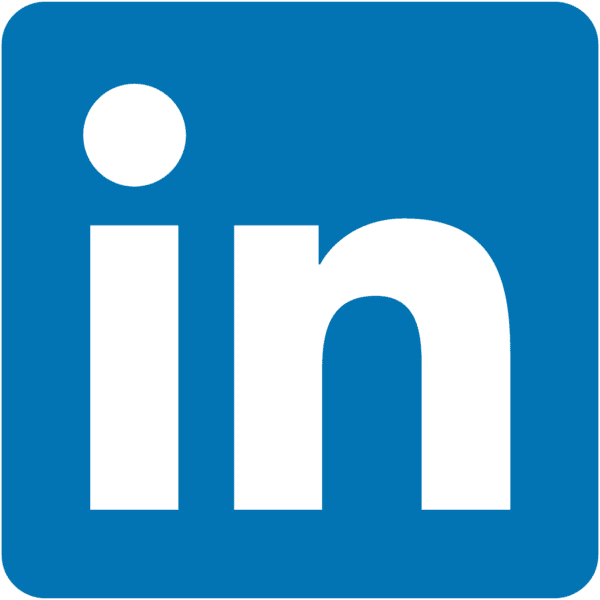 Affiliate Disclaimer: Our product review team dedicates hours of research, fact-checking and testing to recommend the best solutions to business owners. We earn from qualifying purchases through our links, but this does not influence our evaluations. Why trust our reviews?
If you own a nail salon, you must have the best POS system for nail salon to compete effectively. The salon market is competitive and potential customers have many options. The customer expects a fast and efficient service. We've gathered the top 6 nail salon POS systems and reviewed them based on price and features.
Our Experts' Choice
Clover POS System

The best POS system for nail salon is Clover. Clover POS offers:

Cloud Based Services

Customizable Loyalty Programs

The Salon Scheduler Feature

Online Scheduling and Much More!
Don't have time to read this whole review? Skip ahead to: 
Finding the Best POS System for Nail Salon Owners – An Overview
A nail salon is an appointment-based business that relies on a smooth appointment schedule. For this reason, salon management software needs to be powerful. Online appointment scheduling should be automated by the nail salon management system. If your nail salon isn't able to accommodate walk-in customers, online booking is the most important feature to consider.
How We Evaluated 
Nail Salon POS systems come in a wide variety of forms. The market is flooded with several nail salon POS systems, and choosing the right one can be a challenge. In order to select the best POS system for nail salons, we reviewed and considered more than 10 different systems on Capterra, G2, and Trustpilot based on their features, pricing, and pros and cons.
It was crucial that these were easy to use, efficient in managing appointments, automated confirmations, and easy to manage customer information.
We also looked for special features such as intake forms, resource management, no-show protection (with stored credit cards or prepayments), and SOAP notes (subjective, objective, assessment, and plan). Besides CRM and marketing tools, we also looked at loyalty programs, directory listings, and social media integrations so it's easy to attract new clients.
In this detailed nail salon POS buyers guide, we will review the benefits of installing a POS system in your nail salon.
In addition, we will review the 6 best nail salon POS systems in great detail. We will review each system based on pricing and features. Additionally, we will provide the pros and cons of each point of sale system.
You may also be interested in: 
The 5 Best POS for Barbershop: Pricing, Features Compared
7 Best Salon POS to Increase Your Online Bookings [User Tested]
8 Best POS System Options for Retail Business Owners


With Clover POS system for nail salon, you can build the solution you need, only with the features you need. The POS system provides a base that is customizable, so you can build the solution you need.
This is how Clover's POS system works: It offers standard POS features which salons find extremely useful.
The Clover POS has a wide range of features, making it ideal for a wide variety of businesses. For example, it is ideal for restaurants that don't need much hardware, but still need an effective way to take online orders. You can also download third-party apps from the Clover App Market. They are easy to install and ready to use straight from the box. The system also syncs with your Clover dashboard.
Clover is a user-friendly point-of-sale system designed for small and midsize businesses, offering a wide range of software and hardware options that can be customized to meet your business needs. Retail, restaurants, and services are all covered by Clover, a point-of-sale system. Clover isn't the cheapest platform on the market, but it has a huge list of payment partners, making it a great choice for all kinds of businesses.
The Salon Scheduler Feature
One of the most unique features of Clover POS that is extremely beneficial to nail salons is the Salon Scheduler. Salon Scheduler gives you the ability to link multiple appointments for the same customer. Additionally, keep a history note journal for each customer, specify default service categories, scan and view a customer's entire visit history.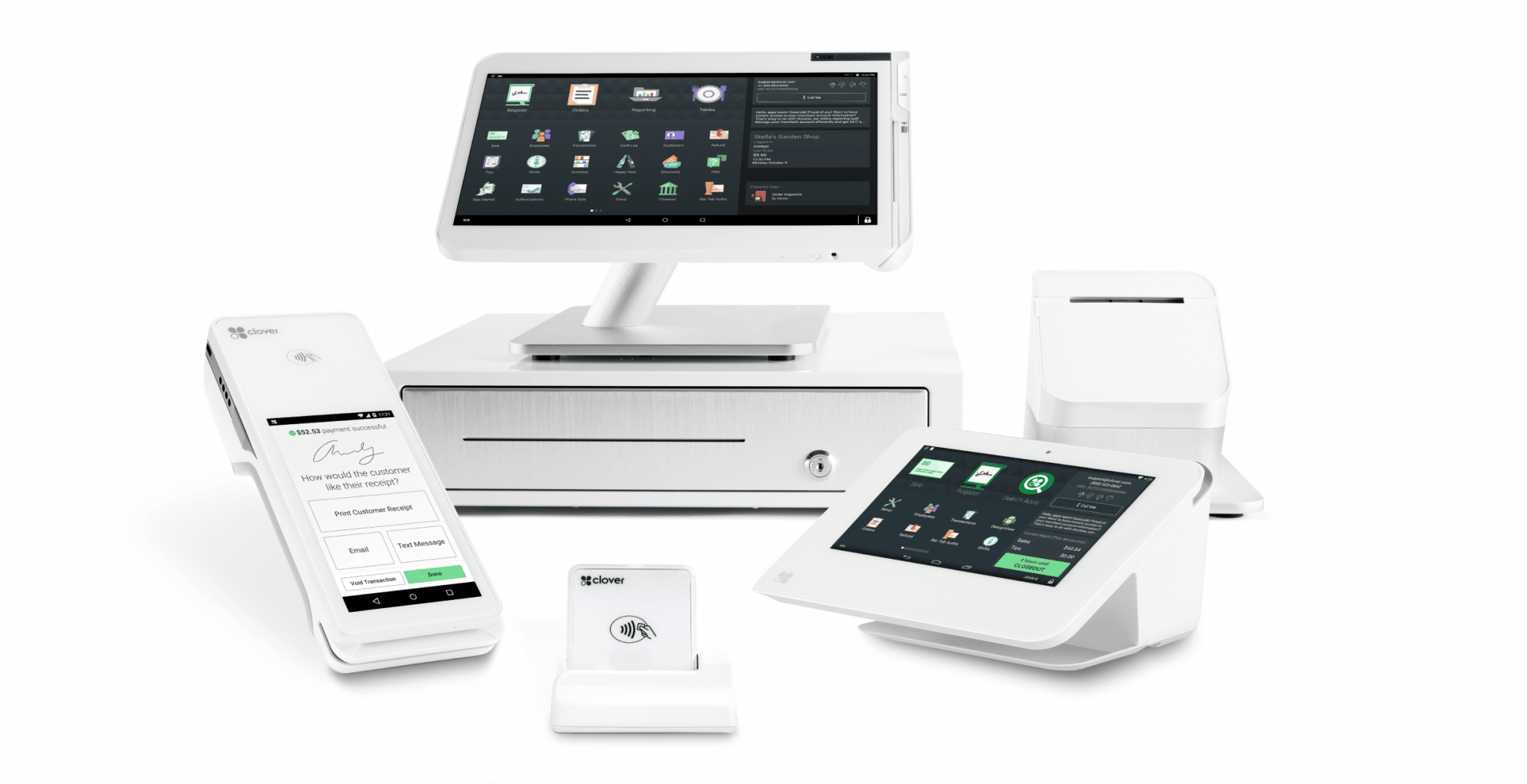 Other notable features of Clover POS for nail salons include:
ACH Payment Processing

Access Controls/Permissions

Accounting

Activity Dashboard

Appointment Management

Barcode Recognition

Billing & Invoicing

Cash Management

Commission Management

Credit Card Management

Customer Accounts

Data Security

Delivery Management

Discount Management

Electronic Payments

Electronic Signature

Employee Management

Feedback Management
Why Choose Clover POS for Nail Salon?
There is no other nail POS system on the market with a dedicated app market. Its apps include marketing tools like Digital Word of Mouth and inventory apps like stockIt to handle vendor orders.
There's no aspect of your business Clover can't help with. Salon Scheduler, its dedicated salon app, lets you set service times, schedule weekly appointments, send SMS reminders to customers, set employee commission percentages, and more. As if it wasn't sweet enough, the Clover is completely cloud-based, so it won't matter where you go with your small business, your POS will be right there with you and fully functional. There are several models available, including the Clover mini POS system, which truly makes it one of the best.
Pros
Accepts a variety of payment methods

Data protection and easy relocation via the cloud

An affordable price

Support for all apps provides one-stop shopping

The right model for your needs is available in a variety of styles
Cons
You need a separate app for scheduling and booking 
Different Plans of Clover POS
There are a few versions of Clover, including Clover Station, Clover Mobile, and Clover Mini. The Mini is not your average salon POS system. It supports Apple Pay and other advanced payments interfaces, moving away from traditional payments.
Together with the tools from Clover's comprehensive app market, this POS can serve as a complete booking and POS solution for your salon. The hardware is cheaper than more conventional POS services like Vend and compact enough to fit into a limited space.
Clover Mini is always sold in combination with a merchant account. Currently, Clover Mini is available for purchase through thousands of major US banks, including Wells Fargo and Citibank, or from small business suppliers. Credit card processing rates and swipe fees differ based on location. You may get a flat-rate processing fee from some merchant account providers.
Clover POS Pricing
Generally, new Clover customers must pay upfront for hardware, although payment plans, leasing, and rental options may be available. Software is a monthly fee.
Clover Software Pricing
Clover Software Pricing
Payments
Essentials
Register
Counter Service Restaurant
Table Service / Full Service Restaurant

Description 

Basic payment acceptance functionality

Accept payments and run your business

Full featured 

POS for various verticals

Vertical based POS for QSR merchants

Vertical based POS for FSR merchants

Pricing 

$0.00/ month per device

$14.95/ month per device

$44.95/ month first device + $9.95/ month add device

$44.95/ month first device + $9.95/ month add device

$74.95/month first device + $9.95/ month add device
Register Lite
It costs $9.95 per month after the first 30 days. You are charged 2.7% + 10 cents for in-person transactions and 3.5% + 10 cents for keyed-in transactions. In Register Lite, you can track sales, view reports, set employee permissions, and purchase third-party apps.
Register
It costs $39.95 a month for the first 30 days, and for keyed-in transactions, 2.3% + 10 cents are charged. As well as everything in Register Lite, this plan features inventory management, customer loyalty programs, and advanced reports for business growth. You can integrate a weighing machine, juice barcode scanner, cash drawers, and other accessories with the POS if you run a restaurant or retail store.
Hardware Costs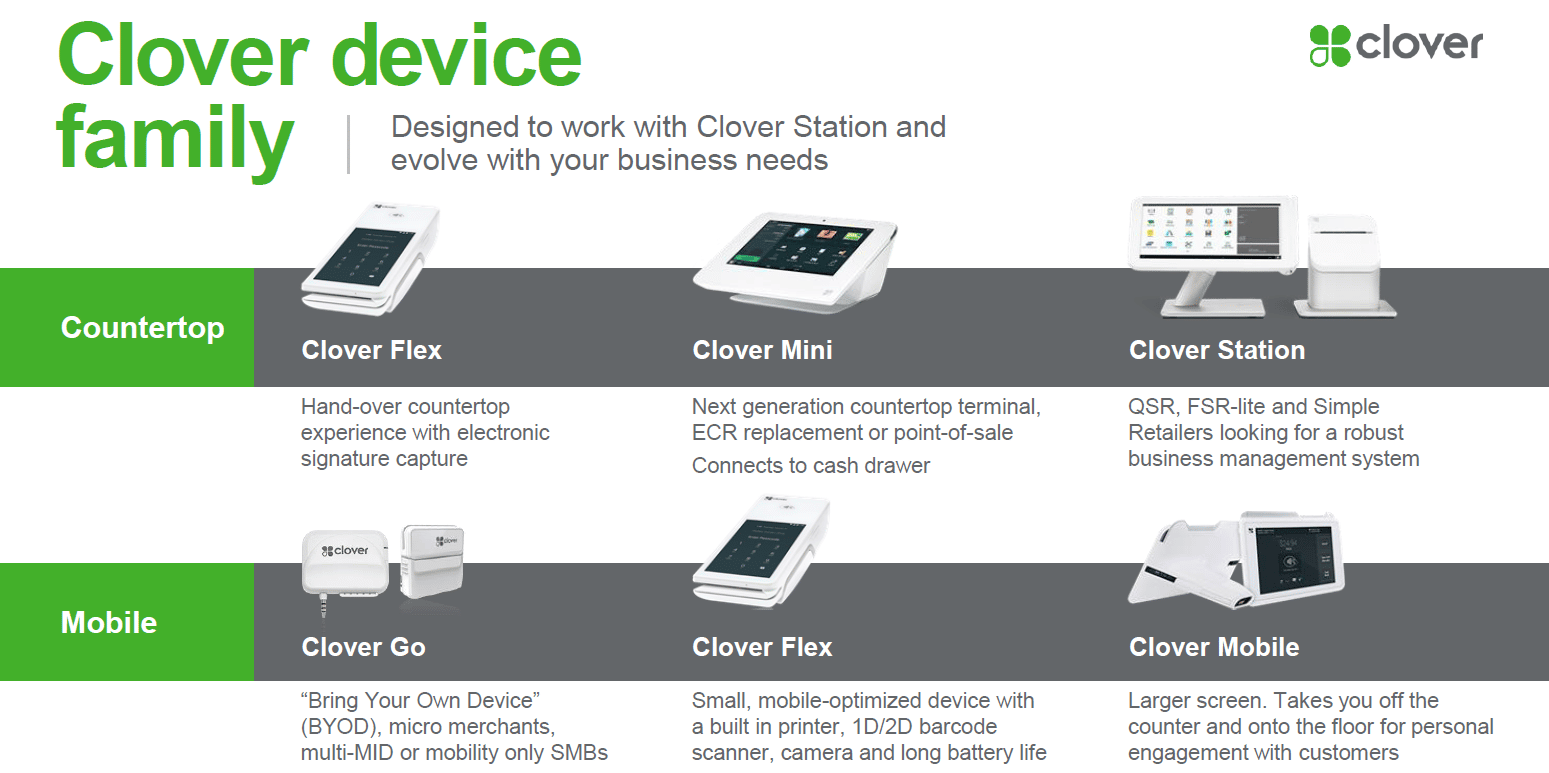 Clover Go – $49
With the Clover Go, you can accept magstripe, chip, and contactless cards through your phone via Bluetooth.
Clover Flex – $499
In addition to taking orders, processing payments, capturing customer signatures, scanning barcodes, and printing receipts, the Clover Flex is also capable of processing payments.
Clover Mini – $749
In addition to processing payments, scanning barcodes, and printing receipts, this countertop device is swivel-capable for completing sales with customers.
Clover Station Solo – $1349
A 14-inch touch screen, a cash drawer, and a receipt printer are all incorporated into Clover Station Solo. In addition, a built-in camera, barcode scanner and fingerprint login are all included.
Clover Station Duo – Custom Pricing
Station Duo is a combination of Station Solo for staff and Clover Mini for customers.
As a Fiserv-backed company, Clover offers its customers a variety of financial solutions to make their lives easier. Here are some examples:
Clover Capital
In order to qualify for Clover Capital's merchant cash advance program, you must have been in business for six months and process $1,000 in MasterCard and Visa transactions each month. On a slow day, you will repay less, while on a good day, you will repay more.
Rapid Deposits
If you are eligible, sales transactions can be credited to your account immediately at a 1% processing fee. There is no limit on the number of transfer requests per day, and you can receive up to $10k per request.
When you scale your team, you won't have to worry about paying more because Clover doesn't charge based on the number of users.
Customer Reviews
Online reviews across trusted consumer review websites show positive feedback concerning Clover point of sale.

2. Square POS – iPad POS System for Nail Salon
The Square POS iPad POS system for nail salon businesses one of the most popular systems today. Millions of users use the mobile payment application to make purchases online and on the go. I particularly like the portability feature that allows business owners to make transactions on the go. 
Monitoring sales and managing inventory are just some of the tasks that businesses can accomplish with the POS app.
With its simple pricing structure, free Square Reader, and app-based payment system, Square has become one of the most popular POS systems for small businesses, including nail salons. The pay-as-you-go system allows salons that wouldn't be able to afford a merchant account otherwise to accept credit cards.
There are a number of solutions available from Square, including its retail POS system, original POS system, restaurant POS system, and Square Appointments. A Square tech stack can be created by integrating all of the above systems with one another to meet most business requirements. Nail salons should consider Square Appointments. It is a comprehensive nail salon POS system that works on iPads.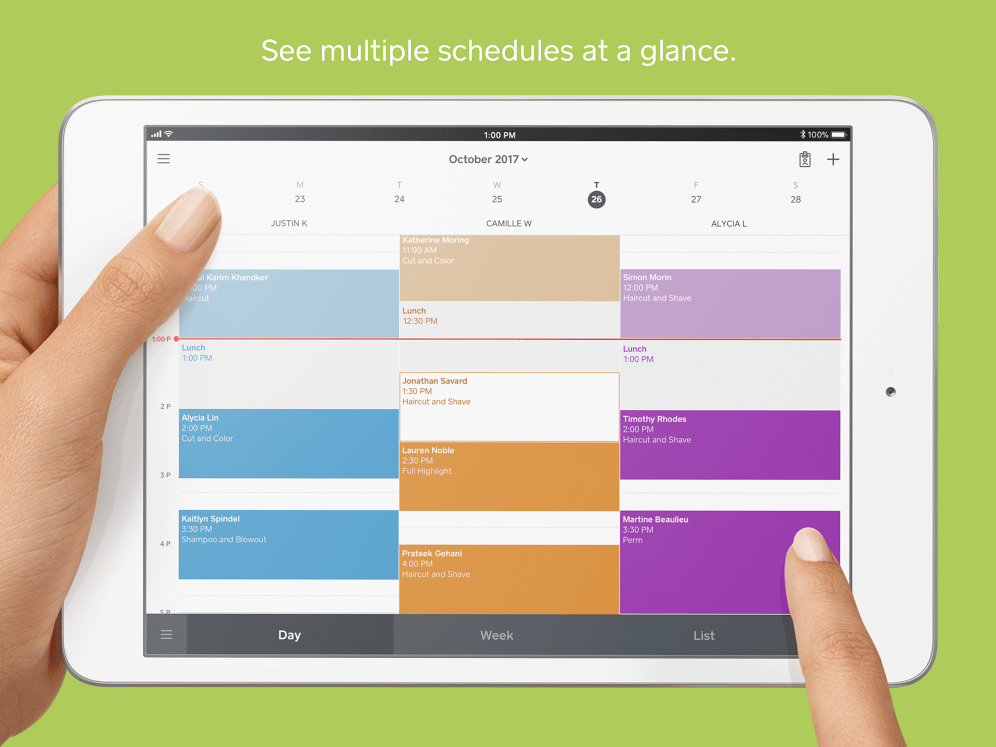 Top features of Square POS for nail salons include:
Online Payment Processing

Inventory Management

Customer Management

Employee Management

Retail Management

Customer engagements

Insights & Feedback

Digital Appointments

Team Management

API

Access Controls/Permissions

Accounting Integration

Activity Dashboard

Activity Tracking

Alerts/Notifications

Barcode / Ticket Scanning

Billing & Invoicing

CRM

Cash Management

Cataloging/Categorization

Clock In / Out

Commission Management

Contact Database

Contact Management

Credit Card Processing
Why Choose Square?
With its simple pricing structure, free Square Reader, and app-based payment system, Square has become one of the most popular POS systems for small businesses, including nail salons. The pay-as-you-go system allows salons that wouldn't be able to afford a merchant account otherwise to accept credit cards.
Square POS system can provide nail salons with practically everything they need to operate their digital infrastructure. The UI is clean and visually pleasing, and the pricing structure is simple and transparent.
For a basic individual account, there are no monthly fees, and no "hidden" fees exist at all. Advanced features are optional. If you need any of these, they require a monthly subscription.
Pros
No monthly fee 

Low transaction rates

App-based payment system
Cons
Compatibility issues with store-bought iPads (best to buy directly from Square) 
Square POS Pricing
Basic Plan: $0/month
Plus: $29/month/location
Premium: $69/month/location
It is important to note that prices are per location and not per register. You can use as many devices, schedulers, and registers in a single location as you wish.
Hardware Cost
If you want a complete retail register kit, you will need to spend $1,329, but you can buy a contactless Square card reader for $49 and get it working on an iPad, tablet, or desktop computer.
Payment Processing
If you choose Square's payment processor, you will be charged the following fees:
In-Person Payments: 

2.5-2.6% + $0.10 per transaction (percentage varies based on your plan level)

Online Payments: 

2.9% + $0.30 per transaction

Card-Not-Present Payments: 

2.5% + $0.15 per transaction
Online payment processing fees apply to charges to your customers including no-show and cancellation fees.
Read more: Square POS Pricing | Hardware & Software Costs
Customer Reviews
Square POS has thousands and thousands of consumer reviews posted online. On top review sites such as Capterra, G2, Trustpilot, and Softwareadvice, Square has overwhelmingly positive reviews.

3. KORONA POS – Most Customer-Centric Nail Salon POS 
In order to keep compensation and inventory organized, nail salon POS systems need to be flexible in their sales reporting. In addition, KORONA POS can break down sales reports by individual cosmetologists, beauticians, or nail stylists. Your salon can keep all metrics and data separate and distinct, and even better, your staff and sales numbers can be accessed from anywhere. No matter where you are, your salon can view important sales figures and staff performance.
In most nail salons, each employee receives a commission. Make sure your system streamlines the process. KORONA POS lets you set individual commission levels for each stylist. There is one point of sale that can serve both the shop owner and individual customers at the same time. This keeps total services, products, and sales organized.
With KORONA POS, nail salon owners have access to an all-in-one POS system that offers lower-than-average payment processing fees, world-class customer service, and features that are tailored to meet their unique needs.
Top features of KORONA POS include:
Commission system built in
Lower credit card processing fees
Cloud-based analytics
Real-time remote access
Tip management
Promotional and discount pricing customization
Employee management tools
Stock reports and reorder notifications
Why Choose KORONA POS? 
Nail salons benefit from KORONA's cloud-based, all-in-one POS system. It offers reduced payment processing costs, world-class customer support, and a variety of features that cater to the needs of nail salons.
Pros
Robust inventory tools 

Choose from any major payment processor

No long-term contract

Front-end and reporting customizations
Cons
Only integrates with WooCommerce for ecommerce platforms

Reporting module has a learning curve
KORONA POS Pricing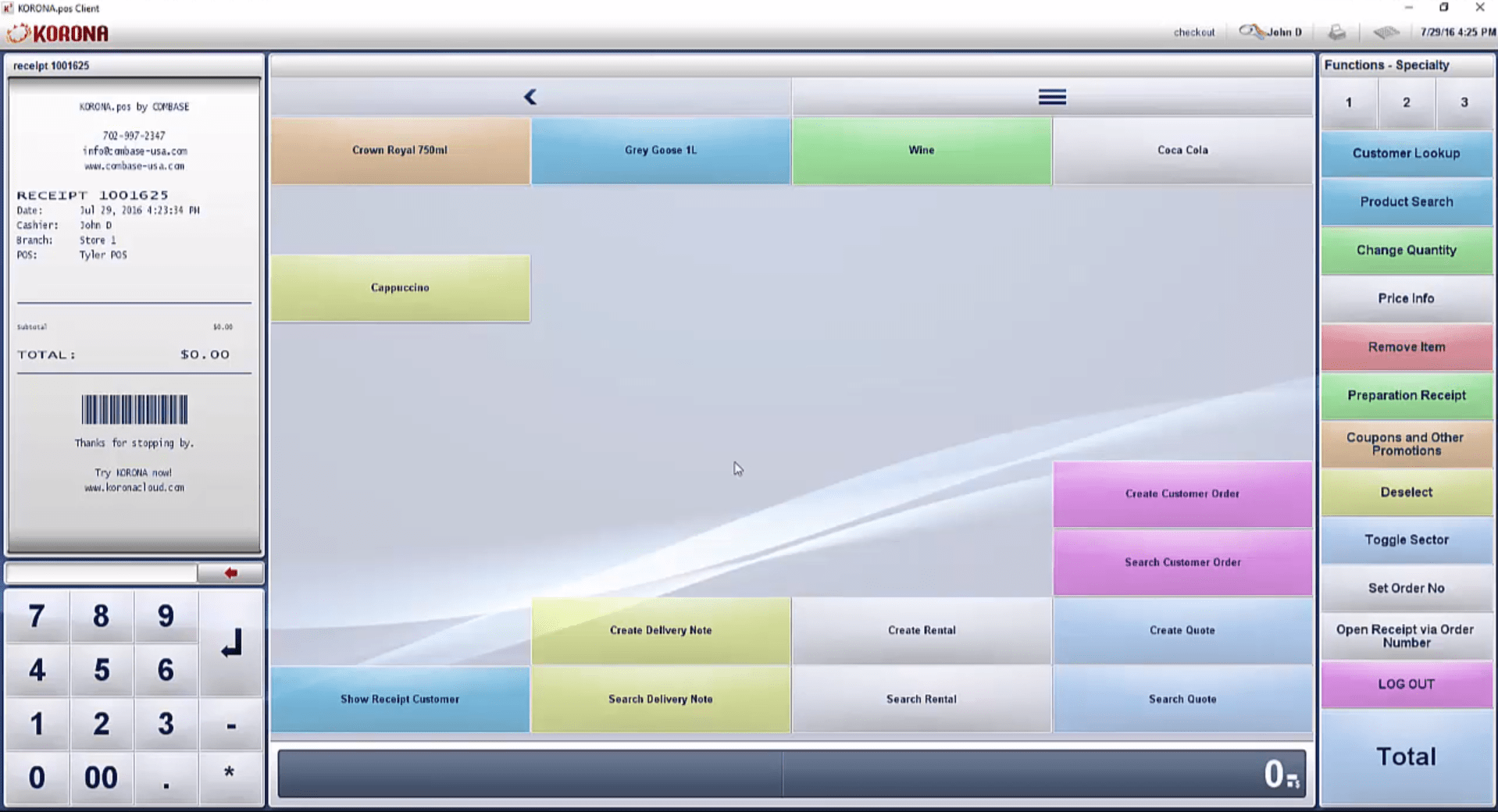 For small businesses, KORONA offers a mid-priced point of sale software solution. As well as offering unlimited users, sales tracking, reports, API access, gift card functionality, a product database, and a customizable dashboard in all plans, it earned points for its unlimited free trial and fee-free setup. The main reason KORONA lost points was that there was no free point-of-sale option.
Pricing Plan
KORONA Hardware
KORONA sells touch-screen registers and hardware from Aures, Partner Tech, and Hisense and offers hardware leasing options. KORONA advertises pricing plans for hardware purchases, so you don't have to pay the full cost up front. Prices vary depending on the device, but you can contact them for a detailed price sheet.
Touch-screen registers: $1,300–$3,400 purchase; some available for lease

Cash drawer: $120

Barcode scanners: $120–$600

Receipt printer: $255
KORONA Payments
KORONA is processor agnostic, which means it can connect to almost any popular merchant service provider via PAX or Dejavoo. It can be challenging for new and small businesses to set up their own merchant accounts, but shopping around for the lowest rates can help them save a lot of money, especially for large and multi-location businesses. Also, KORONA POS is an excellent choice for companies operating in high-risk industries, such as dispensaries, since you can choose your merchant account.
Customer Reviews
I'm always pleasantly surprised to see just how much users of Korona POS are impressed with this software, especially because of it's diversity and usability in so many different industries.

4. MindBody – Market Leader & Salon Specific


The Mindbody business management system is more than a POS system; it's a complete online business management system for salons, spas, and fitness centers. With Mindbody's web-based platform, you can manage your inventory and schedule appointments. Restock your best-selling items quickly and easily.
When you use the salon business app, you can manage your business even when you're not in the salon. When customers book initially, the system collects payment and tip preferences in order to encourage a contactless checkout experience.
Mindbody allows you to send automatic text messages for digital appointment reminders, waivers, or any other form. Customize your messages to deliver your desired message.
While its original target audience was the fitness and wellness community, MindBody is an excellent POS system for nail salons!
In fact, this POS system is designed for any service-oriented business where there's a need for flexibility to schedule appointments for clients, as well as accepting payments.
MindBody gives your clients the ability to do everything right on your website. They can book appointments, make payments online and even join a waitlist for times that are otherwise already filled.
There are additional useful features on-board such as the ability to generate sales reports, other client tools, and even a user retention tool to help you continuously build your business and improve your service.
MindBody's top features include: 
An alert and notification system is included

Automates scheduling and schedules appointments

Schedule classes, employees, and facilities according to your needs

Provides support for group scheduling

24/7 customer service through multiple channels that is reliable and responsible

Manages room reservations with a range of tools

Scheduling of resources is also possible

Support across multiple locations

It is possible to alter, add, or remove schedules in real-time

Marketing tools

Ability for clients to book appointments online

Back-end scheduling tools

Sales tracking and reports

Client and staff tracking and automation

Web tools

Custom mobile app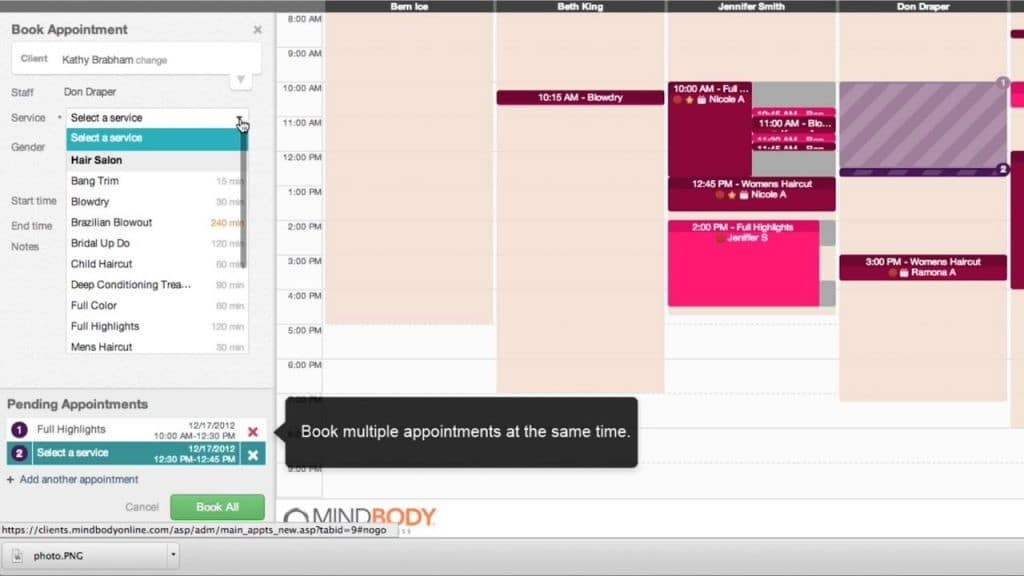 Why Choose MindBody POS?
Take a look at MindBody if you're looking for a POS system that requires minimal setup and works right away. MindBody is an excellent POS system for nail salons, even though it was originally designed for fitness and wellness centers. A POS system like this one is perfect for any business that offers service-oriented products, accepting payments and scheduling appointments. You can integrate MindBody with your website so that your clients can book appointments, make payments, and even join waitlists for schedules that are already booked.
Pros
Excellent support at deployment stage

Requires minimal setup

Best marketing tool

Staff tracking and automation
Cons
One major downside of the MindBody POS is the price tag. 

It's not that it's any more expensive than any other good option out there. The problem is that you just don't seem to get any huge feature upgrades, just a couple options that honestly should have been in the Pro plan, to begin with.

Customer service also seems to be very slow and complicated to deal with. 

The software can also feel a little buggy at times but for the most part, these issues seem to be related with mobile integration.
MindBody POS Pricing
A variety of packages are available from Mindbody to accommodate different business needs. Starter provides basic tools for running a business, but Accelerate includes tools for working with customers, such as smart contact lists. Unlimited automated email marketing and customer feedback are also included in Ultimate Plus.
There is a business app for the Mindbody POS system, which is available on iOS and Android. It can also be integrated with payment processing systems and branded mobile applications. In addition to charging 1.99% plus PS0.2 per transaction for businesses processing more than PS25,000 per month, Mindbody POS software is compatible with branded mobile applications.
In terms of pricing, Mindbody has a Starter package that costs $129 a month, and you can also sign up for a free trial and pay as you go. However, you will need to pay an additional fee for calendars. In addition to email templates, two-way text notifications, and a referral program, the Ultimate plan is suitable for businesses with front desk staff.
Here are the three MindBody Price plans you should consider:
Essential Plan ($149/month)
As the most affordable MindBody POS system plan, it only offers the basic functions and features you need to sell services, manage your schedules and streamline everyday business operations.
As part of this plan, you will be able to create appointments, classes, events, and workshops as well as receive a free MindBody web listing and app, point of sale capabilities and responsive web widgets.
Using the essential plan, you will be able to crunch numbers and track sales, clients, and employees with a maximum capacity of 35. Support options include a one-on-one onboarding process and 24-hour customer service.
Accelerate Plan ($269/month)
For $269 per month, you can subscribe to Accelerate MindBody, which offers all the features and capabilities discussed above.
However, this plan offers 90 different variants for monitoring through its reporting feature.
You can also build a smart contact list and send out effective email campaigns with this plan, which includes an email campaign builder and templates.
In addition to building good relationships with your clients, you also keep them coming back for more.
Ultimate Plan ($389 / month)
You'll also gain access to customer referral benefits with the Ultimate plan, which includes advanced marketing tools, analytics, and automation.
As part of this plan, you will also be able to send automated emails and text messages as well as receive feedback and ratings from your customers.
Customer Reviews
Most salon business owners agree on online reviews that MindBody is a good software choice.

Blue Jay Nail Salon POS is specifically designed for nail salons, but the other POS systems on this list can only be modified a little to fit your business' needs. You can schedule appointments with customers with this software, accept payments, track inventory, and use it to track your inventory. It is easy to set up and has the same features as most point-of-sale systems.
Additionally, it tracks customer data. Your staff can see when a customer calls, track their preferences, and communicate with them via email. If you have a new product or service you'd like to promote, you can send an email blast.
As a major feature of Blue Jay, it streamlines the process of gift cards. This can be a potential moneymaker. People like spa days and manicures as gifts. You can also use it to manage customer loyalty programs and adjust them as needed.
Notable features of Blue Jay POS include:
Client Records Database: Detail client's information such as name, address, phone number and email address quick appointment setting.

Flexible appointment function allows setting of appointments to any individual nail tech or any open nail tech.

Email Sales Report helps owners get sales reports in a timely manner.

Complete gift and loyalty allows salon manager / owner to manage the program without additional costs like transaction or monthly fees.

Easy to use email marketing function that allows salon owners to send emails to clients to inform them of special promotions.

Flexible payroll function allows easy payment management by day, week, or month. 
You can cut losses and save time thanks to live online sales reports, secure payment integration with EMV, multi-station networking, tip tracking, and commission splitting.
Why Choose Blue Jay Nail Salon POS?
Blue Jay Nail Salon POS was created specifically with nail salons and spas in mind. It is a fully-integrated POS solution that can rise to any challenge. Blue Jay has appointment booking features, cash register functions, product retail sale, tip recording and payout, customer group service, commission pay, nail tech sign-in and sign-out, service reports, service turn setting, email client marketing function, in store gift and loyalty program, and much more.
The integrated POS solution's software provides management tools to assist nail salon owners and managers in reducing losses, maintaining high customer satisfaction, raising profits and staying ahead of competitors. 
Pros
Set appointments and send out automatic text reminders

Easy to use, no-fee gift card program

Reward your best customers with a loyalty program

Automatic caller ID shows service history

Mass Text Messaging & E-Mail Marketing
Cons
Since it can be a bit pricey, I recommend upgrading your POS system once you've made enough money.
Blue Jay POS Pricing
Blue Jay POS does not publicly advertise their pricing packages. However, from our research, it seems like their basic software package starts out at $30/month.
Customer Reviews
Blue Jay is a bit of a lesser known software, and they don't have many publicly posted customer reviews available online. However, while digging through forums and smaller review websites, our research team was able to find some promising reviews.

6. Vend POS – Run Like A Retail Store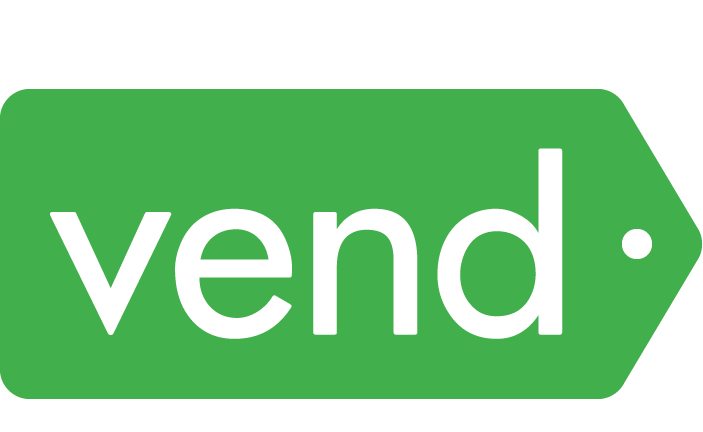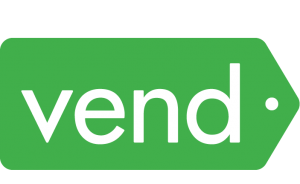 For retailers of any size and type, Vend provides tools to manage customer experience, sales, inventory, and customer data. Vend is a cloud-based point of sale system. Vend is designed to work with a variety of devices including Macs, PCs and iPads, and has its own iPad app. Moreover, it is compatible with a wide range of in-store hardware, such as receipt printers, barcode scanners, and cash drawers.
Customers can check into a store using their mobile phone and pay using PayPal, and the system automatically resyncs when the internet goes down. The offline mode allows users to sell even when the internet goes down, and it automatically resyncs once the system is back online. The point of sale screen can be customized so that popular products or actions are accessible through a mouse and keyboard or touchscreen. Aside from inventory management and tracking customer information, Shopify integrations are also available.
Top product features include:
Web or iPad based
Works offline
Various tracking and reporting tools
Custom receipts
Able to accept gift cards, coupons and split payments
Accepts mobile payments
Online order management

Gift Card management

Inventory management
Why Choose Vend POS? 
Vend is a POS system that can be suited to meet just about any type of retail business and nail salon is no different. For consolidated reporting across all locations, Vend pulls data from every location into your POS system as your nail salon grows. In addition, it syncs online sales with in-store purchases for a single source of truth. For data-driven, growth-oriented decision-making, data integrity is crucial.

Pros
Strong inventory management, multi-store and reporting tools

Unlimited products and users

No additional transaction fees

Compatible with Windows and Mac computers, and iPad

24/7 customer support
Cons
Payment processing through third-party providers

No free POS software

Not ideal for restaurants or service-based businesses
Vend POS Pricing
It depends on the software plan, hardware options, and payment processor that you choose to purchase Vend POS. Here are some facts about pricing:
Software Cost
If you choose an annual plan, you receive a discounted rate; monthly plans are priced on a monthly basis. You'll need to pay additional fees if you want to add another location or another register to the Lite and Pro plans.
| | | | |
| --- | --- | --- | --- |
| Vend POS Plan | Cost | Cost per additional location | Cost per additional register |
| Lite | $119 per month, billed monthly or $99 per month, billed annually. | Not applicable. Plan accommodates only one location. | $59 per month billed monthly, or $49 per month billed annually. |
| Pro | $159 per month billed monthly, or $129 per month billed annually. | $159 per month billed monthly, or $129 per month billed annually. | $59 per month billed monthly, or $49 per month billed annually. |
| Enterprise | Quoted-based. | Quoted-based. | Quoted-based. |
Vend's Lite plan has a limit of $20,000 per month of turnover, or sales; if you exceed this limit three consecutive times during a 12-month period, Vend will require that you upgrade to the Pro plan.
Payment Processing Cost
Payment processing is not offered by Vend, so you'll need to find and choose a payment provider that works with you, or you may be able to use your current provider. Your payment processing costs will, therefore, be determined by the payment provider you choose.
The company's website says that some of its payment partners offer exclusive processing rates to vendors. Vend also works with payment providers such as Square, PayPal, Worldpay and Chase.
Vend won't charge you additional transaction fees on top of the rates you pay your provider, regardless of which third-party processor you choose.
Hardware Cost
In addition to iPads, Windows computers, and Mac computers, Vend POS can be run on Microsoft tablets, smartphones, or using any computer with an internet browser. Vend's mobile app, however, is only compatible with iPads.
It's not necessary to buy hardware from Vend directly, since you can purchase compatible devices through third-parties as well. Here are some bundle and accessory prices:
Motorola barcode scanner: $120.75.

Star Micronics cash drawer: $125.

Epson thermal receipt printer: $230.

Starter hardware kit for iOS with receipt printer, cash drawer and barcode scanner: $600.
The payment provider you work with will provide you with the credit card processing hardware, such as card readers, Bluetooth readers, handheld terminals, etc.
Customer Reviews
Vend POS has grown in popularity over the last few years, and more and more user reviews are popping up online. While digging through reviews, the feedback from salon/beauty industry business owners was positive.

Buyer's Guide: Things You Need to Know Before Choosing a Nail Salon POS System
A great POS system can help nail salon owners and independent stylists manage their everyday operations. It automates many processes, such as customer management, employee management, scheduling, and appointment scheduling. However, not all nail salon POS systems are as good as they claim to be, so you should take your time and choose the right one for your business.
While shopping for one, you should consider the following: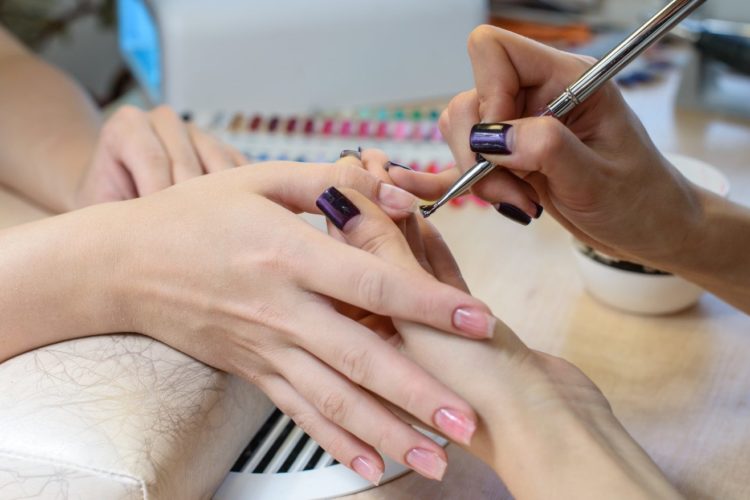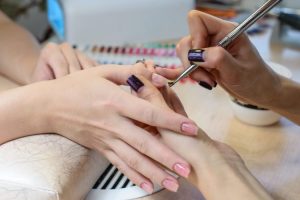 Size of the Business 
There are several factors you need to consider before choosing the right point of sale system for your nail salon. After all, the right POS system has to meet all of your business needs.
Nail salons and individual professionals
An individual nail salon or a nail salon with fewer than five employees may be considered a small nail salon. Nail salons need POS systems that prioritize appointment management in order to remain competitive. If you own such a business, you should consider getting an appointment-based system. In this regard, you should look for companies that offer mobile-friendly POS systems or apps if the employees in your company are constantly on the go.
Mid-Sized Nail Salons 
Your business will grow as you capture relevant customer data and create targeted campaigns. In addition to loyalty programs, appointment scheduling and appointment reminders will also be useful POS features.
Large Enterprises 
In comparison to smaller nail salons, large nail salon businesses usually have unique POS requirements. First of all, a large Enterprise business needs a POS system that can perform multiple functions simultaneously and has an intuitive interface.
For large Enterprise nail salons, you should also look for features such as work orders and inventory management, employee time management, real-time reporting, and multi-site support when choosing a point of sale system. The best system is one that is scalable and customizable so that it can evolve as your needs change.
Loyalty Programs 
Customers are almost exclusively the lifeblood of service-oriented businesses, including nail salons and spas. As well as attracting new customers, a nail salon should work hard to retain existing clients.
You can create loyalty systems and coupons the old fashioned way by using your nail salon POS system and a relevant loyalty program. You should choose a system that allows you to create multiple types of loyalty programs when used in conjunction with a CRM module.
Customers participating in loyalty programs are more likely to make additional purchases and spend more money than those who do not. Studies have shown that loyalty programs offer a great way to communicate with customers. In almost two-thirds of cases, loyalty programs are the most effective ways to reach customers. These programs can be implemented across many industries.
Companies can establish loyalty programs and turn existing customers into brand ambassadors through loyalty programs. A friendly salesperson will influence 73% of customers. Moreover, 55% of customers will be attracted to a brand if they have access to a great deal. Customers may switch brands if they are not satisfied with their loyalty programs.
There are many businesses that depend on repeat customers and are eager to provide incentives to maintain or build their customer base. Loyalty programs are also a great way to boost marketing efforts. A loyalty program is an effective way for e-commerce companies to gain new customers and retain them. It offers free next-day shipping, which is a popular loyalty program. There are more than 126 million members of Amazon Prime in the U.S.
Reporting Capabilities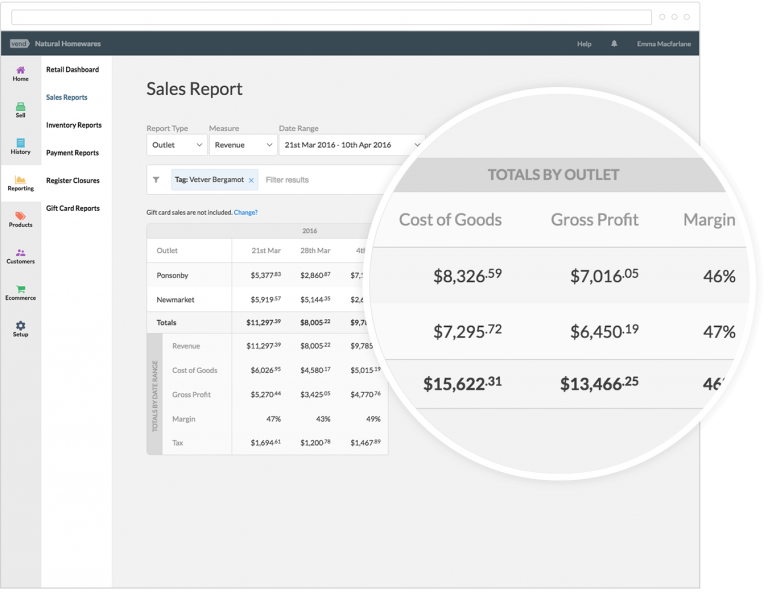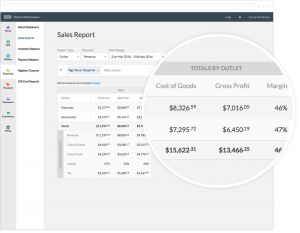 POS systems today provide real-time inventory and sales reporting, making them an important feature in any business system. You may even be able to break down this information by day, hour, shift, month, or year using specialized systems. You can ensure you always have in-demand products on hand by running sales reports from your nail salon POS system.
Bookkeeping and Accounting Integration 
A reliable nail salon POS will save you time on bookkeeping. It will integrate with your accounting software (ex. Blue Jay), which will do away with entering sales and expenses manually and eliminate the risk of bookkeeping errors.
Sales Reports
Customers will be attracted to your nail salon if you provide an easy-to-use system that allows them to book services and pay via their phones. You'll establish a reputation for professionalism and state-of-the-art technology.
The ideal nail salon point of sale will generate reports. Ideally, it should be capable of producing sales reports, profit and loss statements, and client retention reports.
Not only will you be able to stay focused on growth and profitability, but you will also save time as the reports are generated for you.
Payroll & Employee Reports 
A nail salon owner would benefit from a POS system that can handle payroll and commissions a great deal. Payroll takes a lot of time and effort. Outsourcing it can cost you a pretty penny.
What is more, someone will have to take the time to calculate employee commissions and bonuses if you offer such. A useful POS system will be able to set up practically any bonus and commission structure.
Customer Loyalty Features
Your customers should know how much you appreciate them. Repeat clients spend 67% more than new clients and cost 10 times less to acquire. Showing appreciation makes a difference to your salon. Send them an anniversary card or store profiles that display their color preferences, likes, and dislikes. Choose a POS with customer loyalty features.
Benefits of Nail Salon POS 
Loyalty & Promotions
customers expect to get promotional offers for their loyalty. An effective nail salon POS could aid the store manager by keeping track of customer visits.
Personal preferences 
Nail salon customers expect the staff to remember their personal preferences. An effective nail salon POS system will aid the staff in accomplishing that task in an efficient manner.
Effective Inventory Management 
An inventory tracker will tell a nail salon owner or manager what clients are interested in. If you don't have this information, you risk stocking up on products that don't sell. As mention before, maintaining all of these things is crucial to the success of your business.
Time Efficient 
By using POS systems, you can take care of tasks such as appointment booking, inventory management, and staff management quickly and with less stress. You can then concentrate more on serving your customers.
Helps to Build Reputation
Customers will be attracted to your nail salon if you provide an easy-to-use system that allows them to book services and pay via their phones. You'll establish a reputation for professionalism and state-of-the-art technology.
Final Thoughts
All the salon and spa POS software on our list are great choices. With their comprehensive calendars, text messages to confirm appointments, notes for clients, and the ability to sell memberships, packages, and gift cards, they offer a variety of tools to make your life easier. Consider the specific features (like marketing and SOAP notes) and monthly fees, as well as anticipated transaction fees, as you decide which is right for you.
Clover is the best choice for salon owners looking for a simple customizable solution. View current Clover POS prices here.
Frequently Asked Questions 
What is a POS system for a nail salon?
An inventory management system, or POS system, is a computer that keeps track of sales, provides loyalty rewards to customers, and many other functions. In order for a nail salon POS system to meet all of its needs, it must be customizable.
Why do I need a POS system for a nail salon?
Nail salons need a point of sale system for a variety of reasons. It will help you track all your transactions and make it easier to run your business. You can also use it to manage your inventory, create gift cards, and much more with the software. In order to find the best nail salon POS system that meets your needs, you should consider your options carefully.
Why should you install a POS system for your nail salon?
POS systems for nail salons can help you manage sales and inventory, offer incentives and loyalty rewards for repeat customers, and more. You can use a POS system to track customer purchases, manage staff schedules, and reduce costs. In short, a POS system makes your life much easier and reduces costs.
How to choose the best point of sale system for your nail salon?
If you want to choose the best POS for your nail salon, you need to consider several factors, such as your business's needs, cost, and installation and maintenance costs.