Disclosure: This Website is Reader Supported. As an Amazon Associate I earn from qualifying purchases.
Last updated on March 6th, 2020 at 02:05 am
Your pizzeria strives to deliver the very best, fresh, and delicious pizza to your customers. Now, do you take pride in offering the best pizza and delivery service in your community?
Then should you also want the best Point-Of-Sale system for your business! The right system will save you time and money while helping you manage your business so you can focus on what's important.
The Best Pizza POS system for offer loyalty program management, ingredient management, best selling items report and delivery management.
6 Best Pizza POS Systems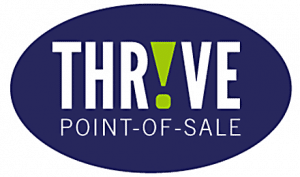 This one was really built for the pizza shops! The flexible options for the system are manifold: end-to-end encryption, fast payment release, an online app for management and customers to use, high-speed processing, and more.
The powerhouse online component of this POS system for a pizza shop allows full customization. This is advanced technology as good as any on the market for a reasonable price, pushing your business to literally thrive and take on established brands.
Thrive's POS system for pizza shops is a slam-dunk for all the special needs of the pizza business. Reporting, modern design, and online + mobile ordering come standard. The iOS app for delivery drivers captures signatures, provides a check in for drivers when they reach the address, and calculates mileage costs for payroll.
Payment Processing and eCommerce Platform Make the Difference 
In terms of payments, Thrive offers fast processing and safe encryption (fully PCI-compliant). They typically release funds within 1-2 days, and no third-party software is necessary to get the system off the ground. Granbury Payments offers competitive rates for credit card processing.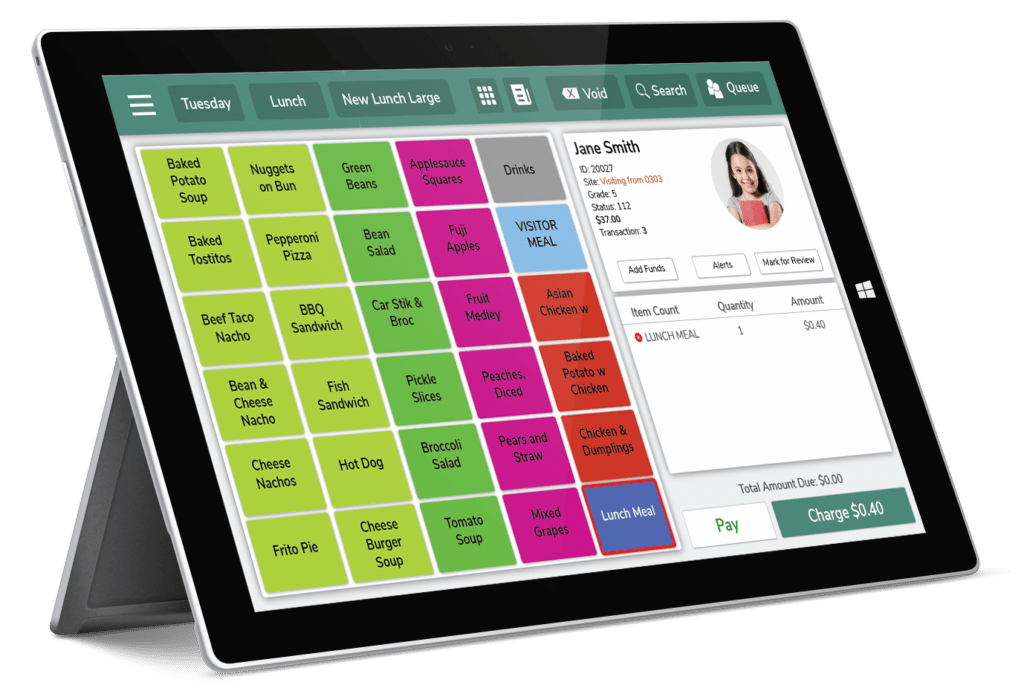 Furthermore, we know you'll find the interface intuitive and the mobile app is fully customizable for your own pizza business menu. Thrive knows that any business should be thinking of mobile first in today's markets, and their mobile capacities are industry-leading. Thrive online offers back-end systems that allows you to change ecoupons, update prices, and more without needing any third-party software. 
Loyalty / CRM Program
According to their own analysis, Thrive's POS system for restaurants increases enrolments in loyalty programs and increases ticket averages in tandem. The system is optimized for loyalty and rewarding repeat customers. Thrive's system is a "set it and forget it" program that makes it easier for everyone involved, driving up your sales and turning customers into regulars. 
Hardware Offered
This is where this company shines. One of the reasons that we chose Thrive as one of the best POS systems for pizzerias is their options when it comes to installation. You can do-it-yourself or opt for their "White Glove" service, which allows the system to work for many kinds of businesses. Choose the level of hardware you need and refuse the parts you don't. 
Merchant Services and Analytics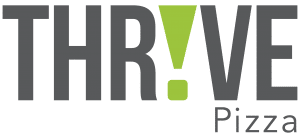 The "local cloud" system that drives Thrive allows you to manage all aspects of your business from the smallest to the largest.
You'll be able to use their alerts to dog-ear specific metrics you need to know for your shop and keep your management teams on the same page with email alerts. Thrive's system allows for pre-authorized bar tabs and deferred orders help ensure the card is valid before your staff put the effort in, so you know you'll get your money. 
Accounting
Thrive puts the profit margin at the center. Whenever you want to make a change to a menu, change a recipe, or order more of an ingredient you'll be able to see the changes to your margins in real time. You can also use this POS software to build new recipes based on what you have on hand, reducing waste (good for you and the environment). 
Pricing
Thrive POS pricing starts at $99 per month and depends on the size of your business (most current users report $149 per month). Thrive POS does not offer a free trial, nor do they offer a free version for use. 
Downsides
It could be a little harder to use for a combination pizza-additional dish restaurant, simply because it was designed with QSR pizza shops as its main target. 
2. Upserve POS – Best Pizza / Restaurant POS System

This is an integrative POS system for pizza restaurants that will give you a handle on the moving parts of your business.
The convenience of this POS is one of the main reasons for it being so high on the list of best POS for pizza restaurants.  Upserve helps its clients save 47% in the first three years compared with legacy POS systems.
Online, the Upserve system can be retrofitted onto any menu. The system works in tandem with the Upserve in-house system and makes it so that the orders are streamlined from all sources.
Most companies that work with Upserve report an increase in online orders without a disruption to their on-site fulfillment. You'll be able to keep turning tables while turning take out without needing to hire additional staff. 
Upserve compiles the data from the fully-customizable online menu space for your restaurant's orders and makes it easy to market new items or keep customers coming back. 
Loyalty / CRM Program
Upserve stands out here. You don't need a punch card. It's not 1990. You don't need an app. It's not 2010. Upserve can store the credit card of each customer safely, ready to be used in your customized loyalty program. Customers can sign up via text, email, or your website. Track data on previous purchases and get suggestions for how to upsell individual customers. 
Hardware Offered and Merchant Services
Upserve offers the full range of POS hardware including but not limited to EMV payments, POS terminals, and proprietary wireless networking to run it all smoothly. 
This POS system offers a unique reputation management service that can very much make a difference for restaurateurs of all sizes. Their powerful AI system trawls the web for reviews about your restaurant and gives you insights into your competition, as well. 
Analytics
Upserve pushes this to a visually-stunning level by offering simple graphs that make it easy to see trends. Plug the gaps in your inventory with push notifications for individual items. 
Upserve provides you with a daily digest of the data that you need to keep inventory and sales balanced and flowing. They are also positioned to give your menu a boost with their Menu Intelligence program, that plots and analyses the sales and margins for individual menu items. 
Pricing
The Upserve system starts at $59 a month for the core range of their products, with Pro and Enterprise plans that serve high-volume clients. 100% US-based customer service and responsive 24/7 support for all price ranges. 
Downside
You'll need to install an add-on feature for use with gift cards. Currently this can be done with additional apps that play well with Upserve. 
3. Revel – Best Pizza ipad POS System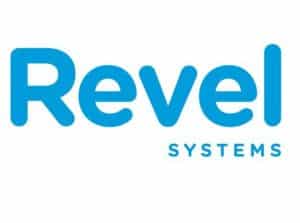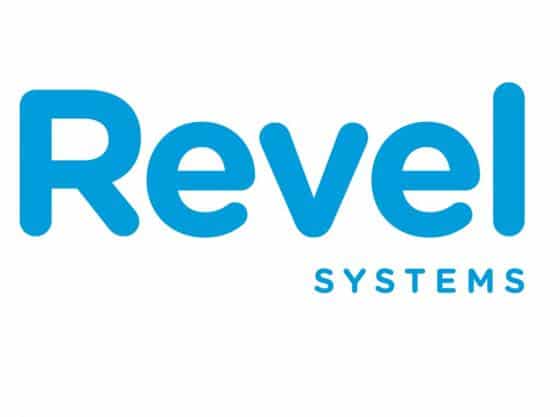 An iPad-based POS, Revel is quick to install and offers a choice of payment processors. This one has a huge number of features, one of the coolest of which is a real-time tracking app that lets customers see their delivery driver in real time. 
This is a full POS system for a pizza restaurant. It offers everything necessary to get a pizza business going including kitchen display, mobile and online ordering, and advanced ingredient-level inventory tracking. 
This is a big part of the Revel movement, and large companies like Arby's and Popeye's chicken are among Revel's online ordering customers for good reason. The customers can track their order throughout the process and watch the pizza arrive to their door in real time with GPS technology. 
Loyalty / CRM Program
Revel can be leveraged to make every transaction one for the loyalty program, allowing you and your clients to get the best deals. The gamification of the points makes it addictive for loyal customers and pushes them toward specific target menu items. You'll be able to customize your rewards program down to the menu item with Revel. 
Hardware Offered
You can use Revel with a wide variety of peripheral POS hardware that your business likely already has. This can be both a good thing and a bad thing, since you'll need to obtain iPads if you don't' have one already to use as the main system interface. 
Revel's data analytics are in line with the industry standards for the best POS systems for a pizzeria, with the added option to use Revel's software in partnership with Como, MarketMan, BeerSaver, and more. 
Accounting
This system is compatible with many different payment processors. It includes the ability to access and payment processors Mercury Payment Systems, LevelUp, FirstData, and USAePay, FreedomPay, NewTek, and Index. 
Pricing
The software itself costs $99 per month, per terminal. The processing for payments is a flat fee negotiated with Revel, and the on-boarding process can cost as little as $649. Pricing is flexible (depending on your needs and current set-up). 
Customer Service
They offer Revel U, a comprehensive training program for using the system. Due to their slightly smaller nature, support from a human tech is a little slower than some other companies. 
Downside
Revel relies on synching with integration partner software to process the majority of the data it collects. If you want to get into the big data side of things, you might prefer a different system.
4. Toast POS – Industry Specific POS System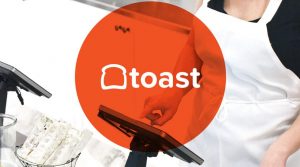 Android through and through, this is a restaurant-specific system. It allows for customizing with the subscription-based pricing that allows you to pay for only the features you truly need.
Toast was built for the restaurant business and it shows. The hard-wired terminals are durable, but the structure also uses handheld devices. It allows wide-ranging use since it has Android compatibility.
Set up for easy, intuitive online ordering with your custom menu. They've set the system up around customer-facing tech, so Toast is really a good choice if you want to simplify your ordering with a kiosk in-store or online. 
Loyalty / CRM Program
The system automatically saves previous orders for each client, so when they return its quick and simple to get them to order a similar ticket. You'll be able to pay a flat fee for your loyalty program, so there are no surprise charges. 
Hardware Offered
The core of Toast's POS for pizza restaurants is the purpose-built tablet for restaurant use. The terminal can be used with Android phones but also the proprietary tablet which frees your business from using iOS.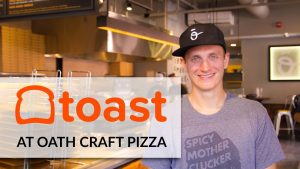 Users report that using Square or other iPad-based systems felt like using an app, but Toast feels like using a restaurant-specific solution. 
They have an affordable price for hardwired terminal installation starting at just $899. 
Accounting and Analytics
You have to use Toast's internal payment processing system, but they also love to push their Toast Go and their curated portfolio of "Partner Ecosystem" integrated partnerships for additional accounting needs. 
They've set up a nightly email with an analysis of the day's work and takings, as well as real-time monitoring for managers to access anytime. All the analysis is sent in a nightly email to managers, integrating the data insights fully with your team. 
Pricing
Tons of options; You can pick and choose what you truly need for your business. The basic package is $79 for one terminal, with each up to six at only $50. Toast offers quote-based enterprise pricing for restaurants that require more than six terminals. 
Downside
Not compatible with iPads or other Apple systems. 
5. Lavu POS – POS With Customer Facing Display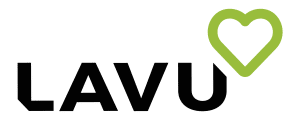 Lavu is a well-rounded choice for best POS for a pizza shop. The brand offers a unique Pizza Creator feature that can make a pizza with any of the ingredients on hand, kitchen display systems, customer tracking and a slick customer-facing display for real-time ordering. 
The thing that sets Lavu apart is the ease of use for the interface. It reduces the training needed to make the transition to the system for employees. Lavu is also compatible with the vast majority of credit card processors, allowing you to choose. 
eCommerce Platform
Built with online ordering in mind, Lavu tracks the pies with end-to-end GPS and a deliberately simple checkout. It makes it easier for customers to find the things they really want on your menu, customize their needs, and come away from the process feeling like they are valued. 
Loyalty / CRM Program
App-based and runs on smartphones, pushing your pies to the center of attention in your customers' very hands. Flexible structure for loyalty schemes (points or tiers). 
Hardware Offered
Keeping with their ethos, Lavu offers flexible solutions for hardware. Lavu To Go is an integrated online ordering system that prints directly to the kitchen, eliminating human error and streamlining the process.
They also install customer-facing Self Order Kiosks. Of course, Lavu is cloud-based to reduce reliance on computing power in the building and keep you in business even if the power goes out.  
Merchant Services
Lavu Pilot is their management system that sends real-time reports directly to designated smartphones for analysis. Track payments, labor, menu items, and trends from wherever you are in the world. Perfect for bigger, multi-location operations. Lavu connects the dots easily between inventory and sales, making your ordering process easier. Back-end inventory tracking compiles the data you need to make better choices. 
Customer Kiosk
One of the best in the POS space, especially for customized pizzas. Every detail is customizable and makes the customer the priority. 
Accounting and Partner Integrations
Reports directly to your iOS device with aggregation for multi-location operations. Remote access and grouping for data (split by location or integrated). Easy to use dashboard. 
Partnerships with Square and Paypal might open additional payment options for your pizza restaurant. Plays well with others; Uber Eats, Chowly, Open Dining and at least 30 more partner integrations possible. 
Pricing
Lavu can set up a single terminal for $69 per month. Full hardware kits start at $399. 
Customer Service
24/7 support from a team in the United States. Free software updates to incorporate new features. 
Downside
Some reviewers say that the software can be a little difficult to get to know, and that it occasionally has buggy updates that require additional changes. 
6. Speedline POS – Point of Sale System With Topping Matrix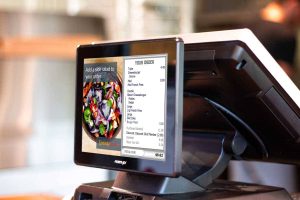 Speedline Solutions is a simple but effective POS system for a pizzeria. Live maps for delivery, custom zones for orders, and above all accurate timing for your customers.
This is the best POS system for pizza delivery. Speedline has been in the business of pizza delivery since 1990! Reliable and customizable, but simple.
Their tagline is "Designed for Pizza. Built for Delivery." Maximum options for the delivery space, with Pay at the Door, SpeedLine Menu Designer, and even a Topping Matrix that monitors ingredient use in real-time.
The online-based system is built for customers to be able to customize their pies and watch them from the skies (GPS tracking for all orders). The only reason it isn't higher on this list is that the current system is not set up for mobile.
Loyalty / CRM Program
This is a bit less integrated than some systems that we previously discussed above. This system is built to deliver, deliver, deliver. You can just as easily set up a loyalty program of your choice. 
Hardware Offered
Speedline Solutions has terminals that are useful for casual QSRs and full-service restaurants alike. It was designed for quick table service and delivery, so all the hardware is integrated with that model in mind. 
Analytics and Special Features 
This system really shines in the Pizza market because it was made to order for that space. The management features and data matrix allow a pizza restaurant to have unlimited menu options including special groups like schools, automated promotions, and integrated tax rate changes. 
Get all the data from your business including LiveMaps, Speedline Inventory, and their trademarked Topping Matrix to maximize profits without making things overly complicated. Saves customer data and displays their purchases to date to identify VIPs. Speedline 
Customer Kiosk
Set up a customer-facing kiosk to streamline your ordering, with Speedline's conversational ordering system. You could pay them to install it for you as a terminal or use their software solutions for this, which are designed to make the customer feel valued and come back. 
Pricing
Their website doesn't list any prices, which suggests that this depends entirely on what you choose to install. The company does offer an interactive and exhaustive demo program for you to try before you buy, but all their work is done on a per-client quote basis.  
Honorable Mentions

Square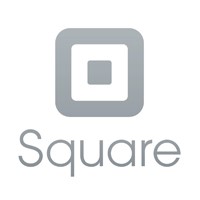 This is a favourite for small commercial enterprises. Square's system punches above its weight for data gathering and real-time reports that you can make from the raw input and output of a restaurant, but it isn't specialized enough for most pizzerias. A good choice for a startup pizza shop or a smaller, more artisan restaurant.
Lightspeed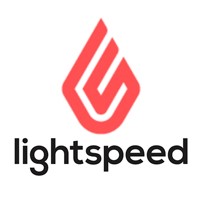 This system is also a good one in general for POS, but it isn't quite right for the demands of the pizza shop space.
In the context of the special needs that the best POS for a pizza restaurant needs to fulfil, the system isn't specific enough. 
POS Nation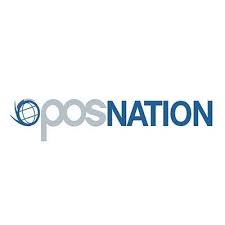 Their standard pizza POS system setup is made of a terminal, cash drawer, receipt printer, and a kitchen printer.
You can use the system to do tableside ordering as with most of the systems in this article, and it has somewhat capable customization features for pizza orders.
They, unfortunately, they have a few too many poor reviews related to getting the system off the ground to make the list, even though some of those are probably down to user error!
Buyers Guide: What To Look For 
Pizza shop POS systems that truly work are not required to be complex (much like a the simple recipe of a well-made Margherita). The best POS system for your pizza restaurant will contain a healthy balance of these ingredients:
Compatibility with your business model 

Depth of data and analytics available 

Accessibility for a smooth transition from your current system

Pricing that doesn't break the bank 

Flexible hardware and a user interface that starts at a sprint 

Cloud computing versus traditional data processing 

Security and compliance