Last updated on September 7th, 2019 at 07:21 pm
Your pizzeria strives to deliver the very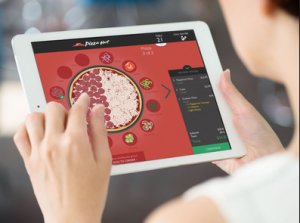 best, fresh, and delicious pizza to your customers.
Now, do you take pride in offering the best pizza and delivery service in your community?
Then should you also want the best Point-Of-Sale system for your business?
The right system will save you time and money while helping you manage your business so you can focus on what's important.
Just as your pizzeria offers different crusts, toppings, and sizes to make your customers happy, POS systems also have different features to meet your pizzeria's unique business needs.
POS systems can take orders, process payments, track raw ingredients, update your menu in real-time. Some can even keep track of your delivery drivers! But remember this.
The wrong system can waste your time and money.  The wrong system is one with too many complex features that your business doesn't need nor use.
#Our Top Pick for Pizza POS System: ShopKeep
ShopKeep is the #1 rated iPad POS app in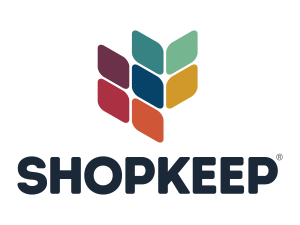 the App Store.
Established in 2010, ShopKeep is a reliable and solid POS, meant for restaurants and retail establishments.
It is intuitive with an easy-to-use interface and a short learning curve.  With ShopKeep you can set up and get rolling quickly.
Features
Even though ShopKeep is not specifically designed for pizzerias, it has the basic POS features covered.  It is EMV compliant, the global standard for chip-based debit and credit cards.
It also provides raw ingredient tracking, the ability to calculate pizza prices based on different toppings, tipping options, gift card integration, inventory management, and printed or emailed receipts.
In addition, ShopKeep delivers other back-office functions such as customer management, email marketing, and employee management.
Hardware and Operating System Requirements
One reason ShopKeep is so easy to set up and get going is that it provides a mobile POS on a platform most people are familiar with.
It works on iOS 7 (including iPad 2 or newer), iPhone, or iPad Mini.  Customized hardware is available online.
Hybrid Platform
ShopKeep will function even if you don't have internet access or if the internet goes down.  This means you can still run credit card transactions and continue operations at all times.
The reporting function, which tracks everything such as top-selling menu items, inventory, and the busiest hours, is cloud-based. You can access the reports anywhere you have an internet connection.
Pricing
ShopKeep doesn't advertise its prices directly on the website. However, we found that most businesses will look at a price of $69 per month per register.
This price point makes it the best choice for small businesses.  Even with such a reasonable price, ShopKeep provides 24/7 live customer support.  You also get integrations to MailChimp, QuickBooks Online, and AppCard.
Customer Support
Live unlimited customer support is available 24/7 and is included in the price.  The company does not use call centers and its customer support team is US-based and available by phone, email, or chat.
Downside
While ShopKeep is a good solid POS for most pizzerias, it could stand to include a few more pizza-specific features.  For example, while you can manage inventory at the ingredient level, you cannot manage it at the unit of measure level.
You can customize ShopKeep for the pizza restaurant. However, it doesn't provide the more robust features of delivery tracking and online ordering that Clover Station Pizza Builder app gives.
Verdict
ShopKeep provides good value for the money.  Even though it doesn't have all the bells and whistles of a more complex system, most pizza delivery businesses will be happy with its various features, price point, and ease of use.
# Our 2nd Choice: Clover Station
Clover Station is a unique type of web-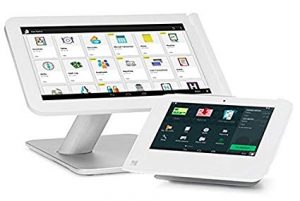 based mobile POS.
Instead of a consumer tablet, it uses Clover's proprietary POS hardware.
With a display that looks and performs like an iPad or tablet, it has the benefit of not being affected by those OS updates.
Yes, you know, those updates that could interfere with business-critical functions.
Features
The highly customizable Clover Station POS delivers out-of-the-box with basic functionality.  Features include raw ingredient tracking, tipping options, toppings, employee management, and EMV Compliance.
You can customize Clover Station with apps; free or purchased from
Clover
's app market at a monthly fee.  The Pizza Builder app provides many useful functions for pizzerias.
Cloud-Based Platform
Clover Station is cloud-based.  Although it stores information in the cloud, if the internet is down, the software will continue to function for a time.  Transactions are queued until online services are restored. 
Hardware and Operating System Requirements
Clover Station's proprietary hardware package includes a touchscreen display, high-speed printer, and a cash drawer. Optional accessories are available, including kitchen printers, label printers, and weight scales.
Since everything you do is stored in the cloud, there are no software requirements. Updates are automatically pushed to all your Clover devices.
Cost
The mobile register hardware costs $1,000 a month, along with per transaction swipe fees that vary with bank or merchant services provider.
Clover must be sold with a merchant account. Additionally, the bank or merchant service provider who sells it may negotiate more competitive pricing.  And if you want apps, like the Pizza Builder app, additional monthly charges may apply.
Client Support
Customer support for the hardware and software is available 24/7 from Clover.  For customer service related to payments or merchant account issues, you will need to contact your merchant services provider.
Recent reviews of Clover Station customer service indicate general dissatisfaction with the quality of customer support.
The Downside
Up-front costs can be excessive for a small start-up.  If your business needs more than one terminal, it could cost $2,000 to $3,000 upfront.  Another negative is complaints among Clover customers about poor customer service.
Verdict
With an intuitive design, Clover Station is easy to set up and start using.  If you can afford it and want to invest in a highly-customized POS system with tons of optional features, you will certainly want to consider this POS.
# Third Option: Toast
Toast is an easy to use POS and
restaurant management system built specifically for foodservice.
Running exclusively on Android devices, Toast has a little more flexibility compared to its iPad-based competition.  The hardware is more affordable too.
Features
Features of this POS include real-time menu management, the ability to offer printed or digital receipts, update your menu online, provide tipping options, EMP compliance, and an integrated online ordering system.
In addition, Toast provides additional back-office functions such as employee management and integration with PeachWorks.
Cloud-Based and Locally-Installed
Although Toast is web-based, it does create a LAN network for its customers.  All POS data, including the menu and other configurations, are downloaded and saved on each connected device.
If the internet goes down, all devices function normally. This includes credit card functionality, to ensure you can maintain operations.  Credit cards are encrypted and stored locally until internet service resumes.
Hardware and Operating System Requirements
Toast uses 7-inch handheld ordering tablets and hardwired terminals.  Unlike its iOS-based competitors in the POS arena.
Toast runs on Samsung Android operating systems. Running on Android operating systems reduces costs and provides more versatility.
Prices
Toast subscriptions start at $100 per month, plus $50 per month for each additional terminal.  Integrations include Compeat, PeachWorks, and CTUIT.  Add-ons, including online ordering at $50 per month, are extra.
With Toast, you cannot use your own merchant services provider.  You must use Toast's in-house, integrated payment processing. The company promises to match the rates of your current service provider, which can be a bonus.
Customer Support
Toast is great at customer support and is there for its customers every step of the way, at little or no additional charge.
The company prides itself on its fully US-based 24/7 customer support.  Moreover, after installation, a Toast employee will show up at your pizzeria and conduct POS training for all of your staff. How's that for a personal touch!
Downside
The biggest downside to Toast is the lack of payment processing options.  This system is not for you if you want to use a specific outside payment processor.
Verdict
The monthly subscription prices are about average for the POS market.  However, because Toast uses Android-based hardware and devices, it is generally cheaper in the long run than iOS-based POS systems, especially when you are starting out.
Toast offers plenty of features and good customer service.  If you can accept not choosing your own specific outside payment processor.
Toast is a good POS to consider. It will not work for you though if you are tied to your current payment processor.
# 4th Pick: Revel Systems
Revel Systems is the most complex and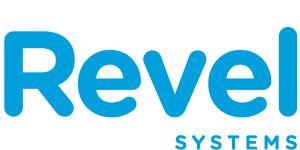 comprehensive POS system on our list.
The iPad-based POS has a slick set of features and integrations developed for almost every aspect of the foodservice industry.
Features range from Revel's open API to a digital menu board.  You can also use Revel's app marketplace to build on its functionality.  Established in 2010, Revel has many satisfied customers in the foodservice industry.
Features
Revel delivers a truly extensive set of features. Some of these features are ingredient inventory tracking, online and mobile ordering, a kitchen display system, open API, customer relationship management.
Employee management, and EMV compliance.  Delivery management is also available in its Pizza module, and you can keep track of your delivery vehicles like you would an Uber vehicle.
Hybrid Platform
Revel runs locally through your iPad and syncs all data to the cloud.  It has an 'Always On' mode so your POS will continue to function even if your internet goes down or slows down.
Keep in mind that accepting credit cards is always a risk when the internet is down since payment authorization won't occur. 
Hardware and Operating System Requirements
Currently, Revel works exclusively with Apple iOS devices (including iPad Min3 and 4, iPad Pro and the iPad Air), a platform most people are familiar with.
You can purchase complete hardware bundles from Revel that will work with any standard barcode scanner.  It is possible to purchase hardware from other sources, but be sure to double-check with Revel to make sure it will work.
Pricing
Revel offers its monthly subscription at $100 per month for the first terminal and $50 per month for each additional terminal.  Each subscription includes 24/7 live support, unlimited data storage and security, QuickBooks Integration, and unlimited software updates.
Customer Support
Revel provides 24/7 support via phone, email, remote support, a web support page, and online support.  It provides training and videos at Revel University.
Revel reports that its Customer Satisfaction Rating is over 93% for software, hardware, and logistical issues.
Downside
Revel provides numerous features and works for different types of businesses. From enterprise-level food service (like Popeyes and Arby's) to small start-up pizza delivery businesses.
Unfortunately, this comprehensive cloud-based POS does have a downside. Many Revel users complain about the complex and lengthy setup process and the steep learning curve.
In addition, some customers complained of slow customer support for complex issues, such as problems with hardware.  Other customers complained of system downtime.
While these experiences are not necessarily those of the average user, you've to keep customer reviews in mind when choosing a pizzeria POS.
Verdict
Revel Systems are a good value considering the numerous features it offers.  But its price, in terms of time and money, maybe too high for a small pizza place.  This is a good option to keep in mind as the business expands.
Best Pizza POS System: Our Final Review
ShopKeep, Clover Station, Toast and Revel are all terrific, EMV-ready POS systems that can grow with your business.  Each will very work well for small businesses, including pizza delivery shops. They all handle the basic POS processes.
Moreover, most offer similar features like ingredient tracking, tipping options, digital or printed receipts, and employee management.
Revel Systems is a perfect solution if you are expanding your business and want a lot of features.
With its Android-based platform and hardware, Toast is more versatile and cheaper overall than the other iOS-based systems. It is worth considering if you are not set on choosing your own outside payment processor.
Clover Station is the most expensive on our list, with a steep learning curve.  If you can afford it and want to make the investment in this highly-customizable system, it might be the way to go.
Best Pizza Delivery POS System Providers: Shopkeep
Our top pick, ShopKeep is easy to set up and get going quickly.  Its intuitive, easy-to-use interface and the short learning curve are perfect for a start-up pizzeria.
The iPad-based ShopKeep is affordable, intuitive, and easy to use.
Although not designed specifically for pizzerias, it has useful features such as raw ingredient inventory tracking.
It can be set up to calculate the pizza price with various quantities of different toppings on different crusts and with different sauces.
ShopKeep has been around since 2010 and it focuses on small businesses.  It provides great value for a small pizza delivery service looking for a solid all-around POS.
ShopKeep is a reliable, solid POS and it is the most affordable on our list, at roughly $69 per month.