Last updated on August 11th, 2019 at 06:26 am
If you're a food service entrepreneur with a tight budget, a food truck may be the perfect startup.
Food trucks carry a lot less cost than brick and mortar restaurants.
However, a lot of the same principles that you need to know when running a restaurant also apply to food trucks.
Choosing a POS system that's right for your business is especially important for food trucks. The right system will keep you organized and ahead of the competition with data analytics, real-time menu updates, and fast ordering and payment processing.
The wrong system may just have you wasting valuable time and money on overly expansive features.
The 6 Best Food Truck POS Systems Reviewed
#1 TouchBistro – Easy To Use Food Truck POS

TouchBistro is the number one food app sold in the Apple Store, and for good reason.
It's easy to use and set up, and while it's not the cheapest POS system you can get, TouchBistro remains at a reasonable price point.
TouchBistro is also designed with food service in mind. There are enough features to satisfy any food truck business that's just starting out.
TouchBistro is one of the few apps out there designed with specifically food service in mind.
Rich with industry-specific features and easy to use, TouchBistro is ideal for food trucks.
Pricing
TouchBistro isn't the cheapest option out there, but is still reasonably priced at $69 a month. With this plan, you get 24/7 live customer support and product updates at no cost.
Features
You can use TouchBistro's POS system to process pretty much any kind of payment transaction, from cash to cards to mobile payments. So if you want to keep your payment options flexible, with no add-ons, you can't go wrong with TouchBistro.
As TouchBistro is based on the iPad, you can even take your iPad with you when lines are long and take down customers' orders as they wait in line.
TouchBistro's system is also completely customizable. You can easily add modifiers and new menu items on the fly and customize promotional items by day and time. You can even organize the menu how you want to see it.
Locally-based POS System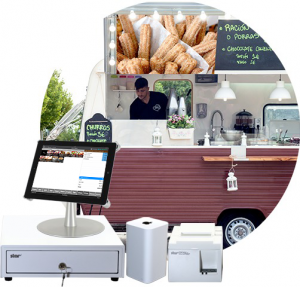 Additionally, TouchBistro is a locally-based POS system. That way, even if you don't have a Wi-Fi connection, you'll still be able to access data collected in the system.
You can even still process payments with a disconnected TouchBistro app. But TouchBistro does save reporting data to the cloud.
Allowing you to access this data anywhere, in or outside the food truck. You get extensive data on menu sales and busiest times of the day, so you can analyze and evaluate accordingly.
Award-Winning Customer support
TouchBistro was named a Stevie Winner in 2016 for customer service, thus earning the title of support department of the year.
If you feel like you might need some of the extra support that a good customer service team provides, you may be in good hands with TouchBistro.
Inventory Capabilities Lacking 
TouchBistro doesn't have the most extensive inventory capabilities. You can add and edit modifier groups as you please.
But you can't manage inventory beyond UPS codes for each item. You will, however, be notified if any inventory item is low in stock.
Tailored For The Food Industry 
TouchBistro was designed specifically for the food service industry, making it quick and easy to set up and use the app. Just about every food truck would find TouchBistro a good investment.
#2 ShopKeep – Affordable Food Truck POS System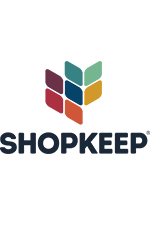 ShopKeep is an affordable POS system that would work well with any food truck.
While it's not designed specifically for foodservice, ShopKeep's inventory features enable you to keep track of each raw ingredient.
It's hybrid platform also gives you the flexibility to analyze your data anytime, anywhere.
ShopKeep has been around since 2010 and has maintained a focus on small businesses.
This POS system offers limited but targeted features, keeping prices within a reasonable range for new business owners.
The Price 
As a food truck operator, you probably consider price as an important factor. At $69 a month, ShopKeep is one of the cheapest all-around POS systems out there.
Features
While not specifically designed for the foodservice industry, ShopKeep has all the basic POS features covered.
Additionally, they have gift card integration, digital and traditional tip options, and the ability to print and email receipts. So your food truck enterprise is easily covered with ShopKeep's features.
ShopKeep's design is simple and intuitive, making it easy to set up and navigate the system. You also get QuickBooks, AppCard, and MailChimp integration, making it easy to expand ShopKeep's functionality.
Hybrid Platform
ShopKeep runs even without internet access, so you're able to stay open for business no matter where your truck is parked.
On the other hand, reporting, which tracks everything from inventory to top-selling menu items to the busiest hours, is actually cloud-based. So you can analyze your data anywhere.
ShopKeep also allows real-time menu management. You can change up menu items and pricing during business hours, responding to customer demand as it changes.
Inventory Management
If there's one thing that ShopKeep's POS system can do, it's keep track of inventory.
With their raw goods tool, you can keep of track of every ingredient in your truck. By tracking each raw good as it comes, you can keep ingredients well-stocked and avoid food waste.
Not Features Heavy 
ShopKeep's customers are generally satisfied with ShopKeep's features and customer support. But ShopKeep doesn't boast nearly as many features as POS systems like Revel, such as multiple sales tax rates.
Overal Good Value
When it comes to pricing, ShopKeep proves to be a good value for the money. And while it doesn't have a whole lot of features, it offers enough to help start-up any food truck business.
#3 Lightspeed HQ – For Large or Small Food Trucks

Lightspeed HQ's Restaurant POS system was developed with food service in mind.
The company has become renowned for providing "big-company" functionality to small businesses. Their POS system balances a wealth of features with a simple interface.
The Cost 
For food trucks just starting out, Lightspeed may be at just the right price point.
With all the features Lightspeed offers, they come at a much more affordable price than similar big POS systems such as Revel.
For one register you only pay $69 per month, with customer support and data analytics included.
Advanced Features
Lightspeed Restaurant's features allow all the functionality you need to quickly take orders and process payments.
You can easily manage your menu, with the ability to add menu items and modifiers on the fly. You can also create a record of all raw ingredients to better keep track of stock.
As food trucks are mobile, business can change from day to day. Lightspeed also has a "timed events" feature, where you can set promotions to run on certain days or times of the day.
With Lightspeed Restaurant, tracking your data is made easy. You can check revenue and receipts by units as large as the month or as small as by the hour.
Lightspeed is also in the process of rolling out a self-order menu. Customers will be able to order food themselves.
As you can only have so many staff work a food truck at one time, this frees up staff to make and serve the food. It also eliminates long lines.
Live Customer Support
Live customer support is available 24/7. However, it is not available on observed holidays.
Not a big deal, perhaps, if your food truck caters to the lunch crowd. But if you're open on holidays, you may end up hoping you won't need tech support.
Web-Based Platform
All Lightspeed software is based entirely on the web and in the app. However, you don't need a connection to run the software. You just won't be able to process payments in the event of an internet outage.
Downside
Some may complain about the lack of features, such as a reservations tool, or email marketing integration. For food trucks, some social media integration would certainly be a perk.
Verdict
But for most food trucks, Lightspeed Restaurant will do just fine. It has enough features and comes at an attractive enough price point that any shortcomings can be easily overlooked.
#4 Revel Systems – Advanced Food Truck POS
Revel Systems is the largest, most complex POS system on this list.
The company has developed apps for pretty much every aspect of the foodservice industry, from pizza parlors to cafes to grocery stores and food trucks.
Pricing
For all the features that Revel Systems offers, it doesn't come cheap. For one register, you'll have to pay $119 a month to run Revel Systems for your truck.
With this plan, you get 24/7 live support and unlimited data storage, software updates, and QuickBooks integration. Looking at all the stuff you get with Revel Systems, $119 a month doesn't look so bad after all.
Even with all the features, you get with Revel Systems, you don't get locked in big time. You don't have to sign a contract with Revel Systems, nor do they charge a cancellation fee. However, you will have to give 30 days' notice before canceling your subscription.
Features
Social media can be critical to the success of a growing food truck enterprise.
Revel Systems offers integration with Twitter. With Revel, you can tweet out your location to followers and track feeds right from your iPad.
Revel Systems also comes with extensive employee management and inventory tracking features. While a one-truck operation may not see much of a need for such features, data generated from these features can come in handy later.
With Revel Systems, you can also adjust taxes based on location and generate different tax groups. So if your operation travels between cities or even states, you can keep on top of your taxes way ahead of tax time.
Revel University Vs. Customer Service 
It can get complicated and time-consuming to set up all of Revel's POS features. So Revel helps make it easy with Revel University.
A site that includes all the tips and tutorials you need to set up your system. And if you really need it, you can request onsite tech support – for an additional fee.
Hybrid Platform
Revel's POS system is run locally through your device, and it syncs all data to the cloud.
The "always on" mode ensures that everything will still run smoothly even if there's an internet outage. No matter what hardware you end up using, Revel Systems will likely run just fine on it.
Even if your cash drawer or printer is an older model, Revel's POS System likely is compatible. You can also easily integrate third-party apps with Revel Systems, including mobile payments and gift cards.
For Larger Businesses
If you're just getting into the food truck business, you may find that Revel Systems has too many bells and whistles to contend with. Their POS system works best with more established, larger businesses.
Good Value But Still Pricey 
Revel Systems proves to be a good value for all the features it offers. But its price may not be worth it for single food truck operations. It may be one to look into if you want to expand your food truck fleet.
#5 Shopify – Good Alternative

All-in-one POS system that while not specifically designed for food trucks, can work for them just fine.
Pricing
As a POS system, Shopify is incredibly affordable, as well. Their most basic plan costs only $29 a month, and includes unlimited products and devices, 24/7 support, and social media sales channels.
A pro plan, which costs $50 more, gives you more features, including gift cards and professional reports.
Shopify also offers a 14-day free trial period, with no credit card information necessary. Nor do you need to sign a contract or pay any cancellation fees. So Shopify remains as flexible as your food truck business.
The Features
Shopify is easy to use and set up. The software was initially set up for retail establishments, but food trucks can use Shopify, as well.
Shopify has all the features that you'd want from a POS system.
Even their most basic plan allows you to track inventory and process debit and credit card payments. With a pro plan, you get detailed reports and analytics to see what sells best when.
Integration With Online  Ordering 
Shopify is a hybrid system, with online stores and inventory stored in the cloud, but most of your sales and inventory data is stored locally on the tablet.
You can also operate cash transactions without an internet connection. Credit card transactions, however, need a Wi-Fi connection to process.
Downside
There are other downsides to Shopify's cloud functionality. You can't access the system if you lose the connection before you login.
If you log out before the connection returns, you'll lose any data you collected during the outage.
Out-of-Pocket Add On
Shopify is a basic POS system that can work well for a business that's just starting out.
But if you want greater functionality – and fewer out-of-pocket add-ons – Shopify may not be the POS system for you.
Lightspeed A Clear Winner
You can't go wrong with any of these POS systems for your food truck business. Most offer similar features such as menu management, promotions, real-time reporting, and payment processing integration.
What you really need to consider when choosing a POS system for your food truck is price and usability. Revel Systems is a great choice if you're opening a second or third food truck, and could use the greater range of features available to you.
Or you can go with Lightspeed Restaurant, which also features a wide range of food service-friendly features for a more affordable price. For the smaller businesses that are just starting out, TouchBistro, Shopify, or Shopkeep may be the way to go.
Whether you want an easy to use interface or thorough inventory management, TouchBistro or ShopKeep may be the choice for you. If you prefer a no-frills option, Shopify will work just fine.
We hope our guide helped your choose the right POS system for your business. Furthermore, most vendors offer no obligation trial period.
Getting a POS system for your food business doesn't have to break the bank. And no matter your size or budget, the right POS system is out there.
Save
Save
Save