(Last Updated On: 02/12/2023)
Written by Shahab Abbasi: Software Engineer/IT Specialist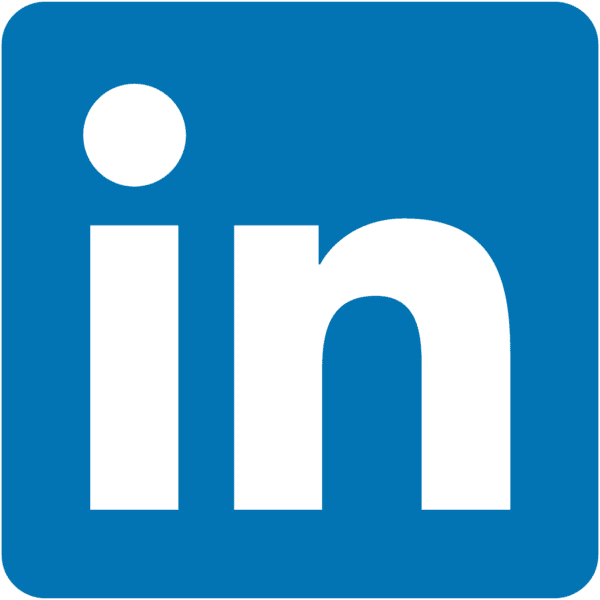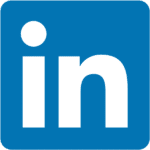 Affiliate Disclaimer: Our product review team dedicates hours of research, fact-checking and testing to recommend the best solutions to business owners. We earn from qualifying purchases through our links, but this does not influence our evaluations. Why trust our reviews?
A touch screen cash register is the most convenient way to check out fast and offer convenient payment options. There are several benefits to choosing the right payment solution, among them being easy and reliable payment methods, a rise in production levels, and a significantly improved level of accuracy. 
Our Expert Preference 
Toast Flex POS Touch Screen

The Toast Flex POS cash register is ideal for small business. 

Top features include:

Less than 30 minute set up time
All payment types accepted
Speed up transaction time
Adjustable design
Don't have time to read this whole review? Skip ahead to: 
Touch Screen Cash Register – Brief Overview
Touch screen cash registers, similar to iPads, are simple touch screen devices that can be connected to your POS system. Touch screens operate on powerful software instead of keys and buttons on traditional cash registers, providing greater flexibility when taking orders and making payments. 
It is no longer the case that small businesses use a cash register simply to keep track of sales. POS systems help businesses manage inventory, offer loyalty programs, and schedule employees with their registers today. ECRs are becoming more versatile than ever, even with basic features like card readers and printers.
It is true that traditional cash registers are still available, but if you choose to go the traditional route, you will miss out on reporting tools, loyalty program additions, and the ability to accept contactless payments such as Apple Pay and Google Pay. There is a new type of point-of-sale system that works with cash boxes, and it offers affordable options that are capable of doing much more than just accepting cash payments at the point of sale.
Comparison of the Best Touch Screen Cash Registers
In order to select the best Touch Screen cash registers for businesses, we took into consideration a number of factors, including certain criteria that are important for most small to medium-sized companies, whether they are retailers or restaurants. These cash registers are also compatible with online purchases, since the POS software supports them. We examined the top features along with pros and cons and what customers had to say about the touch screen cash registers.
Toast Flex POS Touch Screen – The Best Overall Touch Screen Cash Register for Restaurants and Small Businesses
This well-respected, restaurant-specific POS system comes with a great variety of useful business features and provides a wide range of benefits. Thousands of businesses rely on it, and its funding round in late-2018 valued it at $1.4 billion. It's only compatible with Android devices right now, but if you have the right hardware, its extensive and diverse business capabilities can help you with lots more than just processing orders.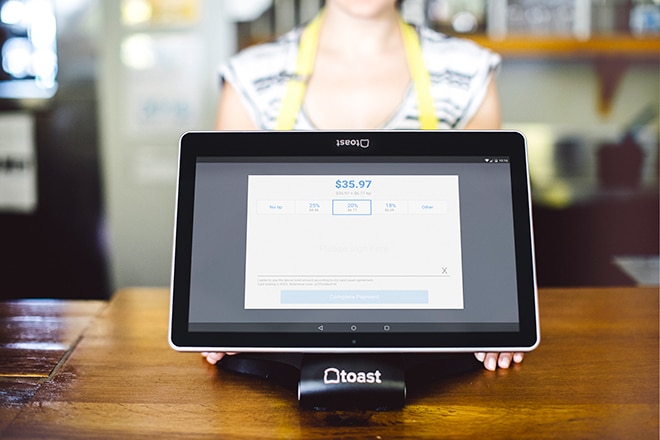 The solution presents you with one of the most powerful cash registers in the industry, with a Rockchip RK3399 Dual Cortex-A72. The CPU has 16 GB of Flash Memory, and 4GB LPDDR4 RAM Memory. It features a spill-proof P54 Durability Rating.
Toast's plans are extremely economical, allowing restaurants to benefit from its products without having to spend a lot of money.
Core Features 
Tableside Order Management

Cost Management

Reporting & Analytics

Online Ordering

Menu Management

Inventory Management

Loyalty Programs

Customer Management

Time Monitoring

Toast Now
Why Choose Toast Touch Screen Cash Register
We found Toast POS to be one of the best POS solutions we have encountered recently. There are many features in this product that you would expect from a high-end system and it offers most of them with few (if any) product gaps. It is expected that any technology or feature gaps will be quickly eliminated, thanks to a recent announcement of $400 million in Series F funding. Toast is one of the leaders in the restaurant industry because they have tens of thousands of new restaurants joining their platform every year, so they are definitely one of the industry's leaders. They are also known for their excellent customer service, which makes them really stand out from the competition.
Pros
Extremely easy to use

Build custom menus with categories and different features

Dedicated restaurant-specific hardware

Niche specifications for certain types of restaurants

Strong data reporting features
Cons
Doesn't work with iOS devices

No integrated payment processing

Lacks support options

No barcode setup
Toast Software POS Pricing
In terms of price, how much does Toast cost? For the first terminal, Toast POS's monthly fee is $0 (no setup fee). You will pay a fee depending on the package you choose. A hardware and installation fee is charged in addition to the price of the software. Here are the starting prices for the various Toast POS components:
Toast Starter Kit (Pay-as-You-Go)
Best for restaurants that prefer accessing Toast's platform with no upfront hardware costs and no fixed monthly subscription.
Software for the first terminal (per month): $0/mo

Toast Starter Kit Hardware Bundle: Starting at $0

Remote Installation: $250

Add Digital Ordering & Marketing Suite: +.40% per transaction

2.99% + $0.15 (in-person) Visa, Mastercard, and Discover Card Rates (new customers and single locations only)
Toast Starter Kit (Standard)
Ideal for small restaurants to get up and running on Toast.
Software for the first terminal (per month): $69/month

Additional terminals (per month): $50 each

Hardware: Popular package is $799 (interest-free financing)

Remote Installation: $250

Loyalty Program: $25 (per month)

Gift Card Program: $50 (per month)

Online Ordering Program: $50 (per month)

2.49% + $0.15 (in-person) Visa, Mastercard, and Discover Card Rates (new customers and single locations only)
Toast Essentials
Ideal for restaurants looking to expand into off-premise channels.
Starting at $165/mo

Includes Online Ordering & Delivery

Includes Toast Takeout App
National Retail Solutions (NRS) Locked-Model NRS Cash Register – Touch Screen Cash Register with Barcode Scanner
The National Retail Solutions (NRS) Touch screen Cash Register POS system might be a reasonable option if you're looking for a reliable POS system for your retail business. Our review of the National Retail Solutions POS system will examine its features and benefits to see if it is the right choice for your business.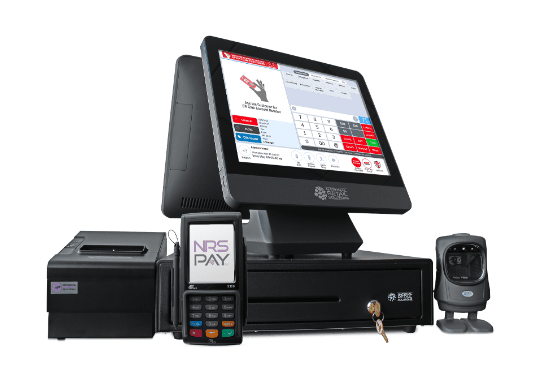 The NRS Model features a sleek dual-screen system that is optimized for both merchants and customers. Users can track their data and inventory, attract new customers, track sales, and track inventory using the software for their POS systems.
A touch screen point of sale monitor gives you plenty of features for managing transactions on the cash register. Touch screen cash registers make transactions convenient. There are clear labels on the buttons of the monitor and it has a large display. A powerful tool like this does not require you to be a technology expert.
Core Features
Inventory Management

Price book Management

Phone & Chat Support (7 days a week)

Pro Tools Available

Security Camera Integration

Ecommerce

Employee Time Clock

Loyalty

Barcode Scanning

Commission Management

Returns Tracking
Why Choose National Retail Solutions (NRS) Locked-Model NRS Cash Register
National Retail Solutions is best for businesses like convenience stores, grocery stores, tobacco shops, and liquor stores. POS systems integrated with gas pumps are also popular options for C-stores.
They had included a touch screen in their POS' design because of the numerous benefits it gives to customers. When they use a POS with a touch screen computer, they improve their business with:
Increased speed: A POS touch screen computer has technology designed to improve your business' efficiency. Since you don't need equipment like a mouse or number pad, you can work faster by tapping the screen. Touch screen technology also has custom buttons that let you complete tasks in fewer presses.
Improved ease of use: Touch screen cash registers have easy-to-read buttons that people with any level of technology experience can use. A well-designed layout makes the touch screen experience even easier. Employees learning to use technology may find a touch screen more accessible.
Space efficiency: When you use a touch screen to operate your cash register and other POS elements, you can save the space you would use for extra equipment. This benefit makes a point of sale with a touch screen helpful for small businesses with less space.
Pros
Affordably priced hardware bundle 

Easy to use with user friendly interface

First month of credit card processing is free with the PAX S300 credit card reader

24/7 customer support
Cons
Lots of hidden charges

Predatory licensing model

Offshore support
National Retail Solutions POS Pricing
NRS offers straightforward pricing on its website. For their Basic plan, you'll pay $19.95 per month, but with the Pro plan and Advanced plan, you'll pay $29.95 per month. Using NRS Pay merchant services increases your monthly fees.
All your hardware can be purchased directly from NRS for complete all-in-one solutions. Credit card processing rates are fully disclosed on the company's website, which we appreciate.
Datio Point of Sale Base Station and Cash Register – The Best iPad-Based Touch Screen Cash Register
Datio POS is a point-of-sale (POS) solution that is based on an iPad and designed specifically for small food and beverage outlets as well as other retail businesses. An Datio POS system consists of a cash drawer, a printer and a scanner, as well as a credit card reader. This POS system allows you to view sales reports from any device at any time, regardless of where you are.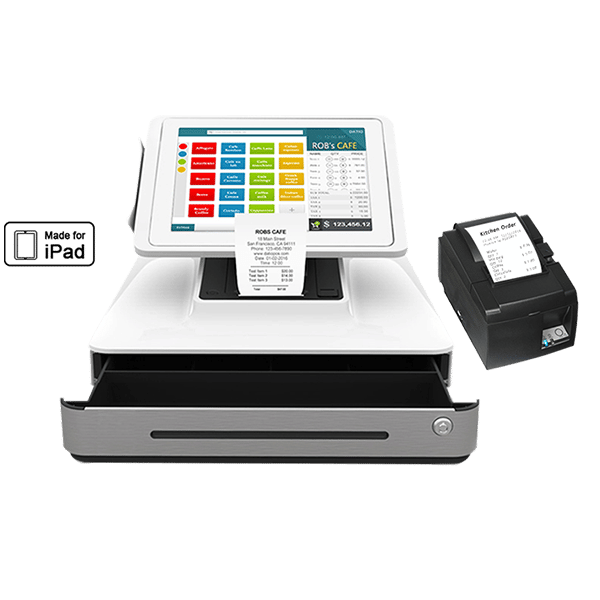 With Datio POS, there is an app for every business type. There are certain features specific to each Datio POS app depending on what business type it is designed for. There are different tools included in the Datio POS app developed for Quick Service Restaurants as opposed to the Datio POS app for Beauty Salons.
Core Features
Multiple Store Type POS Options

Item Management

Color Tagging

Payment Management

Tip Management

Sales Associates

Gift Cards

Reporting and Dashboards
Why Choose Datio Point of Sale Base Station and Cash Register
Retail Stores, Cafes, Quick Serve Restaurants, Full Service Restaurants, Pizza Restaurants and Salons can benefit from the Datio Point of Sale solution.
The point of sale environment is changing, and Datio POS iPad app offers an extremely reliable and convenient solution. Datio Base Stations include cash drawers, printers, scanners, and credit card readers. You will find Datio POS software easy to use and packed with features you need. Using any device, you can view sales reports. Support is available via SMS, email, and phone. 
Datio's point of sale app is intuitive and user-friendly. Users don't have to learn a lot to get started. Users can easily navigate and utilize the app, allowing them to enjoy its benefits right away.
Pros 
Quick Setup

Visual Organization

Simplify Customer Tipping

Real-Time Sales and Inventory Tracking
Cons
No support for android mobile phones
Datio POS Software Pricing
Datio POS offers different pricing depending upon the industry. All of their pricing plans include 1 terminal register, each additional register will cost you $33/month. Their standard retail POS plan starts out at $64/month.
Lightspeed Cash Register – The Most Versatile Touch Screen Cash Register
The Lightspeed Retail platform offers retailers a single point of access to their online and offline operations from anywhere, anytime. Retailers have the ability to access detailed sales reports within minutes, identify the most popular items, and customize customer service in order to increase customer loyalty as a result. This unified system enables multichannel sales and inventory management, expansion to new locations, and global payment processing. Lightspeed provides retailers with tools like omnichannel loyalty, integrated eCommerce, and in-depth analytics to help them provide seamless customer service.
24/7 Technical Support Team

Mobile Access

Barcode Scanning

Hardware Integration

Price Adjustments

Receipts

Loyalty Programs

Email Marketing

Reporting

E-commerce Integration
Why Choose Lightspeed Cash Register 
The businesses of retailers and restaurateurs contribute to the vitality of communities.  Lightspeed HQ Company's goal is to make small businesses run smoothly. They pride themselves on creating easy-to-navigate point of sale products for retail stores and restaurants. Businesses who manage single to multiple locations can benefit from tools designed specifically for them.
Pros 
inventory management

Ease of use

Customer service
Cons 
Non existent

Needs the ability

Issues resolved
Lightspeed POS Pricing
Lightspeed POS offers 4 pricing plans. Their most basic plan, known as their Lean plan, costs $69/month. This plan includes their retail POS software, 1 cash register, 24/7 customer support, integrated payment options, and a fixed payment processing rate of 2.6% + 10 cents.
ANGEL POS Touch Screen Monitor – The Best Multi-Position Retail Touch Screen Cash Register
The Angel 15-inch Touchscreen display is designed to integrate seamlessly with a vast array of POS, PC, and thin client systems. It features a 4-wire pressure-sensitive touchscreen and USB touchscreen interface. 
The metal POS desk stand and hardened plastic covers make the solution highly durable in the most demanding business environments. The hardware components are also compatible with systems that have a VESA standard hole pattern on the back of the monitor.
The screen itself is very sensitive, responding to stylus, finger, pen, tool, and even gloved hand touches. It is also designed to offer outstanding display characteristics, with a 1024 X 768 resolution and a 350:1 contrast ratio.
Core Features 
Screens serve as POS, PC Monitor, Portable TV for replay Video in RV, Car, Boat, etc. 

Perfect for use in retail, point-of-sale (POS), VOD system, Juke Box and many other hospitality applications. 

Sensitive touch screens recognize touch input from stylus, finger, gloved hand, pen or tool. 

Exceptional and durable touch screen monitor at an excellent value.  
Why Choose ANGEL POS Touch Screen Monitor
A metal POS desk stand with a hard plastic cover is included with the touch screen monitor, along with a touch screen monitor. The monitor can also be mounted using other mounting options based on the VESA standard hole pattern. It's an exceptional, durable touch screen monitor and a great value. It recognizes touch input with a stylus, finger, gloved hand, pen or tool. This is a great piece of equipment for office use, POS, retail, restaurants, bars, gyms, warehouses, and does not require a driver.
Pros 
Features a foldable design with a metal base that is specifically designed for enhanced durability in high-traffic environments 

Connects to a computer directly through a 15-pin VGA port that is extremely reliable 

Compatible with several operating systems, including Windows NT, 2000, XP, Vista, as well as Windows 7 / 8 / 8.1 / 10

Features a touchscreen USB interface with a reliable USB connection for simplified input and control

Its drivers are preloaded into a convenient USB flash drive that comes with the hardware package.
Cons 
Lack of Customer Support

Sturdy Screen Issue

Only VGA Supported
Angel POS Touch Screen Monitor Pricing
The Angel POS touch screen monitor starts out around $300 depending on the model. Angel POS software cost is not publicly listed. 
Sam4s Touch Screen Cash Register
–
The Best Touch Screen Register with No Hard Drive 
A SAM4s Touch Screen Cash Register is a versatile device that can work for a wide variety of table service, quick service and retail applications. It is easy to configure. There is also the option to connect the system to a back office or remote PC for polling and program maintenance. The system supports a full complement of POS peripherals including printers, a comprehensive kitchen video system (KVS), POS scales and scanners, and order confirmation boards.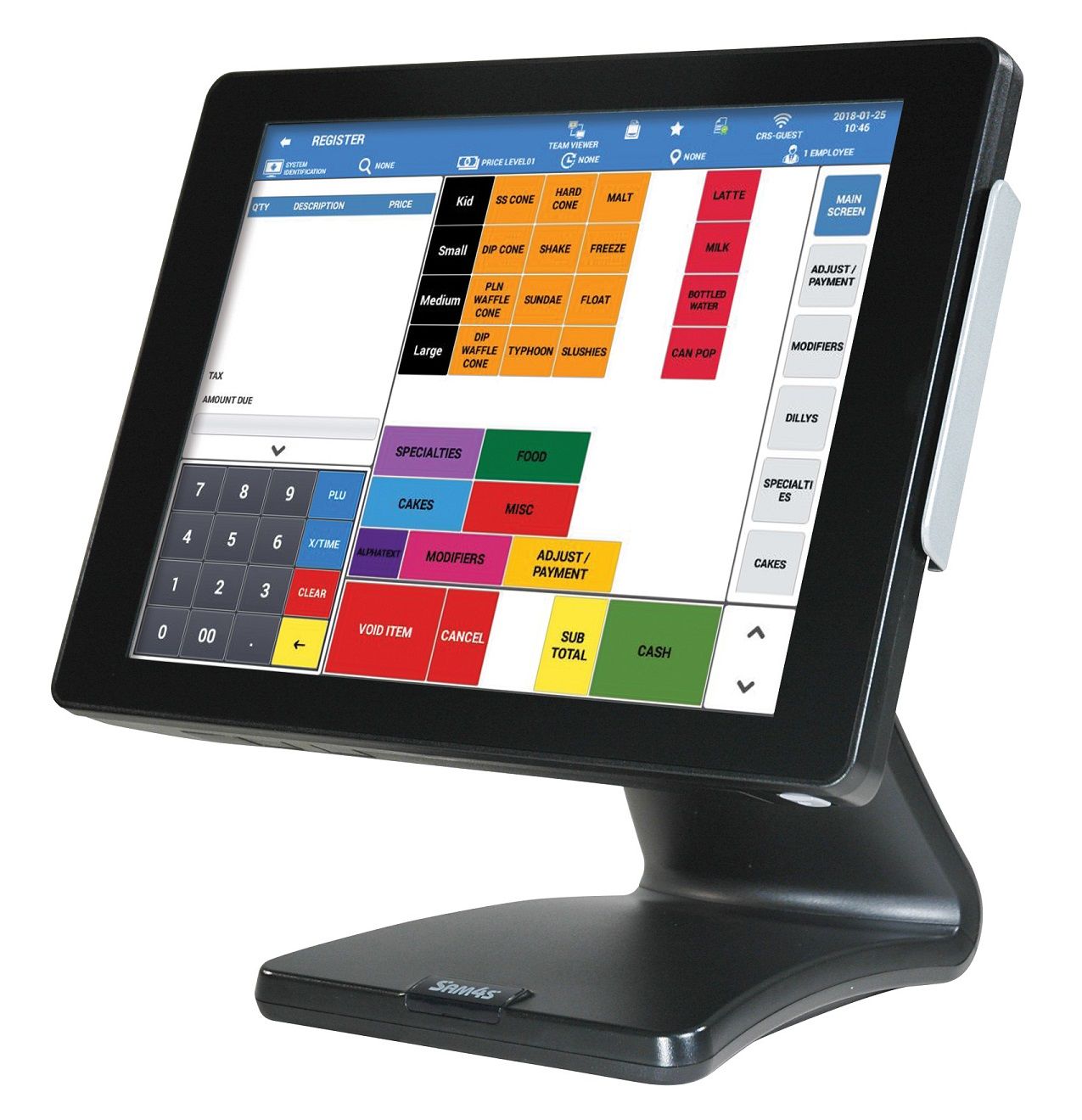 As a result, it can be used in a wide range of businesses, such as:
Table Service: Casual Dining, Family Style Restaurants, Bar/Restaurants

QSR: Sandwich, Bakery, Pizza, Coffee, Taco, Hamburger, Ice Cream

Retail: Specialty Foods, Specialty Gourmet, Deli's, Liquor, Beer/Wine, Gift Shop
Why Choose Sam4S Touch Screen Cash Register 
No Hard Disk Drive. Unlike a hard disk drive, which requires maintenance and is inherently more inefficient, the SAM4s Touch Screen Cash Register relies on compact flash memory instead of a hard disk drive.
Storage of the SAM4s Touch Screen Cash Register application program in EPROM Each SPS-2000 terminal is delivered with an EPROM that is pre-loaded with the application program, thereby ensuring that the terminal boots much more quickly than traditional PC-based point of sale systems.
With the SAM4s Touch Screen Cash Register, there is no single point of failure, meaning that your system won't be impacted by a single point of failure in the event of an unexpected failure. Therefore, there is no single point where your system could be completely disabled.
The SAM4s Touch Screen Cash Register will perform better and last longer due to its smooth fanless operation since there is no fan to draw contaminates into the register.
The SPS-2000 has a great list of value added options available:
Credit card interface with the Data cap Twin Tran or other Tran devices

Gift Card Interface

Kitchen Video Interface

Scale Interface

PC Interface

Bar code scanning interface

Many other very useful interfaces.
Pros 
Easy to use and maintain
Useful for a wide variety of retail stores
Use any credit card processor that you'd like
Bar code database management
Cons
Frequently reported that the paper gets jammed
Sam4S Touch Screen Cash Register Pricing
The Sam4S Cash Register is powered by Sam4S POS Software. They have many different pricing bundle options that change frequently. At the time of this review, their retail/restaurant system will cost you $49.95/month.
Best Touch Screen Cash Register Buyer's Guide: Things You Need to Know
Small businesses may not have the resources available to invest in a point-of-sale system that is complex and expensive. It is essential that, at the very least, you have a reliable cash register installed. Touchscreen cash registers are designed to provide a smooth, fast and hassle-free way to process your purchases. 
The leading touchscreen registers are not only capable of keeping your money safe in the drawer, but they also come with a variety of features that will improve the efficiency of your business. Small brick-and-mortar business owners and operators have used cash registers as a necessity for years and it is still a necessity today.
How to Use a Touch Screen Cash Register
It can be confusing to move into the world of touchscreen cash registers when you've never worked with one before, or if you've used only a traditional electronic cash register in the past.
You won't regret it. The more time you invest in learning how your new point of sale register works, the faster transactions will be, the more accurate employee tracking will be, the simpler inventory management will be, and you'll have better insight into your company's financial performance.
Our guide to using a touchscreen cash register has been designed to help your small business get up and running with your new POS system as soon as possible.
You need to set up your system
Getting your touchscreen cash register up and running is the first step. An iPad-based POS system will be relatively easy to set up if you purchase one. Make sure your device is connected to power, turned on, and that your system's register app is downloaded from the App Store. You may also have a preloaded register app on your tablet.
Your point of sale system must be set up before you can start using your register. Log into the back office application first and then you can start using your register. You will use this back office software to manage your inventory, change tax rates, add new employees, review reports, and add new employees.
Executing transactions
You will likely run a live transaction after setting up your system and opening your doors.
Your tablet's register app must be logged in before you can proceed. In most cases, you will need to enter a PIN code. This allows you to link all transactions and associated data (sales, returns, discounts) back to your account. In addition to tracking the actions of each employee in the register, this tool is useful for helping you manage your employees. With that done, you're ready to run transactions
Here are some of the important things you need to consider while shopping for one:
Business Size and Requirements 
In order to understand which Touchscreen register is suited for your business, you need to consider your specific needs. Consider how big the business is right now, as well as its projected growth in a few years. 
If you happen to have a smaller operation, dealing in a few inventory items, and processing a few transactions, a simple cash register will suffice. In case you have thousands of items in your inventory, and probably have several departments within the store, you will need an advanced POS system. 
In such a case, it is advisable to get a solution that includes a Touch Screen Cash register, barcode scanners, and features product codes. Such a solution will help you streamline operations, especially the checkout process. 
Inventory Tracking Capability 
In addition to processing transactions, the right cash register should also keep an accurate track for the inventory in your business. A basic cash register only has limited inventory tracking capabilities, hence is only suited for smaller businesses. 
For businesses that have a diverse inventory, and process a higher volume of transactions, a complex POS solution will be required. Sure h a system will automatically monitor your daily transactions and automatically keep track of inventory counts. 
Security Features 
In addition to locking your cash away in the drawer, your preferred Touch Screen Cash register should have features to secure your business information. It should be capable of keeping your checks, cash, and electronic payment information safe. 
To begin with, the register should have a secure cash drawer that locks cash and checks away from unauthorized access. You may also need to install a cash drop box nearby for use when the cash register exceeds a certain preset amount. 
For enhanced security, you should get a Touchscreen Cash register that supports password or pin-based logins. This way, it will be harder for unauthorized persons to access vital business and customer details through the cash register. 
Receipt Printing Options 
You also need to consider the type of receipt printers supported by your preferred touch screen cash register. Thermal printers are costlier to buy but will save you money in the long run. In their functioning, thermal printers apply heat to print a receipt. 
As such, you won't need to buy ink cartridges in the long run. A print ribbon printer, on the other hand, will save you money on the purchase cost. It is also known to print clearer text, but is comparatively costlier to maintain. 
Level of Customization 
Your preferred Touch Screen Cash register should allow for easy customization of screens. In this regard, a model that features custom layouts will come in handy. Some of the leading Touch Screen Cash registers will even allow you to create screen layouts and function access on a granular level. 
The right solution should also allow for easy access to business controls, including inventory management, timekeeping, and payroll. 
Device Integration Support 
Get a touchscreen Cash register that is compatible with mobile devices for added versatility. Such a system may be used in an integrated billing system with a number of integrated hand-held devices. This will allow your staff to do more tasks while keeping everything in control.
Conclusion
It is clear that touch screen cash registers are the future of cash registers and that they have a lot of advantages over traditional cash registers. In choosing the right one for your business, it is important to take current and future needs into consideration. 
The best cash register for your business should be scalable and customizable. In addition to ensuring that your preferred option integrates with receipt printers and other devices, you should also make sure that it is versatile enough to allow integration with various devices. 
Whatever your business type, this guide will help you choose the best touchscreen cash register.
Whatever your business type, this guide will help you choose the best touchscreen cash register. Get started with our Experts' Choice, Toast POS now.
FAQ
How much does a touchscreen cash register cost? 
The average touchscreen cash register will cost between $300-$500. However, these pieces of hardware can go all the way up to the $1,000+ price range.
Is a touchscreen cash register the same as a point-of-sale system?
No. A touch screen cash register is a hardware component that is run by a point-of-sale software.
What is the difference between a touchscreen cash register and a POS system?
The main difference between a touchscreen cash register and a POS system is that POS is software, while a cash register is hardware. Cash registers are specifically made to help with processing sales and payments, while a POS system helps with many aspects of a business.
Is it hard to operate a touchscreen cash register?
Cash registers today are very user friendly with a minimal learning curve.
What is the best touchscreen cash register for iPad?
If you have an iPad already and wish to add a cash register for your business, the best option will be the cash register hardware bundle by Lightspeed HQ.