(Last Updated On: 07/28/2022)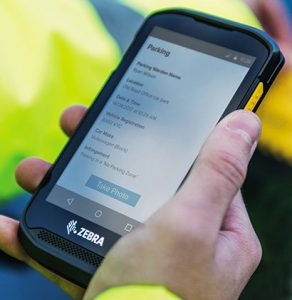 If you are a business owner or are related to such a commerce-based venture then you know the difficulties and intricacies that such a trade presents each day you have to make deliveries, dispense services, hash it out with customers, deal with competitors and try to stay ahead of the competition.
In the heat of this, you need a tool that can assist you in dealing with said challenges head-on and in an effective manner. You need a tool that not only serves as a means of communication but also as a problem solver.
That is where the Zebra TC20 comes in as it is a device that can get all your stuff done in an efficient and workable manner. This wondrous Android Barcode Scanner is just what you need to imbue your business with efficacy and organization.
How can you describe the Zebra TC20?
The prospect of managing a small business can be made that much more convenient and facilitating if you opt for the Zebra TC20 Mobile computer.
It is the right tool for the job and contains all the things that you will need for running your business effectively.
It possesses the aesthetics, the proper features, and the appropriate pricing for making it a hit. This is a mobile computer with an inbuilt touch Keyboard and Touchpad module and is built to last and survive even under the most demanding of circumstances.
It has got everything that you might need for making the aspect of running and organizing a business simple and streamlined. It ensures that you get more time, more productivity, and ultimately more capital for your business.
You can bet that the Zebra TC20 will keep on functioning no matter what abuse it is subjected to.
It isn't like other frail Smart devices that crumble under pressure. It can survive water damage, dust, floor impact and even extremely freezing temperatures. So, it is a winner.
The Zebra TC20 is an amazing device and this can be attributed largely to its features. These features are what make it great. We have listed these features in detail as follows for your information and convenience:
Tough and Durable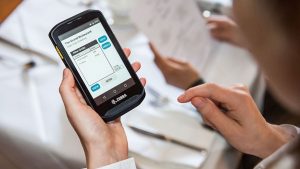 This is a smart device for the ages since it is tough and can take punishment. Its exterior is superb in as such that it takes a walloping with ease.
You can drop it from a reasonable height and it won't be fazed at all. That is what makes the Zebra TC20 so durable and long-lasting.
This is one aspect that many of you will appreciate since impact damage is quite common with electronic devices. Won't you be more at ease if you possessed one that wasn't susceptible to breaking once it falls on the floor? That's what the Zebra TC20 gives you and we love it.
Added Features 
The Zebra TC20 comes with many additional features like Wi-Fi, Bluetooth, a vibrant touchscreen, an 8-Megapixel Camera in the back, and more. These features make for an experience that is unlike any other device of the category.
Scanning Range and Comfort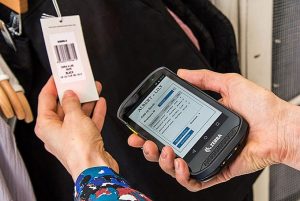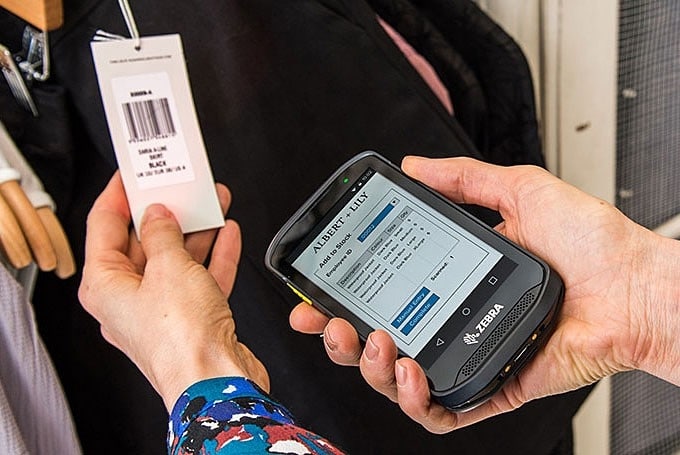 The scanning range that you get with this Device is marvelous. You can scan just about any barcode with ease and range will rarely be an issue. The whole prospect of scanning barcodes becomes much more convenient and simple with the Zebra TC20.
This scanning range excellence can be owed to the SE4710 ID/2D Image Scan Engine that the Zebra TC20 contains. Also, the scan button is located on both sides which makes accessing it incredibly convenient. You can use both your index finger and thumb to perform this task with ease.
Physical Keyboard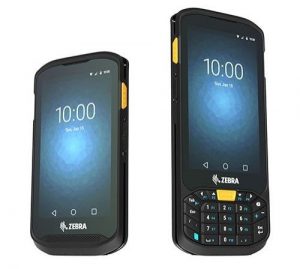 If you are averse to using a keyboard on the touchscreen then fear not. That is because the Zebra TC20 also comes in a model that supports the physical keyboard as well.
This makes for a more old school and palpably efficient experience that is well-suited for the old-timers.
Power Pack Option 
The battery is usually a prominent issue that plagues Android Bar code scanners. You are in the middle of a busy schedule and poof, the battery conks out. That is why the Zebra TC20 offers the most practical solution to this predicament.
The battery of the Zebra TC20 is pretty large and can last up to 10 hours. But if you want to extend it then you have the option of attaching a power pack. This external power pack will allow you to keep going and will greatly enhance the runtime of the device itself.
The Amazing Specs
The Zebra TC20 is awesome under the hood as well. The technical specifications of this device make it capable of taking on any challenge with ease.
The Zebra TC20 contains 2GB RAM, 16GB Storage Capacity, and a powerful QCOM MSM8937 64-Bit Processor with 8-Cores. It runs on the Android Oreo 8.1 platform. This is what makes the Zebra TC20 such a capable and efficient Device.
Zebra TC20 Specs
Physical Dimensions
5.27" L x 2.82" W x 0.63" D
Weight
195g
Display
4.3" LCD touchscreen With Corning Gorilla Glass Technology
Memory
2GB RAM

16GB Flash Memory
Processor
QCOM MSM8937 64-Bit Processor with 8-Cores
This is an Android Barcode Reader with great range and performance capacity

It comes with 2GB RAM and powerful processor

It is fitted with a large 4.3" inch touchscreen with Corning Gorilla Glass Technology

Priced at a moderate $526
 What We Like
It comes with a terrific 8-Megapixel camera in the rear

The scanning buttons are located on both sides of the device for better access and usage

This device comes in a model that supports physical keyboard

It possesses Great scanning range

Highly durable and strong device
What We DisLike
The battery is non-removable

The Deployment is MTP is a bit inconsistent
Frequently Asked Questions:
Q.1: What comes in the box along with the Zebra TC20?
The Zebra TC20 comes with the base Device in the box along with plenty of accessories. You get the device's charger, a connector cable that doubles as charging cable as well. The physical keyboard model also comes with an added power pack as well. Besides this, you also get the warranty card, instruction manuals, and promotional codes as well.
Q.2: Will this device last for an entire shift?
The battery of the Zebra TC20 is quite copious and can last up to 10 hours, as claimed by the manufacturer. So, yes it can last through an entire shift with ease.
Q.3: How rugged is this device?
Well, it is pretty rugged and has been touted to be one of the most durable Android Bar Coder scanners on the market. It can take a beating with ease and can survive falls, dust, water, and freezing conditions with surprising ease.
Q.4: How do I reset it?
You can reset it quite easily by going to the settings in the Zebra TC20. Scroll down to the security and reset tab and select the appropriate option. Then you should follow the onscreen prompts and confirm that you want to reset your device.
Enter your password or pin code for authentication and the device should reset itself automatically. Be warned though that this will also erase all of your data so better backup before doing so.
Verdict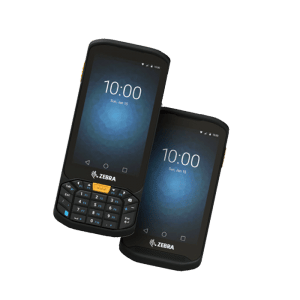 The Zebra TC20 is a rugged, durable, and highly effective Android Barcode Reader that can turn things around for the better.
It can be the best partner for your Small business management and makes things much simpler.
It is one of the best options available on the market when it comes to this category. That is why we highly recommend it for all those interested in such a gadget.