(Last Updated On: 08/12/2022)
`Many retail businesses reply on their retail POS system. In this post, we will be looking into the best retail pos systems on the market.
In a nutshell, the best retail POS systems out there provide robust inventory management, integration with third-party accounting software, payroll reports , employee clock integration, and hot selling item reports.
The Challenge: Large Selection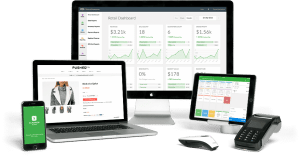 There are so many factors to consider when shopping for retail point of sale, that most small retailers opt to stay with their cash registers.
While others, contract local POS systems dealer to make that decision for them (source).
More times than not, the dealer will promote their product over the best system for that business.
Not all retail pos systems are the same, certain point of sale system would be better for a shoe store while others are better for retail gift shops.
However, given the heaps of information available online, you may find it difficult to find and take into account the essential features.
Fortunately, we've summarized them for you below.
Retail POS Systems By Business Type
| System Name | Type | Targeted Business |
| --- | --- | --- |
| Revel POS | Cloud/Web and Server-based | Larger Retailers |
| Vend POS | Cloud-based | Small Businesses |
| Lightspeed Retail | Cloud-based | Small to Mid-sized Businesses |
| Clover POS | Web-based/server-based | Any Small Business |
| POS Nation | Cloud & server based | Any Small Business |
| RetailPro | Cloud/Web and Server-based | Chain Stores |
| Shopify POS | Cloud-based | Businesses with eCommerce needs |
| Erply POS | Cloud-based & Locally installed | Shoe Store |
| Rain POS | Cloud-based | For Retail Hardware Store |
| Epos Now  | Cloud-based | Small to Mid-sized Businesses |
| Nova POS | Cloud-based | Retail Kiosks |
| SalesVu POS | iPad-based, Cloud-based | Businesses with remote employees |
| Epicor Retail POS | Cloud-based | Hard Goods Retailers |
What Features Should Retail POS System Have?
The time has come for you to actually choose and buy a POS solution for your business.
Robust Inventory Management
Every retail business needs a tool to process sales, refunds, and returns.
Using a POS system that has robust inventory management capabilities connects ingredients or stock levels to customer sales so that inventory counts are updated in real-time.
Auto Filling Low Inventory 
this is a particularly useful function in your system's inventory management pack.
Basically, your system should be able to automatically fill in the low stock supplies by sending orders to your purveyors and suppliers.
Stock Count
As its name suggests, this feature means that your system is capable of automatically counting your SKUs, ingredients, item, you name it, and alert you in case of lower supplies.
Sales Reporting 
Needless to say, your POS system should be able to tell you how much of your stuff you sell a year, a month, a week, or daily.
In this way, you'll be able to adjust your marking strategy as needed.
Hot selling items
By showing you which items on your inventory list drive in the largest number of sales, your system will tell you what stuff is really worth supplying.
Slow Selling items
This is the opposite of the above. I mean, if your system "knows" which items drive in the smallest number of sales, perhaps you should consider scrapping them off.
Employee Management
No business is alive with proper staff management. Therefore, a good retail POS system should be able to help you keep your subordinates under control.
Every restaurant manager will agree that this can sometimes be an arduous task.
Time Clock
If anything, you should know when a certain employee punches in and out, right?
Also, those who work overtime should be adequately rewarded. Therefore, this function of coffee shop point of sale is of tremendous importance.
Easy Payroll Reporting
Every manager wants to reduce the burden of doing payroll. Therefore, a retail POS solution should be able to tell you how much you've got to pay each of your subordinates.
Accounting Integration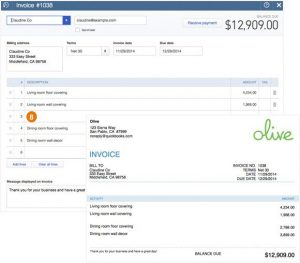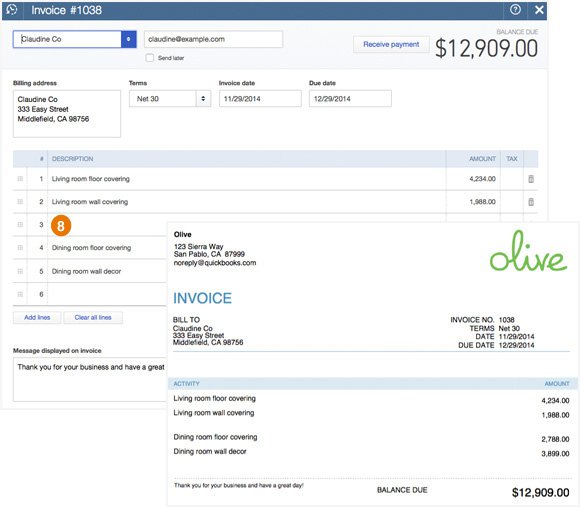 Every POS system has some accounting integration capabilities.
Meaning that it integrates with third-party software to keep your books.
The most popular of these third-party solutions is Quickbooks.
To make accounting easier, your POS system should be able to integrate with QuickBooks and send sales data directly to QuickBooks after the end of the workday.
As it was mentioned above, NOVA POS does not need third-party solutions to keep your books.
Square Accounting Integration


Now, we are going to pay special attention to accounting solutions that integrate particularly well with Square POS.
This is necessary because Square is one of the most popular retail POS systems in the USA and users really want to know which third-party apps are the most effective when it comes to book-keeping.
Xero
It's quick and easy to implement Xero and Square. Since Square accepts payments on the go, in-store and online – you can use Xero to capture sales anywhere.
Square transaction info automatically feeds into Xero. You can process your daily bank reconciliations with minimum data entry.
Zoho Books
This online accounting software also works seamlessly with Square POS.
It manages your finances, automates business workflows, and helps you work collectively across departments.
Cloud-Based Features 

Cloud-based, or locally installed? This is the Hamletian dilemma when it comes to choosing your POS system.
You may have some reasonable apprehensions uploading all of your fiscal data, transaction history, and customer database up in the cloud, lest the cloud may be hacked.
If the above is true for you, you may choose a product that's both cloud-based and locally-installed (see table bellow).
The future of the retail pos system is in the cloud.  Cloud POS systems have got more sophisticated security features nowadays and the risk of hacking them is diminished.
Cloud-based Mobile Cash Registers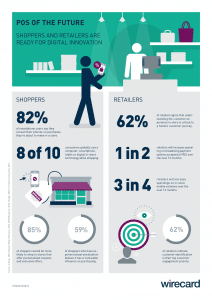 ERPLY
This easy-to-use software lets you perform a variety of tasks, including ringing up sales, managing inventory, and generating real-time sales reports.
POSE
This cloud-based software lets you ring up sales, but it also can send receipts with links to your company's Facebook and Twitter accounts to customers via text message or e-mail.
Customer management
Speaking of customer management, your POS system should be able to do the following:
Provide Loyalty Programs 

Launch promotions

Track customer history
1.Revel Systems – Best Retail POS System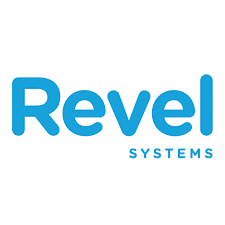 Few companies can offer all the features that Revel Systems does.
Their catalog of features spans across the retail and service industry.
So retailers of all stripes will find everything they require from a POS system and more.
System Features
Revel's Retail POS system is fully functional. Whether it's front-end cash register functions or backend data analytics that you require, Revel's got you covered.
Revel has a wealth of industry-specific features. The software comes with full front-end functionality, where customers can pay with their preferred payment method, including gift cards.
Integrated Ecommerce 
Revel Systems has also added an integrated e-commerce platform, so if you have an online store, you'll be able to easily sell merchandise.
With this e-commerce platform, you have full customization and mobile ordering capability.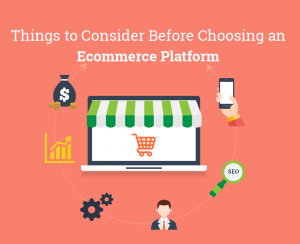 But what really makes Revel Systems shine is its extensive back-end features. You can keep track of inventory as easily as you can scan barcodes or upload a spreadsheet.
You can also set up automated low-stock alerts and inventory monitoring to track what's selling and what's not.
Among other automated features, Revel also calculates waste loss, providing you with data you can use to reduce lost profits.
Employee management is also made easy. Employees can easily swipe a card to clock in and out, and you can adjust permissions for each member of your staff.
You also get automatically generated employee profit reports to help evaluate high and low-performing employees.
Hybrid System
Revel Systems runs locally, but syncs all data to the cloud. Revel's "always on" mode enables you to keep conducting business as usual, even in the event of an internet outage.
With this mode, you can continue to accept both cash and card payments, so your business doesn't miss a beat!
Pricing
These features offered by Revel Systems don't come cheap. One register will cost you $119 a month.
But at this price, you get 24/7 live support and unlimited data storage.
Software updates, and QuickBooks integration. With all that on the cheapest plan, you'll be getting your money's worth.
Customer Support
It's not easy to set up all of Revel's POS features. But fear not: Revel helps make it easy with Revel University.
A site that includes all the training and tutorials you need to manage your system. For an additional fee, you can also request onsite tech support if you'd prefer.
Downside
Considering all the features you get with Revel Systems, it takes some time and effort to set up.
While functionality is simple, setting up menus, products, and inventory can be a complex and even tedious process.
You get what you pay for, though, with Revel Systems.
Verdict
Revel Systems has a lot of features that would work with just about any retail establishment.
However, its high price point and extensive feature catalogue is more suitable for larger retailers, who can get the most bang for their buck with Revel Systems.
2.Vend POS – Multi-outlet Retail POS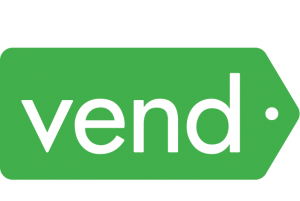 If you're a smaller business that is just starting out, Vend will be more of your speed.
Vend includes all of the basic features that you would need out of a POS system. However, if you find your business growing, Vend's system is highly scalable and includes multiple tiered plans.
Vend's History
Vend has been in the Retail POS system market since 2010.
Based in New Zealand, it has grown to serve over 15,000 businesses in 100 countries. In seven years, this startup has become a bona fide international company.
Features
Vend offers all the POS features you would need as a retailer. It is suitable for both small and large retailers.
With Vend, you can easily manage inventory and your customer list. You also can maintain multiple price books and create your own branded gift cards.
Vend also comes equipped with an employee tracking feature to better keep track of both employees and cash.
Vend's e-commerce functionality has become one of its biggest features.
The tool has a responsive design, where the interface will fit whichever screen you're viewing it on.
Their content management system allows you to easily add products and pages, rearrange design elements and add functionality.
Inventory and customer management is also made easy with Vend.
You can set prices based on location, or customer type, and you can easily import and export inventory.
Pricing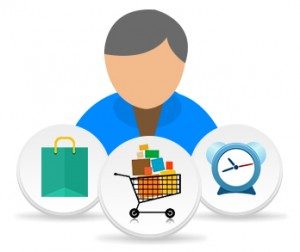 Vend's starter and advanced plans are geared towards the more established small retailer.
The Lite plan comes in at $99 a month with no annual contract, and you get unlimited products and customers, as well as 24/7 email support.
With the Pro plan at $129 a month, you get unlimited user accounts in addition to unlimited products and customers and e-commerce functionality.
Finally, the Enterprise plan is a tailored solution specifically for your business, so you'd need to contact a Vend representative for a personal quote.
Vend has a generous 30-day trial. So if you're interested in Vend but not sure if it's the right POS for you, you can easily sign up for the trial and get a real feel for the system before committing.
Cloud-based with Web Caching
Vend is a cloud-based product using HTML5, utilizing offline cache functions in the case of an outage. With this function, you'll be able to cache most of your data and keep ringing up purchases even if the internet is down.
Customer service
Vend offers 24/7 live email support to customers of all paying plans. However, if you want priority phone support, you'll have to pay extra – no matter which plan you're paying for.
You can also get one-on-one support if you're interested. If you prefer to learn the system on your own, you can check out Vend U.
Downside
Just like everything else, Vend isn't perfect. Vend's in-store POS has no ability to support purchase orders.
As a result, you'll only be able to pay for the display of demo products or configure commission payments on delivery, rather than paying up front. This could make for some potentially unhappy vendors.
Verdict
Vend is a flexible and scalable POS system. Retail businesses of all shapes and sizes should be able to find Vend a good fit for their establishment.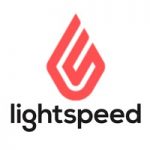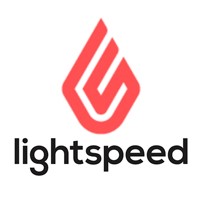 Lightspeed Retail is the retail-focused POS platform from Lightspeed HQ.
The company has been in business since 2005, but the Retail POS is more of a newcomer to the market.
Launched in 2013, Lightspeed Retail quickly found a place among the top-ranking POS systems for retailers.
Retailing Features
Lightspeed makes retailing easy! On the front end, customers can pay whichever way they prefer, including store credit.
You can also easily apply discounts and place items on hold or layaway.
On the back end, you'll likely find all the functions you'll need on Lightspeed Retail. Managing inventory, employees and purchase orders is made easy.
Among their newer features returns to vendor, which allows you to manage merchandise returns due to damaged products, shipment errors, or customer warranty returns.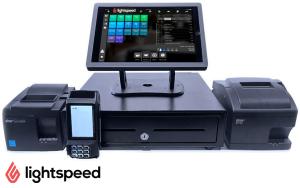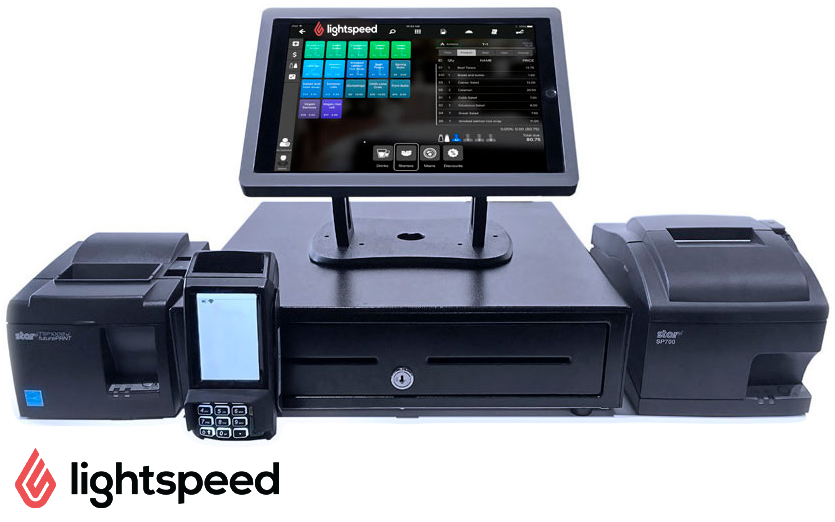 You can also easily track unit costs and shipping fees to stay on top of your budget concerns.
If you have multiple locations, you'll have comprehensive inventory functionality.
You can transfer merchandise between locations, and you have full visibility of all inventory in stores and in the warehouses.
You can also set different prices for the same SKU on a store-by-store basis, helping you maximize your profit margin. If you're a retailer that offers services as well as goods, Lightspeed Retail's got you covered.
In addition to pricing goods, you can create estimates or quotes, service and repair orders, and define labor costs. Yes, service-related retail just got a little bit easier!
Various Price Points 
Lightspeed Retail comes at various price points, depending on how large your business is.
The cheapest plan is their small plan, which is $99 a month for a single register, with access for up to five employees.
With the medium plan, you get up to two registers and access for ten employees, all for $169 a month.
These prices aren't cheap, and if you want to add more registers or employee accounts than your plan allows, you'll have to pay extra.
But all plans include 24/7 support, secure cloud backups, omnichannel capabilities, and free software updates.
Cloud-based
Lightspeed Retail is the cloud-based version of the company's locally installed POS system. So while it's similar to other Lightspeed products, it's all stored in the cloud.
But the system itself is hybrid, so you can install the POS and save data on your mobile device.
Customer Support
Like with most POS systems, Lightspeed Retail provides 24/7 live phone support.
However, this excludes holidays, which may be an inconvenience if you find holidays to be a busy time for your business.
Live chat support is also available but limited to the hours of 11AM to 8PM EST. This, at least, matches the prime opening hours for retailers.
If you're fine troubleshooting any issues on your own, you can look into their extensive online resource library.
Downside
While Lightspeed Retail has a lot of features and can function as your all-around POS option, it's not the fastest software out there.
Due in part to the complexity of the system, it's not easy to make on the fly adjustments to inventory or pricing.
The system's cost is also a bit high compared to other options, even for the cheapest plan.
Verdict
With Lightspeed Retail's pricing model, it's suitable for the more established businesses. Small retailers will find other options at a more favorable price point.
Lightspeed Retail's plethora of features also makes it attractive for businesses that have a lot of inventory and employees to manage.
4. Clover POS – The Best POS Solution for Your Shoe Shop


The Clover POS system is a complete out-of-the-box solution that combines customizable software and hardware components.
This serves a wide range of business needs, from small business to large establishments. This POS solution is perfect for most retail establishments, including clothing stores, bike shops, and shoe stores.
When it comes to the apps you may need, Clover is one of the most adaptable POS systems on the market today. It has got more than 300 different applications to choose from.
Some of these apps are free, others cost extra. We will have a closer look at some of the most popular apps that integrate with Clover POS in one of the following paragraphs of this section.

Clover Plans Cost
The pricing policy of Clover is a bit complicated. Learn more: Clover Pay Processing and Pricing
Clover POS Accessories
There also are some accessories that you can buy directly from Clover to upgrade your POS configuration. 
Clover POS Weight Scale
If you sell stuff by weight, then you can purchase a weight scale from Clover to help you calculate how much money you make a day. To use the weight scale, you've got to sign up for the Register plan.
Barcode Scanner 
The Barcode Scanner lets you capture two-dimensional and single-dimension barcodes from phone screens, paper labels, and more. This will help you manage your inventory more efficiently.
Clover POS Customized Cash Drawer
 If you purchase a Clover Station, it will come equipped with a functional cash drawer to keep your earnings safe.
A Closer Look at Clover Pos's Main Functions 
In the paragraphs that follow, we shall have a closer look at some of Clover Pos's most important functions that may eventually make you want to have this product.
Inventory Management and Orders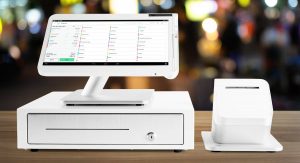 As any budding merchant knows, a good and reliable POS system can do much more than simple transaction handling. A field where Clover POS definitely excels in is orders and inventory management.
Even the affordable Register Lite plan comes with practical inventory management tools that can automatically track and categorize items in your portfolio.
The more expensive Register plan offers a wide variety of advanced inventory functions that support modifiers, too.
Clover POS's Register plan supports up to 2,000 modifiers, 100 modifier groups, and 15,000 items across 100 categories.
Should you need even more functions, then you can access thousands of inventory management apps on Clover POS's marketplace.
The Register plan also offers an array of practical order management functions.
Clover POS's Virtual Terminal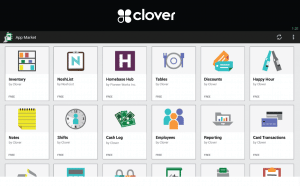 The Virtual Terminal is for managers who are always on the go.
It allows them to accept payments even when they are away from their Clover POS home base.
The Clover Virtual Terminal lets you process payments, refunds, and carry out other such operations. To access the Virtual Terminal, you need to log into your Clover account from a smart device.
The Clover POS virtual terminal comes at no extra cost per month. This means that you are billed per transaction at the standard keyed-in rate.
The application is PCI compliant and secure so that you can access better peace of mind too.
The Virtual Terminal also lets you send receipts for compliance purposes via email or text. You can use the collected contact data for future communication with your customers.
Clover POS's Employee Management Function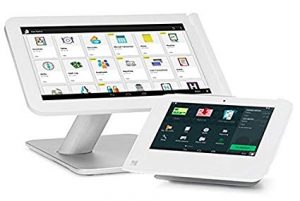 The Clover POS system facilitates the remote management of your employees.
You can set different permissions for the different staff levels, or add employees to your system. Clover POS also lets you track shifts if you run a 24/7 car service place. 
From your admin account, you can log into your employees' management services at any, to change roles, permissions, as well as contact information.
You can also run reports to check which of your employees are making the highest number of sales.
Clover POS's Reporting and Analytics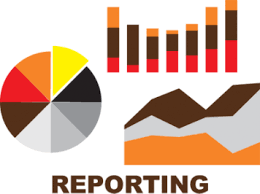 Our testers have found out that Clover POS's sales reporting and analytical functions are pretty decent.
For example, if you use a Clover Station, you can access a By Payments report and see a summary of all the transactions made within a specific period of time.
There are also cash reports, payments by card type, and general payment statistics.
All of the reports available from the Clover POS can be sorted by time and date and filtered according to your specific requirements. Reports can also be exported and printed for deeper analyses.
This way, you'll be able to see your best-selling items and monthly trends The Sales-At-A-Glance function lets you track revenue with ease.
The Reports & Analytics functions of clover POS also let you track sales in real-time and see aggregated data across multiple locations and check end-of-day reports that include gross sales and refunds. Finally, you'll be able to see the volume of your credit card transactions sorted by card type.
Clover POS's Customer Management Capabilities
Your Clover POS system allows you to build your own Customer Lists and accept Feedback From Clients by issuing Digital Receipts.
You can also set up a comprehensive Loyalty Program, and send vouchers and gift cards to your most loyal customers.
While digging deep into Clover's customer management functions, we were impressed by its wide variety of physical and virtual Gift Cards that are designed to cater to multiple tastes.
Your valuable customers will be able to access and use their gift cards via their mobile devices, which makes receipt issuance a lot easier.
The owners of a Clover Station POS get the Clover Loyalty features included in their package. 
Clover's Most Popular Apps
With Clover apps, managing your retail store is so easy that you'll wonder how you functioned without them.
Here are some of the most popular apps for facilitating routine tasks and saving many precious hours of your time.
Clover's Time Clock is by far the most popular app on their virtual marketplace. The app has bee developed by by Homebase, it is free to download and saves you the hassle of staff management.
Insights is another top app by Clover that is free to download and use. It basically shows you how your retail business is performing against your competitors in the sector.  
The Clover Gift Cards app is a popular application for producing and managing your own branded card. The company creates a card with your business logo, while the app lets you add money to customers' cards, redeem them, track usage on-screen, etc.
If you need to manage and control your payroll, you can purchase the Gusto app from the Clover Marketplace. 
Other popular and useful apps that can be integrated with Your clover POS system include Yelp, Quickbooks, Woo, and Payroll Sync. 
Is Clover POS A User-Friendly System?
Clover POS prides itself on being a very user-friendly solution for small and medium-sized businesses. In fact, the whole system arrives fully-tuned and ready to go.
Thus, it has a very small learning curve. Your employees alike shouldn't have much trouble picking up everything that they need to know about the system within a few hours of basic training.
Most of the available apps on Clover's Marketplace are clearly labeled and self-explanatory. Additionally, the hardware is designed to work together seamlessly.
Customer Service and Support
The First Data Company is primarily responsible for providing technical support to the users of Clover POS across the USA. However, you can also get technical help from your local Clover POS dealer.
Unfortunately, Clover users are not very happy with the kind of support they've been receiving from First Data.
They have cited everything from dodgy responses to impolite customer service representatives.
So, we advise you to check out Clover's Self-Service Center, where you can find many troubleshooting tips, an exhaustive FAQ section, and many user guides. Some of them even include video tutorials.

POS Nation is the top solution for small retail businesses. Their services are extremely easy to use with little to no learning curve. This is an all-in-one platform designed to help retailers run their store in an efficient manner all while growing their business. 
POS Nation Pricing
The pricing options from POS Nation can be a monthly payment plan or a one time bulk purchase. The monthly 'flex' plan is $99/month which allows you to pay monthly for the software and rent any needed hardware from them. The advantage to this is that you can cancel at anytime and send your equipment back. You can also do a one time 'freedom' purchase of $999, which allows you to purchase and own all of your POS hardware and use POS Nation's software free of charge. If neither of these plans sound like the right fit for you, there is also an option to work with the team at POS Nation and custom build your own payment plan based on the needs of your business.
At a Glance: POS Nation's Top Features
Streamlined Inventory Management 
There is no limit to the amount of products and inventory that the database can hold. The inventory management aspect of POS Nation makes it so that retail business owners can enjoy a "hands off" experience, rather than devoting unneeded time to trying to keep up with what is in stock. The management system provides stock reorder points, low inventory notifications, and automated purchase order options.
Customizable Hot Keys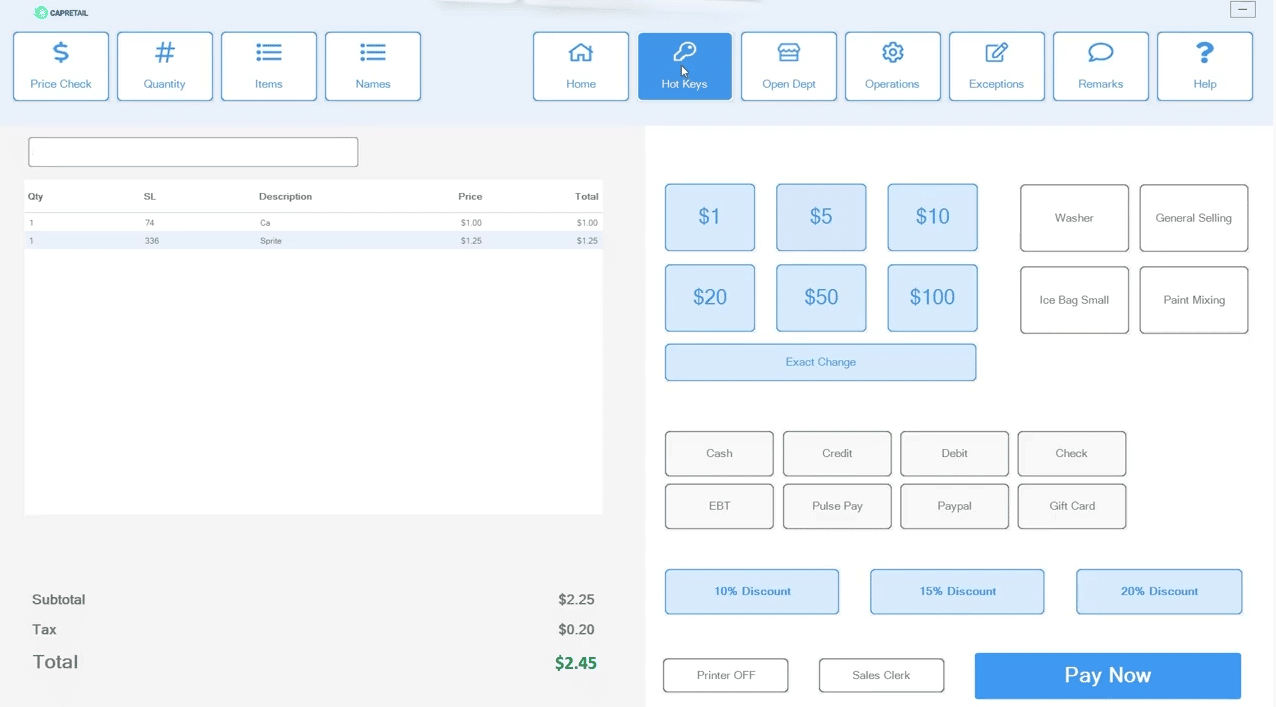 Make product look up a breeze with the customizable hot keys feature. The hot keys can be customized with associated product images, to make checkout a much faster process. This also eliminates cashier error by allowing the cashier to select product photos, and avoiding large amounts of time at checkout sifting through PLU numbers. 
Built-In Loss Prevention
There are several features offered to reduce shrinkage at your business. There are blind drawer counts, custom codes provided to track inventory depletion (and any discrepancies). In addition, there are customizable employee permission settings to help mitigate shrinkage.
Robust Employee Management
POS Nation makes employee management "pain-free". No matter how many employees that you are managing, keeping a detailed eye on every individual can certainly be challenging. Employee management and scheduling has never been easier. Features such as employee level pay rates, quick clock-in and clock-out access, productivity tracking, and more will allow you to make better staffing decisions.
One-Click Printing 
Every retail owner knows how important it is to print barcodes and labels for products. There are a list of preset label options that lets you customize, click, and print in just a few seconds. Also enjoy a custom label maker that allows you to change any of the settings from size to font to  perfectly fit any inventory item that you may have. 
Detailed Reporting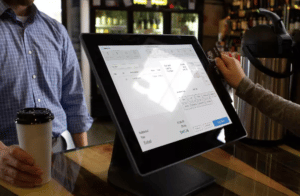 One of Square's biggest advantages over the other candidates is the business management reporting. There are over 55 prebuilt reports with additional customization options available. You can analyze any aspect of your business at any time, in any format that you would like. Their system really excels at tracking and analytics to provide you with the most actionable insight possible. 
Hardware
For most small retail owners, taking advantage of POS Nation's $99/month flex monthly plan will be the best bang for your buck. You can choose several hardware bundle options based on the needs of your business. For example, you can choose to add customer display screens, barcode scanners, and barcode printers. There are also hardware upgrade options to choose from when getting your pricing quote. Some of the upgrade options include thermal printers, pinpads, back office computers, tablets, monitors, and cash drawers. If you are starting from scratch with POS Nation, it will be a great choice for you. Any hardware that you need can be purchased or rented from them in just a few clicks.
Software
Some additional software features from POS Nation include:
Customer Loyalty Programs
AR/AP Tracking
Security Protocols to Encrypt Customer Data
Real Time Mobile Dashboard
Secure Cloud Data Backup
Website Integration Options
The software also integrates with Quickbooks to keep all your accounting and business management systems in one convenient and easy-to-access location.
6.RetailPro – The Best POS Solution for Your Chain Store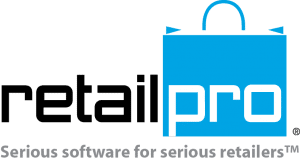 RetailPro is of our top picks for retail pos system for chains.
Furthermore, it is an efficient retail management software platform featuring inventory management, promotions, customer management, back office.
In addition, it offers KPI reporting capabilities with over 150 prebuilt reporting templates.
7.Shopify POS – The Best POS Solution for Online Commerce
Shopify POS is an online leader in the e-commerce arena for a long time.
Shopify POS System is great for retailers' mainly because it offers eCommerce integration.
Most retail stores require ecommerce integration in order to stay competitive. The days only operating a brick-and-mortar retail store are becoming a thing of the past.
Therefore, Shopify POS system made it to the top of our list. We put together a detailed review including Shopify POS pricing, features and how to get started with the system.
8. Erply POS – Best Retail POS system for Shoe Store

Erply POS is one of the most versatile POS systems for retail businesses.
However,  the system is especially robust when implemented as Shoe Store POS System.
One of the Erply's biggest customers is the Athlete's foot(with over 400 stores) Read our detailed review of that system.
9. Rain POS – All In One Retail POS System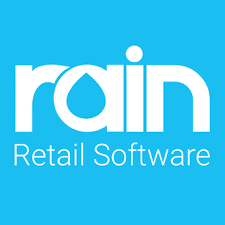 Rain retail software is a cloud-based point of sale (POS) and an integrated website solution that is Mac OS and Windows compatible.
Rain is an all-in-one platform designed for small to medium-sized specialty retailers It is typically used at ski and snowboard shops, scuba shops and other extreme sports gear retailers.
The system has earned its spot in our table owing mostly to its supreme multi-store capabilities.
In addition, Rain's real-time POS and web store are integrated through a single database. This means that inventory levels are always accurate in-store and online.
With access to Wi-Fi or a mobile hotspot, employees can check or update inventory, make sales, process rentals or work orders from anywhere inside or outside of their store.
Managers also have user management and permission controls to grant employees only the level of access they need.
The feature list goes on with unlimited user accounts, CRM, loyalty program, reports, inventory and order management, service and repair tracking, QuickBooks integration, email and marketing, and social media integration.
How Much Does Rain Pos Cost?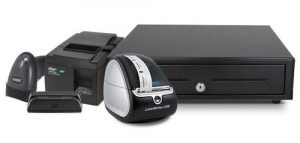 Unfortunately, there is no much pricing information on the provider's official website.
However, it is clear that the Rain Pos does not charge any upfront costs for its product. Basically, you only pay a monthly subscription fee.
The provider also offers a free demo showing how to best use its POS system.
Thus, you will be able to experience its capabilities firsthand before you decide to invest in it. Should you decide to implement this POS solution at YourShow, you will be charged $99 per month/location.
If you decide to increase the hardware or terminals in your business, you will be asked to pay more. To get an accurate quote, you need to get in touch with the company.
Rain POS Best Features
With the features listed below, the Rain POS has been proven to enhance sales in retail businesses by up to 20 percent.
Automatic Data Backup
The system automatically backs up all your business data securely in the cloud. From there, you can access the information wherever you are from any device that has an internet connection. 
Inventory Management
The Rain inventory management feature is always synchronized with your POS. It is designed to sync instantly and automatically whether you are accessing it online or in-store.
Tracking of Repair and Service
Rain POS features an integrated service tracking capability. It will automatically alert you if inventory items required service or maintenance.
When the item has been serviced, the system will automatically notify the owner so that they come and collect it from the shop.
E-Commerce Integration 
To get this feature, you have to integrate your business website with this POS system.
Thus, your online inventory will be automatically updated whenever an item is added or sold. This allows your customers to see what is in stock before driving to your retail store.
Rental Management
Rain POS offers an array of rental management capabilities that are suited for retail businesses. With this system in place, you will be able to:
Create Rental Packages 

Set Variable Rental Periods

Customize Deposit Amounts

Generate Reports

Determine Late Fees
Automated Marketing Tools
Rain point of sale system is equipped with marketing tools to help you boost your sales. Some of the main marketing tools you will get with your Rain POS system include:
Email marketing

Coupon emails

Social media reviews
Rain POS Customer Service
To its loyal customers, Rain POS provides customer support over the phone, during regular business hours, as well as via email or online.
10. Epos Now – Retail POS with Water-Resistant Touch Screen


11. Nova POS – The Best POS for Retail Kiosks

12. SalesVu POS  – Ipad Based Retail POS System
SalesVu is a cloud-based POS solution that caters to small and medium-sized businesses.
Its most notable include an iPad and iPhone-based POS setup, eCommerce platform, inventory and vendor management dashboard, cloud-based accounting and sales analytics. 
SalesVu caught our eye because it offers a wider range of services than its mobile-first competitors, such as an app builder, shift management, invoicing, waitlists, and self-service tools.
Discontinued Support for Android Tablet
According to a company representative, SalesVu has indefinitely suspended development and support for Android tablets, but the company will continue to develop for Android phones. 
The system also offers employee scheduler and labor reports, customer management, as well as reservations & orders management.
The system's best application is in the service sector – cleaning services, fast food deliverers and food trucks.
How Much Does SalesVu Cost?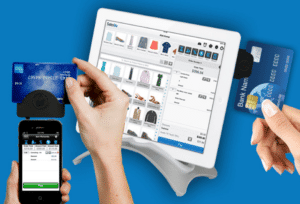 To begin with, SalesVu offers its potential customers a 15-day free trial.
Presently, the company requires merchants to obtain integrated credit card processing through Vantiv, EVO Payments International, or WorldPay. SalesVu has not specified the standard pricing that its partners offer.
This means that merchants will have to negotiate the details with their providers.
All of SalesVu's preferred processors provide competitive per-transaction fees with few recurring or incidental fees.
To give you some idea about SalesVu's rates, we have taken into account the standard WorldPay, one of SalesVu's preferred processors:
Swipe Rate: Up to 2.90% + $0.30

Keyed-In Rate: Up to 3.30% + $0.30

Business Apps Fee: $15 Per Month

Basic Membership: $75 Per Month

Advanced Membership: $150 Per Month

Early Termination Fee: Up to $295

PCI Compliance Fee: Up to $25 Per Month

Equipment Cost

Fee: $25 Per Additional Terminal
SalesVu Most Notable Features
As we said above, SalesVu is the POS system for i-People. From the screen of their iPad or iPhone, they can perform the following operations:
Debit and credit card processing

QuickBooks integration

Repetitive billing

Gift and loyalty programs

Inventory management

Marketing integration

CRM
Customer Service & Support
SalesVu does not have a central help center. Instead, each merchant should contact their POS service provider for help and support.
The company's website lists an email and phone customer support.
SalesVu rates as a reliable payment processing service.
We could find few negative reviews of this POS service provider online and it also and appears to offer competitive contract terms through its processing partners.
13. Epicor Retail POS – Best Retail POS For Hardware Store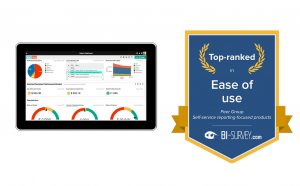 Epicor retail POS and business management solutions are designed to help independent retailers work smarter, not harder.
With more than 45 years of experience built-in, Epicor retail solutions help retailers in nearly 8,000 locations.
Epicor provides powerful retail solutions for your entire business, including POS, Inventory Management, Analytics and Reporting, eCommerce, and more.
Epicor Retail Management is designed for hard goods retailers to give them the tools and functionalities they need to streamline their processes and integrate their channels.
How Much Does Epicor POS Cost?
There is not a free version of Epicor Retail, neither does Epicor Retail offer a free trial. That said, you've got to personally contact the company to get a quote.
From the information available online, it becomes clear that the whole integration of Epicor POS is going to cost you around $20,000.
Epicor POS Features
If we sift the facts from the word fluff, we come down to the following key features that this POS solution offers:
Gift Card Management

Loyalty Program

Multi-Location

Retail POS

Returns Management

eCommerce Integration
Staff Training Options
To use these features in the best possible way, you've got to go through some basic training. It appears that you can receive this training through the following channels:
In-person

Live Online

Webinars

Documentation

Discount Management

Electronic Signature
Epicor POS Customer Support
The company vows that its customer service representatives are available 24/7, but you can also seek technical help online.
Honorable Mention: Lightspeed
Retail POS System Costs 
How much it's going to cost you? This is probably the most important question you have to answer when shopping around for the best retail POS system.
Retail POS Systems Monthly Costs 
| System Name | Pricing | Ratings |
| --- | --- | --- |
| Revel POS | $119/month per register | 4.9/5 |
| Vend POS | $99-$129 per month | 4.7/5 |
| Lightspeed Retail | $99/month for single register | 4/8/5 |
| Clover POS | $14+ month per device | 4.5/5 |
| Square POS | No monthly fee | 5/5 |
| RetailPro | Unknowns | 4.5/5 |
| Shopify POS | $9+ per month | 5/5 |
| Erply POS | $39+ per month | 4.5/5 |
| Rain POS | $99/mo per location | 4.6/5 |
| Epos Now  | $39+ per month | 4.7/5 |
| Nova POS | $89.99+ per month | 4.7/5 |
| SalesVu POS | $75+ per month | 4.5/5 |
| Epicor Retail POS | $20,000 one-time payment | 4.5/5 |
After all, you will anyway pick up a product that works best for you and is, at the same time, within your budget.
Listed below are some of the primary costs associated with retail Point of Sale system integration:
| | |
| --- | --- |
| Expense | Average value  |
| Hardware costs   | $500 to over $2,500 depending on the size of your store |
| Software costs | Between $50 and $175 per month for one location |
| Installation cost | $0 to $75 per manhour |
| Training costs | Between $75 and $100 per manhour |
| Implementation costs | Your total POS implementation costs may vary between $4,500 and $6,500 |
Of these, the monthly fee you are going to pay is probably the most important cost to factor in.
This fee will depend on the user plan you are going to choose. See the table above for more detailed information.
Frequently Asked Questions 
In this section, we are going to answer some of the hottest and highest-trending questions about the POS systems that are currently on the market.
What is the best retail POS system?
As of October 2019, the best all-round retail POS System is Square POS, which is in the second position in our table. 
What is a retail POS system?
A retail point of sale system typically includes a cash register, a computer, monitor, cash drawer, receipt printer, customer display, and a barcode scanner.
All retail POS systems also include a debit or credit card reader.
What is the best POS system for a small retail store?
Prestigious online tech editions unanimously rate Shopify POS as the best POS system for small retail businesses. 
How do I choose a POS system for my retail business?
Read our Buyer's Guide above, to find out the most important retail pos features. 
What to consider when buying a retail POS system?
First, it should work well for your business. Next, it should be within your budget.
Third, your staff should be able to use it without any stress.
Finally, it should have room for upgrades of the software and hardware alike.
How long does it take to install a retail POS system?
The POS software is installed on the POS server. While it is being installed, the system configures its databases.
Depending on the software and the system, the process may take about one hour to complete.
Installing the hardware architecture should not take long either. If you feel unsure of your tech skills, do not hesitate to call in a trained professional. 
What are the possible challenges in integrating a new POS system?
We have found the top eight challenges that can set back your POS system integration. You can find them listed below:
Security issues

Hardware charging issues

Inaccurate reports

Staff's learning curve is too long

Software issues

Customer management problems

Compatibility issues

Connectivity problems
Additional Due Diligence 
In the paragraphs above, our devoted experts have tried to synthesize all the important info on the subject of retail POS systems.
It has been our intention to give you only the facts and figures, without any unnecessary embellishment.
Armed with these facts and figures, you can now confidently go shopping for your brand-new POS system that will take your retail business to the next level.

Connect with POS Vendors 
We do encourage you to contact the POS system providers that you have shortlisted and ask them about any hidden costs.
Additionally, you may want to ask about binding clauses in their user agreements.
When reading the contract that you are going to find, take your time to read even the smallest print.
Pricing 
When choosing your pricing plan, remember that the cheapest option may turn out to be pricier in the long run.
A wiser choice will be to go for the medium pricing options and inquire about any discounts and promotional terms that are available to new users.
Better still, try to negotiate a custom pricing plan, tailored to the needs of your business.
Should you have any other questions about retail POS systems, do not hesitate to reach out to us!