(Last Updated On: 07/29/2022)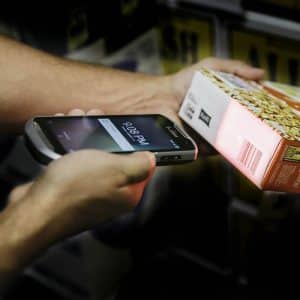 In today's day and age, every field's primary requirement is to be productive. Productivity falls into a category of ease, safety, robust, and better functionality.
Thus, Zebra TC51 is a great idea to solve the low productivity issue in your enterprise. Be it a medical clinic or a retail business. 
Using conventional enterprise devices like POS terminals only increase the fatigue and not the profit.
However, Zebra offers one-touch access to all the features workers need the most, auto capturing and processing of the documents, scanning, and all that with the super-fast speed.
As for the design, this device embraces 5" capacity touch panel for the advanced graphics-intensive applications. 
Moreover, the security of the device can keep the user's data safe from any unauthorized personnel. Users have tested in even the most intensive cases where the number of transactions was huge and it worked without any hesitation. It's truly a next-level touch computing experience for the enterprises.
What is Zebra TC51?
Zebra is a smartphone with an integrated barcode scanner. This device is more than the conventional POS terminal device, scanner, or smartphone. It is an all-in-one enterprise device. The workers can use it to compute the invoice using the scanner.
Or they can use it as a simple smartphone. The Zebra TC510K is filled with features that guarantee an increase in productivity and profit. And in this Zebra TC510K, you will know what features make this device better from its competitors.
Top Features 
Rugged Body and Big Screen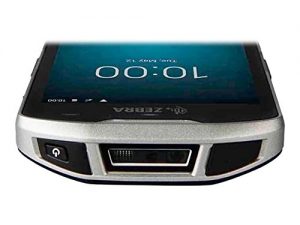 One thing that makes navigation easier is a bigger screen. This device comes with a 5 inches screen that makes operation easier. The body of Zebra TC51 is sleek but rugged. It can withstand 5 feet fall on concrete.
And the gorilla glass saves the phone from any scratches. But this is not it. This handheld touchscreen computer is waterproof. So, even if your employee accidentally spills juice on it the unit would be fine.
Active Edge
During emergencies or rush hours, workers do not have time to browse through the app gallery to find the one they need. Zebra TC51 has a smart active edge on both sides of the screen. Here the employees can easily set shortcuts for the app they need the most for extra productivity.
Advance Touch
How many times have you seen a worker struggling with the touch screen? Wearing gloves can make negotiating the touch mobiles difficult.
A similar problem arises when the hands are wet. But with the advanced technology of Zebra, the screen can be used with gloves on. And if the worker's hands are wet that is not a problem either.
Scanning Performance
Well, the main reason any enterprise would get Zebra TC510K is for the embedded barcode scanner.
The device has more features but this barcode scanner alone can sell dozens of units. Because it can scan more than 1D and 2D barcodes super-fast. Even if the codes are dirty or old the performance will not be affected.
On top of that scanning, the codes from near or far are equally easy and quick. The device is also beneficial for health workers as they can scan patients' wrist bands. The barcode scanner has the SimulScan technology that increases the scanning process.
Zebra TC510K Processor and OS System
The most important feature to look for in a handheld touch computer is the processor. If the device has the processor from 2010 then good luck with the productivity. Zebra TC510K has a 1.8 GHz Hexa-core processor 64-bit processor. With this CPU your workers can run multiple apps on the device without lagging.
This multitasking also improves overall productivity and saves time. Zebra is offering 6.0 Marshmallow with TC510K. The system can be updated to 7.0 and 8.0 but that is a paid service which can be a problem as the device is already expensive.
Ultra High-Resolution Camera
TC510K has a better camera than most of the other handheld computers. With the high quality 13 MP camera, the employees can take Ultra High-resolution photos.
Power Management
For a handheld computer, the battery performance can make or break the deal.  Zebra TC510K not only has a high-performance battery but the power management is also top-notch. One shift can last anywhere from 5 to 8 hours in retail. Furthermore, the workers use the computer almost every minute.
This is the reason this Zebra TC510K is offering a 14 hours battery so the work never stops. In addition to that, the 1.8 GHz processor uses 15% less power than its competitors. The battery is removable so, if you forgot to charge the battery then simply use a different one.
Crystal Clear Voice Calls and PTT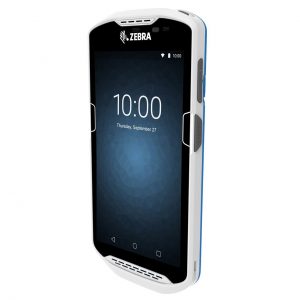 You should not be running after your workers to give those tasks. But other POS terminals do not have to call features. Well, this device works as a smartphone as well. And you can make as many calls as you want or simply use text features.
With the high-quality speaker and voice canceling microphone, the voice would be clearer on both sides. This computer has a pre-installed and pre-licensed PTT or Push to Talk Express. Which makes it easier to call any of the enterprise phones. This specific feature makes team collaboration easier and more effective.
Fastest Wireless Connection
Zebra TC510K can connect easily with the enterprise's Wi-Fi for the internet. But what to do when they are on the field? Well, this device supports 4G LTE cellular data as well. So, your workers can stay connected when they are not on the premises. Just another feature that prevents work from stopping.
Zebra TC510K Specs
Dimensions
6.1"L x 2.9"W x 0.78"H
Display
5" HD touch panel
Weight
8.8 ounces
Power
4150 MAh rechargeable li-ion battery
CPU
Snapdragon 64-bit Hexa-core 1.8 GHz
Android System
6.0 Marshmallow
Memory
Standard; 2GB RAM/16 GB Flash
Optional; 4GB RAM/32 GB Flash
Camera
13 MP
Scanning


SE4710 imager 1D and 2D

Scan Range 39 barcode
Highlights
Gorilla glass protected screen

Water- and 5 feet fall-fall proof body

Dual-sided application shortcut active edge

4150 MAh 14-hour worth battery

Pre-installed and Pre-licensed PTT express

Embedded high-tech barcode
Pros
Snapdragon 64-bit 1.6 GHz Hexa-core processor provides better performance and saves battery.

The 2D barcode can scan the codes faster and from distance.

Zebra TC510K is a lightweight device that workers can carry in their pocket.

A rugged and waterproof body offers durability.

Longer battery life is enough for one full 8 hours shift.

Zebra TC510K can be connected with enterprises' Wi-Fi but it also works on 4G cellular data.

The touch screen can be navigated with wet hands or gloves.

Pre-installed PTT and high-quality microphone enhance voice calls with employees.
Cons
Only 1-year warranty

OS update is paid

The device starts charging on default when connected to a PC
Verdict
Zebra TC51 is one of its kind. This handheld touchscreen computer is nearly perfect. The model does have a couple of flaws. But its features outweigh the flaws. Using a handheld computer gives the workers the freedom to do work efficiently.
The scanner is the best feature of this device along with the lag-free processor. The build of this device makes the product durable and it comes with a 1-year warranty.
Overall the product is good but not suited for small businesses. So, if you are a small retailer you can get a separate barcode scanner. But for bigger enterprises with more employees, the device would be a reasonable purchase.