(Last Updated On: 02/12/2023)
Written by: Software Expert Hamza Shahid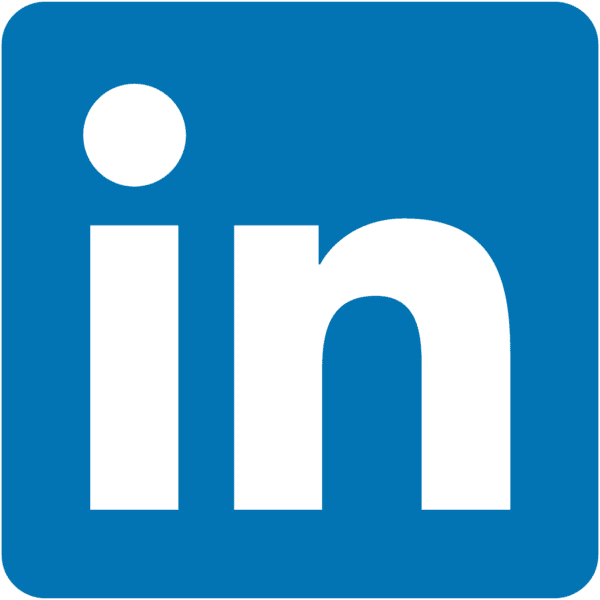 Affiliate Disclaimer: Our product review team dedicates hours of research, fact-checking and testing to recommend the best solutions to business owners. We earn from qualifying purchases through our links, but this does not influence our evaluations. Why trust our reviews?
As Shopify already has dominance in the world of online retail, a spectacular POS system was inevitable. It was only a matter of time before it became a reality. With Shopify's modern ecommerce services, small businesses can process secure online sales within seconds.
Shopify POS Review
Shopify POS System

Pricing: Good 

Features: Good

Customer Service: Excellent 

Contract Length: Excellent

Integrations & Add-Ons: Excellent

Reviews: Good
Don't have time to review all the specifications and features? Here's a quick navigation menu for the best omnichannel software for retail – Shopify POS System.
Shopify POS System – Overview
In 2013, Shopify launched a point-of-sale system app, allowing the brand to enter the physical retail world. Naturally, the Shopify POS system can integrate easily with the Shopify web store. In case you're planning to be an Omnichannel retailer, you'll see how Shopify's POS system offers total shopping flexibility. Customers can browse your online store one day and purchase their purchase the next.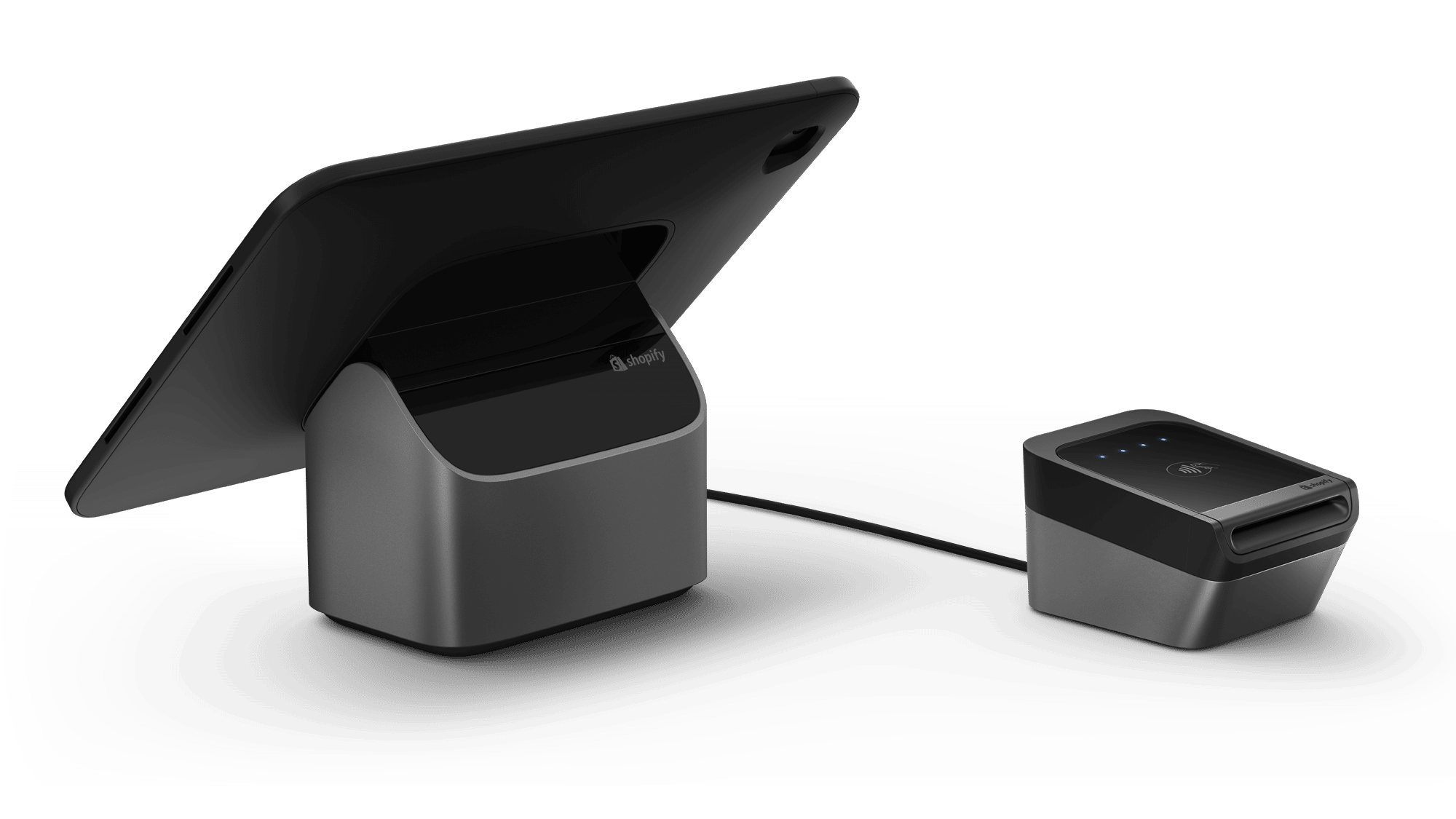 Besides reviewing features and software support, we also analyze usability, pricing, and other aspects of Shopify's POS platform. The Shopify POS system appears to offer growing benefits to customers and retail employees alike as the world shops and works remotely more and more.
You can download Shopify POS mobile apps for your business smartphone or tablet to use at any time. It works very simply. The key to its success is ease of use, affordability, intuitive design, flexibility and durable software performance. For brick & mortar stores, pop-up shops, and market stalls that want to take payments without heavily investing in infrastructure, this is a near-perfect POS system.
What is Shopify POS?
The Shopify POS system is a cloud-based retail point-of-sale system made specifically for retail. It's affordable, easy to use, and convenient to set up. 
Shopify POS at A Glance
Shopify POS is an excellent choice for retail businesses because of its reasonable pricing, intuitive design, and excellent customer support

With Shopify POS, you can set up your business instantly, navigate it easily, and integrate it with your online store.

With Shopify, you're always on top of POS trends with updated features such as improved inventory, online ordering, and QR codes

For businesses selling both online and in person, Shopify POS is a great choice, because it syncs directly with Shopify ecommerce

The offline mode of Shopify POS is not as well developed as its online mode, but its features are plenty
Shopify POS Features – Shopify POS Lite vs. Shopify POS Pro 
The Shopify POS software comes in two versions: Shopify POS Lite and Shopify POS Pro. Shopify POS Lite comes standard with every Shopify monthly plan, while Shopify POS Pro offers additional features.
Shopify POS Lite
Shopify POS Pro
Tracking inventory across sales channels and locations.
Multi-location inventory with collections and variants.
Individual login PINs for staff members.
Online and in-store discounts and promo codes.
Certain products can be tagged with QR codes for checkout.
Encourage customers to purchase items they like by emailing them.
Contact information and order history for each customer.
Special requests can be included in order notes.
Calculates taxes automatically.
A custom receipt can be emailed or sent via SMS.
Automated inventory updates for return processing.
Cash tracking, basic inventory reports, and financial reports are included in the reporting.
Card readers and accessories compatible with Shopify.
Integration with Shopify Payments.
In addition to the features with POS Lite, Shopify's POS Pro includes:

Local pickup and delivery orders, as well as exchanges in-store.
E-commerce checkout cart retrieval.
Printing receipts according to your specifications.
Creation of purchase orders.
Analyzing sales and inventory to forecast inventory levels.
Products are transferred between locations and inventories are tracked.
Alerts when stock levels are low.
Performance-based suggestions for sale items.
With barcode scanning, inventory matching and receiving counts can be performed.
Reports on inventory in detail.
Sales, product, and staff performance reports are provided each day.
Tracking of sales by employees.
Access to POS is unlimited for non-admin staff.
Permissions and roles for staff.
Actions like discounting require manager approval.
Pros of Shopify POS
Trial period of 14 days

Tools for managing inventory and Omnichannel sales

Interface that is easy to use and intuitive

E-commerce system of excellence

Checkout on your mobile device can be customized

The ability to integrate with multiple payment gateways

Integration with ecommerce

User-friendly interface

Provides a variety of payment options
Cons of Shopify POS
A limited number of offline modes are available

A limited number of features are available in free POS

Subscription required for ecommerce

A bit pricey

Card readers are disconnected and there are reports of downtime
When to Use Shopify POS System
A Shopify POS can be used in almost any retail setting, including brick-and-mortar stores, markets, and pop-up shops. In addition to tracking your orders and inventory across retail locations, online stores, and other active sales channels, Shopify POS also allows you to manage your store's orders from the app. It is best for:
Shopify Online Ecommerce Store, with Shopify, you have free access to POS software

The best multichannel POS system on our list is Shopify

Shopify's integration with Facebook, Instagram, and TikTok makes it the best solution to sell on social channels
How Much Does Shopify POS Cost?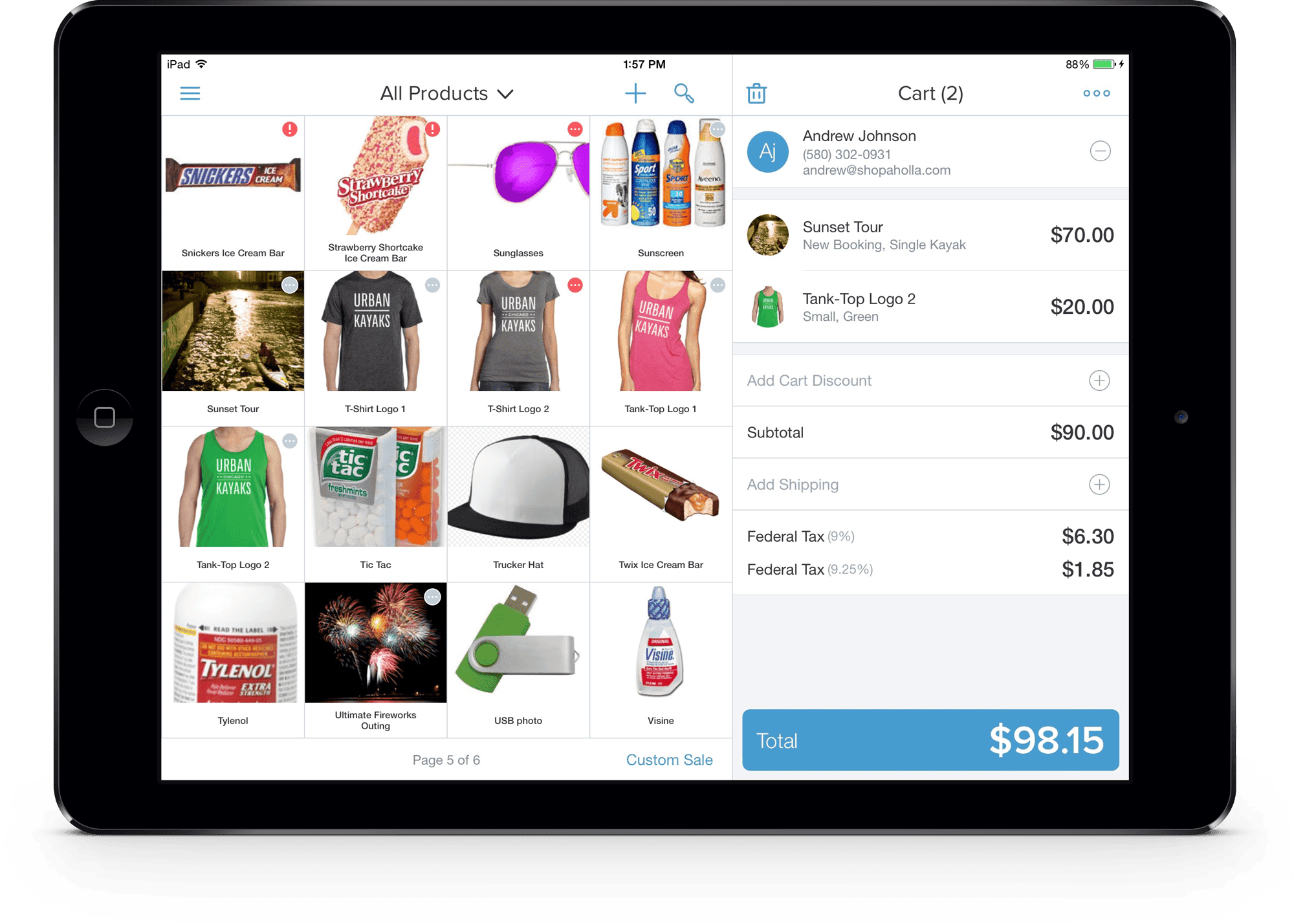 With Shopify, you will be allowed to set up your store and pay the software subscription fees later. In this regard, the provider allows you to try the software risk-free for 90 days. During this trial period, you will not be required to provide credit card information. The provider does not charge any setup fees, regardless of your preferred Shopify subscription plan. Total cost of Shopify consists of software, hardware and payment processing costs.
Here are the three main Shopify monthly subscription plans you should consider: 
Basic Shopify ($29/Mo)
Being the most affordable Shopify retail subscription plan, Basic Shopify only offers basic POS and retail management capabilities.
As such, it is only suited for startup and smaller retail businesses. The plan includes an ecommerce website and a blog and support for unlimited inventory items.
With this plan, you will be able to manage up to four locations from a central location. It supports up to two staff accounts and includes reliable, 24/7 customer support.
Some of the capabilities of the plan include discount codes, a free SSL certificate, abandoned cart recovery, gift cards, and manual order creation.
Shopify ($79/Mo)
As your business grows, you will need to scale your POS system to accommodate new requirements. For just $79 a month, the Shopify software subscription plan will offer you just that. This plan will offer you All the features and capabilities of the Basic Shopify plan discussed above. 
Additionally, the provider offers support for up to five staff accounts, up to five locations as well as professional reporting capabilities.
Advanced Shopify ($299)
This plan will offer you even more advanced retail POS and management features to scale your business. With this plan, you will get all the capabilities of the two subscription plans mentioned above. The advanced Shopify plan also features support for up to eight locations and up to 15 staff accounts. 
Additionally, you will also get advanced report builder tools, as well as third-party shipping date calculating capability. 
Shopify Plus (Quote-Based)
This is the Enterprise POS solution of choice for a considerable number of multi-location chain retailers in the country. It is only suited for large-scale businesses. Since business requirements at this level vary from one business to another, the plan is Quote-Based. 
Contact the provider directly for an accurate quote of the plan based on your specific POS software and hardware needs. 
All the prices listed in this review do not include state tax. Again, you need to note that the provider offers a 10% discount for annual software subscriptions. If you happen to opt for a biannual subscription plan, you will bet a 20% discount. 
Software Pricing
Using Shopify POS requires a monthly Shopify ecommerce subscription.
| | | | | | |
| --- | --- | --- | --- | --- | --- |
| | Shopify Lite | Basic Shopify | Shopify  | Advanced Shopify | Shopify Plus |
| Monthly Cost | $5 | $29 | $79 | $299 | Starting at $2,000 per month or quote-based for businesses with high volume sales. |
| Monthly cost of Shopify POS Lite | $0 | $0 | $0 | $0 | Not Applicable |
| Monthly cost of Shopify POS Pro | $89 per location. | $89 per location. | $89 per location. | $89 per location. | $0 |
There are many standard features in Shopify Starter, but it does not have access to the online store sales channel. With Shopify Lite, you won't be able to start your own Shopify store yet – instead, you'll be able to embed a buy button on your blog or website.
Hardware Costs
Shopify POS can be used with any smartphone or tablet that has an iOS or Android operating system. In addition to card readers, cash drawers, and receipt printers, Shopify offers additional POS hardware. A few standard hardware accessories are listed below:
Chipper 2X BT Reader for tap, chip and swipe: $49.

Barcode scanners: $229 to $329.

Label printers: $299 to $499.

Receipt printers $299 to $369.

Cash drawers: $139 to $159.
Payment Processing Costs
To process online payments with Shopify, you choose which monthly plan works best for your business. Shopify charges transparent, flat-rate processing fees for in-person and online payments. In addition to Shopify Payments, you can also accept payments through third-party providers such as Amazon Pay, Authorize.net, or Braintree. In addition to paying an additional transaction fee for not using Shopify Payments, you may also have to work with a third-party processor. Your rates will likely differ if you use a third-party processor.
| | | | |
| --- | --- | --- | --- |
| Shopify Plan | In-person payment processing rate | Online payment processing rate | Additional transaction fee for not using Shopify Payments |
| Shopify Lite | 5% per transaction. | 5% per transaction. | 2%. |
| Basic Shopify | 2.7% per transaction. | 2.9% + 30 cents per transaction. | 2%. |
| Shopify | 2.5% per transaction. | 2.6% + 30 cents per transaction. | 1%. |
| Advanced Shopify | 2.4% per transaction. | 2.4% + 30 cents per transaction. | 0.5%. |
| Shopify Plus | Variable Rates | Variable Rates | 0.15% |
Shopify POS Hardware and System Requirements
In addition to the exceptional retail POS software, Shopify also offers proprietary hardware solutions. The provider allows you to build a complete point of sale with a wide range of plug-and-play hardware solutions it has to offer. All Shopify POS Hardware comes risk-free with a 30-day free shipping return accepted.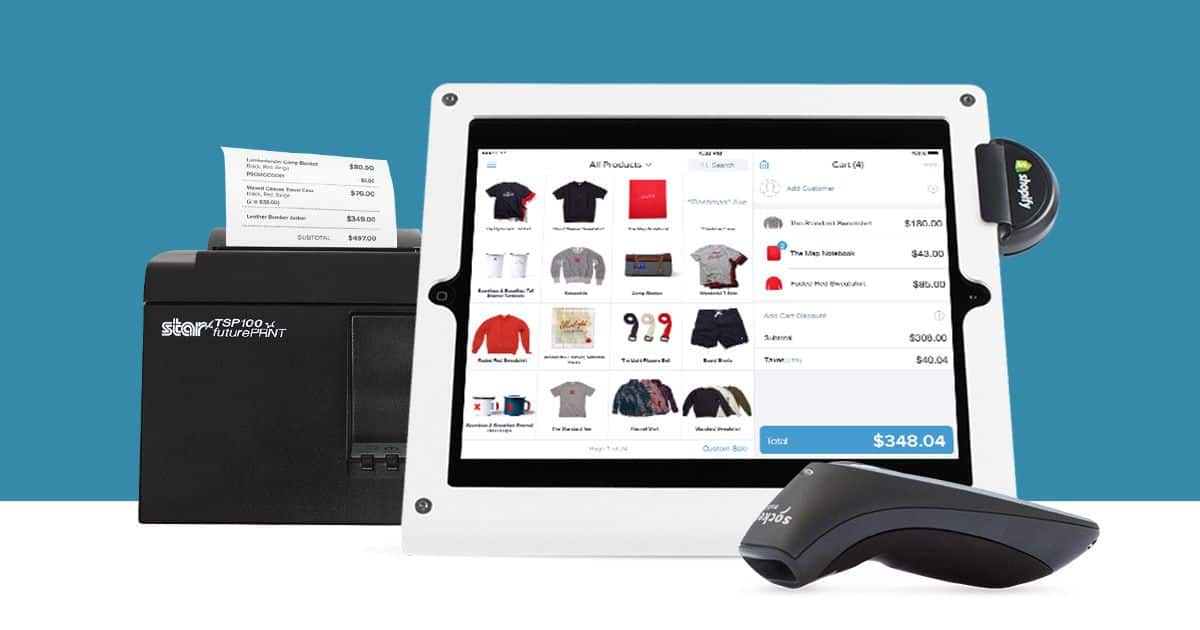 You may use the various Shopify hardware components and accessories to customize your checkout counter. The intuitive Shopify Hardware Store makes it rather easy for you to build your own hardware kit at an affordable price. 
For instance, you can get a basic Shopify Retail kit to support your offline and online sales activities for as low as $229. You will be able to pair your POS system with such accessories as barcode scanners, receipt printers, and cash drawers from the hardware store. 
How Does Shopify POS Work?
There's a good reason why Shopify is hailed as the top small business point-of-sale (POS) system. With the Shopify POS app, you'll get Omni-channel selling-a necessity in todays competitive retail market-simple, easy-to-use, and full of rich features. It's free, easy to use, and full of rich features.
Step 1: Signup for Shopify POS
The first thing you will need to do is sign up for Shopify in order to use Shopify's point-of-sale system. There are three main Shopify plans: Basic, Shopify, and Advanced. To test the software before buying, Shopify offers a 14-day free trial.
You will need to download the Shopify POS app after signing up for your Shopify plan and deciding whether to upgrade your POS. The back-office and management features of Shopify POS are all desktop-based, whereas the selling interface is only available via an app. In addition to allowing you to conduct sales on the go, it does mean that you have to purchase a tablet in order to conduct sales.
Step 2: Choose your Hardware
Shopify POS is an iOS app, so you will need an iPad or tablet with a scanner and card reader once you have successfully signed up for your account. There are third-party barcode scanners and card readers you can use, but Shopify also offers hardware options.
Step 3: Access your Shopify POS Dashboard
Once you've signed up for an account and have a device to run it on, it's time to set up the Shopify POS account from the inside. Log in from any web browser to customize your overhead settings, view reports, and manage inventory.
Step 4: Setup your sales channel and location
Your first step should be to set up your sales channels once you have logged into your Shopify POS account. You can easily integrate Shopify products with a variety of platforms—including Facebook, Instagram, TikTok, Google, eBay, and Walmart—by adding the Buy Button feature to your blog or website. Shopify POS will then monitor sales and inventory for all of your locations and report on them for each storefront.
Go to the Shopify home page and click on "Sales Channels" on your sidebar menu to add sales channels to your POS account so that you can track their performance and sales. You will only see your online store in the start-up, but you can add more by clicking the "plus" button, pictured below. You will then be able to select your preferred sales channels and add them.
In order for everything to sync, Shopify will prompt you to log in. Afterwards, your Shopify account will show all of your sales, inventory changes, and customer information, allowing you to manage them all in one place.
Step 5: Add your Inventory
Once your sales channels are integrated into your POS system, you can add inventory. As you can assign inventory to specific locations or channels when adding products, it is important that your sales channels are added first. The "Products" option in the sidebar menu makes it easy to add inventory to Shopify—just head over to your account.
Step 6: Import Customers
Now that you have uploaded your inventory, it's time to add your customers. Shopify lets you keep a detailed customer database full of client information and run customer reports to better understand your customers. Shopify offers a solution to all types of businesses, regardless of whether you need to input a list of clients.
Step 7: Set Staff Permissions and Profile
The Shopify POS account also has a feature called staff profiles that you should set up and use. Each employee can have their own profile, which allows you to set access permissions, create employee pins, track their performance, and create manager approval actions for adding discounts and editing taxes.
Step 8: Configure your Settings
Once your POS system has been updated with all the vital information, you can select your checkout settings. From your Shopify account, you can customize both the functionality and appearance of many checkout functions. To begin updating your settings, click on the "Settings" tab at the bottom left of your account. A page with a wide array of settings options will appear once you get to that page.
Step 9: Add a Payment Processor 
It doesn't matter if you have a checkout setup ready, no one will be making a transaction without a payment processor. Shopify makes it super easy to add a payment processor to your account in order to start making sales. Simply select "Payments" from the menu in your settings.
By default, Shopify has you signed up for Shopify Payments, its own payment processor. Once you have done that, you can adjust your payment settings. To get your business up and running, simply click the "Complete Account Setup" button and enter your business's information. Unfortunately, Shopify does not integrate with other payment processors at this time.
In fact, Shopify will automatically be set up to accept PayPal and Amazon Pay by default—you just have to fill out the setup forms to get them working. All major credit cards and alternative payment methods are accepted by Shopify Payments. At the bottom of the screen, select the "Add payment methods" button to add additional payment methods—including Affirm, Afterpay, BitPay, and Sezzle.
Step 10: Integrate Marketing Campaigns 
You just need to prepare your marketing campaigns—the ways you'll continue to reach customers outside your store. Return to your Shopify account home page and choose "Marketing" from the sidebar menu to do this. Your marketing campaigns will be displayed on this page, so you can see how they are performing and if they are motivating store visits and sales.
Additionally, on this same page, you can choose to create a campaign by clicking the "Create Campaign" button in the top right corner. Selecting that button will lead you to a form where you will be asked to choose your campaign type. A Shopify account can track and analyze SMS, email, online ad, and social media campaigns. Moreover, you can also integrate Clover POS with Shopify POS.
Clover POS Shopify Integration 
Clover POS can easily be integrated into the Shopify ecommerce platform using any integration platform. Clover POS Integration provides merchants and companies with fully integrated Point of Sale solutions with an e-store, so they can take advantage of all of Clover's tools and resources to succeed with Shopify.
It is possible to synchronize Shopify POS integrations into categories based on their common characteristics, pricing, etc.

Optimize your sales strategy to increase sales and revenue, preventing expired inventory or shortages.

In order to complete all tasks faster, POS integration is essential.
Benefits of Shopify POS
The benefits of Shopify are as follows:
A reasonable pricing structure allows you to enjoy a high-quality service.

User-friendly design makes the software easy to use.

They provide excellent customer service.

Shopify constantly updates its app to address any issues as quickly as possible.

Your Shopify store syncs instantly with this software.

With Shopify POS, you have a variety of options. There are five POS tiers and a wide range of features. As such, there's bound to be a POS solution that fits your budget and business needs.

When you opt for Shopify's Shopify or Shopify Advanced plan, you will receive a free cash drawer, receipt printer, and barcode scanner. 

Customers can make a single purchase with more than one payment method using Shopify POS.

You can easily sell gift cards to your customers with Shopify POS. Simply email them their gift card or use your receipt printer to print theirs.

Your in-person sales will sync automatically with Shopify inventory when you next go online, even if you do not have access to the internet.

You can make customized payment methods for your customers, such as accepting checks and other unconventional payment methods.

Use Shopify POS to offer shoppers specific discounts and promotions. You can also apply a discount to an entire order.

With over 2,400 apps available, you can customize your POS solution to make it more functional.

You can also personalize your emails, invoices, and online shop URLs with Shopify's point-of-sale software.

You can easily monitor your bottom line with Shopify POS's daily totals.
Final Thoughts
A multichannel POS system like Shopify POS will be crucial to your business growth, and it will help you manage inventory efficiently. With this versatile app, you can install it on multiple devices for free, and any activity made on these devices will be synchronized with your main Shopify dashboard. The products you want to display online, in person, or both can also be selected.
Shopify offers comprehensive all-commerce capabilities to suit different retail business needs. Shopify brings your in-store and online sales together, offers retailers valuable insights, and speeds up the checkout process.
All Shopify price plans include support for unlimited staff and registers, Smart inventory, in-store analytics as well as Omni-channel Selling capabilities. All these make Shopify a preferred retail POS system for retailers of all sizes and types. 
In general, Shopify POS provides the best value for multichannel retailers and new ecommerce companies. It combines top-of-the-line ecommerce features with in-person sales tools to provide a seamless Omni-channel experience. Shopify POS is among the best POS systems on the market today because of its user-friendly interface, inventory management features, seamless checkout, and range of integration options. Try it for 14 days for free.
Frequently Asked Questions
How much does Shopify POS Cost?
You can upgrade to Shopify POS Pro for $89/month. If you're on Shopify Plus, POS Pro is included at no extra cost. Shopify POS Lite is included with all Shopify subscription plans, starting at just $9/month.
Does Shopify work on desktop? 
POS functions are typically performed from an iPad, iPhone, Android tablet, or Android smartphone. However, back-end setup and administrative functions can be performed from a desktop computer or laptop.
Does Shopify work offline?
Despite the fact that Shopify POS does not have an offline mode for Android devices, it does have some offline functionality for iOS devices. During offline mode, you can accept cash and custom payments, but you cannot accept credit card payments or add new products.
Is Shopify card reader free? 
You can purchase additional readers and POS hardware on the Shopify website. Shopify subscribers receive the Chip & Swipe reader for free.
Can I use Square POS with Shopify?
Shopify does support Square Payments, but because they are competitors, Shopify does not natively support Square. If you want to use Square with Shopify, you should use a third-party app.
What is the difference between Shopify POS Lite and Pro?
It is important to note that the Pro and Lite point of sale experiences differ slightly. With the Pro version of the POS, you can set up triggers for things like buy one and get one free, and discounts based on how much someone spends. These add-ons aren't available with POS Lite, though.
With POS Pro, you can also offer your customers a greater range of options when it comes to accessing your products, including buy online and ship to customer solutions. You can also offer online purchases and in-store pickups.
With Shopify POS Pro, you'll be able to strengthen relationships with customers in other ways besides integrating with email marketing tools and social media. Based on what previous customers bought, you can make product recommendations when you collect customer data.