Disclosure: This Website is Reader Supported. As an Amazon Associate I earn from qualifying purchases.
Last updated on March 1st, 2020 at 07:16 pm
You're a fan of socializing and the nightlife. You understand the dynamics of such a business and decide to open up your own bar or nightclub.
You must pick the venue, interior design, get your liquor license, and get your menu together.
However, picking the right POS system for your establishment is just as important as the ambiance you want to create inside your space.
Technology may not be every business owner's forte. Still, these days staying up-to-date with the current technology and equipment can make or break your business. After all, POS systems help you manage and keep track of sales, employees and inventory.
Please note that not all POS systems are alike. They design some to serve a variety of industries. Others cater to specific industries, with features and interfaces that are designed for those industries only.
Bars and nightclubs are no exception. Don't worry, you don't have to look far to find the POS system that's right for your establishment.
What Do You Need?
As a bar or nightclub, your needs differ somewhat from retailers or even restaurants. Here are some things to keep in mind when choosing a POS system for your establishment.
Off-Hours Tech Support
Bars and nightclubs rarely operate during the "normal" nine-to-five business hours. They are usually busiest on nights and weekends. When comparing POS systems, choose one that offers 24/7 live tech support. You don't want to be left hanging with a faulty system just when a business picks up for the night.
Employee Management and Monitoring
During the busiest nights, bars and nightclubs can get hectic. Managers can't always keep track of all the employees and the cash being exchanged. A POS system that boasts such features as employee sales tracking, cash management, and individual employee login IDs may be the best bet to keep track of things.
Inventory and Shipping Management
Alcohol is a strictly regulated commodity. There's a lot of rules to follow regarding the purchase and sale of alcohol. There have been many instances where bars and nightclubs have gotten in trouble for noncompliance. A POS system with an excellent reporting suite will keep track of all the information you need to stay compliant.
Industry-specific features
Setting up and tracking customer tabs is a must-have feature for pretty much any bar or nightclub. You might also want to add a prompt that reminds cashiers to check customer IDs. Splitting merchandise such as bottles of wine – which can be sold by the bottle or by the glass – is also a desirable feature for bar POS systems to have.
Affordable Pricing
Bars and nightclubs aren't the most profitable enterprises. Depending on the size of your establishment, you may only need to license one cash terminal or several. If you're opening your first venue, price is likely a top concern. If you're opening a second or third location, you may look for a broader range of features, regardless of the price.
Cloud capabilities
Some POS systems operate primarily through the web and store data almost only on the cloud. Others choose to store their information locally. Depending on your comfort level with the cloud, you may prefer one over the other.
Top Bar POS Systems 2019

#1. Toast
Toast bills itself as an "all-in-one restaurant management system."
As the name may suggest, Toast specializes in serving the food and beverage industry. And several of the features that they offer do suit that specialty.
The Features
The "Bar Mode" option makes it especially easy for bartenders to open tabs, start new checks, and enter credit card tips. Toast also offers pre-configured liquor menus that can be customized to reflect your bar's selection at no extra cost.
Toast's system comes with a 15-inch screen, enabling some small businesses to fit their entire inventory on a single screen for a fast one-touch ordering.
You're also able to split items in your inventory. In Toast, you can create different sizes for an item, such as wine by the bottle or by the glass. Then as customers order each unit, you can have the reporting subtract them from the inventory.
Employee and Cash Management
Toast makes staff and cash management easy. Their system provides an abundance of cash management functions to use at your disposal. One such an option is the ability to lock each bartender to his or her own cash drawer.
That way, you know which employee to address if a till comes up short. Toast also enables you to assign two drawers to a single terminal.
Even if your bar is equipped with only one terminal, you can still configure the system so that each bartender puts cash into separate tills.
Toast system runs a Cash Drawer Report. This allows you to monitor each register so you can see who opened the drawer at what times, cash payments, payout/tip out, and overages or shortages.
With Toast's auditing tools, you can track every item that was added or removed from a check. You can also use their shift review feature.
Which requires each employee to close all their checks, enter all their credit card tips, and declare cash tips before they can clock out.
Industry-Specific Features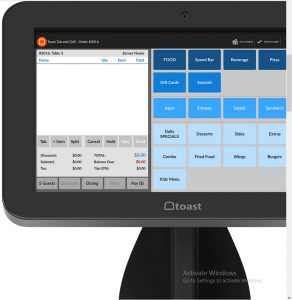 Toast makes creating and tracking purchase orders and supplier information easy.
You can use this information with their reporting suite to comply with all the regulations on the purchase and sale of alcohol.
You also have the option to set up a forced modifier on each of your alcoholic items that prompts your employees to select 21+ every time customers order a drink.
Quality Customer Service
Toast is famously dedicated to customer service. Besides 24/7 phone support, Toast has the customer training center and the Knowledgebase. From day one, Toast's customer support team will help you with setting up the system.
They will guide you every step of the way, providing menu configuration help and in-person employee training if you so choose.
Web-based platform
Toast is a web-based platform, and stores all data in the cloud. However, you can configure a LAN network to save data locally in case of an internet outage.
Pricing
At $100 a month for the professional plan, Toast is not the cheapest POS system for a small business. But at that price, you get full access to their wide range of features, and trust us, they're well worth the money!
Limitations
Toast has very few downsides outside of the occasional bugs. Some may find their simple interface to be overly simple. You may also prefer to use a payment processor other than Toast, but if you run their program, that's what you get.
Overall, Toast has everything you might look for in your POS system, and more. Your bar or nightclub will be well-equipped with the all-in-one system with superb features.
#2. Revel Systems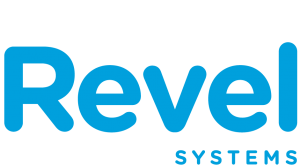 Revel Systems doesn't cater specifically to bars and nightclubs. The company is more of an all-around POS Systems operator.
But this well-rounded approach to business may give your establishment the flexibility you want. While not bars and nightclubs oriented, Revel Systems offers the most industry-specific features of any POS system.
The Features
Among these features is a prompt to ask cashiers to verify a customer's age when purchasing alcohol. It's not the most streamlined feature, as you have to activate it individually, but it's a good option to ensure compliance.
Employee Management
Revel Systems also makes employee management easy. There are the usual features for unique employee logins, separate till counts and payout/pay-in reports.
These features are highly customized, to the degree that different employees can have access to different features at your discretion.
Shipping and Compliance Features
Revel Systems certainly leads the pack when it comes to tracking shipments and inventory. The POS System comes integrated with ShipCompliant, which helps you meet liquor-specific shipping requirements.
With this integration, you can calculate shipping costs, generate tracking numbers, and add shipping prices to your orders.
ShipCompliant makes tracking all the specifics of purchase orders, vendors, and other shipping information simple. So keeping compliant with rules and regulations with Revel Systems should be a breeze.
Inventory Features
Keeping track of inventory is also made easy with Revel Systems. You can easily split inventory such as bottles of liquor and wine.
This will help you track how much is being sold and taken out of your inventory. You can also change cost in the inventory tab, in case you need to raise or lower prices.
Hybrid Platform
Revel Systems is a hybrid service. While the POS system run locally through an iPad, it syncs all data to the cloud.
Revel Systems also has an "always-on" mode, ensuring that the system will still run smoothly even if of an internet slow or shutdown.
Cost
Revel Systems is certainly not the cheapest service on this list. With their endless array of features, such a POS system won't come cheap.
You'll also have a steeper learning curve to get a feel for all these features. Fortunately, Revel Systems comes standard with 24/7 live customer support via phone, chat, or even onsite.
Revel's plan starts at $99 per month per terminal, but you would need to request a quote directly from their website for a more accurate price.
This is the price for a 3-year contract. Aside from the monthly fee, you'd also be looking at a $649 installation fee.
Limitations
Revel Systems has a customer satisfaction rating of over 93%, and for good reason. Still, there are a lot of features that need to be set up.
The process can be long, and there are a lot of options and settings to go through. Customer service may come in handy in this case.
Better for Large Businesses
Because of the wide array of features, Revel Systems has to offer, it's an investment better suited for larger businesses.
If your bar is a bit more local, their system may take too much time and energy for you to learn to navigate. A POS system with fewer, simpler features may be more up your alley.
#3. ShopKeep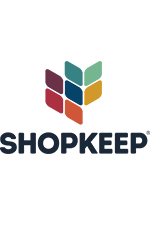 ShopKeep doesn't have all the industry-specific features that companies such as Revel Systems offer.
But if you do run that local bar, this service may be worth looking into.
The Features
You can't split products on ShopKeep like you can with the other services on this list.  However, their raw ingredient tracking software outpaces many competitors. They also offer robust back-end office features, and full cash and employee management.
Employee Management
For employee management, you can track every employee's actions with the shift summary report. The system also comes with four access levels to manage employees' access to the system.
Inventory Features
ShopKeep has extensive inventory-related features, where you can set reorder points and track suppliers.
ShopKeep supports tabs and house accounts. But you won't find many features specifically designed for the liquor industry.
Limitations
They do not integrate ShopKeep with ShipCompliant to ensure regulations compliance. Nor do they offer a feature that reminds cashiers to verify customers' age.
But ShopKeep has MailChimp and QuickBooks integration to accommodate back-office management to make up for it.
Price
Their price point is also affordable compared to other POS options. For their basic all-around service, you pay just $69 a month.
They also offer a 14-day free trial, so you can try it out at no cost to you. If you're a small establishment, ShopKeep may be something worth looking into.
Hybrid Platform
ShopKeep runs locally from an iPad but it syncs data to the cloud when connected to the internet. Even if of an outage.
The app will still run, except for processing credit card transactions. But you can always equip your iPads with cellular data plans, just in case.
ShopKeep is the ideal platform for a small business. But if you want more features specific to the liquor industry, you'll want to look elsewhere.
#4. TouchBistro
TouchBistro is relatively new to the POS systems scene but has grown fast in the nine years it's been in operation.
The app is the top-grossing food and drinks app in over 28 countries in Apple's App Store.
TouchBistro bills itself as an easy to use a product that still offers complete front and back-end capabilities for any service industry business.
TouchBistro has already proven itself to be a worthy contender. The company was named a Stevie winner in 2016 and rated the best POS system that same year.
The Features
TouchBistro's crowning achievement is its pleasing design and ease of use. Aside from that, TouchBistro's features are on par with the other POS systems on this list.
With the app, you can keep track of sales and monitor employee activity. You can also split tickets between customers or even forms of payment.
The hardware setup is simple and licensing fees are cheap compared to many competitors. Their system layout and design also have a more modern feel.
Their tablet-based checkout system handles seating and table assignments, split tickets and tabs, and even daily sales reports.
Employee Management
As with many other POS systems, you can create individualized employee login IDs and customize each employee's access permissions.
You can also assign security settings, from low to high, to help monitor employee activity.
Locally Installed Software
TouchBistro is locally installed, so you don't need WiFi to run the program. And for a standard subscription, all you need is an iPad – no other equipment is necessary.
Please note that to process credit card purchases, you will need an internet connection.
Pricing
TouchBistro's pricing is on the par with ShopKeep's, at $69 a month for a single license. But they offer four plans each at a different price point.
Each plan includes 24/7 customer service, free updates, cloud reporting and analytics, full tableside and quick service POS features, and unlimited users. On top of all that, you can even book a free demo of TouchBistro to try before you buy.
Limitations
But when it comes to extensive inventory capability, TouchBistro is unfortunately lacking. While you can add or edit modifier groups.
The most you can do for inventory is to assign a UPS code to each item. It's a far cry from Revel System's inventory integration features.
Nor are there many features that are specialized for the liquor industry. You can split tickets, but you can't split items on the menu. And there's no 21-plus security feature to ensure employee compliance when ringing up alcohol orders.
TouchBistro is ideal for food and drink-serving establishments, so whether or not your bar serves food you may find this app useful.
However, some bars and nightclubs may find some features superfluous, such as the seating feature. And if you want more inventory and employee management functionality, TouchBistro leaves a lot to be desired.
Our Final Review On Best POS Systems For Bars & Nightclubs: Toast Is Our Top Choice
As a POS system tailored for the industry, and at an affordable price, Toast is tough to beat. They also operate as an all-in-one POS system, meeting all of your needs as a business.
If you're a small establishment, ShopKeep or TouchBistro might be a good fit for you. Larger businesses may want to look into the more full-featured Revel Systems. If you lie somewhere in the middle, Toast could be the way to go.

There's a lot of choices out there. This guide only scratches the surface of what these POS systems offer for your establishment. But regardless of your business needs, the right POS system is out there.