(Last Updated On: 02/14/2023)
Written by Shahab Abbasi: Software Engineer/IT Specialist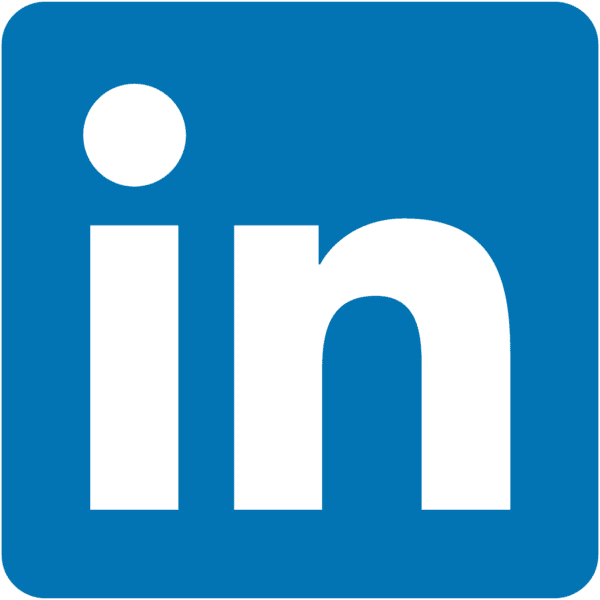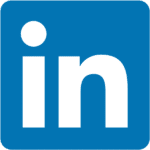 Affiliate Disclaimer: Our product review team dedicates hours of research, fact-checking and testing to recommend the best solutions to business owners. We earn from qualifying purchases through our links, but this does not influence our evaluations. Why trust our reviews?
The best bar POS system should be capable of pre-authorizing credit cards, tracking bar tabs, and managing cash transactions. You should also look for POS systems that are user-friendly and automatically update your inventory as items are sold.
You may also be interested in reading: Discover the Best Restaurant POS System | 25 Systems Reviewed
Our Expert's Choice
Square POS for Bars

The best bar POS system is Square POS. Square POS offers their customers following features:

Menu Management

Bulk Additions

Advanced Accounts

Floor Plan Management

Third Party App Integrations
Don't have time to read this whole review? Skip ahead to: 
Best POS System for Restaurant and Bar – Overview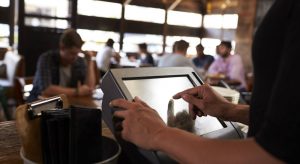 One of the major costs of owning a bar is real estate. An average-sized bar will cost approximately $20,000 per month. In addition to the real estate cost, you'll also need to cover supplies, payroll, and insurance. All of these costs add up to a total of about $850,000 per month.
Your regular customers are essential to the success of your bar. They are your best marketing resource, so you must work hard to get their trust and loyalty. You can do this by introducing a loyalty program and promoting word-of-mouth. You should also be aware of online reviews and social media sites.
You'll also need to hire staff. If you're planning to open a bar, it's a good idea to find a town that's on the burgeoning population growth curve. This can help you avoid the high cost of hiring people for the business. Alternatively, you can buy a bar that's already established and run.
The U.S. bar and nightclub industry topped $24 billion in recent years. Tapping into that market share requires you to spend more time selling drinks, and less time on back-office paperwork. To that end, your bar point of sale system should enhance your operations and streamline your workflow.
Reviewed below are the top 5 best bar POS system you should consider.
| | | |
| --- | --- | --- |
| POS System | Software Cost | Hardware Cost |
| Square | Starting at $60/month | Quote-based |
| Toast | Starting at $69/month | Quote-based |
| Lightspeed Bar | Starting at $69/month | Quote-based |
| Harbortouch | Free (subscription-based version starts at $29/month) | Free |
| Aloha | Starting at $99 or more per month | Quote-based; systems resell online for $895 or more |
How We Evaluated
To come up with the top 5 bar POS system, I reviewed over a dozen POS software on trusted review websites such as Capterra, G2, and Trustpilot based on their features, pricing, and pros and cons.
Let's dive right into the bar POS system reviews!
If you're a small bar, you need a POS system that takes orders and allows you to do basic inventory. But you don't need a bunch of bells and whistles that you'll never use. Square, a cloud-based POS, provides the perfect solution. It has a streamlined, easy-to-use interface with enough features and functionality to keep your bar running at full speed.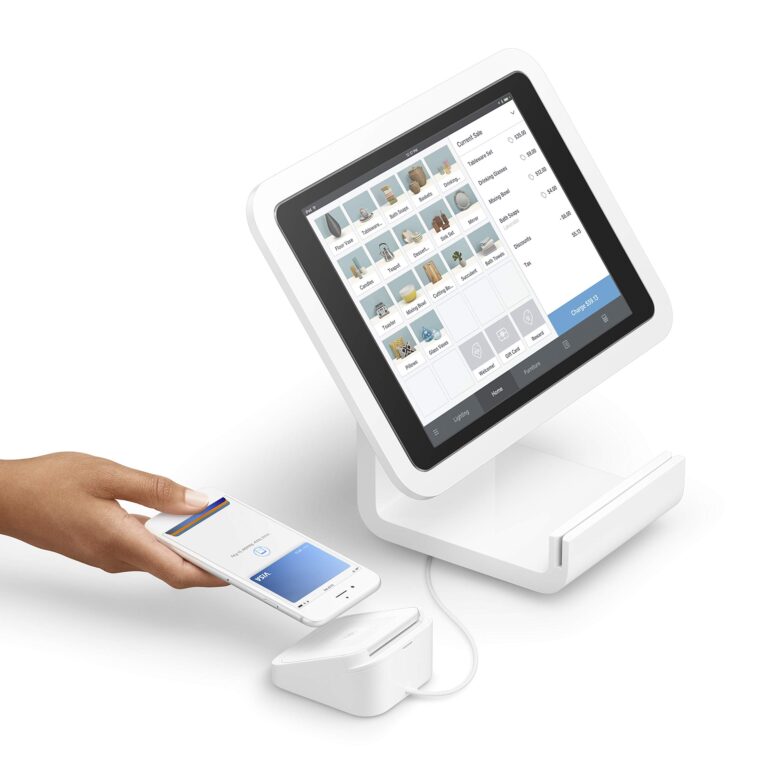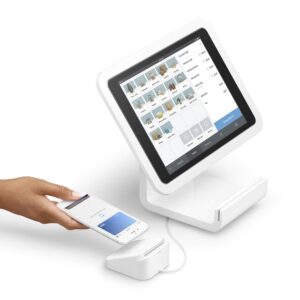 Core Features
One-day setup

Free baseline POS

Square Terminal Handheld

Multiple inventory integrations

Menu Management

Multiple Addition to menu

Discount setup
Pros
Baseline POS is free

No long-term contracts

Operates on hardware you already own

Super-fast setup
Cons
Does not pre-authorize cards for bar tabs

Difficult to reach live customer service representatives

Cash management is basic
Square POS for Bars Pricing
Square Plus – Square Plus is available for $60 per month. It offers advanced POS features including seat and course management as well as robust sales and reporting features. Users can also add on a POS device for $40 a month. 
Square Premium – Square's premium plan contains a full suite of features as well as optional add-ons like Square Payroll, Square Loyalty, and Square Marketing. The plan is designed to scale with businesses and prices are available on request.
Why to Choose Square POS
Square, a cloud-based POS, provides the perfect solution. It has a streamlined, easy-to-use interface with enough features and functionality to keep your bar running at full speed. 


Menu Management
Square provides you with a fully customizable menu layout. Place your top-selling items in a main menu and build display groups for your various categories. Plus, if you need to make a layout change, it will sync across all of your stations instantly.
Bulk Additions
Updating your menu shouldn't take all day. So when you want to add a series of new drinks, Square's bulk addition feature has got you covered. Make seasonal changes and reorganize your menu sections. Plus, you can even apply taxes and modifiers across your whole menu in just a few clicks. 
Advanced Discounts
Set up your happy hours, house specials, and other discounts in seconds. It's easy, automatic, and repeatable. 
Floor Plan Management
Create a completely custom floor plan for both the bar and the dining room. Reorganize your seating for larger parties by using Square's intuitive, drag-and-drop layouts. Monitor every seat in the house so you know when a seat is about to turn. 
Integrations
Regardless of the systems you use currently, Square integrates with the software you already have. 
Reports
Gather important insights to aid in making strategic business decisions. These could include sales by category, item, or payment type; monthly trends; shift productivity, etc. 
Square Online
Create a custom online site for delivery, curbside pickup, or contact-free ordering within your bar. Any orders placed online automatically sync with your bar POS for easy integration.
Toast is a powerful restaurant POS system, perfect for sports bars. It includes both a table and mobile POS, allowing you to quickly take orders from anywhere in the bar. Plus, its powerful marketing tools allow you to promote specific sporting events and the accompanying specials.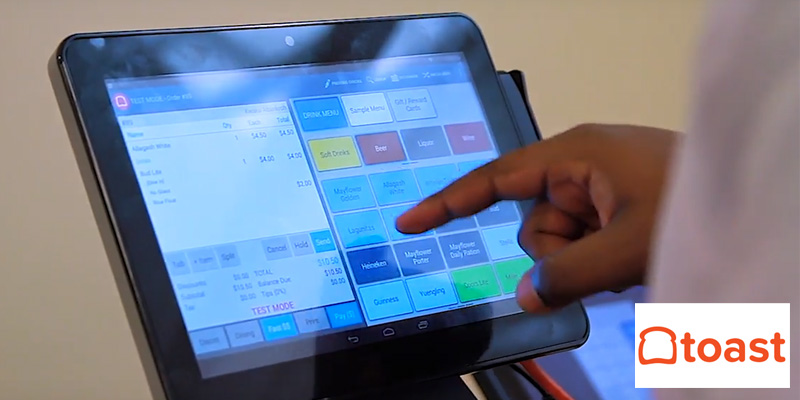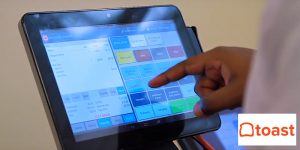 The Toast POS is designed specifically for the food service industry. The platform offers companies a one-stop solution that integrates many features. A NEVY award was presented to the company in 2016. Food service businesses of all sizes benefit from the competitively priced system.
Core Features
Hardware Devices

Order Management

Menu Management

Online Ordering

Inventory Management

Data Reporting and Analytics

Employee Management

Time Monitoring
Pros
Pay-as-You-Go options

Free baseline software subscription

Credit card pre-authorizations and dual cash drawer tills

Best in class handheld terminal
Cons
2 years contract

Toast Payment is the only processor
Toast Pricing
Toast POS offers several pricing packages based on the needs of your bar. Their most inexpensive plan starts out at just $69/month for software. Hardware can cost you up to $999. There is a payment processing fee as well of 2.49% + 15 cents for in-person transactions.
Why Choose Toast POS System?


Toast is a powerful restaurant POS system, perfect for sports bars. It includes both a table and mobile POS, allowing you to quickly take orders from anywhere in the bar. Plus, its powerful marketing tools allow you to promote specific sporting events and the accompanying specials. 
Tableside Service
Leverage handheld tech to accelerate service, speed up checkout — all without your customers ever having to leave their tables. Toast accepts payments of all kinds, including all card and mobile pay options. 
Menu Management
Build your standard menu and then customize from any terminal at any time. This includes seasonal deals, or custom menu items for particular sporting events. Avoid an awkward 86 with real-time item countdowns, so everyone stays in sync. 
Email Marketing 
Whenever a specific sporting event approaches, you want the teams' loyal fans to flood your bar. Use Toast's email marketing services to build your list automatically from your POS. Then, send your enticing messages to that list. 
Self-Serve Kiosk
Free up your servers' time and energy by allowing your customers to order via a self-serve kiosk. Set up your customized menu — complete with pictures of each item — that automatically updates when you make changes. And then when an order is ready, shoot your customers a text to make sure they know about the deal. 
Reporting & Analytics
Keep tabs on how your sports bar is performing from anywhere; Toast allows you to view reports on any device. View key insights, including sales performance, net sales, labor costs, and more. Filter by a specific location, or see your entire operation in aggregate.
A powerful retail and restaurant POS system with ecommerce features, Lightspeed has been around for decades. With Lightspeed, you can use a leading point-of-sale system (POS). There are many well-known businesses that use their services. Its system can be accessed both through a browser and through a cloud server, and there is even an app for your iOS device. It may be true that Lightspeed POS has excellent inventory management capabilities, and that it offers 24/7 customer support, but it may be too many features for new retailers, especially when there are other POS options that are just as good for much less money. There may be a better fit for Lightspeed if your store is already well-established.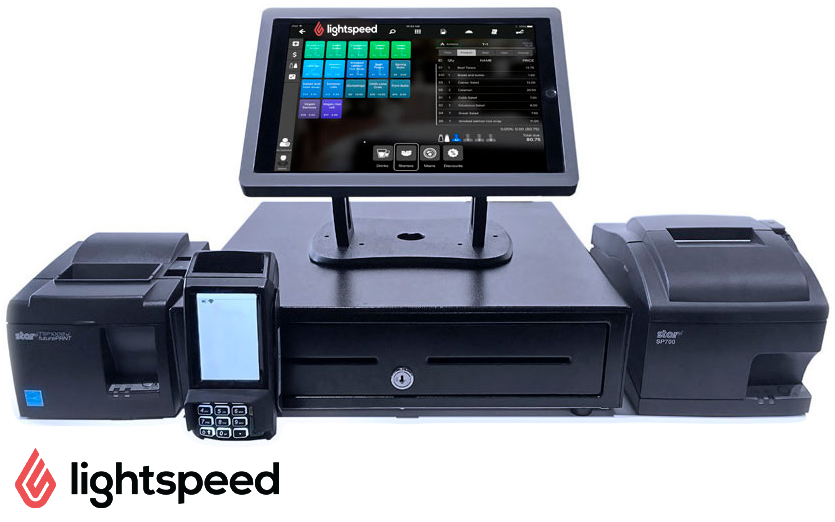 Core Features 
Automated inventory

Advanced Insights

Cost-saving workforce management

Recipe lookup

Inventory Management

Mobile Payments

Software Integrations
Pros
Providing support around the clock

Account managers oversee each account

It is superb how inventory is managed
Cons
Comparatively expensive

A long contract

Cancellation can be difficult 
Lightspeed Pricing
There is no free plan offered by Lightspeed POS, but it offers a free 14-day trial. It is recommended that you thoroughly test its capabilities against your business requirements during this trial before committing to changing your entire POS system.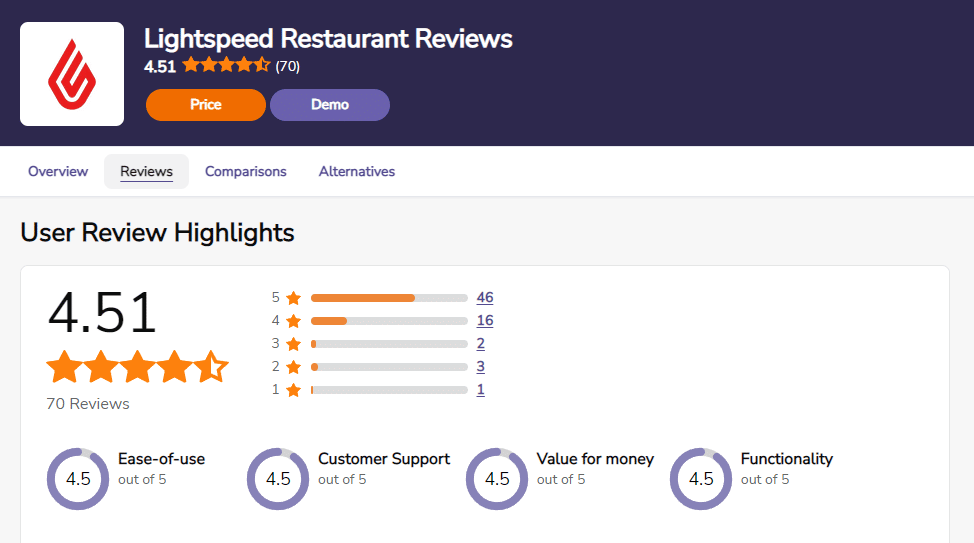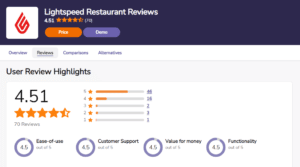 Then, if you're satisfied, select a paid plan:
Lean. Pay $79 a month plus $29 for each additional register, or save $10 a month by paying annually.
Standard. A monthly fee of $139 is charged for the first register, and a monthly fee of $29 for each additional one.
Advanced. The cost per month for the first register is $239, and the cost per additional register is $29 per month.
Enterprise. Quote based. 
Why Choose Lightspeed POS?
Lightspeed allows for sped up transaction times. Their software lets you browse menus, enter orders, open tabs, and accept payments in just a tap. You can also split bills, courses, and seats.
Payment Processing
To keep things moving fast, Lightspeed processes all kinds of payment options quickly and efficiently. Swipe, dip, or tap payments from all major card types at the same rate — no hidden processing fees.
Set up your payment stations with plug-and-play hardware complete with 24/7 customer support, PCI compliance, and fraud protection. All of your payment information stays within the same system.
Bar & Table Management
Whether you're physically at the bar, at home, or in the office, you can manage your entire operation from anywhere. Keep track of your menus, floor plans, revenue, employee performance and more — all from one location. Design custom floor plans, create unlimited menus, assign employees to groups and set custom user restrictions.
Reporting & Analytics
Always make informed decisions with built-in reports. View these reports across your whole operation, or filter by specific locations. For example, you can see which products sell best or what times of day or most popular. That way, you can double down on the activities that bring in the most revenue.
An integrated POS system designed to assist retailers, restaurants, bars, nightclubs, cafes, and more with maintaining labor records, tracking sales, and reviewing financial records to increase operating efficiency. The HarborTouch bar and restaurant POS system platform supports discounts on products, client referrals, keyword searches, and customer data management on a unified interface. Leaders can also manage employees with a built-in time clock.
Core Features
Reporting/Analytics

Billing & Invoicing

Inventory Management

Table Management

Commission Management

Delivery Management

Retail POS
Pros
Advanced reporting tools

Accepts multiple forms of payment
Cons
Early termination fee

Pricing is not transparent
HarborTouch POS Pricing
HarborTouch offers two pricing options. It is possible to purchase the Harbortouch Echo POS, which is designed specifically for smaller establishments, such as food carts, cafes, or small retail stores. The company's website offers that service for $29 per month.
For $39 a month, HarborTouch Elite POS offers a broader feature set than Harbortouch Elite, which is best suited to larger retailers and restaurants. There is a lifetime warranty on the hardware and technical support provided by HarborTouch included in these prices.
This deal is available from Harbortouch if you agree to a one-year service agreement and the Merchant Transaction Processing Agreement. HarborTouch also offers a plan that includes just a cash register and a card reader for accepting payments. Despite being technically "free", that plan does require a service agreement.
Last but not least, the company offers a POS system designed specifically for salons, which retails for $39 per month.
Why Choose HarborTouch POS?


If you're looking for a free POS system as you scale your business, Harbortouch provides the features you need with their intuitive software.
It's the perfect solution for both new bars and more established locations looking to cut costs. Due to the fact, is helps bar owners save money, it was featured on the bar rescue show.
User-Friendly POS Software
Cut back on the time you spend training new employees. HarborTouch's simple, modern POS system allows all your staff members ease of use through its intuitive interface.
Credit Card Processing
Although HarborTouch is free, that doesn't mean that you're limited in the kinds of payments you can receive. Accept payments from credit cards, gift cards, mobile payments, EMV, and NFC.
Inventory Management
Scale your business without the fear of incurring software surcharges. No matter the size or complexity of your inventory, you can track unlimited SKUs. So whether you need basic product tracking or a complex inventory matrix, HarborTouch has got you covered. 
Customer Loyalty Program
Retain and re-engage your customers through special promotions, rewards, incentives, and loyalty programs.
Employee Management
Keep a close eye on your employees' performance and make the adjustments you need to keep your bar moving in the right direction. Evaluate all the important aspects of your business, including sales performance and hours. Edit timesheets and calculate overtime so there are no surprises when payroll comes due. Manage job-based permissions so everyone has only the level of access they need to do their jobs.
Reporting & Analytics
Your bar's success rests on, among other things, your ability to track sales metrics. Use HarborTouch to monitor sales by product, labor costs, overall profitability, and more.
A point-of-sale system for restaurants called Aloha is a software product manufactured by NCR, a company that provides technology and professional services. Restaurant owners benefit from Aloha POS software by being able to take orders, accept and process payments, manage employees, and perform a variety of other operations. As well as traditional countertop and handheld terminals, NCR offers Aloha POS hardware options.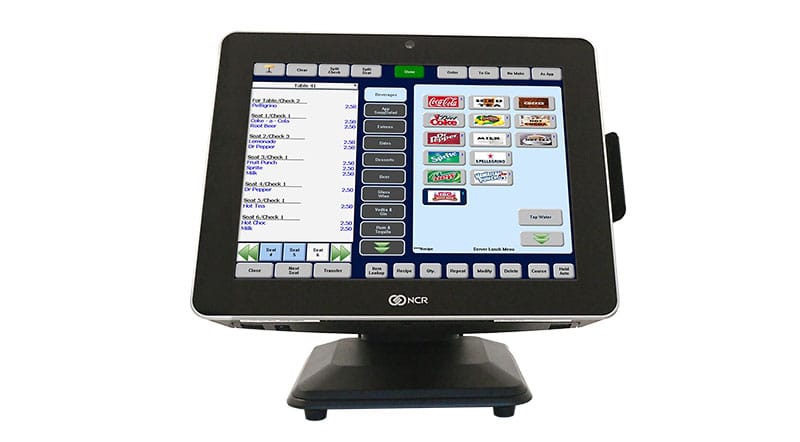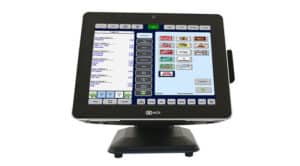 POS systems for both fixed and mobile devices, contactless dining, analytics, online ordering, and 3rd party delivery integration are all included in this all-in-one subscription model. It is used by thousands of restaurants around the world and is trained by more staff than any other point-of-sale system.
Core Features
Kitchen / Menu Management

Point of Sale (POS)

Inventory Management

Table Management

Reporting/Analytics

Employee Management

Wait List Management
Pros
User-friendly

Industry standard
Cons
Aloha POS Pricing
| | | |
| --- | --- | --- |
| Aloha Cloud – Starter | Aloha Cloud – Premium | Aloha Essentials |
| Free | Starting from $175  | Based on quote |
| Ideal for small restaurants who only need one or two devices to run their restaurants | Ideal for small to mid-sized restaurants who need more capabilities to run their restaurants. | Ideal for established brands looking to accelerate their growth with the full Aloha solution. |
Why Choose Aloha POS System?
Having this option allows everyone in the restaurant to be able to focus more on providing guests with a great experience, as well as being able to seamlessly cater to both online and contactless ordering. This POS system is capable of speeding up the service in a variety of ways, which can reduce the amount of time it takes to turn a table.
The Aloha Point of Sale system can be used to enter dine-in orders, complete payment processing, access mobile/online ordering information, help streamline restaurant operations and customer service, and help streamline food preparation for delivery services.


Things You Need to Know Before Choosing a Bar POS System: Buyer's Guide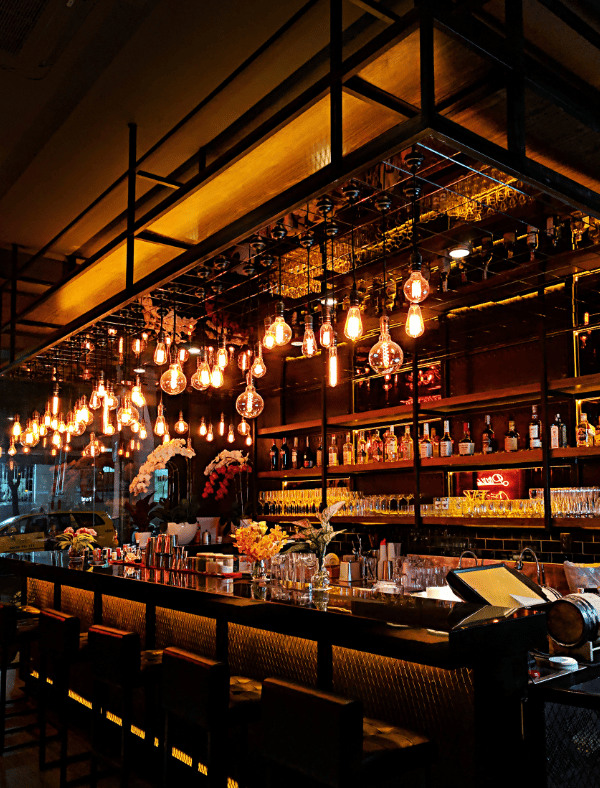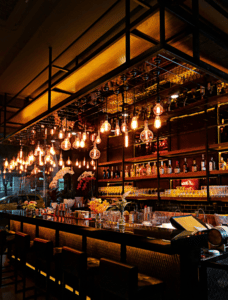 Your bar POS software should have all the necessary features to increase efficiency and bring in more profits. However, you don't want it to be so bloated with features that it causes more problems than it solves. To that end, here are some of the key features to keep an eye out for. 
Smart Payment Solutions
Any modern POS system should have the ability to take payments of any and all kinds. This includes both cards and mobile payment options like Apple Pay, Google Pay, and Samsung Pay.
Additionally, many POS systems have online ordering features. That way, you never miss out on a potential sale. Furthermore, larger bars will need to merge and transfer tricks between seats, tables, and servers. 
Menu Management
Maybe you want to run seasonal or event-specific discounts. Or maybe you want to create promotions to drum up more business. Either way, your POS system should allow you to customize your menu and create promotions in just a few taps. 
You should also be able to add new menu items for testing and integrate with inventory directly. That way, your menu reflects all of the items that are actually available — and none that aren't.  
Inventory Control
Inventory tracking and control is critical when it comes to bar POS systems. You not only need to know when it's time to restock, but you also have to keep tabs on high-cost ingredients. Most importantly, you need to make sure you're getting a return on your inventory investment. 
Your bar POS system should update your inventory automatically. As soon as an ingredient is used in a drink or dish, you should see the updates in real time. 
Additionally, inventory control is critical when it comes to compliance. You'll need a way to track shipping information and purchase orders, ensuring that you abide by relevant laws and regulations.
Tip Optimization
Tips are the lifeblood for your bartenders and servers. Your point of sale system should be optimized to provide the best tips possible. This includes suggested tip amounts, one-touch tipping, and more. 
Employee Management
Modern bar POS systems will pull double duty and function as an employee management system as well. Your point of sale system should include features like scheduling, shift swaps, payroll, clock in/out, permissions, reports, and more. 
In-Depth Reporting
Your decision-making will only be as strong as the information at your disposal. Your bar point of sale system should enable those smart decisions through insightful, detailed reports.
These can include top customers, top-selling products, cash leakage, ROI, and much more. Since most POS software is cloud-based, you can pull up these reports on any device, wherever you are.  
Conclusion
he point-of-sale (POS) systems for bars are essentially software platforms that facilitate the process of ringing up custom orders, managing tabs, processing payments, tracking inventory, running sales reports, and many other things for establishments. POS systems play a vital role in the day-to-day running of your bar, serving as the digital hub of your business while increasing security and transparency at the same time.
Whatever your business type, this guide will help you choose the best POS System for restaurants and bars. To get started with our top-ranked bar POS system, get a free quote now from Square POS. 
FAQ
How much does a POS system for bar cost?
Software and hardware pricing greatly vary depending on the size of your bar, as well as the needs that your business has.
What POS system do bars use?
Some of the most popular and widely-used bar POS systems include Square, Toast, and Lightspeed.
What type of food is served at a bar?
Some frequently served bar food items include burgers, French fries, onion rings, nachos, wings, cheese sticks, and chips/dips.
Is running a bar profitable?
On average, the net profit for a bar will be between 10-15%.
What percentage of bars are actually profitable?
Between 70-80% of bar owners are profitable.
How much does it cost to open a bar?
The cost of opening a bar has a wide range depending on many factors such as where you are located, the size of the building, if you're buying/renting, machinery, etc. On average, it's expected that you'll need at least $100,000 to open up a very small bar.