Disclosure: This Website is Reader Supported. As an Amazon Associate I earn from qualifying purchases.
Last updated on March 1st, 2020 at 07:14 pm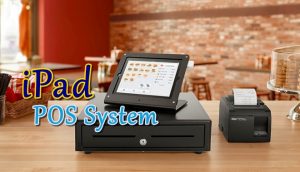 Nowadays, a cash register simply will not cut it for your business.
In order to service your clients properly and keep up to date in this technologically driven world, you need an advanced system to run your business.
It is time to upgrade your operations and look for a POS System that integrates with your iPad. This system should not only serve your customers better but also streamline your business.
The Need for iPad POS Systems
Understanding your business needs will certainly help you pick the POS system for an iPad that is right for you.
It will improve the efficiency of your business, as well as help you stay current and efficient.
No doubt, there are plenty of options to choose from when deciding on an iPad POS System.
Still, not all of them are worth your investment or time. With that in mind, we did the research and these are our top choices for a rock-solid iPad POS System.
#1. Our Top Choice: Lightspeed, HQ POS System for iPad
If you are looking to cover all your bases
without the fancy "aftermarket" add-ons, this is the product for you.
By connecting to the cloud, you will be able to track the sales that are happening on both your online store.
As well as your brick and mortar store. The cloud also helps back up your data is protected and would not be subject to a loss.
With an inventory and product management system integrated, you will be able to add variations of your products. Moreover, you can track inventory levels so that you are never out of stock.
Want a system that improves your customer service too? Lightspeed has you covered. By tracking your customers purchase history, managing tags.
And even breaking your customers into segments, you will be able to understand the different types of people buying from you. This will pay off immensely when looking to build customer loyalty.
After you have sold some of your products, look at the reporting dashboard that is created for you. Grab insights into which products are selling, which have the lowest margins, and what strategies you need to implement in order to improve overall sales.
Pricing
The business comes with three different payment and size options to best fit your business.
Small – $99 for 1 register and 5 employees
Medium – $169 for 2 registers and 10 employees
Large – $298 for 4 registers and 20 employees
Lastly, each plan comes with 24/7 support, personalized onboarding, automatic updates, and security and hosting. This tool has all the necessities to speed up your business, streamline analytics and inventory, and even back it all up onto the cloud.
# Our 2nd Pick: Revel Systems iPad POS for Retail
This system targets the business owners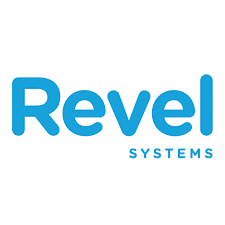 that run their business from their iPad.
These are the owners who have already adopted a mobile-first-mindset and are now trying to refine their process.
This touch screen iPad POS System has all the tools and gadgets you need. It comes with three different setups to perfectly cater to your business:
Quick Service For businesses that need to serve food and beverages fast. With this package, Revel offers customized menus, infinite modifiers, and even an enhanced delivery system. This will only help you get your food to the customers faster.
Retail – Perfect for businesses that have brick and mortar storefronts. Revel offers a nice interface to keep track of all your products by organizing them into categories. A CRM system has been integrated in order to easily track your customer's habits and purchase history. Lastly, with the automatic P.O. system, you will never run out of stock.
Bar and Restaurant – Designed for businesses that serve foods and alcoholic beverages. Restaurants bring an entirely different set of challenges to iPad POS Systems, but Revel has it covered. With their tableside ordering, they put the power into the customer's hands. With their table layout feature, your staff will be able to properly track who ordered what food. And when it comes to split checks, you will win the hearts of all your customers that are dining with friends.
While these are the three buckets, by visiting their site you will see that they have much more to offer. They altered the product for dozens of different businesses such as stadiums, pizzerias, coffee shops, salons, drive-thru, wineries, and gas stations.
Revel's iPad POS System really has it all figured out and it shows by their highly regarded reputation.
# Option Number 3: Shopkeep, AGreat iPad POS for Various Industries
ShopKeep has been a go-to in the quick
service and retail industry and is rated the number one in both categories.
Their touch screen iPad POS System comes with all the bells and whistles in order to make your operations run as smoothly as possible.
From the second you set up your POS System on your iPad, ShopKeep is there to help.
They will walk you through the entire process to make sure you start off on the right foot. They are also respected for having the best customer support in the game.
By offering free email, chat, social media contact and forums, they are able to help you in just about any situation via different channels.
After setting up your hardware, take confidence in knowing that it comes with a 1-year warranty. It also does not have any long contracts or agreements that you have to get locked into, unlike other systems.
Another benefit of this system is that it still offers reporting and analytics and automated inventory tracking and accounting tasks, which will save you hours on the back-end of your operations.
Lastly, this system offers a great employee management system. By creating staff profiles, you will be able to easily keep track of their hours and schedule them with a touch of a button.
# Choice Number 4: Shopify, An iPad POS Solution with Many Customization Options
Unlike most iPad POS Systems, Shopify
gives you the option to get a custom domain, choose from different themes.
And establish your website. But there's more! Shopify includes analytics and inventory tracking.
As well as the option to send emailed receipts to your customers. They offer different card readers so that your customers can either swipe or tap when applying for payment.
If you want to get into email marketing, Shopify has partnered with MailChimp, a leader in email marketing to help you with this service.
Other features include a mobile app, receipt printer, reports, discussion forums, and much more. Shopify truly provides an expansive and customizable experience for the customer.
# Fifth choice:TouchBistro, Best iPad POS System for Restaurants
This last selection is solely focused on the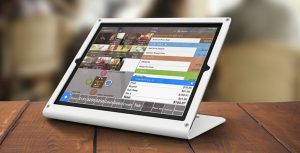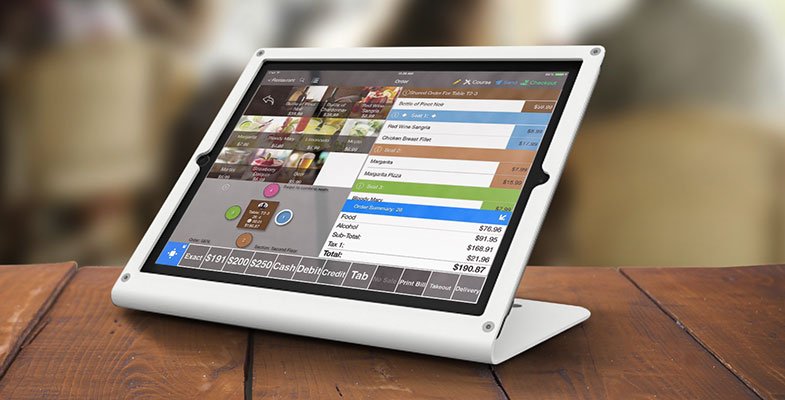 restaurants and bars industry.
This iPad restaurant POS System will not do well in other aspects outside of the food world.
TouchBistro breaks its service into two different categories.
The first is Full Service, for companies like nightclubs, bars, breweries and restaurants. The second is Quick Service, for fast-casual meals, food trucks, cafes, and bakeries.
It is crucial to have efficiency and empower your staff to move fast in the food business and this iPad POS System does just that.
By being able to split bills, join seats, manage orders, and process payments, TouchBistro truly allows your employees to work with ease.
Furthermore, this app lets you fully customize the layout of your restaurant. You can get the best picture of each table's margins and order food to the table with ease.
It also allows you to build out staff profiles, track inventory, and edit menu items.In addition to the above features, TouchBistro offers the analytics.
And dashboards that are needed to truly fuel your company's growth. Gather and drive insights from your computer or your phone.
Prices
TouchBistro offers four different payment plans to cater to your business:
Solo – $69 per month: this solution is for places that have one terminal and do not need multiple order platforms.
Dual – $129 per month: this will give you two registers so that you can speed up the ordering process.
Team – $249 per month: this is recommended for large restaurants that need a system in every serving area (e.g. bar, dining, etc.).
Unlimited – $399 per month: this gives you unlimited ability to scale your business and run it as optimized as possible.
This iPad POS system's reviews have been extremely good. Further, TouchBistro has received multiple awards for its ease of use such.
Best Restaurant POS System of 2016, 2015 Stevie Winner for Customer Service, and Best in Biz Award for the Best International App of 2015. Here is the full list of awards that the company has received.
What to look for in iPad POS System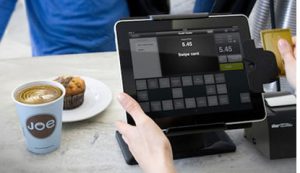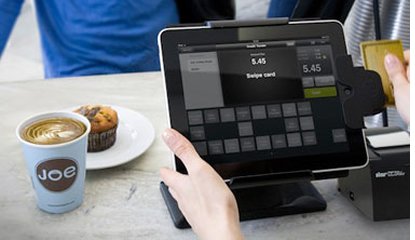 When looking for the best iPad POS Systems, we wanted to make sure that we covered every aspect that you could possibly think of.
Here are all the points that we considered when evaluating the different systems and narrowing down our search:
Cost
The cost is of the utmost importance when running a business. While this may seem obvious, people tend to overlook it for important decisions. We believe that there are quality systems at affordable prices.
It is important to remember that the cost is not just the upfront payment to get the hardware (discussed below).
There will also be a processing charge for each credit card swipe that takes place. Different companies have different rates on these card swipes so it is important to do your research on this, especially if you are selling products with high price tags.
Ease of set up
No one wants to spend hours setting up software when they have a business to run. Every minute that you spend setting up is a minute that you could have been selling a product, mitigating risk, or even talking to a customer.
Hardware
If the card swipe is not working properly, you will spend more time trying to fix the product than actually using it. This is why when warranties are crucial.
Customer support
For those times when issues arise and you cannot solve them, you should be able to quickly reach out to customer support. Certain companies offer more expansive forms of customer support, but most of them will at least provide a 24/7 form of communication.
Inventory management
One of the last things you want to be doing when running a business is to deal with multiple systems and software. By limiting the number of the software used, you will be able to streamline your process. Inventory management is no different in this regard. Keep it to one system.
Marketing features
This is an added benefit for functionality improvement. Similar to inventory management, why not keep it under one system? Systems that include marketing features will only save you time and money.
Analytics
You will not be able to grow your business nearly as fast as you would like without the data and analytics behind your decisions. Fuel your decisions by crunching numbers to make the smartest and best business decisions.
Industry-specific tools
You do not want to try and fit a square peg in a round hole. In a similar way, you do not want to run a clothing business with restaurant features. By choosing software that has industry-specific features, you will be able to work faster and better than your competitors.
E-commerce integration
Nowadays, it is crucial that you have an online store to go with your brick and mortar store. On top of that, you want one system that manages both storefronts. By having e-commerce integration, both bases are covered.
Employee management tools
Scheduling, paying, and managing employees is difficult enough. You should not need to worry about this and it should not take a lot of your time. By getting an iPad POS System that has this feature, you will save a lot of irritation and time.
Contracts and service terms
Some iPad POS Systems will have a lower upfront cost but have multi-year contracts that will keep you locked in and not allow you to break the contract without incurring nasty fees. Make sure you review the contract and terms before making your decision.
Cloud capability
This feature should not be overlooked. It is such an easy feature to use and will benefit you so much in the long run that it should be a requirement for all iPad POS Systems. Don't risk losing your data!
Data Security
It is important to keep your customer's data safe and secure. By choosing a reputable company, they will have systems in place to protect the data from hackers or any other potential threat.
These are the characteristics that we looked for in our analysis. There are other features that can be considered, but we do not deem as important as the ones mentioned above.
What is POS?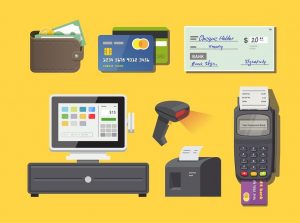 POS stands for "Point of Sale". You interact on a daily basis with this system.
Whenever you purchase something at a store or online, you are "rung up" on a machine.
These machines used to be clunky old cash registers, but have recently gotten an upgrade, thanks to new technology.
iPad POS systems are essentially an app or software that is built into or can be added to, an Apple iPad.
What is included in POS Systems?
The answer to this question can vary based on who you talk to, but usually, POS systems for iPads are comprised of three different aspects.
Hardware – The iPad POS system hardware is not only the actual iPad (if you do not already own one). This also refers to the card reader, the stand, a cash drawer, and receipt printer. All of these will complete the entire process of a transaction. You will swipe the card with the reader, which is being held in the stand. If the customer paid with cash, you will need to take money out of the cash drawer to give them their change. Lastly, you will finish off the process with printing a receipt.
Software – The software includes everything that you would want in an iPad POS System such as the inventory tracking, order processing, table layout (for restaurants), bill splitting, and all of the above features.
Payments – This is usually the overlooked portion of an iPad POS System. However, this is the main component that makes it a point of sale system, as you actually conduct sales on it. Most systems work with any type of payment, while others are limited to cards, countries, etc.
Benefits of an IPad POS System
Now, if you are not sold on the need for a POS, here are some additional benefits to help you make the investment.
Makes you look legit – People do not want to buy products from a "sketchy" business. They want to be confident that the business is taking care of them and will supply high-quality products. If you do not instill this confidence, you will struggle to get customers in general, but will definitely have a hard time getting repeat customers.
Allows you to collect data – Every time a customer swipes their card, you get to collect their data. This data can be used to provide better customer experience and use targeted marketing. By improving their customer experience, you will ultimately be benefiting the company, which means more money for you.
Streamlines the operations – If you have ever been in a restaurant or store where you have had to wait on endless lines, you can likely recall the frustration that it caused you. Do not "pay it forward" by making your guests angry and impatient. Additionally, do not do that to your employees.
Notifications – The right iPad POS System can free up your time so you can spend it on tasks that are more important. Certain iPad POS Systems will essentially be your supply chain manager by tracking your inventory and letting you know when to restock.
Protecting Your Customer's Data and Your Business
Before you purchase any iPad POS System, make
sure that it is PCI DSS approved. What does this mean? Payment Card Industry Data Security Standard.
This organization sets the requirements and rules for protecting the customer's credit card data.
PCI DSS was founded in 2006 when the Internet began to take shape and mature into a marketplace.
When the government and businesses realized the potential of selling products online and the large scale that it will become, they realized that they needed to set up some regulations to monitor the data.
While you will not find a "PCI Certification", businesses will need to comply with these standards and prove that they are PCI compliant.
This might not seem crucial for your business, but it is. If you are not PCI compliant, you are putting your business at risk for costly financial audits, data breaches, fines, investigations, and, of course, brand damage.
So, before you continue to build your brand, make sure that it is protected under PCI DSS. It is not only for POS, but the following systems as well:
Card Readers
POS Systems
Store Networks and Wireless Routers
Payment Card Data Storage and Transmission
Payment Card Data Stored in Paper-Based Records
Online Payment Applications and Shopping Carts
Do not worry, businesses selling these products will be aware of these details and regulations. While it is still good to check, you can rest assured that all the products we recommended qualify for PCI DSS standards.
iPad POS System: Our Final Word
Overall, the iPad POS System is a crucial addition to your business operations. Without it, you will struggle to make an impact on both your employees and customers' life.
Since you will slow them down. If you already have an iPad, this addition could be a simple and cost-effective decision.
By abiding by our top recommendations, you will not only stay PCI DSS regulated but will also have all the necessary features for your business.
There are unlimited features you could look for but by focusing on the ones we highlighted, you will be able to give your business the needed facelift. Trust us, you will be grateful for this investment as you watch your business soar to new heights.