(Last Updated On: 02/14/2023)
Our product review team dedicates hours of research, fact-checking, and testing to recommend the best solutions to business owners. We earn from qualifying purchases through our links, but this does not influence our evaluations. Why trust our reviews?  
Written by Business Expert Wale Ameen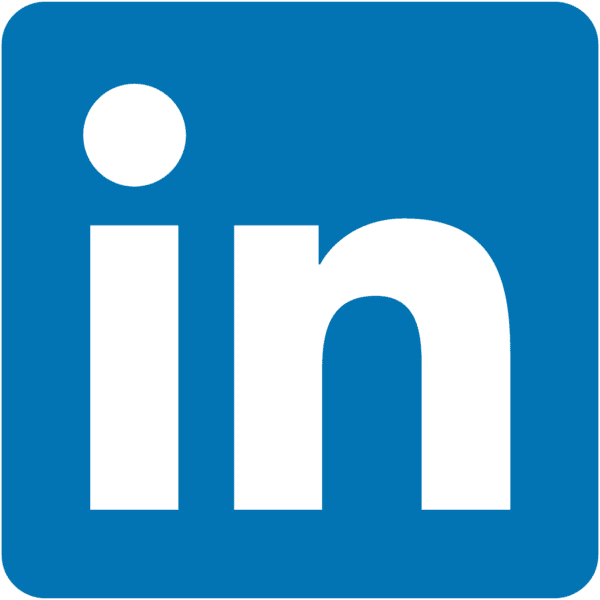 The best salon POS software helps tackle major pain points salon owners face on a daily basis, and this includes automation of areas such as appointment booking, inventory tracking, online payments, customer data collection, employee management, and other service critical areas. I have selected the best salon POS systems based on cost, features, and customer reviews. 
If you happen to be looking for the best POS systems that are specific to the beauty service industry, we have comprehensive reviews of these in the following posts:
4 Best POS Systems for Tanning Salons | Top Tanning Salon Software
6 Best Nail Salon POS Systems | Increase Profit Today
4 Best Barbershop POS Systems
Our Experts' Choice
DaySmart Salon
The best salon software is DaySmart Salon. Specifications of the software include:

Browser based

Online booking

Integrated scheduling

Offers contactless payment options

Tablet compatible
Don't have time to read this whole review? Skip ahead to:
Based on the outlined features and my personal review and assessment of the options out there in the market, the top overall POS solution I recommend for salons is DaySmart Salon. This is because this particular POS offers just about everything you need to effectively run your salon and boost your operations. Its pricing is also moderate and will not bore a hole in your pocket.
It's also an ideal solution as it helps to streamline your payroll costs. A number of reviewers on GetApp, Capterra, and softwareadvice.com testify and commend the solution as being a good option when you need to reduce operating expenses as well as have a good overview of your salon's finances at all times. 
How I Evaluated 
In coming up with this review of beauty salon POS systems, I have reviewed more than 10 popular brands. My criteria included features such as inventory management, appointment booking, integrations, as well as affordability and customer reviews. This is in addition to our top considerations for choosing a POS system.
In drawing up this particular review, I have sifted through countless user reviews on major review sites online (Amazon, Capterra, and GetApp) and have analyzed their submissions to see what their thoughts are about the leading Salon POS brands. The core considerations in coming up with this review are overall star rating, customer satisfaction, and how many users say they will recommend the solution plus its add-on integrations.
Along with the above, I have also personally attempted a test trial of each of the salon point of sale solutions recommended in this review to see what features are offered by each. Through the test trial accounts setup, I was able to evaluate just how easy or otherwise it is to get an account setup and if this is offered at all. 
All these points have informed the submissions given here about each system. Through the process, I realized that not all providers grant easy access or even allow a public display of their interface. As such, not all have documented visuals (screenshots and/or videos). 
Things to Look for When Choosing Salon Point of Sale Systems – Quick Takeaway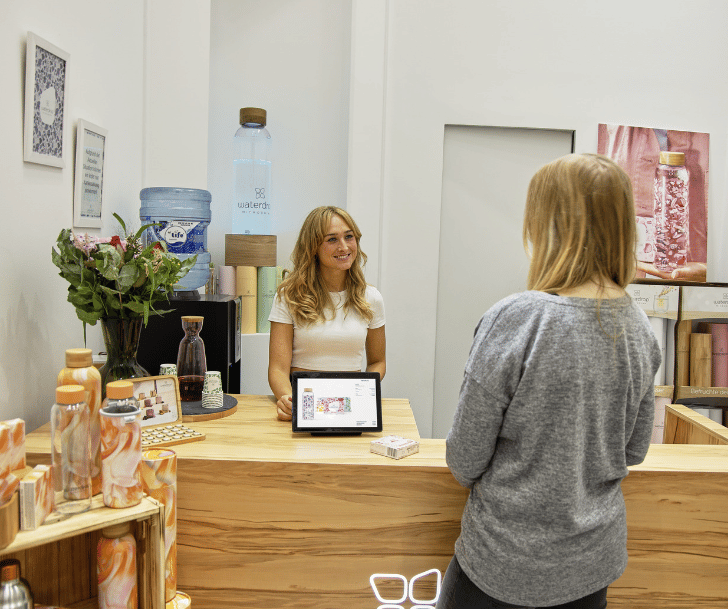 In choosing a point of sale system for your beauty salon, there are some vital features such a solution must boast of in order to enhance your service delivery. Such a POS system must be easy to use, it should offer quick and seamless appointment management, integrate seamlessly, offer flexible payment processing options and support inventory management. 
Salons need to be able to manage client appointments and preferences, bookings, and a growing menu of products and services. A salon POS system can provide the right tools, making it easier and more efficient to manage not just the clients, but the salon as a whole. 
These solutions will allow clients to book appointments online, integrate your chair services and client profiles for seamless transactions, and even help manage staff scheduling and commissions. 
My Most Recommended Salon Point of Sale System
Based on the outlined features and my personal review and assessment of the options out there in the market, the top overall POS solution I recommend for salons is DaySmart Salon. This is because this particular POS offers just about everything you need to effectively run your salon and boost your operations. Its pricing is also moderate and will not bore a hole in your pocket.
DaySmart Salon offers an all-in-one front browser based platform that comes packed with online booking features and integrated scheduling, which helps to keep both stylists and clients on the same page. It is user-friendly with contactless payment options, tablet compatibility mode for mobile and growing salons. 
It's also an ideal solution as it helps to streamline your payroll costs. A number of reviewers on GetApp, Capterra, and softwareadvice.com testify and commend the solution as being a good option when you need to reduce operating expenses as well as have a good overview of your salon's finances at all times. 
Best Salon POS Systems – A Detailed Overview
1. DaySmart Salon – Best All-in-One Salon Software for POS and Management
DaySmart Salon which was formerly Salon Iris boasts a unique solution for salon management that is much more than just a point-of-sale platform. Since its rebranding in September 2021, DaySmart now offers a more friendly and visually appealing user interface. In addition to a comprehensive POS, DaySmart Salon has an all-in-one cloud based platform that includes integrated salon management, reporting, and backend features. DaySmart also offers spa management software known as DaySmart Spa.
The reason I chose this over others is that it really does have everything, including native iOS and Android apps, cloud access via web browser, and a 14-day free trial for all new customers. From my experience, signing up for its free trial is a breeze, and you can easily gain access and try it out. 
To access its free trial, I had to submit a request via its 'Start Your Free Trial' page. I was required to input my personal details, after which I was then required to fill in my business details. For the business section, you are required to select which use case best describes you: either you want to use Daysmart for yourself or if you intend to use the software to manage your business. 
Afterwards, you are granted access to your account and you can begin exploring right away. You can see the steps in the screenshots below.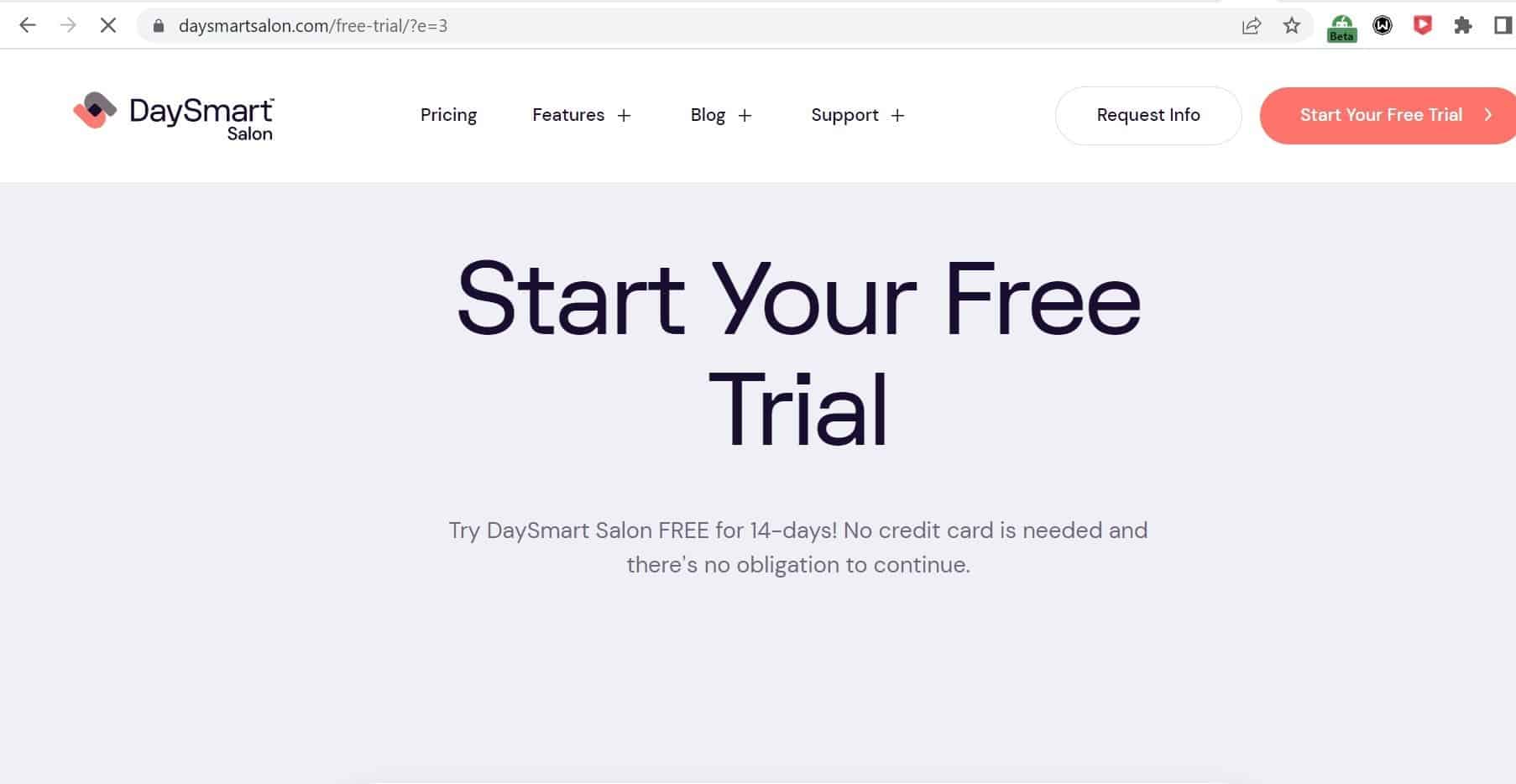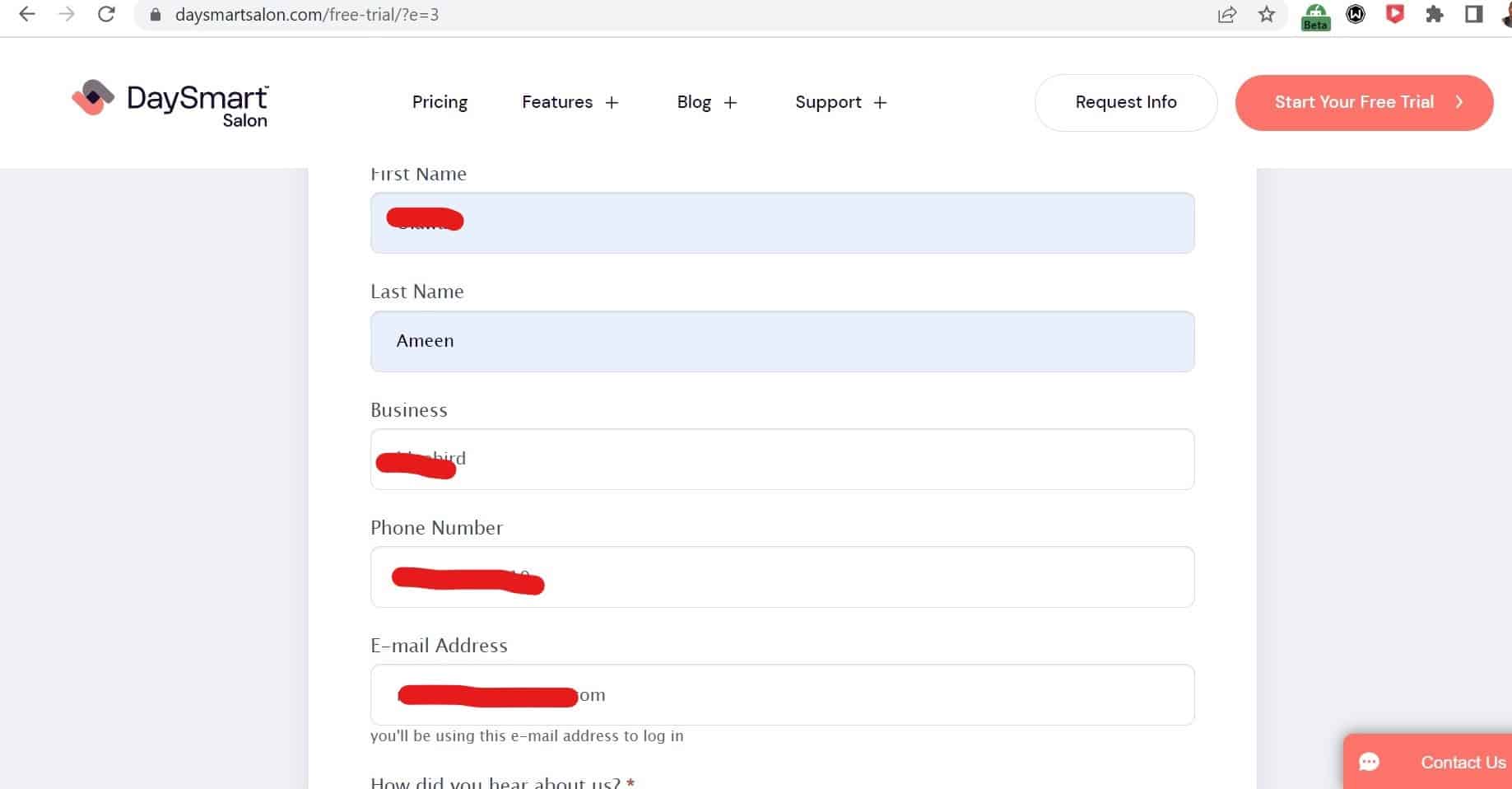 Daysmart Salon free trial request form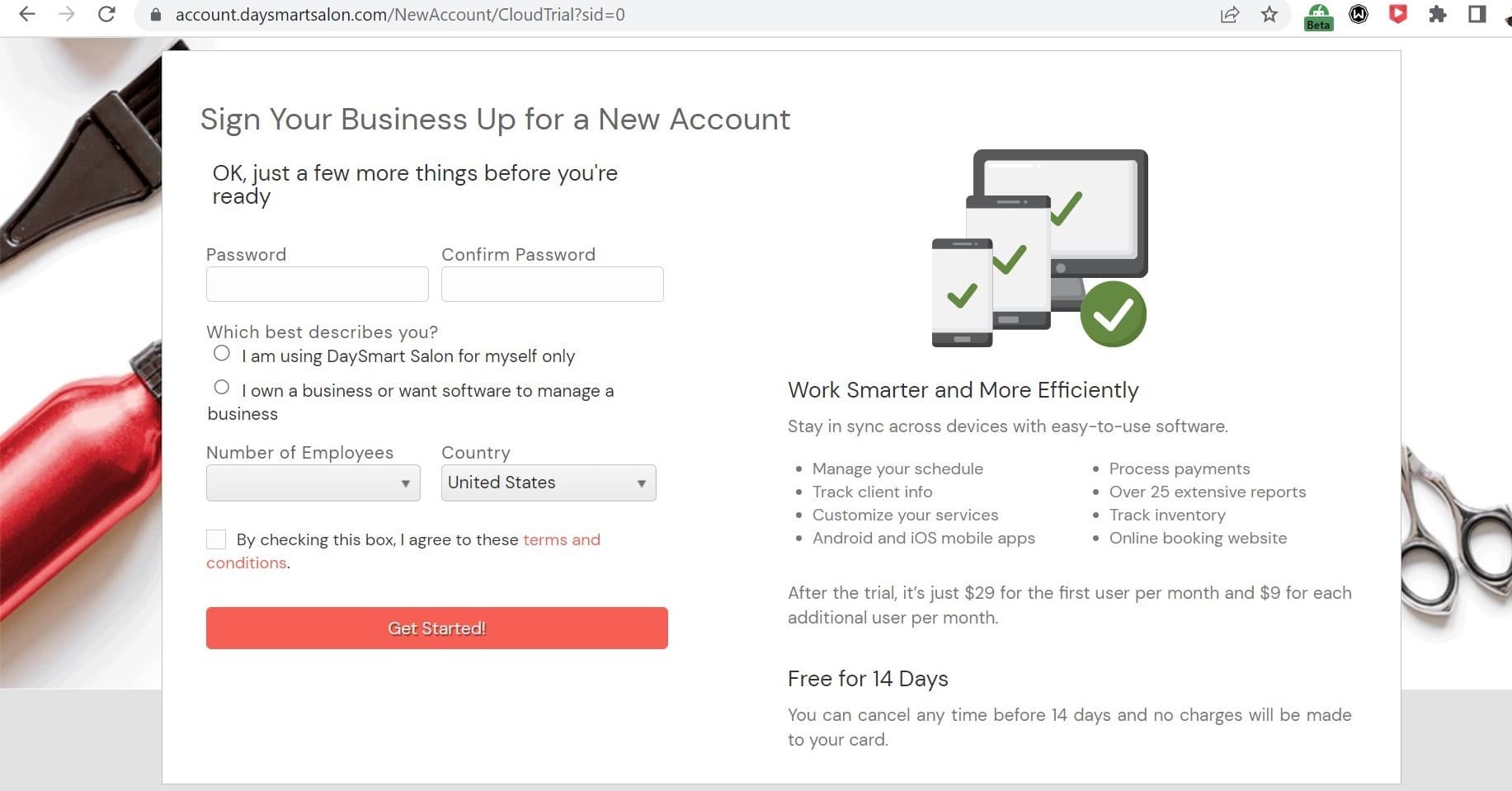 Further questions to set up your account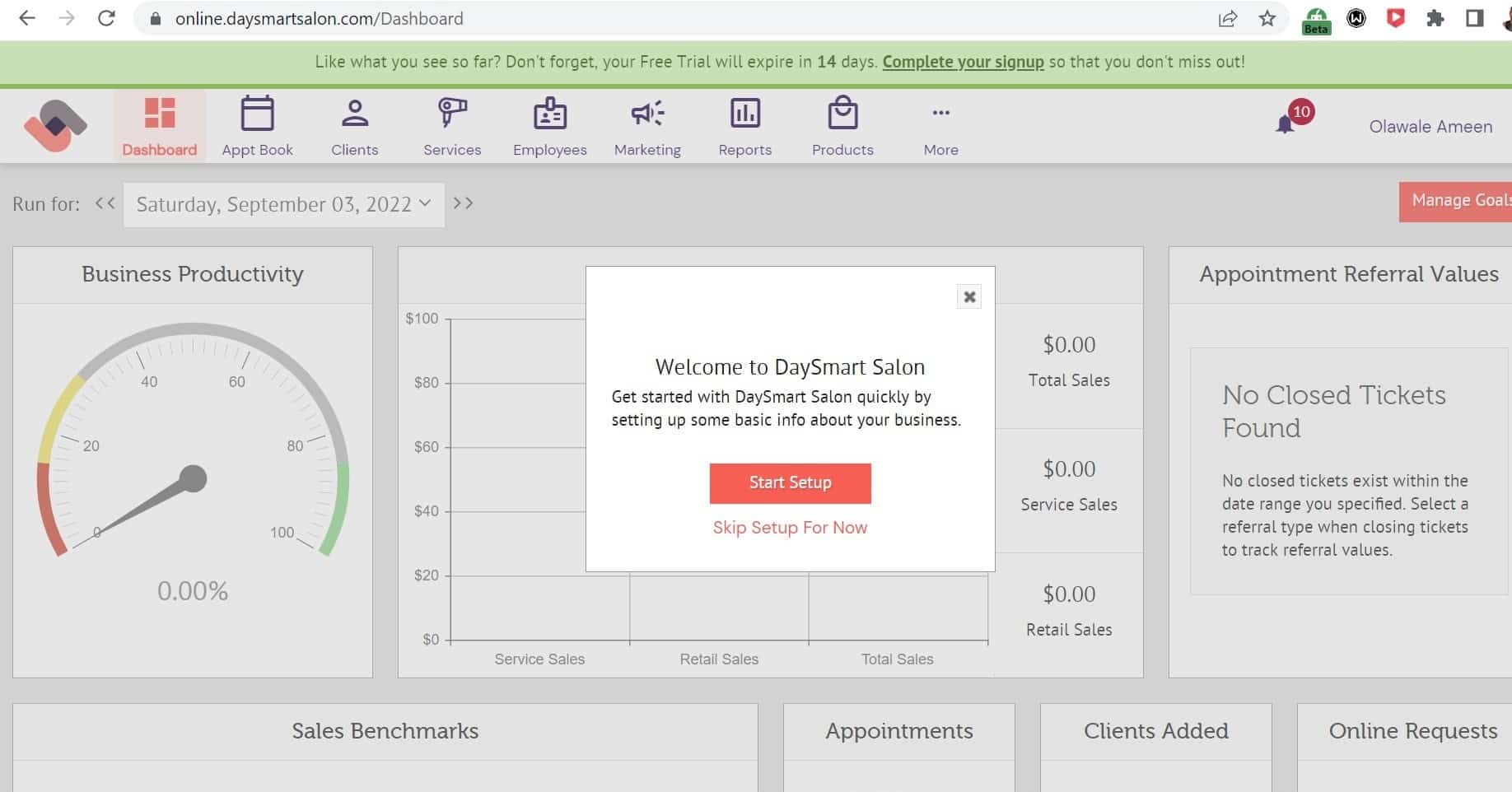 Welcome screen when I first accessed my account
Features that Make DaySmart Salon Point of Sale Stand Out
Visually Appealing
In my analysis of Daysmart Salon's features, one thing that stood out is the visually appealing and well-designed interface of the system that makes navigation a smooth experience. You can see that from the screenshot below.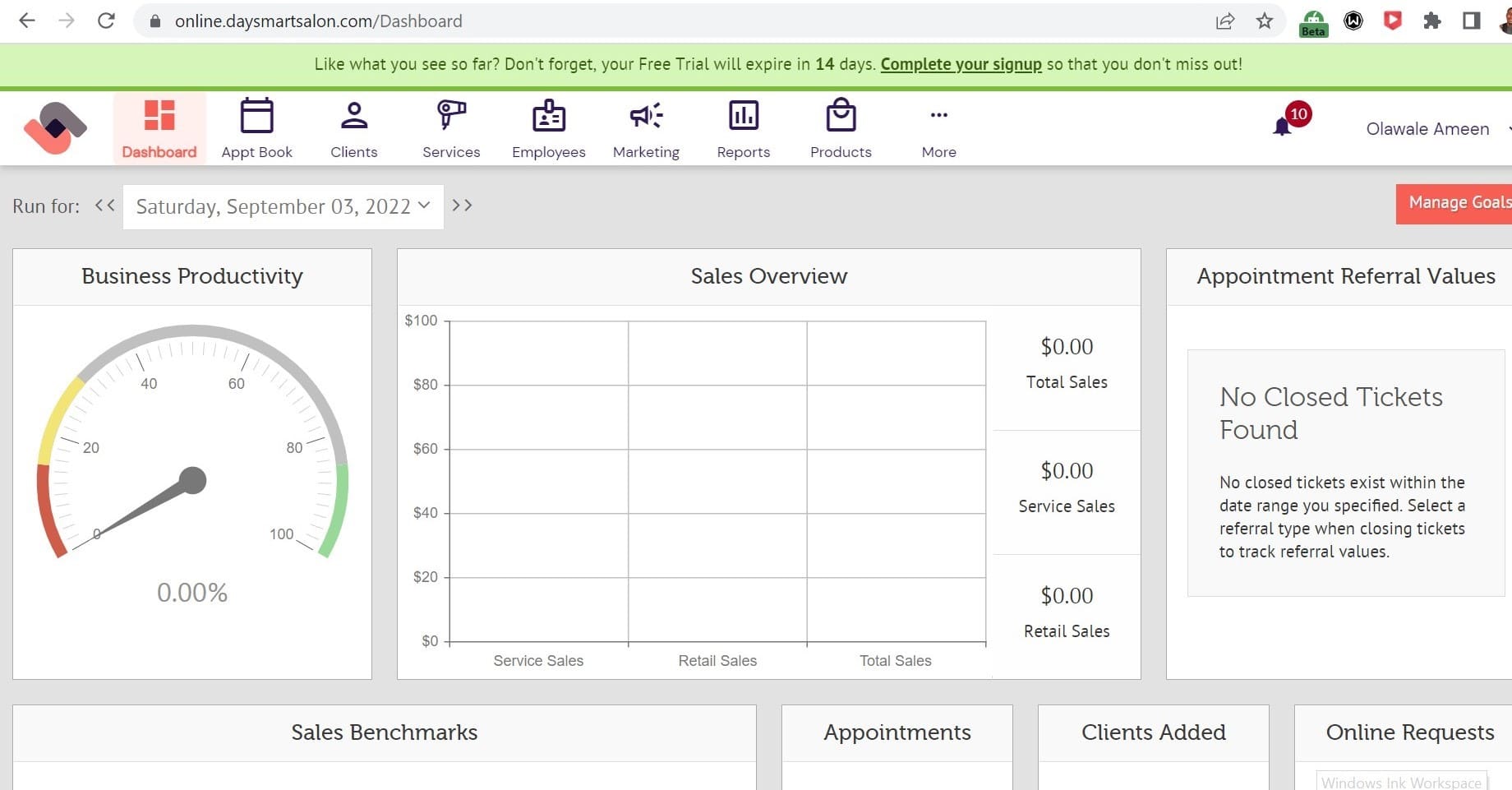 Complete Point of Sale
It offers a complete point of sale package that comes with integrated credit card processing and also comes packed with modules such as Appointment Book, Clients, Services, Products, and Memberships. 
Marketing Suite
It also offers a marketing suite where you can schedule targeted and customized emails and a variety of payment options, many of which are contactless. It also features online client booking, integrated scheduling to line up clients and stylists accordingly, and the ability to add in as many products or services as your salon offers.
From the dashboard, you can easily see how well your business is doing with your sales overview, see the number of appointments, clients added, and online requests received all at a glance.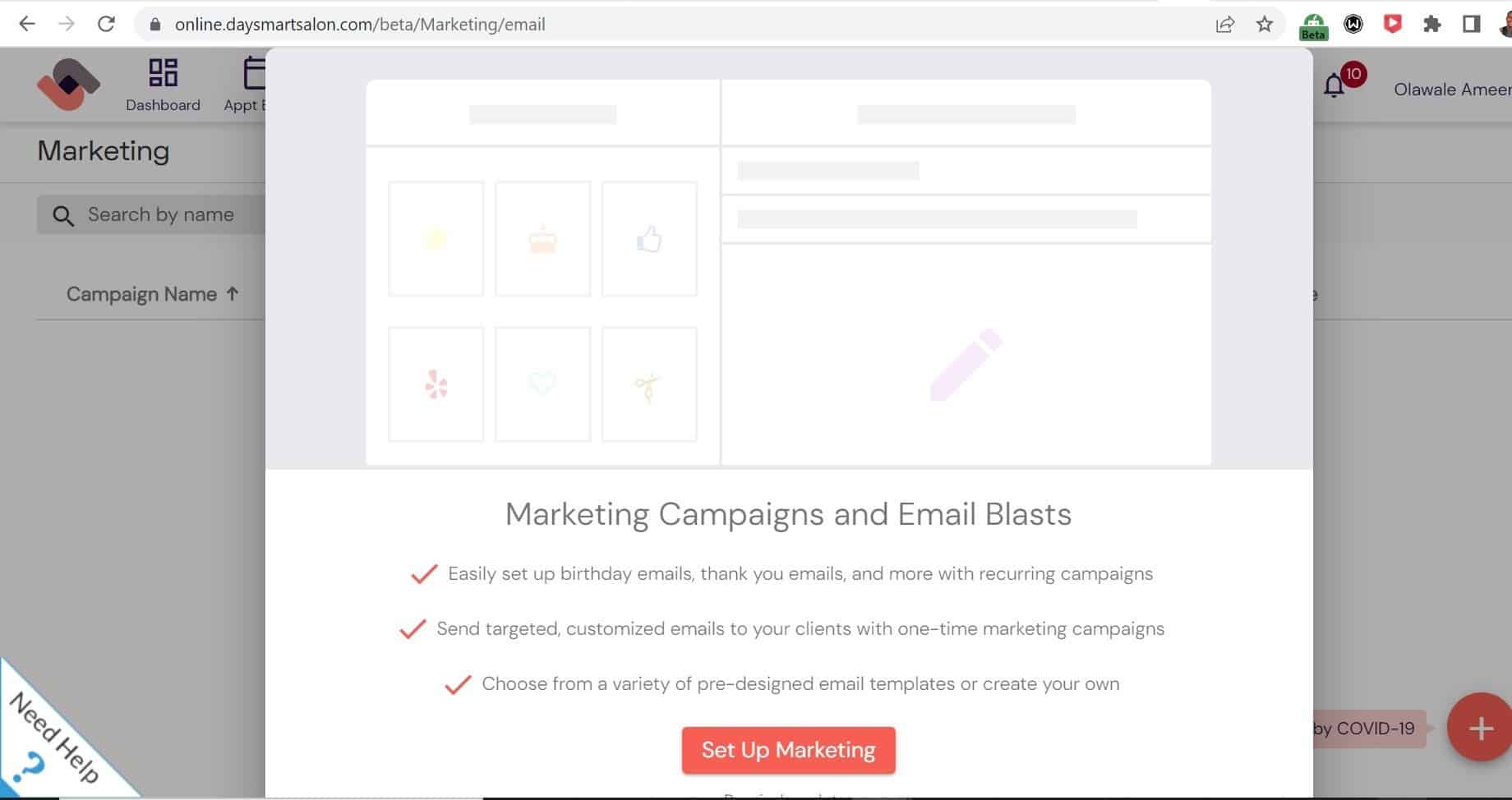 DaySmart marketing module
You can include separate listings for kids' cuts and adult cuts, for example, and add new retail products as they arrive.
For small salons and those who are just getting started, this might be the best solution in terms of physical POS solutions. The all-in-one platform from DaySmart Salon is compatible with select hardware and you can add a receipt printer, scanner, cash drawer, and even a new tap-to-pay device.
Back of Office Operations
Another thing I took note of is that this platform also offers operational management tools like financial reports, payroll reports, and commission management. Plus, the mobile-friendly platform includes a tablet stand and the necessary downloads so that you can run DaySmart Salon from any iPad or Android tablet instead of investing in a full computer system or cash register.
Ease of Use/Set Up
From my review, DaySmart Salon is an easy to setup POS solution, and just about anyone will find it easy to set up and be up and running with it in no time. This is also attested to by users who specifically praise it for its seamlessness and ease of use.
Daysmart Pros and Cons
Pros
It offers free trial period
It is mobile friendly
It can easily run on any iPad or Android tablet
Cons
No offline mode
Some users complain that the system sometimes experiences glitches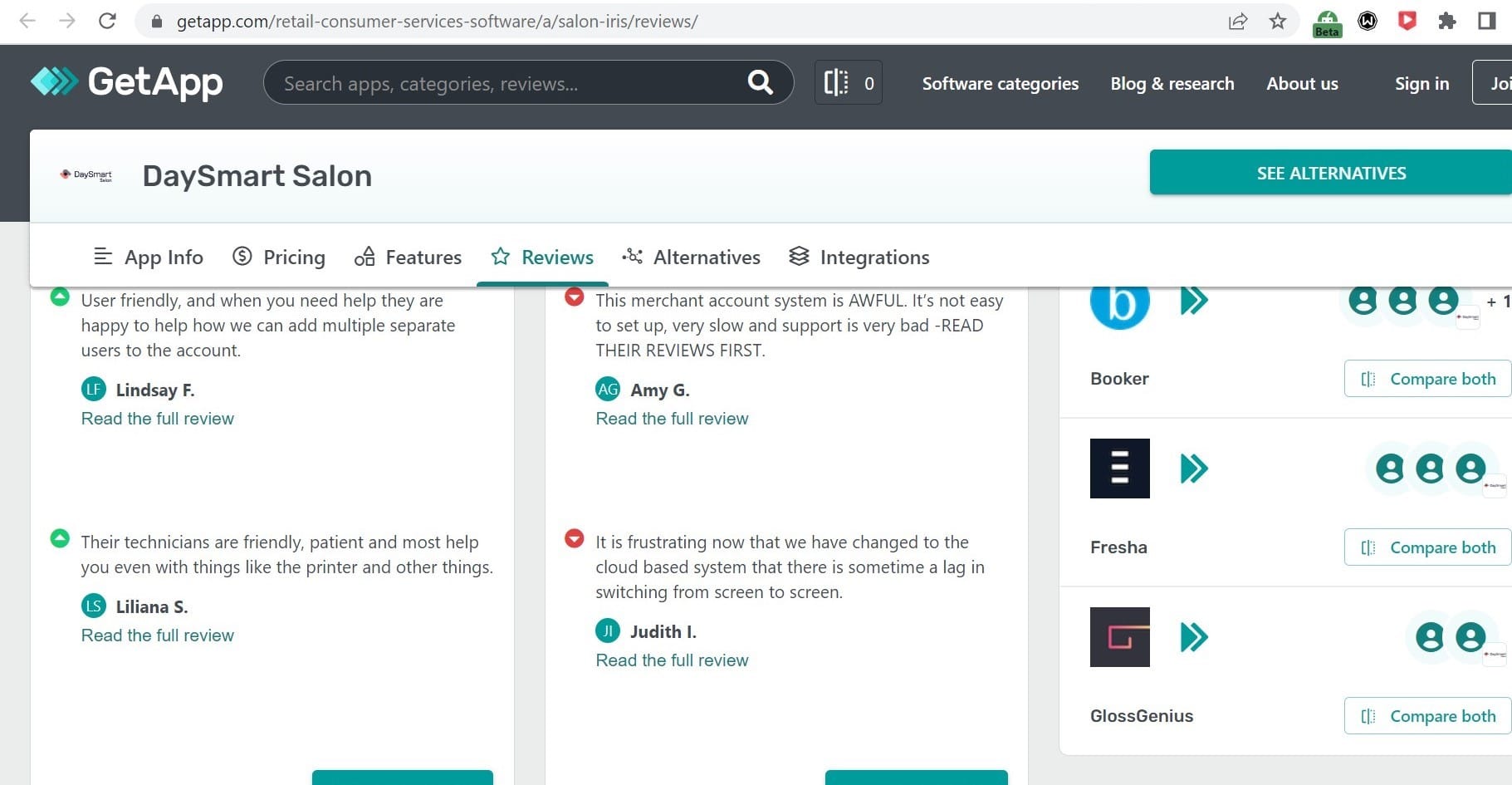 Who is DaySmart Salon Software Ideal For?
Daysmart is ideal for anyone running a small salon business and looking for a cloud solution that will help manage the operations of the business. Its lineup of operational management tools, highlighted above, also goes a long way to making the daily management of your salon's operations seamless.
Its pricing plan also makes it a great choice for small business owners looking for an effective salon management tool that will not bore a hole in their pocket.
How Much Does DaySmart Salon Software Cost?
DaySmart Salon runs four plans: Basic, Deluxe, Premier, and Platinum.
Basic: $29 monthly, allows for one user and 1000 texts, 5000 emails, online booking, mobile app and reports
Deluxe: $69 monthly, allows for 3 users with $9 for additional users, 1000 text and 5000 emails, plus all of the basic features.
Premier: $129 monthly, unlimited number of users, 1000 tests and 10,000 emails
Platinum: $249 monthly, unlimited number of users, all features of Premier plan as well as reputation management and 2500 text marketing messages and 2,500 two-way text messages monthly
Ease of  Use/Setup
From my review, DaySmart Salon is an easy to setup POS solution, and just about anyone will find it easy to set up and be up and running with it in no time. This is also attested to by users who specifically praise it for its seamlessness and ease of use.
Customers' Ratings/Reviews of DaySmart Salon
DaySmart Salon scores very high among users. The POS system scores a five star rating from about 200 reviews on GetApp out of a total of 300 reviewers and scores on average four stars for ease of use, value for money, its line up of features, and its customer support. Customers especially praise the company's customer support team, which many say goes above and beyond in resolving issues whenever they arise.
DaySmart Salon also comes highly recommended among users as it scored a total of 7.95 per cent likely to recommend rating among reviewers on GetApp. It won the 2022 Noteworthy Product and 2022 Emerging Favourite Product awards on Capterra.


2. Booker – Best Salon Software (Overall)
The next point of sale that gets the second-highest recommendation is Booker. Booker receives the highest recommendation because it offers you the most value for your money. At first glance, the cost may appear greater compared to alternatives; but a closer look at the deal users are getting proves that Booker offers the best package. The Booker Marketing Network, which is one of its many great features, is a great opportunity to connect your business with popular websites.
This is my pick for the best combination salon and spa POS because it has customizable features with a full menu of solutions for salons, spas, or salon/spa facilities that offer combined services. It offers online client booking and appointment management, as well as a native mobile app for Android and iOS. It also offers hospitality, franchise, and enterprise packages to cater to different types of businesses and their unique needs.
Note: Booker point of sale was acquired by MindBody back in 2018, however Booker is it's own individual platform. MindBody just owns the software. 
Features of Booker POS
Client-Focused
The Booker by Mindbody platform is all about convenience for clients, with mobile scheduling available via app, website, and social media. Customers can even purchase gift cards online with this platform, which is sure to increase gift card sales.
The scalable system includes multiple payment options, including credit card processing and a growing selection of contactless payment choices, giving clients the convenience and safety that they desire.
High End and Hassle-Free
This platform offers a demo for owners to check out before they make a decision, along with multiple package options. It is one of the more expensive POS solutions, but it offers rich data reporting and salon management, customer marketing, customer retention resources, owner resources and training tools, and an integrated point-of-sale that can import client profiles, inventory, and new products as they become available.
One thing I particularly took note of is that Booker takes a lot of the work out of salon operations. Many of the features are easy to set up and some can even be automated. Plus, the platform can be scaled to grow with the salon over time.
The Booker Marketing Network
The Booker Marketing Network is great for getting your salon in popular directories. From SpaJour, Spafinder, BeautyBooked, to Yelp and Pingup.
Customers can even book appointments directly from Yelp, thanks to a 'Book Now' button they can find on page. While this service doesn't cost anything extra, you do have to pay a 15% commission on any appointment booked through a directory. This commission applies to the first appointment. So you keep every dime of any upsells.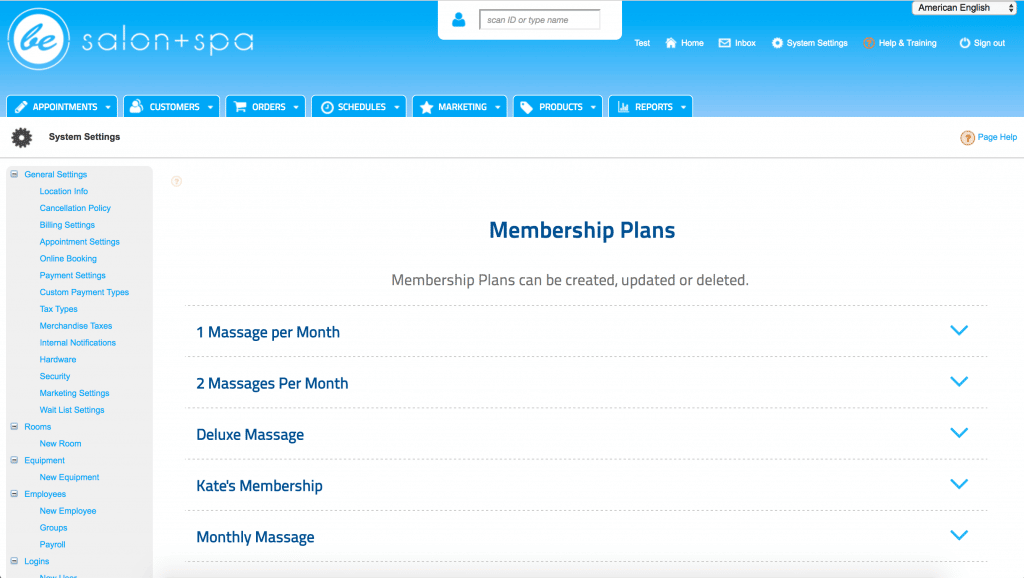 How Much Does Booker Point of Sale Cost?
Booker offers two packages, both of which provide unlimited users. Let's take a look at what you get for either:
$85/month – Users receive all main features. This is inclusive of SMS alerts, a POS, appointment booking, and an eCommerce site.
$135/month – Users have access to membership engagement and loyalty points.
What's more, this service comes with optional add-ons:
Booker Promote – At $50/month you have access to automated email campaigns to aid in customer retention.
Custom Branded Mobile App – At $30/month your customers are able to use this application to book appointments.
Pros and Cons of Booker Salon Software
Pros
Ease-of-use
Great dashboard
Convenience
Transparency
Customer details
Booker Marketing Network
Cons of Booker
No offline mode
Tablet compatibility is lacking
Booker Salon Point of Sale Software Demo
Below are screenshots and video overview of the Booker software.


Booker Salon POS dashboard, courtesy of Booker

Video overview of Booker courtesy of Booker
Customers' Ratings/Review of Booker
A good portion of the over 200 reviews submitted by customers on softwareadvice.com are mostly all positive comments on Booker. Many submit that it is very user friendly. The availability of embedded explainer videos for all of its features, which aid a user to quickly come to speed with navigation, is another plus it has been praised for.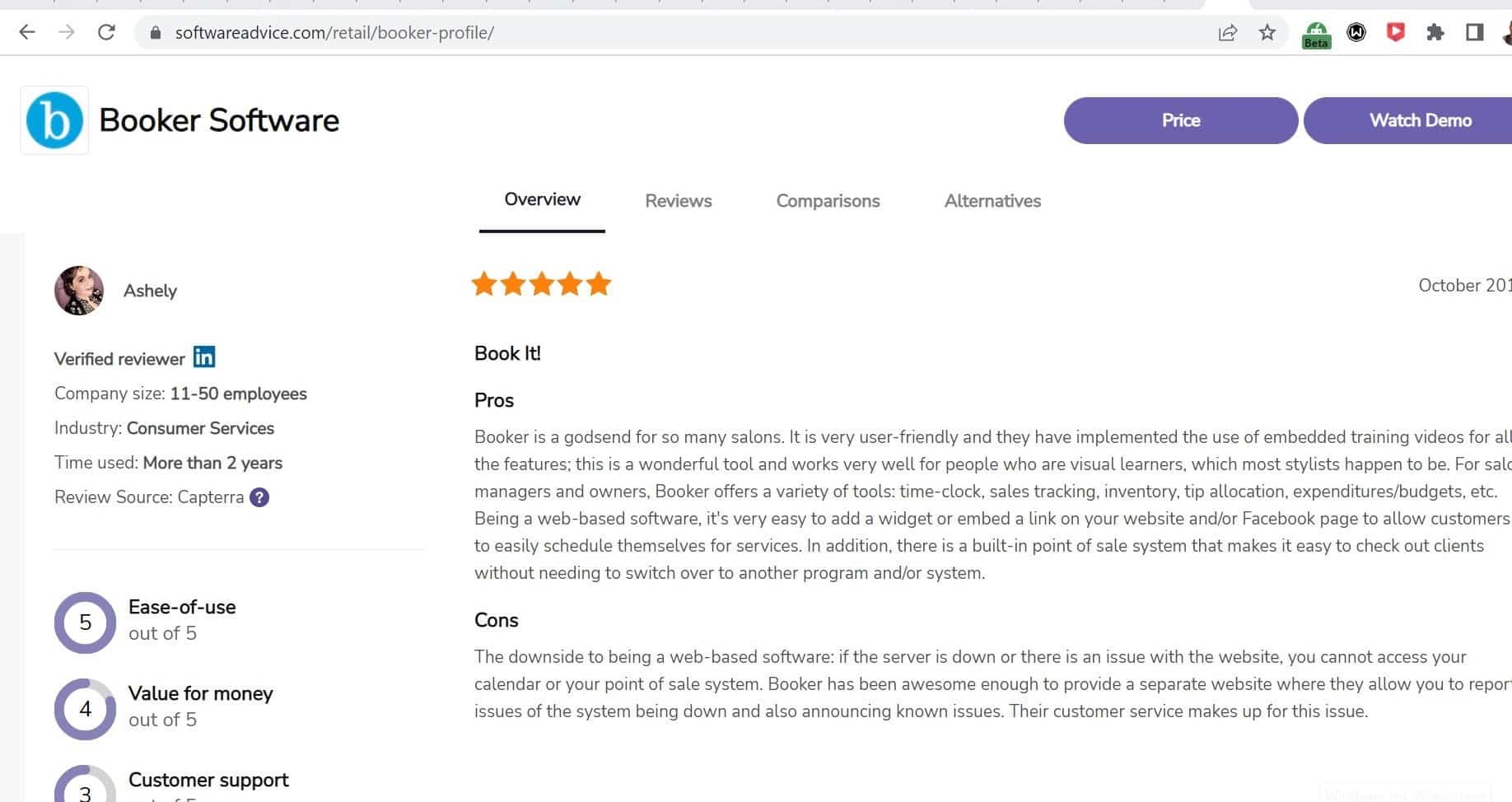 A customer's review of Booker on softwareadvice
Many users also point specifically to its online appointment scheduling and gift card purchase features for customers; time-clock; sales tracking; inventory; tip allocation; and expenditures/budgets features as particular delights.
On GetApp, Booker scores high among customers for its value, ease of use, features as well as its customer support. Overall, it scores 8.16/10 per cent among verified reviewers on their likelihood to recommend it and has a 4.1/5 overall star rating. This shows that it comes quite handsomely recommended by users.

Booker overall rating on GetApp
MindBody was founded by a naval submarine officer by the name of Rick Stollmeyer.
Coming from a family of entrepreneurs, Rick decided to launch two companies back in 2000. One of those companies was MindBody. The intention was to help small businesses flourish by providing them with internet-enabled tools to augment and complement their workflow.
Has MindBody achieved this? Well, in 2014 the company received a Glassdoor Employees' Choice Award. It was considered one of the best medium-sized companies to work for.
MindBody is typically a few paces behind Booker. There are circumstances, however, that may indicate that you're better off going with MindBody. More specifically, if you're selling Memberships.
In that case, you'll need to provide a system through which you can auto-charge customers consistently and without hiccups. Members will also need a certain amount of leverage with their subscriptions; in case they ever need to downgrade, upgrade, or in some cases even cancel. I'm not saying Booker doesn't offer these tools as well. The catch is it costs $135/month—while with MindBody you would pay $85/month. So if you're comparing MindBody vs. Booker for your salon point of sale, keep cost in mind.
Features of MindBody Salon Software
MindBody's Customer Engagement
MindBody's campaign comes at a $145/month charge and is essentially 3 automated email messages. has the edge here—as it allows you to save up to 6 emails.
Consider also that you're free to send promotions a customer's way based on a particular purchase they'd made.
You can achieve this by breaking down your list of clients according to their recent purchases or preferred hairdresser, then send a mass email directly to that group of customers.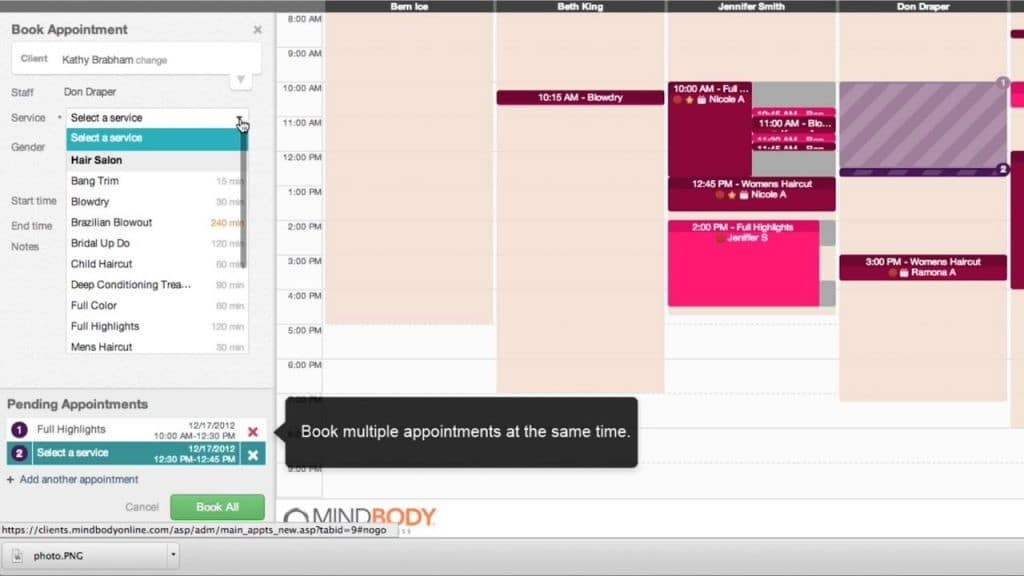 MindBody Connect
MindBody Connect is an app available for download. It helps customers locate local salons, fitness classes, and spas. Customers can take care of most of the particulars through MindBody Connect.
You can book, confirm, and pay for appointments all from your device. Essentially, MindBody Connect offers freedom and flexibility and takes the hassle out of booking appointments.
It is especially useful if you've recently relocated because of work or school and don't have the time to physically track down a fitness class that works for you.
How Much Does Mindbody Point of Sale Cost?
MindBody has multiple packages. Features vary between $159 – $699/month.
$159/month – List your business on the MindBody app, manage clients and staff
$329/month – Reach the right audience with smart contact list, build emails with customizable templates, handle payroll reports and track inventory.
$419/month – Automate your marketing and incentise referrals
$699/month – Create your own branded mobile app and all other features
Pros And Cons of MindBody
'Ease-of-use' doesn't appear to be MindBody's strong suit—not even for some users who are a bit tech-savvy. But most customers who have given this program a shot seem to agree that it is worth it.
Other than that, the complaints were nearly identical to Booker: trouble getting through to customer service, or a certain problem taking too long to be resolved. Customer support is usually solid. Reviews aimed at customer service were a bit of a mixed bag compared to Booker, but remained mostly positive.
Users enjoy the customer booking experience where they are able to book appointments through links on your site. This connects them directly to MindBody's scheduling system, where they have the option to create an account in the event that they've never booked with you before. Judging by the customer reviews I've seen—these are some of the standout features:
Pros
Integrates Google Calendar
Payroll reports
Customer support
Great interface
Cons
Complicated software
Customer support
Key features missing
Mindbody Point of Sale Overview
While Mindbody offers a demo, you are required to fill out the request form on their website, after which a sales officer gets back to you to activate a trial for you.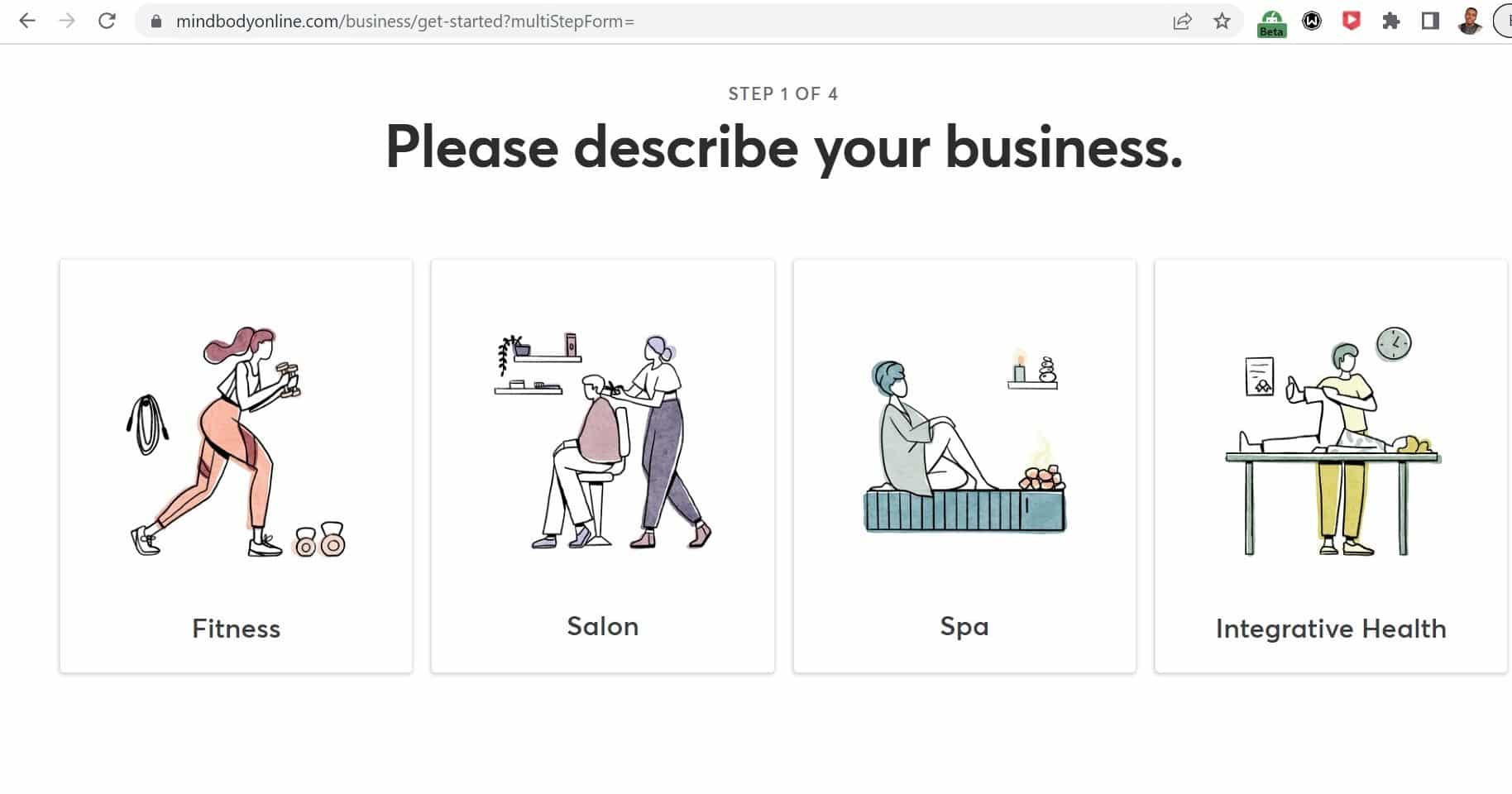 Next, you are required to choose between two options: whether your business has launched or not yet.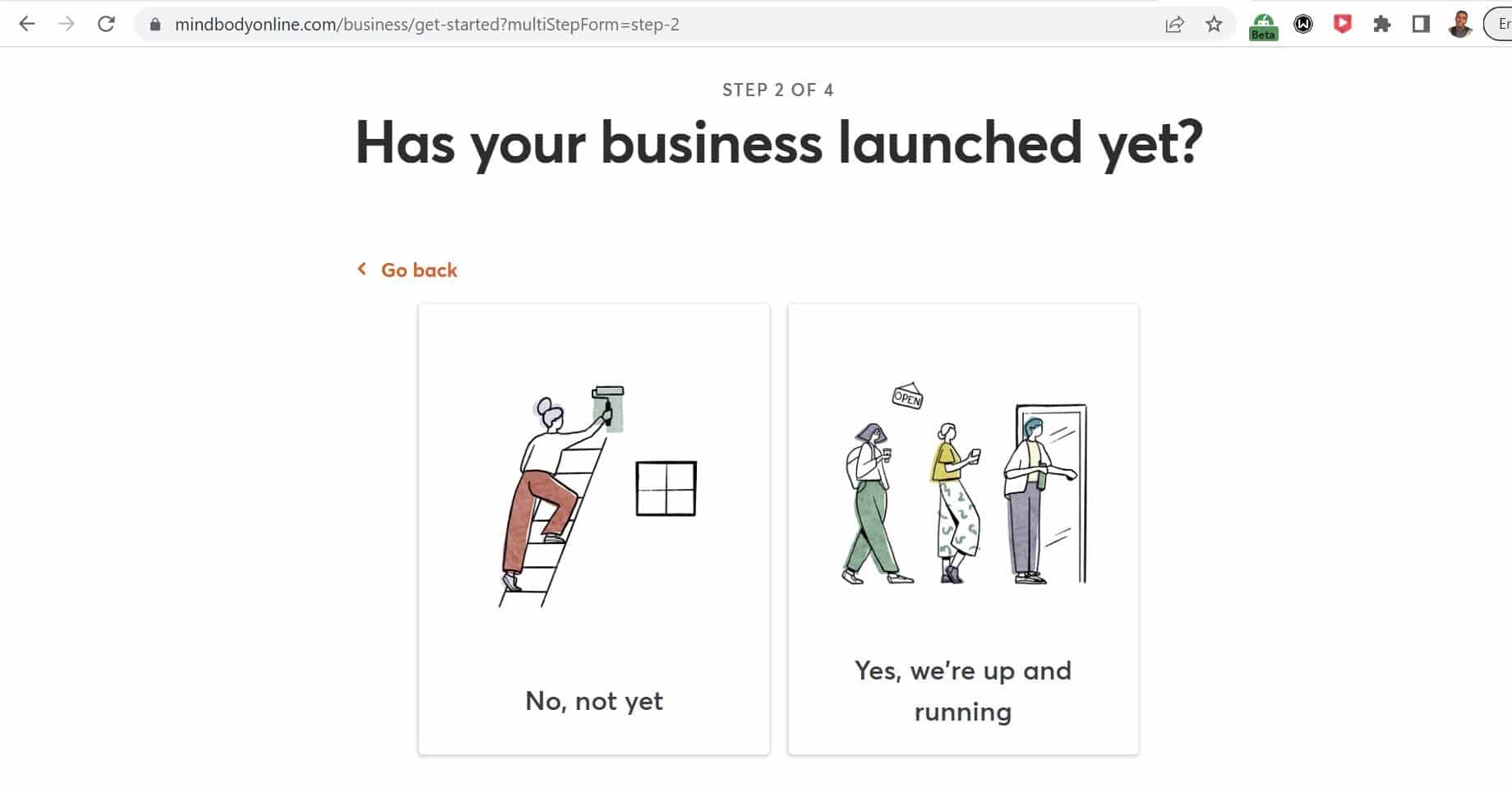 Next, you specify details of your business including business name, postal code, number of locations and if or which software you are currently using for your business.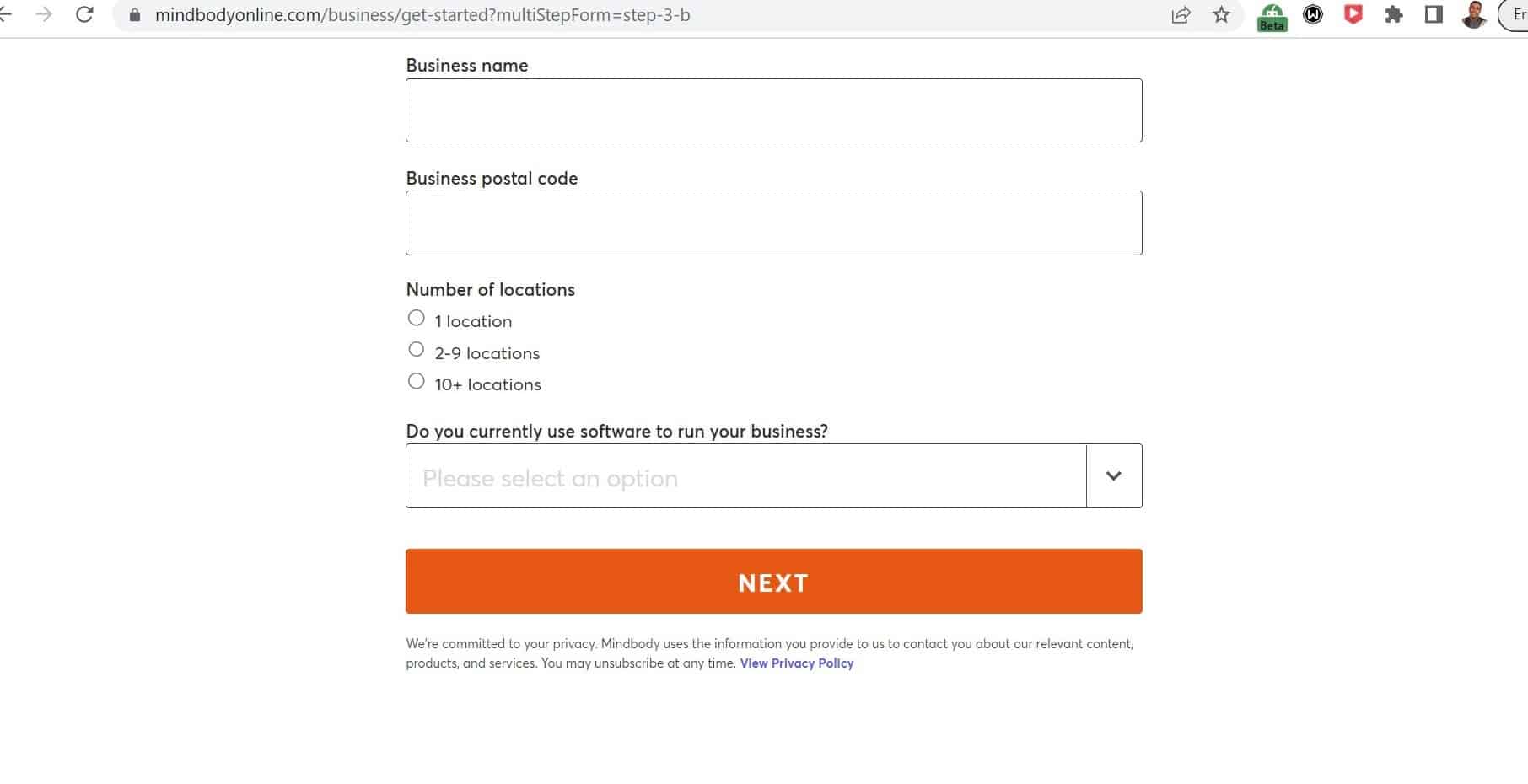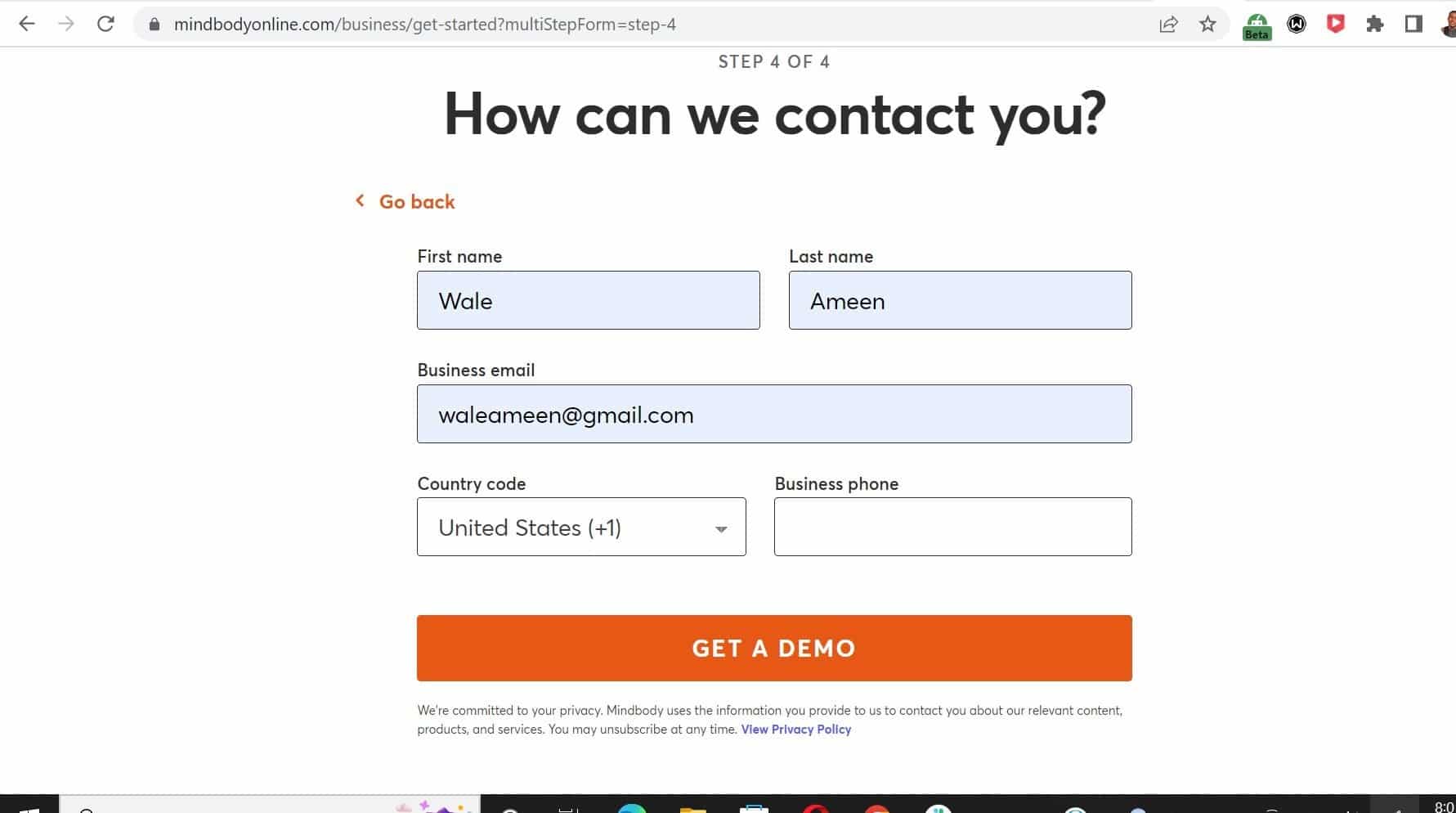 You are then asked for your contact details after which you get a confirmation message once you hit the submit button.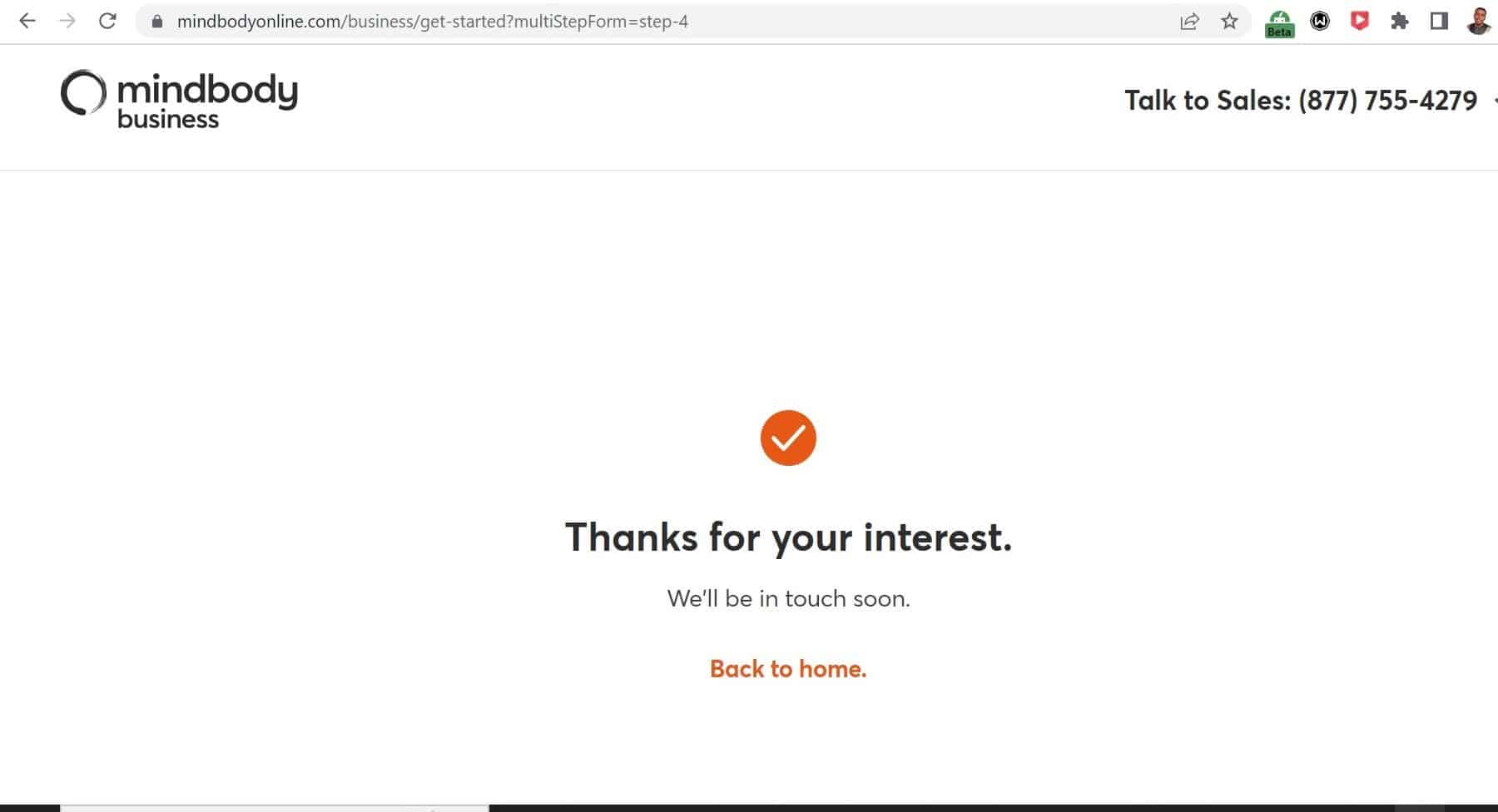 This process thus means that you cannot easily access its demo version without getting in touch with them after which a sales representative gets in touch with you and sorts this out.
Customers' Ratings/Reviews of MindBody
Many users approve of MindBody to serve their particular context of use. This is evident in the glowing reviews the solution has garnered on review sites like GetApp and softwareadvice.com.


Mindbody rating overview on GetApp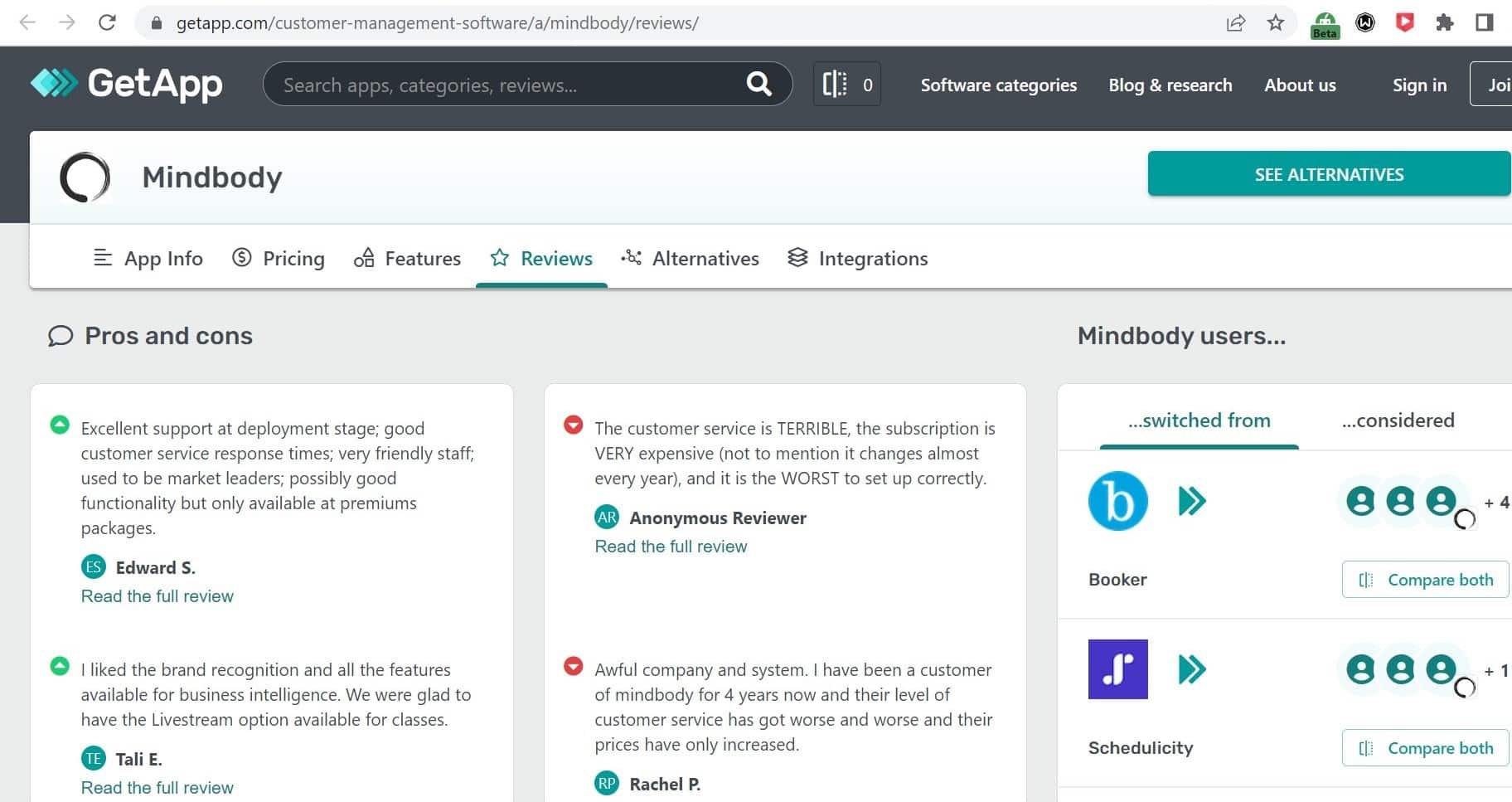 Some customer reviews on GetApp


Mindbody rating on softwareadvice
MindBody presently has over a thousand 5-star ratings so far on GetApp, with many praising the solution for its excellent customer support and features it boasts. Many say it is exactly what they need to meet their salon business needs.
4. Rosy – Ideal Salon Software For Small Salon Business
Rosy Salon Software is a spa management solution that is cloud based and an ideal option for small and midsize businesses.
The Rosy Salon Software enables you to manage the setup of slots for customers, manage multiple appointments, have easy access to your customers' history, as well as easily send them personalized reminders.
Rosy is easily the more economical choice. However, it is important to keep in mind that you get what you pay for.
That isn't to say Rosy might not be all you need to help you build your business. If your needs stop at handling POS, tracking customer history, and sending promotional emails – then Rosy and a more economical route will suit you just fine.
You pay $29/month for one service provider, whether a pedicurist or hairdresser. Users then pay $10/month (or thereabout) for any service provider that follows.
If you're looking for payroll reports, or to build automated email campaigns, and have access to an eCommerce store—then consider investing a bit more into software that better suits your needs. Consider also that after you add about 10 service providers, Rosy Software will cost around the same as MindBody and Booker.
Features of Rosy POS
Rosy offers quite a number of the regular features expected of a salon management system, such as:
Client Scheduling
With Rosy, you can easily schedule and fix up customers with its easy scheduling provision. This is backed up by its appointment reminder function, which enables you to send reminders to customers.
Inventory Management
Rosy enables you to keep track of your salon's stock and inventory so that you are able to keep track of what goes out and what comes in.
A Reporting and Marketing Suite
The Rosy POS comes with a reporting and marketing suite that provides you with a wide array of report templates so you can stay abreast of progress and also carry out marketing strategies like automatic appointment reminders via text.
Customer engagement is enhanced through its very simple user experience. Through its Facebook integration function, users can also book appointments via your Facebook page website.
You'd be surprised at how effective their email marketing tools can be. If you're looking for traditional email campaigns, then you might not be overly fond of what they have to offer. But you are still able to set up automated emails for occasions such as birthdays or after an appointment.
Point of Sale
Its point of sale feature enables you to easily manage checkout, cash drawers, and gift cards.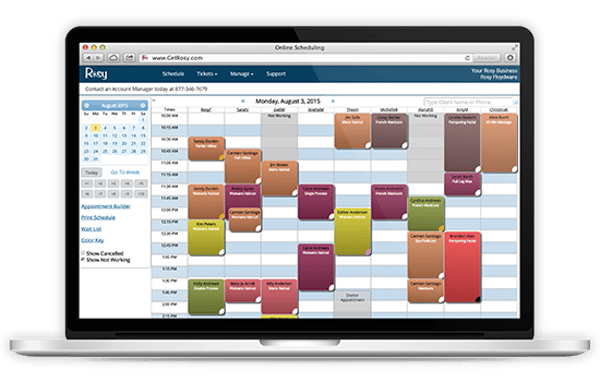 How Much Does Rosy Point of Sale Cost?
Provider-Based Pricing
Rosy operates a pricing model based on the number of service providers you offer. When considering Rosy Salon Software, keep in mind that pricing depends on how many service providers you require for your account.
'Service providers' is inclusive of pedicurists and hairdressers. It does not, however, include assistants and desk personnel.
Let's take a closer look at what you're getting for your money:
$29/month – 1 service provider
$39/month – 2 service providers
$49/month – 3 service providers
$59/month – 4 service providers
At $69/month and up you receive a bit more leverage:
$69/month – 5-10 service providers
$79/month – 11-15 service providers
$89/month – 16 – 20 service providers
$99/month – 20+ service provider
Rosy has an almost spotless reputation among customers. Even technical users of the program deem it nearly perfectly engineered.
They generally find the features intuitive for scheduling and managing appointments—whether online or via text messages. Overall, the software doesn't throw a monkey wrench into daily workflow.
Based on what I understand, it would be wise to test out certain features prior to integrating the program into daily business.
The email builder for the CRM, in particular, could use some improvement. If you're knowledgeable with building emails, though, you shouldn't have too much trouble.
Experienced users suggest that less technical customers should rely on someone skilled in software migration or cloud migration to handle their setup and implementation.
That might be a good idea across the board, regardless of what program you choose. It wouldn't hurt to ask the staff of the respective company if they offer that kind of assistance.
Who is Rosy Point of Sale Ideal For?
Any small salon business will find it ideal. Depending on if the features and pricing are what you are okay with, it generally is a good solution that will achieve what its features makes it capable of delivering.
Pros and Cons of Rosy Point of Sale
Pros
Founded by Salon owners
Overall great engineering
Spotless reputation
Economical choice
Cons
Email Builder isn't very up-to-date
Limited features
Rosy Salon Trial Setup
Rosy Salon POS software offers a 30 day free trial and I attempted to take a dive into it. However, setting this up proved a bit tricky as I needed to reach out to customer support for this to be activated. This, therefore, did not afford me easy access to try it out. As such, you need to reach out to the software's customer care for this to pull through.
Customers' Review/Rating
Rosy salon software is noted by users as being very easy to use and easy to set up. It scores an overall rating of 4.67/5 on softwareadvice.com. Over 100 users  give it a 5 star rating, with about 30 giving it a 4 star rating.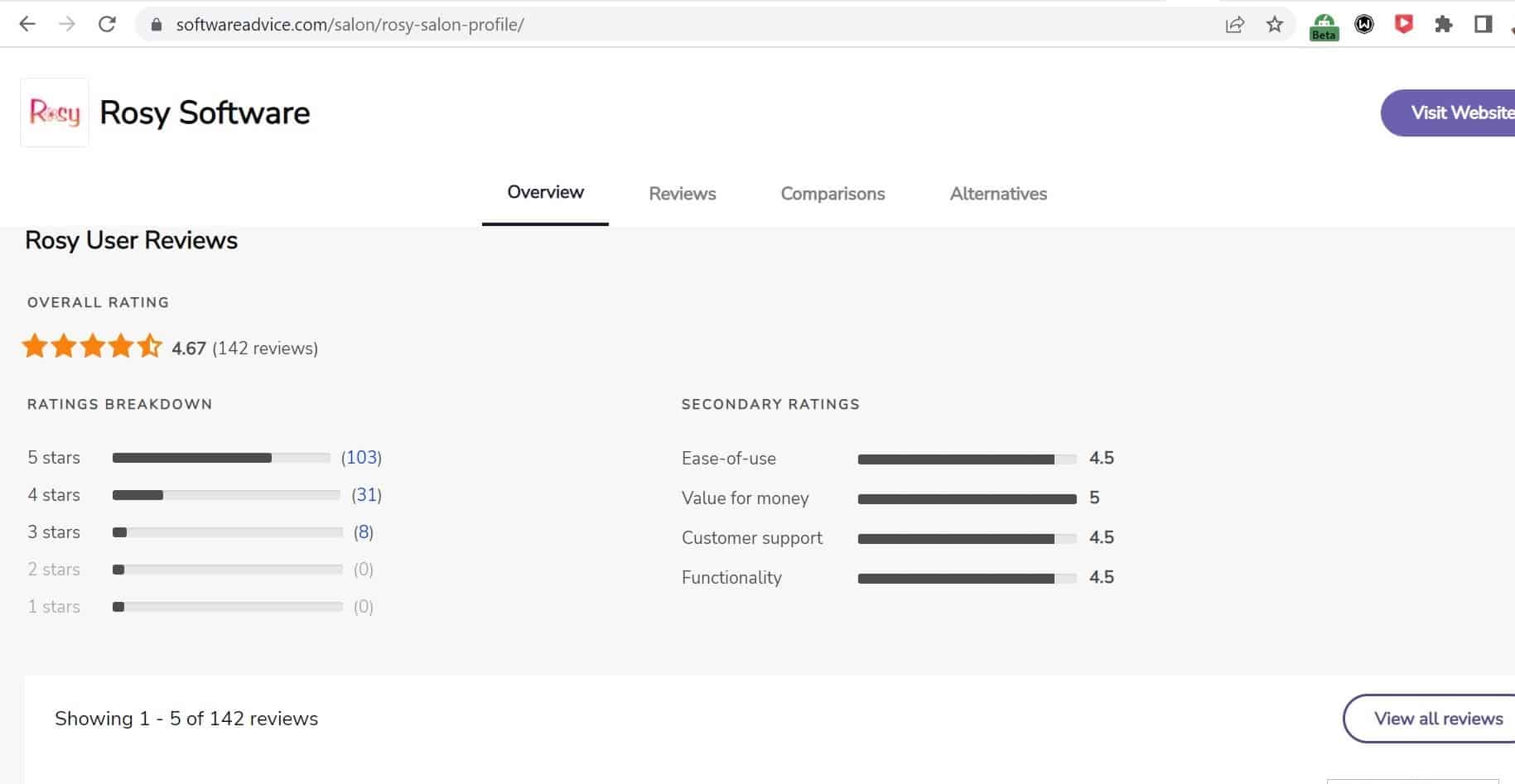 An overview of user Rosy POS software rating on softwareadvice
Its customer service has also been attested to being great and efficient, plus users say you get help in uploading any previous information you may have had, so you don't have to worry about losing data when migrating from another solution.
5. Phorest – Best Salon POS for Virtual Communication
Phorest salon software is a solution tailored towards the needs of salon owners to manage their operations. The Phorest salon POS is a cloud-based solution that comes with a salon-branded app for mobile phones and tablets.
The Phorest salon POS is just as de-cluttered and easy to navigate as the company's website, offering easy access to salon tools like appointment scheduling, digital tracking, mobile selling, client profiles, and more.  This platform also includes full training for all salon owners, along with free business and marketing advice to assist salons in growing their business.
Phorest Features That Stand Out
Client Focus
One of its best features is the option to have a salon-branded app available on iPhone and Android for your clients. This means they can schedule appointments and book services on the go, manage their account, and more. It integrates client booking with staff scheduling to ensure no one misses a booking and even allows customers to manage their own loyalty from the app.
Tech-Forward Tracking
The Phorest salon POS includes integrated digital tracking tools, as well as digital loyalty programs and program management. It also offers mobile selling from the chair, and contactless online check-in for clients. You will find a full suite of reporting tools for payroll management, inventory, sales, and more, so that you can make changes in near real-time and keep your salon profitable.
Payment Integration
Payment integration includes commission tracking and a variety of accepted payment options, including a growing number of mobile and touchless payment solutions. You can even limit the access to your salon's mobile app functions so that staff can only perform necessary functions or require management approval for certain tasks.
It also comes with a free demo for all customers to try before they commit.
Who is Phorest Point of Sale Ideal For?
Phorest POS is ideal for small, midsize, and large hair, beauty, and personal service businesses. For small or new salons, Phorest is a solution they will find ideal to manage the business.
How Much Does Phorest POS Cost?
Phorest's pricing plan starts under $100 a month, and this is better than most of the options on this list. Although the company offers four pricing plans, namely Starter, Grow, Ultimate, and Enterprise, each featuring a unique set of provisions, you would need to reach out to get a quote for either of the packages that meet your specific needs.
Phorest Pros and Cons
Pros
Consistent software update
Built in rewards points system (that are customizable)
Mobile app keeps users in sync on the go
Client engagement functions
Cons
Customer Reviews/Ratings
Phorest scores high among users for its ease of use, value for money, customer support, and functionality. It has an overall customer star rating of 4.8/5 on softwareadvice.com and 4.83/5 on GetApp.


User rating overview of Phorest on GetApp

Overview of Phorest users' ratings on softwareadvice.com
Customers praise its reporting & statistics, third party integrations, alerts, ability to export and import data, email marketing function, customisable branding, and customer database features as top on their list of most liked features.
6. Mangomint – Best Intuitive Salon POS
Mangomint is a salon and spa management software that is built with independent solution providers in mind. Outfits such as massage studios, salon, spas, nail studious and the likes will find Mangomint an ideal solution to help manage their online bookings, staff scheduling, and a host of other day to day tasks.
It is a web based solution and also runs ideally on both Android and iOS devices.
This POS solution was created for salon and spa management to help save time and money. It has been rated among the best solutions for independent salons that have more than five service providers. A free trial and demo are available to all new customers to showcase the platform's quick workflows, smart automation, user-friendly design, and plentiful POS features.
Features of Mangomint
Intuitive, Integrated, and In It for the Long Haul
Mangomint is our pick for the most intuitive because it offers free training and support.
Dedicated Android and iOS Apps
Mangomint is a fully cloud-based solution that also has a dedicated Android and iOS app so it can work on smartphones and tablets.
Customizable Design
Mangomint has a scalable design that can be customized to your salon, including rich client profiles that can be integrated with the POS so that you can combine services and retail products and keep an accurate history of client services.
Contactless Checkout
Its recurring appointments and contactless checkout offer even more convenience for clients and staff alike.
Free Trial
The platform offers a free trial and monthly memberships are available with multiple packages for various needs.
The platform offers no contract pricing, and also welcomes feedback from their salon owners. Plus, the pricing structure is reasonable, with monthly rates for various levels of service.
Mobility in Management and Client Services
Mangomint is designed to allow you to manage everything in one place. You can combine your calendar, schedule management, client bookings, SMS and email reminders, and more. With the cloud-based service and native apps available, this platform can be installed on many devices so small salons don't have to make a big investment in hardware.
Pros and Cons of Mangomint
Pros
Easy to use
Excellent reporting feature
Integrations
Great customer service
Cons
Freezes and sometimes takes time to checkout a customer
Product management could do with more functionality
Mangomint POS Software Trial Test
Below is a walkthrough of its demo version showing the steps I went through to register and set up my trial account.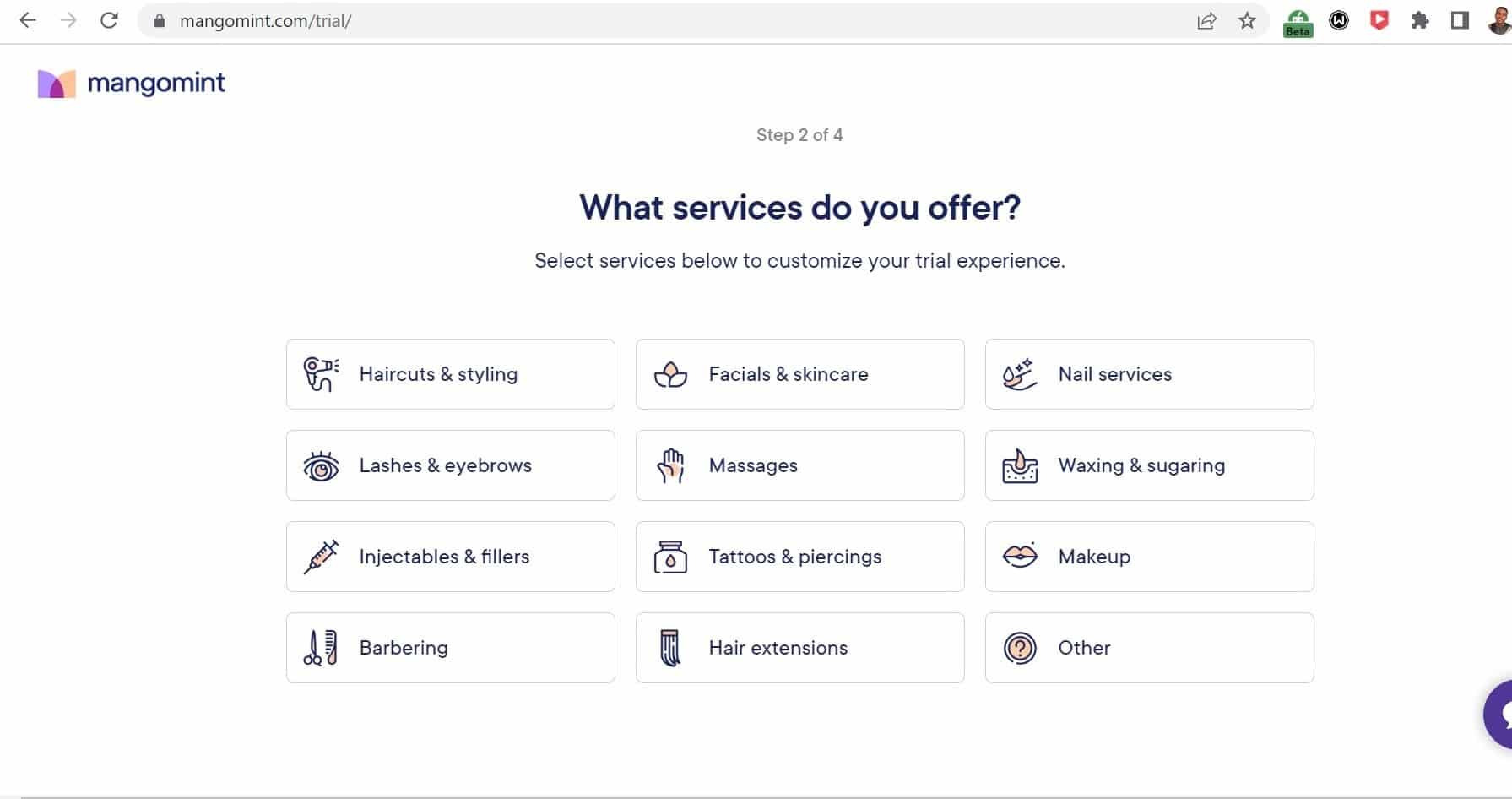 Mangomint demo registration sign up process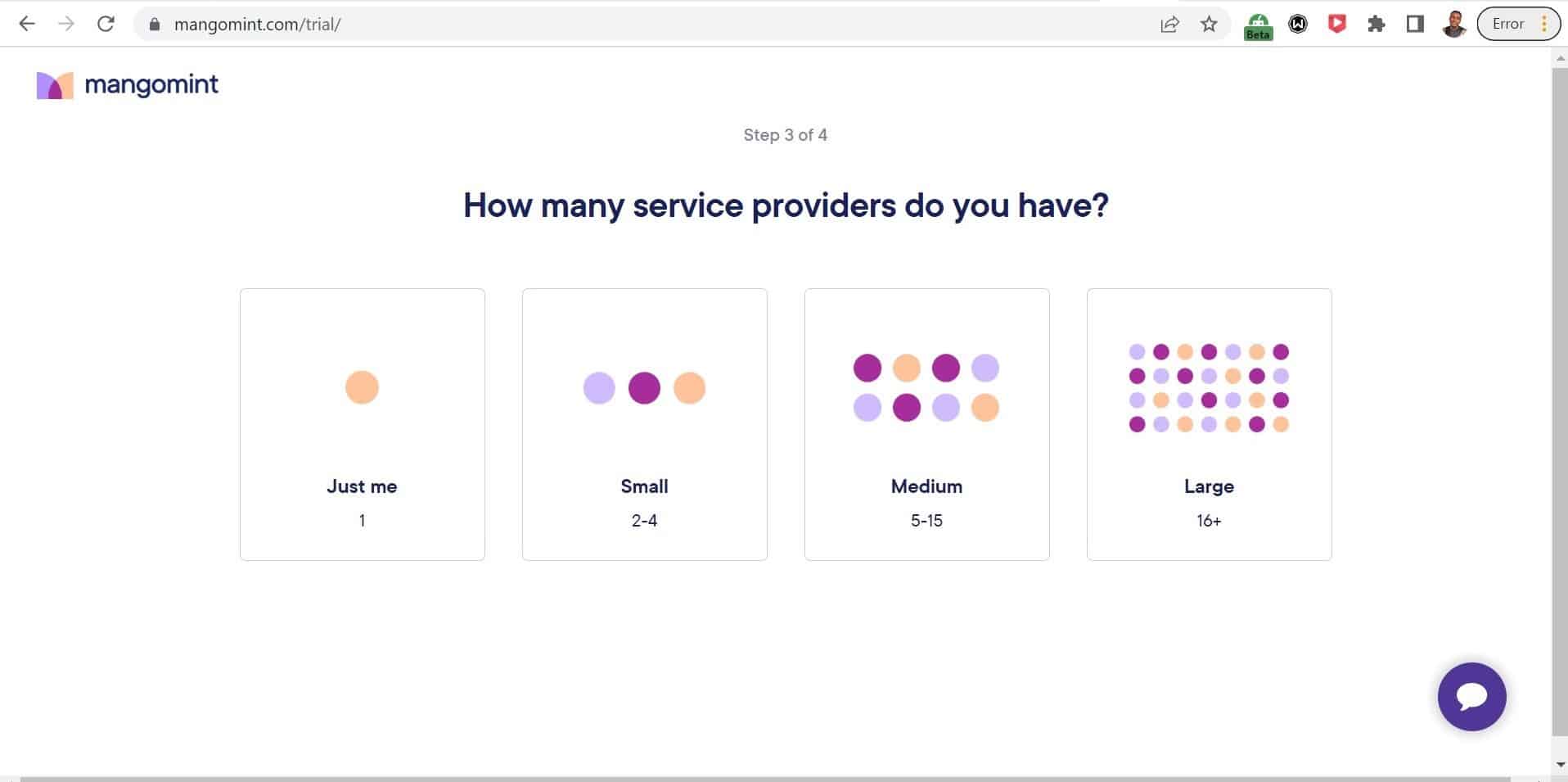 Mangomint demo/free trial setup process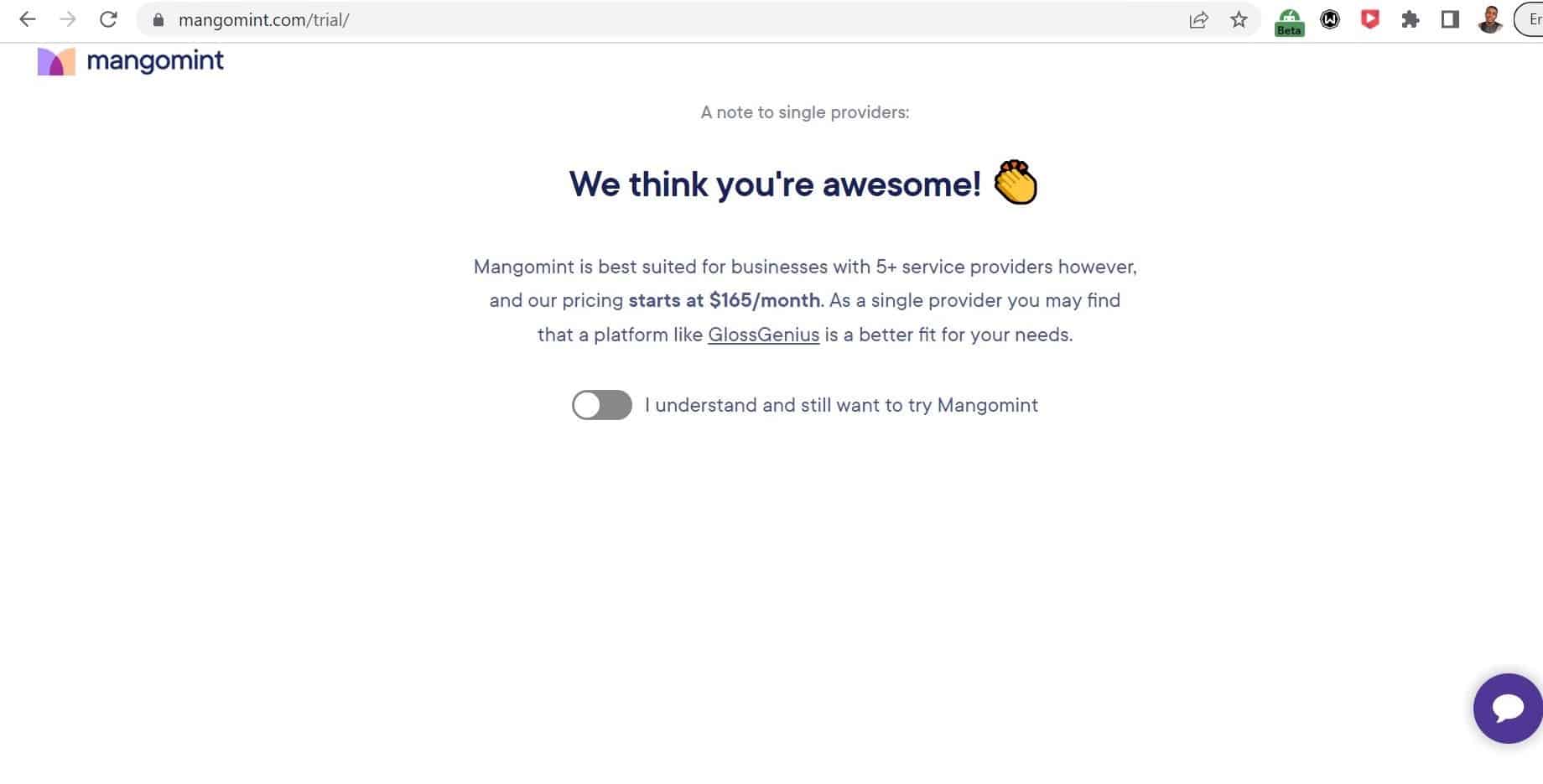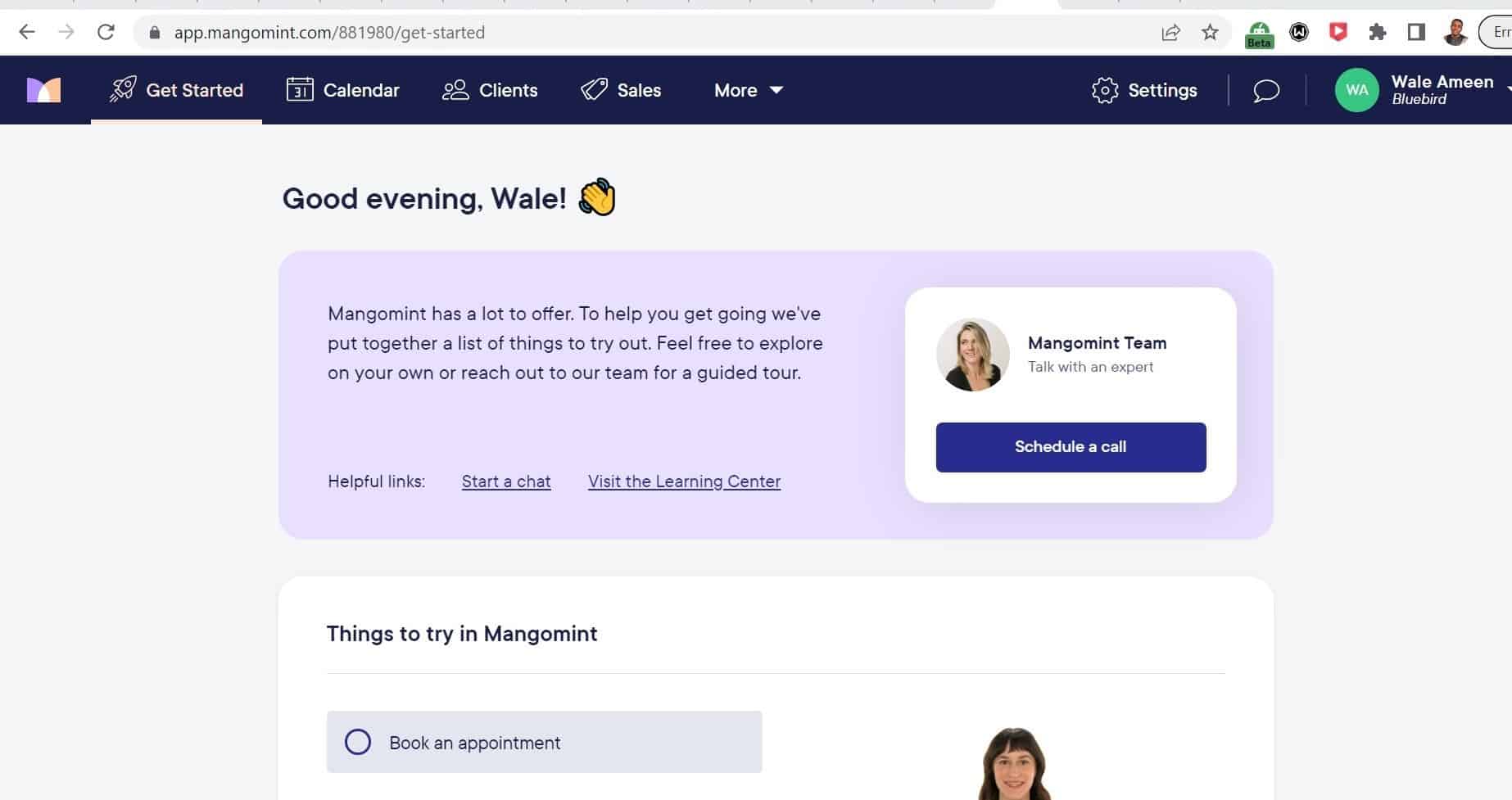 Mangomint software dashboard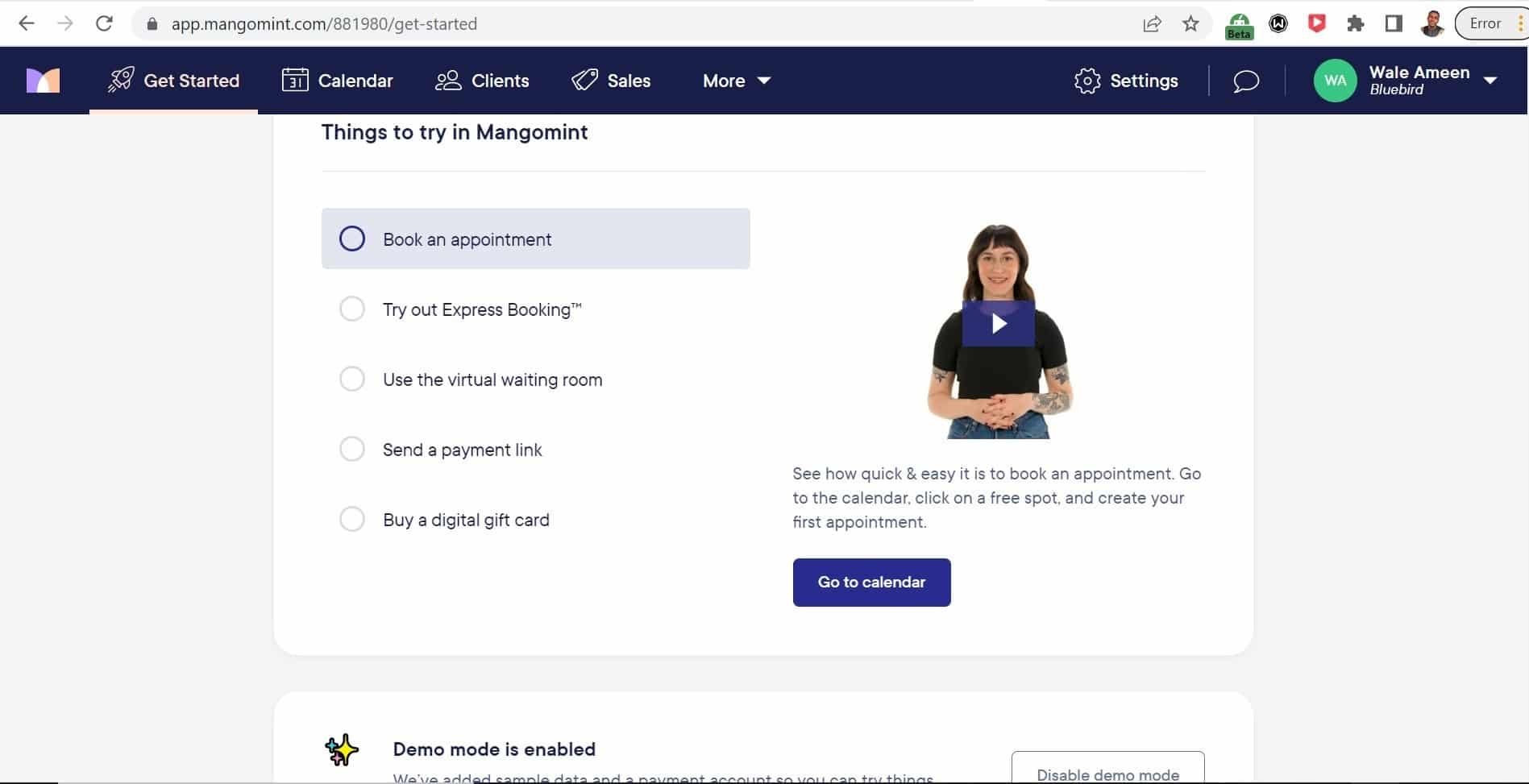 Mangomint dashboard overview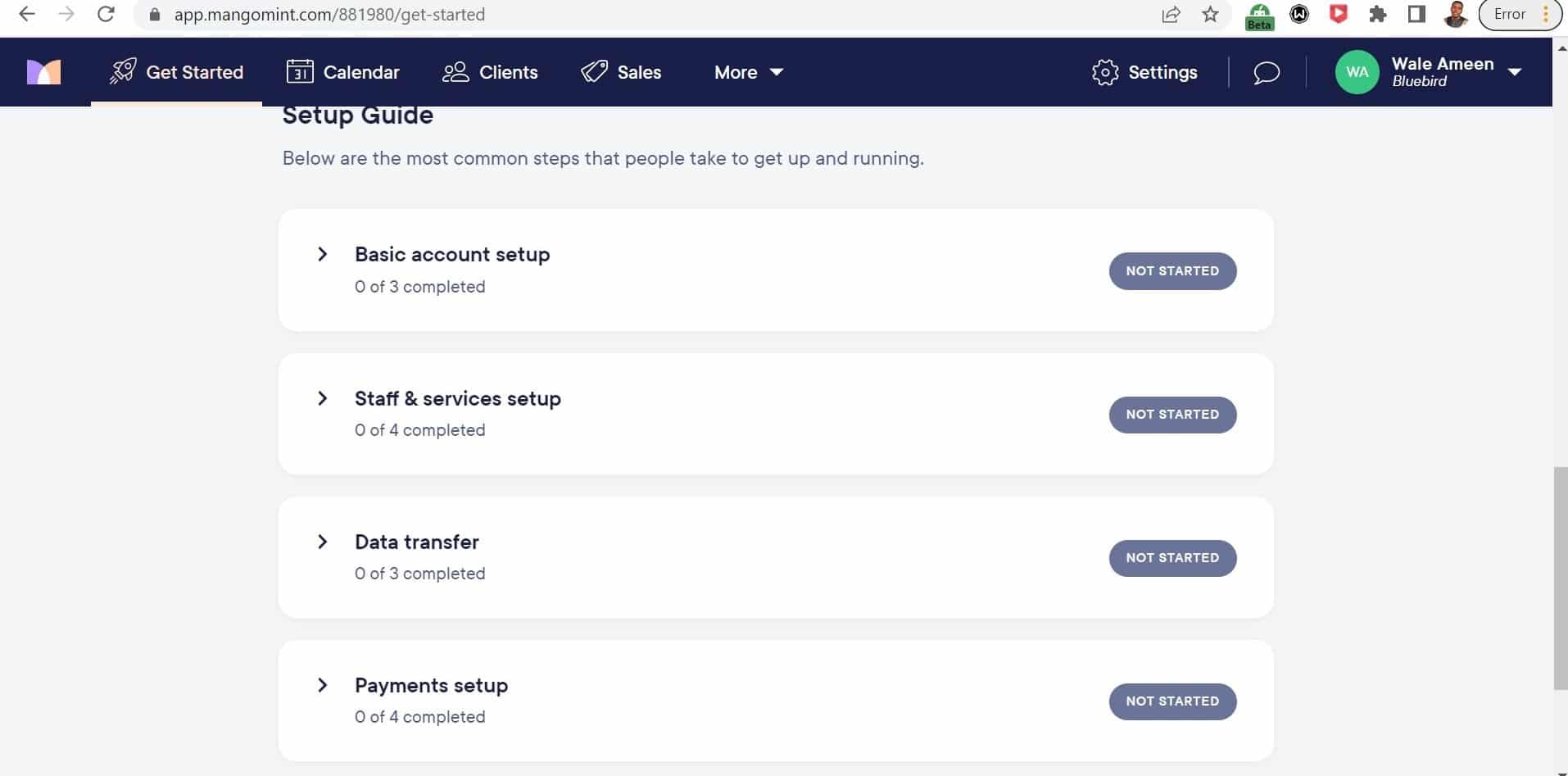 Mangomint POS dashboard overview
Video walkthrough of features of Mangomint POS software
Customers'  Review/Rating of Mangomint
Mangomint has been praised for its ease of use by users, easy to set up and implement. Users say it has a great user interface, with just about the right amount of features needed offered! Nothing overwhelming that ends up not being of much use at the end of the day.
Mangomint won the Emerging Favourite Product for 2021 and 2022 award and has an overall rating of 4.9/5 on Capterra. It is specifically praised for its ease of use and excellent customer service which helps out when they happen to need assistance.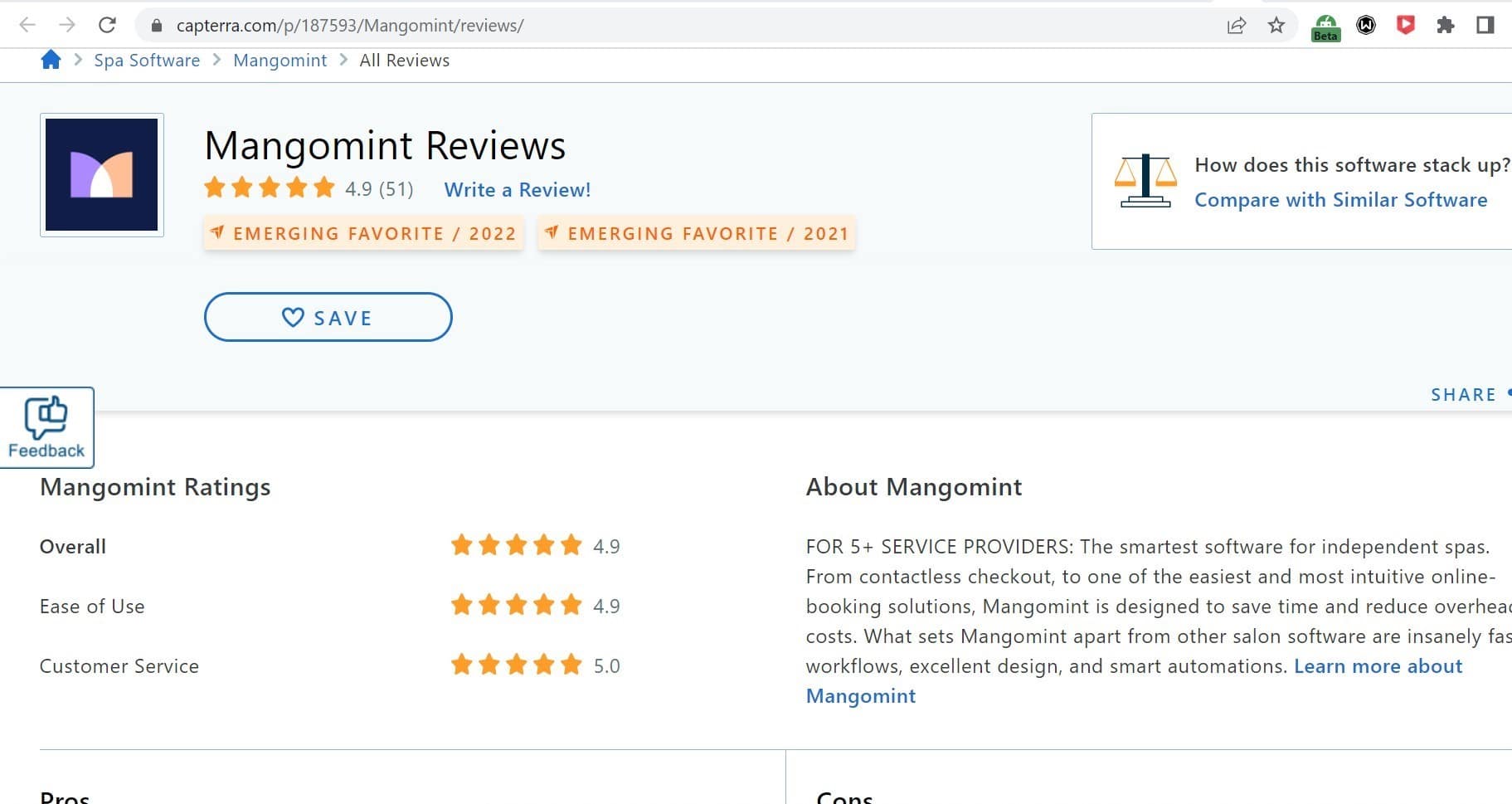 Screenshot of Mangomint overall rating on Capterra 
Many users commend the Mangomint mobile app which they say makes it easy for them to keep working on the go.
7. Square POS – Best iPad POS System for Salons
Square POS is a retail POS system that can be customized to fit the needs of your salon. The platform is ideal for startups and those on a budget, and it is one of the simplest POS solutions available today. It can be used on just about any device and offers eCommerce tools, marketing tools, and more.
Features of Square POS for Salon
Scalable Platforms and Features
Square POS System Salon makes staffing and scheduling easy for all sizes of salons and can be set up on any tablet or smartphone so that salon owners can manage their business without the purchase of additional hardware. Square does offer their own card reader and physical POS system in addition to the virtual platform, but it isn't required
No Ongoing Contracts or Fees
With Square, you pay when clients pay. Rather than paying a monthly membership, you'll pay Square 2.6% of the sale plus 10 cents. Small salons love the Square POS platform for this feature. The platform includes a free trial and can be used for as long (or as little) as you'd like. You can also scale up and down more easily since you aren't locked into a pricing structure.
Square Up Your Customer Service
Square has dedicated salon appointment scheduling, 24/7 online booking for customers, and automated appointment reminders available via email or text. Plus, you'll be able to view customer details, including appointment history, notes, and their retail purchase history so that you are prepared for the next visit.
Square's Salon POS allows you to store credit card information on file and create flexible payment terms, including prepayments, deposits for services, and cancellation fees, as well as send professional invoices as needed.
Pros and Cons of Square POS
Pros
Easy to use and setup
Supports offline transactions
Integrates with tons of third party apps
Cons
The only real disadvantage of this platform is that it is not a dedicated salon POS, but a salon POS extension created by a retail POS provider, so it may lack some salon-specific features compared to other platforms.
How Much Does Square POS for Salons Cost? 
Square runs a pricing model that is simple for businesses of any size. It has no binding contracts or fine prints. It runs a per transaction pricing model where it charges a certain percentage per each successfully processed transaction.
Square point of sale charges 2.6% + 10¢ per payment processed by swipe or 3.5% + 15¢ per manually entered transaction.
Read More: Square POS Pricing: Square POS Pricing | Hardware & Software Costs
Who is Square POS Ideal For? 
Square POS is an ideal solution for a wide range of businesses and as such is not really streamlined to the salon or spa businesses. Virtually every business in retail, groceries, fashion, and allied verticals will find Square POS an ideal and broad solution for their use.
Square Salon POS Test Account Set Up
The following screenshots show the account setup process I went through to set up my test account.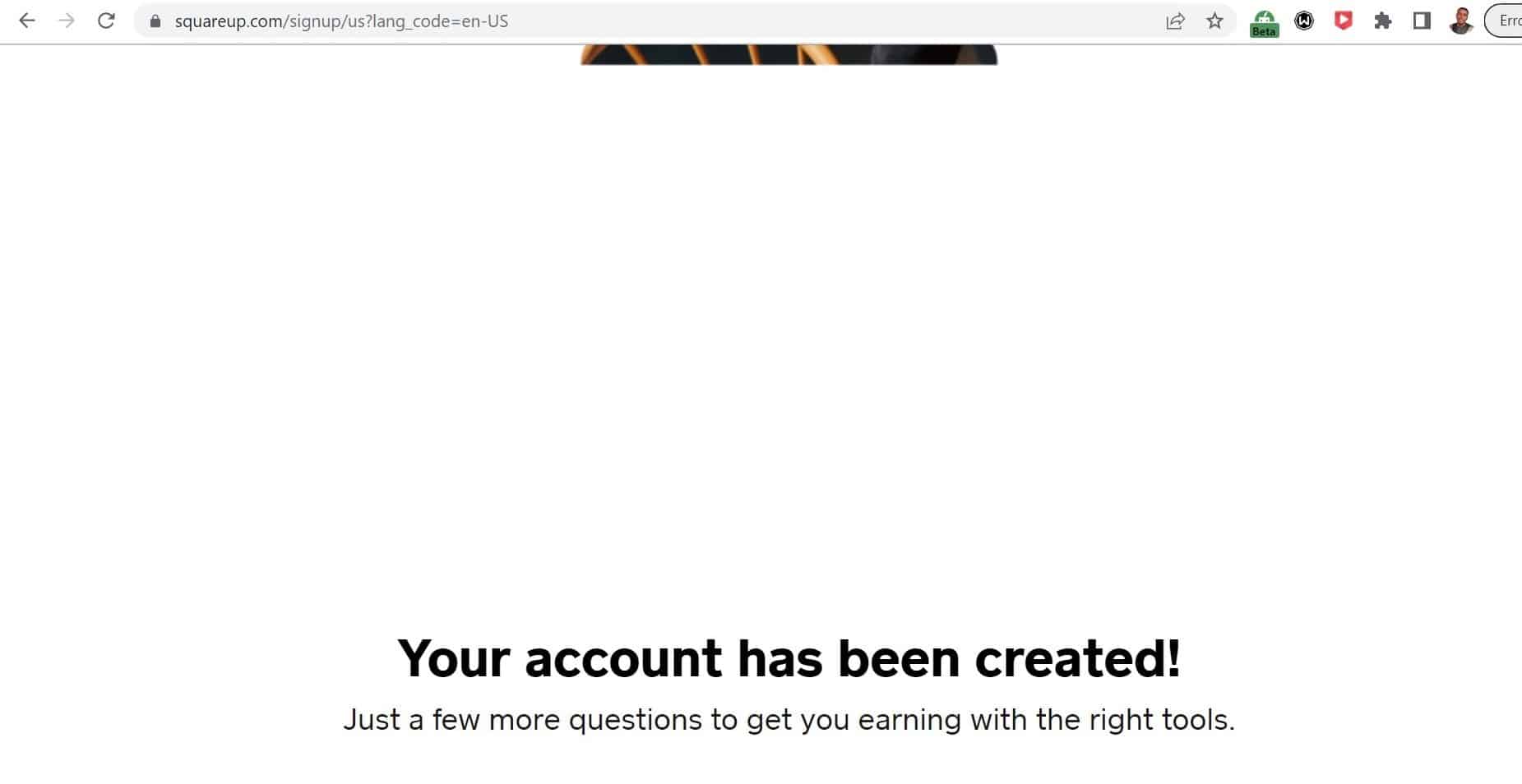 Square POS System Salon account setup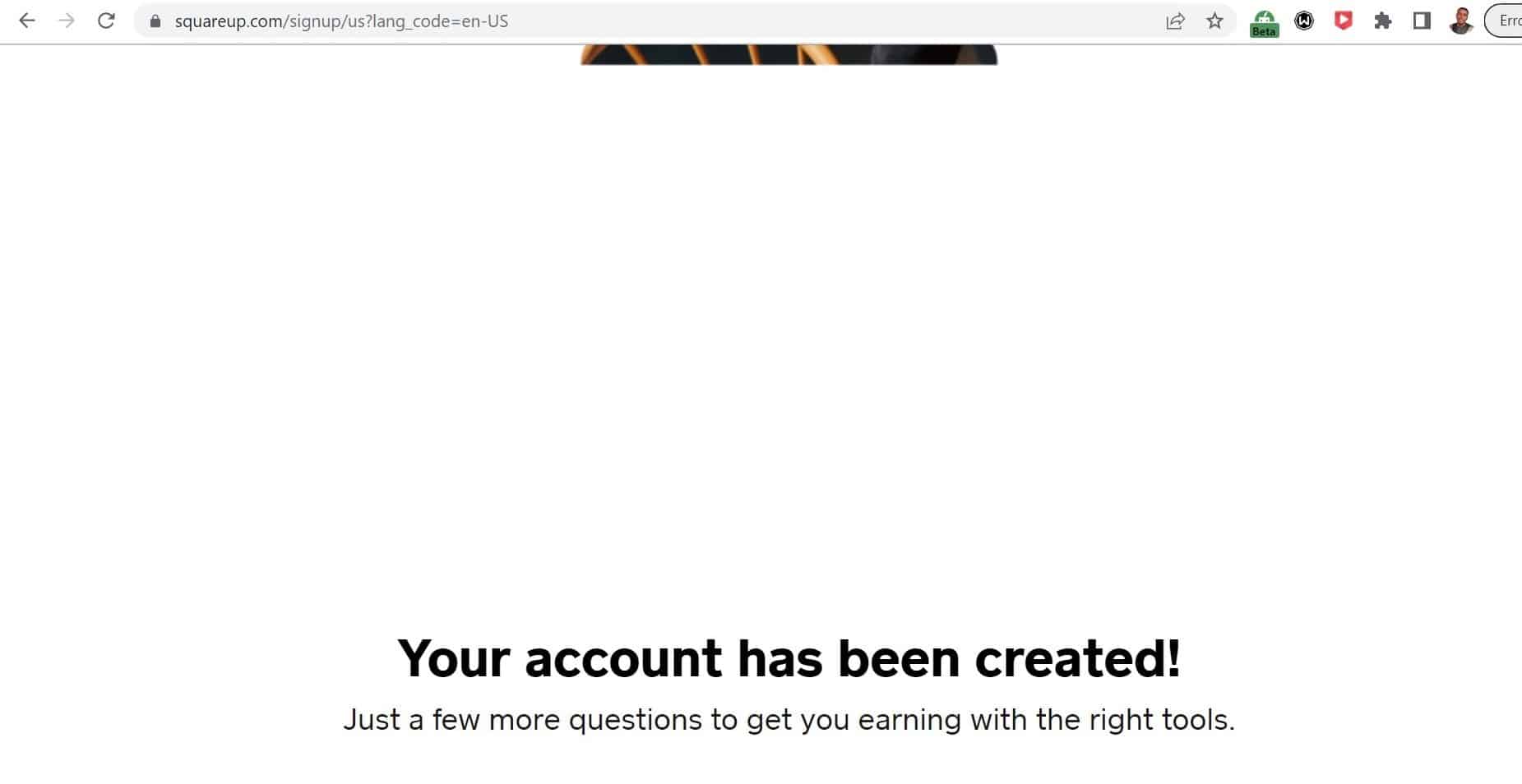 Square account setup continued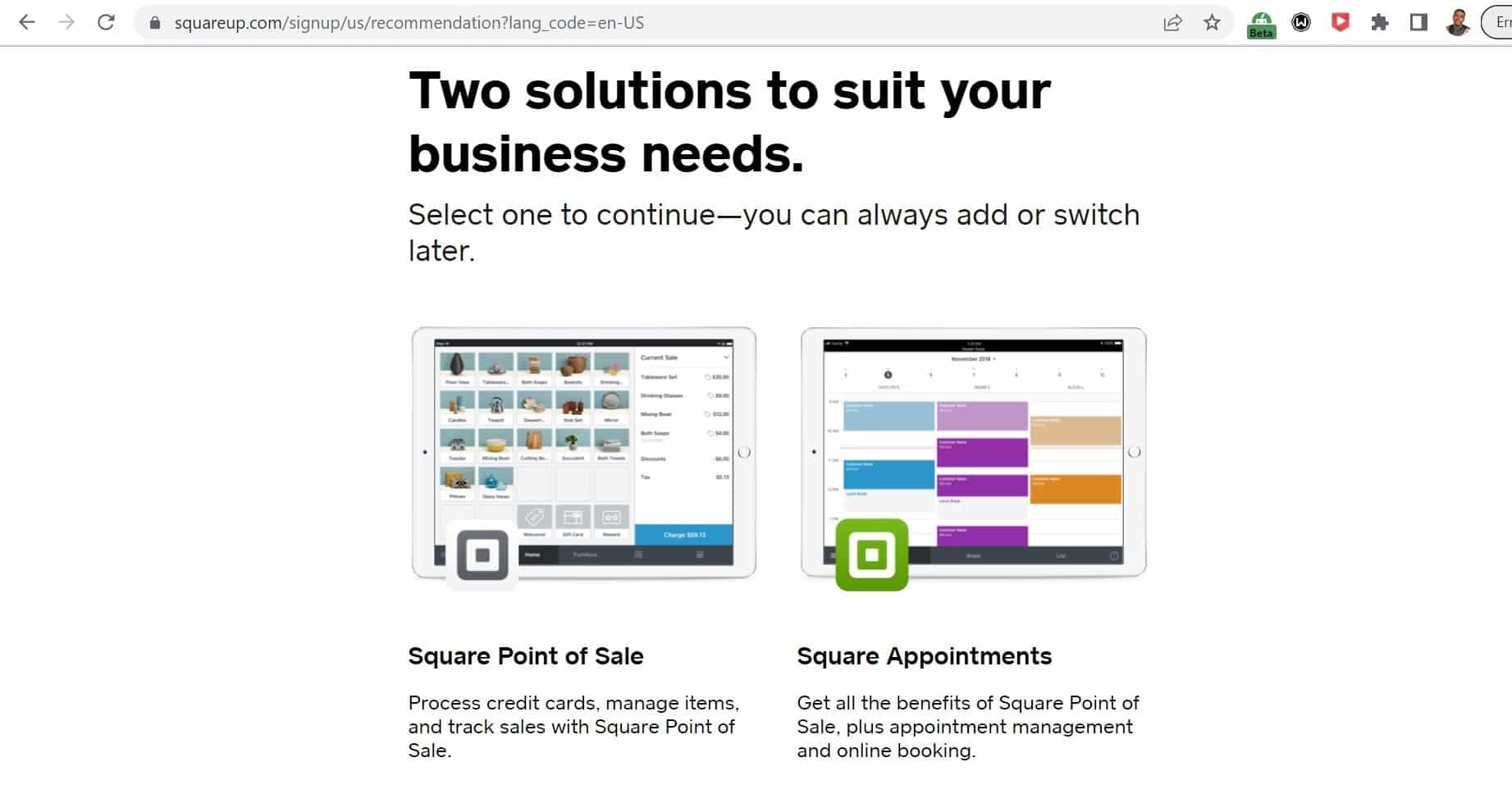 Square Salon POS Dashboard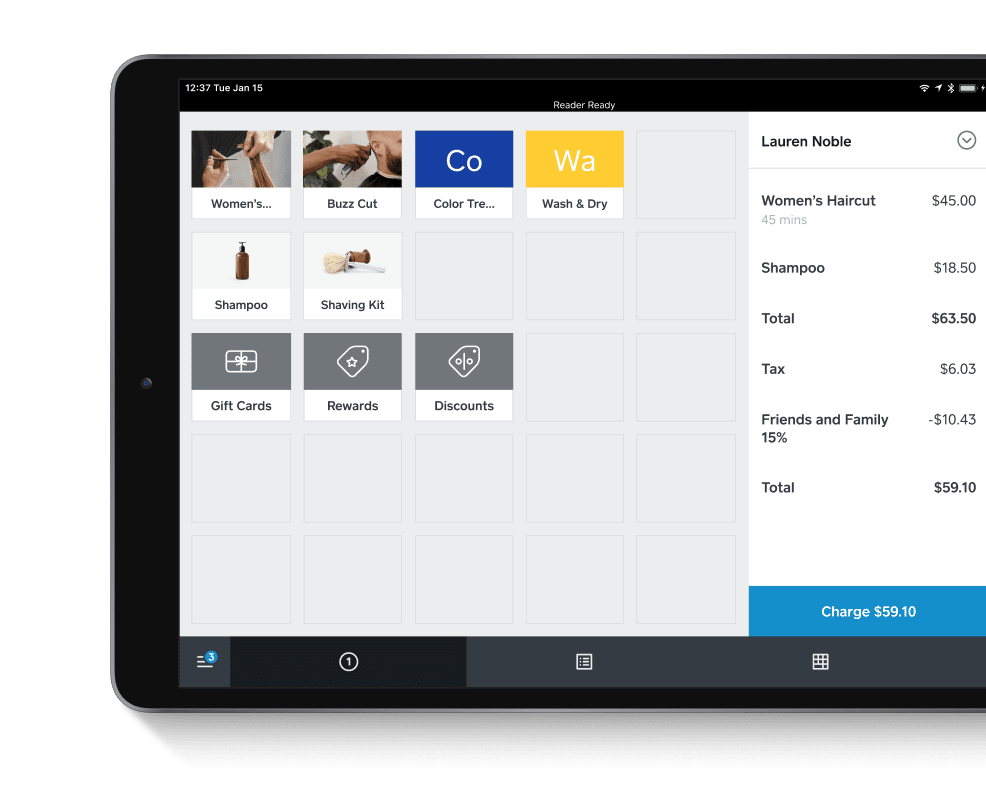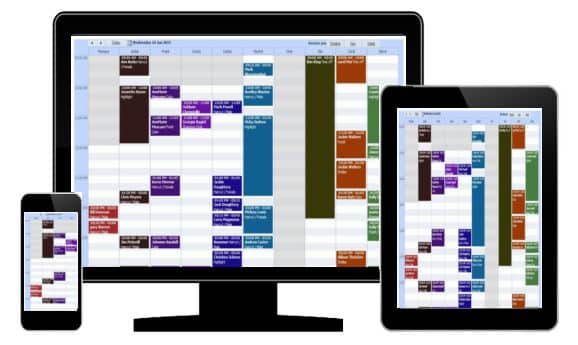 As the name suggests, this platform is unique in that it offers fully cloud-based solutions for salon management on the go. The convenience and scalability of this platform are what make it our choice for the best scalable cloud POS. With native Android and iOS apps, you can manage things from any device at any time, from tablets, smartphones, or even PCs and laptops. 
Unique Salon Software is a Software as a Service (Saas) which runs on any Windows and iOS device. The Unique Salon software includes features such as point-of-sale, client tracking, inventory management, purchase order management, emailing and more.
Features of Unique Salon Software
Robust Digital Features
You can access client profiles, commission management, and scheduling from anywhere, tracking things digitally to save time and paper trails. Booth rental functions and recurring appointments can also be set up digitally. The platform can also be integrated with your social media to book appointments, offer discounts, and more. 
Unique Salon Software has even integrated COVID-19 consent forms that can be filled out and submitted online before clients come for service, ensuring everyone's safety and making it convenient to do so. All this is offered for a single fee, instead of an ongoing monthly subscription, and includes a free credit card terminal for all new customers. 
Integration and Reputation Management
There's also a fully integrated POS solution that accepts various payment methods and connects to client profiles. The interface is easy to use and connects with all kinds of devices, just like the rest of the platform. You will have access to customer insights, data importing, loyalty programs, online gift card sales, and payroll, inventory, and expense management, all integrated in the platform's dashboard for easy access. 
Marketing Tools
Unique Salon Software also includes marketing tools and new client lead generation resources, along with customized reporting and reputation support. In today's world, nothing is worse than bad reviews. This platform will help improve your online reviews and ratings, stop negative feedback, and more.
Specific Features
Unique Salon Software has a set of features that are best suited for three different use cases: salon, spa or medical.
For salons, features such as appointment management, booth rental, client profiles, employee management, inventory management, loyalty program, multi-location, payroll management, Point of Sale (POS), and recurring appointments will stand out while its spa software will be ideal for spa outfits with features such as appointment management, client management, employee management, inventory management, loyalty program, membership management, online booking, payroll & commission, payroll & commissions, and Point of Sale (POS).
Its medical spa software includes features such as appointment management, before & after pictures, client management, gift card management, inventory management, and it is HIPAA Compliant.
Unique Salon Software Features At A Glance
Client Management

Confirmation/Reminders

Employee Management

Employee Scheduling

Gift Card Management

Inventory Management

Loyalty Program

Multi-Location

Payroll & Commissions

Payroll Management

Appointment Management

Appointment Scheduling

Before & After Pictures

Booth Rental Management

Client Database
Pros and Cons of Unique Salon POS
Pros
Mobile compatibility
Easy payment online
Cons
The interface of the platform can seem a little busy and cluttered for those who are new to salon POS systems.
How Much Does Unique Salon Software Cost? 
Unique Salon Software runs on a per feature pricing model, and as such the more features you require, the more you might have to pay. Its starting price, however, begins from a one time fee of $495. It also offers a free trial and a free version. 
Customers' Reviews/Ratings of Unique Salon Software
Unique Salon does not have a good number of user reviews online, and as such I have not been able to pool up and aggregate the level of satisfaction among them.
Buyers Guide: What Features Does a Salon POS Need to Have?
Now that you know what the best salon POS software offers, you might be wondering how to choose between all the options. For a first time user looking for a point of sale solution for his or her salon business, getting around the many options available in the market can be confusing. This section however, will give clarity to that.
There are several factors to consider, from the size of your salon and your budget to the more specific details like integrated cash register and booking systems, online scheduling features, and more. In this guide, we'll cover everything that you need to know.
#1. Online Booking and Scheduling
Today's clients have no time for companies that aren't online. If your salon POS doesn't include an online scheduling and client booking system, you're going to turn away business without even realising it. Make sure that you choose a platform that includes an integrated system that is user-friendly and allows clients to book, reschedule, change, and update appointments. If you want, you can even incorporate this with a customer account system for the loyalty program, text and email updates, and more.
The best apps are those like Phorest that can also provide a salon-branded app where your clients can not only book appointments, but manage them, reschedule, and even manage their entire client profile, making your job that much easier.
#2. Staff Rostering
Keeping track of your staff is just as important as keeping track of your clients. You will need to be sure that you choose a platform that allows you to keep an active roster of your staff, their availability, their schedules, and other elements.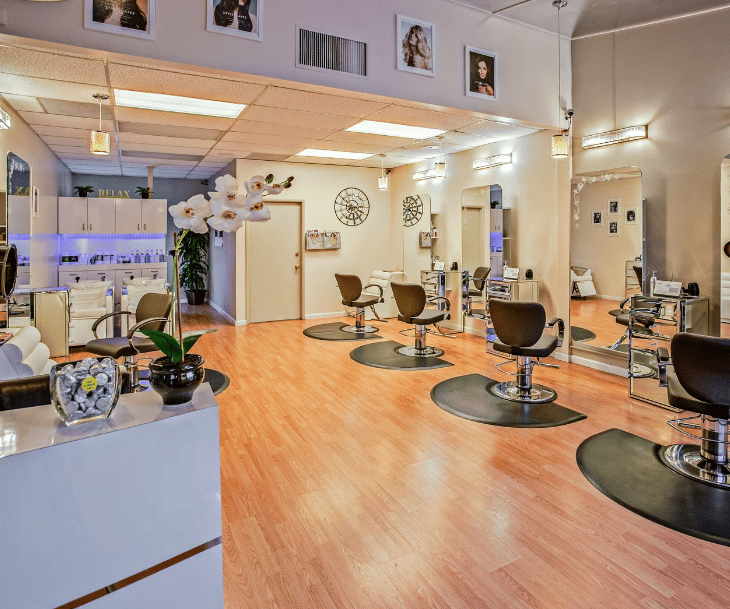 In a salon, your clients need to know when their favorite stylists or technicians are working– it only makes sense to use an integrated scheduling solution that combines your availability with your employee schedule so that clients can get what they need.
Most platforms offer some kind of staff management solution, but you'll want to check to see how it integrates with the appointment book, POS, and other areas where you might want to know what is going on with your employees, such as in reporting.
#3. Cloud-Based and Mobile Service
With a cloud-based service, salons can choose their hardware or use what they already have and just integrate the new POS system that they have chosen. Plus, the cloud makes it easy to integrate eCommerce and online booking, along with mobile check-in and other features that may be offered on the various POS solutions and salon management apps.
Many of today's salon POS systems have native Android and iOS apps so that you can even run your salon from a tablet or smartphone in addition to the main POS or make the tablet your main POS until you can afford to upgrade.
#4. Email and Text Confirmation
Today's customers want constant, easy contact. You want fewer cancellations and no-shows. With a platform that offers email and text options, you will ensure that people are aware of appointments, send reminders, and even check in when they are running late. Plus, you can do it all politely and without having to stop what you're doing to make a bunch of phone calls. Automated messaging is a breeze when it's done properly.
Today's modern salon POS solutions all offer something in the way of virtual communication and text or email alerts, but the way those systems function is another story. Make sure that you check out how it works and how much control you have over setting schedules so that you ensure that it fits your needs.
#5. Sales and Financial Reports
You're not just managing your sales here. You're managing your entire salon. If you can find a POS that is integrated with an entire salon management system, you will be able to gain so much more. That includes being able to access sales and other financial reports, as well as plenty of other insights and reporting features.
While you can find plenty of different programs that will do one or the other, it makes sense to integrate when you can. Many of these POS solutions will also allow you to integrate or import data from QuickBooks and other software programs that you might be using. If this is a feature that's important to you, check for it before you make your decision.
#6. Wait List Capabilities
When you are overbooked or have last-minute cancellations, you are going to want to call in your wait list. The salon is a place where people want to come when it is convenient for them. Offering a wait list is a must, and especially if you have a service or a technician that is in high demand.
Modern salon POS systems allow people to book appointments and sign up for the wait list at the same time. If an appointment opens up, an automated email will be sent to the first client on the list to notify them an earlier appointment is available.
#7. Loyalty Program Management
Every good salon offers its clients a loyalty or rewards program of some type. As such, it's helpful if it can be integrated with the POS and handled in one place to streamline operations. There's nothing worse than having to ring a customer up on the register, then punch their loyalty card at the other counter, and then upsell them at the third desk… and so goes the old way of doing things. With a modern salon POS, you can do it all in one place.
You can manage customer loyalty programs, integrate them with the POS to apply discounts and special offers or help track accrued points or rewards, and even give customers a way to manage their loyalty program on their end through the client booking platform.
It's all about convenience and people are much more likely to join a loyalty program when it's easy to join and use. Even if you're already using an online rewards tool, you can integrate it with a good salon POS to offer streamlined services and easier management for everyone.
#8. Payment and Financial Functions
Pre-authorizations and pre-payments are often an integral part of salon business. After all, with the prices of some salon services, you want to verify that clients have sufficient funds and that they're not going to cancel or no-show at the last minute. Modern POS solutions offer options for pre-auths and pre-payment to ensure that your salon is covered from any potential financial risks.
There's also a feature in most modern systems that will allow you to assign commissions so that when tips and commissions are paid, the money automatically goes to the correct service provider. This can take the hassle out of figuring out tips and commission, which any salon or service business owner knows can be a nightmare.
Retail Systems vs. Dedicated Salon POS
Some retail POS systems can be modified to work effectively for salons. However, they do require modification and even then, they will never truly measure up to a dedicated salon POS solution. Industry-specific software is designed by people who understand what you need: integrated services and functions, flexible, accessible scheduling, convenient back office tools, and a POS that keeps up with the ever-changing world of payment options and your salon's products and services.
These dedicated systems will also be more scalable and have custom features that can improve business operations and day-to-day flow. This can mean a better setup from the start and the chance to create a customised solution that fits, no matter how big (or small) your salon might be.
Salon systems feature important elements like those discussed above: pre-auths and pre-payment, loyalty program management, mobile invoicing and payment, commissions, integrated staffing and booking platforms to ensure clients and staff line up correctly, and more.
Some of the available retail systems try to give you the same sense of dedication that you get from a salon-only POS, but they just can't keep up with all the necessary changes and industry requirements. This might not be entirely problematic, but when there are such high-quality solutions dedicated to salon operations, it just makes sense to take advantage of them.
While the decision will ultimately be yours, a dedicated salon POS is always going to have more advantages over a generic retail system.
My Conclusion
Everyone will want to look at dedicated salon-focused systems that offer integrated booking and scheduling, client management, and a well-designed POS that can fit all of your cash-out needs. Think about the things that your salon needs, or struggles with, the most. Those are the features that should be at the top of your list when you're shopping for a new POS solution for your salon. If you want something small and scalable for startups, consider Square.
If you have a bigger salon or a more dynamic range of services, you might want a platform like Salon Iris or Rosy Salon Software that feature robust scheduling and integrated booking, along with other management features. Even Phorest and Mangomint offer tech-forward solutions and they also include free trials, although their pricing may be a bit more limited. For the best contactless features, it's a toss-up between Square POS and Phorest, but most of the platforms are starting to add these in light of the pandemic and growing demand.
Even if you don't choose one of these systems, just make sure that you keep these things in mind when shopping for your new salon POS. Do your research and figure out which solution is going to save you time and money while improving service for your clients and daily operations for your salon. Any of the choices on this list should serve you well.
To get started with the best salon software, get a free quote now from DaySmart Salon.
FAQs
Q: What is the best POS for Salons?
A:  The best POS system for small salons is DaySmart Salon, given that it offers you a full suite of features that help automate your salon operations.
Q: What is the best system for a spa?
A: The best Spa specialized software goes to Booker. This is because it is a dedicated and specialized spa POS software solution.
Q: Is Square good for Salons?
A: Square is one of the ideal POS solutions you can consider for your salon business.
Q: How do I choose a Salon software?
A: In choosing salon software, you must be sure to look at the peculiarities and needs of your business. From this, you will be able to determine what features are a must have and this will guide you in your selection of your ideal software.
Q: What is a salon booking system?
A: A salon booking system helps you automate the process of scheduling your clients.