(Last Updated On: 02/12/2023)
Written by Business Expert Wale Ameen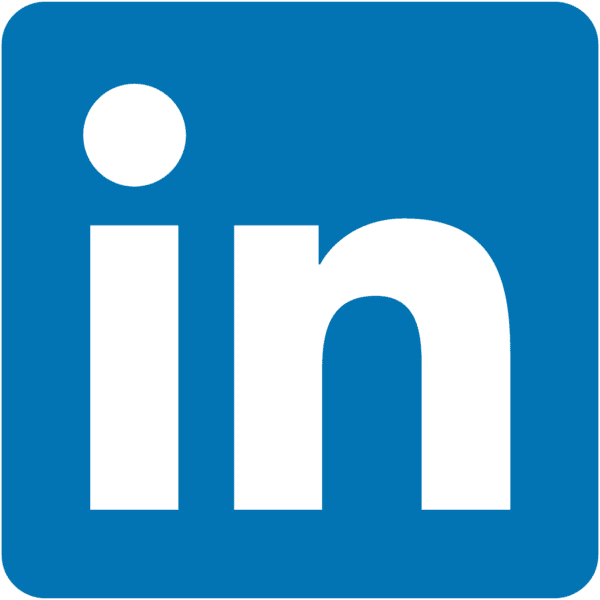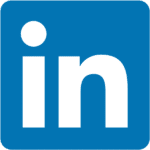 Our product review team dedicates hours of research, fact-checking and testing to recommend the best solutions to business owners. We earn from qualifying purchases through our links, but this does not influence our evaluations. Why trust our reviews? 
Best Barbershop POS System
Experts' Choice
Booker Salon POS
The best POS for barbershop is Booker Salon POS. Specifications include:

Barbershop, spa and salon specific features

Online booking and appointment scheduling
Don't have time to read this whole review? Skip ahead to:
Why a POS is Important for a Barbershop
Any barbershop that handles more than a few clients requires a robust barbershop POS system. Years ago, a successful barbershop only needed a red-and-white striped pole, a couple of swivel chairs, and a barber with the gift of gab. But all that has changed, and any barbershop looking to expand patronage must incorporate an appropriate barbershop POS system.
When choosing a POS system for your retail shop, there are many things you need to keep in mind. One of the most important things is security. You want a system that will keep your data secure and also be easy to maintain. 
You also want to find one that can offer you flexibility in pricing and support. Finally, you want a solution that is easy to use and offers you the best customer service. There are many ways to make your POS purchase easier, but it's always best to go with a provider that offers a high-quality solution.
One of the best ways to get your staff on board with your new POS is to have them participate in the training process. Make sure to include everyone on your team, and ask them questions to get their feedback. This will help you to minimize problems with the new system and make your staff feel valued.
POS systems can be connected to a range of devices, including the smartphone and the tablet. A tablet has all of the functions of a laptop and a smartphone, but is smaller in size. Tablets are not necessary for a POS system, but they can connect to other devices. For example, you can use a monitor to display your sales data, which is another important part of a POS system.
Most modern barbershops are utilizing a barbershop POS software to handle everything from employee schedules to inventory management to commissions. In this article, we are going to review the best Point of Sale systems for barbershops.
The best POS for barbershop will ensure that the barbershop's operations are seamless and streamlined. In this review, I have taken into consideration point of sale systems that meet specific features as well as taken into consideration reviews of users to draw up this list of the best barbershop POS systems. 
1. Booker Salon – Integrated Barbershop Management Software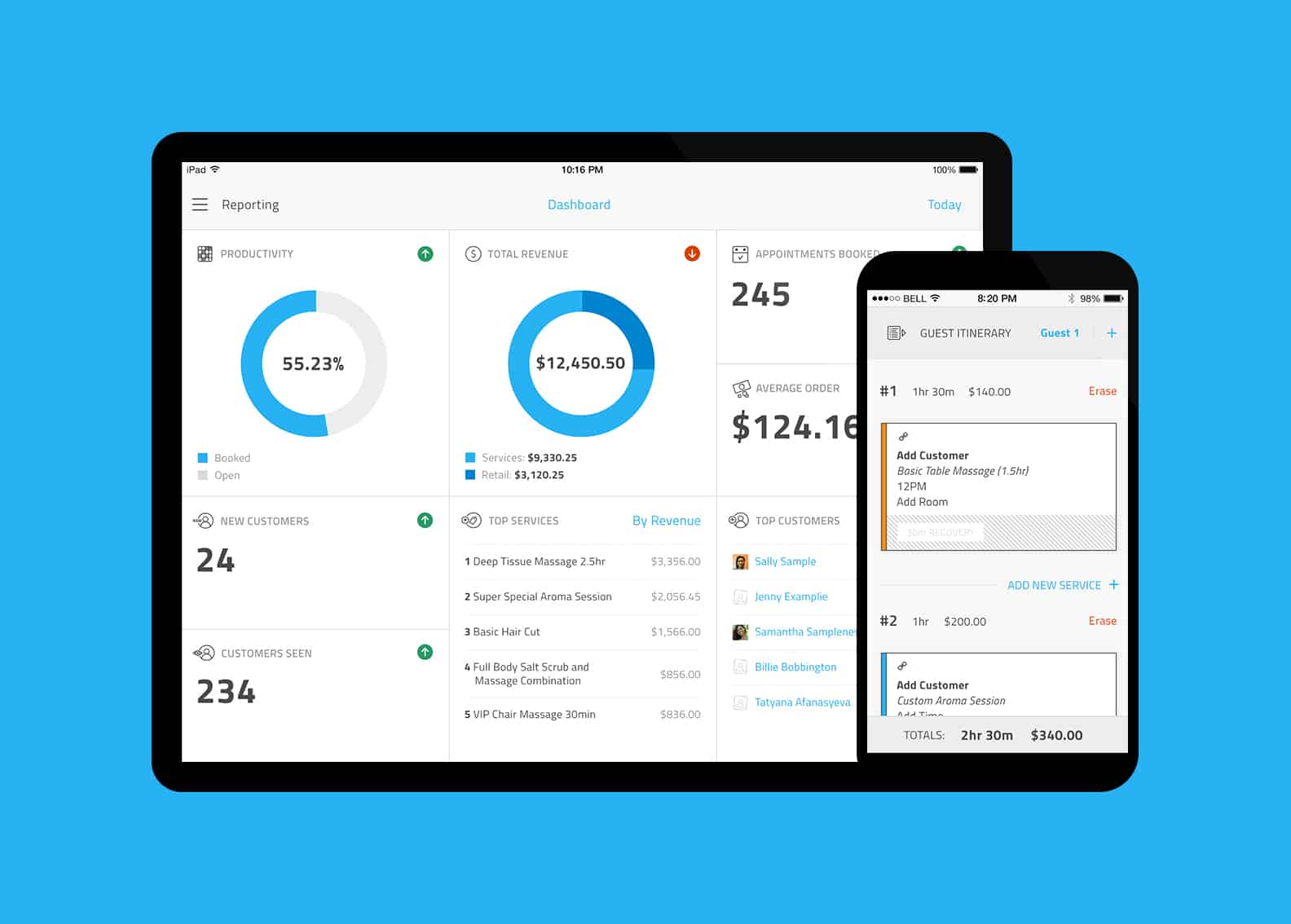 Booker, a POS brand by Mindbody has been around since 2010, is a salon and spa management point of sale and an all-in-one service platform.

It helps salon and spa owners grow their customer base, book appointments, process payments, manage employees, and build long-term client relationships.
Top Features 
Scheduling & Booking Features 
Booker features a scheduling and booking feature with which your customers can easily book their salon sessions ahead. With this, you are able to know per time how many bookings you have and use this as an actionable insight into your barbershop's operations. This can be integrated on your website via a 'Book Now' button. Booker unleashes the power of social media as it offers you a unique capability, by offering your customers the ability to book appointments through Facebook.
Easily Manage Daily Operations
With Booker's scheduling, you easily schedule clients and can view appointments by time or stylist. Organize bookings, equipment, and your staff.
SMS Marketing
You can easily communicate with your customers, sending them text reminders about appointments and asking them to confirm all thanks to Booker's unique AI Messenger function. This feature lets you communicate with them in real time  via SMS or web chat and functions as a 24/7 front desk. It automatically takes questions from your customers and answers them, makes sales and sets up appointments.
While this feature is available and comes with the platform's Ultimate Plus pricing plan, other customers, however, have to pay for it as an add-on.
This feature is available right out of the box for Ultimate Plus clients. Other customers can purchase the tool as an add-on.
The Booker Marketing Network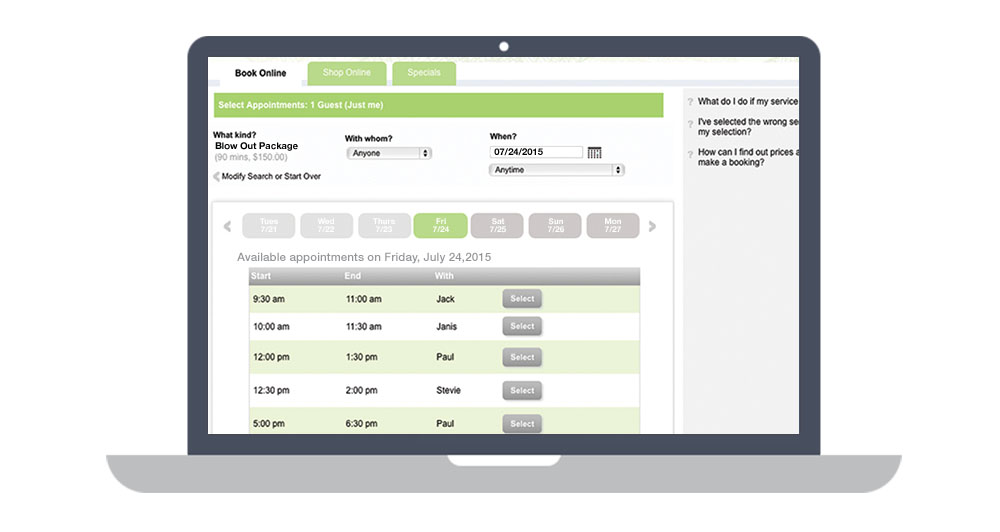 Easily advertise open appointments through the Booker Marketing Network.
Payment Features 
The platform comes with mobile payment processing capabilities and stores  your customers' payment methods on file for reprocessing. The system also accepts multiple payment types including cash, credit, debit, gift certificates, and loyalty points.
Business Intelligence Dashboard
A Business Intelligence Dashboard that provides insight into how much customers are spending, which marketing initiatives appeal to existing customers vs. those that appeal to new customers, and tracking of customer referrals.
Pros and Cons of Booker
Pros
Mobile responsive

Accessible from anywhere
Free demo
Easy to set up
Embedded training videos
Cons
No offline mode

Some users report that customer support has been erratic since it was purchased by Mindbody
What Type of Business is Booker Ideal For? 
Booker is an essentially service oriented point of sale solution and is specifically built for salon and spa management. As such, it is an ideal fit for barbershops looking to take their business digital and ensure seamlessness in their operations.
Is Booker POS Easy to Use? 
The Booker POS interface is not too far from the general point of sale industry standard interface. If you have used a few POS solutions, then you will be familiar with the dominant dashboard interface and the similarities in the way menus are laid out and displayed. Right from its website, which features a simplistic design, to the point of sale dashboard, you will find it easy to use.
As such, Booker is not difficult to use, it is intuitive, with menus easily accessible and easy to navigate. Your staff can easily get around to using it within a short while of interacting with it. As such, I rate Booker as a largely easy to use solution. 
What Do Business Owners Have to Say About Booker?
From my reviews of users' submissions about Booker on GetApp and Softwareadvice, it is a slightly higher mix of positives than negatives. Use ranges from medical spas, salons, fitness outfits, and retail Most spa and barbershop owners say it does exactly what they need,  and as such they are satisfied. 
Others say it is feature rich, intuitive and the best for service based bookings. On the negative side, some users say there are too many restrictions for backend administrators, and the client end of the scheduling could be easier for users. Overall, users' ratings are positive.
Booker's Overall Star Rating
Softwareadvice: 4.11 over 5

GetApp: 4.1 over 5

Booker POS Pricing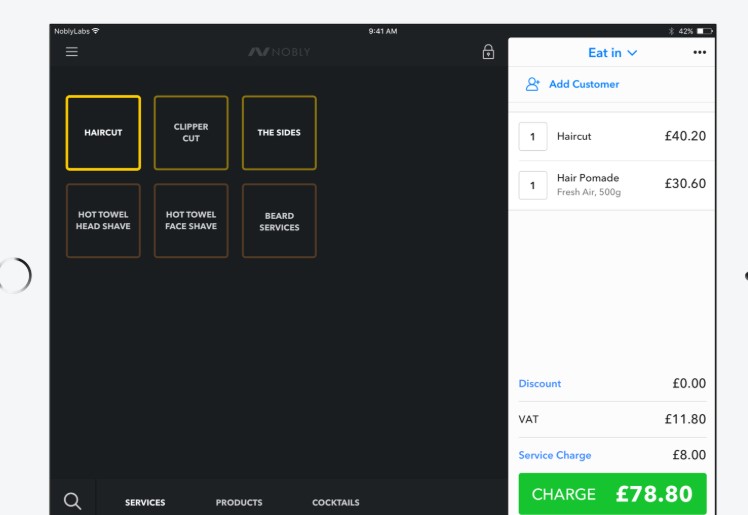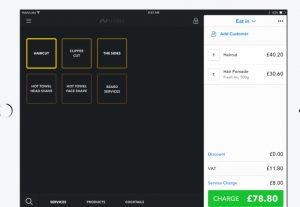 Booker offers flat-rate pricing plans, so your price doesn't change even if you add employees.
For $129 a month, you get access to manage a limited set of staff profiles, send up to 3,000 notification texts for its Starter plan. unlimited log-ins, an online appointment book; appointment reminders & notifications; integrated point-of-sale.
Optional credit card processing; 20 reports; and you can add the Booker Marketing Network.
For $269 a month, on its accelerate plan, an unlimited number of notifications and reminders, smart contract list
For $529 a month, you get all the benefits of the previous plan along with a branded mobile app.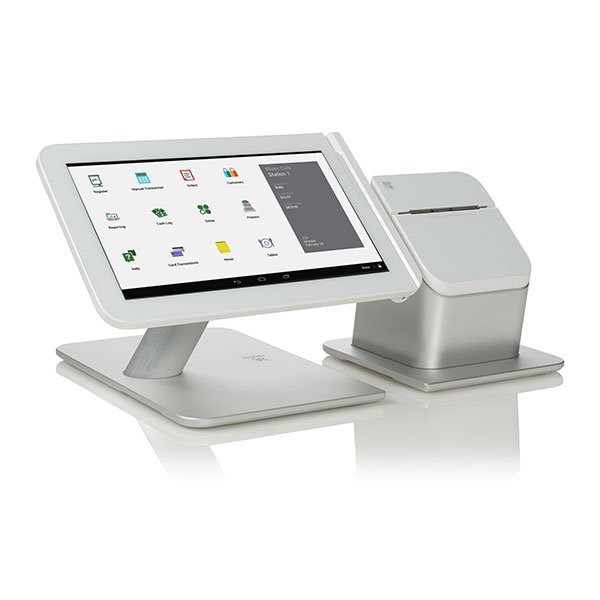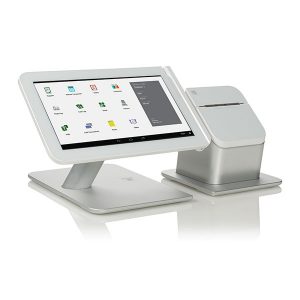 Clover is one of the few barbershop POS systems that prides itself on its sleek design, apparently since most businesses it targets are in the business of appearance.
It makes sense that a sleek, modern design would be important to you. Clover compares itself to Apple and Tesla in terms of the importance of style. 
Of course, form without function doesn't do you much good. Clover doesn't lose sight of that either, as it promises to deliver business reports, analytics, and an app for every customer that comes on board.
It accepts multiple payment methods, including chip cards and mobile pay systems. Clover also has longevity in its favor. It was founded in 2009 to create a better way to handle credit card payments. It's grown steadily since then. Clover also promotes its Turnkey Processing option, which provides set-up, integration, and ongoing support.
Top Features 
Appointment Scheduling
As a service based business, online scheduling increases your customer engagement and ease with which they can sign up for services in your barbershop. By deploying the power of Clover's online appointment scheduling, you can greatly increase customer engagement and sign up for your services. With the Clover online calendar, you easily take a deposit at the time of the booking. This will help reduce the number of dropped appointments and let employees see their own schedule using their own log in.
Online Invoicing 
Easily get service invoices sent to your customers with Clover POS's online invoicing. With this, you get paid faster since you can also let them pay online.
Sales Tracking and Reporting in Real Time
With Clover POS, you can easily get up to speed with how well your barbershop is doing in terms of sales, employee performance, and your customers by simply hitting up the reports and analytics section of your Clover POS account. With this, you can easily make informed business decisions.
Various Payment Options
With Clover POS, you can be rest assured that your payment is future proofed. This is because Clover adds every new payment solution in a breeze, thus constantly giving you a variety of options through which you can get paid.
Social Media Tools
Clover comes packed with social media communication tools with which you can stay connected and constantly reach out to your customers and carry out promotional campaigns.
Other important features of Clover POS are:
Scheduling appointments for multiple employees

Keeping a history of past appointments

Generates SMS reminders to customers

Daily backups

Syncs with Clover Salon Scheduler app so the owner can manage the business from off-site.

Marketing and customer loyalty features

Coupons and incentive programs
Pros and Cons of Clover POS
Pros
Fast and easy to set up

24/7 free customer support
Cons
Sold through third parties

Pricing is not transparent
What Type of Business is Clover Ideal For? 
Clover POS has a wide array of use cases. It focuses on retail stores, food and beverage stores and service based businesses like professional and personal businesses such as fitness, spas and barbershops.
Is Clover POS Easy to Use? 
Clover POS is one of those point of sale systems that I can say features some really sleek and modern day design backed with functionality. You will find the solution a great delight to use as the user experience is top notch.
Its range of hardware is also designed with ease of use in mind. Whichever one you settle for, be it the Clover Mini, Clover Flex, or Clover Go, they are all a delight to use. The only downside to Clover POS in my analysis is the fact that the company sells largely through third party retailers such as banks, and ecommerce platforms like Amazon and eBay. To a large extent, this impacts the user experience when purchasing and seeking customer support. It also impacts on the pricing, and as such, you should double check to ensure that you are getting the best price available.
Also, while there is no free trial, it does offer you a free demo through which you can have a walkthrough of its features.
What Do Business Owners Think About Clover POS?
Reviews from users are a mixture of positives and pain points, but largely positive. Many users acknowledge its ease of use and customer friendly support. The Clover POS scores an overall star rating of 4.2 out of 5 on Amazon.

How Much Does Clover POS Cost? 
Clover POS runs a monthly payment plan where it charges for your use of its software and hardware as well as collects a certain percentage for processing your payments. Below is the breakdown of its three pricing plans and payment processing charges.
Starter: Costs $50/month for hardware and software and allows you to accept payments anywhere using a portable handheld POS

Standard: Costs $90/month for hardware and software

Advanced: Costs $130/month for hardware and software
Payment Processing
Clover Payment Processing Fees: 2.3%-3.5% + $0.10 per transaction
3. Franpos System – Best POS for Barbershops with Multiple Locations
Franpos, formerly known as iConnect POS, specializes in Point of Sale systems for franchise businesses. It is a cloud-based franchise-centric Beauty Salon POS system solution that is just ideal as a barbershop pos system. While Franpos focuses on the beauty, quick service restaurants, and retail sectors, it also comes with rich features specifically needed by the beauty industry.

The Franpos website includes a lengthy section with answers to common problems. This feature appears to be frequently updated.
The website also features video tutorials for Android, PC, and Apple products. Franpos has longevity in its favor. It was founded in November 2011 and has shown regular growth since that time.
Top Features 
Enterprise Management System
Franpos offers Enterprise Management with which you can manage employees, schedules, pay, assign appointments, and add products or services, all from a single command center. This system allows you to assign unique service prices and commissions to each employee.
Manage Payment Methods
You can accept all payment methods, cash, credit, check, gift card, Apple and even Bitcoin. Such is the array of payment options Franpos offers.
Loyalty and Gift Cards
You can easily reward your loyal customers by making use of Franpos loyalty and gift cards. You can also target customers with growth marketing programs.
Enterprise Reporting
Franpos comes with an enterprise reporting suite with the ability to access reporting in real time.
Intuitive Dashboard
Franpos point of sale dashboard is a well laid out interface that allows you see your barbershop operations performance easily right on the dashboard.
Staff Management 
Easily manage schedules, calculate commissions due, monitor their sign-ins and sign-outs and do a whole lot more using the employee management module.
Customer Facing App
Franpos comes with a customer-facing app that allows you to reach customers with an up-to-date menu of products and services. Your customers can easily track their purchases through the app.
Other important features of Franpos are:
Royalties and ACH programs to generate and collect royalties

Financial Connector to connect to your accounting software
Pros and Cons of Franpos
Pros
Easy to use

Free demo
Responsive customer support
Supports offline mode
Highly customizable
Cons
Few users complain of inventory numbering going into negative even when it has been turned off
What Type of Business is Franpos Ideal For? 
The specificity of Franpos is its strength. It is a point of sale solution that is built specifically for service based businesses, such as barbershops. It has features designed to meet the needs of barbershops and as such is more like a round peg in a round hole in meeting the needs of barbershops.
Is Franpos Easy to Use? 
The answer to this is a yes. Franpos has lots of features that are tailored to meet the needs of the service based industry and specialties such as barbershops, spas, salons etc.
What Do Business Owners Think About Franpos?
Reviewers say it is an ideal system for small barber shops looking to take their business to the next level as it helps take care of inventory control, sales and customer profiles.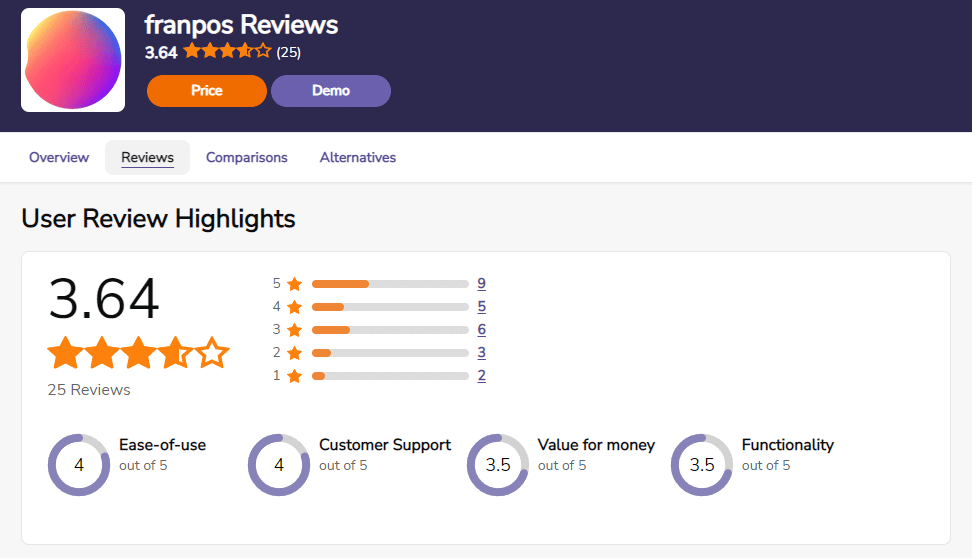 How Much Does Franpos Cost?
Franpos won't release pricing without information about your specific barbershop, but other websites list the starting price as $50 a month. You can reach out for a demo session today. 
4. Nobly POS System – Most Easy to Use Barbershop POS System
Nobly is designed for barbershops, beauty salons, and nail bars. It also creates systems for coffee shops, restaurants, bars, delis, food trunks, and retail businesses.
Nobly prides itself on quick reports and a speedy back office system. It promises that you'll spend less time on administrative tasks and more time with customers. Unlike some of the other sites, Nobly prominently promises reports tracking sales by product, category, and staff member.
It also offers a system to send payments directly through the Point of Sale system. Customer testimonials praise the system for providing owners with valuable information on who is the fastest barber or who sells the most products.
It makes it easy to determine commissions, taxes, and tips. 
Top Features 
Intelligent Reporting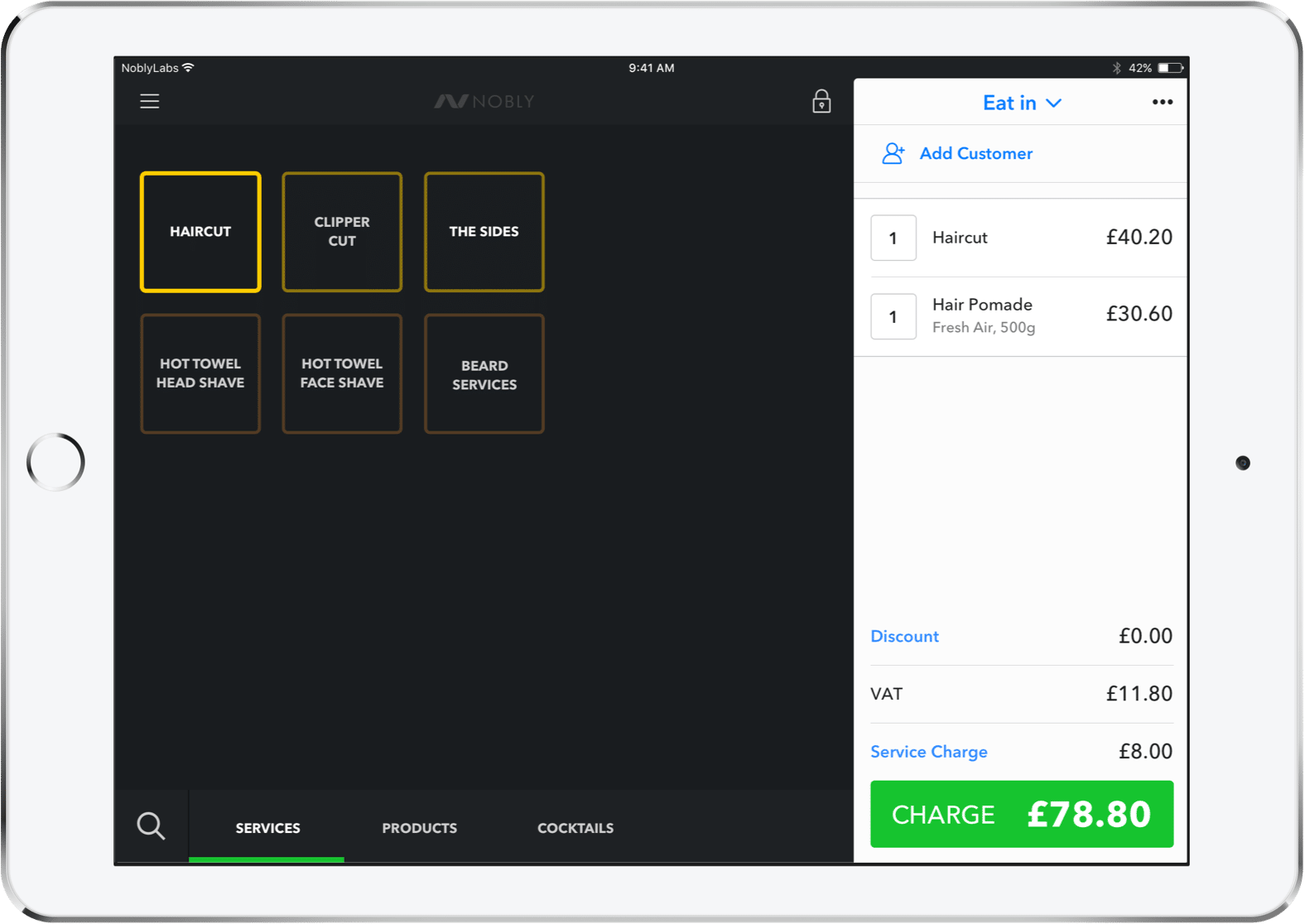 Nobly provides you with intelligent reporting functions through which you are able to stay ahead of developments and take informed business decisions. Study your end-of-day sales reports, see repeat customers, and generally get a hang of how well your barbershop is doing.
Integrates with Major Third Party Apps
Nobly integrates with major third party apps like Quickbooks, Xero, Marketman and others.
Offline Mode Functions
No internet, no problem. Continue to process sales and get all your data synced once connectivity is restored. Offline mode so it continues to function outside of an internet connection. All data syncs when you return to a signal.
Loyalty Programs
Reward your loyal customers and drive repeat patronage with incentivized rewards. Personalized incentive plans for customers.
Inventory Management
Inventory management including sales and in-stock inventory reports
Payment Terminals
Pros and Cons of Nobly POS
Pros
Responsive customer support

Easy to use
Cons
iPad based

It has been reported to be difficult to operate
What Type of Business is Nobly Ideal For? 
While it may not be the most popular name in the point of sale industry, it nevertheless functions and meets the needs of barbershops. This is because of its array of features, which meet the majority of the needs of businesses in the service industry. 
Nobly is, however, an iPad based tablet point of sale solution. As such, if what you prefer is an Android POS or one that works across the board, then Nobly may not be the solution for you. It is ideal for those who are used to using the iPad and are looking for a solution that is dependent on iOS. It is a good 
Is Nobly POS Easy to Use? 
Nobly is a fairly easy to use solution, and users also testify to its functionality and ease of use.
What Do Business Owners Think of Nobly? 
My analysis of business owners' submissions on the Apple App Store shows that users acknowledge the customer support of Nobly and praise it for its ease of use.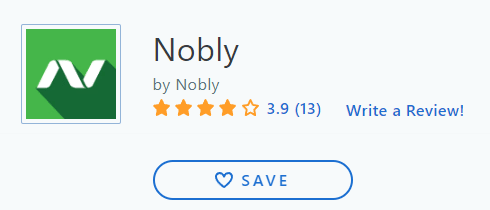 How Much Does Nobly POS Cost? 
Nobly won't release pricing without information about your specific barber shop, but other websites list the price as about $50 a month with an annual contract or about $75 a month without an annual contract.
5. Square Appointments – Best Barbershop POS to Take Appointments Anywhere, Anytime
You've probably used Square to pay for something at a small business. You may even use it in your barbershop. But did you know Square offers a Point of Sale system?
According to the Square Appointments website, more than 2 million businesses use this system, which is free for an individual.
The system is not tailored to barbershops. However, it does promise many of the same features as the systems created expressly for our industry.
Top Features Include: 
Tracking purchase histories for customers

Sending digital receipts
Collecting instant feedback
Real-time sales reports by item or payment type
Sales reports by employee or location
Search refunds, discounts, and comps
Inventory management
Enables customers to book online 24/7
Square also offers tools including:
Employee management
Payroll
Marketing
Loyalty programs
Pros and Cons of Square Appointment
Pros
Available on both Android and iOS

User friendly
Cons
High monthly fees

Users complain of issues that has recently risen from their use of the app
Who is the Square Appointment App Ideal For? 
Anyone in the service industry that needs to have appointments booked and basically runs on this will need Square Appointment. It is an ideal solution for small businesses looking to grow their business and scale up.
How Do Business Owners Rate Square Appointment? 
Square Appointments has tons of good reviews both on the Google Play Store and the Apple App Store where it can be downloaded. It has an overall rating of 4.6 out of 5 on the Google Play Store and the Apple App Store.

How Much Does Square Appointments Cost? 
For businesses with between 2 and 5 employees, the fee is $50 per month and 2.5% plus 10 cents per tap, dip, or swipe. For a business with 6 to 10 employees, the price is $90 per month and 2.5% plus 10 cents per tap, dip, or swipe.
Read More: Square POS Pricing | Hardware & Software Costs
Buyers Guide: What To Look For
Appointment Setting
It's worth taking the time to examine your options. These systems make it easier for you to manage appointments and commissions as well as offer loyalty programs.
Add On Service Options
Men's grooming goes far beyond shaves and haircuts. Men now expect services traditionally reserved for women. Men are asking for hair color, highlights, scalp treatments, waxing services, massages, and more.
The best POS for barber shop will help the shop owner with upselling hair products such as hair gel, moss, etc. The system would keep track of the products the customer buys and if he needs to reorder any.
Furthermore, everyone likes when their barber remembers how they like their haircut and what other services they like to get along with their cut.
Pricing
When considering a barbershop POS system, the first thing everyone wants to know how much it will cost. Unfortunately, there's no simple answer to that question. Before many POS providers can tell you the cost, you will need to know if you plan on installing the equipment yourself or if you'll need expert help.
The manufacturer also needs to know whether you'll be using desktop computers, mobile devices, or both. Some features come standard, but you may want to consider adding optional features. Price may vary depending upon your location too.
Hardware Required
At a minimum, you'll need a station with a tablet or touchscreen device, a credit card reader, a cash drawer and till, and a printer for receipts. You may want to add a tablet stand to hold the tablet in place. A barcode scanner speeds up the check-out process. You could even install caller ID so the system automatically starts an order when a customer calls.
Booker Is A Clear Winner 
In conclusion, there are 5 market leaders when it comes to barbershops point of sale. We choose Booker as the clear winner because it specializes in the salon and barbershop POS systems. To get started with Booker, get a free quote here. 
FAQs
What is the spinny thing outside of a barbershop called?
The structure is called a barber's pole and it is used by barbers as a signpost to draw attention to their shop. It consists of a pole with a helix of colored stripes which is made up of white and blue in the United States but is usually red and white in other countries.
How do barbers attract customers?
Some of the ways barbers attract customers include:
Having an online presence (website, social media pages)

Get listed on Google and other online directories
Host events
Offer online booking and scheduling
Do barbershop owners make money?
According to reports, barber shop owner salaries currently range between $29,500 to $64,500 making it a lucrative profession to go into.
How do I write a business plan for a barbershop?
Things you should take note of when writing a Barbershop Business Plan are:
Do a proper research into the market

Identify your competitors
Create your unique identity
Develop a strategy for marketing
What does the blue mean on a barber pole?
In Europe, most barber poles are red and white, but in the United States, there is an addition of the blue color. According to some individuals, the blue is a representation of veins.