(Last Updated On: 07/22/2022)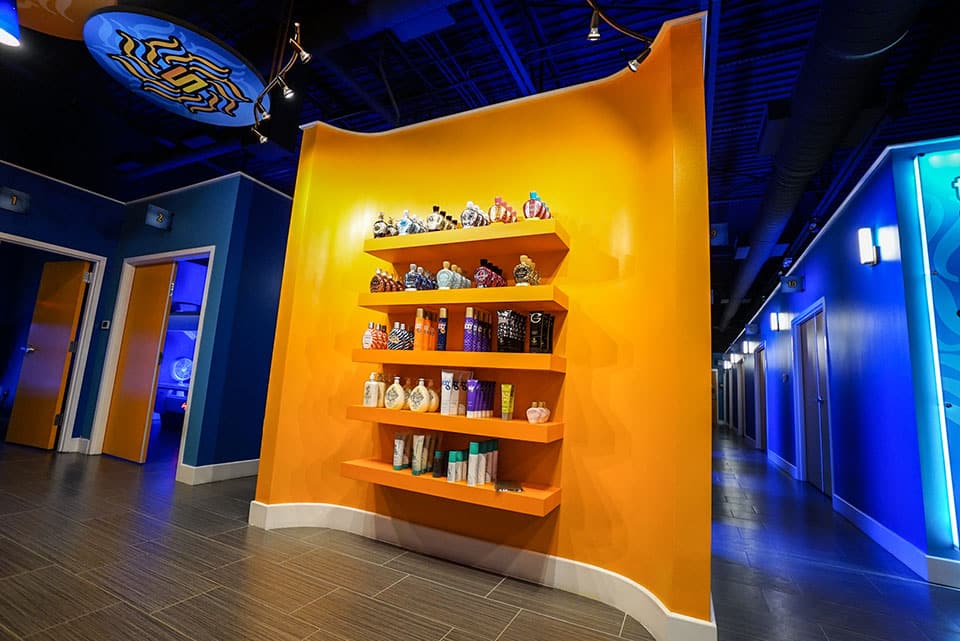 Tanning salons can choose between a computer-based and a tablet-based point-of-sale system, depending on their needs.
Given the prevalence of mobile systems, many tanning salons prefer tablet-based options for their portability and convenience. Thanks to the cloud, you do not have to worry about losing crucial data. 
The best tanning salon POS systems offer a fully integrated salon management software, billboard displays in waiting areas, online appointment booking integration as well as loyalty program management. 
Benefits of Using a Tanning Salon POS System
Using a tanning salon POS system will streamline your processes, letting your team save time while checking out clients and improving the customer experience. The best systems will also help you track sales and even inventory or payroll, providing additional benefits. 
Best Tanning Salon POS Systems 
| POS System | Software Costs | Hardware Costs |
| --- | --- | --- |
| Salon Touch Studio  | $59.99 per month per user | Based on customization |
| Salon Iris | $29 to $119 per month | Based on customization  |
| Epos Now | From $39 per month or $749 upfront | Normally from $1,799, on sale for $599 |
| Simpay  | Contact for pricing | Contact for pricing  |
1. Epos Now – Best Tanning Salon POS System Overall

Epos Now is available with a range of options, including complete systems that include computer interfaces, tablet-based systems, and just the software. The last of these lets you set up Epos Now on any device that you want. 
This last option of just purchasing the software is ideal for tanning salons who already have POS hardware. It is also scalable, so it can grow with your tanning salon. The software works with nearly all POS hardware and includes access to 24-hour customer support, guides, and tutorial videos. 
Purchasing a complete system includes a 2020 dual-core Pro-C15 touchscreen terminal, an 80 mm thermal receipt printer, the software, a free EMV credit and debit card reader, installation and configuration, and a high-quality all-metal cash drawer. It is compatible with the Tanning App, Loyalty Module, and Appointedd for booking treatments. 
Epos Now Pricing
Complete systems from Epos Now typically cost $1,799 or $72 a month. However, there are occasional sales, such as a sale price of just $599 at the time of writing. The software starts at $39 per month or $749 upfront. 
2. Salon Iris – Specialized Tanning Salon POS Software 

Salon Iris is a POS system designed specifically for salons, which means that it has extra features that tanning salons need, such as the ability for clients to book from Instagram via a Book Now feature. The POS also incorporates text reminders, credit card processing, a mobile app, marketing, payroll, and online booking. 
The all-in-one option includes the front desk tablet, credit card processing, a barcode scanner, a receipt printer, full email and phone support, training, and all the hardware you need. 
Some of the other key features of the Salon Iris software include the appointment book with color-coding, automated marketing, and add-ons, such as automated email and texting, QuickBooks Connect, reputation management, text marketing, 24/7 access from any browser, mobile applications, membership billing, and custom gift cards. 
Salon Iris Pricing
This POS system lets you choose from multiple packages, depending on your budget and the features you need. The Basic system is $29 per month for one user, texting, emailing, and the ability to use it on any web-enabled device. It only features chat and email support. The Deluxe system is $59 per month and upgrades to three users with additional support via the phone plus training. 
The Premier system upgrades to unlimited users, great for larger salons. The Professional package starts at $119 per month and works on your Windows PC. 
3.Salon Touch Studio – EMV Ready POS  For Tanning Store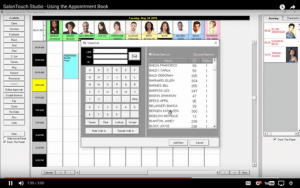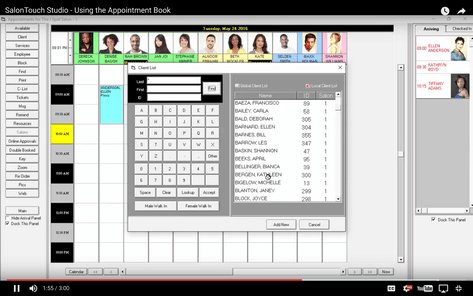 Salon Touch Studio is a complete salon management software that includes the POS system. The POS technology is EMV-ready, so you can easily accept Google Pay, Android Pay, and Apple Pay. It also features token encryption for client protection. 
For convenience, there is a mobile application for Apple and Android devices. 
The simplest way to use Salon Touch Studio is via the online hosted services that use your existing hardware. You can view reports on My Salon Center or use My Salon Book and My Tanning Book. 
Software solutions include the POS system as well as reports, appointments, client, activity, staff, automation, security, and inventory. There are more than 150 reports, integrated credit card processing, an intuitive appointment screen, resource booking, client photos, and more. 
The POS system can also include hardware, such as cash drawers, receipt printers, barcode scanners, all-in-one PCs, towers, touchscreen monitors, electronic signature pads, biometric scanners, and credit card swipes. 
Salon Touch Studio also partners with other companies to integrate optional services, such as reputation management from Demandforce, email marketing from Constant Contact, and text messages via Textmunication. 
Salon Touch Studio Pricing
Pricing information requires contacting Salon Touch Studio with your needs, but it typically starts at $59.99 per month per user. 
4. Simpay POS – General POS system 

Simpay is a general POS system that works across industries, including for tanning salons. In addition to POS, the system can also integrate payroll, sales-building tools, and payment processing. 
Using the Simpay POS gives you reliable equipment that you keep for over a year, ease of planning shift coverage, and intuitive training. The system provides a seamless checkout experience with your choice of input among keyboard, touchscreen, or scanning.
The POS software also makes it simple to print special offers and coupons; use and run reward programs and gift cards; allocate tips; track employee time; and view reports for monitoring orders, inventory, and sales. 
You can also enjoy affordable lease-to-own financing on equipment, QuickBooks importing, payroll report generation, a hardware replacement guarantee, 24/7/365 support, and a DVR/surveillance interface. 
The payment processing systems from Simpay for tanning salons let you view reports online at any point, receive funds the following day, and accept payment with a mobile device. The payroll software even lets you adjust commission rates for various team members and allocate tips. 
Simpay Pricing
Simpay requires tanning salons to contact them for pricing. 
Why Get A Tanning Salon POS System?
Part of running your tanning salon is ensuring that you have a secure and convenient method for your customers to pay. 
There are hundreds of point-of-sale (POS) systems on the market, some of which are designed for general use by all industries and others that are geared toward tanning salons.  With the right POS system for your tanning salon, you will be able to take payments more efficiently while also keeping track of data for reporting. 
No matter the size of your tanning salon, a POS system can make a difference by streamlining your day. However, the specific features you need may vary based on your tanning salon, including your average number of customers. 
Buyer's Guide: What to Look for in a Tanning Salon POS System
As you search for the POS system for your tanning salon, there will be slightly different considerations for the hardware and software. If you plan to use your existing hardware, then just confirm that your current hardware meets your requirements and that you choose compatible software.  
Tanning Salon POS Hardware
The hardware refers to the physical items that you will use in your POS system. Some POS systems let you use your own hardware or can work with your current tablet or computer. Others require you to purchase compatible hardware. 
Not all tanning salons will require all the following hardware, but it is worth at least considering whether you need each item. If you do, ensure your chosen POS system includes it. 
Cash Drawers: Cash drawers are crucial for any tanning salon that plans to accept cash payments. They can also be used to store receipts and gift cards. 
Credit Card Scanners: These are necessary to accept payments via credit card. 
Receipt Printers: Unless your tanning salon will be paperless, you need a receipt printer. It is wise to have one of these even if you plan to email or text receipts to clients, as a printed receipt will sometimes be necessary. 
Electronic Signature Pads: If you plan on getting digital signatures instead of paper ones, which most tanning salons do, this is a must. Alternatively, some software programs allow digital signatures on mobile devices. 
Barcode Scanners: These can let you sell tanning-related products with ease. You can also set up unique barcodes for various tanning packages or services, then scan them when checking out clients. 
Computers: Some POS systems will rely on computer systems, with your choice of touchscreen. 
Tablets: Instead of a computer, you can choose a tablet-based system that allows for portability. 
Biometric Scanners: Consider using biometric scanners for employees to log into the POS system. 
Tanning Salon POS Software
As with hardware, not all tanning salons will require all of the following software features, but the best POS solutions will include them. 
Payment Processing
You need a way to charge the customer and process their payment, preferably with the ability to select credit, debit, and cash. Ideally, it will also accept Google Pay, Apple Pay, and similar options.
Tip Integration: Many clients will leave tips for your employees on their card at the time of purchase. Choose a system that allows for this and lets you clearly assign the tips. 
Scheduling and Appointments: An all-inclusive POS system will also incorporate your appointment scheduling, including integration with online bookings made by clients. 
Inventory Management: The best software will feature inventory management, both for products you sell to clients and the products your tanning salon uses in treatments. 
Gift Cards: Gift cards help build loyalty and encourage more business, so integration is key. 
Loyalty Programs: Choose a system that incorporates loyalty programs so you can encourage clients to return. 
Email and Texting: This is useful for appointment reminders as well as sending digital receipts. 
Automated Reports: The software should be able to track sales and automatically compile reports with the basic information. 
Customer Management: The POS system should feature information related to your customers, such as memberships, birthdays, loyalty points, and referrals. 
Advertising at POS: Some systems include advertising options on the customer-facing screens. Use this for upcoming promotions. 
Mobile Access: Systems with mobile access allow you to view reports, appointments, and more even if you are not onsite. 
Employee Sign In: Ideally, your POS system will require employees to sign in, as this allows you to track who completed which transactions in case an issue occurs. Some systems may also incorporate the ability to clock in and out. 
Integration with Accounting: Consider a tanning salon POS system that integrates with QuickBooks or the accounting software that you use. 
Payroll Management: Your POS system may also offer payroll management. 
Compatibility with Your Hardware: It bears repeating that if you are using your own hardware, ensure that your chosen software will be compatible. 
Investment For The Long Term
Remember that choosing your POS system is an important decision, as your tanning salon will likely use it for years to come. As such, you should take your time and ensure you are confident in your choice, which should not be a problem with the help of this guide.