(Last Updated On: 02/12/2023)
Our product review team dedicates hours of research, fact-checking and testing to recommend the best solutions to business owners. We earn from qualifying purchases through our links, but this does not influence our evaluations. Why trust our reviews?
Written by Business Expert Wale Ameen
Tattoo shops and piercing studios offer specialized services. This review provides you with a detailed analysis of the four best POS systems for tattoo shops following careful analysis. I have selected the best using industry focus and users' recommendations to draw up this review.
Don't have time to read this whole review? Skip ahead to: 
Experts' Choice
TattooPro POS 
The best POS system for tattoo shop businesses is TattooPro POS. TattoPro POS:

Built specifically for tattoo shop 

Skill based scheduling for your artists

Reporting and analytics
Importance of a Tattoo Shop Point of Sale System
As a tattoo business owner, you have to manage picky customers, health regulations while trying to increase sales. A tattoo shop point of sale system will simplify operations so you can focus on making your customers happy. 
Tattoo shop POS systems help improve the business productivity of tattoo studios and boost customer volume. They also help in tracking service sales and provide reminders to refill supplies. POS software helps in capturing payment data and allows for multiple payment methods. The software also allows for bulk transactions, which satisfy customer needs and generate new business opportunities.
POS software also facilitates legal compliance. Tattoo shops should have an online presence, as many customers nowadays do their research online. An effective website can help them tell their story by highlighting work by the artists and sharing client testimonials. In addition, it can make it easier for clients to learn about the services offered and make an appointment. A tattoo shop website also helps in ensuring that the customer has all the information they need before scheduling an appointment.
Tattoo shop POS systems should provide a calendar view of appointment availability and request online payments, which helps in reducing no-shows. They should also have an easy-to-use interface, so customers can see all the appointments at once. Some systems even offer color-coded calendars to make it easier for customers to book appointments.
Tattoo Management Studio also offers a feature that lets you charge clients' credit cards, print receipts, and sell gift cards. The system also offers a high level of security, with each user having a password-protected account and restricted access to the system according to their role. For example, front desk staff cannot view the services of artists, while managers can control all system settings.
There are a number of POS systems for tattoo parlors out there, each with their own specific benefits and drawbacks. But across the board, you should be looking for a platform that enables booking and appointment management, reduced calendar gaps, pre-order payments to reduce no-shows, an all-in-one interface, CRM & customer nurture features, powerful reporting and analytics, for starters.
With the right POS system, your tattoo parlor can better process payments, manage customized requests, build brand and customer loyalty, and improve your overall profitability. 
After extensive research, during which I have compared about 10 point of sale systems, I recommend TattooPro as the best POS system for tattoo shops. This is due to its array of tattoo shops and parlors specific features and the piercing industry in general.
How Much Do Tattoo POS Systems Cost?
Pricing for a tattoo parlor POS system can range from $20 per month all the way to $250 per month. There's also hardware and credit card processing fees to consider when it comes to price comparisons.
If you run multiple salons, it's also important to look for a cloud-based POS system. That way, you'll be able to manage all of your locations from anywhere.  Let's dive into the top four tattoo parlor POS systems and learn about their features, pricing, customer support, and more.
Best Tattoo Shop POS Systems
| | | |
| --- | --- | --- |
| POS System  | Software Subscription Fees  | Payment Processing Rate  |
| TattooPro  | Starting from $149/month  | Starts from 2.75% per swipe |
| Simple Salon | Starting from $21.99/Month  | Varies from one credit card processor to another  |
| REV23 | Starting from $79.99/month  | Depends on your preferred gateway |
| Clover Tattoo Studio | Starting from $14.95/month | Starting from 2.3% + $.10 per transaction. |
1.
Tattoo Pro
–
The Best POS System for Tattoo Shops Overall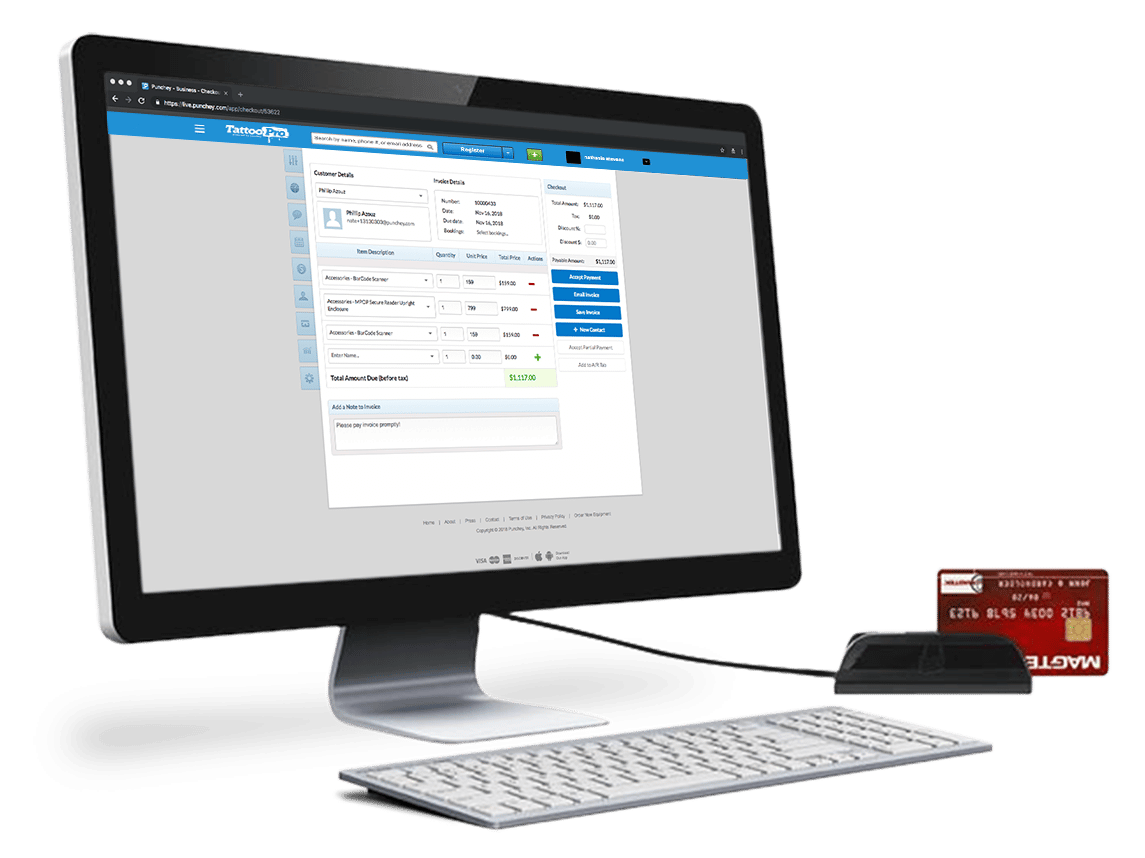 Get yourself a simple business management tool that drives sales, eliminates excess costs, and automates important processes. It is essentially designed to make your tattoo parlor and tattoo shop more productive and profitable. 
TattooPro is a North American based cloud point of sale focused on tattoo shops and piercing studios to help them manage their daily operations and improve efficiency.
The solution has been proven to be effective at managing and improving business reputations. Some of the features you will come to like about the Tattoo Pro POS system include:
Features of TattooPro
Seamless Credit Card Processing
The POS system will let you check out your clients by credit card, debit card, check, or cash. Regardless of the payment method used, the software will offer you a simple, and straightforward processing experience. 
For enhanced versatility, the provider allows you to use its low-cost credit card processor or integrate it with your preferred merchant account. The system allows for easy connection of accessories, such as a cash drawer, receipt printer, or bar code scanner for a more organized checkout. 
Improved Point of Sale Features
TattooPro features an improved point of sale that comes with helping improve your daily operations with digital tips-collection, email receipts, and hardware.
Digital Signatures 
Tattoo Pro Capture your clients' digital signatures in an elegant and efficient manner. Once you have checked out an appointment or invoice on the Tattoo Pro POS system, you may also collect digital signatures through the connected tablet or iPad device. 
In this case, you only need to press Accept Payment. The wirelessly paired tablet or iPad will light up, prompting the customer to tip or enter a signature.
Online Appointment Scheduling
Easily add TattooPro's online booking widget to your online platform to get your customers make tattoo appointments online.
Automated Text Reminders 
TattooPro provides you with an SMS and email marketing function that lets you reach out to your customers and remind them of their upcoming tattoo session. This can also serve as a great marketing tool for reaching out to your customers 
Other great features of TattooPro are:
Secure access round the clock

Skill based scheduling for your artists

Reporting and analytics
Pros and cons of Tattoo Pro?
Pros
Easy to use

Free trial
Simple and fair pricing
Great customer service
Comes with great features needed by a tattoo shop
Cons
User interface not as modern as others in its league
Who is TattooPro Ideal For?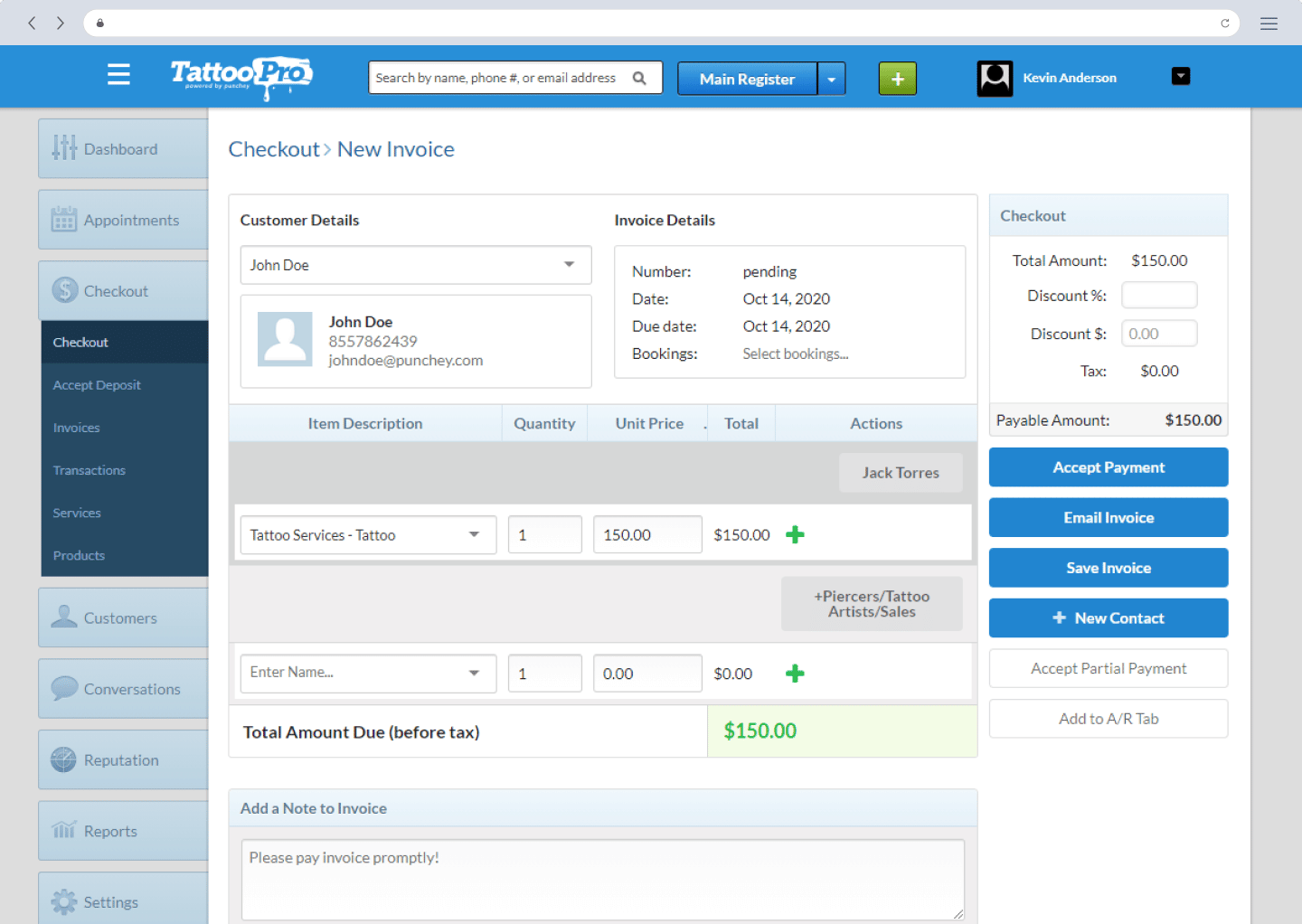 If you run a tattoo shop or piercing studio, then you will find this software a great help in streamlining your operations and automating a large portion of your activities. The fact that it is built specifically for tattoo shops means it comes with tattoo shop specific features that will be just ideal to help you manage your day to day operations. It supports single artist shops to more than 20 artist shops.
Is TattooPro Easy to Use? 
From my analysis, TattooPro is an easy to use solution. Its dashboard is easy to navigate with bright icons. However, it is not as sleek and beautiful graphically as others in its league. The fact that it offers you a free trial also means you can test it before committing to a paid plan.
What do Tattoo Shop Owners Say About TattooPro?
TattooPro scores very high among tattoo shop owners, who highly recommend it. An analysis of reviews on the Apple App Store, Google Play Store, Capterra, and GetApp shows most reviewers commending it as great software to use and that has improved their operations. They commend its ease of use, user friendliness, and customer support service.
Below is TattooPro's rating on the various platforms:
Apple Apple Store: 4.4 out of 5
Google Play Store: 3.6 out of 5
GetApp: 5.0 out of 5
Capterra: 5.0 out of 5

How Much is TattooPro POS? 
Being one of the best tattoo parlor POS systems and best POS systems for tattoo shops, Tattoo Pro offers great value for money. The provider offers a risk-free 14-day trial period for the Tattoo POS software. Thereafter, you will be required to choose any of its three subscription plan.
TattooPro's Pricing Plans
Solo ( $149/Month) 
This is the startup Tattoo Pro software plan that allows you to manage up to 1,000 contacts.
It offers two artist calendars, a scheduling system, automated client text reminders, and a client database and profiles. The package also includes a countertop point of sale station and powerful sales forecasts. 
Shop ($249/month) 
With this plan, you will be able to manage more than 5,000 client profiles. You will also get unlimited artist calendars to support as many artists as you like. For $249 per month, you will get all the features and capabilities offered by the Solo plan.
Additionally, the Tattoo Pro Shop subscription plan features one way Google calendar sync, artist commission reporting, email marketing lists, and the ability to accept session deposits. 
Ultra ($349/month)
For this plan, you get to manage an unlimited number of client contacts and an unlimited number of artist calendars.
It also comes with custom online booking, reputation and review manager, branded emails, custom reports, gift card programme, and two way Google calendar sync.
Payment Processing
TattooPro's payment processing is handled by its parent company, Punchey, and it runs a bespoke payment processing rate which gets lesser with volume. Below is an overview of its base pricing:
Punchey Flat: 2.75% per swipe. Keyed-in payments are charged at 3.5% + 15¢ with a breakeven transaction size fixed at an average sale below $18
Punchey Flex: Transactions are billed at 0.75% for keyed-in payments plus an interchange fee of 15¢
Simple Salon formerly known as Simple Inked is a fully-featured tattoo studio POS software option that is suited for startups as well as large agencies. It is one of the best POS systems for tattoo shops. It presents professional artists with end-to-end tattoo shop or parlor solutions for Windows. It is a mobile and browser based solution that is easily accessible using any smartphone or tablet.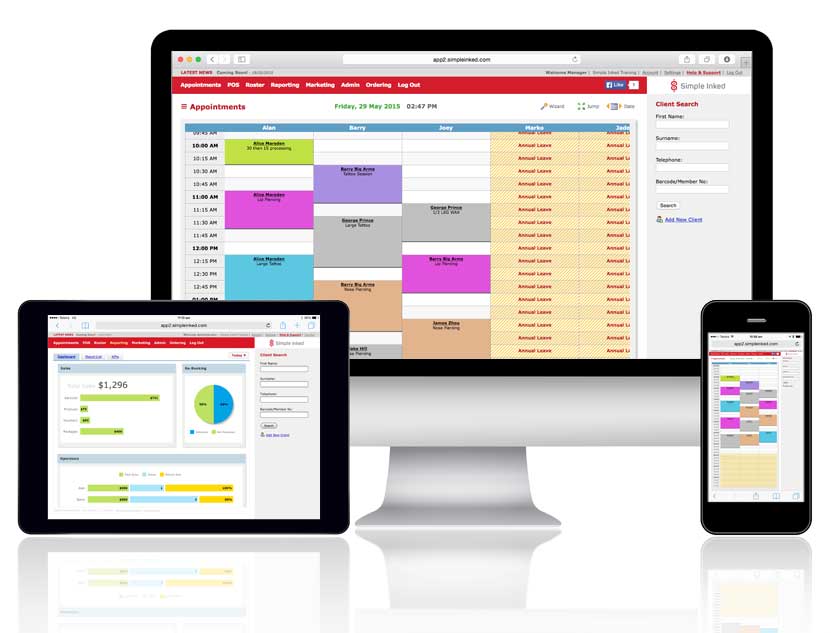 A major point that stands Simple Salon out and edges it to the top of my list of best POS system for tattoo shops is the fact that it is a salon focused and centric point of sale system. This means that you get a POS with features dedicated to making your tattoo shop operations seamless.
The solution is designed to offer you all the tools you need, including the Loyalty Program, Client Management, Appointment Reminders, and Appointment Scheduling. Other capabilities that make Simple Inked stand out from other tattoo parlor POS systems include: 
Growth Tracking 
Easily monitor all the key performance metrics in your business and get to know how the business is faring at a glance.
To allow for this, the Simple Inked POS system features an intuitive dashboard. It offers you a cue of how well your studio and staff are performing. The system is capable of generating KPIs covering all the important metrics you need to make informed business decisions. 
Integrated Payment Processing
The integrated payment processor on Simple Inked POS system allows for a swift, secure and reliable payment processing experience. You may take payments when a client books online or have them pay for the service offered in the studio. 
Either way, this integration will ensure that you have a seamless and easy payment processing experience with each payment. By automating some of the important processes, the system prevents double entries.
Online Booking
With your online booking page on Simple Salon, you can get more bookings from your customers easily. You can easily connect your website to Simple Salon's online booking platform, giving your customers more options.
Even if you don't have a website of your own, you have nothing to worry about as Simple Salon's online booking platform gives you a unique page and URL, meaning you have a mini website which can be easily accessed by your customers, complete with your details. 
The Online Booking feature also comes with a deposit feature which allows you to set a fraction of the total cost and take this from customers who make a deposit thereby increasing fulfillment rate. Easily drive more sales by allowing your customers to purchase and redeem online gift vouchers, and redeem pre-purchased packages online. What's more, it comes with email/SMS marketing features to let your customers know they can book online.
Stock Management
Easily manage your retail stock with Simple Salon's inventory manager. The feature updates product quantities in real time and ensures you know what's available and what's not.
Multi Site Enabled
Simple Salon comes with its proprietary 'The Dome', a feature to manage multi-site shops. Centrally manage all your shop's locations with powerful reporting and marketing features.
You can easily share products and services across all your shop locations and manage your employees, carry out administrative tasks, and just stay limitless.
Other features of Simple Salon are:
Salon Memberships

Social integration
Pros and Cons of Simple Inked POS
Pros
Mobile based

Offers free 14 day trial
No contract
Cons
System reported to be buggy at times
Is Simple Salon POS Ideal for You? 
Salon Salon is an ideal mobile POS and booking software that is specifically built for all salon shops: tattoo, health, hair, beauty, and fitness studios.
Is Simple Salon Easy to Use? 
Simple Salon features an easy to use mobile app which is available both on the Google Play Store and the Apple App Store. It has a slick and intuitive design with bright icons that make navigation a delight. Your customers will enjoy using it as it's a beautiful and functional solution. 
You can use it on any mobile device, computer, tablet, or smartphone with internet connectivity.
It is also constantly updated with new features and tweaks based on users feedbacks and tailored towards making it a great solution for its users.
How Much Does Simple Salon Cost?
Simple Salon offers 4 different pricing packages. 
Single Plan (1 Staff): $21.99/month
Standard Plan (2-3 Staff): $56.99/month
Unlimited Plan (Unlimited Staff): $113.99/month
Dome (Multi-Location Plan): Starting at $113.99/month
You can reach out to Simple Salon for a quote based on your business needs.
What Do Tattoo Shop Owners Think About Simple Salon?
Most reviewers of Simple Salon on the app stores say Simple Salon is generally great software to use for their salons. Its mobile apps have been praised as intuitive and where users have complained about specific sections of the software not being great, the company has been responsive enough to promptly deal with such and make it better.
Below are Simple Salon's rating on the app stores:
Google Play Store: 3+ out of 5
Apple App Store: 3.0 out of 5
3. REV23 –  The Best Industry-Specific Tattoo Shop POS Software 
REV23 is designed from the ground up to work for the body modification industry. As such, it is suited for tattoo parlors, tattoo shops, and piercing shops of all sizes. The software is particularly designed for enhanced efficiency in a body piercing and tattoo studio.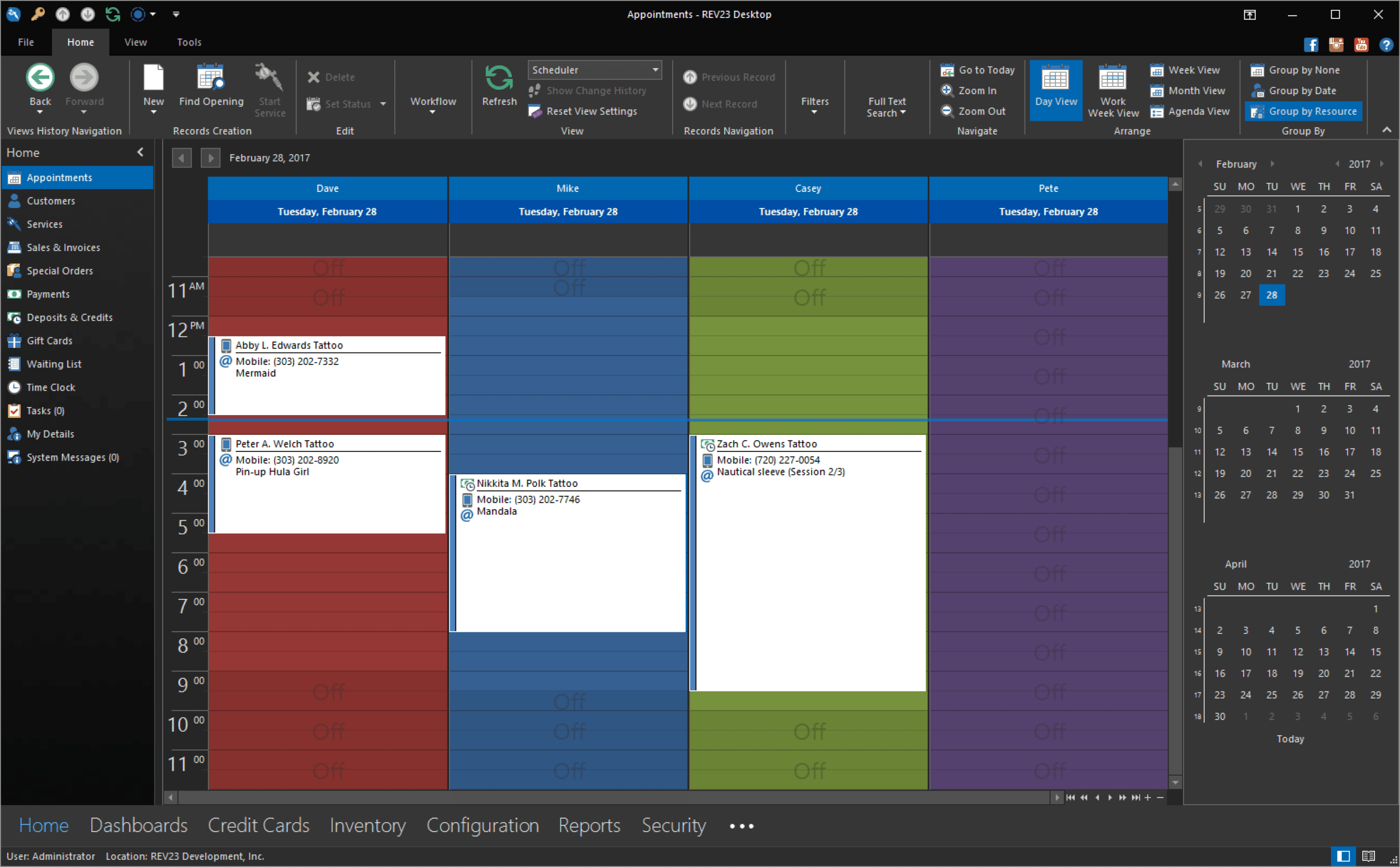 The REV23 tattoo studio POS system will furnish you with all the tools you need to streamline operations and grow the business. 
The brand also prides itself as being a forward thinking POS brand that is constantly evolving along with the changing times and keeping up with the dynamics and needs in the business environment.
Features Offered by REV23
Reporting
Not only does REV23 allow for easy data entry and collection; the system is really good at extracting data. For instance, you will be able to access artist payouts, sales tax and much more in just a few clicks. It features an integrated clock for your employees to clock-in and out. 
Data is often presented in colorful and easy to read charts. You may also use graphs to present such data as client demographics, retail trends, or the top-performing referral sources. All these allow you to make informed business decisions at all times.
Scheduling
REV23 Desktop offers a tattoo piercing industry-specific scheduler and deposit tracking. This allows you to search instantly for the next artist's opening based on the preferred day of the week or the time.
With this system, your clients will be required to make a deposit while scheduling an appointment. This has been proven to prevent no-show scenarios. 
Piercing Centric Inventory System
REV23's Point of Sale is one that ensures the process flow is seamless and smooth. It features an inventory system that is specifically tailored to meet the needs of the piercing industry practitioners. 
This helps you to, at a glance, see the best selling sizes, gem colors, thereby helping you increase your collection to just products you are sure will sell.
Integrated Payment Processing
REV23 has an integrated payment processing powered by Clover Connect, and this enables you to seamlessly process payments. It prompts for tips and allows you to add surcharges to credit card payments.
Pros and Cons of REV23
Pros
Tattoo industry specific

No contract
Fair pricing
Cons
More of a desktop/laptop software and as such may not work effectively on mobile devices

Demands a good portion of system memory and configuration
REV23 Desktop software is compatible with Windows only

You need to manually configure the software to backup to an external drive
Who is REV23 Ideal For?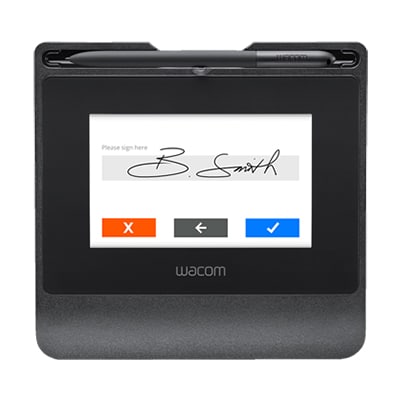 REV23 is an ideal system for any business in the tattoo and piercing industry.
Is REV23 Easy to Use? 
REV23 is a relatively easy to use system. The interface is smooth and easy to come up to speed with.
What Do Other Tattoo Shop Owners Think About REV23?
Although a great solution, there are not enough reviews submitted online on REV23 yet to do a good analysis of users' reviews of REV23. REV23 is a fairly new solution for tattoo shops, so we expect more user reviews to be available in the near future. 
How Much Does REV23 Cost? 
REV23 has three pricing packages, which are pretty straight forward and fairly priced. It has a monthly subscription, a prepaid subscription, and its desktop license. All the subscriptions offer access to the latest software version and priority support. Below is the breakdown:
REV23's Pricing Plans
Monthly Subscription ($79.99/month)
For just $79.99 per month, you will get two software licenses. Additionally, you will get preview release access and automated recurring billing. You will also be able to add optional PC Add-ons for an additional $6.99 each. With this plan, you will also be eligible for a monthly giveaway by the provider. 
Prepaid Subscription ($959.89/Year)
This plan requires you to pay for a whole year in advance. As compared to the monthly subscription plan, the prepaid Subscription will save you some money in monthly subscription fees. It allows you to install the software onto two computers. 
You will also get preview release access and a $200 painful pleasures credit. The plan will be billed annually. 
REV23 Desktop License ($1,499.99 One-time payment)
With this plan, you pay a one-time payment of $1,499.99 and get to own the software installed on one system, with updates for one year. You also have the option of paying $899.99 for annual upgrades or $199.99 for additional installation on another PC.
If you're unsure which plan is the best choice for you, reach out to REV23.
4.
Clover Tattoo Studio
– The Best All-in-One Tattoo Salon POS System
Clover offers an array of POS hardware and software options to suit different business types and sizes. The Clover Tattoo parlor or tattoo shop POS system comes with all the basics built-in, allowing you to set up your business right away. 
Features Offered by Clover POS for the Tattoo Industry 
Customizable Tattoo Shop POS 
Clover allows you to mix your preferred choice of stationery and portable devices to suit your needs. The software features basic tattoo salon capabilities.
The brand also allows you to expand the functionality of the system with a range of software add-ons. You may also enhance the system with Clover-approved accessories to create a robust and more efficient system. 
Clover Payments 
The Clover Tattoo studio POS and the integrated payments processor are designed to make things easier for you. Take orders and accept payments, organize inventory and manage your team with ease. Grow your customer base and get the important data in real-time. 
Integration
Clover integrates all of the major third party solutions for accounting, personnel and payroll management.
Manage Your Business On The Go
Clover affords you the ability to securely manage your business on the go from anywhere you may be at any point in time.
Easily Take Payment Via Your Mobile Device Or Online
Even without hardware devices to collect cash, you can easily take payments via your website or online porta or even on any mobile device. Send invoices digitally and easily schedule recurring payments.
Pros and cons of Clover POS?
Pros
Easy to use

Low transaction rates
Cons
Users have complained about its customer service
Is Clover POS Easy to Use? 
Clover POS being one of the frontline POS brands is an intuitive solution to use. The dashboard is dynamic and versatile,  web based and compatible with Safari. Reports can also be exported in CSV format.
In terms of onboarding and purchase, a major point to note is that Clover is offered and sold by several resellers aside from the company itself. This makes it tricky as you need to double check in terms of pricing and offering to be sure you are getting the best of options.
Who is Clover Ideal For? 
Although Clover POS is designed to be used by a broad spectrum of industries and business types, it nevertheless has tattoo shop centric features, which makes it a good fit and can be customized to be used by tattoo shops and piercing studios.
What Do Other Businesses Say About Clover POS? 
Looking through reviews and submissions on Amazon and softwareadvice, users' reviews are a mixture of positive and negative. While many praise it for its ease of use, ability to track inventory and customers, others complain about the fact that it is sold through resellers.
Below are Clover's overall ratings:
Softwareadvice: 3.94 out of 5
Amazon: 3.5 out of 5

How Much Does Clover POS Cost? 
The Clover Tattoo Studio POS system requires proprietary hardware to run. As such, the system is comparatively costlier. The much you will end up spending on the system will mainly depend on the hardware components and software options you choose. 
Clover Pricing Plans
Starter: This plan cost $14.95/month On this plan, you can only accept online payments and payments are processed at 3.5% + 10¢
Standard: This plan cost $50/month for hardware and software (Comes with Clover Flex handheld POS with built in printer) and 
Payment Processing are charged at 2.6% + 10¢ for swiped transactions and 3.5% + 10¢ for irtual payments
Advanced: This plan cost $120/month for hardware and software (Comes with Clover's 14' Station Solo merchant-facing POS
Payment processing on this plan is charged at 2.3% + 10¢ for swiped payments and 3.5% and 10¢ for online payments.
Reach out to Clover to find the right package for your business needs.
Buyers Guide: Things You Need to Know When Getting A POS System For Tattoo Shop
Whether small or large, managing a tattoo parlor or tattoo shop can be challenging, especially if you do not have the right tools. Get yourself an industry-specific POS system for tattoo salons and piercing shops. Your preferred solution should make it easy for you to organize all aspects of your business. 
You also need a solution that allows for easy and convenient management of schedules, sales, staff, and reporting. A tattoo parlor POS system that is capable of monitoring business performance will also come in handy. 
These are some of the important features you need to consider while shopping for the best tattoo shop POS system: 
Booking and Appointment Management
Based on statistical findings, tattoo salons that allow for online booking and cloud-based appointment management are 48 percent busier. The software you get should allow for easy management of the calendar and optimize the booked time. 
It should also feature an intelligent, and intuitive online booking solution to delight both new and existing customers. Some of the leading tattoo parlor software solutions will also allow your clients to schedule appointments from social media platforms. 
The system should let you decide how the products and services are grouped, hence making it easier for the clients to book the right experience remotely. Other booking and appointment tools you should consider include: 
Reduced Calendar Gaps and No-Shows 
In order to optimize staff productivity in your tattoo salon, your preferred POS software should display booking availability before and after the booked timeslots.
The solution should also request the clients to make partial or complete payments online while booking an appointment. This has been proven to reduce no-show eventualities in tattoo parlors and piercing shops. 
Complete Overview 
In addition to an intuitive design, the software should allow you to view all the important appointment information for the day at a glance. For an enhanced overview and easier management, some of the best tattoo shop POS systems feature color-coding on the calendar. 
Easier Allocation of Resources 
It should allow you to reserve appropriate equipment and rooms for each appointment alongside the booking. It should also be capable of notifying your staff of changes to their bookings in real-time. Such tools can help you avoid the occurrence of wasted slots. 
It will also ensure that you deliver the best customer experience to each client. 
Stay in Touch with Clients 
Most of the leading POS systems are designed to collect important customer information automatically. With such information as customer contacts, you will be able to send out appointment confirmation messages to them. 
It is also advisable to go for an option that can send automatic appointment reminders to your clients and allow them to confirm through email or SMS. It should also make it possible for you to follow-up with the clients, particularly on aftercare instructions. 
Reporting and Analytics 
The tattoo salon POS system you settle for should be capable of generating a myriad of reports and Analytics on the key business metrics. A system that features real-time and elegant Dashboards will show you all the important business metrics in a simple visual manner. 
Ranging from staff sales and client retention to rebooking metrics, the system should be able to furnish you with accurate information in real-time. With the best tattoo parlor POS systems, you will also be able to run critical tax, sales, and inventory reports. 
In addition to helping you manage the business more efficiently, these will also equip you with the data you need to make business decisions. The system should also allow you to export data to advanced accounting and analytic applications. 
Customizable Product and Service Menus 
Let your clients know what you are offering in your tattoo parlor in a clear and concise manner. In this regard, the leading tattoo software options allow you to create service menus with pre-set pricing and times. 
The right software should also allow you to set artist commissions and tax rates for each service as well. If you offer retail products and accessories in your parlor, the system you get should allow for the easy addition of retail products for sale. 
Ensure that the solution features quick product and service lookup, itemized invoices, low stock alerts, and intuitive inventory management capabilities. 
Cloud-Based Administration
A system that allows you to manage the entire business remotely will come in handy if you happen to have multiple tattoo salons. It will help you save time, and remain in control of all aspects of all your salons. 
With such a solution, you can conveniently manage all your locations and teams from anywhere. The right tattoo parlor POS system should equip you with easy-to-use management tools over the cloud. This will give you enhanced control over the business regardless of where you are.  
Some systems will even allow you to regulate access to the POS system by your staff using admin logins. The best cloud-based tattoo parlor POS systems will also enable you to empower teams across multiple business locations in real-time. 
Tips and Signature Capture 
Tips and Signature Capture In order to improve customer experience in your tattoo parlor, you should consider getting a POS system that features signature capture and tipping capabilities.
Most of the leading providers allow your customers to tip and enter digital signatures through the customer-facing display. Others come with a tattoo shop POS mobile application that supports such capabilities from an iPad or a smartphone.
This option presents your customers with the elegance of tipping and entering their signature through an iPad. 
Inventory Management 
Inventory Management In an effort to maximize revenue generation in their businesses, a good number of tattoo parlors are known to offer relevant items and accessories as well.
In such a case, you will need a software option that is also good at managing tattoo parlor and piercing shop inventory. 
Incoming inventory needs to be processed carefully. Even small discrepancies can lead to problems with purchase orders. Check each box carefully and count each item to ensure it has been received. You can use a cycle counter to ensure that each inventory report matches the actual inventory. In case you don't have the time to count each box, use software that will do the work for you.
Purchasing in bulk is a great way to get a better discount. However, there are pitfalls to this approach. One of them is that it might not be effective for your business. It can result in insufficient training and a rushed process. Incorrect training can lead to mistakes in inventory management. A quality inventory management course should include both theory and practical exercises.
When using an inventory management software program, you must understand how the software calculates the quantity of inventory needed to meet demand. A minimum stock formula is useful in ensuring that you do not overstock or understock. It is also a good idea to keep a safety stock to minimize risk in case of a company failure. The minimum stock formula is a data-driven method that incorporates lean management and Six Sigma practices.
Another essential step in inventory management is determining the reorder point. Reorder points are minimum quantities that must be in stock for a given brand. These are usually higher than the safety stock number. You also need to factor in the lead time for an order. By doing this, you can ensure that the replacement products arrive in time and avoid holding costs.
With advanced tattoo inventory management capabilities, you will be able to do much more than inventory counts. To begin with, it will help you monitor the stock and generate relevant usage reports and analytics. 
It should allow you to create stock orders with appropriate amounts for each item and send them directly to the suppliers from the POS system. The system should also offer you accurate insights on the stock's movement, allowing you to optimize the stock. 
Final Thoughts 
Just as is the case with other service-based businesses, you need to offer satisfactory customer service and manage the business effectively to succeed. The right tattoo shop POS system can simplify things, eliminate errors, and save you a considerable amount of time. To get started with the best POS system for tattoo shops, get a free quote from TattooPro POS here. 
FAQs
How do I get customers for my tattoo shop? 
Five ways to get more customers for your tattoo shop are: Promote your tattoo shop on social media, create a modern website, stand out with a signature style, integrate online booking into your website, there's nothing like word of mouth – encourage your clients to tell their friends!
Is owning a tattoo shop profitable?
Based on testimonies from other tattoo shop owners, it is safe to say that owning and running a tattoo shop is profitable. Statistics also show that it does not take so long to recoup your investment in a tattoo shop. So, yes, owning a tattoo shop is profitable.
Who is the target audience for tattoos shops? 
The basic audience for tattoo shops is people looking for avenues of self-expression. These include young men and women, usually between the ages of 20 – 60.
What can I sell in a tattoo shop?
Items you can have for sale in your tattoo shop include branded t-shirts, hats, stickers, and so on. Although these items can also be a form of marketing and can be given away for free to your customers.
How can I improve my tattoo business?
Make your tattoo shop vey appealing and comfortable

Focus on developing your signature brand

Incorporate online booking 

Make use of automated scheduling