(Last Updated On: 07/22/2022)
The best school POS system allows administrators to effectively develop student relationships. It should help universities colleges, and schools manage retail operations more efficiently.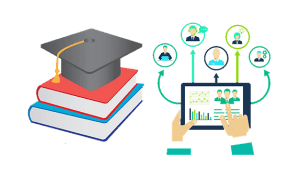 The right solution should support multi-channel environments and feature mixed-use facilities. While looking for the best software, you should consider the customizable menus, declining balance, accounts and student database, public access and administrative control capabilities.
Reviewed below are the top two school POS systems you should consider. 
Best School POS Systems
| POS System | Hardware Cost  | Software Subscription Fees |
| --- | --- | --- |
| SchoolVision | Quote-Based  | Quote-Based  |
| FastTab POS | Depends on the required hardware components  | Quote-Based  |
2. SchoolVision POS – Best Multi-Campus School POS System
SchoolVision simplifies the way you move money in all parts of your school, from cafeterias and bookstores to clinic floors and student-run service shops. With SchoolVision, you will not need to use different systems to manage different departments. 
You will find the POS system to be flexible enough to process transactions in every department. It will keep the information in sync with the back-office systems that track financial aid, inventory, payroll, and accounting.
Other aspects that make SchoolVision stand out from other school POS systems to include: 
Integrated Card Processor 
The POS system seamlessly integrated with a credit and debit card processor. It will also enable gift card processing without the need for a third-party application. It will also save you money in hardware costs by eliminating the need for additional payment processing software and hardware. 
Managing money through the SchoolVision POS system is also easy. 
Robust Customization 
For schools that cater to students and guests alike, SchoolVision POS allows them to monitor both guest tickets and transactions. SchoolVision receipt printers can automatically print detailed tickets with purchase history, appointment histories, and customized disclaimers or customer messages.
Multi-Campus Spotlight
Allows you to handle transactions the same way across all your campuses. For instance, you will have the same fees levied, prices charged, and payments accepted. Since you will be using a single system for all your campuses, you will avoid data inconsistencies.
With  SchoolVision, one POS system can connect all transactions across all campuses and departments, unifying transactions and simplifying the way you manage money.
Pricing 
The SchoolVision POS software provider does not display pricing details on its official website. To get an accurate quote, you will have to contact the provider directly. 
Possible Drawbacks 
The software features a relatively high learning curve 
3. FastTab POS – The Best Tablet School POS System

The FastTab POS system by Myaschoolaccount is equipped with all the tools and functionality you need to run a school cafeteria right from your tablet.
As compared to the leading desktop school cafeteria solutions, FastTab is relatively simple to implement and use. 
Allows for lightning-fast student processing, and real-time account synchronization from a compact tablet design. It will eliminate cash and ticket systems in the cafeteria and offer debit accounts or meal credit instead.  Other aspects you will come to like about the FastTab POS system include:
Flexible Payments 
A complete School Payment Solution suited for schools of any size. Offers a cashless option for the parents and students alike. The provider offers an online portal that may be used by the parents to on to their students' accounts and deposit funds for lunch and other school activities. 
In order to allow for easier management of funds, the system allows parents to securely deposit funds into their children's accounts directly. It will also allow you to manage the entire district through one centralized portal.
Supports secure online payments through credit cards and ACH. It will equip you with low-balance reminders and 24/7 access to order history. 
Admin Portal

Administrators get convenient access to an administration portal by the provider. It allows them to search for parents, students, generate payment reports for all or specific date ranges and send alerts to parent users.
It offers remote access over the cloud, from wherever you may be and posts messages instantly while communicating with other users. Such a solution is designed to give you complete control over administrative settings and valuable insights through custom reports. 
School Lunch Pre-Order 
Display your school lunch menu online and allow the parents to order their children's lunch in advance. In this case, the system handles accounting and money processing upfront. This makes ordering and prep as efficient as it should.
The system allows for the creation of menu calendars and custom menus through the administrative portal. With this functionality, you will get paid in advance. This accurate ordering and preparation have also been proven to minimize wastage. 
Pricing 
Although the provider does not display pricing information on its website, it is clear that there is no free trial for the software. Pricing information is only availed upon request.  
Possible Drawbacks 
It is hard to issue refunds to prepaid students at the end of the year. 
Things You Need to Know Before Choosing a School POS System
Your preferred POS system for a school cafeteria or store needs to be fast, secure, and powerful enough to meet your needs. With a specialty school POS system, you will keep lines moving and keep your accounts accurate at all times. 
Basically, it is advisable to get a solution that offers lightning-fast student processing, and real-time account synchronization. To get the best school POS software, here are the key considerations you need to make while shopping for one:
Accounts and Student Database
Get a POS system that allows you to create approved student customer accounts. The accounts you create on the system should allow for items to be charged using encoded swipe cards, name lookup or by scanning generated customer barcodes. 

This will allow the students to purchase menu items without having to pay in cash. With such a system, the student will be able to purchase food items and have the invoices sent to their parents. The system should also make it easy for you to compile a student database with the students as customers. 
The solution should let you define unique information regarding various student attributes, such as books, required curriculum, account, and supplies. It should also allow for convenient distribution of upcoming school events, and activities to student email addresses. 
Customizable Menus 
Your preferred school cafeteria POS system should feature custom menu builders. This functionality will allow you to limit product availability at certain times. The system you settle for should also allow for the rotation of menus by weekday, meal service or week. 
Declining Balance 
This is a revolutionary cashless payment solution in the industry. The solution facilitates payments by scanning student IDs. This has been proven to help school cafeterias speed up cashier checkout time, and boost student participation. 
 It will also enhance convenience on the part of the students and grow revenue for the cafeteria. Often viewed by students as an added advantage, this cashless payment method allows them to use their student ID badges to make a payment. 
The leading school POS systems integrate this functionality with cash register operations. For enhanced versatility, the system should support different ID badge types, including barcode, proximity, and magnetic stripe badges. It should also allow for a manual lookup of student names or numbers. 
Customizable Cashless Payments 
For the declining Balance/ drawdown functionality, the software should be capable of tracking students' purchases against their account balances. It should allow for easy loading of student accounts using various payment methods either online or at the register. 
Public Access 
Most of the leading school POS software providers design their solutions to integrate with an online portal. This integration is meant to allow for convenient access to student accounts by their parents and guardians. 
Public Access essentially means access to the POS system by non-school employees, provided they have the right credentials. For enhanced security, the best POS software for schools requires individual login credentials for the 'public' to access the POS system. 
Such a capability makes it easy for parents to monitor account balances, set spending limits, and review transaction histories for their children. This feature should also allow the parents to restrict specific food items, in accordance with their child's dietary restrictions. 
Administrative Control

Your preferred school cafeteria POS system should offer you then controls you need to set definitions. For instance, it should allow you to set the cost of meals at particular campuses and meal costs based on reduced or standard status. It should also allow for easy management of à la carte items and their prices.
The system should also feature an intuitive user interface for easy navigation and management. It may feature an intuitive display of à la carte items on the register, allowing the cashiers to move students through the lines much faster. 
Multi-Tender Payments 
A school cafeteria POS system needs to accept a wide range of payment types. For example, it should support credit and debit cards, automated Clearinghouse (ACH), and bank account information transactions. 
For added convenience, the system should also support online payments. This allows the parents to add funds whenever they find convenient and from anywhere. 
Inventory Management

The right school POS system should be capable of building an inventory database and tracking unique inventory types. It should be designed to support ordering, sales, and transfers of the inventory as well. It is advisable to get a solution that allows for reordering, receiving, and product description using ISBN numbers. 
It should support the selling of school-branded apparel and feature matrix inventory capabilities. It should make it possible for you to combine apparel components, and attributes information to create unique items and barcodes. 
Similarly, it should feature support for pre-selected inventory item combinations, such as predefined kits and laboratory equipment. Predefined kits particularly make order processing easier and faster at the start of the semester. 
Final Verdict 
The right POS system for a school should unify all the departments and standardize menus and pricing across all campuses. Just as is the case with the two systems reviewed above, you should get a solution that offers enhanced administrative control, and allows for public access. 
Customizable menus and specialty inventory management capabilities Will also come in handy. Regardless of the size of your school, this guide will help you choose the best school POS system.