(Last Updated On: 07/27/2022)

The best movie theatre POS system should ease the management of center-stage events and productivity behind the scenes. It should be able to accomplish an assortment of functions, including gift cards, payment, and ticketing, concession management as well as labor scheduling and tracking. 
Only an industry-specific POS solution will offer you the theatre management tools you need. While shopping for the right one, you should consider the management back office, ticketing, reporting, payroll, scheduling, and security capabilities. Reviewed below are the top four theatre POS systems you should consider. 
| POS System  | Hardware Cost  | Software Subscription Fees  |
| --- | --- | --- |
| NCR Silver  | Depended on the hardware components you need  | Starting from $79/Month per site  |
| Revel  | Starting from $649 for installation and Onboarding  | Starting from $99/month per terminal |
| TouchDynamic | Depends on the required Hardware components  | Quote-Based  |
| AURES POS | At Least  $1,888.60 upfront for the hardware  | Quote-Based  |
Best Movie Theatre POS Systems
1. NCR Silver POS – The Best Movie Theatre POS System Overall 
The NCR Silver cinema POS solution is meant to reduce wait times with pre-loaded tickets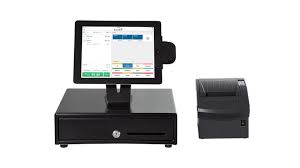 and mobile payment solutions. Not only does the software allow you to get the guests to their seats faster, but it will also manage concession and retail merchandising sales.
This allows you or forecast future usage in the movie theatre with the utmost accuracy. It makes it possible for you to delight the guests right from the minute they buy a ticket up and until they leave. Other theatre POS capabilities unique to NCR Silver include: 
Real-Time Intelligence 
The system collects important guest and business information automatically, resulting in unmatched operational visibility. The powerful analytics and reporting solutions will give you insight into all areas of your business, including sales, employee performance and fan engagement from a mobile device. 
It allows you to access business key performance metrics, including net sales by any order mode, category, percentage and labor cost. You may also connect with your employees through direct messaging functionality. 
Third-Party Integration Support 
In addition to offering a range of innovative sales and management capabilities, NCR Silver allows you to integrate with third-party services. For instance, it supports NCR, SQL, and POS Connect integrations for extended functionality. 
It allows you to configure POS terminal functionality from a single application, for streamlined operations and increased responsiveness. Such a solution makes it possible for your business to support complex buying rules with advanced functionality that handles critical buying requirements.
Pricing
Looking forward to saving on your POS acquisition? Take advantage of the NCR free hardware offer by subscribing to any of their movie theatre POS subscription plans. The hardware is designed to integrate seamlessly with your chosen NCR Silver solution.
The provider offers two main software subscription plans, including:
NCR Silver Essentials ($79/Month)
This price is for a single register per site. Additional registers while on this plan will be charged at $19 each. This price does not include GST. 
NCR Silver Pro Restaurant ($159/Month) 
This plan is specifically designed for restaurant businesses. For $159/month, the provider will offer you a single register per site. Additional registers are priced at $50 each plus hardware cost. 
2.Revel POS – The Best All-in-One Movie Theatre POS System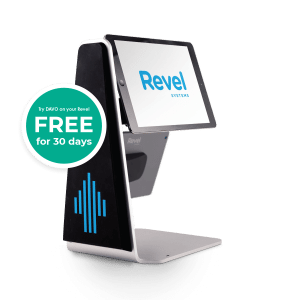 Revel presents you with a solution that you can actually tailor to your theatre or cinema requirements. Although the system is relatively easy to set up and use,
the provider has a team of professionals in place to assist you with any problem you may encounter. Other aspects that make Revel one of the best movie theatre POS systems include: 
Exceptional Security 
Revel will keep all your sensitive business information, including customer data, well protected against potential threats. In this regard, the system features the highest level possible PCI-compliant cloud technology.
Additionally, the provider uses Point-to-Point Encrypted (P2PE) payments and applies rich user access controls. Set employee permissions to regulate access to the POS and management console by your staff. Meet industry standards and rest assured that your business is protected from chargeback liability with Revel's EMV compliant payment solutions.
Cash Management 
Gain total control of your cash flow with till management. To allow for this, the software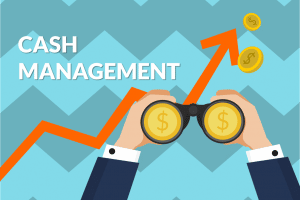 offers rich permission settings and a log that tracks activity. The Virtual Till feature allows you to tie tills to individual employees rather than to a cash box.
This way, you will be able to accurately attribute the end of day totals to the right employees. Stay on top of your cash flow with tools that assist in tracking each dollar. You may prompt the employees to set a starting till when logging in to the POS at the beginning of a shift. 
Afterward, you may set an alert to notify you when till reaches a certain amount.
Pricing 
Revel offers a pocket-friendly pricing plan to suit theatres and cinemas of different sizes. For instance, the provider offers a flat, Quote-Based fee for processing credit card transactions.Other than that, you will be required to pay for the hardware and software, as follows:
Software Pricing 
Revel software pricing may be tailored to suit your needs, starting from $99/month per terminal. For this amount, the provider will offer you a feature-packed POS and movie theatre management solution.
In addition to the intuitive POS, this package includes employee, and inventory management, CRM, reporting and analytic functionality. 
Installation and Onboarding Cost 
The provider charges onboarding fees of not less than $649. For this amount, service experts work side-by-side with you to get your system up and running. 
3. TouchDynamic –  The Best Cinema POS Hardware 
With Touch Dynamics movie theatre POS hardware, you will have access to all the tools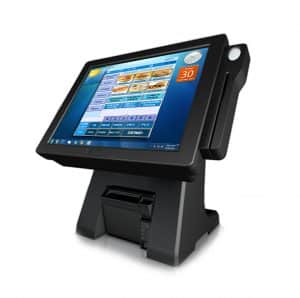 you need to maximize efficiency and reduce costs. The provider offers space-saving all-in-one POS systems that may be used for swift checkouts anywhere in the establishment. 
The Tablet POS, on the other hand, will present your staff with line busting and payment processing mobile POS functionality. Other capabilities that make the Touch Dynamic theatre POS system stand out include: 
Serviceability and Scalability 
You will find Touch Dynamics hardware rather easy to scale and upgrade as your business grows or your needs change. Many movie theatre owners also love the fact that the hardware is field-serviceable.
This may be attributed to the rackable hard drive used in the TouchDynamic All-In-One POS terminals.
Self-Service Ticketing
The docked tablets and self-service Kiosks by Touch Dynamics will offer you line-busting capabilities when lines at the ticket counter are long. They feature touchscreen prompts that guide the guests to order, pay, and print tickets. 
Pricing 
Touch Dynamics offers some of the best movie theatre POS hardware and software solutions. However, the provider does not disclose pricing information on either of them on its official website. To get an accurate quote, you should contact the provider directly. 
4. AURES POS – Best Touchscreen Movie Theater POS Station  
In most cases, movie theatres couple ticket sales with snacks and drinks and sometimes a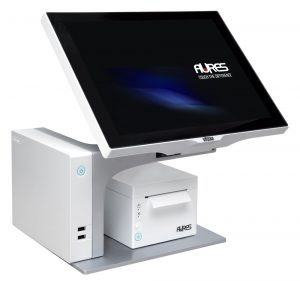 bar or cafe' under the same roof. This results in unique POS requirements if at all you are going to manage all the revenue streams as a single business. This is where the AuresPOS system comes in. 
With AURES, you will have a single POS platform that integrates with mobile POS terminals, stock control, and business management solutions. Some of the AURES features you will come to like include: 
AURES SWING
This is a mobile POS terminal that is primarily designed to optimize sale opportunities in a movie theatre. It allows the staff can be stationed in the foyer through the busiest business hours. The system may be mounted almost anywhere and used to sell tickets and snacks. 
It is packed with an array of convenience features to streamline customer experience in your movie theatre. 
Swift Transactions 
Whether selling tickets or beverages, your guests will appreciate if you could process their transactions fast and accurately. To minimize the time they spend in lines, you may integrate your AURES POS system with compatible self-service Kiosks. 
The system allows for one-touch purchasing capability to speed transactions even further. In this regard, the customer only needs to select a movie, scan a mobile payment app on your smartphone via Bluetooth or NFC. 
Pricing 
The cost of AURES POS hardware varies from one vendor to another. Although the provider does not have any pricing information on its website, you should expect to spend at least $1,888.60 upfront for the POS hardware. 
Buyers Guide: Things You Need to Know 
You will need a comprehensive, and fully-integrated POS system to manage the diverse and industry-specific needs of a movie theatre. In addition to the main theatre management and point-of-sale capabilities, you need a solution that can integrate seamlessly with Web solutions and IT products. 
The solution you get should cater to the theatre exhibition as well as all the related retail environments in the facility. While shopping for the best movie theatre POS system, these are some of the key considerations you need to make: 
POS Hardware For Cinema Industry
You will need POS hardware that allows you to manage the center-stage events as well as productivity behind the scenes more effectively. The hardware needs to support all cinema various functions, including payments, gift cards, ticketing, labor scheduling and management, and concessions management.
Cinema theatre POS Hardware comes in different sizes and designs, such as all-in-one stations, touchscreen stationery stations, Kiosk stations, and tablet POS.
The hardware components need to be aesthetically appealing as well as functional and scalable to adjust to changing customer needs. 
Your preferred movie theatre POS system should also be customizable, rugged, durable and serviceable. Here are other hardware aspects that will come in handy in your movie theatre include:
Serviceability and Scalability 
Get field-serviceable cinema POS hardware, especially for the larger and stationery hardware stations and accessories. As such, you will not need to transport the system to the repair center every time it needs to be serviced.
The solution should also be designed to minimize downtimes during hardware repair and maintenance. For instance, some of the leading POS providers offer packable hard disk drives for their stationery POS hardware options to help reduce downtimes. Again, the solution you get should make it easier for you to scale the entire system or upgrade in accordance with changing needs. 
Self-Service Ticketing
For self-service movie theatre ticketing needs, the leading POS providers offer such hardware solutions as self-service Kiosks and docked tablets. These have been proven to offer line bustling capabilities to theaters, especially when they have many guests coming in.  
The self-service ticketing stations need to be easy to use for the guests to complete a transaction without any help. For instance, it may feature touchscreen prompts to guide a guest while ordering, paying and printing a ticket. 
Swift Transactions 
The processor on your preferred theatre POS hardware needs to be powerful enough to deliver fast transactions. This will, in turn, move the lines faster, allowing you to sell even more tickets and impress the guests. 
Multi-Payment Support 
The hardware components and accessories you have should allow the guests to use any payment method they prefer. For instance, you may get an all-in-one movie theatre POS system that supports near field communication (NFC), mobile wallet and EMV payments. 
For Kiosk and mobile POS stations, you should consider integrating the right card reader to support swooped card payments as well. 
Digital Signature Capture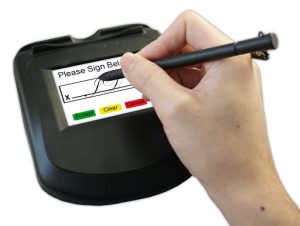 The best movie theatre POS hardware should also allow you to capture digital signatures from your guests. In this regard, the leading vendors are offering touchscreen monitors with digital capture capabilities. 
Such a monitor should also be capable of displaying up-to-date messaging, such as movie trailers, showtimes, promotions, features accessories, and pricing. This will keep the customer informed and engaged throughout the process. 
Ticketing Capabilities 
Your preferred movie theatre POS system should have all the ticketing capabilities you need for the point of sale, Kiosks and mobile POS. for improved versatility, the system should also allow for integration with the leading ticketing platforms, such as Cinicloud. 
To begin with, you have to ensure that the POS system and the ticketing platform share the same seat booking system. Other theatre ticketing capabilities you should consider include: 
Touchscreen Ticketing and Concessions
Get yourself a theatre-specific  POS system that allows for a curate and fast touchscreen ticketing. Touchscreen technology can also speed up things at the concession stand. This will help increase efficiency, resulting in shorter lines and boost concession revenue. 
Kiosk Sales and Redemptions
A considerable number of movie theaters in the country allow their guests to buy and redeem tickets on their own. To allow for this, you should consider getting a POS solution that supports Kiosk Integration. The software should also make it easier for guests to purchase and redeem tickets on their own at the Kiosk stations. 
Dual Ticketing and Concessions
A system that offers two terminals, ticketing and concessions terminals, in one has many benefits to offer the business. To begin with, it will help you control staffing levels and reduce labor costs. In this case, it is advisable to cross-train your staff for enhanced flexibility of labor. 
Theater Management Tools 
The best movie theater POS system should also offer all the management features you need.  It should have the right back office, ticketing, reporting, payroll, schedule, security, and inventory management capabilities. 
For easier management of the establishment, you will need a system that automates most of the management tasks. Ranging from creating playlists to tracking inventory levels, the solution should automate the important processes.  This will allow you to create a holistic customer experience in your movie theatre. Even if the system allows you to integrate with third-party theater management programs, it should have the basic management functionality. 
Reporting and Analytics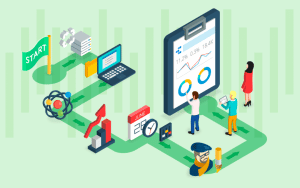 You will also need attendance and sales data-tracking capabilities on your POS system. Some distributors and studios, such as Paramount, may require theatre and cinemas to keep track of certain aspects.
For instance, they may require you to track and report on ticket sales, and revenues for each film you show. The best theatre POS systems are designed to collect the required data automatically. Using this data, the system will be able to generate an array of reports and insights into the business. For instance, it can help you analyze the quality of tickets sold for each show. 
This will help you understand which films are drawing more people than others. All in all, such reports and Analytics will help you bolster your bottom line. 
Frequently Asked Questions 
Q: What POS System does AMC use?
A: AMC theatres use POS hardware and maintenance services by UTC Retail. They particularly have the UTC Retail 2100 all-in-one stations as their preferred hardware. 
The QSR Snack Stand
Movie theatres have unique POS requirements mainly because they tend to have different business types within one business. Just like the four systems reviewed above, you need a solution that caters to the QSR snack stand and is integrated with the core ticketing software in your establishment. 
It should make it easy for you to manage the facility, create and manage schedules as well as customize a number of things. Regardless of the size of your establishment, this guide will help you choose the best movie theatre POS system.