(Last Updated On: 02/12/2023)
Written by Software Expert Hamza Shahid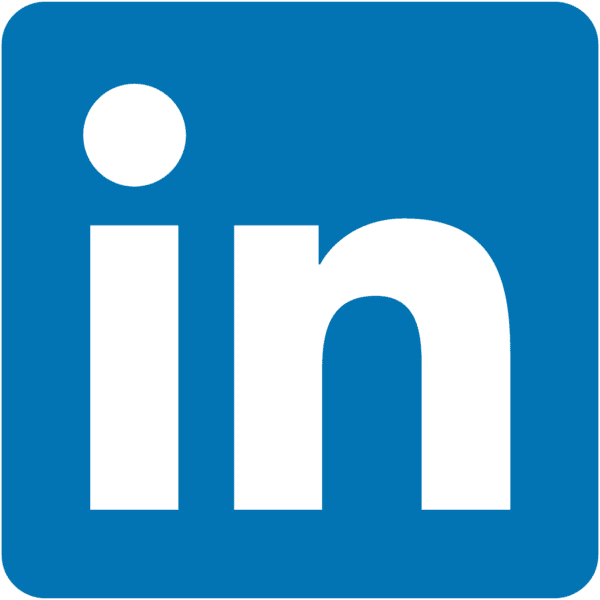 The best Marina POS system will offer you a unified solution for business management, seasonal/transient slip reservations, waiting lists, and leasing. The best marina management software will help you optimize dock utilization, simplify asset management, and attract more customers to the business. For enhanced customer experience and ease of use, you should get a POS system that is specifically designed for a Marina business. 
In this regard, you need to consider aspects such as security, mobile apps, marketing tools, and slip reservation system while shopping for the right marina POS software.
Our Experts' Choice
Marina Master Software

The best marina POS software is Marina Master. Marina Master offers:

Innovative Hardware Module

Management on the Go

Customizable Pricing

Berth Management Tools

Much More!
An Overview of Marina POS Software
A good marina management software company develops simple, user-friendly software modules and provides support for database setup and implementation. 
In addition to managing their or their customers' boats, marina management companies, and boatyards also use marina management software for renting, maintaining, and repairing boats. Managing docks, increasing customer satisfaction, and managing assets are all possible with marina management software. In addition, marina management solutions provide features to enhance the security of employees and customers, as well as the boats they manage.
Here are features that you should look out for in the best marina POS system: 
Maintain an inventory of spare parts, equipment, and boats for maintenance

Maintain permits and licenses for short-term and long-term rentals

Services contracts can be created and managed in a variety of ways

Managing boat arrivals and departures and managing queues as needed

Process residents and visitors and control access

Integrate with solutions that provide basic accounting and billing features

Detailed information about occupancy, traffic, customers, residents, and profitability is available
How We Evaluated the Best Marina POS Systems
In order to determine the best marina POS software, I reviewed three of the best, based on pricing, features, and user reviews. To come up with the top 3 marina management software, I reviewed several POS software options on Capterra, G2, Software Suggest and Trustpilot based on their features, pricing, and pros and cons.
Ranking the 3 Best Marina POS Systems 
To help you make the best decision for the marina POS software, we've rounded up the 3 best marina management software options. 
Marina Master – The Best Marina POS System Overall  
MarinaGo – The Best Mobile Marina POS System
DockMaster – The Leading Management System for Marines
1. Marina Master – The Best Marina POS System Overall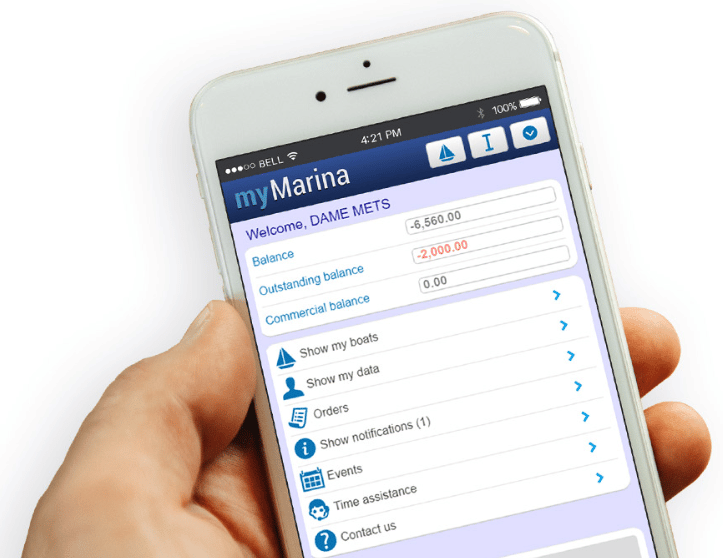 Marina Master is a comprehensive software solution designed specifically for marina resort business management, with an emphasis on efficiency and profitability. The modular product can be deployed in the cloud and is priced based on the number of slips / berths and features required. Customer Relationship Management (CRM) is the foundation of the system, which offers customer correspondence tools, automated contract renewals and graphical representations of past, current and future marina occupancy. Furthermore, Marina Master offers support for front desk reception tasks, including logging customer and vessel data, invoicing and payment processes, and currency exchanges.
Furthermore, Marina Master claims widespread connectivity with external systems, including wireless vessel identification, entry systems, berth sensors, consumption logging equipment, and fuel invoicing applications. Mobile apps for iOS and Android devices also allow marina managers and staff to access features such as invoice viewing, task management, and dock walk inspections while on the go.
Salient Features
Accounting

Accounting Integration

Activity Tracking

Availability Indicator

Boat Maintenance

CRM

Cloud based Solution

Client Portal

Invoice Processing

Marina Management

Maritime Crew Management

Reporting & Statistics

Scheduling

Self Service Portal

Storage Management

Task Management 
Pros
Boat maintenance

Multiple location

Client Portal

Availability Indicator
Cons
No on-premise desktop or window version
Why Should You Choose Marina Master POS? 
Marina Master is the best option for marina management because marina owners and operators developed the POS hardware and software solutions to speed up operations. In addition to optimizing your Marina management, this solution will also provide you with the ability to automate the majority of your facility's operations as well. By doing so, you will be able to optimize your business's energy consumption, invoicing and payment systems. The Marine operators who have already used the system tell us that Marina Master will save them both time and money as they use it.
Marina Master Pricing
Marina Master has 1 pricing plan that costs $100/month. There is a free trial available. 
2. MarinaGo – The Best Mobile Marina POS System
MarinaGo provides marinas with a cloud-based solution for managing their properties and reservations. There are multiple tiers of rating, a visual map designer, meter utility tracking, and vessel management features included in this software.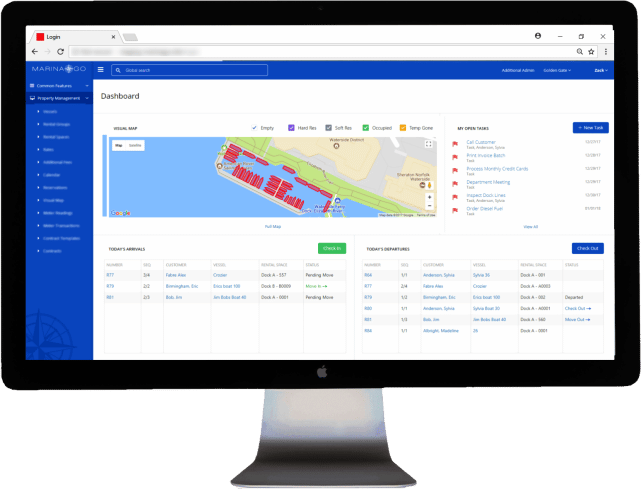 In addition to integrating with Google visual maps, the application allows users to manage properties from a centralized dashboard. Multiple rental space assignments can be managed during a reservation period using AI-based booking functionality.
A task management tool and billing tool are included with MarinaGo, which integrates with QuickBooks accounting software. Employees can manage seasonal, recurring, and transient guests on the platform, which comes with calendar functionality.
Salient Features
Accounting

Accounting Integration

Activity Dashboard

Activity Tracking

Alerts/Notifications

Billing & Invoicing

Booking Management

Calendar Management

Credit Card Processing

Customer Database

Customizable Reports

Document Management

Document Storage

Electronic Payments

Financial Management

Inventory Management

Inventory Tracking

Invoice Management

Invoice Processing

Marina Management

Real Time Reporting

Real-time Updates

Recurring/Subscription Billing

Reservations Management

Resource Management

Scheduling

Storage Management

Third Party Integrations

Transaction History

Transaction Monitoring
Pros
Mobile – Android & iPad

Email / Help Desk

Chat

Phone Support
Cons
Integrating QuickBooks service to the POS system is rather slow, and takes more time than it should. 
Why Should You Choose MarinaGo POS? 
MarinaGo POS is innovative, customizable, and convenient, set to revolutionize the industry. With MarinaGo POS's cloud-based solution, you can manage and sell from anywhere, equipping you with all the tools you need. Your mobile device will enable you to process payments anywhere in the facility with the app installed. It is considered as one of the best marina POS system because the system is integrated with innovative fuel dock management capabilities and can be synchronized with the back office with a single touch. Moreover, there is no limit to how complex the MarinaGo Office solution can be. It can handle everything from a simple single marina operation to a multi-property marina operation.
MarinaGo Pricing
For software subscription, the price is quote based. On the other hand, hardware costs $2500 per user. Get a software price quote here. 
3. DockMaster POS – The Best Management System for Marina
The DockMaster Software is a leading management system used by marinas, boatyards, and boat dealerships around the globe. A number of integrations are provided with DockMaster, including integrated Unit Sales, Prospecting, F&I, and Finance and Insurance, as well as CRM applications, dealer websites, text and message services, as well as numerous integrations with other marketing applications. With this module, users can estimate, track labor and manage their parts orders and receipts as well as complete the subcontractor fulfillment process and invoice the job.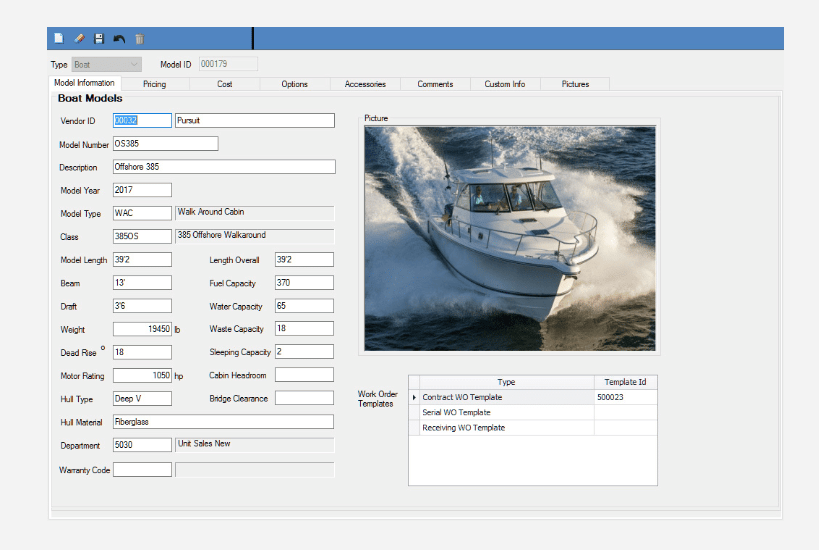 Using DockMaster's mobile app, technicians are able to clock in and out of jobs remotely from any mobile device they choose. It also comes with Point of Sale, Order Entry, Ecommerce, as well as a complete accounting system included with DockMaster.
Salient Features
Storage and Billing

Occupancy Tracking

Reservations and Dry Stack management 

Online reservations

Concierge / launch scheduling

Fuel Integration with Fuel DockMaster

Ecommerce Portal

CRM Applications

Dealer website

Text messaging service

Complete parts management

Ordering / receiving subcontractor

Fulfillment and Invoicing
Pros
Cloud, SaaS and Web Based

Email / Help Desk

Phone Support

Desktop – Windows
Cons
The system is only used in windows, not in Android or iOS devices
Why Should You Choose DockMaster POS? 
Regardless of the marina's size, the system can be customized to meet its needs. Moreover, DockMaster offers point of sale (POS) and service management (Work Order) for efficient inventory tracking, including purchasing and receiving. The DockMaster cloud-based solution is available both on-premises and as a hosted service. In the event of a reduction in physical presence at the workplace, our hosted customers can easily switch to a work from home model. Business can continue to flow smoothly at marinas by going paperless.
DockMaster Pricing
The pricing model for DockMaster starts at $165/month. There is not much information about their pricing online, it's best to reach out for a price quote based on your business needs.
Buyer's Guide:
Things You Need to Know Before Choosing a Marina POS System
Make boating life more accessible and enjoyable to all your customers with the right Marina POS and management software. Get a solution that introduces the boaters to your offers, and make it easier for them to reserve transient slips. 
Only an industry-specific POS system will allow your customers to make lease reservations, obtain permits online or in person. Your preferred Marina POS software should also equip your staff with the right tools to manage a more efficient business and provide better support to your customers. 
Here are some of the considerations you should make while shopping for the best Marina POS system: 
Slip Reservation System (SRS)
Allow your customers to reserve slips in person, online or through your call center. With this feature, transactions from all the reservation channels will go through the POS system.
As such, they will be updated instantly to ensure that you always have up-to-date information at all times. Such a system will reduce the risk of double booking and other related errors. You may also customize the feature to meet your needs, and to generate user-defined reports.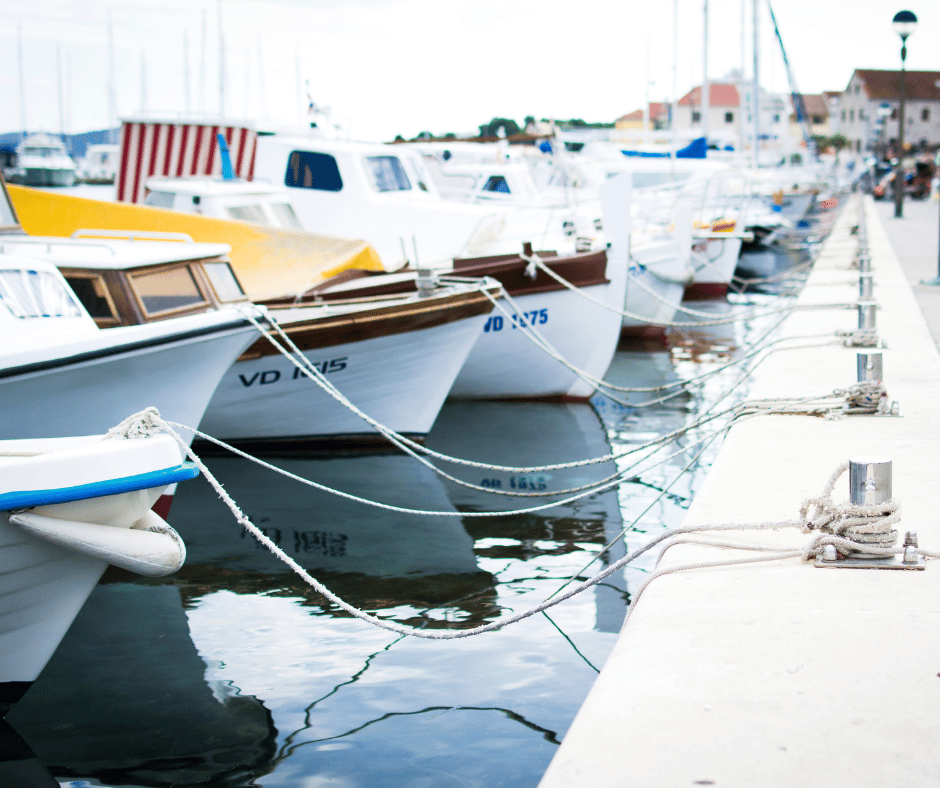 Online Booking 
Get a system that allows you to incorporate real-time direct booking capabilities to your Marina business website.
Integrated online booking makes it easier and more convenient for your customers to book from anywhere.
It will also make such reservations easier to manage while maximizing your direct bookings. Boaters will be able to view availability in your business based on site type, dates, or rates. The integration should also allow the customers to view photos, review property information, and make reservations directly from your website. 
Mobile Apps 
These will allow you to manage the business on the go. A POS system that comes with appropriate mobile Apps allows you to update and manage your site from anywhere in real-time.
For instance, the leading Marina POS mobile applications feature changeable menu items and pricing. Some of the best Marina POS mobile apps will also allow managing order fulfillment and processing credit cards from a mobile device.
An in-built time clock will help you track the amount of time spent on each task. Some are even known to have time card management capabilities. In this regard, you will be able to add and edit time cards, add notes, work out total hours, or start/stop time remotely from your mobile device. 
Marketing Tools 
The leading POS systems are designed to collect important customer data automatically while processing transactions.
In addition to this, you should consider getting one that features a range of effective marketing tools as well. 
With a robust marina POS system, you can develop social media campaigns, targeted emails, online spotlights, and other multimedia marketing campaigns. This will, in turn, extend your reach across different cultures, and generations and net in more customers for the business. 
Additionally, you will need a solution that helps you organize, send, monitor, and even report on important customer communication channels. This allows you to gain insight into how and when your customers would like to hear from you. 
Reporting and Analytics 
Powerful reporting and analytic tools on your Marina POS software will allow you to measure results, and strategize business growth.
It should be capable of tracking and reconciling revenue in real-time. Again, it should generate the kind of reports that offer insight into purchasing trends and behavior. 
These will keep you well informed to make important business decisions at all times. 
Mobile Check-In 
This presents your customers with a convenient and secure way to confirm boat types, review your policies, redeem special offers, and make payments. As opposed to a standard check-in process, this option allows for express check-in.
With this capability, your customers will be able to check-in from anywhere and on any device with an internet connection. You may also list additional offerings on the check-in screen for your customers to see. 
The self-service technology may be programmed to automatically display various options at various check-in stages. This capability has been proven to increase property upsells in marina businesses. By allowing your customers to input and confirm their information, you will also reduce errors in the process. 
Dynamic Pricing 
The right Marina POS system should be capable of adjusting pricing and rates automatically in relation to demand and supply in the industry. Rather than sticking to flat rates, the intuitive feature will help you come up with pricing rules in accordance with occupancy levels. 
Such an intervention can help you maximize occupancy and profitability in your business throughout the year. In its functioning, the feature will increase revenue to the business during periods of high demand and lower rates during the off-season to attract more customers. 
Some of the leading Marina POS software options will also allow you to incorporate time frames into the dynamic pricing feature. Such a system can be programmed to apply different rates depending on different designated factors at any given time. 
Fuel and Parts Management 
Manage the marina with all the boats in it, along with the fuel and Parts on offer in your business from a central point. This is the convenience you will get with the right marina-specific POS system implemented in your site. 
The software you choose should support order entry for both Ecommerce, and warehouse orders. It should also feature built-in Special Order tracking capabilities for Service and POS. The system should allow for easy and quick parts lookup in the register. 
Integrations Support 
Some of the best Marina POS systems are known to offer pretty much everything you need to run and manage the business. However, you may still need to scale the system and expand its functionality as the business grows. This is why you should get one that allows you to integrate with third-party services. 
Your preferred software should support such integrations as online transient reservations, fuel management, EMV credit card processing, and mobile launch scheduling applications. These will expand the functionality of your Marina POS system, allowing for easier and efficient business management. 
Final Thoughts 
Simplify things for you and your customers, and market the business more effectively with the right Marina POS system. An industry-specific POS system will connect the facility to boaters 24/7. The right solution will also make it easier for you to offer your services to more boaters. 
Your preferred Marina POS software option should display the variety of on and off-water services you offer in a mobile-friendly and appealing manner. Regardless of your personal preferences, this guide will help you choose the best Marina POS system. You can get a free quote from our best pick – Marina Master here.
Frequently Asked Questions
What is the evaluation criteria for the best marina POS system?
Ensure that spare parts, equipment, and boats are available for maintenance

Long-term and short-term rental permits and licenses must be maintained

It is possible to create and manage services contracts in a variety of ways

Management of arrivals and departures of boats, as well as queue management as necessary

Control access to residents and visitors

Integrate with billing and accounting solutions

A variety of information is available about occupancy, traffic, customers, residents, and profitability
What makes a good marina management software?
The best Marina POS systems offer a comprehensive solution for managing your business, reserving seasonal and transient slips, managing waiting lists, and leasing your docks. You will be able to optimize dock utilization, simplify asset management, and attract more customers with marina management software. If you own a Marina business, it is important to invest in a point-of-sale system that is specifically designed for this type of business.