(Last Updated On: 02/14/2023)
Our product review team dedicates hours of research, fact-checking and testing to recommend the best solutions to business owners. We earn from qualifying purchases through our links, but this does not influence our evaluations. Why trust our reviews?
Written by Business Expert Wale Ameen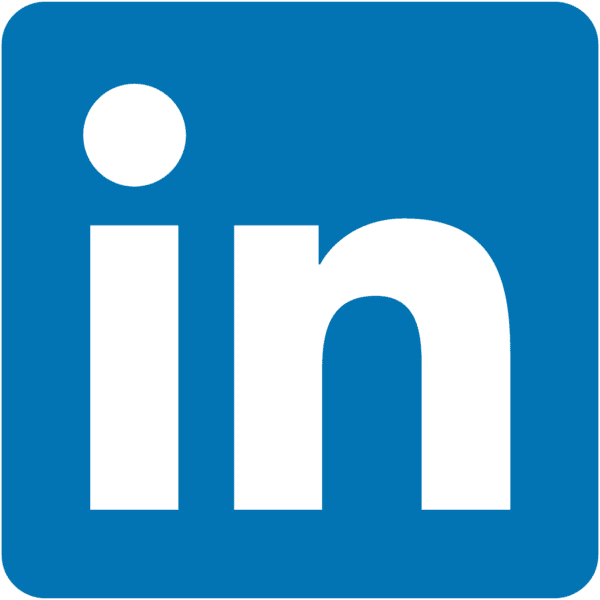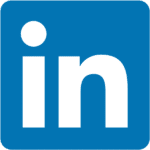 The liquor and wine business is an intrinsically delicate one that requires covering all legal sides. I have reviewed 5 of the best liquor store POS systems that come with liquor store specific features that will aid the day to day sales management.
Experts' Choice
Korona POS
The best liquor store POS system is Korona POS.

Korona POS offers:

Multi-Location Management Tools
Automated Low Stock Notifications
Age Verification Reminders
Employee Permission Based Roles
Theft Protection
Don't have time to read this whole review? Skip ahead to: 
Why A Liquor Store POS Is Important For Your Business
Every business type has its own unique challenges, and the liquor store business is no exception. While it is a profitable business, there are several challenges an entrepreneur must face and deal with when trying to operate one.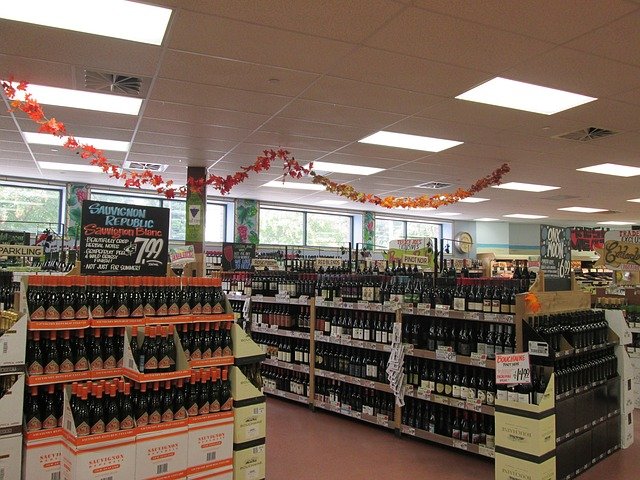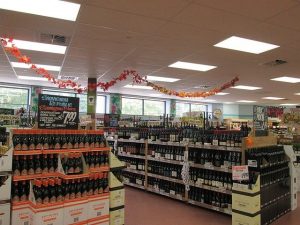 Issues such as minors presenting fake IDs and staying in line with local laws and many other issues pres
ent a continuous roll of challenges that you must surmount and be a step ahead of.
A great way to address these issues with technology is the adoption of a liquor store point of sale system. 
The best liquor store POS system is an ideal solution that addresses and helps to manage all aspects of the business on a daily basis. The best liquor store POS system will help to streamline your operations, save on costs, and increase the profitability of your liquor store.
Such a POS system should come with age verification capabilities like ID scanning to guard against underage liquor purchase, and features such as customer relationship management (CRM) that helps to identify and store details of customers for easy tracking, inventory management, and employee management functionality. This is because a liquor store probably has more inventory than many other types of r
etail stores, and you need a good team to manage the business.
From my research and analysis of more than 10 POS systems, my conclusion is that KORONA POS has the most liquor store specific POS brand and comes with liquor store specific features, as such is my most recommended solution. It has a beautiful design and is also affordable.
However, the other systems address other key areas and will be ideal for different types of liquor stores. Therefore, you will need to weigh each against your particular use case and see which one best fits your needs and peculiarities. Let's jump in, shall we?
Best Liquor Store POS Systems Compared
POS System
Software Cost
Age Verification
Cloud-based
Our Score

Korona POS

$49 / month

YES

YES

4.9 / 5

mPower Liquor POS

$120 / month

[Installment fee: $1000]

YES

NO

4.85 / 9

POS Nation

$99/month w/ hardware

[Or $1,000 upfront w/ hardware

YES

YES

4.7 / 5

LiquorPOS [Heartland]

$89/month per station

YES

YES

4.4 / 5

Square

$0/month

NO

YES

4.0 / 5
KORONA POS is a well-known producer of POS systems for various business types, including retail stores. It has a liquor store specific POS and its liquor store POS system was among the first of its retail systems developed. 
It's been refined over the years based on user feedback. Today KORONA POS for Liquor Stores delivers robust liquor store-specific features that would suit all types of liquor retailers. 
Whether you run a single small-town operation or a large multi-location chain, Korona is scalable enough to meet your needs. Let's see why.
Features of KORONA Liquor Store POS System
Inventory Management
KORONA POS users receive automated low stock notifications when inventory for a specific product is running low. They can also set custom par levels (the minimum amount of stock you need to meet current demand) for individual items.
The system can detect low stock levels and automatically send a purchase order to restock inventory without human assistance. It features perpetual counts that update all stock items in real-time when any transaction is made. Plus, overstock warnings prevent you from over-ordering, ensuring your inventory levels are always where they should be.
Real-Time Reporting and Analytics
Because Korona is a cloud-based system, it updates all data in real-time. This facilitates real-time reporting on a broad spectrum of metrics, giving you an accurate, in-depth picture of store performance. 
As mentioned above, inventory reporting lets you maintain a constant view of stock levels, helping you avoid under or overstocking. Loads of sales performance and other stock reports are built into the system and ready to go out of the box. Plus, custom KPI reports allow you to report on virtually any data your system captures.
ABC Analysis
Because liquor stores carry massive amounts of inventory, it helps to know which items are driving revenue and which are not. KORONA's ABC analysis splits your inventory into three categories. 
A-class items are the highest-selling and bring in the most revenue. B-class items sell steadily but don't produce as much revenue. However, they are still reliable revenue sources. C-class items take up lots of shelf space, eat up internal resources, and produce little revenue. Having this insight lets you make smarter decisions about what you should stock, which items are chipping away at your bottom line, and more. 
Multi Location Support
SInce growth is the constant thing in life and your business is bound to grow and expand, KORONA POS supports multi location operations and enables you to manage your liquor stores from one central location
Vendor Management
KORONA POS's vendor management enables you to track your vendors, orders, and the distribution of your products. From the module, you can easily see the status of your products, the ones you have ordered for, when they will be delivered and the balance of what you currently have in stock. 
Additional Features Worth Noting
KORONA POS also offers the following features that are key to running a liquor store:
Theft protection capabilities

Case break and mix and match features

Age verification reminders

Employee permission-based user roles

Multi-location and franchise management functionality

Employee management and permissions

Online store and ecommerce integration
What Are The Pros and Cons of KORONA POS?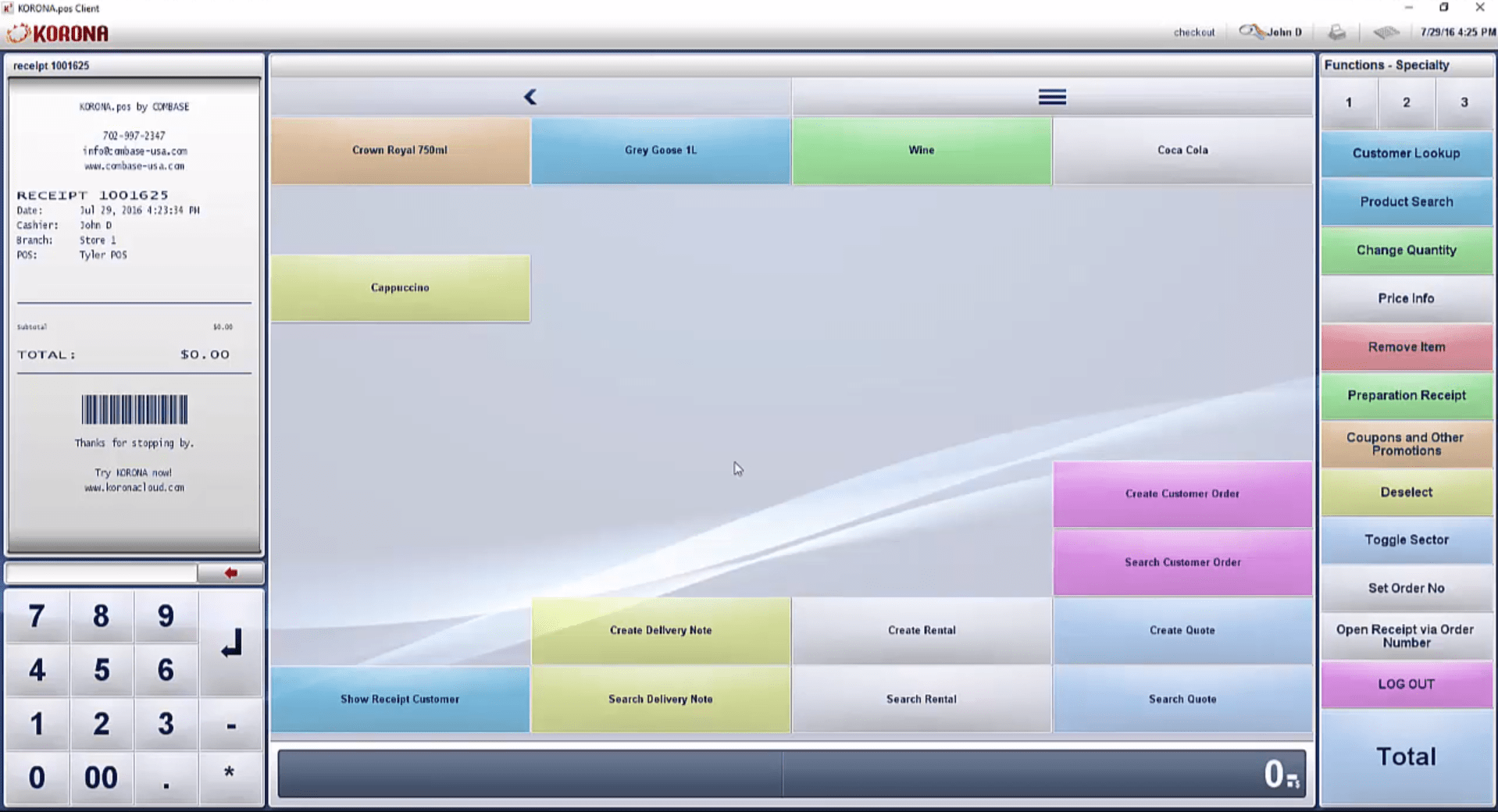 Pros
Highly customizable

Easily export database

Supports integration with third party apps

Free 24/7 customer care 

No contract

Offers free demo

Offers free trial

Makes it easy to monitor business on the go

Great reporting and analytics
Cons
Issue with QuickBooks integration reported by few users

Its flat fee might be expensive for small liquor stores just starting out
Is KORONA POS Easy To Use?
KORONA POS features a well designed interface with well laid out menus that are easy to understand. You will find it easy to use the solution, and should you run into any issues, the provider has quite a number of resources and how-to guides that will guide you along the way. Their customer support team is also responsive and will get you through in no time.
What Type of Liquor Store Business is KORONA POS Ideal For?
Since it is customizable, KORONA POS will work ideally for both small, mid-size, and large liquor stores. Although it may be more expensive for small businesses, if you don't mind the cost, then it is a great system to go for.
What I Like About KORONA POS
I especially like the fact that this POS brand is specifically built for liquor store daily operations management. Its free unlimited duration trial is also something that I particularly give it thumbs up for, as this means that anyone can have a taste of the solution before deciding to settle for it. Again, quite unlike many other providers, it charges no transaction fee.
What I Do Not Like
There is pretty much nothing that stands out for me in the area of dislike. The only item I think comes close is its flat pricing fee model, which may not be ideal for small liquor stores just starting out. For such users, they may have to pay such sums without maximizing the depth of what is offered or look at other options like Square Liquor Store POS.
How Much Does KORONA POS Cost?
KORONA POS's pricing is a pocket friendly one. For a start, it does not restrict users by way of long term contract or anything of the sort. It has four pricing plans namely: Core, Advanced, Plus. and Enterprise.
This plan comes with an offer of one month free if billed annually. It comes with features like unlimited number of users, unlimited sales, 0% transaction fees, product database, reporting, customizable dashboard and API access.
This plan comes with all the features of the core plan plus real time tracking, inventory reporting, and employee time tracking.
This plan comes with all the features of the first two plans and also others such as order level optimization, multi-store reporting and franchise features
This is a quote based plan and comes with a dedicated account manager, ticketing and event manager
How Do Other Liquor Store Owners Rate KORONA POS?
My review of users' submission and review of KORONA POS on Software Advice is a long list of positive reviews from users who are satisfied with the solution. Users point to the solution's ease of use, reporting function, and very responsive support team as some of the many great features of the solution.

The mPower Liquor POS stands out in my selection as it is a liquor retail specific point of sale system. Built and dedicated to the management of liquor retail stores. The liquor POS brand is a partner to many liquor store owners of varying sizes. 
mPower developed its POS system specifically and only for liquor stores. It's the only POS system the company sells. In this sense, it has a slight advantage over the other systems on the list as they are produced by companies that sell POS systems to multiple retail verticals. 
With such a laser focus on liquor stores, one can then imagine how well rounded it is for liquor shops.
Because it's sold to liquor stores only, it has the most robust feature set of any system on our list. However, there is one drawback—price. We'll touch on that below, but first, we'll call out some of its most powerful features.
Features of mPower Liquor POS
An Inventory and Data Powerhouse 
Some larger liquor stores carry more inventory items than a supermarket. This is due to constantly changing product varieties based on seasons and customer preference. For example, you don't see many people drinking margaritas at Christmas or drinking eggnog on the beach. 
Managing so many items and all the related data can become a monumental challenge. But not if you use mPower. Its inventory management capabilities give you easy access to inventory data at every stop along the supply chain. 
Product Tracking Like You've Never Seen Before
This is one reason why the investment in mPower is often worth it for liquor store owners. Managers and owners have access to a depth of product data that you just don't find in other systems. 
You can search for an item by name, type, description, vendor, or even merchandise level. That search returns a grid list of results with high-level information about each item you currently stock or have in the past.
Digging into the Data
From there, you can click on an individual item to dig deep into its data. This includes data around the product itself, its origin, supply chain touchpoints, and so much more. 
For example, let's say you want information on a certain Malbec. You pull it up and can drill down to see its country of origin, region, varietal, appellation, and the vintages you have in stock. That's not all. You can also see its vendor, alcohol volume, and current stock quantities across multiple stores (if you run more than one store).
Supply Chain Tracking
There's more. You can also view every touchpoint each bottle has been through between leaving its production facility and arriving at your store. mPower even lets you open digital copies of signed documents from each handoff along the supply chain. 
You have an extensive paper trail of every touchpoint along its journey. When you receive a case of bad wine or skunky beer, it's easy to track down and identify the person or company to hold accountable. 
Integrated Payment Processor
mPower comes with an integrated processor, although it is not clear which company (ies) they are working with. The company notes that it works with three payment providers, but the identities of the companies are not known. It's also not so clear if stores must use only these three.
Compatible With Windows Based Machines
The mPower software works ideally with most windows based computers and mobile devices. You can also enable touchscreen mode on touch screen devices.
Liquor Store Features
Because mPower was designed specifically to meet the needs of liquor store owners, it includes all the liquor store-specific features you could think of. Those include ID scanning for age verification and regulation compliance, case break features (see our Buyer's Guide below for more info on case breaking), employee management, and more.
Other Liquor Store Specific Features of mPower Liquor POS
On demand ordering

Pricing Tiers

Customer management
What Are The Pros and Cons of mPower Liquor POS?
Pros
Easy to use

Liquor store specific

Free demo

Ideal for liquor stores of all sizes

Responsive customer support

Versatile report
Cons
Costs more than others in its league

Issues with payment processor among users

For greenhorns, navigating the solution can be a bit cumbersome

Can be tedious making updates on inventory
Is mPower POS Easy To Use?
For a robust and vast POS solution like mPower, navigating and getting a thorough hold of the entire capabilities can be a bit cumbersome for those just getting acquainted with it. It takes a short time of consistent usage to really get a thorough grasp of its workings and navigation.
What Type of Liquor Store Business Is mPower Ideal For?
The mPower POS is ideal for liquor stores, both small and large. You can pick it and adapt it to the current level at which your liquor store operates. It is, however, most suitable for large liquor stores who need a system to handle large, complex businesses.
What I Like About mPower POS
One thing stands out with mPower POS– and that is the fact that the provider is entirely dedicated to just liquor stores and specifically beer, wine, and liquor retailers.
What I Do Not Like About mPower POS
mPower has only one thing that stands out and comes close to a dislike for me, and that is the issue of its pricing. However, when you consider the full suite of possibilities it comes with, one tends to understand why it costs so much.
How Much Does the mPower POS Cost?
mPower is an onsite, installed system (with a mechanism for mobile access). Even though it is comparatively costlier, when you consider its range of features and capabilities, the cost tends to align. Below is its cost breakdown: 
One time installation cost: $1,000

The monthly cost of each register is $120, with an additional cost of $250 for installation and an extra $120 per month.
How Do Liquor Store Owners Rate mPower POS?
mPower POS scores high among liquor store owners. A review of submissions on Capterra and Software Advice shows that users praise it for its user friendliness, robust features, and customer support. It scored an impressive 4.1/5 on both review sites.

POS Nation is another well-known name in the retail POS space, producing systems for multiple retail verticals. However, their liquor store POS solution consistently receives among the highest user ratings of any system the company produces. 
POS Nation is a recipient of FinancesOnline awards in three categories: 2019 Experts' Choice Award, Great User Experience, and Supreme Software Awards.
It's full of liquor store features and rightfully earned its spot at number three on our list. Let's see why.
Features of POS Nation
Make Your Own Six-Pack Functionality
This feature allows you to split cases of beer and sell individual bottles without having to manually manage the process in your system. You can put bottles from various brands in the same cooler and allow customers to "make their own six-pack."
This doesn't sound that impressive until you consider that to do that, your system must be able to track each bottle from a case of 24 and adjust inventory every time one of those 24 bottles is sold. POS Nation makes this easy and takes care of the calculation, tax, and inventory adjustments automatically while you focus on higher-value tasks. It empowers the customer experience while saving you significant time and resources. 
ID Age Verification Scanning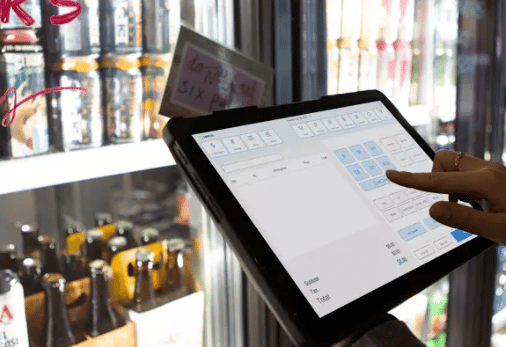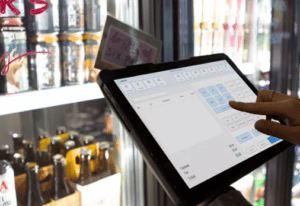 Most retail liquor store POS software systems provide on-screen pop-ups at checkout to remind employees to ask to see customer IDs. That process still leaves room for human error. However, POS Nation eliminates that possibility. You have the option to configure the system so that it prompts employees to scan an ID at checkout. It won't let you complete a transaction without the scan unless you're an admin with override permissions. 
One bonus is that when you scan an ID, that customer's personal data and the data from their purchase is stored in the system and a customer profile is created. Then, you can build that profile out over time and personalize your marketing campaigns based on their stored customer data. Asking for and scanning an ID doesn't entail much extra effort from employees. However, it provides a near-impenetrable firewall between your store and legal issues. That peace of mind is worth a lot.
Turnkey System with Lifetime Warranty
This is an uncommon offering that you don't find often in POS systems. And it certainly sets  POS Nations liquor store POS apart. POS Nation offers users a turnkey solution that includes both its robust liquor store software and a full POS hardware kit for one flat monthly fee.
Users receive the POS software that powers the system. They also get a touchscreen computer, receipt printer, scanner, credit card chip reader, and a cash drawer. All of that costs $99 per month and comes with the added benefit of not having to invest upfront in POS hardware. 
This is great for small and new liquor stores with bootstrapped budgets. Plus, it comes with a lifetime warranty—in other words, if a piece of hardware burns out, they'll replace it for no extra fee. Surprisingly, you don't have to sign a contract to receive this deal—you can cancel any time.
Own Your Hardware Instead
If you prefer to own your hardware and pay for it all upfront, POS Nation allows for that as well. You can pay a one-time fee of $999. You own the hardware and software. You'd only have to pay for new hardware components when one inevitably wears out and must be replaced.
What Are The Pros and Cons of POS Nation Liquor Store POS
Pros
Easy to use

Mobile reporting

24/7 Customer support

Multiple Payment Options

Own your own hardware
Cons
May not be ideal for small stores
Is POS Nation Easy to Use?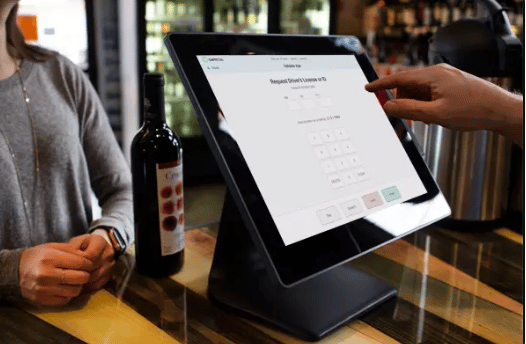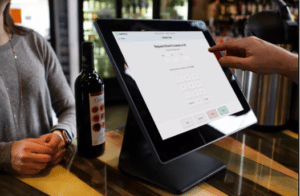 POS Nation Liquor Store POS is an easy to use solution. Its wide array of features specific to liquor stores makes it an ideal point of sale system to consider. It also comes highly placed in number three of this top 5 best liquor store POS system.
What Type of Business Is POS Nation Ideal For?
Liquor stores of varying sizes will find POS Nation a great option to consider. It has all the required features needed by a liquor store in a POS solution and, as such, can be used straight out of the box. So, if what you are looking for is a straight out of the box solution, then POS Nation is the ideal fit for you. 
What I Like About POS Nation
POS Nation has a wide array of features that make it ideal for liquor stores. It is also nice that you can pay a one time fee for access to the software and hardware peripherals.
What I Dislike About POS Nation
There is nothing that stands out for me with POS Nation.
How Much Does POS Nation Cost?
As highlighted earlier, below is POS Nation pricing:
Monthly subscription fee: $99 or

One time purchase fee of $999
How Do Liquor Store Owners Rate POS Nation
My review of user feedback on POS Nation on GteApp and Software Advice reveals that users of the point of sale solution have an almost overwhelmingly positive opinion of the brand. A good way to summarize surveyed users' submissions is this: It is a great and an all round liquor store POS solution.
The POS brand has an overall star rating of 4.6/5 on GetApp and Software Advice respectively.


LiquorPOS is made by Heartland, a widely-known digital payment processing company. It also produces some great POS systems, including its liquor store retail POS software solution. What makes it a great system for liquor stores?
Features of LiquorPOS by Heartland
Customer Management Capabilities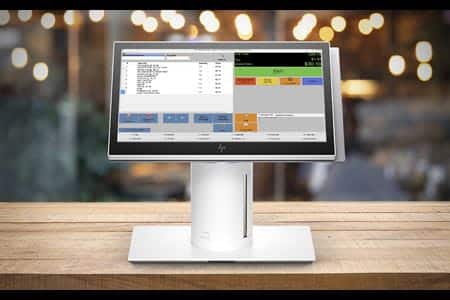 LiquorPOS offers some of the most robust customer management features in the retail POS space. Each customer has their own profile page with a ton of personal information you can use to personalize the customer experience. The system captures and stores loads of customer data in its database. Keep track of things like:
Name

Multiple physical addresses

Telephone number

Email address

Customer birthday

Purchase history

Customer segments

Loyalty and rewards program information
Customer Rewards and Loyalty Programs
LiquorPOS provides excellent customer reward and loyalty programs. With these features, it's easy to turn patrons into regulars (i.e., loyal customers who provide a stream of recurring revenue).
It's easy to run promotions and use your rewards programs because the system automates nearly every step of program admin. This saves you time and ensures a highly tailored experience for each customer and their personal preferences. This increases customer loyalty, satisfaction, and retention.
What's the best part about customer rewards programs? Every visit and purchase customers make provides you with additional data about their buying patterns and purchase history. This lets you further personalize your offers for them, enticing them to return more often.
Email Marketing 
You need a way to spread the word about your special offers, promotions, discounts, and other aspects of your loyalty and rewards programs. LiquorPOS gives you that with integrated email marketing. With all the personal data stored in your system, you can run discounts or promotional campaigns that accurately target the right customers. 
If a 50-year-old truck driver frequents your store and the only thing she ever buys is top-shelf bourbon, there's no point in sending her a marketing message about discounts on pinot grigio. She may even find it insulting.
ID Scanning for Age Verification
LiquorPOS offers employees the ability to scan patrons' IDs at checkout to verify their age and avoid costly fines. It's a "CYA" feature that most liquor stores need. 
Other Important Features of LiquorPOS by Heartland
Process deposits

Customizable receipts

Purchase orders

Enterprise reporting

Integrated Credit Card processing

Employee time and attendance tracker
What Are The Pros And Cons of LiquorPOS
Pros
Easy to use and set up

Age verification capability

Supports discounts and loyalty programs

Great reporting capability

High end security
Cons
Due to their location, customer support team may be slow in responding to queries
Is LiquorPOS By Heartland Easy To Use? 
LiquorPOS by Heartland compares nicely to others in its league in terms of usability. It is well designed and intuitive. 
What Type of Business Is LiquorPOS Ideal For?
LiquorPOS is ideal for liquor stores of all sizes, from small retail shops to large ones alike. Business owners will find it a great and adaptable solution to meet their specific liquor store needs and increase the customer experience.
What I Like About LiquorPOS
I like the fact that LiquorPOS comes with identification verification and is a great system to ensure a great customer experience.
What I Don't Like About LiquorPOS
The system is pretty much a great one, and as such, I really do not have an item I dislike about it.
How Much Does LiquorPOS Cost? 
LiquorPOS by Heartland pricing plan includes the payment for the point of sale solution which starts at $89/per month as well as a payment processing charge. Below is a breakdown of its pricing details:
Point of Sale: $89/per month for one station

Payment Processing: 2.6% + 10c for credit card payments
How Do Other Liquor Store Owners Rate LiquorPOS?
In my review of users' submissions about LiquorPOS, one thing that cuts across a large number of users is the fact that they have been using the liquor point of sale solution for a number of years. This goes on to show that it is a durable and tested solution. The POS solution scores an overall star rating of 4.26/5 on Software Advice.
If you are on a tight budget and basically at rock bottom and wondering what POS system can support you at this stage, then Square POS for Liquor Store is what you need to consider. 
Square is a viable option that delivers many of the features liquor stores need. Although it doesn't come with liquor store-specific features like age verification, small operations can often handle those themselves. Plus, you can always integrate and increase the functionality (more on that below).
Features of Square POS For Liquor Store
Inventory Management
Square's free version doesn't offer "advanced" inventory features, but they are enough for a small liquor store. They include low stock alerts, automated stock counts, and the ability to enter an unlimited number of inventory items in your database.
Customer Relationship Management (CRM)
This is a big one for small liquor stores that rely heavily on forming interpersonal relationships with their regulars. Square automatically creates customer profiles when transactions are made. You can also create custom fields in your CRM that allow you to store data specific to your business and the customers you serve.
Add individual customers to segments with similar tastes (like the truck driver who only buys top-shelf bourbon). This makes it easy to run targeted marketing campaigns personalized to resonate with target customers' beverage preferences. 
NOTE: Square's marketing features are not included in the free version. You must pay a $15 per month fee to use the add-on.
Liquor Store Inventory Features with Shopventory Integration
Square integrates with Shopventory, an inventory management platform that starts at $39/month. It's cheaper than subscribing to Square Retail for $60 per month and streamlines liquor store inventory management. 
If you integrate the two, you get case break capabilities, predictive analytics that estimate the amount of stock you should order for a given item, and can track the large amount of inventory that even small liquor stores maintain.
What Are The Pros and Cons of Square POS For Liquor Stores
Pros
Ideal for small businesses

Requires no monthly payment or fees

No contract
Cons
Doesn't have have liquor store specific features

Payments can be delayed 
Is Square POS For Liquor Stores Easy To Use?
Square is one of the most popular point of sale systems on the market and is an extremely easy to use solution. You will be ready to start processing sales transactions on Square in no time.
What Type of Business Is Square POS Ideal For?
Square POS is an ideal solution for entrepreneurs and businesses just starting out and looking for a relatively cost effective solution. For starters in the liquor sales business, Square is the POS system to consider. Even though it is not a liquor specific POS system, you can achieve this by integrating third party apps.
What I Like About Square POS
I like the fact that with Square POS, there is no need to make a monthly payment simply to make use of the software, as there is with other POS brands on the market. This makes it very small business friendly.
What I Dislike About Square POS
Square is a great all round and adaptable POS system for businesses across a wide variety of industries, cutting across retail, restaurants, and others. There's really nothing outstanding about Square POS that I dislike.
How Much Does Square POS Cost?
As noted earlier, Square is a free POS solution. You only pay a minimal payment processing fee of 2.6% plus $0.10 per processed transaction.
How Do Other Users Rate Square POS?
Square stands out among users who praise it for its simplicity and ease of use. However, users have reported occasional delays in receiving payments processed by the provider. It scores nicely in overall star rating on both the Google Play Store and the Apple App Store. It has an overall score of 4.6/5 and 4.8/5 on the Google Play Store and the Apple App Store respectively.

Honorable Mentions
The following systems almost made the cut and can serve the needs of liquor stores. They are general retail POS systems, but they can get the job done so they deserve a quick mention. 
Talech POS
Talech POS features robust customer management capabilities. Plus, its ability to set multiple tax rates for different items helps liquor stores because they often must apply different tax rates to different items.
Lightspeed
Lightspeed's retail POS system delivers perhaps the best inventory tracking features of any retail POS system on the market. That, along with in-house loyalty programs make it a viable option for liquor stores.
eHopper
eHopper is a general POS system that offers a free version, which is often used by small-town liquor stores. It includes helpful features like inventory control, customer management, and reporting. Plus, it offers "free" credit card processing. But there's a catch—the processing isn't free; it gets added to the customer's bill. This doesn't go over well in many small towns where everyone knows everyone, and trust is key.
Nextar
Another free retail POS solution, Nextar, offers helpful features like inventory management, marketing features, stock alerts, and plenty of automation. With Nextar, there is no catch. You do have to pay credit card processing fees—but the software remains free. 
Buyers Guide: Key Features and Considerations
For liquor stores, there are certain key features you should consider when looking to make a POS purchase. It is important that such a POS should boast of such features such as the following, highlighted below:
Age Verification
The sale of alcohol is regulated by state or local governments, not the federal government. If your store sells alcohol to a minor, you could face stiff fines or even have your store closed down. Try to find a liquor store POS system that helps you confirm the age of each customer who purchases alcohol in your store. 
Some systems provide an automated, on-screen, reminder pops-ups, promoting your employees to check the ID of each patron. More robust systems deliver the capability to scan a customer's driver's license to verify their age. 
Regardless of which of those two features your system has, it's helpful to have one of them to avoid any legal consequences.
Case Break Functionality
Another important, time-saving feature that ensures inventory levels are accurate is known as "case breaking." No, it doesn't refer to broken bottles when a distributor or employee drops a case of beer. 
Rather, this feature automatically accounts for splitting cases into smaller portions, like 12-packs, six-packs, and individual bottles. The system should track each individual bottle in a case, regardless of whether it's sold in a 12-pack or as an individual bottle.
Advanced Inventory Management
Because liquor stores carry and manage such large quantities of stocked items, inventory management is key. Look for liquor store management software that can manage a massive inventory database. It's equally important that you can access it easily and find a needle in that haystack in seconds.
If someone at the register is organizing a wedding, wants to purchase 40 bottles of Absolut vodka in various flavors, and asks your register attendant, they need to be able to answer in a snap.
At the same time, if you break down cases and individual bottles of beer, you must be able to dive deep into that database and manage inventory at a granular level. 
Employee Management and Security Functionality
Unfortunately, liquor stores are perhaps the most targeted type of retail store for theft. They get robbed often, which, by the way, is why you should look for a POS system with security and theft prevention capabilities. 
Liquor stores are also regular victims of employee theft. Of course, you don't want to assume your employees are stealing from you—it's much better to build a sense of morale so they would never think of it in the first place. However, it does happen, and it's important to have built-in POS features that prevent it.
Look for a system that has unique employee logins that let you track every sale, comp, and other type of transaction each employee executes. Most liquor store systems will also include role-based permissions, which lets you limit which actions individual employees can execute. 
PRO TIP: An Important Consideration—Regulatory Compliance 
Liquor laws vary by state, county, and even municipality. Many places still maintain antiquated laws that are relics of times gone by. Keeping up with the complexity of varying state, county, and local liquor laws is a challenge, particularly if you own multiple stores in different states.
Some states still have "dry" (the sale of alcohol is prohibited—a remnant of prohibition) counties. Others allow individual municipalities within a county to be dry, while other towns in the same county can be "wet" (alcohol sales are allowed). 
How Do You Know What Your Local Laws Are?
Currently, 33 states have dry counties. The states of Kansas, Tennessee, and Mississippi are dry by default, but allow individual counties to be wet if they pass local laws that permit this. 
Many states or counties allow alcohol sales but not on Sundays. Some allow sales on Sundays but not until after noon. Plus, taxes vary broadly across the map.
You can see the tangled web of laws liquor stores must adhere to. It's critically important that you're aware of the laws that regulate your store based on its location.
Make a point to be fully aware of these compliance variations. If you're not sure what the state or local laws are where you live, check out this helpful dry states guide.
Conclusion: Which Liquor Store POS System Is Right for You?
All liquor stores are unique with distinct needs and requirements. I believe KORONA POS is the all-round best liquor store POS system, if you can afford it. It's relatively inexpensive but costs a bit too much for some small stores. So, if you're on a tight budget, Square is a valid option to consider instead. 
If you have a small business and need a POS system that can manage your inventory, Square POS inventory is a good choice. It supports unlimited SKUs and item categories and can generate new items based on barcodes. But it doesn't provide the level of automation you'll need for a larger operation. 
If you run a large store or a chain of franchise liquor mega-marts and can handle a complex web of features and functionality, mPower is the system to focus on. If you prefer a simple-to-set-up system that's ready to go out of the box, POS Nation is likely a good fit for you. Finally, if you realize how important the customer experience has become, Heartland's LiquorPOS is worth a close look. It will help you deliver a stellar experience your customers won't forget.
Be sure to make a list of requirements based on your needs. Always keep your budget in mind when evaluating liquor store point of sale systems. Don't get distracted by bright shiny objects that fall apart after a few months. Focus on reliability and the features we outlined above, and you'll find the system that was made for you.
Get a quote now from Korona POS, our WiseSmallBusiness pick for the best liquor store POS system.
FAQ
What software is used in liquor stores?
Liquor stores utilize POS (Point of Sale) software. There are many POS systems that are designed specifically to accommodate the unique needs of operating a liquor store.
Is being a liquor store owner profitable?
Liquor stores can be profitable but it's very dependent upon having a good location, clientele, suppliers, and product selection in your store.
How much does it cost to open up a liquor store?
If you want to open up a small liquor store, you can expect to spend between $50,000 – $100,000 in start-up costs.
Is liquor more profitable, or beer?
The profit margin of liquor is slightly higher than beer. Liquor profit margins are between 80-85% while beer profit margins are right at 80%.