(Last Updated On: 07/28/2023)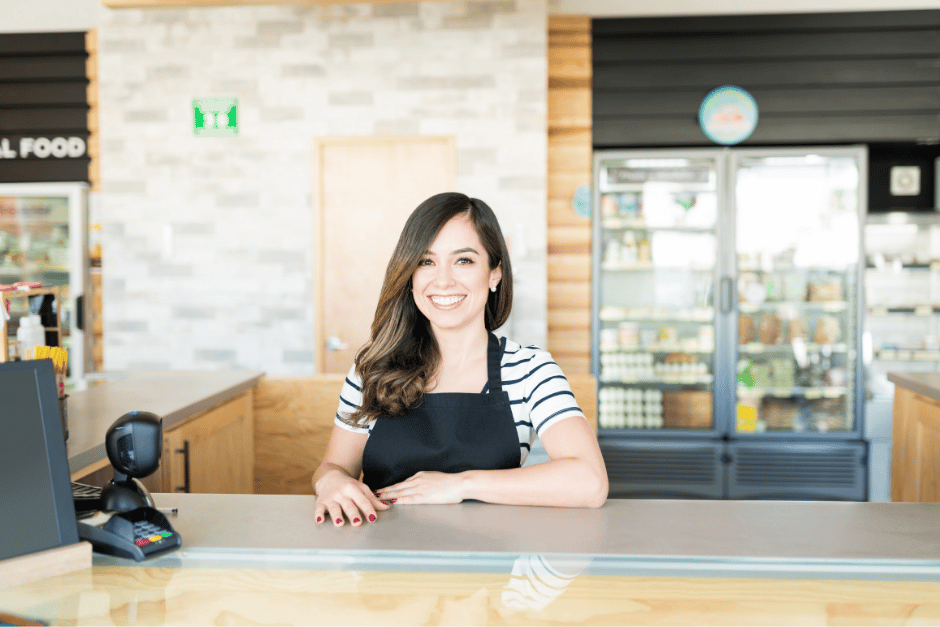 Running a grocery store requires careful inventory management, strong customer relationships, and a reliable staff who are ready to adapt to a variety of situations. All three of these principles are interconnected, as your staff should take care to keep your inventory up to date, which will then ensure you have the products customers need in stock. You can also improve all three of these at once with your POS system. 
You may think of your grocery store's POS system as just a tool to complete one or two simple tasks. While it's true that POS software's core function is to facilitate transactions, your system can also offer your business much more when all of its features are effectively leveraged. 
Taking the time to learn more about your specific POS system and POS systems in general can help you discover features you might have overlooked and find new ways to streamline day-to-day management. To ensure your grocery store is aware of everything you need to know about your POS system, this article will review how to:
Manage your inventory. 

Leverage your built-in features. 

Explore multiple options. 
Whether you're looking for a new POS system or curious if you are using your current system to its full potential, these tips will review the essentials. If a feature is recommended that your current POS system doesn't have, consider how fundamental it is to your business and if an improved system is worth the investment. Let's get started. 
Manage your inventory.
Managing your grocery store's inventory can easily take up a considerable amount of your time. Between ensuring every product is entered into your system correctly and keeping track of which items need to be restocked by what date, it's only natural that many grocery store owners look for solutions to help streamline their management process. 
Fortunately, modern POS systems are equipped to do just that. As your POS system tracks which items you're selling, it should be closely linked to your inventory to monitor when and how products are moving through your store. Specifically, look for a POS system with the following inventory management features:
Set min-max thresholds.

Your POS system can be used to automatically order new stock. Use your system to establish a minimum stock threshold for an item. Then, when your POS system notes that a certain number of that item has been sold since it was last restocked, it will place an order automatically to ensure you are restocked quickly. 

Easy barcode scanner and printer.

Ensure your POS system comes with hardware integrations, such as your barcode scanner. Then, you can easily scan items as they come in to add them to your stock and track them in your POS automatically. Additionally, small businesses can benefit highly from barcode printers, which allow them to print their own barcodes for items that might not come with them, such as goods from local suppliers. 

Multi-store management.

If your grocery store has multiple locations, you can benefit from a POS system that monitors your inventory across multiple locations. This allows you to get a better sense of how your products are selling overall and manage all of your data from one system. 
Remember that some POS systems will be more robust than others. For example, an all-in-one system might equip you with all the tools you need to manage your inventory in one location, but may have limited capability when it comes to multi-store management. 
Leverage your built-in features.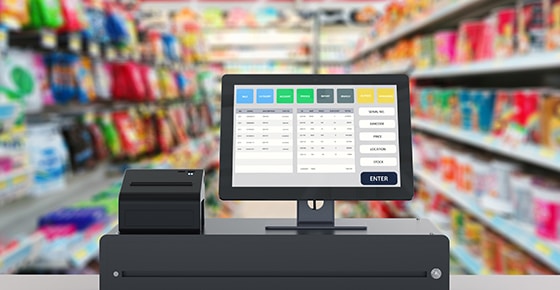 Many POS systems come with an entire suite of tools designed to help grocery stores effectively run their businesses right out of the box. Whether you're considering potential POS systems or are still getting familiar with your current one, be sure to investigate all of its built-in features so you can make the most of the tools you already have before investing in add-ons. 
Maximise all possible built in features
Many POS systems come with tonnes of built in features that can help to streamline your operations and provide a better customer experience. But it's important to remember that not every feature will be applicable to your business. For example, a free app and card reader from Square may be best for new businesses that don't have an extensive POS requirement yet. Similarly, mobile POS systems are perfect for tradespeople who often do event sales or lack a permanent location but still want to keep a close eye on their business.
Here are a few helpful built-in features your grocery store can make full use of:
Scale integrations.

Scales are a fundamental aspect of grocery store POS systems and actually come in a variety of options. Five

POS scale options

to look for include integrated retail scales, label printing scales, on-counter scales, floor scales, and mechanical scales. For some grocery stores, it may make sense to leverage both your POS system's built-in scale and an add-on. For example, an integrated retail scale might be the best choice for most purchases, but if your grocery store also sells a select few large items that are too bulky to place on a counter, investing in a floor scale for these scenarios can be worthwhile. 

Label maker.

Barcode printers and label makers are a useful tool to have on hand if you ever have items without labels. These can include items from a broken-down case being sold separately, or the previously mentioned label printing scale, which weighs items to calculate their price and prints a label with the appropriate information that can then be scanned. 

Automatic reminders.

During an interaction with a customer, your employees will need to focus on several things at once while moving through the transaction as quickly as possible. To help them stay on track and ensure nothing gets overlooked, ensure your POS system comes with automatic reminders. These can include messages that help employees along each step of the checkout process or reminders to ask customers about joining your loyalty program or

making a donation

. 
When you first get your POS system up and running, it's natural to focus on only the most essential elements. This can be especially true when training new employees to help get them to work as fast as possible. However, taking the time to fully explore your POS system can reveal new features that will improve your staff's and your customers' experience at your store. 
Explore multiple options.
POS software for grocery stores might seem like a niche market, but in reality, grocery business owners have many options to choose from and should avoid settling for the first one they see. Assess your business's most pressing needs and current resources available to invest in a POS system since different systems will appeal to different grocery stores. 
For example, one grocery store might prioritize finding a POS system that accepts multiple payment types including EBT, while another looking to hire many new employees over the next few months might instead be invested in finding a system that prioritizes user-friendliness and quick onboarding. 
To show your range of options, POS Nation's guide to grocery store POS systems recommends a few potential POS systems to explore: 
POS Nation.

POS Nation offers an all-in-one POS system that includes hardware, software, payment processing, training, and continued technical support, all designed specifically for specialty and grocery stores. Their system also provides grocers with a user-friendly picture-based interface, a full range of integration options, product grouping features, and the ability to accept EBT. 

ShopKeep.

Designed for small, independent retailers, ShopKeep is a cloud-based tablet POS system. ShopKeep is also built to be customized, allowing users to adjust and configure their system as desired to fit their unique needs. 

Epos Now.

Epos Now is a scalable system designed for small to medium sized retailers. Epos Now offers full training and customer support, as well as a straightforward layout designed to speed up the learning process. 
For each of these POS systems and any others you are considering, think about how it will fit into or can help grow your current business strategies. This includes your day-to-day management practices,
customer loyalty
efforts, growth strategies, and more. As mentioned, there are many factors that impact your grocery store's success, and your POS system should support as many of them as possible. 
There's no reason why grocery stores need to settle for one-size-fits-all POS solutions when there are a variety of industry-specific options to choose from. Improve your inventory management, check out features you might have overlooked when first setting up your system, and never forget that you do have options if you feel it's time for an upgrade.