(Last Updated On: 08/07/2022)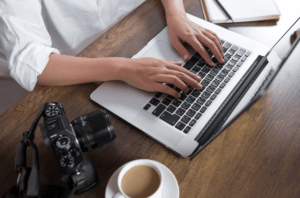 Photographers often find themselves using a million different software programs.
There is one program for editing…
One program for billing and invoicing clients…
One program for booking…
Another program for customer relationship management…
Oh, and don't forget having to manage your website, emails, phone calls, and social media inquiries on top of all of that.
Needless to say, there is a lot on your plate when running a photography business. One thing that anyone in the photography industry can probably agree on is that being a photographer is not an easy career path. Trying to manage so many different avenues by yourself is a recipe for disaster. After all, you need to focus your efforts on creating a strong visual brand for your photography.
Photographers can benefit from using a Point-of-Sale (POS) system. A POS system is a cloud-based tool that will allow photographers to operate their business in a more efficient manner. A point-of-sale platform compiles all of your tasks into one centralized location. Without a proper business management system, you may never be able to maximize your revenue potential. To do this, you need to market your business effectively, sell your services efficiently, streamline your sales, follow up on payments, and provide maximum value to your customers.
Luckily, there are great solutions out there for those in the photography industry.
Why Do Photographers Need a POS System?
The right point-of-sale system will be able to do many different tasks. However, the common theme that you will find is that these systems are designed to make your life easier. In turn, this will allow you to focus on expanding the creative aspect of your business and growing your clientele. A robust photography point-of-sale system will be beneficial in a variety of ways.
Client Management – No matter what niche of photography that you are in, whether it be wedding, travel, product, or studio – one thing that you know is that your clients are everything. Finding the right clients that mesh well with your creative style, and then maintaining a great relationship with them is very important to the success of your business. However, you're only one person. Maybe you consider yourself great at shooting photos, but not the best at staying on top of customer relationship.
A point-of-sale system will allow you to automate a lot of your customer relationship management (CRM) tasks. You may have heard of Mark Suess of Suess Fine Art Photography. When it comes to the CRM aspect of point-of-sale software, Suess has reported that having access to customers' email addresses is important as he believes the most effective form of marketing is to contact those that have already purchased from him. This is a feature Suess considers "invaluable." (1).
Clients can be automatically added into your marketing/loyalty database for follow-up email campaigns, sent triggered testimonial and feedback requests, and customizable online portfolio share links can be created. These are just a few features that will keep your task load lighter and your clients happier.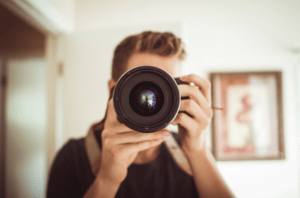 Financial Management Tools – As your clientele expands, it can become really challenging to keep track of who has paid their invoice and who has not. Without having to hire an accounting manager to keep track of your financials for you, a point-of-sale system can organize this process. Payment reminders will automatically be sent out to clients who have payments due. The payment amounts and status are all displayed within your point-of-sale dashboard to easily view and keep track of.
Additionally, most POS software systems that are designed for photographers can in most instances replace any accounting software that you currently use. These systems off revenue and expense tracking tools that can make tax filing time a breeze and avoid any fees.
Customization Options – In 2022, branding is everything. Even if you are an established photography brand, it's important to implement your branding into as many aspects of the customer experience as possible. This will ensure that your customer remembers you. A memorable brand experience makes a client more likely to be a repeat customer, in addition to gaining more potential clients through word-of-mouth advertising.
When using a ton of different platforms and software programs, it's common to see a slew of different business names, titles, and logos as things change throughout the years and don't get updated. A point-of-sale system will incorporate your brand and logo into every part of your clients' interactions with you. This also ensures that your branding is clean and cohesive.
Organized Scheduling – Whether you consider yourself an organized person or not, when it comes to trying to make your schedule coincide with a ton of client schedules, mistakes can happen to anyone. Double booking clients, or any type of miscommunication during scheduling can be a major setback for your business.
Let's face it, when a family spends a ton of time getting themselves and their kiddos ready for a photoshoot… they expect the photographer to have them scheduled correctly. No one wants to face an angry mom who just spent three hours yelling at her kids for family portraits.
A point-of-sale system mitigates the risk of accidental scheduling conflicts. A POS software can keep track of all of your appointments and meetings for you. In addition, any other type of calendar or booking portal that you may use can be set up to be synced directly into your POS system.
Workflow Assistance – With a point-of-sale software, photographers are able to set up personal tasks and deadlines on their platform dashboard. From here, you can organize your task and workflow to prioritize based on urgency and time sensitive manners. Project management templates can also be created and customized to be reused based on different jobs (I.e., a wedding workflow sheet, studio session workflow, etc.). The workflow portal can be set up with automatic task reminders for yourself to keep you on target for goals and deadlines.
Now that you've discovered all the benefits that a point-of-sale system can provide to a photographer, let's jump right into the best options that are designed specifically for the photography industry.


SalesVu – Best iPad Based System for Photographers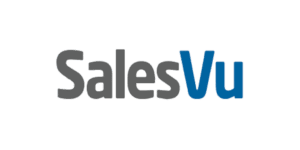 SalesVu is a great option for photographers because their cloud-based software doesn't require clunky hardware to work properly. The software can be run directly from your Apple smart phone or tablet. If you have an Android device, you'll want to steer clear of SalesVu. Although Android users can use this system, we wouldn't recommend it. Their system is designed to run on iPhone and iPad models and has been reported to be glitchy on Androids phones and tablets.
SalesVu Overview
A great aspect of SalesVu's platform is that their software is 100% customizable. This means that you can make the software work for you, not the other way around. Their software allows your business to be monitored remotely, meaning you can run your business from anywhere that you have internet access.
The platform includes 19 categories, discount and marketing tabs, and integrates with QuickBooks for account management. The sales reporting generated by the software is extremely comprehensive and easy to read. The interface is also user-friendly and straightforward. Its price is also very affordable and competitive for its features.
Top Features of SalesVu
Website Builder – Build a strong, user-friendly, search engine optimized website with the platform's website builder. If website building isn't on your résumé, don't worry. The website builder tool is extremely easy to use. There are hundreds of different template options that will give you a desktop and mobile optimized site, hosted by Amazon AWS servers. Your site can be integrated with a cart tool for photo ordering, email and SMS sign-up forms, loyalty programs, gift card options, a client portal calendar, and more.
Marketing Automation – Create branded follow up email campaigns, as well as custom discounts and promotions for clients. Once you get someone to sign up via your form on your website, or gather their email organically through a photo session – you can use their contact information to nurture that relationship. Whether its maintaining client contact to keep your brand at the forefront of their mind and keep them using your services, or if it's provided compelling content to entice new sign-ups – the marketing automation tools from SalesVu have you covered.
AI-Powered Recommendations – You can upsell your photo purchasing as well as expand your business at a more rapid rate through SalesVu's Artificial Intelligence (AI) tool. This tool offers personalized, actionable recommendations based on business reporting. The AI tool is not only helpful for you, but for clients as well. The tool works in real time as clients navigate your website to encourage smart-booking and cart recommendations.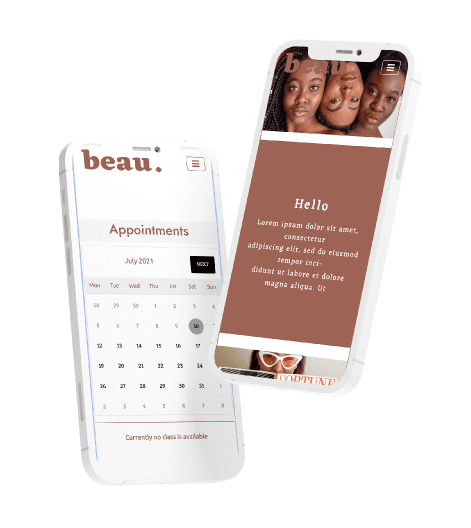 Synced Appointments – Whether an appointment is made over the phone, via email, SMS, online, or through social media – all of your client slots can be synced into one location. The appointments are updated and synced in real-time so you and your clients are clear on your availability.
App Creation – Everyone has an app, and your business probably should too. With a tool for app development within their platform, SalesVu makes this process easy. You can create a QR code to display in your studio or print on your business cards. Customers can scan the QR code to quickly launch your app in the Google Play or App Store. Clients will be able to book within your app, order prints, as well as interact with you.
Integrates with Popular Payment Processors – Chances are whatever payment processing solution that you are already using for your photography business integrates with SalesVu. You use your existing processor and it communicates directly into your SalesVu dashboard. Some of the top software options that SalesVu integrates with include Square, PayPal, and Zettle.
Cons of SalesVu
The pricing is on the expensive side so this can be a drawback for smaller or less established photographers. However, it is nice that you don't have to purchase any hardware equipment.
SalesVu Pricing
There are three pricing tiers that SalesVu offers, ranging from $100-$500. To take advantages of all of the website/app builder tools, as well as CRM and loyalty offerings, most photographers will benefit most from the middle or upper tier packages.
Square – Easiest to Use for Photographers [With Any Device]

While Square may not have the most features to offer to photographers, it's certainly one of the easiest to use point-of-sale platforms out there. There is little to no barrier to entry to get started with using Square. The mobile app is easy to set up. There are no training requirements, and the cost is low. In addition, Square is more user-friendly for both Apple and Android users.
Square Overview
The biggest selling point of Square is its simplicity. Customers can pay with a swipe card or dip chip, and sign the transaction on a tablet. The software also allows for e-commerce integration and offers API integration with other POS systems. The interface is sleek and intuitive, making it a crowd favorite for both industry professionals and clients.
Square Top Features
Accessibility – As mentioned, it's extremely easy to get started with using Square. You can order one of the chip readers online and you simply download the app and hook the reader up to your phone or tablet. You'll be ready to start accepting payments.
Financial Management – Square's point-of-sale offers some helpful management tools for the financial aspects of your business. Outside of making it simple for clients to swipe or input their card, you can do contactless in-person payments with their tap device. Repeat clients can save their card on file so they never have to reenter it. You can also set it up to automatically send professional, branded invoices and allow clients to prepay before their session.
Simplified Scheduling – Square offers a mobile application to manage your appointments on the go. Customers can book through a free booking website that features Instagram and Google booking integrations. You can also set up cancellation and no-show fees, as well as automated SMS or email reminders with Square Assistant.
Build Customer Data – The platform allows you to create personalized customer profiles. As a photographer, this is important to maintain a lifelong relationship with your clients. You can add client information, shooting style preferences, family information, birthday reminders, and more with the easy-to-add note tool. Customer transaction history including payments, texts, and emails are stored within their profile.
Physical and Digital Gift Cards – Your clients will be able to introduce your business to brand new customers by purchasing your customized plastic or eGift cards. Now, your craft can be given as a gift to organically spread brand awareness and increase profits.
Square Point of Sale Cons
Some users have expressed dissatisfaction with the lack of customization options and customer service availability. In addition, Square also has a high freezing and termination rate.
Square Pricing
You can use Square for free. However, to get the most out of their point-of-sale features you'll likely want to upgrade to their Plus or Premium pricing package. The Plus plan is $29/month, while the Premium plan is $69/month.
Photography Point of Sale System: Runner-Up List
While SalesVu and Square are the top two options out there when it comes to user experience, streamlined service tools, and overall business management – there are a couple of runner-up options that you may want to take into consideration as well.
GoFrugal – Best for Photographers with More than One Studio Location

GoFrugal really excels in multi-location management. If you have several different studio locations, you may want to consider this software. The ins and outs of your business are able to be tracked and analyzed anywhere with real-time alerts. While the features with GoFrugal aren't necessarily geared toward photographers, photography business chains or multi-location store owners will find this management software helpful. The most popular pricing package from GoFrugal will cost you around $45/month.
GiftLogic – Best for Photographers with In-House Print Shop

If you are printing all your product and shipping from within house, consider GiftLogic for your point-of-sale needs. GiftLogic will provide you with top-notch order management accuracy. With their system, you are able to easily track purchase orders, offer incentive discounts with date ranges, set minimum order requirements, and charge shipping fees based on address. GiftLogic's basic plan is $49/month, and their Pro plan is $69/month. Again, their system is not as feature rich as SalesVu or Square, but will be beneficial for those handling large amounts of print orders.
The Final Verdict: Do Photographers Really Need a Point-of-Sale System?
Do photographers need a point-of-sale system? Absolutely.
Not only will a point-of-sale system help you to be able to accept payments more easily, but it can help you better manage and expand your business. From customer relationship management, to marketing tools, website and app development, choosing a great point-of-sale system will get your photography business booming.
(1)
SalesVu
(2021)