(Last Updated On: 02/03/2023)
Written by: Software Expert Hamza Shahid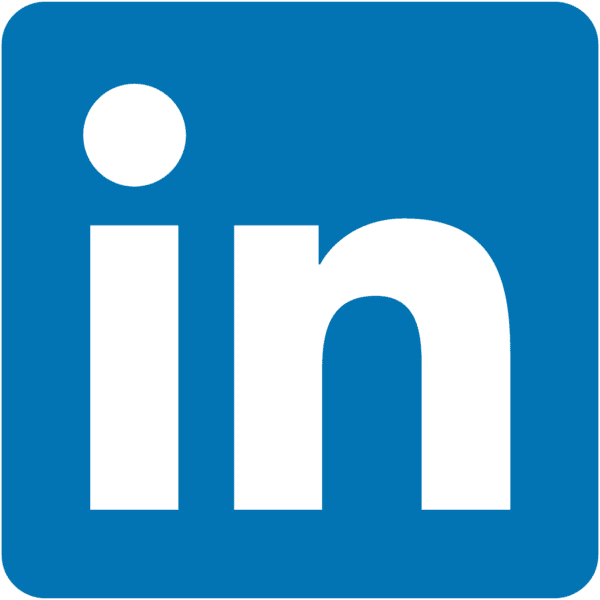 Affiliate Disclaimer: Our product review team dedicates hours of research, fact-checking and testing to recommend the best solutions to business owners. We earn from qualifying purchases through our links, but this does not influence our evaluations. Why trust our reviews?
Keeping track of all purchases is a challenge for every business, but businesses that sell by weight have an added challenge. Inventory planning becomes much more challenging without a way of tracking purchases by weight. You don't want to run out of an item. In order to handle your purchases properly, you need a POS system that can handle scales. There are a number of POS systems that are compatible with scales that also offer the core functionality you need, including customer service, inventory management, reporting and analytics, and even gift cards. Here are the top 5 POS system with scale that we reviewed based on their pricing, features, and tools that will work best for businesses.
You may also be interested in:
Top 5 Butcher Shop POS Systems
10 Best Convenience Store POS Systems
Our  Top Choice
Clover POS System

Clover is considered as one of the best POS systems with weighing scale. It has

Flat rate pricing

Month-to-month contracts

Affordable POS software and hardware

Fingerprint reader

Much More!
Don't have time to review all the products and features? Here's a quick list of our recommended tools and guides.
Top 5 POS Systems with Scale Integration
Clover POS System with Scale
NCR POS System with Scale
Square POS – The Best iPad POS System with Scale
IT Retail POS System with Weighing Scale
National Retail Solutions (NRS) POS System with Weight Scale
Methodology 
To find the best POS system with weighing scale, I have reviewed 5 of the best, considering pricing, features, and user reviews. I have sifted through more than ten POS systems with weight scale to develop this top 5 based on their characteristics, pricing and pros/cons, and users' ratings on various review sites such as Capterra, G2, and Trustpilot. My analysis also included real customer experiences.
I searched for several POS systems with scale integration that accept contactless payments, such as Apple Pay and Google Pay. A user-friendly interface and usability were also very important factors in my selection process.
Clover POS System with Scale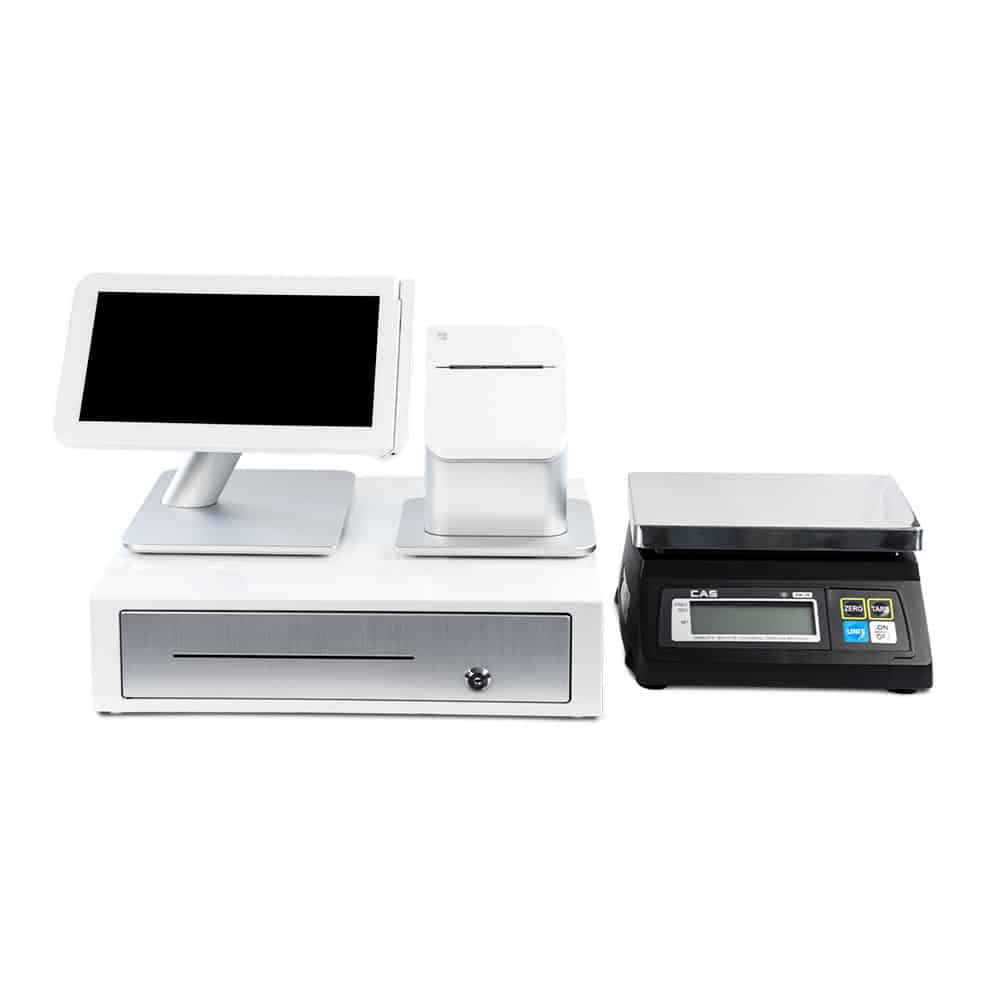 It is a versatile point-of-sale (POS) system that comes with a wide variety of hardware options. With Clover, you can create a customized all-in-one solution tailored to your business because it integrates with more than 300 software applications. Specifically, Clover POS system with scale offers restaurant owners many features like weighing products, online ordering and contactless payments that they need.
As one of the most comprehensive POS systems on the market, Clover POS system with scale is a great choice for businesses in all industries, especially those in e-commerce and restaurants where goods are sold on weight basis.
Clover Hardware
There are four high-quality options for hardware in Clover POS system with scale, which really makes it stand out.
Clover Go:
Using the Clover Go card reader, you can accept payments anywhere. This is especially useful for businesses like retail and restaurants that have staff assisting customers and taking payments at different points throughout the store. With Clover Go, you'll be able to see all transactions, including pending ones and completed ones, as well as additional items relevant to your business, such as discounts or tips. Data and customer information are protected by encryption technology, so your business's information is safe.
Clover Flex:
With Clover Flex, you can accept payments from any location within the store. You can purchase the Clover Flex on its own for a one-time fee or as an add-on to the Clover Station. In addition to tracking sales, the Clover Flex can be used to process refunds and manage inventory.
Clover Mini:
Using the Clover Mini you can manage your staff, run payrolls and keep track of inventory. It can be purchased in full upfront or over three monthly payments.
Clover Station:
Clover Stations are a good choice for businesses that need to sell by weighing products, accept payments, run point-of-sale reports, offer customer loyalty options, and schedule staff. The Clover Station can be purchased or upgraded for a one-time fee to the Station Pro, which comes with additional features such as contactless payments and guest tipping.
Features
You can accept credit cards and online orders through Clover – without having to shop around for separate POS and credit card processing vendors. It has the following features:
Merchant Account

Fast Processing

Reporting

Payments

Customer Management

Gift Cards

E-Commerce

Merchant Cash Advance
Pros
Excellent POS hardware

Expandable via Clover App Market

Available directly or through a large network of ISOs
Cons
Requires monthly software subscription fee

Hardware cannot be reprogrammed

Expensive for most small businesses
Who is Clover POS Best For? 
Clover POS system with scale is best choice for:
Grocery stores

Butcher shops

Fruit shops
Clover POS Pricing
There are three price tiers for Clover POS plans. These are Clover Mini/Mobile/Flex, Clover Station, and CRE/RPE. The plans are as follows:
Clover Mini (Payments Plus)
For small enterprises or those who take their first steps in the field, Cover Mini is a good option to start with. It offers all essential features to run your business and only for $4.95. With Clover Mini, you can perform the following tasks:
Accept all forms of payments

Send and store digital receipts

Capture electronic signature and tips

Enable customer engagement marketing

Set employee permissions and shifts

24/7 US-based phone support
Clover Mobile (Register Lite)
Take your business management to the next level with the inventory functionality and order management option for a price that starts at $9.95. With Register Lite, you'll get all Clover Mini features plus:
Basic inventory management

Basic order management

Personalized setup and training

Expanded access to Clover App Market
Clover Flex (Register)
Enjoy the unlimited features of Clover POS and grow your business for $39.95 only. For any additional devices, you'll be charged $9.95 only. Besides Clover Mini and Clover Mobile features, you'll have the following:
Advanced item management

Advanced order management

Full access to Clover App Market

Connect to a weight scale, kitchen printer, add menu modifiers and table management
 Clover Station
For more advanced features and complete management of all your business aspects, you can opt for this option, which allows highly flexible options including:
Monitor your credit and cash sales in real-time from anywhere

Capture electronic signatures and tips on-screen

Advanced item management (item level variants and costs)

Advanced order management (types, exchanges, and combine)

Set employee permissions

Full access to Clover App Market

Connect to a weight scale, kitchen printer, add menu modifiers, and table management
Clover CRE or RPE (one-time $799 payment)
Monthly payments can be a headache; this option is for those who want to keep the deal going for a lifetime with Clover POS. You can have all that your business requires to boost your business, build your brand recognition with the following features:
Integrated signature capture EMV pin pad

Employee schedules and permissions

Advanced Inventory Management

On-house customer accounts and built-in loyalty

Connect to weight scales, kitchen printer, add menu modifiers, and table management

Personalized setup and training

Click here to get started with Clover POS!
2. NCR POS System with Scale
The NCR POS system with scale solution can be used to enter orders, make payments, streamline food preparation and delivery, and improve operations.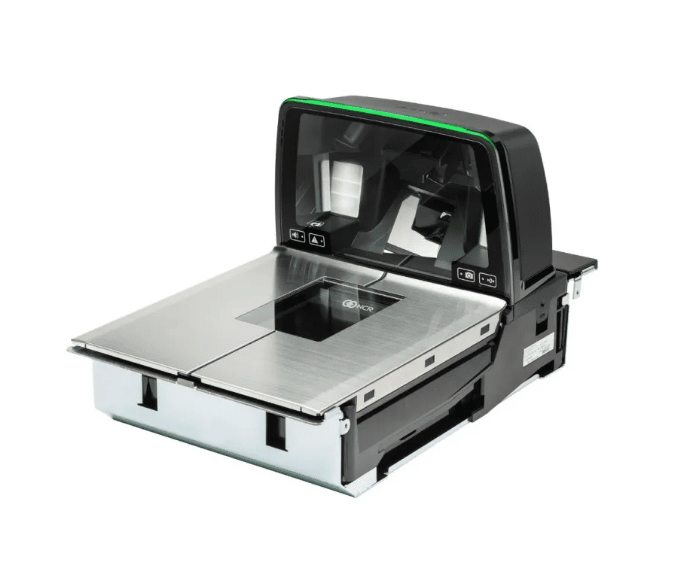 It can be used on fixed POS terminals, built-for-purpose handheld devices, and consumer mobile devices. Moreover, it is ideal for quick service, fast casual, casual dining, and fine dining restaurants.
Features
Increase Table Turns

Better guest experience

NCR POS system with scale offer full control over KPIs

Reduced down time

Less training cost

Easy to use
Pros
Retail hardened reliability

5+ year average time to first service contact

Proven track record

Low power, no fans

Retailed optimized connectivity

Total Cost of Ownership over 5 to 7 years

7–10-year Life span
Cons
Pricing 

Multiyear contracts

Limited Integrations
Why choose NCR POS?
NCR POS System with scale is best for Restaurants looking for user-friendly software and ready for a multi-year contract.
NCR POS Pricing
Software: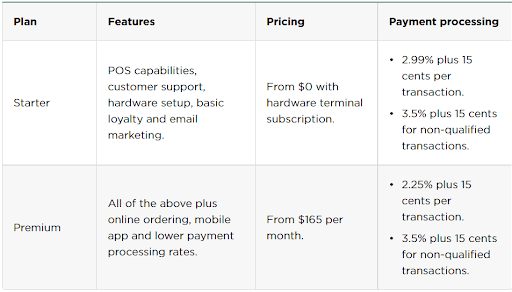 Optional add-ons for both plans include kitchen production, advanced reporting, inventory and labor scheduling.
Hardware:
Currently, NCR Silver Pro offers two hardware bundles for in-person transactions. All NCR hardware is offered through a monthly subscription model.
Table Service Hardware Bundle
NCR POS terminal with 15-inch display, contactless card reader, cash drawer, and receipt printer.
Fast Casual and Quick Service Hardware Bundle
A 15-inch POS terminal with a customer-facing display, cash drawer, receipt printer, and card reader that accepts chipped cards and contactless payments.

3. Square POS: The Best iPad POS System with Scale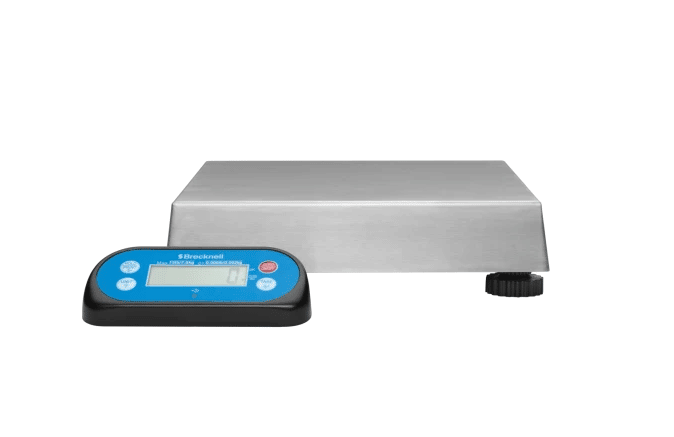 An iPad POS system with scale integration, Square POS can be used with iOS and Android devices and Square's hardware. The software allows users to manage customers, transactions, inventory, invoicing, and payments, as well as customer loyalty, marketing, employees, and payroll. With Square's magstripe, chip, and contactless card readers, you can accept payments via credit cards, Google Pay, and Apple Pay. The Square Virtual Terminal allows merchants to collect payments from a computer by keying in card details, thus removing the need for a card reader.
Features
Square is a popular choice for small and newly-established businesses, including those that only accept non-cash payments occasionally. It is considered as one of the best options for an  iPad POS system with scale. From a mobile-only payments processing solution, Square has evolved into a full-featured payments ecosystem with the following major features:
Dedicated Solutions for many businesses

Easy Application Process

Simple Setup and Processing

Point-of-Sale Software

Free Online Storefront

Chargeback Protection

Referral Program

Small Business Financing
Pros
No monthly fees

Predictable flat-rate pricing

Ideal for low-volume merchants

All-in-one payments system

iPad POS system
Cons
Does not accept most high-risk industries

 

There are some features that are more expensive for mid-sized businesses

3.5% + 15¢ charge for keyed-in transactions

Plans differ in terms of support
Why Choose Square?
A popular e-commerce platform, Square is best for:
Small and medium-sized businesses

E-commerce businesses

Startup companies

Restaurants and bars

Health and fitness

Beauty professionals

Home and repair

Other professional services
Square Pricing:
The Square POS system is free to install, but it charges a percentage per transaction, usually 2.6% + 10 for swipes or taps, or 3.5% + 15 for keyed-in card numbers. For growing businesses, it offers a sleek and smart payment solution.
There is an additional charge for Square hardware. In order to get started, you can get a free iPad-compatible card reader. For a contactless, chip, or Apple Pay card reader, you'll need to pay $49 – plus additional costs for stands and Square registers.
Hardware Cost
| | | | |
| --- | --- | --- | --- |
| Square Reader for Magstripe Chip | Square Reader for Contactless and other chips | Square Stand with Chip Reader | Square POS |
| Free | $49 | $199 | $1000 |
Software Cost
| | | | |
| --- | --- | --- | --- |
| Square Reader App | Square Reader for Retail | Square Stand with Chip Reader | Square POS |
| Transaction fee is 2.75% per swipe or tap. | $60 plus 2.75% per swipe or tap. | Transaction fee is 2.75% per swipe or tap. | A transaction fee is 2.6%+10 ¢ per swipe or tap. |

Get started here with Square POS now!
4. IT Retail POS System with Weighing Scale
IT Retail is a cloud-based point of sale (POS) solution designed for grocery stores and retailers owned by independents. It allows users to manage inventory, customers, and mobile devices.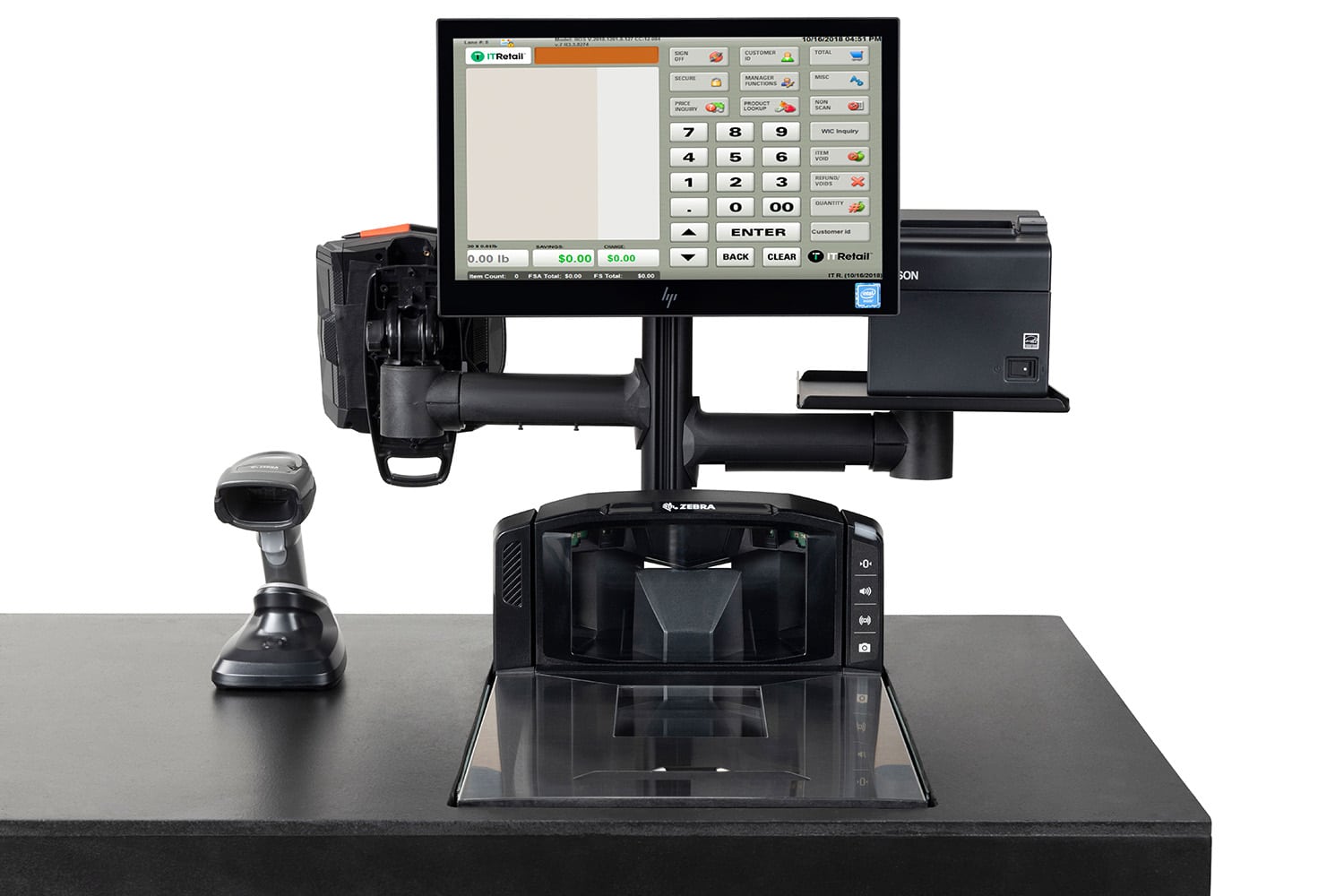 It offers scanner-and-scale integration as well as weighted-item tracking features. Users can run reports tracking metrics such as popular purchases, product performance, and employee behavior. The solution also offers employee management features such as a staff time clock and performance reviews. It supports Apple Pay, EBT, and gift cards.
Features
Barcode / Ticket Scanning

Customer Accounts

Discount Management

eCommerce Management

Electronic Signature

Employee Management

Gift Card Management

Grocery POS

Inventory Management

Lottery Management

Loyalty Program

Multi-Location

Multi-Store

Price / Margin Management

Retail Management
Pros 
Can continue processing transactions with intermittent internet connection

Inventory includes low-stock alerts and breakdowns by bottles or cases

Scale integration with optional onsite installation

Theft monitoring and age verification tools

Industry-grade and flexible hardware options
Cons
Steep learning curve

No email marketing

Undisclosed pricing for hardware and payment processing

No liquor industry specific ecommerce integrations

Reports of software glitches, downtime, and general system functionality issues
Why Choose IT Retail?
IT Retail is the best POS system with scale for:
Grocery Stores 

Organic Grocery Stores 

Natural Food Stores 

Fish Markets 

Butchers Corner 

Markets & Convenience Stores
IT Retail Pricing
Using IT Retail, you can subscribe to the software for $79 per month, and pay for on-site installation, product import, geo-replicated data backups, and payment processing evaluations. You can also pay for customized software, hardware, and payment processing quotes. Hardware is available separately.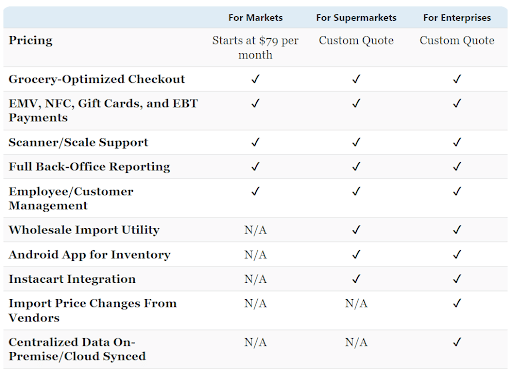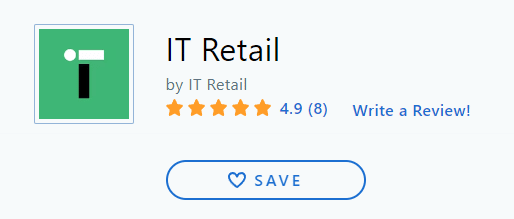 5. National Retail Solutions (NRS) POS System with Weight Scale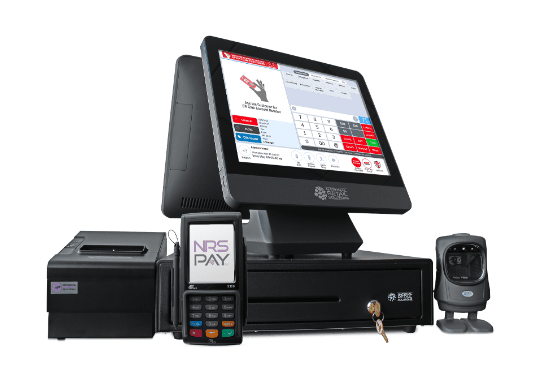 National Retail Solutions (NRS) might be a reasonable choice if you're looking for a POS system with a scale that will help run your retail business. To determine if National Retail Solutions' POS system suits your business needs, let's take a closer look at its features and benefits.
NRS POS is a powerful point of sale register that features sleek dual merchant/customer screens. With software for your POS system, merchants can sell more, track their data, and attract new customers with a user-friendly interface and powerful store management tools.
With the NRS POS, you can also process credit cards through a third-party service. As well they offer a key-fob loyalty program (similar to those provided by larger chain stores) with discounts on household items that are common and frequently purchased. The training website, campnrs.com, offers 24/7 customer support and videos showing how to use their POS.
Features
There are many features included in NRS, but here are some of the most notable ones.
Inventory management

Customer tracking

Sales reporting

Easy to use interface

Pricebook Management

Ecommerce

Employee Time Clock

Vendor Management

Integrated Scales
Pros:
Loyalty

Phone & Chat Support (7 days a week)

Pro Tools Available

Security Camera Integration

Run Your Customer-Facing Ads
Cons:
Steep learning curve

No email marketing
Why Choose National Retail Solution (NRS) POS?
National Retail Solutions is a popular choice for convenience stores with gas pump-integrated POS systems. NRS is also well-suited for grocery, tobacco, liquor, and hardware stores.
National Retail Solutions POS Pricing?
We like that the pricing is advertised on the NRS website and is straightforward. Pricing starts at $19.95 per month for basic features, and prices increase when you upgrade to Pro and Advanced features. Monthly fees increase if you don't use NRS Pay merchant services.
The company offers a complete all-in-one solution for all your hardware needs. Credit card processing rates are fully disclosed on the website, which we like to see. A demo meeting can be scheduled before making a purchase if you like.

Buyer's Guide
The investment in a top-of-the-line POS system with scale is a no-brainer since it streamlines and maximizes efficiency. In a business such as a grocery store or restaurant that sells products based on weight, any margin of error will have a significant impact on your bottom line over time.
Keeping track of individual purchases can be a nightmare when working with a manual system. Here are some tips on using a POS system with weight scales as we explore their ins and outs.
What are POS Scales?
In POS systems, you can connect your specific weighing device to the scale through a connection port. POS system with weighing scales come with a connection port that allows you to interface with the system using your particular device.
With a digital POS system with scale integration, you can accurately price your products and keep track of your inventory as you sell them. This allows you to price your products accurately.
Which Types of Businesses Benefit from a POS System with Scales?
Grocery Stores
A POS scale can accurately price and sell weighted products if you own a grocery store. A variety of items can be weighed on a scale, including produce, nuts, coffee beans, candy, herbs, and salad bar items.
You can even print labels with barcodes for the different things that you weigh if your POS scale is appropriately integrated with your other hardware products, such as your printer.
Restaurants and Cafes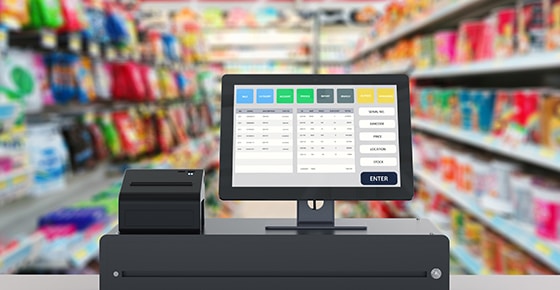 For accurate sales, delis often use top-notch scales. There is a high demand for POS scales within the modern deli industry. A POS scale can be used by deli owners to keep track of their products and to sell meats accurately.
To track a product with a POS scale, weighing the product and creating a key code for that specific time is necessary. The point of sale system keeps track of the necessary code and prints a barcode for identification.
Seafood Markets
The seafood market owners, like delis and supermarkets, use POS scales to keep track of their stock since many natural seafood products are sold based on weight. Fresh and frozen seafood product information can be tracked with a high-quality POS scale.
Health Food Stores
Like supermarkets, health food stores often use point-of-sale scales to sell supplements based on their weight, just like supermarkets do. It is essential to sell health food items accurately with a scale if you want to sell them accurately in health food stores.
Convenience Stores
Convenience store businesses require point-of-sale systems to stay competitive. When you are running a convenience store, you often deal with people who are in a hurry. That's why you should invest in a cash register scale system that allows you to accurately weigh and process your customers' purchases as quickly as possible.
Frozen Yogurt Store
It's been a while since we've been to a frozen yogurt store that didn't sell its yogurt by weight. Since yogurt shops are self-service businesses, POS scales are mandatory these days.
Salad Bar
Salad bars often use point of sale scales to determine transaction amounts, similar to delis that prepare meats. Customers usually start by filling up a box or container with desired ingredients. The point of sale system will determine its price based on the item's weight.
What to Look for When Choosing a POS System with Scale Integration
There are a few considerations to remember when selecting the correct POS scale for your business, similar to other types of components. A point-of-sale scale should be used for whatever you want, such as weighing bulk items at your grocery store or scanning items at your convenience store. If you are looking for a POS scale for your business, here are some of the top things you need to consider.
How to Choose the Right POS System with Scale Integration for Your Business
You can make a smart choice for your business if you consider these points when choosing a new POS system with scale.
The POS scale is used in a wide variety of businesses that charge by weight, including supermarkets, self-service restaurants, buffets, butcher shops, candy shops, health food stores with bulk bins, and cannabis dispensaries. Using scales, customers can accurately determine the price of their purchases, whether they are pounds of cold cuts or cups of frozen yogurt.
In addition to helping you to track inventory at your store or restaurant, scales ensure you are not overcharging or undercharging customers. It is impossible to run a business that charges based on weight without a properly calibrated scale, so choose the one that suits your needs best.
To help you make a smart choice for your business, consider the following points when shopping for a new point of sale scale.
Application
Do you need a scale? Before purchasing POS scales, determine how you will use them and what you plan to weigh. Do you need to weigh fresh produce, bulk candy, meat, or mail and packages in a supermarket? Are you weighing heavy or light items? Use your starting point to determine the things you need to weigh.
Accuracy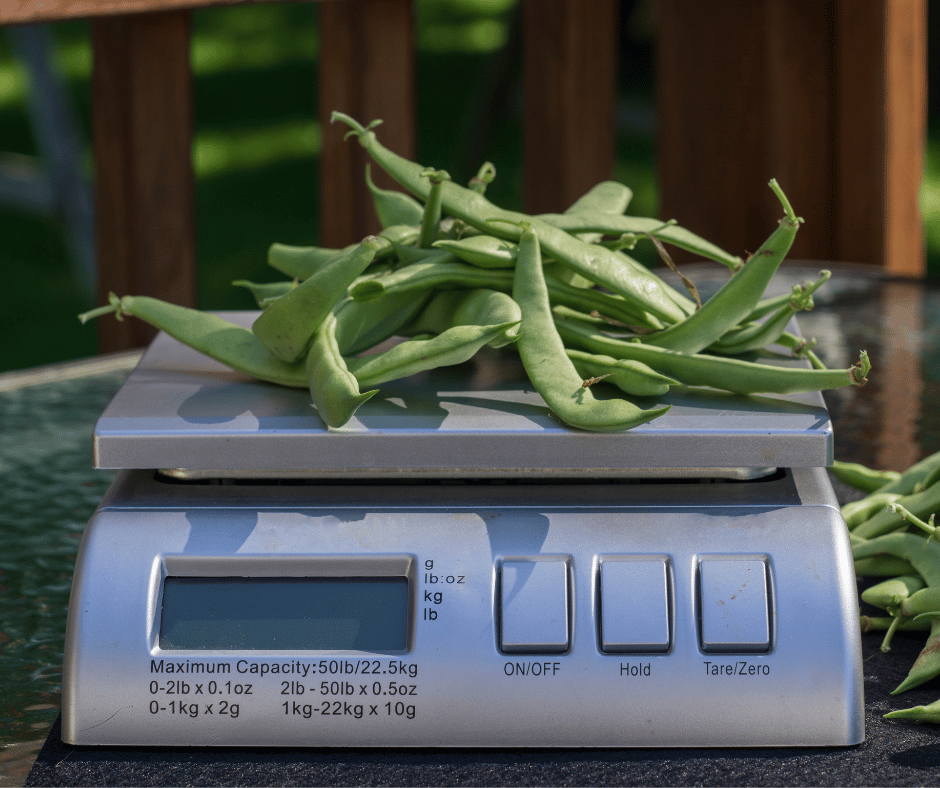 If the measurements need to be accurate, what is the most critical factor? The scale's accuracy ensures that customers receive the exact amount of product they are paying for. It ensures that retailers receive the correct payment as well. There are agencies and departments in every state that regulate and inspect scales for accuracy. Some states require a yearly inspection, while others require a less frequent review.
Capacity
What is the most significant possible load you need the scales to handle? Would anyone buy 500 pounds of candy at your candy store or supermarket? It seems unlikely, so if you sell sweets, you will want a scale with a smaller capacity.
In contrast, a scale with higher power would be better for butchers who weigh large amounts of meat or UPS shipping stores.
Environment 
What will you be using the scale for? If it is used to weigh food products in high volumes, choose a scale that's durable and easy to clean. Make sure the point-of-sale scales are suitable for the environment in which they will be used. Is there an extreme temperature variation? The scale's accuracy may be compromised by disruptive vibrations, interference from other electronics, or even air currents. Choose a scale that meets the requirements of the environment.
Calibration and installation
POS scales should not be moved around after they've been installed, so you need to choose the location carefully. To maintain accuracy and comply with local weights and measures laws, scales used daily will need frequent calibration. Connect the scale to your POS system so it can be set up and calibrated correctly.
An accurate scale is essential for business owners who sell items by weight. Consider your needs, how accurate the scale needs to be, how often it should be calibrated, and where it will be installed when shopping for a new scale for your restaurant or store. Understanding your Business' POS scale requirements and the options available will enable you to offer excellent customer service and manage inventory down to the ounce.
Types of POS Scales
POS scales come in three main types: price computing, weight-only, and scanner/scale combos (scanner scales). Point-of-sale scales are typically chosen according to your budget, as well as your business requirements.
Price Computing POS Scale
It is ideal for POS integration or as a standalone piece of hardware. These types of scales are wonderfully complex. Price computing scales can be integrated into POS databases, allowing for easy calculation of prices and tracking of items as they are sold.
We recommend price computing POS scales for those with high-end point-of-sale systems because they can be a bit more expensive than other products in this category. A POS scale can cost as little as $400 or as much as $1,000.
Weight-Only POS Scale
Compared to the different hardware options on this list, weight-only POS scales are the cheapest. They are simply electronic scales that are designed to weigh items. You can use them to consider products, but you still have to transfer the weight and cost to a third-party device. Unlike peripheral-based scales, these hardware devices do not integrate into POS systems. Choosing a weight-only scale might be the best option if you don't need many features and don't run a high-capacity storefront.
For one of these scales, you typically pay between $400 and $600, making this POS scale an excellent option for businesses with multiple stores.
Scanner Scale Combination
Are you looking for some fancy scanners to go with your scales?
A scanner-scale combo hardware device is similar to a barcode scanner and a QC scanner combined.
A scanner-scale combo at your store is essential if you use self-service POS applications or cashier-less checkouts. Laser scanners are used in these hardware devices to read barcodes.
These are usually found in mid-range to high-end grocery stores or next to checkout stations. One of the most expensive POS options today is the scanner-scale combo, which is the most complex of the three. In that regard, the scanner and scale combination will provide the most accurate results if you sell any items sold by weight.
The Bottom Line
As you have researched selecting the right POS system with scale, you should be able to make some headway.
You can't go wrong with these systems, but taking care of your most pressing retail needs is essential. Make a list of the most important things you're looking for in a POS system with scale integration, and don't be afraid to be specific. Once you compare your list with what these POS systems with scale offer, you might know what you're looking for.
Check out Clover POS for the overall best POS system with scale! 
Frequently Asked Questions
What is the most accessible iPad POS system to use?
We evaluated all the POS systems for the iPad and found the Square POS to be the easiest to use. Once you have set up your account, adding inventory takes only a few minutes. Support solutions don't need to be numerous because it's so simple.
How to capture weighted products in your POS System?
Use of Barcodes With Weights

Link the Scale to the POS System

Capture the Quantity Manually
Can you connect a cash drawer to an iPad?
Many iPad POS systems provide hardware for your business. These include cash drawers and card readers.
Does Apple make a POS system?
Apple does not make POS systems. In its retail stores, it uses EasyPay, but it is only for employees.
What are the different types of POS systems?
There are full-service terminals, mobile POS systems, and cloud-based and web-based POS systems. They're typically used by large retailers and restaurants with multiple locations. Mobile POS systems are less expensive than full-service terminals, and they're often used by smaller retailers or food service operations like food trucks.
When reading the weight from the scale, how long does it take?
To accept the weight already read by the software, the cashier simply needs to activate the menu button on the scale after placing the product on it.
Do my POS Scale and POS System communicate?
Data from the scale is captured by the POS system software, and the unit cost is used to calculate the total product price.
When a product is placed on the scale, can my customer see how much it weighs?
In addition to the "Zero" button, the cashier will be able to easily zero out the scale by pressing a red light on the display. The weight will also display on the customer display.
When should a POS scale be calibrated?
Most scales require calibration every 12 to 18 months. A certified scale service agent will charge approximately $85 to $150 per visit.