(Last Updated On: 02/14/2023)
Written by: Software Expert Hamza Shahid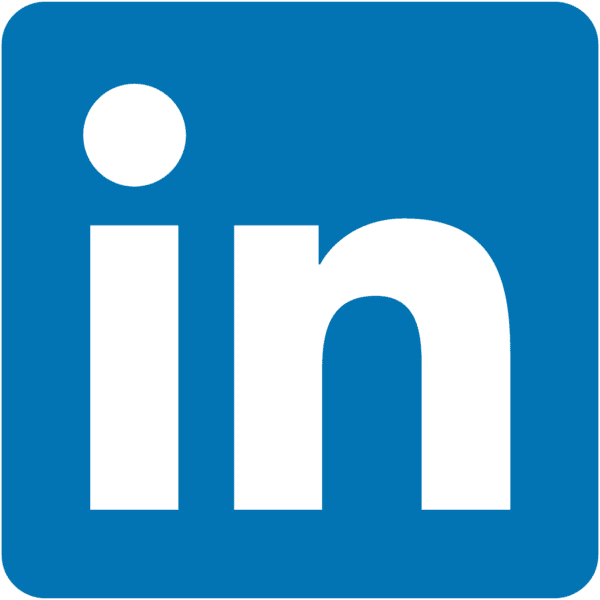 Affiliate Disclaimer: Our product review team dedicates hours of research, fact-checking and testing to recommend the best solutions to business owners. We earn from qualifying purchases through our links, but this does not influence our evaluations. Why trust our reviews?
The best POS system for convenience store owners will satisfy your inventory and regulatory needs. 
For instance, most convenience stores have very limited shelf space and therefore must decide which products to stock and which products to rotate out. Non-selling items and slow-moving items contribute to high overhead, which forces the store owner to price selling items at uncompetitive rates.
If you own a convenience store, you know that tracking, organizing, and pricing inventory is a very unique requirement. We'll cover the best POS systems for convenience stores and the factors to consider when choosing a POS system for your store in this article.
You  may also be interested in:
5 Best Liquor Store POS Systems
The 6 Best Touchscreen Cash Registers to Buy
8 Best POS System Options for Retail Business Owners
Our Experts' Choice
Revel POS System

The best POS system for convenience store is Revel POS. Revel offers:

Hardware Based Pricing

Quick Serve Mode

Always on Mode

Hotkey Functionality 

Inventory in Real Time and Much More!
Don't have time to read this review? Skip ahead to: 
Finding the Best POS System for Convenience Store – Overview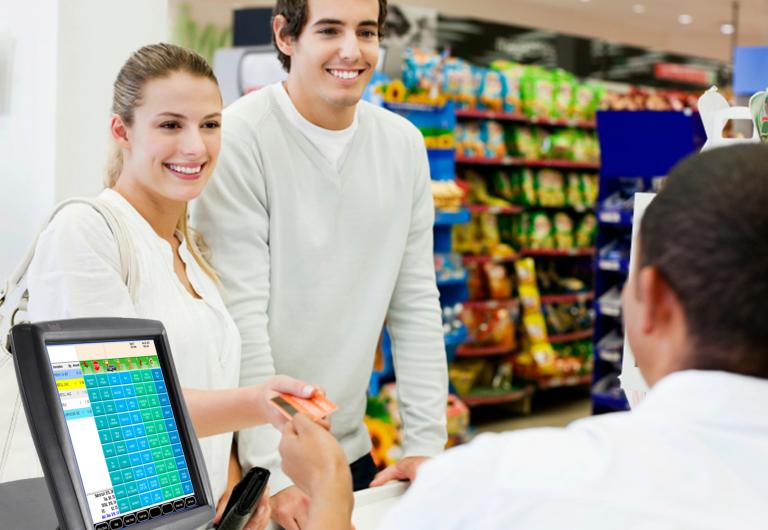 Running a convenience store requires you to be dedicated to its core activities and pay close attention to its margins. You should also develop a business plan, which will guide your budget and help you avoid blind spots. This document will also be required if you wish to acquire bank financing. Running a convenience store is not an easy task, but it is not impossible if you know the right steps to take.
First, you must have an idea of who your target customers are. Generally, convenience store customers are local residents who will be returning to your store regularly. This will make your business data consistent and less volatile than that of restaurants or other types of businesses. Furthermore, the cost of starting a convenience store is less than that of starting a restaurant.
Secondly, you need to invest in equipment. This may require spending between $20 and $30K. Some of the important items that you should invest in include beverage dispensers, hot food holders, microwaves, and so on. Also, make sure you have the right permits, particularly if you plan to sell alcohol and tobacco products. These costs can reach around $2,500 each. Lastly, you will need to hire people to run your convenience store.
Convenience stores are very profitable businesses. The average gross profit margin for convenience stores is $450,000, which is a good rate of return. Furthermore, a successful convenience store will give you the opportunity to expand to more than one location. This will boost your profits further.
Every c-store owner knows that the dilemma between offering a variety of products and staying competitive is not an easy one. Sure in a perfect world, you would want your convenience store to offer all essential products. However, the reality is that in that case, at least 50% of the products would not sell for countless months.
Convenience store POS systems help store owners manage inventory efficiently (by displaying hot selling and slow-moving items), comply with liquor and tobacco laws  as well as simplify employee management and accounting.   
According to NACS State of the Industry data, United States convenience and fuel retailing industry grossed $251.9 billion in 2019. Therefore, running a convenience store offers tremendous profit potential for store owners who adopt the right POS system.
Before choosing a c-store POS system, consider the features the software provides. In order to assess your convenience store's sales, you'll need real-time tracking. Prevent employee theft with a cash monitoring module. Tracking employee payroll, scale integration (if you sell items by weight), and inventory scanning or monitoring are just a few to consider. Finally, look for a software with an accounting integration if you process lots of transactions.
Based on our research, Revel POS is the best convenience store POS system for large store owners. It can easily handle large multi-location businesses. While small convenience stores may choose Square POS. If you are interested to learn about other top convenience store POS software, let's review those and how we chose them.
Based on our evaluation, the best convenience store POS systems for various small businesses are:
| | | |
| --- | --- | --- |
| POS System | Best Feature | Pricing |
| Revel POS | Overall Best | Vendor Based Quote |
| Lightspeed POS | Less complicated backend process | Vendor Based Quote |
| IT Retail POS | Loss prevention features  | $89 a month |
| POS Nation | Customizable, printable bar-codes and labels  | $119 a month |
| AccuPOS | Highly Customizable  | $29 a month |
| Cash Register Express (CRE) | No monthly payments | $649-$849 one-time payment |
| Square for Retail | Comprehensive inventory features  | $60/month |
| Clover POS | The ability to take a variety of payment methods  | $39/month |
| NCR POS | Detailed inventory tracking and real time insights | Quote Based |
| KORONA POS | Best for Corner Stores without Fuel Pumps | Quote Based |
There are many POS systems for convenience out there, but it's hard to know which one will be the best fit for your business, whether you're looking for your first one or upgrading. During our review, we considered factors such as affordability, ease of use, and overall functionality. We also sought out cloud-based POS systems that are easy to set up. We compiled our top picks for small to mid-sized businesses POS systems below.
How We Evaluated
Our priority was to select POS systems that were easy to use, reliable, and affordable. In addition, we considered inventory management tools, online stores and multichannel selling tools, employee management, payment processing, accounting and reporting tools, customer support hours, and integrations with third parties.
The market is flooded with several convenience store POS systems, and choosing the right one can be a challenge. In order to determine the best POS for convenience stores, I reviewed several products on Capterra, G2, and Trustpilot based on their features, pricing, and pros and cons. Let's dive right into the convivence store POS system reviews.
Revel POS – Ultimate Convenience Store POS System
The Revel Systems POS is a high-performing, dynamic, and mobile-ready point-of-sale software designed to simplify front-end and back-end operations for restaurant owners and managers.
In addition to allowing event hosts and restaurant and bar employees to manage orders and sales using mobile devices, the software enables them to move between the venues conveniently and freely while taking orders from guests, customers, or participants and handling sales transactions.
Small to medium-sized businesses and restaurants can use Revel Systems as a cloud-based business solution to integrate operations, customer channels, and POS functionality. POS modules are integrated with inventory, social media and customer management, and users have real-time access to inventory, customer insights, and sales data as well as reporting and analytics.
In order to provide customers with a hassle-free and great restaurant and bar experience, Revel Systems POS provides them with ways to check out on their own, eliminating the need for them to wait in long lines at restaurants and bars. Besides integration capabilities, Revel Systems POS is also compatible with existing front-end and back-end tools, allowing users to create a fully integrated restaurant and bar ecosystem.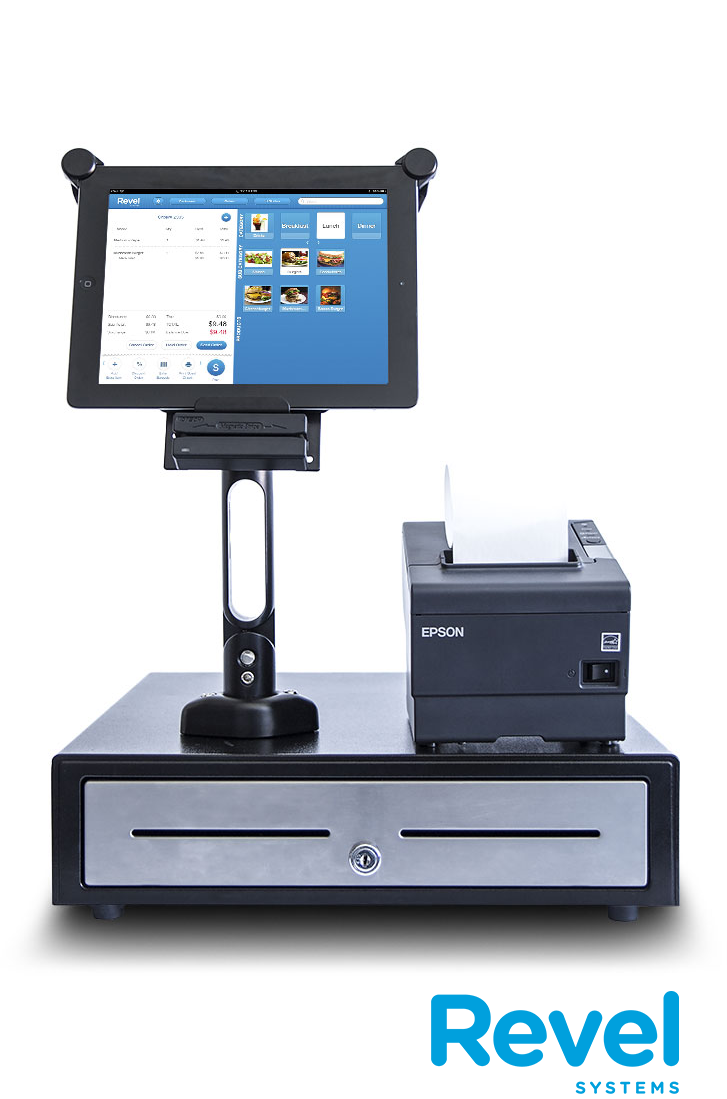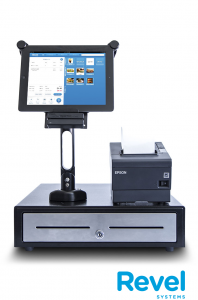 Users can access reports on any device via a browser, and it integrates with in-house services and third-parties to fit their needs. The application runs on iPads and can be accessed on any device.
Salient Features
POS Software Types
Revel Systems offer two types of operation platforms; Hybrid and Always On. Hybrid: With Hybrid, Revel POS runs locally on an Apple iPad while syncing your data to their cloud service.
Always On Mode
This mode allows your Point of Sale software to function even when you have slow or lost internet connection. Even though your system continues working without a connection, you can't get credit card payment authorization.
Quick Serve Background 
The Revel system and their add-on products are designed for working with quick service and restaurant business models. However, they've recently expanded their software platform to include grocery and convenience stores, retail businesses, and mobile businesses. Currently, Revel's software platform fits most types of sales based businesses.
C-Store Software: Size Does Matter
Revel's C-Store software was built with national convenience stores in mind such as 7Eleven, Wawa and others. The Revel Point of Sale system handles multi-terminal operations. Additionally, the Revel software can easily handle large multi-location businesses and hold an inventory of 500,000 SKUs.
Revel's windows based convenience store POS can work for smaller and mid-size businesses, as well. Based on customer reviews, the software is a highly customized system. Furthermore, it takes a long time and effort to set up the system.  Most small convenience stores and gas stations would find it's not worth their time.
Some smaller companies might not use the more advanced features with the Revel System package. Therefore, we recommend diligent research and thought before committing.
Using the Software
After setup, the revel POS software has an intuitive menu that's easy to use and navigate. While back-end operations carry more of a learning curve, there are training videos to help through the process. Front end user operations require employees logging in with pin numbers before using their permissions and user settings. The product matrix and descriptions display through touchscreen functionality on one side of the screen, while displaying order totals on the other side.
Discounts & Payment Options
Easily add additional discount and payment options and product modifications and quantities to the system. Revel POS also has the versatility of kiosks for customer-facing displays. Back-end user operations give technical support and easy operational navigation such as employee and inventory management.
But, there's a learning curve before you can enjoy the back-end with ease. Learning the basic and advanced functions of the system takes a lot of training. It also takes much longer than a day to set up. Once you get the software up and running, basic functions are relatively easy to use. And navigate with simple data export, item addition and modification, and employee permissions accessed directly from the dashboard.
Hotkey Functionality
Revel operates with hotkey functions that are easy to use by tapping on a menu category for a drop-down list of items.  The easy to use item editing screen lets cashiers add quantities, enter special requests, add to-go orders and delivery orders, remove or repeat items, and enter discounts. Additional cashier items include payment void, split billing, print, reprint, email receipts, and reward card options.
Inventory in Real-Time
Inventory is simple with Revel's easy inventory management. It only needs the item and the price but has SKU and cost capabilities, as well. Additionally, Revel has inventory items mass entry. This is done through a style matrix for similar items with different styles, colors, or sizes.
For your benefit, the inventory page displays low item stock listed in red. The system is versatile enough for entering bar-codes for scanner use and manual addition of discounts, surcharges, and service fees or automatic addition capability. Manage incoming stock items and partial order notations when only receiving partial orders, then order finalization once all order items arrive.
Integrating with QuickBooks
The QuickBooks integration module in Revel has automatic data transferring from the POS to QuickBooks. This helps with syncing sales, purchase orders, and inventory for streamlined bookkeeping.
With daily transfers of sales information into QuickBooks, total sales, refunds, and discounts, users have access at any time. QuickBooks integration can transfer inventory adjustments, purchase orders, payroll, and employee schedules. You can find cash management applications in the manager's settings tab. These include time management, items sold, total cash receipts for the day, and printable reports.
Employee & Customer Management
The Revel System tracks customer information like name, email address, phone number, street address, and customer purchase history. Users can export any collected information for use in cross-selling items and marketing campaigns.
Revel System stores secure and unique pin number activated login ids or swipe cards. These track employee work time, performance, and any activity in the system. Get printable employee reports based on criteria like productivity and sales volume, discounts given, and voided transactions.
Reporting Suite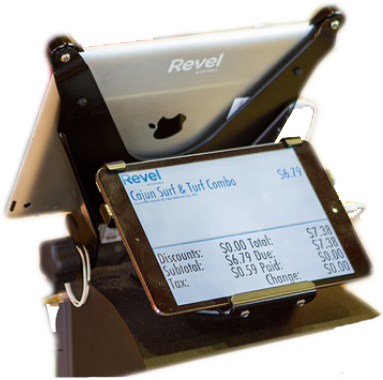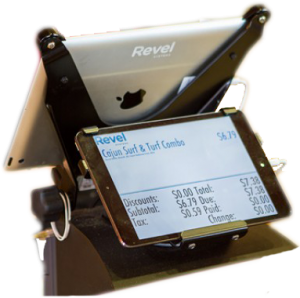 Features such as extensive reports that are easy to read and include, transactions detail, sales summary, and gift card information. Additional functions include credit transaction totals, void totals, items exchanged or refunded, and labor to sales percentage. PCI-DSS compliant network, software, and hardware with encrypted card information that's never stored. Revel is SAS 70 Type II certified and has PCI compliant data centers.
Customer Support
Revel has a variety of customer support options available 24/7, including telephone, email, web support, remote support, online support, and social media. Besides these support methods, Revel has a comprehensive video knowledge and tutorial base. Revel POS system cost is one of the only drawbacks of the system.
Pros
Track Inventories Down To the Ingredient Level

Implement a Self-Service Checkout Process To Give Your Customers Hassle-Free Restaurant And Bar Experiences

Allow Staff to Perform Their Tasks From Their Mobile Devices

Conduct Customer Profiling and Deliver Personalized Experiences To Your Customers

Reward Active and Loyal Customers

Easily Handle the People Within Your Business
Cons
According to 70% of users who commented on the cost, the pricing is expensive.

60% of users who reviewed this feature said reports are not exhaustive.

Doesn't support Apple devices. 

Offers quote-based subscriptions.
Why Choose Revel POS for Convenience Store?
Revel POS System was built by entrepreneurs who focused on the three top requirements of small businesses– Speed, Efficiency, and Security. Revel POS System integrates with any retail business. High-speed order processing allows for faster order processing and high-volume sales.
The Omni channel platform of the Revel System connects all points in your business from the store, to the warehouse, to a mobile, and finally an e-commerce site. Their integrated e-commerce system lets you sell in-store and online with ease.

Hardware Required For Convenience Store POS
Revel POS only works best with Apple devices such as Apple iOS, iPad Pro, iPad Air, iPad Air 2. The C-Store POS System has hardware bundles available and works with all standard barcode scanners. You have the option to purchase hardware from other vendors. However, you should check Revel's list of pre configured hardware beforehand to ensure you're getting hardware that is compatible.
Revel POS Pricing
For small businesses, Revel has started offering lower-cost packages. The basic costs are as follows, but you may contact Revel for a customized quote.
With POS software, you can manage inventories, employees, and customers, as well as run detailed reports and analytics. Prices start at $99 for one terminal and include inventory management, employee management, and customer management.

According to Revel's website, its payment processing rates are flat-fees, but the amount of the fee is not disclosed.

In order to help you set up your new POS system, Revel POS offers onboarding services. They start at $674 and include management console training, menu consultation, hardware installation, and payments setup. This service is optional, but highly recommended.
Hardware-Based Pricing
The Revel system offers software packages that are industry-specific. This can be done on a monthly subscription basis, which includes a software license.
Revel has flexible pricing, broken down by each terminal, depending on the industry. The RaaS pricing plan, or Revel as a Service, includes little costs upfront. Customers using RaaS have a monthly fee that includes hosting and defective hardware replacement at no extra cost. All Revel subscription plans include live 24/7 support, unlimited security and data storage, all software updates, and QuickBooks.
LightSpeed
– EMV POS System for Convenience Store
In LightSpeed Retail, you can access your point of sale system at any time, anywhere. It is a POS system that is ideal for retailers of all types and enables you to handle the points of sale needs of both small single-store businesses and large multi-store corporations. It is designed to help businesses automate and streamline their daily operations. There are many features built into LightSpeed Retail, including timesheets, quotes, orders, and invoicing, robust reporting capabilities, and inventory management options.
LightSpeed Onsite POS allows you to switch between management and sales in a seamless manner. In terms of hardware, LightSpeed Retail works on Mac and iOS devices. If you need additional hardware for your business, you can get it from the vendor. If you need cash drawers, receipt printers, and barcode scanners, the vendor will be able to supply them to you. The goal of our LightSpeed Retail reviews is to help you determine if the software fits your needs by evaluating its benefits, pricing, and technical specs.
LightSpeed has a long list of features that do more than process sales. Their features provide tools for business growth and less complicated back-end processes. The LightSpeed reviews are raving, the reason we decided on second place was simply due to the complexity of the system.
Salient Features
A great plus for convenience store owners is that you're not locked into using LightSpeed's hardware and you can save money by using an existing setup. This convenience store POS software allows the store owner to manage inventory, gather customer information, manage employees, and generate reports. Other great features include:
Processing Credit Cards
LightSpeed has its own processor which eliminates searching for and applying for a credit card. Once again, you're not locked into using LightSpeed's processing and can use any merchant you choose. Further, LightSpeed gives custom processing rate quotes and guarantees they are the lowest available.
Easy and Quick Checkout
LightSpeed makes processing transactions quick and easy. The cashier module lets you tap the product picture, scan the bar-code, or search for the product. LightSpeed includes other time savers like preset item modifiers, custom layouts, color coding, and automatic discounts.
Inventory Management
A top issue for a retailer is inventory management. LightSpeed has a powerful, iPad POS inventory management tool with added features. You get a custom layout that's intuitive for easy adding, editing, and removing inventory.
There's no manual product updates and adjustments with the uploading and editing product information through spreadsheets. Low inventory alerts let you know when product amounts get below a certain level and the software allows for automatic supplier reorders.
Customer Management
Boost sales and nurture existing customer relationships with automatic customer information data. This feature captures data from every sale which is necessary for mail campaigns. Reporting for customer loyalty includes data showing the amount spent, purchasing trends, and top customer identification.
Employee Performance
Measure employee performance directly from the LightSpeed POS system. LightSpeed has a time clock built-in that allows you to track hours, for easy shift and payroll management. Track employee performance like top sales and daily transactions.
Reporting
LightSpeed includes analytic tools that give you sales data analysis in real-time for making the best business decisions. Get specific detailed sales reports for a chosen day and time of sales or product-specific sales, sales summaries and daily comparisons, and top-selling items and items that have the biggest profit margin.
Working Offline
When internet outages happen, keep running your business offline. LightSpeed's offline mode keeps you going, unlike most cloud-based systems. The offline mode lets you save transactions locally then upload once you reconnect to the internet.
Integrations
LightSpeed connects to several third-party apps, with QuickBooks and Mailchimp being the most common for retail use. Send daily sales information to QuickBooks or sync new and updated information with Mailchimp for automatic changes in email marketing campaigns.
Customer Support
With one of the best customer support packages on the market, LightSpeed has it all with live support and a massive knowledge base, all included in their monthly subscription price, and available 24/7.
Pros
Granular matrix inventory management

50+ pre-set reports with data visualizations and customization options

Robust, integrated ecommerce platform

24/7 customer support and onboarding

14-day free trial

Option to choose payment processor
Cons
User interface can take time to learn

Can be expensive for small businesses

Shipping integrations are limited
Why Choose LightSpeed POS for Convenience Store?
With LightSpeed Retail, fast-growing convenience stores can manage their large inventories and sync their online and in-store sales effectively. In addition, lightspeed offers many advanced inventory features, such as assigning purchase orders to multiple vendors and offering special discounts to customers. Lightspeed is perfect for companies that need to track large inventories and coordinate their online and in-store sales.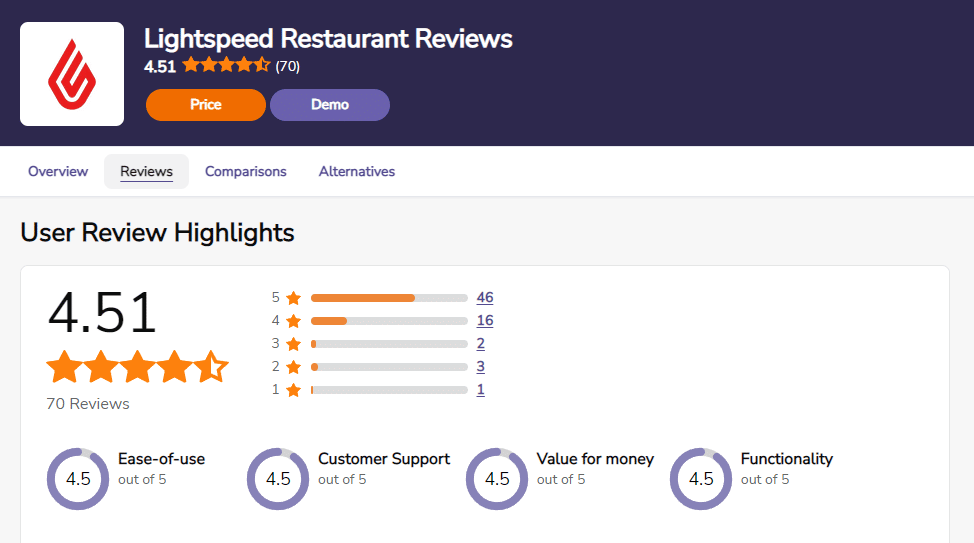 LightSpeed POS Pricing
Lightspeed offers three plans with monthly fees that vary based on features and payment cadences. As a result of its unlimited products and transactions, as well as the built-in payment features, each of its plans earned points. As your business grows, the higher plans will also provide you with additional features so you can expand as you need to.
It is important to understand that the prices below are for one register-additional registers are $30 per month each. All plans also come with a free payment terminal. Enterprise-level and high-volume customers can ask for custom packages at no additional charge.
Lightspeed does offer a 14-day free trial, however, we found that this price point is a bit too high for what it offers, as well as its restricted features in the base plan.
Lean Plan
You can sign up for an annual subscription to LightSpeed POS Lean which costs $69/month. If you elect to pay on a month-to-month basis, the price increases to $89/month. The Lean package comes with the following features:
Retail POS

Payments

A free terminal
Standard Plan
There are two plans available, Standard and Starter that are priced at $119/month for annual subscribers or $149/month for monthly subscribers. The Standard plan includes everything in the Lean plan, plus:
Ecommerce platform

Integration with your accounting software
Advanced Plan
As the Advanced plan is a little more expensive, it would cost $199 a month if you paid annually or $269 a month if you paid monthly. In addition to everything on the Standard plan, the advanced plan includes:
In-store and online loyalty rewards

Advanced analytics
It is also important to keep in mind that Lightspeed Retail offers an Enterprise plan for businesses with high volumes, which offers preferred Lightspeed Payments rates, a dedicated account specialist, premium support, and more. Please contact Lightspeed for a more detailed quote.
Hardware Cost
There are a number of different hardware options for running Lightspeed Retail, including iPads and desktop PCs, as well as scanners and printers, which can be purchased anywhere else or purchased through the Lightspeed quote system. The hardware you choose does not make a difference to how Lightspeed Retail functions.
ITRetail – Specialized Convenience Store
In spite of the fact that IT Retail has been manufacturing retail point-of-sale systems for almost three decades, they have refined both their hardware and software over the years. The company has developed a point-of-sale system that has been designed for independent grocers, but has also been designed to meet the needs of convenience stores.
Located in New Jersey, IT Retail is a point-of-sale (POS) system developed for grocers by grocers. For over 28 years, IT Retail has been providing POS solutions for grocery stores, markets, butcher shops, general stores, and specialty retailers across the country.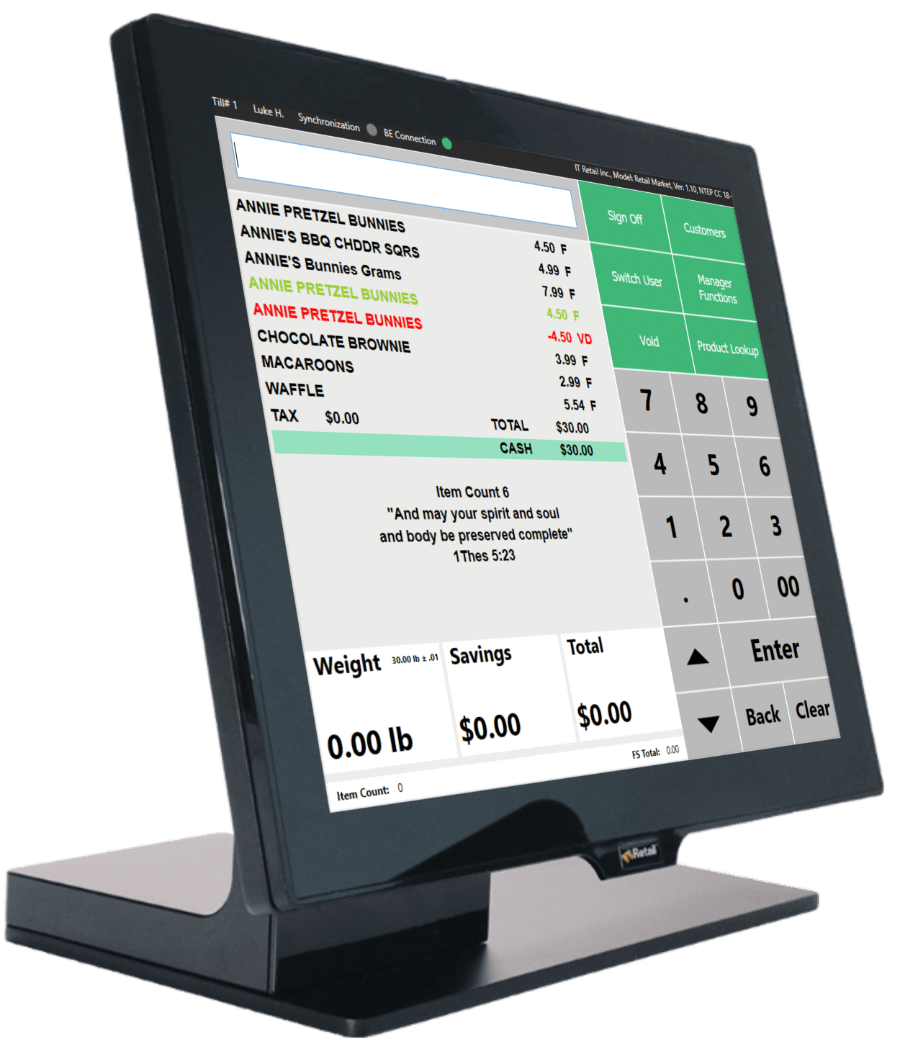 In addition to open-source software designed to optimize checkout flows, IT Retail offers an extensive selection of hardware made specifically for speed and convenience, and competitive monthly pricing starting at $79, making IT Retail an excellent choice for food-based retailers looking to add more checkouts to their stores.
Salient Features
Retail Market POS is an all-in-one point-of-sale solution for small, local grocery stores; Retail Professional POS is an all-in-one POS solution for supermarkets; and Retail Enterprise POS is an all-in-one POS solution for supermarket chains. The packages include software, hardware, and payment processing in order to help you get your store up and running in no time. In addition to providing on-site assistance (which is additional) or remotely, IT Retail also offers on-site or virtual training for employees. Key features of IT Retail POS are:
User Interface
Convenience stores require a high volume of transactions and inventory, so IT Retail was designed for them. Therefore, it has a super-intuitive layout, which makes it easy to locate and manage your products. You can also get started with using this POS very quickly, since it's very easy to learn.
Dynamic Ecommerce Integration
It does not have an online store, but it integrates with several convenience e-commerce solutions including Local Express, Mercato, Freshop, My Cloud Grocer, and Instacart. Some of these offer discounts. In addition to the API, POS Nation has a separate module that you can use.
Order ahead and check out without lines
The partnership between IT Retail and FutureProof gives customers the ability to order ahead and check out through their mobile devices. No other software on our list offers this. Furthermore, you can benefit from the line-free mobile checkout program for free.
Open Platform
You can export all the data collected in IT Retail even if it isn't integrated with your third-party management platform.
No Servers
IT Retail's cloud-based solution eliminates the cost of maintaining a server, a requirement many SMBs just can't afford.
Minimize Pricing errors
The IT Retail software double-checks scanned items for accuracy, double-checks prices, and even makes sure shelf labels are accurate. Human error is inevitable, but IT Retail's software keeps ours to a minimum.
Pros
When an intermittent internet connection is present, transactions can still be processed

There are alerts when there is a low stock of a product as well as breakdowns by bottle or case in the inventory

Optional onsite installation with scale integration

Tools for monitoring theft and verifying age

Hardware options that are industry-grade and flexible
Cons
Steep learning curve 

Lack of email marketing

Unknown hardware and payment processing prices

Reports of software glitches and downtime
Why Choose ITRetail for Convenience Stores?
With built-in employee scheduling and theft detection features, IT Retail is an excellent choice for convenience stores, in addition to offering solid inventory management features. 
ITRetail was originally designed with convenience store owners in mind. Unlike other point of sale vendors, they specialized in c-store, grocery and supermarket POS systems.  Because of this, it has a lot of inventory, loss prevention, and customer relationship features. In fact, it was one of the youngest point of sale systems for a convenience store.
ITRetail POS Pricing
The software subscriptions from IT Retail start at $79 a month. There are also options for on-site installation, product import, geo-replicated backups, and payment processing evaluations. The provider offers customized quotes for hardware, software, and payment processing. Hardware is sold separately from the system.
On its website, you can get a recommendation for POS setup by providing the number of checkout lanes and stores you run and get a general idea of its products and services. Typically, IT Retail recommends Retail Market POS as a local grocery POS if you have five or fewer checkout lanes or a single store location.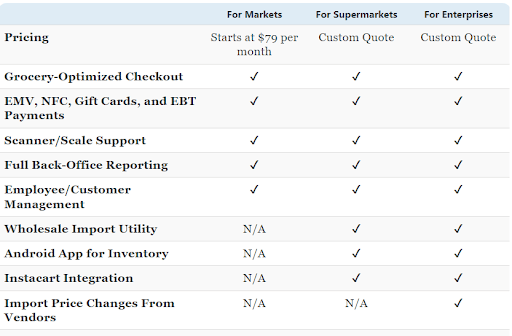 A higher subscription plan (Retail Enterprise) is recommended for supermarkets and businesses with a high number of checkout lanes or multiple store locations.
POSNation – Industry Specific C-Store Software
With POS Nation, retailers can easily manage their businesses, including tobacco shops, liquor stores, lawn and garden centers, hardware stores, convenience stores, and supermarkets. Your software comes with all the features you need right out of the box and tailored to your industry–not as an add-on.
Businesses can complete faster checkouts and easier transactions with built-in discounts and sales pricing, coupons that can be accepted and created, age verification, and hotkeys, among other features. Inventory management is as simplified and streamlined as possible, with case and carton-break inventory tracking, automatic purchase orders with reorder thresholds, an unlimited number of SKUs, and much more.
This powerful retail point of sale software comes with built-in employee management, customer loyalty, security, reporting, and analysis so you can manage your store, but grow your business as well. In addition to handling multiple businesses, POS Nation offers software add-ons like cloud backup, mobile reporting, QuickBooks integration, and inventory import to help seamlessly integrate all your business needs.
Salient Features
Great features from POS Nation include:
Payments and Checkouts
With barcode scanners, promotion dates, ID verification, item-based departments and more, users can pay using virtual and contactless payment methods and use discounts instantly.
QuickBooks Integration
You'll be able to integrate POS Nation with QuickBooks for accounting purposes, as well as integrate your website with the POS for inventory management. That's all you get in terms of third-party app integrations, however. 
Mobile Dashboard
A mobile dashboard from POS Nation's backend is equally intuitive, featuring clear charts and graphs that break down sales data by department, hour, and item.
All-in-One Setup
The setup from POS Nation includes everything that you need to get your convenience store up and running. The retail bundle includes an all-in-one touchscreen computer, cash drawer, receipt printer, and barcode scanner.
Debit and EBT Compatible
POS Nation's software allows you to expand your customer base. Their system accepts credit, debit, as well as EBT payments. In addition, your store will be able to take payments in a no-contact method.
Contactless Payments and Receipts 
The pin pad included from POS Nation is equipped with a Near Field Communication reader (NFC), which allows for a signal to be picked up from the customer's smartphone or NFC-enabled credit card. You can also set up your NFC reader for paperless email receipts. This payment method is much more secure than the standard magnetic stripe reader. It also prevents the spread of germs.
Employee Management
Keeping track of employee hours has never been easier. Rather than a pen and paper hour log sheet, employees can log in on the included touchscreen computer. Or, they can use the provided POS Nation time card and scan it right on the barcode scanner to log when they clock in and clock out.
ID Scanning Capabilities
POS Nation's software includes Hot Keys for product PLUs, making for easier and faster transactions. Their software also allows for scanning customer ID. Rather than having to key in an identification number for an alcohol sale, simply scan the ID right on your barcode scanner and the ID number will populate onto your computer screen.
Customer Support 
If you find yourself in a pinch and needing assistance from POS Nation even after hours, their team is there to help. POS Nation offers unlimited 24/7 customer support and training, even with their most basic pricing package.
Reducing Shrinkage Features
The team at POS Nation understands that business owners are constantly losing profits due to shrinkage. That's why they included shrinkage reduction features built-in to their software. From employee management permissions, to advanced inventory tracking capabilities, to drawer counts – the shrinkage features are impressive and beneficial for retail businesses of every size.
Pros
Customizable, printable bar-codes and labels

Ability to integrate tablets

Customer relationship features
Cons
Occasional glitches in the system
Why Choose POS Nation for Convenience Store?
This system is great because of all of the records it keeps. It has employee management features and tracks inventory, as well as customer relationship features. Probably the most enticing feature that the system boasts is the ability to print bar-codes and labels on the spot, which is massively helpful in any convenience store POS system. And, there is the option to integrate tablets to the system for even more ways to access and use it.

POS Nation Pricing
POS Nation offers two pricing plans:
Flex Monthly
Flex Monthly offers POS software, a touch PC, scanners, chip card readers, cash drawers, receipt printers, and 24/7 customer support for $99 a month. Users can cancel at any time and receive a lifetime warranty.
Freedom POS
In addition to free chip card readers, a two-year warranty on hardware, and lifetime POS software licenses, the second plan gives you the same hardware and software for a one-time fee of $999.
In addition to the tablets, there's a range of accessories you can buy, such as charging docks, barcode printers, and label printers. Prices are not listed on the website, so you'll need to contact the sales department for more details.
AccuPOS –Best POS for EBT Convenience Store
The AccuPOS point of sale (POS) application integrates with a variety of accounting systems and can be used by retail, full-service and counter-service restaurants, as well as hybrids. Users can eliminate the need for double-entry by integrating the AccuPOS application with QuickBooks, Sage 50 and Sage 100 ERP systems. Besides customer relationship management, AccuPOS offers employee time/attendance management and inventory management modules integrated into the complete suite.
These applications provide users with tools for receiving and adjusting inventory, entering comments and notes from customers, creating loyalty programs, issuing gift cards, and accessing online reports. Mobile access to AccuPOS is enabled by its integration with Android devices. AccuPOS is available as both an on-premise and a web-based solution.
Restaurants and supermarkets are just a few of the industries that the system can be used in. Other industries include apparel stores, liquor stores and garden material stores with any number of users and employees.
Salient Features
Integrated POS
On an integrated, technology-backed platform, you'll have access to key business features such as online ordering, payment processing, inventory management, item pricing, advanced reporting, sales tracking, error-free accounting, and more.
Create Customer Loyalty
With an integrated system, you can offer gamification services, build targeted campaigns, automate branded messages, and more to boost website traffic and user retention. Increase customer satisfaction by using growth tools such as tier-based programs, punch cards and point redemption.
Reporting 
Using real-time reports, you can monitor business activity and get automated insights about crucial KPIs. Using feature-packed, consolidated dashboards, you can analyze customer sentiment, develop services, offer opportunities, and analyze buying patterns, employee performance, marketing programs, and other industry-specific dimensions.
Accounting
Transform the business with powerful finance management tools. With the online store integrated with the company register, you can get a detailed overview by connecting the POS to accounting software, viewing customer reports, checking sales information, processing transactions and integrating the online store with the company register.
Employee Management 
Using efficient workforce management tools, you can create schedules, track overtime, monitor employee activity, transfer jobs, record work hours, estimate labor costs, record wages, and analyze overall team productivity.
Pros
You can use it with your existing equipment

Works with nearly any credit card processing company

Highly customizable

Can be used with nearly any hardware
Cons
It only works with PC and Android devices, not Apple

It can be confusing to set up
Why Choose AccuPOS for Convenience Store?
This system can be used with both PCs and Android devices. Additionally, you can use it with the existing equipment in your store. It's designed to be highly compatible and can be used with nearly any hardware. This can save on equipment costs because you can either buy equipment cheap or use your existing equipment, rather than having to purchase equipment from the POS Company. It can not only read cards with chips but is capable of being used with nearly any credit card processing company you choose.
There are also inventory tracking features, employee management features, and a customer loyalty program.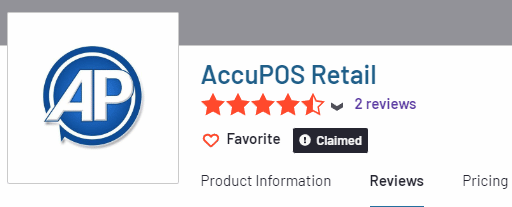 AccuPOS Pricing
AccuPOS does not publicly disclose their monthly pricing plans. Although, their payment processing fees are 2.6% + 10 cents per swipe, dip, or tap and 3.5% + 15 cents for manually entered transactions.
The Cash Register Express (CRE) software designed by pcAmerica is a point of sale solution for liquor stores, convenience stores, grocery stores, and other specialty retailers. In addition to inventory management, CRE provides customer loyalty, time cards, permission levels, advanced reporting, and integration with credit card processing.
Through faster customer checkout, shrinkage reduction, managing employee labor, and marketing to customers based on customer buying trends, the application improves the profitability of businesses. Cash Register Express is a one-time purchase that requires no ongoing payments and is independent of the Internet, unlike cloud-based POS solutions.
In addition to touch-screen monitors, barcode scanners, and digital scales, Cash Register Express offers integrated hardware to its customers. A number of features are designed into the solution to reduce theft and increase employee accountability. It also includes an e-commerce program for users looking to integrate web orders into their point-of-sale system.
A variety of customized modules are available with Cash Register Express, including QuickBooks integrations for accounts payable and receivable, general ledgers, payroll, and purchase orders. Users can choose between purchasing the software standalone, or as part of a separate POS package, depending on their needs. It offers customizable options for purchase orders, inventory, and checkout.
Salient Features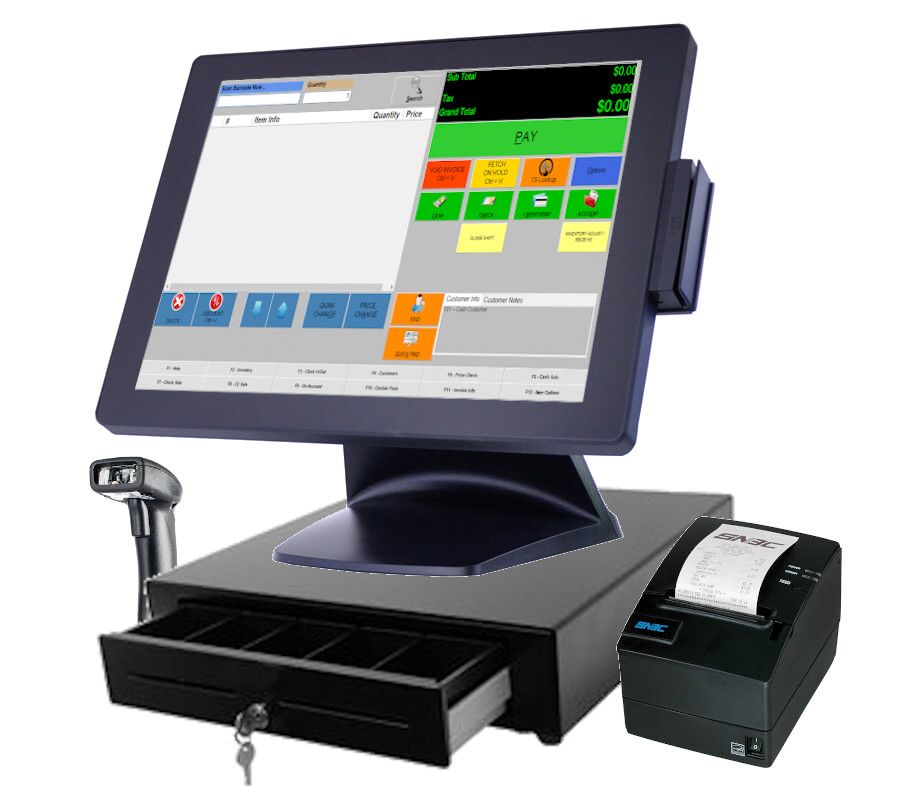 Theft Reduction by Tracking Inventory
An accurate and robust inventory control system is essential to a retail store's profitability and success. With Cash Register Express, retail store owners and managers can track their inventory accurately and efficiently, and identify which products need to be reordered and when. In addition, it assists in identifying stolen or missing goods.
You can also generate and receive purchase orders with the software's purchasing functionality module, which tracks vendors, manages item costs, and generates purchase orders. Stock can be received or counted away from the register with integrated Inventory Track Express software and Pocket Inventory software on a handheld computer.
Attract Customers
A proven method for helping retailers to attract new and existing customers into their stores, Cash Register Express offers a solid and friendly marketing and loyalty rewards functionality. As well as tracking loyalty plans automatically, retailers can market their products directly to customers with this retail Point of Sale system.
Business Protection by Controlling Employees
One of the major causes of shrinkage in a retail store is theft by employees. Cash Register Express software includes theft prevention features that keep your employees accountable for theft of cash, inventory, and unwarranted discounts. A variety of theft prevention features can be configured to restrict access to or restrict access to functions such as voids, no-sales, price changes, discounts, and so on based on an employee's trust level, status, and unique job code or login ID.
Using the strict cash control features of the CRE software, store owners or managers can identify potential theft or wrongdoing. Shift or cashier cash discrepancies can also be identified. With CRE, you can also add a security camera system to your POS system to increase the security and accountability of your store.
Back Office Reporting
It takes a lot of time for retail store owners and managers to figure out expenses, profits, and payroll manually. These tasks can be streamlined with Cash Register Express' dozens of tools so that stores can be managed more profitably and efficiently. A retail store typically spends the most money on labor, apart from the inventory items it sells. In order to manage employees and reduce labor costs, CRE software is designed with time clock and labor scheduling features.
Semicron Retail POS System with CRE
If you're using a touch screen monitor, you can simply touch a button on the touch screen to ring up sales if the item does not have a barcode on it. The software calculates the sale price and specialty price automatically. Cash Register Express is designed to be faster and requires the minimum amount of touches to ring up sales and perform other functions faster than most other point of sale software.
With Cash Register Express, cash transactions are faster, and credit and gift cards can be swiped on the card reader without having to touch any buttons. Cash Register Express also supports payment by pin debit, EBT, and checks. 
Pros
An alternative to cloud-based systems with monthly payments

Designed with convenience stores in mind

Loss prevention and anti-theft features
Cons
Interface isn't easy-to-use and will require some getting used to

Only runs on PC, not Mac OS, iOS or Android

Setup can be a bit complicated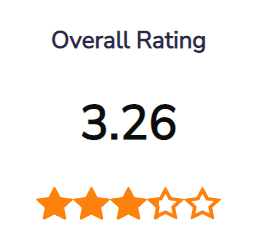 Why Choose Cash Register Express (CRE) for Convenience Store?
This POS is designed for convenience stores, grocery stores and liquor stores. Rather than running off a cloud-based system and making monthly payments, with CRE you make a one-time purchase and it runs from the internet. So, while the initial price tag may look really expensive, in the long run you're saving money because you're not making monthly payments.
CRE has lots of equipment options that are great for convenience stores, such as: digital scales, touch screen monitors and bar-code scanners. There are also loss prevention features that help to keep employees more accountable and to reduce theft.
Cash Register Express Pricing
Cash Register Express does not publicly disclose their pricing. It's quote based depending on the needs of your business.
For retailers, Square for Retail is a cloud-based point of sale (POS) and retail solution that integrates with all Square hardware and enables customers to manage inventory, customer relationships, reports, and employees. Users can track, adjust, or transfer inventory across all locations using Square for Retail. The solution comes with built-in payment processing and integration with all Square hardware.
Using the solution, users can receive automated alerts if stock levels are low, so they can make purchase orders. You can search for items by keyword or scan barcodes. With every card transaction, Square for Retail can automatically create customer profiles and keep track of their purchase history and customer information. Users can also sort customers into loyal, casual, lapsed or custom groups, and add notes to their profiles.
Salient Features
Square Dashboard 
This is the digital heart of Square's POS system. It includes reports, inventory management, order tracking, payroll processing, account settings, subscriptions, stock receiving, barcode labels, and much more.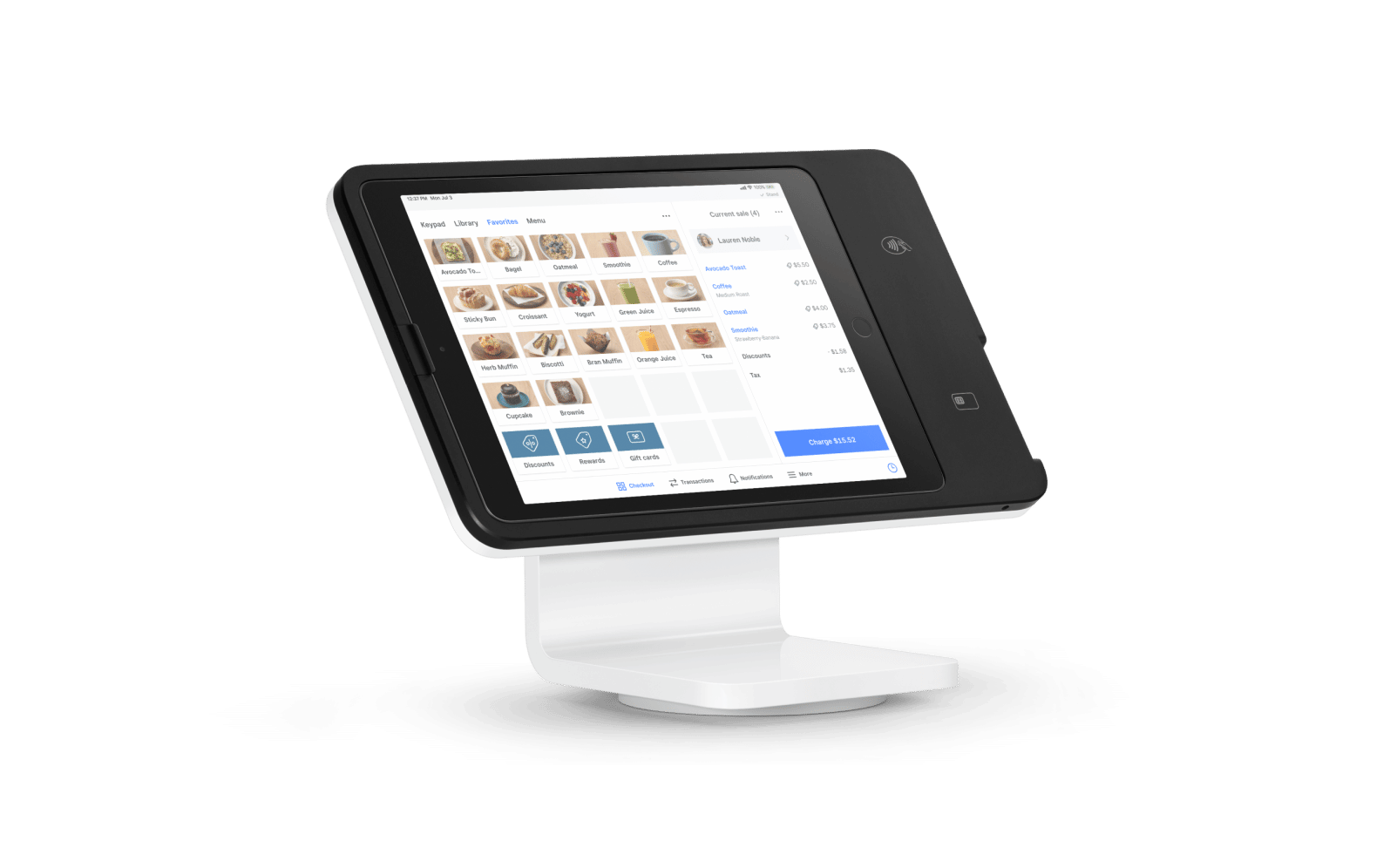 It will display a snapshot of your daily business data, helpful insights, and important notifications—like low-stock alerts and loan application status—on the dashboard's home screen. By doing so, you are able to see how your business is performing on a daily basis and stay on top of everything you are managing.
Inventory Management
Inventory management is easy with Square for Retail. With Square POS, you can add unlimited items, track inventory in real time across locations and online stores, set low stock alerts, and view inventory reports and forecasts. Your dashboard will display the most important inventory alerts as notifications, and you can control employee access controls so only you see them.
Advanced controls are also included in Square's inventory management system. From Square for Retail POS, you can organize your inventory with item categories, perform cross-location stock counts, and use Global Trade Item Numbers (GTINs) and Stock Keeping Units (SKUs).
Ecommerce 
There is an online store included with every Square account that links directly to your POS for free. With Square Online, you can build a custom branded online store without the need for experienced web developers, with a smart website builder. As it is fully integrated with your retail POS system, all your online and in-store orders, items, and inventory are automatically synced.
You can reach a wide range of customers using Square's online selling features. In addition to handing out e-gift cards to potential customers, you can sell them directly from your Instagram account. Using Omnichannel tools, you can provide your customers with a variety of shipping options, including pickup in store and local delivery. You can also sell on social media, including Instagram and TikTok.
Customer Relationship Management
The Square Customer Directory app is free for Square for Retail customers. It automatically generates customer profiles, creates and segments customer groups, adds customer information, and sends digital receipts that include feedback surveys. Using Square, you can make appointments, send marketing emails, and generate invoices using your directory, which syncs seamlessly across the entire ecosystem.
During checkout, Square's Instant Profile tool allows you to create customer profiles. From there, you can accurately track and keep track of their purchases during every visit. You can even save credit cards for your regular customers on file, so the checkout process is simple and can be completed with a few taps.
 Reporting
You can find out in minutes how much inventory is moving, along with its corresponding sales value, with Square for Retail's basic reporting. You are alerted just in time to make corrections and adjustments when necessary as a result of this quick overview of your inventory management system.
Pros
It has its own credit card processing service, which means you won't have to find one

Inventory item searches

Lots of inventory features
Cons 
Initially compiling an inventory list can be complicated

While you can track, order and access inventory across all of your locations, it can be hard to move inventory from one location to another using the system
Why Choose Square for Retail for Convenience Store?
This POS system is a great choice for any convenience store. It has all of the basic features, such as inventory tracking and customer relationship management, along with some that are unique to Square.
For instance, it comes equipped with its own credit card processing service. And, you can access, track and order inventory across all of your locations from the same system. Searching through your inventory is made easy with this POS because you can search items by scanning bar-codes, or by doing a keyword search.

Square for Retail Pricing
With Square for Retail, you can use it forever for free, and the Plus plan costs just $60 per month (most advanced retail POS systems cost around $100 per month). In addition to unlimited users, transactions, and products, Square for Retail has a perfect pricing score thanks to its integrated payment processing and competitive pricing.
Square offers a 30-day free trial of its Plus plan. Square subscriptions are month-to-month, so there are no long-term contracts to sign. From within the Square dashboard, you can add, pause, and remove features at any time. It is particularly helpful to me because it eliminates the back-and-forth that usually occurs when canceling a subscription over the phone or email.
Square will save your data if you need to pause your subscription so that you can resume it later.
$60 per register, per month. 2.75% payment processing fee per transaction. 30-day free trial available.
Clover POS
– Easy To Install C-Store POS
Several types of convenience stores have chosen Clover POS as their integrated point-of-sale (POS) system with custom hardware. In addition to countertop hardware options, mobile POS options, contactless payments, and more, this POS system is available both web-based and server-based. Restaurants can streamline payment processing, sales, inventory management, and more with Clover Dining, a POS app specifically designed for restaurants.
With Clover as a POS store for convenience store, you can eliminate outdated processes like cash registers, paper receipt printers, label printers, barcode scanners, and more. Clover accepts PIN and chip card payments, credit card swipes, Apple Pay, and contactless payments. Moreover, Clover POS integrates with QuickBooks, offers a time clock for tracking clock-ins and clock-outs, and manages vendor maintenance and purchase orders.
As part of the hardware offering, Clover Stations, Clover Go card readers, Clover Mini POS stations, Clover Flex mobile payment processors, and more are available. A number of solutions are also available in the Clover App Market, including gift card branding, marketing promotions, detailed analytics, and online store integration. In addition to order tracking, menu editing, and reporting, Clover POS dashboards let businesses visualize key data metrics in real time.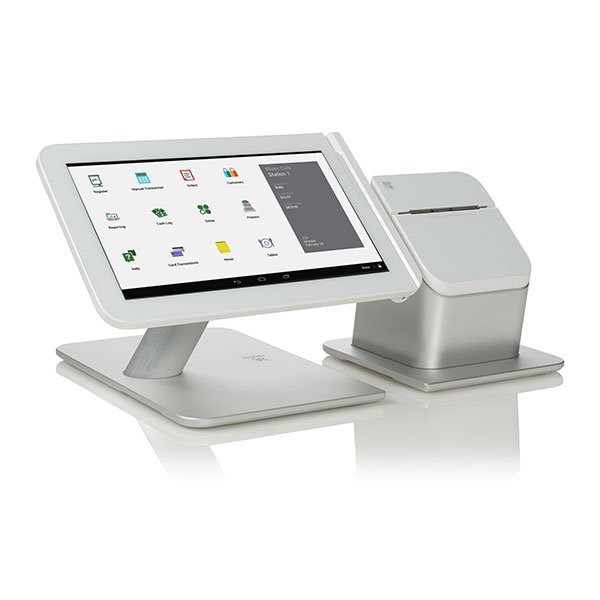 Salient Features 
Point of Sale Solution
The Clover software and hardware are designed to allow you to take orders and accept payments from customers. In addition to the cloud-based storage feature, Clover also offers accessories for added functionality such as barcode scanners, a cash drawer, and a weight scale.
Reporting
From an easy-to-access dashboard, Clover lets you monitor your business in real-time. In addition to providing a mobile dashboard, the software integrates with dozens of popular third-party apps, so you can track your sales, identify top-performing locations, and keep an eye on customer refunds.
All In One Solution
A lot of people prefer Clover POS because it's a complete inventory tracking and order management system. The system also allows users to print receipts and process payments. Contactless payments are possible. In addition to printing receipts and scanning barcodes, employees can do much more with this system.
Online Connectivity
This allows business owners to keep track of sales anywhere. They can control user permissions by accessing the system data from the terminal station and also from the online portal.
Online Ordering 
It's important for convenience stores to provide both in-person and online ordering options for their guests. Clover allows you to create a digital menu that guests can easily scroll through. We love that any changes you make to your menu options will automatically appear on your online ordering page, eliminating confusion and errors. Guests can arrange curbside pickup once they have placed their order. There are no fees associated with Clover's online ordering options.
Customer Service
Customers have mostly positive reviews of Clover's customer service; the company offers phone support for all of its monthly plans.
Pros
Custom-built hardware means that customer service can be more accurate when answering your questions and addressing problems

Wide range of payment options
Cons
Payment processing is dependent on Wi-Fi, so you can't take payments if the internet is down

Clover can be broken if dropped or roughly handled, much like a cell phone, and will then need to be replaced
Why Choose Clover POS for Convenience Store?
Clover POS is one of the best POS for Convenience Store because of its unique features. Clover is unique in that all of its hardware is custom-made. It uses a tablet-and-stand style POS. There's also a mobile app so that you can access it anywhere. There are a number of other payment options that you can accept with the Clover system, including chip cards, Apple pay and mobile payment apps.
Additionally, the system's design appeals to style-conscious merchants, making it more effective than chunky terminals with screens.

Clover POS Pricing
Software Price
Register Lite
Cost: $59
Features: Accept multiple payments, set employee permissions, monitor sales, reports, discount rewards, Clover market app.
Register
$449
Features: All Register Lite features plus customer feedback, inventory management, order management, item level discounts, rewards, and taxes, remote order printing.
Both small and medium-sized businesses can take advantage of Clover POS's price plan. For small businesses, the basic plan will meet the majority of their needs. To process a large number of payments and track inventory, larger businesses can select the advanced pricing plan and purchase the POS Station.
For about the same price as multiple POS terminals and stations, you can purchase two to three mobile devices.
Hardware Price
Clover Go: $59
Clover Flex: $449
Clover Mini: $559
Clover Station: $1199
NCR POS – Best for Detailed Inventory Tracking and Real Time Insights
This NCR retail point-of-sale (POS) system is designed to integrate with other NCR products and services to provide the best POS solution for retailers. Cloud-based POS solutions from NCR are popular for industries from specialty retail to franchises and restaurants. Convenience stores that also sell gas should look no further than NCR. We ranked NCR as our top pick for gas station POS systems because it provides a comprehensive retail and fuel management solution, as well as processing payments at the pump or in your store.
POS solutions from NCR allow you to apply customer rewards points at the POS terminal or at the pump. NCR also allows you to customize solutions with your preferred third-party apps.
Salient Features
Tamper Evident Pay at the Pump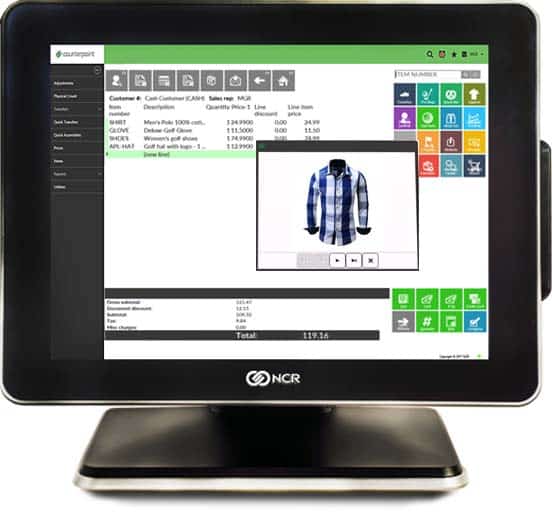 Payments are processed at the fuel pump using NCR's OPTIC payment terminal, which syncs with your loyalty program and displays discounts and promotions on a dynamic touch screen. As well as tamper-evident, the OPTIC terminal supports E2EE data encryption to ensure customer payment information is secure. In addition to being weatherproof and waterproof, the terminals come in two different sizes—12" and 5", which fit most major pumps.
Fast lane Checkout
As with IT Retail, NCR offers a variety of self-checkout configurations. You can choose self-checkout stands with small or large footprints to fit any convenience store layout.
AI Supported Theft Detection
To detect intentional missed scanners at self-checkout kiosks and other types of consumer fraud, NCR's SmartAssist module uses smart cameras and artificial intelligence. SmartAssist alerts your staff members before the customer completes their transaction and leaves your store, reducing shrinkage caused by theft at the checkout counter. As of now, NCR is the only provider on this list with an advanced anti-theft solution.
End To End POS System
If you want to know how much your dream POS will cost, you'll need to speak directly with NCR.
Pros
Excellent self-checkout options

Theft monitoring

Multiple ecommerce integrations

Order ahead
Cons
No fuel management tools

No free trial

Hardware and higher-tier subscriptions require custom price quotes
Why Choose NCR POS for Convenience Store?
This POS system is retail-based. It has a lot of great features that make convenience store management easier, such as e-commerce, inventory tracking and order management. Not only does it track inventory, it provides you with lots of great, detailed reports and analytics.
It can help with compliance, schedule and make orders, assess risks, set prices and promotions, pay vendors and perform employee and payroll functions. You have the option to add more stores into the system so that multiple stores can benefit from the say POS system, as well.

NCR Pricing
Interested businesses are advised to contact NCR or its resellers directly for information about NCR Silver, as NCR does not advertise pricing for its POS solutions. Subscription rates will then be determined by who you contact. If you choose a payment processor, you may want to make sure NCR will not charge you any additional fees for using a service other than its own payment processing.
In view of NCR's role as a one-stop shop for POS systems, it's no surprise that NCR Silver's pricing includes hardware and merchant services.
KORONA POS – Best for Corner Stores without Fuel Pumps
For high-risk retailers, KORONA has a specialized sales function. This solution includes built-in tools to manage age-restricted products, such as ID scanning, as well as loyalty programs and tools for tracking and promoting seasonal items. Additionally, it has built-in anti-theft tools and quick-service functions to handle deli orders, which are essential for convenience stores with high volume, high turnover.
There are also options for groups, memberships, and time-sensitive deals with this POS system for ticket sales. This ticketing system works in conjunction with retail tools, so it's ideal for amusement parks, museums, festivals, and fairs.
In spite of its great features for specialty retail, KORONA is not the right pick for everyone. KORONA does not have functions to handle clubs or subscription services, so businesses that offer these services should not utilize it. In addition to time tracking, KORONA lacks scheduling tools. Therefore, repairmen, exterminators, and other service industries would not benefit from it.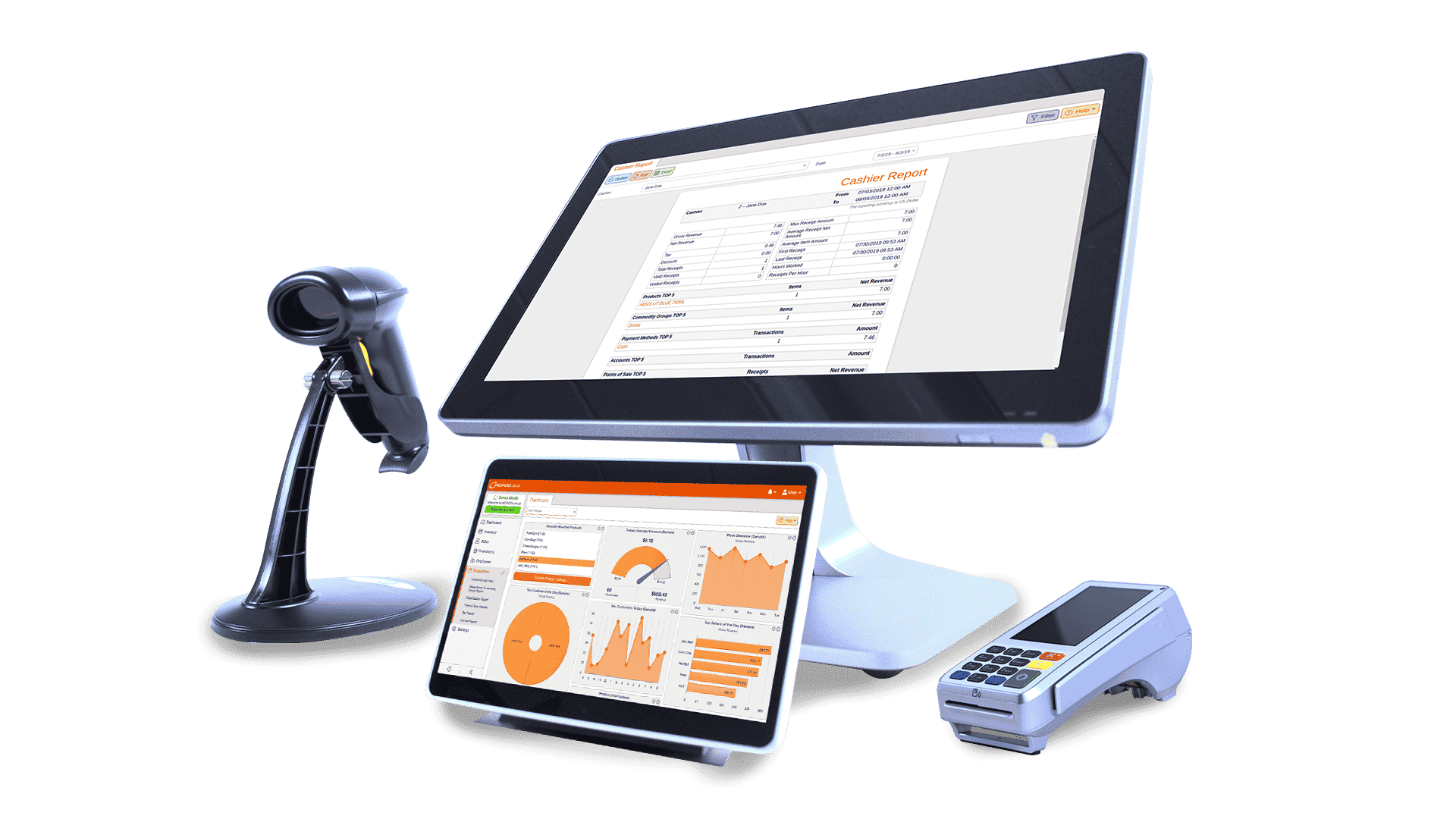 Salient Features
Reporting & Analytics
Nearly 100 reports are available in KORONA, ranging from ABC analyses to cash journals to KPIs and tax reports. They can all be customized in a variety of ways. The data can be narrowed down to particular periods, particular stores, or even to specific products or classes of products, as with most POS software. You can also drill down to view reports on a particular employee's performance or zoom out to view annual sales.
Employee Management
Some POS systems offer more robust employee functions. However, they cover the basics, allowing you to create user roles and logins for specific people or groups, as well as program messages to appear in the system for everyone. In addition to time tracking, KORONA does not schedule events.
Inventory Management
KORONA's inventory comes with the Advanced Plan, and it is well worth the money. For calculating reorder levels and sending alerts, it can take into account promotions, sales, and even seasonal sales history in addition to barcode scanning, vendor management, and inventory tracking. If you want to discontinue an item, you can set it to a slow order category.
Pros
Robust inventory tools with case-break functions

Choose from any major payment processor

No long-term contract

Built-in settings for managing age-restricted products

Front-end and reporting customizations
Cons
Only integrates with WooCommerce for ecommerce platforms

Reporting module has a learning curve

Not the best fit for full-service restaurants

No native subscription management tools
Why Choose KORONA POS for Convenience Store?
KORONA is designed for any business where employees don't sit at a desk, which can make it a great choice for convenience stores. It's tablet-based, which has both benefits and drawbacks. With it you can create and print custom labels for your merchandise. Probably the best aspects of this POS are its management features. You have the potential to save a ton of time with this software and actually ensure that operational tasks get completed.
You have the ability to create lists, which managers must sign to check off. And, there are timestamps on everything. The scheduling functions make creating schedules quick and easy by incorporating a drag-and-drop system. Employees can use the system to request days off and to do shift swaps. Plus, when they clock in, it uses facial recognition to accept it.

KORONA POS Pricing
Software Cost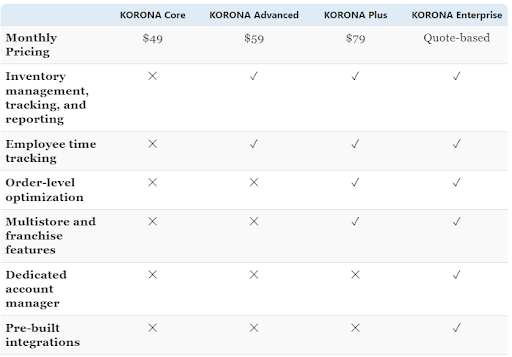 Hardware Cost
KORONA offers hardware leasing options and sells touch-screen registers and hardware from Aures, Partner Tech, and Hisense. Prices vary depending on the device, but you can ask KORONA for a detailed price sheet. KORONA also advertises hardware pricing plans so you do not have to pay the full price up front.
Customer Reviews
Buyer's Guide:
What to Look for When Choosing the Best POS System for Convenience Store?
Before purchasing a new POS system for your convenience store, there are a few things to consider. What sort of products do you sell? Do you need a system that helps you sell gas and keep compliance records?
Do you want to integrate a system that performs customer relationship features and loyalty programs? Would you like to include e-commerce and self-checkout options to reduce wait time at the checkout? With the answers to those questions in mind, here are a few features that you should look for when shopping for convenience store POS systems.
Equipment
Convenience store POS systems typically require hardware and equipment, along with the software. The type of products you sell determines which types of equipment you should look for, in addition to your system. Some equipment you may wish to consider may include bar-code scanners, thermal receipt printers, cash drawers, scales for produce, scales, scanners and self-checkout stations. The equipment may seem like an unnecessary extravagance, but it's crucial to ensure quick, easy and accurate transactions.
Easy-to-Use Interface
One of the most important aspects of the POS system is the interface and how user-friendly it is. Touchscreens and easy-to-use interfaces make sales transactions go more easily and a lot faster.
This eliminates any guesswork on the part of your employees and makes pricing more accurate and consistent. This, in turn, leads to a fast-moving check-out lane and satisfied customers. It can also save a lot of time and money to train people on how to use the new system.
Inventory Tracking
Loss prevention and theft are major concerns in most modern convenience stores. So too is waste. A good POS system tracks inventory, keeps detailed records and provides analytics that are easy to access and read. Some systems even have features that allow you to automatically order more products when supplies run low.
UPC Code Catalog
Because of the wide, ever-changing variety of products sold at convenience stores, it can be very difficult to accurately catalog all of the UPC codes. A good POS system that's tailored to convenience stores does this efficiently, however.
Spoilage Reports
A good deal of products in convenience stores tend to be perishable, and are therefore prone to spoiling. This presents a few problems, which a POS system can help with.
First of all, it can keep track of "sell by" dates and spoiled inventory and provide easy-to-read spoilage reports. Secondly, with good analytics software, you can use your POS system to purchase the ideal amount of each product and base this number on the demand for that particular product and how fast it moves.
Self-Service
These stations come with most of the same equipment that manned registers do and link up with the POS system, yet allow customers to check themselves out. They often come equipped with touch screens, bagging stations, scanners, receipt printers, scales, and card readers. They provide customers with more checkout lanes, making checkout time a lot quicker.
Cash Drops
Cash drops are made from the cash register to the safe pretty frequently at most convenience stores. A POS system can streamline this process. The system can keep track of how much cash is in the drawer at any time, alert staff when a drop needs to be made, and record drops.
Compliance Reporting
If your business includes a gas station, then you will quickly find that detailed records must be kept and reported. Not only that, but prices fluctuate frequently. POS systems are a great way to keep these records, report them and keep up with pricing.
The Bottom Line
When looking for a convenience store POS system, Revel System, with its cloud-based POS platform comes in as one of the best. This system gives good functionality to any user willing to learn the system. Once you take the time to learn how to use it, Revel System has an intuitive user desktop that's easy to navigate, making it a solid choice for retail shops.
When choosing a POS system for your convenience store, look for features that will streamline your business processes. Your POS should also be easy to use. It should allow your employees to enter customer information with just a few clicks. It should also have features such as Apple Pay and EMV payment processing. It should also be easy to train employees to use the system.
Revel's abilities are suitable for almost any size business. Further, it can really grow with your company! However, as your revenue grows, so do the subscription rates. Some business owners may find it comes at too high of a cost. If you expect your convenience store to grow quickly Lightspeed and Revel are the best choices for your store. 
We hope that our review of the 10 best convenience store POS systems was helpful.  If you find that all of this information is overwhelming, fill out the form above, and few of our software vendors will contact you to schedule a demo of their convenience store POS system.
Frequently Asked Questions
What is the best convenience store POS system?
It's important to consider your business's offerings and your budget when choosing a convenience store POS system. POS Nation has most of the convenience store POS system functions you can ask for, but that doesn't mean it's the right system for you.
How much does convenience store POS cost?
The cost of a convenience store POS system varies based on the number of software licenses and hardware pieces you rent or purchase.
What are the features of a great convenience store POS system?
These 5 features are the must have for any a great convenience store POS system:
Hotkey Shortcuts

EBT and Debit Capabilities

Employee Management and Payroll

Theft and Inventory Loss Prevention

Identification and Age Verification
What one should expect from a convenience store POS system?
Price Flexibility and Optimization

Sales Data Analytics

Weight-Oriented Selling

Efficient Stock Management

Security and Transparency
What is the biggest challenge facing c-store?
One of the biggest challenges c-stores face right now, along with supply chain issues and inflation, is high employee turnover, which is one of the biggest obstacles they face. Hiring and retaining high-quality associates can be very challenging in a convenience store. As soon as one associate is on board, another could be leaving.