(Last Updated On: 10/04/2022)

Running a convenience store presents a number of unique challenges that are not usually present in other types of retail establishments.
For instance, most convenience stores have very limited shelf space and therefore must decide which products to stock and which products to rotate out. Nonselling items and slow-moving items contribute to high overhead, which forces the store owner to price selling items at uncompetitive rates.
Running a convenience store requires you to be dedicated to its core activities and pay close attention to its margins. You should also develop a business plan, which will guide your budget and help you avoid blind spots. This document will also be required if you wish to acquire bank financing. Running a convenience store is not an easy task, but it is not impossible if you know the right steps to take.
First, you must have an idea of who your target customers are. Generally, convenience store customers are local residents who will be returning to your store regularly. This will make your business data consistent and less volatile than that of restaurants or other types of businesses. Furthermore, the cost of starting a convenience store is less than that of starting a restaurant.
Secondly, you need to invest in equipment. This may require spending between $20 and $30K. Some of the important items that you should invest in include beverage dispensers, hot food holders, microwaves, and so on. Also, make sure you have the right permits, particularly if you plan to sell alcohol and tobacco products. These costs can reach around $2,500 each. Lastly, you will need to hire people to run your convenience store.
Convenience stores are very profitable businesses. The average gross profit margin for convenience stores is $450,000, which is a good rate of return. Furthermore, a successful convenience store will give you the opportunity to expand to more than one location. This will boost your profits further.
Every c store owner knows that the dilemma between offering a variety of products and staying competitive is not an easy one. Sure in a perfect world, you would want your convenience store to offer all essential products. However, the reality is that in that case, at least 50 percent of the products would not sell for countless months.
Convenience store POS systems help store owners manage inventory efficiently (by displaying hot selling and slow-moving items), comply with liquor and tobacco laws as well as simplify employee management and accounting.   
According to NACS State of the Industry data, the U.S. convenience and fuel retailing industry grossed $251.9 billion in 2019. Therefore, running a convenience store offers tremendous profit potential for store owners who adopt the right POS system.
Before choosing a c-store POS system, consider the features the software provides. In order to assess your convenience store's sales, you'll need real-time tracking. Prevent employee theft with a cash monitoring module. Tracking employee payroll, scale integration (if you sell items by weight), and inventory scanning or monitoring are just a few to consider. Finally, look for a software with an accounting integration if you process lots of transactions.
Based on our research, Revel POS is the best convenience store POS system for large store owners. It can easily handle large multi-location businesses. While small convenience stores may choose Square POS. If you are interested to learn about other top convenience store POS software, let's review those and how we chose them.
Best Convenience Store POS Systems
| Name | Best Feature | Price |
| --- | --- | --- |
| ITRetail | Loss prevention features | $89 a month |
| POSNation | Customizable, printable bar-codes and labels | $119 a month |
| NetSuite | Detailed inventory tracking and records | $999 a month |
| AccuPOS | Highly customizable | $29 a month |
| Cash Register Express | No monthly payments | $649-$849 one time payment |
| Square for Retail | Comprehensive inventory features | $60/month |
| Clover | The ability to take a variety of payment methods | $39/month |
| Jolt | Lots of management tools | $89/month |
1.Revel POS – Ultimate Convenience Store Pos System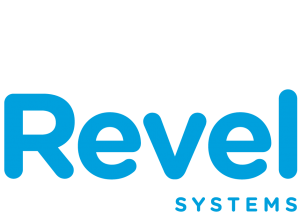 Revel POS System was built by entrepreneurs who focused on the three top requirements of small businesses– Speed, Efficiency, and Security. Revel POS System integrates with any retail business. High-speed order processing allows for faster order processing and high-volume sales.
The omnichannel platform of the Revel System connects all points in your business from the store, to the warehouse, to a mobile, and finally an e-commerce site. Their integrated e-commerce system lets you sell in-store and online with ease.
Hardware-Based Pricing
The Revel system offers software packages that are industry-specific. This can be done on a monthly subscription basis, which includes a software license.
Revel has flexible pricing, broken down by each terminal, depending on the industry. The RaaS pricing plan, or Revel as a Service, includes little costs upfront. Customers using RaaS have a monthly fee that includes hosting and defective hardware replacement at no extra cost. All Revel subscription plans include live 24/7 support, unlimited security and data storage, all software updates, and QuickBooks.
POS Software Types
Revel Systems offer two types of operation platforms; Hybrid and Always On. Hybrid: With Hybrid, Revel POS runs locally on an Apple iPad while syncing your data to their cloud service.
Always On Mode
This mode allows your Point of Sale software to function even when you have slow or lost internet connection. Even though your system continues working without a connection, you can't get credit card payment authorization. The Revel website gives you more information about Always On mode.
Quick Serve Background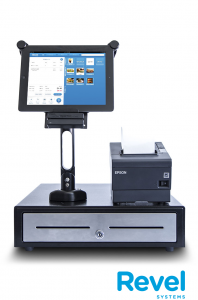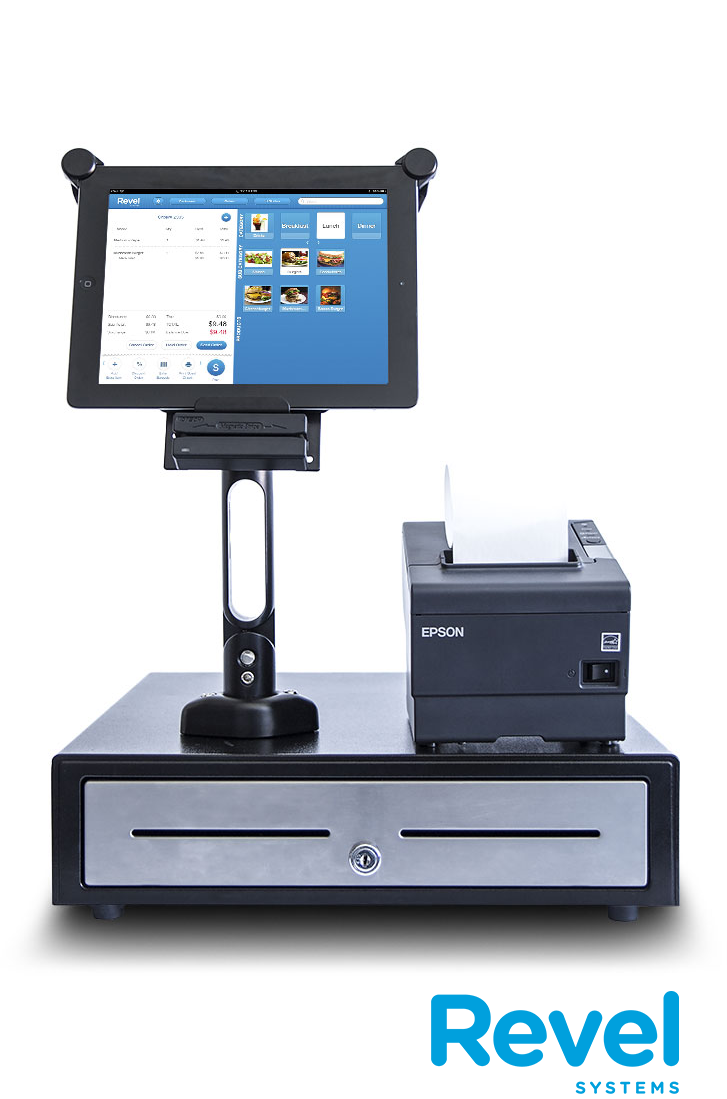 The Revel system and their add-on products are designed for working with quick service and restaurant business models. However, they've recently expanded their software platform to include grocery and convenience stores, retail businesses, and mobile businesses. Currently, Revel's software platform fits most types of sales based businesses.
C-Store Software: Size Does Matter
Revel's C-Store software was built with national convenience stores in mind such as 7Eleven, Wawa and others. The Revel Point of Sale system handles multi-terminal operation. Additionally, the Revel software can easily handle large multi-location businesses and a hold inventory of 500,000 SKUs.
Revel's windows based convenience store pos can work for smaller and mid-size businesses, as well. Based on customer reviews, the software is a highly customized system. Furthermore, it takes a long time and effort to set up the system.  Most small convenience stores and gas stations would find it's not worth their time.
Some smaller companies might not use the more advanced features with the Revel System package. Therefore, we recommend diligent research and thought before committing.
Using the Software
After setup, the revel pos software has an intuitive menu that's easy to use and navigate. While back-end operations carry more of a learning curve, there are training videos to help through the process. Front end user operations require employees logging in with pin numbers before using their permissions and user settings. The product matrix and descriptions display through touchscreen functionality on one side of the screen, while displaying order totals on the other side.
Discounts & Payment Options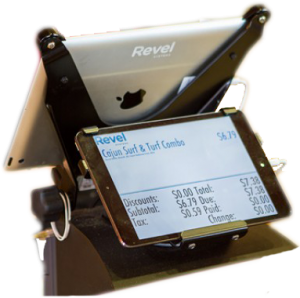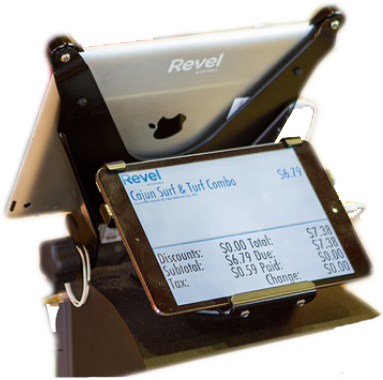 Easily add additional discount and payment options and product modifications and quantities to the system. Revel POS also has the versatility of kiosk for customer-facing displays. Back-end user operations give technical support and easy operational navigation such as employee and inventory management.
But, there's a learning curve before you can enjoy the back-end with ease. Learning the basic and advanced functions of the system takes a lot of training. It also takes much longer than a day to set up. Once you get the software up and running, basic functions are relatively easy to use. And navigate with simple data export, item addition and modification, and employee permissions accessed directly from the dashboard.
Hardware Required For Convenience Store POS
Revel POS only works best with Apple devices such as Apple iOS, iPad Pro, iPad Air, iPad Air 2. The C-Store POS System has hardware bundles available and works with all standard barcode scanners. You have the option to purchase hardware from other vendors. However, you should check Revel's list of preconfigured hardware beforehand to ensure you're getting hardware that is compatible.
Hotkey Functionality
Revel operates with hotkey functions that are easy to use by tapping on a menu category for a drop-down list of items.  The easy to use item editing screen lets cashiers add quantities, enter special requests, add to-go orders and delivery orders, remove or repeat items, and enter discounts. Additional cashier items include payment void, split billing, print, reprint, email receipts, and reward card options.
Inventory in Real-Time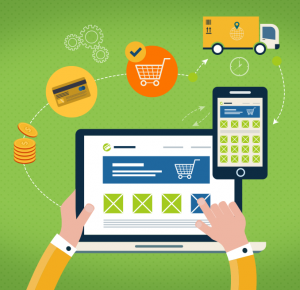 Inventory is simple with Revel's easy inventory management. It only needs the item and the price but has SKU and cost capabilities, as well. Additionally, Revel has inventory items mass entry. This is done through a style matrix for similar items with different styles, colors, or sizes.
For your benefit, the inventory page displays low item stock listed in red. The system is versatile enough for entering bar-codes for scanner use and manual addition of discounts, surcharges, and service fees or automatic addition capability. Manage incoming stock items and partial order notations when only receiving partial orders, then order finalization once all order items arrive.
Integrating with QuickBooks
The QuickBooks integration module in Revel has automatic data transferring from the POS to QuickBooks. This helps with syncing sales, purchase orders, and inventory for streamlined bookkeeping.
With daily transfers of sales information into QuickBooks, total sales, refunds, and discounts, users have access at any time. QuickBooks integration can transfer inventory adjustments, purchase orders, payroll, and employee schedules. You can find cash management applications in the manager's settings tab. These include time management, items sold, total cash receipts for the day, and printable reports.
Employee & Customer Management
The Revel System tracks customer information like name, email address, phone number, street address, and customer purchase history. Users can export any collected information for use in cross-selling items and marketing campaigns.
Revel System stores secure and unique pin number activated login ids or swipe cards. These track employee work time, performance, and any activity in the system. Get printable employee reports based on criteria like productivity and sales volume, discounts given, and voided transactions.
Reporting Suite
Features such as extensive reports that are easy to read and include, transactions detail, sales summary, and gift card information. Additional functions include credit transaction totals, void totals, items exchanged or refunded, and labor to sales percentage. PCI-DSS compliant network, software, and hardware with encrypted card information that's never stored. Revel is SAS 70 Type II certified and has PCI compliant data centers.
Customer Support
Revel has a variety of customer support options available 24/7, including telephone, email, web support, remote support, online support, and social media. Besides these support methods, Revel has a comprehensive video knowledge and tutorial base. Revel pos system cost is one of the only drawbacks of the system
2. Lightspeed – Emv Pos System For Convenience Store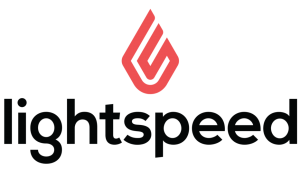 Lightspeed has a long list of features that do more than process sales. Their features provide tools for business growth and less complicated back-end processes.The Lightspeed reviews are raving, the reason we decided on second place was simply due to the complexity of the system.
A great plus for convience store owners is that you're not locked into using Lightspeed's hardware and you can save money by using an existing setup. This convenience store pos software allows the store owner to manage inventory, gather customer information, manage employees, and generate reports. Other great features include:
Processing Credit Cards
Lightspeed has its own processor which eliminates searching for and applying for a credit card. Once again, you're not locked into using Lightspeed's processing and can use any merchant you choose. Further, Lightspeed gives custom processing rate quotes and guarantees they are the lowest available.
Easy and Quick Checkout
Lightspeed makes processing transactions quick and easy. The cashier module lets you tap the product picture, scan the bar-code, or search for the product. Lightspeed includes other time savers like preset item modifiers, custom layouts, color coding, and automatic discounts.
Inventory Management
A top issue for a retailer is inventory management. Lightspeed has a powerful, iPad POS inventory management tool with added features. You get a custom layout that's intuitive for easy adding, editing, and removing inventory.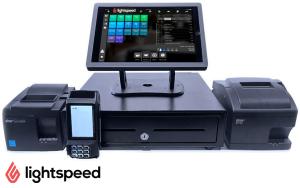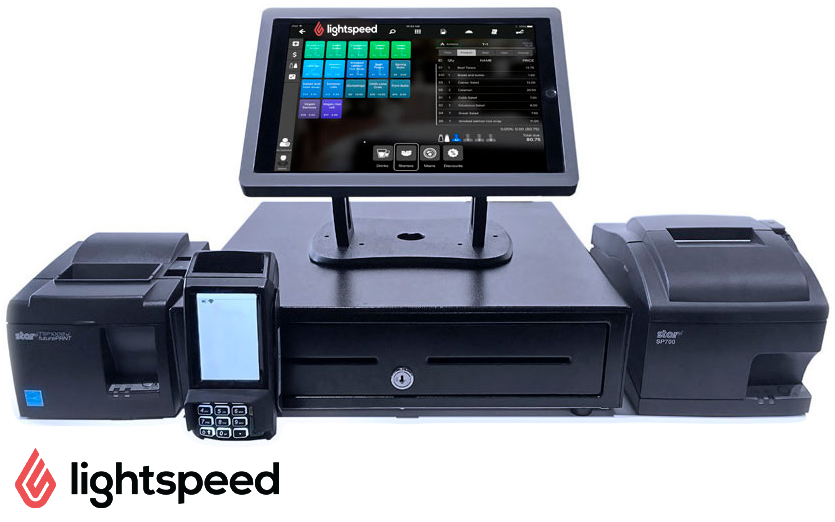 There's no manual product updates and adjustments with the uploading and editing product information through spreadsheets. Low inventory alerts let you know when product amounts get below a certain level and the software allows for automatic supplier reorders.
Customer Management
Boost sales and nurture existing customer relationships with automatic customer information data. This feature captures data from every sale which is necessary for mail campaigns. Reporting for customer loyalty includes data showing the amount spent, purchasing trends, and top customer identification.
Employee Performance
Measure employee performance directly from the Lightspeed POS system. Lightspeed has a time clock built-in that allows you to track hours, for easy shift and payroll management. Track employee performance like top sales and daily transactions.
Reporting
Lightspeed includes analytic tools that give you sales data analysis in real-time for making the best business decisions. Get specific detailed sales reports for a chosen day and time of sales or product-specific sales, sales summaries and daily comparisons, and top-selling items and items that have the biggest profit margin.
Working Offline
When internet outages happen, keep running your business offline. Lightspeed's offline mode keeps you going, unlike most cloud-based systems. The offline mode lets you save transactions locally then upload once you reconnect to the internet.
Integrations
Lightspeed connects to several third-party apps, with QuickBooks and MailChimp being the most common for retail use. Send daily sales information to QuickBooks or sync new and updated information with MailChimp for automatic changes in email marketing campaigns.
Customer Support
With one of the best customer support packages on the market, Lightspeed has it all with live support and a massive knowledge base, all included in their monthly subscription price, and available 24/7.
3.ITRetail – Specialized Convenience Store
ITRetail was originally designed with convenience stores owners in mind. Unlike other point of sale vendors, they specialized in c-store, grocery and supermarket pos systems.  Because of this, it has a lot of inventory, loss prevention, and customer relationship features. In Fact, it was one of the youngest point of sale systems for a convenience store.

One of its most useful features is one that tracks each sale, along with keeping track of which employees were working at the time, which can help to determine who took what in the event of theft. It also has a mobile app that can be accessed anywhere.
Pros
Loss prevention features

Designed especially for convenience and grocery stores

Lots of inventory features
Cons
POS software can glitch sometimes
4.POSNation – Industry Specific C-Store Software 
This system is great because of all of the records it keeps. It has employee management features and tracks inventory, as well as customer relationship features. Probably the most enticing feature that the system boasts is the ability to print bar-codes and labels on the spot, which is massively helpful in any convenience store POS system. And, there is the option to integrate tablets to the system for even more ways to access and use it.
Pros
Customizable, printable bar-codes and labels

Ability to integrate tablets

Customer relationship features
Cons
Occasional glitches in the system

Other great features from POS Nation include:
All-in-One Setup
The setup from POS Nation includes everything that you need to get your convenience store up and running. The retail bundle includes an all-in-one touchscreen computer, cash drawer, receipt printer, and bar code scanner.
Debit and EBT Compatible
POS Nation's software allows you to expand your customer base. Their system accepts credit, debit, as well as EBT payments. In addition, your store will be able to take payments in a no-contact method.
Contactless Payments and Receipts 
The pinpad included from POS Nation is equipped with a Near Field Communication reader (NFC), which allows for a signal to be picked up from the customer's smartphone or NFC-enabled credit card. You can also set up your NFC reader for paperless email receipts. This payment method is much more secure than the standard magnetic stripe reader. It also prevents the spread of germs.
Employee Management
Keeping track of employee hours has never been easier. Rather than a pen and paper hour log sheet, employees can log in on the included touchscreen computer. Or, they can use the provided POS Nation time card and scan it right on the bar code scanner to log when they clock in and clock out.
ID Scanning Capabilities
POS Nation's software includes Hot Keys for product PLUs, making for easier and faster transactions. Their software also allows for scanning customer ID's. Rather than having to key in an identification number for an alcohol sale, simply scan the ID right on your barcode scanner and the ID number will populate onto your computer screen.
Customer Support 
If you find yourself in a pinch and needing assistance from POS Nation even after hours, their team is there to help. POS Nation offers unlimited 24/7 customer support and training, even with their most basic pricing package.
Reducing Shrinkage Features
The team at POS Nation understands that business owners are constantly losing profits due to shrinkage. That's why they included shrinkage reduction features built-in to their software. From employee management permissions, to advanced inventory tracking capabilities, to drawer counts – the shrinkage features are impressive and beneficial for retail businesses of every size.
5.AccuPOS –Best POS For EBT Convenience Store
This system can be used with both PCs and Android devices. Additionally, you can use it with the existing equipment in your store. It's designed to be highly compatible and can be used with nearly any hardware. This can save on equipment costs because you can either buy equipment cheap or use your existing equipment, rather than having to purchase equipment from the POS company. It can not only read cards with chips but is capable of being used with nearly any credit card processing company you choose.
There are also inventory tracking features, employee management features, and a customer loyalty program.
Pros
You can use it with your existing equipment

Works with nearly any credit card processing company

Highly customizable

Can be used with nearly any hardware
Cons
It only works with PC and Android devices, not Apple

It can be confusing to set up
This POS is designed for convenience stores, grocery stores and liquor stores. Rather than running off a cloud-based system and making monthly payments, with CRE you make a one-time purchase and it runs from the internet. So, while the initial price tag may look really expensive, in the long run you're saving money because you're not making monthly payments.
CRE has lots of equipment options that are great for convenience stores, such as: digital scales, touch screen monitors and bar-code scanners. There are also loss prevention features that help to keep employees more accountable and to reduce theft.
Pros
An alternative to cloud-based systems with monthly payments

Designed with convenience stores in mind

Loss prevention and anti-theft features
Cons
Interface isn't easy-to-use and will require some getting used to

Only runs on PC, not Mac OS, iOS or Android

Setup can be a bit complicated
This POS system is a great choice for any business. It has all of the basic features, such as inventory tracking and customer relationship management, along with some that are unique to Square.
For instance, it comes equipped with its own credit card processing service. And, you can access, track and order inventory across all of your locations from the same system. Searching through your inventory is made easy with this POS because you can search items by scanning bar-codes, or by doing a keyword search.
Pros
It has its own credit card processing service, which means you won't have to find one

Inventory item searches

Lots of inventory features
Cons
Initially compiling an inventory list can be complicated

While you can track, order and access inventory across all of your locations, it can be hard to move inventory from one location to another using the system
8.Clover POS – Easy To Install C Store POS
Clover is unique in that all of its hardware is custom-made. It uses a tablet-and-stand style POS. There's also a mobile app so that you can access it anywhere. There are a number of other payment options that you can accept with the Clover system, including chip cards, Apple pay and mobile payment apps.
Pros
Custom-built hardware means that customer service can be more accurate when answering your questions and addressing problems

Wide range of payment options
Cons
Payment processing is dependent on wi-fi, so you can't take payments if the internet is down

Clover can be broken if dropped or roughly handled, much like a cell phone, and will then need to be replaced
9.NetSuite POS – Effective Convenience Store Software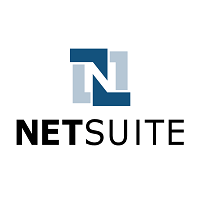 This POS system is retail-based. It has a lot of great features that make convenience store management easier, such as e-commerce, inventory tracking and order management. Not only does it track inventory, it provides you with lots of great, detailed reports and analytics.
It can help with compliance, schedule and make orders, assess risks, set prices and promotions, pay vendors and perform employee and payroll functions. You have the option to add more stores into the system so that multiple stores can benefit from the say POS system, as well.
Pros
Detailed inventory tracking

Lots of features

Ability to use it on more than one store location
Cons
A bit pricey

The interface takes some people time to learn
10. Jolt – Store Manager Point-Of-Sale System
Jolt is designed for any business where employees don't sit at a desk, which can make it a great choice for convenience stores. It's tablet-based, which has both benefits and drawbacks. With it you can create and print custom labels for your merchandise. Probably the best aspects of this POS are its management features. You have the potential to save a ton of time with this software and actually ensure that operational tasks get completed.
You have the ability to create lists, which managers must sign to check off. And, there are timestamps on everything. The scheduling functions make creating schedules quick and easy by incorporating a drag-and-drop system. Employees can use the system to request days off and to do shift swaps. Plus, when they clock in, it uses facial recognition to accept it.
Pros
Excellent scheduling features for management

Manager accountability

Employee accountability

Print your own labels
Cons
It can be hard to get the printer to synch up and work right the first time you use it

There's no inventory management

It does do deli and restaurant management, but not grocery
Buying Guide: What To Look For
Before purchasing a new POS system for your convenience store, there are a few things to consider. What sort of products do you sell? Do you need a system that helps you sell gas and keep compliance records?
Do you want to integrate a system that performs customer relationship features and loyalty programs? Would you like to include e-commerce and self-checkout options to reduce wait time at the checkout? With the answers to those questions in mind, here are a few features that you should look for when shopping for convenience store POS systems.
Equipment
Convenience store POS systems typically require hardware and equipment, along with the software. The type of products you sell determines which types of equipment you should look for, in addition to your system. Some equipment you may wish to consider may include bar-code scanners, thermal receipt printers, cash drawers, scales for produce, scales, scanners and self-checkout stations. The equipment may seem like an unnecessary extravagance, but it's crucial to ensure quick, easy and accurate transactions.
Easy-to-Use Interface
One of the most important aspects of the POS system is the interface and how user-friendly it is. Touchscreens and easy-to-use interfaces make sales transactions go more easily and a lot faster.
This eliminates any guesswork on the part of your employees and makes pricing more accurate and consistent. This, in turn, leads to a fast-moving check-out lane and satisfied customers. It can also save a lot of time and money to train people on how to use the new system.
Inventory Tracking
Loss prevention and theft are major concerns in most modern convenience stores. So too is waste. A good POS system tracks inventory keeps detailed records and provides analytics that are easy to access and read. Some systems even have features that allow you to automatically order more products when supplies run low.
UPC Code Catalogue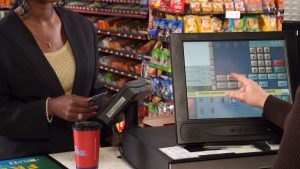 Because of the wide, ever-changing variety of products sold at convenience stores, it can be very difficult to accurately catalog all of the UPC codes. A good POS system that's tailored to convenience stores does this efficiently, however.
Spoilage Reports
A good deal of products in convenience stores tend to be perishable, and are therefore prone to spoiling. This presents a few problems, which a POS system can help with.
First of all, it can keep track of "sell by" dates and spoiled inventory and provide easy-to-read spoilage reports. Secondly, with good analytics software, you can use your POS system to purchase the ideal amount of each product and base this number on the demand for that particular product and how fast it moves.
Self-Service
These stations come with most of the same equipment that manned registers do and link up with the POS system, yet allow customers to check themselves out. They often come equipped with touch screens, bagging stations, scanners, receipt printers, scales, and card readers. They provide customers with more checkout lanes, making checkout time a lot quicker.
Cash Drops
Cash drops are made from the cash register to the safe pretty frequently at most convenience stores. A POS system can streamline this process. The system can keep track of how much cash is in the drawer at any time, alert staff when a drop needs to be made, and record drops.
Compliance Reporting
If your business includes a gas station, then you will quickly find that detailed records must be kept and reported. Not only that, but prices fluctuate frequently. POS systems are a great way to keep these records, report them and keep up with pricing.
The Bottom Line
No matter which POS system you choose, you want one that will make your store easier to run, make transactions go faster, track your inventory and do compliance reporting if you sell tobacco products. 
For those who sell gas, you may find some support but the better option would be gas station POS. You want a convenience store pos system that has all of the hardware and features that you currently use, plus a few more to make it run more smoothly and add new avenues of revenue. The systems reviewed on this list are a great place to start your search. And, you should now have an idea of how to get out there and buy the best POS system for your convenience store!
Final Recommendation: Best Convenience Store POS System
When looking for a convenience store POS system, Revel System, with its cloud-based POS platform comes in as one of the best. This system gives good functionality to any user willing to learn the system. Once you take the time to learn how to use it, Revel System has an intuitive user desktop that's easy to navigate, making it a solid choice for retail shops.
When choosing a POS system for your business, look for features that will streamline your business processes. Your POS should also be easy to use. It should allow your employees to enter customer information with just a few clicks. It should also have features such as Apple Pay and EMV payment processing. It should also be easy to train employees to use the system.
Revel's abilities are suitable for almost any size business. Further, it can really grow with your company! However, as your revenue grows, so does the subscription rates. Some business owners may find it comes at too high of a cost. If you expect your convenience store to grow quickly Lightspeed and Revel are the best choices for your store. 
We hope that our review of the 10 best convenience store pos systems was helpful.  If you find that all of this information is overwhelming, fill out the form above, and few of our software vendors will contact you to schedule a demo of their convenience store pos system.