(Last Updated On: 08/01/2022)
POS systems are a must-have for businesses that want to streamline their sales process and increase efficiency. However, many of the platforms out there have high monthly fees that many smaller businesses may not be able to afford.
However, there are a number of platforms out there that offer all the important core functionality you need, sans the monthly fee. Most POS systems with no monthly fees will provide the basics, including checkout management, customer service & CRM tools, inventory management, and analytics and reporting. 
Although extra features can be nice to have, if you're strapped for cash, having a basic, no-fee POS system can be the perfect solution.
According to our research, Square POS is the best POS platform with no monthly fee. It includes all the most essential functionality you need to get started. Plus, if you do choose to invest more money in your POS technology in the future, they have some powerful add-ons to consider. 
Keep in mind that a POS system with no monthly fee is not the same as a free POS. There are other costs that factor into the total cost of ownership (TCO). These include payment processing fees, hardware costs, onboarding fees, and more. 
Let's dive into the top no-fee POS systems to give you an idea of what's out there. 
Top No Monthly Fee POS Systems 
1. Square POS: Best Overall POS with No Monthly Fee
Square is one of the most popular POS systems out there, due to the fact that there's no monthly fee for the basic package. Here are some of the core features you can expect with Square POS. 
Payments
Accept all payment types your customers want at the same rate. Square Reader allows you to accept chip cards, Apple Pay, and Google Pay from any terminal.
Store payment details and send custom invoices directly from the system. Maintain security with dispute management, fraud protection and monitoring, encrypted payments, PCI compliance, and account protection tools. 
Checkout
Square's checkout screen is efficient and intuitive, allowing for full customization, item modifiers, bulk import, and the ability to provide itemized refunds. You can create both print and digital receipts, custom and split tender, automatic discounts, and more.  
Customer Service
Store customer information, purchases, and interaction history. Add notes to specific orders or input custom amounts at the time of sale.
eCommerce
Sync both your online and in-store ordering, with sales and inventory integrated among all your channels. Set up eGift Card purchasing on your website, and enable customers to send them via email. 
Inventory Management
Receive a daily email detailing items that are low or out of stock, and export your stock levels at any time via a printable spreadsheet. Plus, you can integrate your POS with inventory management partners like Shopventory, SKU IQ, Stitch Labs, and more.
Reporting and Insights
View business insights via Square Analytics, and set up advanced reports on specific metrics you want to track. Pre-built reports include gross sales, sales count, and refunds by time period. Easily export data for your own records. 
2. Loyverse: Best No-Fee POS for Restaurants
Loyverse POS is a basic point of sale system, with all the core functionality you need offered as part of their free plan. Here are some of the top features. 
Payments
Sell your goods directly from an iPhone, iPad, Android smartphone, or tablet. Provide both electronic and printed receipts, and accept multiple payment methods. Apply discounts, refunds, variants, and modifiers to each item or order. Reduce mistakes by tracking cash movement, allowing for easy barcode scanning, and integrated multi-store management. 
Sales Analytics & Dashboards
Track growth or decline to see how your sales are trending, and view receipt history to monitor each transaction. Determine your best-selling items to guide future stock or sales decisions. 
CRM & Loyalty Program
Identify your most loyal customers based on the number of visits and purchase amounts, and build a points reward program to motivate recurring purchase. Instantly identify customers with scannable loyalty cards, and print addresses on receipts to streamline delivery orders. 
Restaurant & Bar Features
As a restaurant owner, there are a number of specific features that you'll need to keep the place running smoothly. Streamline the ordering process by quickly assigning names (Table 1, Table 2, etc.) to open tickets and indicate whether customers are dining in, taking out, or requesting delivery. 
Kitchen Display Units
Get orders straight to the kitchen faster and with fewer errors. Your staff will be able to view items, quantities, modifiers, item and ticket comments on one screen. Alert your kitchen staff on wait times with intuitive, easy-to-read color and sound notifications. Mark and recall orders with a single touch. Best of all, you can set up these units in minutes. 
Customer Display Units
Maintain order transparency with customer display units, allowing customers to see and confirm order information before the final payment. Allow them to see their loyalty points accumulate in real time, and they can enter their email to get an e-receipt. And just like the Kitchen Display Units, you can set these up in minutes.
3. Vend POS: Best No-Fee POS for Retail
Vend offers one of the best retail-specific point of sale systems. Their free plan has all of the core functionality you need to get started with your in-person or online storefront. 
Point of Sale
Vend POS is easy-to-use and customizable. You can create custom buttons and layouts, and save your preferences as templates for additional units or stores. Quickly look up items either by keyword or barcode scanner, and find returning customers by name or phone number. 
Create custom receipts, either print or email, with your logo and website information on them. Add notes to customer receipts for care instructions, special discounts, and other target offers. Apply discounts either to all the items in a customer's basket, or just to specific items. 
Payment Processing
Vend POS can either integrate with your preferred payment processor, or you can integrate with one of their partners, many of whom offer exclusive rates for Vend users.
Vend syncs directly with your payment terminal, saving you time on every transaction, admin hours, and cuts back on human errors. Plus, payments appear in your bank account inside of two days. 
Vend accepts all major cards (swipe, tap, or dip) and contactless payments like Apple Pay. 
Inventory Management
Keep track of all your stock across all of your locations (in-person, eCommerce, and social media marketplaces), check levels and easily transfer products from one location to another. Vend can serve as a central, cloud-based catalog of all your incoming items. 
With Vend, you can track, record, and reconcile inventory quickly and accurately. Plus, with the mobile app, you can look up stock availability, pricing, and descriptions straight from your phone, allowing you to handle on-the-floor customer questions with ease. 
Reporting & Analytics
Track all the information you need to make key business decisions. See which stores are performing well, identify trends, and find areas of improvement with Vend's dashboards.
Reports include customer shopping trends, employee performance, time on shelf, and the performance of specific brands, categories, collections, and promotions. Vend's reporting can drill down to individual registers and sales channels. 
4. Imonggo POS: Best No-Fee POS for New Businesses
Imonggo is a simple, easy-to-use POS system that's perfect for new businesses who only need basic features and functionality. With a slick, intuitive interface, Imonggo POS's free plan gives you everything you need to sell faster and keep your customers engaged. 
Point of Sale
Imonggo POS offers both a web-based browser app and an iPad app that enable you to sell using barcodes, or a name and category search within the database. You can apply discounts, add customers to loyalty programs, accept different currencies, split payments, and print receipts all from one central terminal. 
Offer both print and email receipts, and customize different designs for different locations or departments. The platform also allows you to work offline, so there's never any downtime. 
Payment Processing
Imonggo integrates with Vantiv, allowing you to accept credit card payments within the United States. The platform also allows for customer pricing for each of your different branches.
You can also choose between includes or exclusive, single or multiple, branch-specific or item-specific taxes. Finally, you can accept a combination of tenders for a customer's total payment. 
Inventory Management
Imonggo allows you to easily input product names, price, cost, descriptions, and more into its automatically maintained inventory management system. From there, you can view your total cost, on-hand quantity and out-of-stock count. 
Maintain control of your supply chain with integrated purchase orders, branch transfers, and detailed reporting. Upload inventory lists via a CSV file, and download your inventory for backup purposes. The platform also allows for adjustments, receipts, and physical counts. 
Use Imonggo's mobile app to pull up inventory counts directly from the floor. You can search for products by product name, stock number, barcode, and even product description. 
Reporting & Analytics
You can access Imonggo's reports anywhere through easy-to-interpret dashboards on both your web account or the mobile app. Pull up daily, monthly, and yearly sales summaries to regularly review your business performance. Other key reports include profits, customer basket, top products, sales by rep, and more.  You can also pull up a complete list of your invoices in a single click, and download that data for offline computation.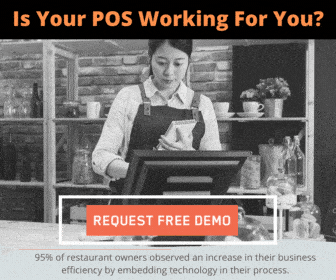 5. eHopper: Best No-Fee POS for Compatibility
For some business owners, the functionality of the platform isn't as important as compatibility with their currently owned devices and other software. This is where eHopper sets itself apart from the rest of the pack, as it's compatible with all Windows, Apple, and Android operating systems. Here are some of its core features. 
Point of Sale
eHopper is truly device agnostic, allowing you to manage your POS across multiple devices, save money by keeping your old equipment, and working both online and off. Offline functionality includes transactions, refunds, discounts, updating and saving orders, order history, taxes and tips, and any operations that don't involve a credit card. 
You can also optimize and customize receipts for better customer service, quickly void and refund customer orders, and have complete control over your cash management by sending money immediately to the bank, tracking the quantity and denomination of your bills, and integrating directly with accounting software like Quickbooks. 
Inventory Management
Keep your inventory up to date with eHopper's inventory management. The platform automatically adjusts stock totals as new inventory comes in and modifies purchase order costs. You can also easily transfer stock between stores with a single click. 
eHopper offers a centralized place to record and adjust the stock for damaged, lost, or stolen items in specified stores. 
Customer Management
Focus on your customers' specific needs with detailed records on their spend totals, visit totals, loyalty point balances, rewards redeemed, purchase history, and more. You can easily input customers into eHopper's CRM at the time of purchase. The more you know about your customers, the more effectively you can sell to them. 
Reporting & Analytics
Pull a number of reports to give you a window into your business operations, including inventory and product mix reports, purchase order reports, store transfer reports, transactions, total sales, cash flow breakdown, revenue numbers, tender type, sales by employee, serial items, tax reports, inventory aging, time clocks, and more. 
Conclusion
There are a number of POS systems with no monthly fee, and they all have powerful core features that can give you a solid set of tools to better sell to customers.
However, keep in mind that "no monthly fee" doesn't equal "free." There are other costs to keep in mind, like payment processing fees, maintenance costs, hardware costs, and more. For larger businesses especially, this could end up impacting profitability. 
But if you're just starting out and you don't want to break the bank, all five of these platforms can give you what you need. It's just a matter of figuring out which one best aligns with your business' specific use case and needs.