(Last Updated On: 02/12/2023)
Written by Martin Nikolaev: Point of Sale Expert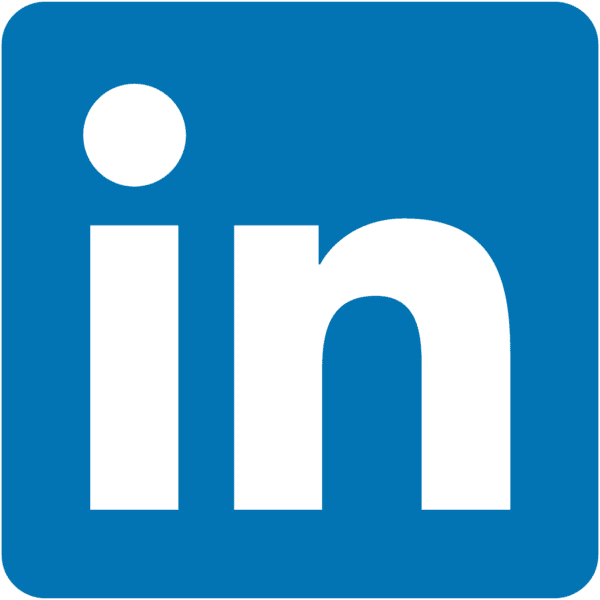 Our product review team dedicates hours of research, fact-checking, and testing to recommend the best solutions to business owners. We earn from qualifying purchases through our links, but this does not influence our evaluations. Why trust our reviews?  
Comparing The Top 5 EBT POS Software Providers
Approximately 12% of the U.S. population participates in the Supplemental Nutrition Assistance Program (SNAP), which is a good enough reason for you to think about investing in an EBT POS system. Statistics don't lie: roughly one in every eight Americans uses such a card. Given this information, I think you'll agree with me that If you run or own a business that sells food items, you should consider purchasing a POS system that accepts EBT (Electronic Benefits Transfer) cards since this is the payment that people who benefit from the SNAP program use. Otherwise, your retail or food service business can lose a lot of sales by missing the chance to accept payment for them.
You may also be interested in:
Discover the Best Restaurant POS System | 25 Systems Reviewed
8 Best POS System Options for Retail Business Owners
Our Experts' Choice
eHopper POS 
The EBT POS system is eHopper POS. It offers:

Open/Close Register Feature
Discounts and Loyalty Program Options
Cash Management Tools
Customizable Receipts
Offline Mode
Android and Windows PC Compatible
Don't have time to read this whole review? Skip ahead to: 
EBT Explained
I know that some business owners shiver when they are faced with the costs of implementing something new in their operations. Here's the good news: upgrading to one of the POS systems with integrated EBT is not that expensive, and even if it was, it'd still be well worth the investment. 
EBT (Electronic Benefits Transfer) is a technological solution that allows beneficiaries of different aid programs funded by official authorities to purchase items or receive care. Individuals who qualify for SNAP (which I'll explain below) can use a card to buy what they need, as long as it's compliant with the program rules.
If a person qualifies for SNAP, they receive funds in their dedicated account every month. Using the EBT system, they can use the funds the same way they use their credit cards.
There are several popular POS systems that accept EBT. But beyond that, these software solutions provide numerous other features and functionalities that are essential for your business: cash management, inventory management, employee management, reports, and more. Thus, if you choose to purchase an EBT POS system, it will provide value to your business on more than just one level. It's a win-win situation, no matter how you look at it.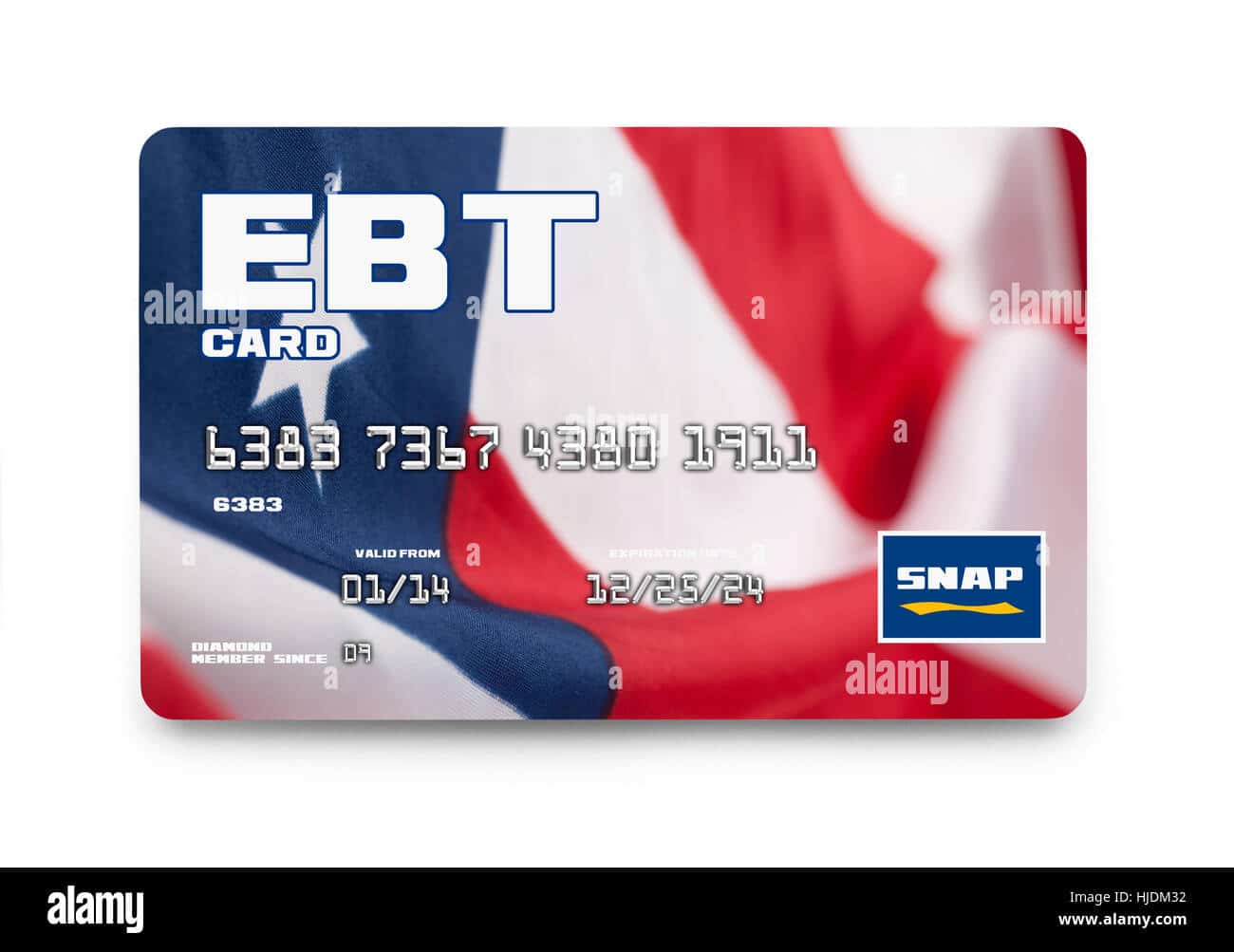 What is SNAP?
SNAP (Supplemental Nutrition Assistance Program) is a federal program designed to help people with low or no income to buy food. Many individuals still use the term "food stamps program" to this day when they refer to SNAP, since it used to work with stamps printed on paper until 2004. They were completely eliminated and replaced with cards after that point.
Many people mistakenly consider SNAP and EBT to be the same thing, but it's not. SNAP is the name of the so-called food stamp program. Since 2004, it's been on an EBT card. EBT can be used for a number of additional aid programs, such as TANF (Temporary Assistance for Needy Families), unemployment compensation, tax refunds, foster child funds, and several other programs. Still, SNAP is the most widely used program among the rest currently on EBT cards.
SNAP beneficiaries receive money every month through an EBT card. These cards can only be used for purchasing food products. Even typical grocery store items are not allowed, which makes sense, as the intention of the program is to aid the proper nutrition of those in need. 
Today, around 40 million people across all 50 states used EBT cards, meaning that you'll need a POS system that's compatible with these payment means.
How Can You Accept EBT Cards in Your Retail Location?
If you want to accept EBT as a form of payment, your business must meet certain requirements. 
Qualification Requirements
In order to qualify for accepting EBT cards, you must meet one of the following criteria:
Your store must carry a wide range of food items allowed for purchase with these cards. We're talking about a broad spectrum of food types, such as fruits, vegetables, meats, bread, canned goods, etc. If you don't boast such a wide variety of food items, you can still qualify to be allowed to receive EBT payments if the majority of your revenue comes from food-related purchases. Since EBT payments are made through a physical card that must be swiped (card-present transactions), you need a POS system that accepts EBT payments and has a card reader installed.

A strong POS system that accepts EBT payments not only allows you to tap into that 12% of the population that participates in EBT. It also provides many more benefits via automation and streamlining of internal business processes.

Acquire a permit to receive EBT payments: The Food and Nutrition Service, part of the United States Department of Agriculture, is the federal agency that regulates SNAP. This agency enforces the qualification rules around accepting EBT payments, and they require a permit from participating businesses. You can apply for a permit by calling the Food and Nutrition Service and requesting an application form, completing it, and mailing it back to them. You can also apply for a permit online via the Food and Nutrition Service website.
Who Can Qualify for SNAP?
If someone wants to qualify for SNAP, they must meet a number of terms, conditions, and requirements. Their monthly household income must be below a specified threshold, depending on the household size. This allows for more assistance for households with more people to support.  
In addition to financial requirements, SNAP participants must meet work-related criteria to qualify. To qualify, applicants must:
Actively seek employment, if unemployed

Work at least 30 hours per week if employed

Enroll and participate in the SNAP Employment and Training Program

Take a job if they are unemployed and are offered one

Not quit or leave a job voluntarily

Not reduce their weekly work hours below 30 without a valid reason

Understanding Which Items Can Be Purchased via EBT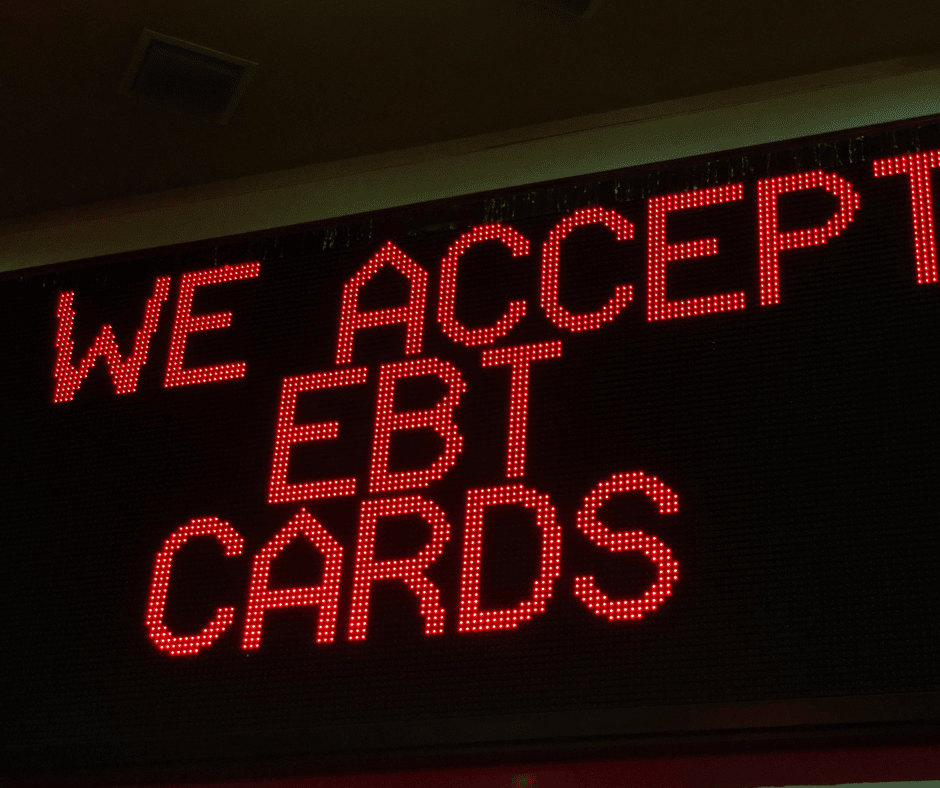 SNAP was created so that those living close to the poverty line could feed their families using public funds. Therefore, people can only use EBT cards to purchase food; no withdrawals are allowed. Items like shampoo, alcohol, cigarettes, vitamins, clothes, etc. don't qualify as well, nor do restaurants or pre-prepared foods.
POS Systems That Accept EBT | Buyer's Guide
Not even half the POS systems you could come across can accept SNAP payments, which is puzzling to me. If you think that your niche, location, and target clientele all fit the profile required for a business to ensure accepting EBT cards, then you should go for it. Before you invest in a POS system that accepts this type of payment, check everything about it, down to the last detail. The comparison reviews below will help you determine the pros and cons of the featured POS vendors, and making the right choice would be a breeze after you read the text. To make sure you make the right choice, you need to follow this buying I've set up for you to use:
Make sure the POS system you choose is either compatible with the hardware you already have at your store or supports the devices you intend to buy.

Check all costs: Investing in a POS system is not all about the initial costs and the monthly subscription plan payments. There are numerous additional costs as well, such as peripherals, third-party software, additional features, subscription, transaction fees, cancellation fees, and so forth.

Confirm that the POS software can integrate with other software and hardware you'll need in your line of work, such as accounting programs.

Compare the POS system you've set your eyes on to its competition. This will give you an idea of the one with the best price/quality/value ratio. It must have all the bells and whistles you need, but it needs to meet your budget as well.
The best POS system for EBT should always check if the items a client tries to purchase are eligible. In other words, you won't have to worry if the items bought by a customer are eligible for the SNAP program. Plus, the right point-of-sale software will easily separate all EBT card purchases and create all the relevant reports needed. 
Top EBT POS Systems
I've done my research and ended up separating five POS systems that accept EBT cards: eHopper, AccuPOS, CashierLive, PlexisPOS, and TotilPay. These platforms have the core functionality you need to operate your store. Some of them have additional features to enable you to better engage and manage all of your customers. 
If I needed a POS system with integrated EBT for my business, I believe that any of these five POS systems could be a working solution for your business, but you need to consider several aspects before you spend money on a particular software product. After a careful comparison, I'd pick eHopper. It's a perfect blend of functionality and flexibility. It's an affordable, cloud-based solution compatible with all the common device types. Plus, users leave mostly positive reviews from their experience with eHopper. 
| POS Vendor | Best Feature | Price |
| --- | --- | --- |
| eHopper | Cash management, offline mode | Free Essential basic plan, $29.99 per month |
| AccuPOS | Loyalty program | $795 for onboarding, $64 per month |
| CashierLive | Inventory and employee management | $75 per location per month (Standard plan) |
| PlexisPOS | Payment processing and automated discounts | $49.99 per month per station |
| TotilPay POS | Record-keeping | $49.95 per month per register |
Now, let's check out the five POS systems that can handle EBT and other sales included in today's comparison review. The details related to their functionalities will give you a clue of the perks and capabilities a POS system that's compatible with EBT cards must have.
eHopper functions on multiple device types, including Windows, iOS, and Android-powered ones, allowing you to save money by keeping your own equipment (I think this is a crucial moment for all business owners on a tight budget). The system is cloud-based and can function in offline mode. This eliminates any downtime for your business, thus reducing losses and keeping the usual level of customer satisfaction.
There are multiple aspects in which I think eHopper will help your business a lot. Let's look at some of them.
Cash Management
eHopper enables you to manage your assets properly and maintain all of your profits up to the required level. Close out your batch at the end of the day to immediately send money to your bank, use pay-ins and payouts to add or subtract money from your register, track the bills and coins in your cash drawer, view smart reports of all transactions and profits, and integrate directly with QuickBooks to manage your accounting data.
Inventory Management
Ensure that your inventory is up to date with automatic adjustments to stock totals when new batches come in. eHopper enables you to prevent stock shortages with purchase order receiving, and always gives you a view of your stock totals, by store or across the board.
eHopper makes it easy to transfer items between stores, record and adjust stock of damaged, lost, or stolen items, and specify the record and reason for the stock adjustment that's needed. All of this information is available via reports. If you have several brick-and-mortar locations or you run an online store parallel to your physical one, then eHopper would be the choice to make. I think that it can sync pretty much every type of information there is. 
Customer Management
Leverage eHopper to keep customer records, so you always have the information you need at your fingertips. View order history, loyalty points, engagement with marketing campaigns, and other information, all from the remote location you're at. This enables you to provide more personalized customer service.
Reporting & Analytics
eHopper comes with a variety of standard reports that give you deep insight of your business performance. These include reports on inventory, modifiers, PO receipts, store transfers, adjustments, transactions, tips, time clocks, profit margins, and much more.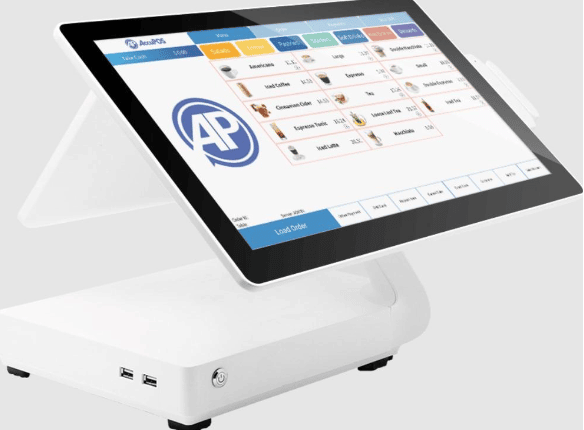 AccuPOS is a fast, secure option to pick if you want to replace your existing POS system with a better one that also accepts EBT payments. The system offers rich integration capabilities, making it an agile solution for most businesses. Here are some of the key features that come with the system. 
Point of Sale 
AccuPOS is efficient and highly adaptable. The system is capable of running on multiple device types, including phones, tablets, and computers, which, in my opinion, is one of its biggest advantages. The fast-performing software is able to help you sell to more customers, more efficiently. Plus, the intuitive interface means fewer staff errors. 
Loyalty Program
Make more money per customer with AccuPOS' loyalty program features. You can build a custom points system, follow up with customers via email marketing, and track customer purchases and behaviors. 
Reports & Analytics
AccuPOS is capable of creating a number of detailed, fully customizable reports to ensure that you always have access to the stats and data you need to run your business.
The more efficient your system is, the more products you can sell and the more revenue you'll bring in. It's as simple as that. This is where CashierLive POS comes in; the system provides a highly efficient and powerful point-of-sale solution to enhance your revenue-generating capabilities. I know that this POS vendor hardly rings a bell, but the quality of the CashierLive POS product is not to be underestimated.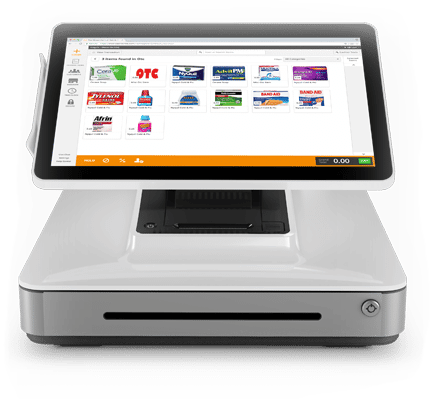 Faster and Easier Sales Process
Taking payments shouldn't be a hassle. CashierLive allows you to make quick and easy transactions from an iPhone, iPad, or PC. The system allows you to accept multiple forms of payment, add tips, and accept signatures. This keeps your checkout lines running smoothly and revenue coming in. There will be no long queues, and the customer satisfaction level will rise. 
Inventory Management
You will always have a close look at your inventory with CashierLive's automated purchase orders for when an item drops below your restock levels. Plus, CashierLive's simple import tools can bring all of your inventory into the system, where you can track it from there. 
Employee Management
CashierLive provides an integrated time clock that generates reports for each employee's logged hours as well as their transaction reports. This allows you to measure individual productivity and ensure each employee is profitable. 
Hardware Integrations
Eliminate hardware hassle with CashierLive's direct integrations. Your receipt printer, cash drawer, barcode scanner, and more, all integrate with the system to provide a seamless experience, both for your cashiers and the customers.
Reports and Analytics
Pull up a series of reports that will take you as broad or as detailed as you want to go. Generate automated end-of-day reports. Analyze cost, pricing information, and actual sales data to determine your store's profitability. Examine financial data like sales, returns, tax collected, and more to help you when tax season comes around. 
With a deep bench of features, including EBT support, Plexis POS is a compelling option for many stores. Here are some of the platform's top features.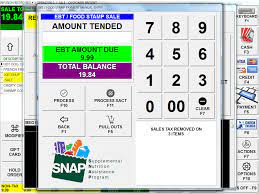 Payment Processing
Process payments across the board, including credit, debit, and contactless cards, gift cards, and EBT cards. Plexis POS allows you to customize aspects of the order, including multiple sales tax percentages. The terminal itself has a built-in credit card processor, barcode scanner, and receipt printer. 
Automated Discounts
There are a number of timed discounts that you can set up with Plexis POS. These could be timed based on the time of day, date range, the number of items, or a hand discount on a specific item. You can also leverage discounts based on coupons, club cards, or wholesale vs. retail customers.
Accounting Tools
Manage your back office accounting from a central location, including your accounts receivable and purchase orders. 
Reports and Analytics
Plexis POS enables you to view integrated sales reports that are updated in real-time and access them on any device. 
Hardware Integrations
Plexis POS supports a number of hardware types, including weight scales, barcode scanners, receipt printers, touchscreens, kitchen display units, and more. 
TotilPay is a user-friendly EBT POS system that also works with every type of payment card, such as debit, credit, and loyalty cards. As a result, you will never lose a purchase due to the inability to accept card payments.
Record-keeping
This EBT point-of-sale software allows for easy record-keeping and completely eliminates all manual efforts related to this tedious task. This is the system's primary advantage. 
TotilPay is a smart POS system that can send receipts via different channels, such as email or text messages. If you're looking for an all-in-one solution, this might be it. 
The Conclusion
At the end of the day, grocery stores that don't accept EBT are cutting out approximately 12% of the population. Thus, having an EBT-supporting POS system is absolutely critical for the growth of your business, especially in some areas or states. 
Of the five systems I've reviewed, I think that eHopper has the most well-rounded platform, both in terms of features and functionality. I think that its intuitive user interface is a distinctive advantage. But this doesn't mean the rest of the suggested POS vendors should be neglected, or any of the other point-of-sale solutions that are compatible with the EBT system. Any of those options could be an excellent choice for your business. 
Hopefully, this guide has given you all the information you need to make an informed decision regarding the investment in POS software that's compatible with EBT cards. To get started with our Experts Pick for the best EBT POS system, get a free quote from eHopper now. 
FAQ
What is EBT?
EBT (Electronic Benefits Transfer) is a technological solution that allows beneficiaries of different aid programs funded by official authorities to purchase items or receive the care they need. 
What things can you buy with EBT?
If a person benefits from the SNAP program, they can use their EBT card to buy food from grocery stores. They cannot withdraw money or spend it in restaurants. 
Do all POS systems integrate with EBT?
At the moment, the majority of POS systems you could compare are not compatible with EBT cards.