(Last Updated On: 02/03/2023)
Written by Software Expert Hamza Shahid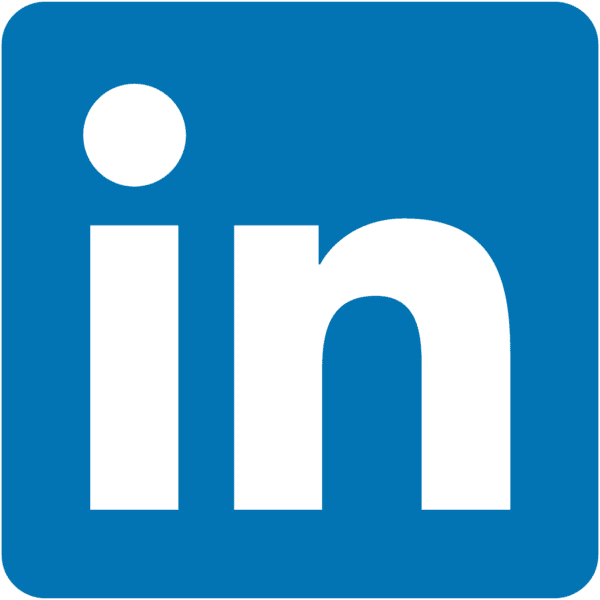 Affiliate Disclaimer: Our product review team dedicates hours of research, fact-checking and testing to recommend the best solutions to business owners. We earn from qualifying purchases through our links, but this does not influence our evaluations. Why trust our reviews?
Businesses and stores can use POS systems to handle checkouts for customers. POS systems integrate with stores' inventories, and they also handle payments when customers make them. Butchers and meat markets have a specific business model and mode of operation, so a butcher shop POS system is specifically designed that will streamline the checkout process for these businesses. Butchers shop software provides specialized features such as the ability to handle multiple registers, perishable inventory, frequent vendor shipments, meat, and barcodes, among others.
With the right software for small butcher shops, you can increase your efficiency and profitability by weighing meats, quickly ringing up prices, and keeping track of your inventory. 
You may also be interested in: 
Best POS Systems with Scale Compatibility
Fast Food Restaurant POS System
To find the best butcher shop POS system, I have reviewed 5 of the best, considering pricing, features, and user reviews. I have sifted through more than ten point of sale software options for small butcher shops to rank the top 5 based on their characteristics, pricing and pros/cons, and customer reviews on various review sites such as Capterra, G2, and Trustpilot.
Our Experts' Choice
NRS POS System

The best butcher shop POS system is National Retail Solutions (NRS). It offers:

Diverse Payment Processing

Smart Scale Processing

Vendor Management

Inventory Management

Affordable Pricing
Don't have time to read the whole article? Here's a quick list of our recommended tools and guides for software for small butcher shops.
Butcher Shop POS System – Overview
It is expected that by the year 2022, the market value of meat will exceed 1.5 trillion dollars, so if you own a meat market or butcher shop, you need the right tools in place. Specific POS systems have been developed to meet the needs of the butcher shop and meat market niche as point-of-sale technology continues to evolve.
At the point where the customer wants to buy their meat, a meat market and butcher shop point of sale system calculates how much they owe. That's why these programs generally include a way to weigh the product. The meat market POS is dependent on this component.
Meat markets have been around for a long time, but they can no longer function with just a cash register. Point of sale systems for butcher shops also offer other features, such as extensive inventory control, customer loyalty programs, and employee management.
Top 5 Butcher Shop POS Systems
We've identified 5 top Butcher Shops POS systems:
National Retail Solution (NRS) POS

Brilliant POS

Café Cartel POS

IT Retail POS

Lightspeed POS
1. National Retail Solution (NRS) POS – The Best Overall Butcher Shop POS
Meat markets aren't necessarily grocery stores, so the technology is a bit more basic. However, to keep your store authentic, while offering a modern shopping experience, you need a point of sale solution that integrates store management tools and an all-in-one cash register.
Over 10,000 POS systems have been installed in the last few years by NRS, an independent retailer network across the country. With headquarters in Newark, New Jersey, National Retail Solutions offers point-of-sale systems with touch-screen screens and payment processing services. It is a division of IDT Corporation that offers touch-screen point-of-sale systems. Read on to learn more about how the company can benefit your business. Founded in 1986, the company now offers mobile point-of-sale systems, among other services.
In addition to offering powerful software tools to process transactions, control inventory, and optimize costs, National Retail Solutions integrates seamlessly with NRS PAY and virtually all credit card processors and offers a customer loyalty program. National Retail Solutions is cloud-based, so you can use it wherever you need it.
Using My NRS Store App, you can access the National Retail Solutions POS system and popular features, such as inventory and sales statistics.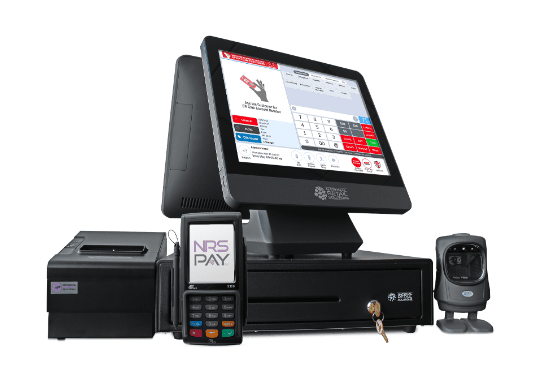 Salient Features
In order to run a meat market and/or butcher shop, National Retail Solutions offers numerous benefits.
Vendor Management

Weigh Meat and Other Products

Sell Meat When It's Fresh

Offer a Loyalty Program

Payment Processing

Loyalty Program

Integrated Scales
Pros and Cons of NRS POS System
Pros
Cons
Vendor Management
Weigh Meat and Other Products
Sell Meat When It's Fresh
Offer a Loyalty Program
Payment Processing
Loyalty Program
Integrated Scales

Steep learning curve
No email marketing

Why Choose NRS? 
You'll need for your butcher shop to keep up with the latest technology in order to keep providing your customers with their favorite meats. The National Retail Solutions POS system gives butcher stores a modern shopping experience while maintaining their authenticity.
National Retail Solution (NRS) Pricing
A bundle of National Retail Solutions' point of sale systems includes the following:
Dual-screen POS terminal

Barcode scanner

Receipt printer

Cash drawer
Bundle price is $1,299.00, plus $19.95/month for support and service.

2. Brilliant POS 
Brilliant POS system is suitable for meat markets and butcher shops in a variety of industries. A busy butcher shop needs a fast, reliable POS system that is robust and able to withstand high pressure environments. The platform has an easy-to-use interface.
Brilliant POS runs in the cloud and on a local database, so you can access your data even when the internet is down. It integrates with leading marketing, accounting, staff management, e-commerce, and other business apps.
Salient Features
A number of features are available in Brilliant POS that are tailored to meet the needs of butcher shops, including:
Smart Scales

Credit Debit Card Processing

EMV Chip

Inventory Control

Customer Engagement

Simplified Payment Processing

Mobile Based Hardware

Marketing Campaigns
Pros and Cons of Brilliant POS
Pros
Cons
Serves multiple types of businesses
Cloud-based POS software
Affordable prices compared to other POS system providers
Offline payment processing is available

Few app integrations
The software might not be compatible with existing systems

Why Choose Brilliant POS?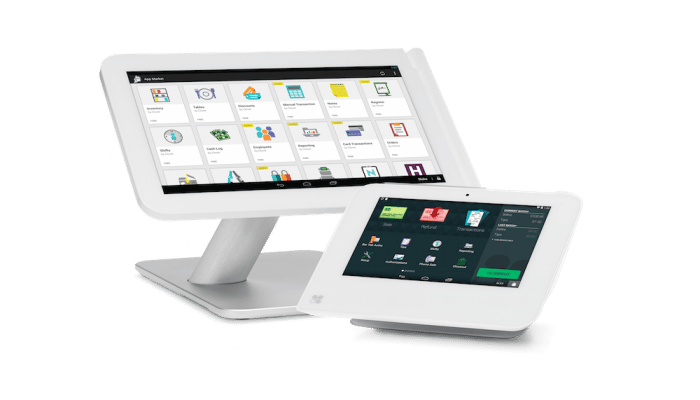 You can boost your meat business with Brilliant POS. If you own a butcher shop, these are the reasons you should go for Brilliant POS:
Fast Checkouts

Ability to read from barcodes

Fast and Accurate weighing measures

Camera can be used a barcode scanner to scan the price tag

Ability to handle curbside customers
Brilliant POS Pricing
Payments Plus – Free
Customer engagement marketing

Employee permissions and shifts

Electronic signatures and tips on-screen

Send and store digital receipts

Accept all forms of payment
Register Lite – $9.95
Everything the Payment Plus offers

Basic inventory management

Basic order management

Personalized setup and training
Register – $29.50
Everything the Register Lite offers

Advanced item management

Advanced order management

Connect to weight scale, kitchen printer, menu, and table management
There are more pricing packages available aside from the 3 most popular plans, browse Brilliant POS pricing on their website here.

3. Lightspeed POS
A cloud-based point of sale solution, Lightspeed Retail is ideal for retailers in meat shops and butcher stores. In addition to inventory management, retailers can control cash drawers, process payments, manage purchase orders, access customer profiles, integrate accounting software, and use POS hardware, such as barcode scanners and receipt printers.
With Lightspeed POS, you can manage inventory in-store and online, have a single view of your customers, and analyze multi-channel sales data with a fully integrated, eCommerce platform. As part of its multi-store capabilities, this butcher shop POS system enables associates to conduct sales and check inventory from anywhere in the store using an iPad, as well as sync inventory across all locations.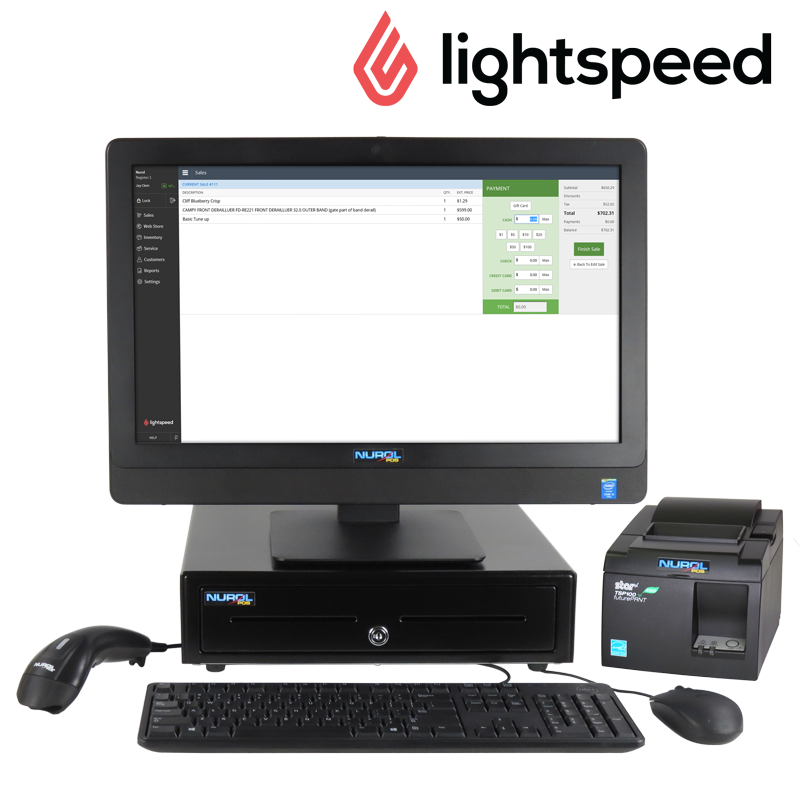 Users can create, track and assign serial numbers to products using the retail POS solution along with creating variations of products, such as color, size, and material, using a matrix system in the inventory management solution. Aside from profiles, sales history logs, and customer insights, Lightspeed Retail offers some customer service features as well. Lightspeed Retail software is offered on a monthly subscription basis and includes free, personalized onboarding.
A butcher shop can use Lightspeed Retail POS iPad app to process payments, perform returns, apply discounts, and more. Users can also use the app offline.
Salient Features
Credit Card Processing

Loyalty Programs

Scale Integrations

Reporting

Mobile App

Inventory Management

Customer Management

Ecommerce

Hardware

Employee Management
Pros and Cons of Lightspeed POS
Pros
Cons
Offers 24/7 support
Each account gets an account manager
Inventory management is superb

It's expensive compared to other POS systems
Lengthy contracts
It's not easy to cancel

Why Choose Lightspeed? 
Lightspeed is best for:
Integrated Inventory Management

Ecommerce

Customer Management

Weighing meat and ability to scan its label 

Very fast checkouts
Lightspeed Pricing
For managing a single store, this POS has one payment plan. A $99 monthly subscription supports up to five employees, omnichannel support, cloud backup, and basic reporting. Additionally, you are charged 2.6% +10 ¢ for tapped, swiped, or inserted cards. In the case of manual card entry, there is a charge of 2.6% plus 30 ¢. You can request a free 14-day trial to test the program's features. 
A custom quote can also be requested if you wish to use the POS solution to manage multiple stores or if you wish to have access to more than five employees.

4. IT Retail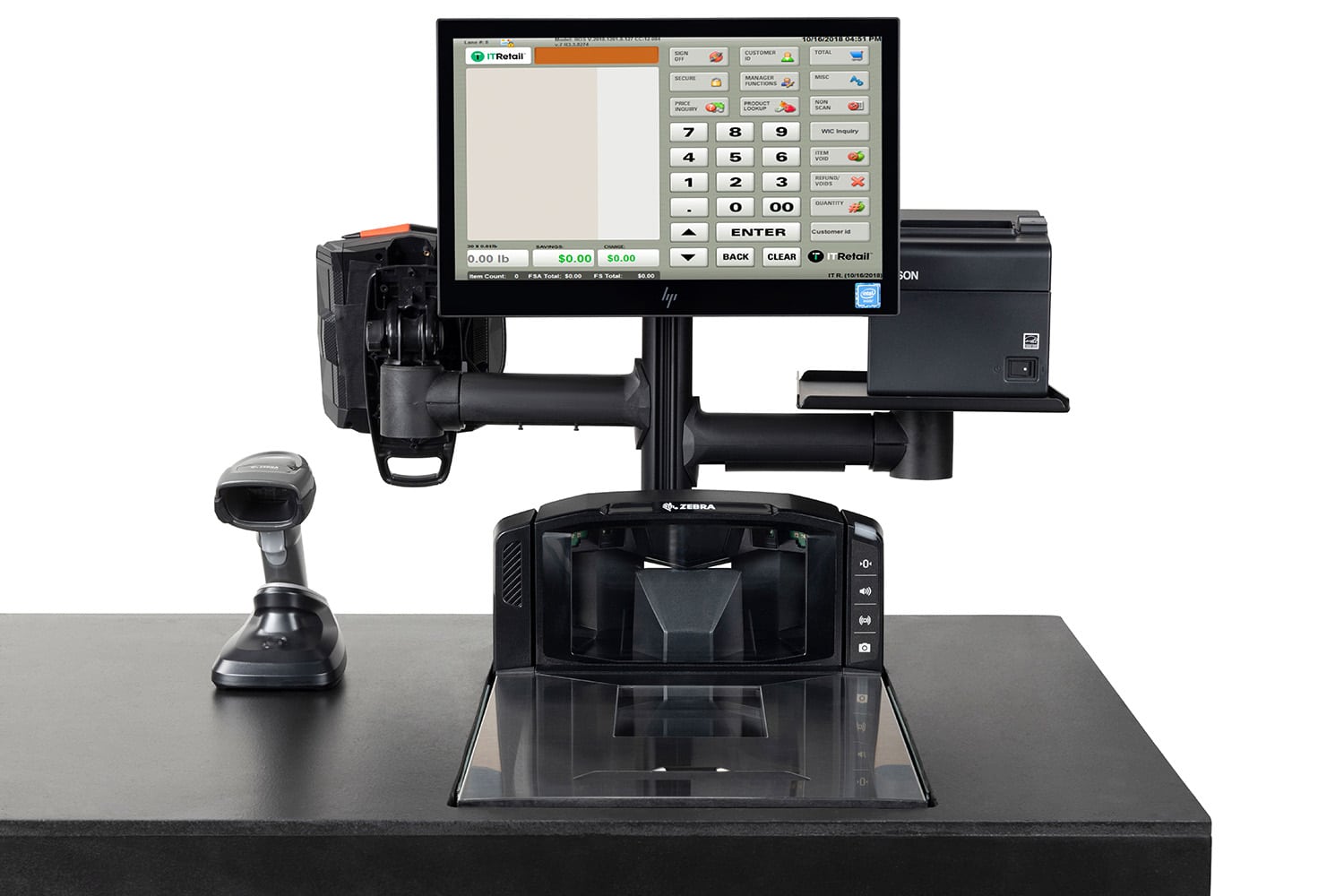 For over 28 years, IT Retail has been serving grocers throughout the country, with thousands of supermarkets, markets, butcher shops, general stores, and specialty retailers using their software. IT Retail is a great choice for food-based retailers looking to invest in multiple checkouts in their stores because it offers open-source software that optimizes checkout flows, a selection of hardware built for speed and convenience, and competitive monthly pricing starting at $79 per month.
Its range of features helps butcher shops simplify checkout and inventory, as well as integrating with the vast majority of scales in the market. We can say that it is one of the best software for small butcher shops.
Salient Features
Payment Processing

Inventory Management

Multi Device Accessibility

Scale Compatibility

  

Employee Management

Android App for Inventory

Instacart Integration

Customizable Reporting

EMV, NFC Gift Cards

EBT Payments
Pros and Cons of IT Retail
Pros
Cons
Can continue processing transactions with intermittent internet connection
Inventory includes low-stock alerts and breakdowns by bottles or cases
Scale integration with optional onsite installation
Theft monitoring and age verification tools
Industry-grade and flexible hardware options

Steep Learning Curve
No Email Marketing
Undisclosed pricing for hardware and payment processing
Software glitches

Why Choose IT Retail?
IT Retail is one of the few POS systems dedicated to grocery stores and butcher shops. Though its feature set is great for other industries as well, it has a dedicated focus on grocery stores and meat shops. IT Retail is the best software for small butcher shops including convenience stores, liquor shops, general stores, natural food stores and delis.
IT Retail Pricing
Software subscriptions at IT Retail start at $79 a month. On-site installation, product import, geo-replicated backups, and payment processing evaluations can also be purchased. Hardware is sold separately. The provider offers customized quotes for software, hardware, and payment processing.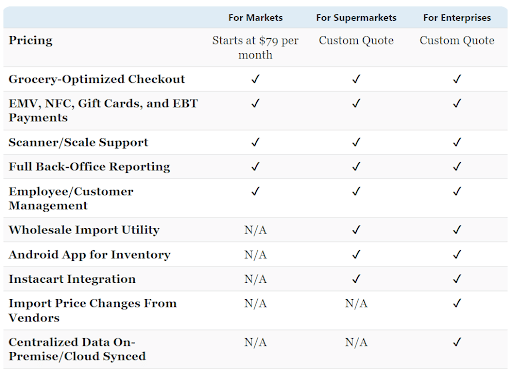 In order to get a general idea of the company's products and services, you can request a POS setup recommendation from its website by providing the number of checkout lanes and stores you run.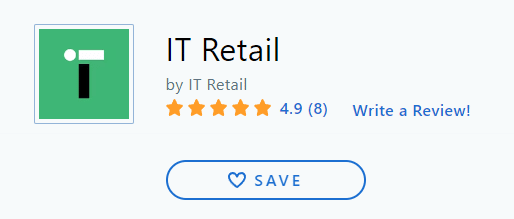 5. Café Cartel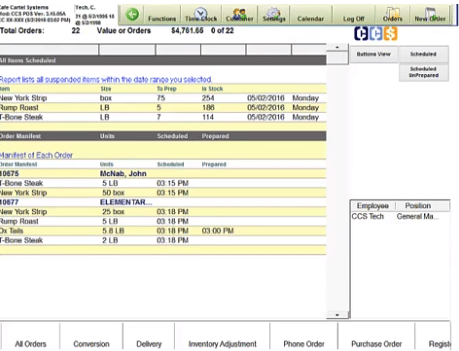 A specialist in meat commerce, Café Cartel understands each aspect of the meat supply chain from custom meat packaging to farm-to-table solutions.
With competitive pricing, they offer meat markets and butcher shops a fast and reliable solution.
Salient Features
Smart Inventory

Employee Management

Customer Retention

Catering

Business analytics

Output to QuickBooks for accounting
Pros and Cons of Café Cartel
Pros
Cons
Fast Point of Sale POS Transactions
Advanced Inventory Tracking
Random Weight Scanning, Weighing Scale Integrated POS
Touch screen & Cloud Ready Point of Sale Software
Exceptional Support

Frequent system glitches reported by users
Why Choose Café Cartel?
Keeping customers engaged and loyal is key to generating revenue for your butcher shop. Cafe Cartel features a feature-rich loyalty program that will help you incentivize and entice customers to move their business to your shop (and keep it there!).
Café Cartel Pricing
Much like other meat market POS systems, the pricing for Café Cartel is very flexible.
Multiple Terminals
Free

Must have qualified processor agreement.

No long-term contracts.
Subscription First Terminal
$50/month

No set-up fee or contract.

No charge for training.

They will install the system.

Get up and running fast.
Additional Terminals
$35/month

Apply for the discount after more than three terminals.
Terminal Software
$695 (one-time fee)

No subscription costs.

Required for use outside US and Canada.
Additional Terminals
$495 (one-time fee)

Goes with software package.

Required for use outside US and Canada.
Entire POS Systems
Butcher Shop POS System – Buyer's Guide
How Much Does a Butcher Shop POS System Cost? 
There are a lot of POS systems available on the market, and each one is priced differently because some systems require you to purchase the hardware in conjunction with the software. The meat industry has some unique hardware requirements compared to other industries, such as scales.
Generally, subscription prices are determined by the number of terminals you require or the type of hardware bundle you purchase. The price ranges from free to a few hundred dollars per month. Some companies also offer the option of purchasing the software outright (for about $600). The cost of hardware varies depending on the needs of the business. It is likely that you will already have a scale in place in most shops.
Benefits of Using a Butcher Shop POS System
It comes with many advantages that make it a great choice for even the smallest of stores. Benefits include:
Data-driven decision-making based on extensive vendor relationships.

Calculating weight measurements for various items using software and hardware.

Programs to reward repeat customers and boost consumer engagement.

Our flexible pricing programs work with the hardware and software requirements of your business.

You can choose a pricing plan that meets the needs of your individual software and hardware requirements.

Contactless payment is one of the payment methods we accept from customers.
What to Look For in a Butcher Shop POS System
You should watch out for certain features when comparing butcher shop point of sale systems if you would like them to be worth your investment.
Fast Checkout
Among all of these systems, one of the most important characteristics is their speedy checkout process. While this is more important in grocery stores than butcher shops, you still need to process orders as quickly as possible. As you process more orders, you will be able to serve more customers.
Vendor Management
Your meat is likely to be purchased from a variety of different vendors who charge different prices. In order to make informed decisions about the best meat sources for your butcher shop, you need to have a POS system that will allow you to track all of this information, compare prices among your vendors, and provide you with all of the information you need.
Scale Integration
For butcher shops specifically, the ability to weigh meats and then ring up prices directly in the POS is perhaps the most crucial feature. Depending on the system, you may need to print out stickers and ring them up or integrate scale-to-POS directly. In either case, you need to ensure that you can charge by weight.
Inventory Management
You need to keep track of your inventory if you offer a diverse range of products, such as meats and any other items in-store. POS systems should include low-stock alerts and the ability to monitor meat sell-by dates to make inventory management as automated as possible.
Loyalty and Customer Incentives
It's important to keep your customers coming back for more if you want to build your business. That's why butcher shops need a solid loyalty program. Rewards your customers for coming back with loyalty points and offers discounts as well. These features should be an integral part of your POS system.
Final Thoughts
In order to make a good investment in a POS system for your butcher shop, you need certain features and functionality. We hope this guide has helped you identify those features among some of the leading butcher shop POS systems.
A quick and efficient user interface, a solid loyalty program, and scale integration are key features you should be looking for in a solution.
Our POS reviews found that prices varied widely, so be sure to shop around so you get the best deal possible. You can concentrate on growing your business and selling more meat to your loyal customers with the right POS platform for your butcher shop.
In the meat market and butcher shop industry, there is history. Unlike other businesses, this type of commerce requires a POS system with scale to operate effectively. Luckily, brands dedicated to this niche offer affordable solutions because they understand this.
It's important to note that while National Retail Solutions (NRS) POS system topped our list, your business will have specific requirements that you should consider so that you make the best possible purchase. View current pricing on Amazon.
FAQs
What is included in NRS POS System?
NRS POS include the following:
Dual Screen Display

Cash Drawer

Bar Code Scanner

Weight Scale to weigh meat
Why do butcher shops need POS software?
In addition to reducing the risk of fraud / miscalculation of meat weight in the meat shop, butchers can track each and every transaction with a butcher shop POS software.
When choosing a POS system for your butcher shop, what are the most important factors?
If you are selecting a POS system for your butcher shop, it should be with a weight scale, easy to use, flexible, supportable, and tailored specifically to suit your business' needs.
What are the 4 must have features you should consider when getting a POS system for your butcher shop?
Smart inventory Management

Weight Scale

Barcode Scanner

Multiple Payment Options
How do butcher shop POS systems work? 
In a butcher shop POS system, the meat or mince is placed at the weighing scale. After weight, the meat is packed and scanned through the bar code scanner using a QR code generated by the system. After that it will fed directly into the system.