(Last Updated On: 02/07/2023)
Written by Business Expert, Wale Ameen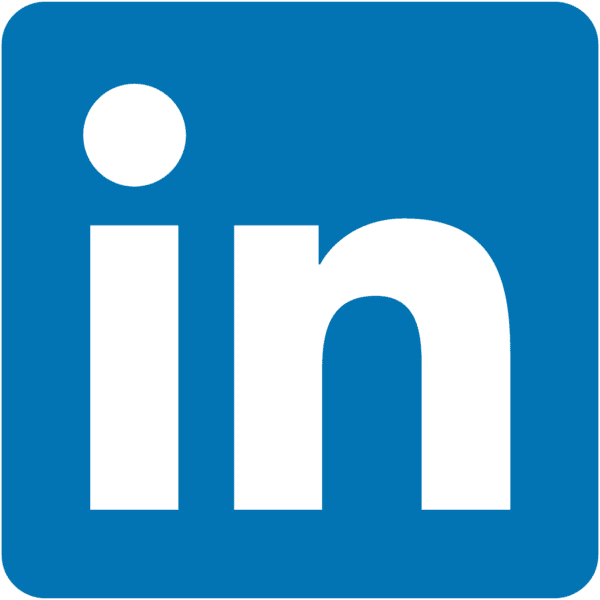 Our product review team dedicates hours of research, fact-checking and testing to recommend the best solutions to business owners. We earn from qualifying purchases through our links, but this does not influence our evaluations. Why trust our reviews? 
The best receipt printer for Square will go a long way in enhancing the customer experience and improving turnaround time. These receipt printers have been carefully selected and are the product of careful study of popular printers compatible with Square POS as well as users' reviews.
In a rush? Skip ahead to: 
Importance of Receipt Printers for Your POS System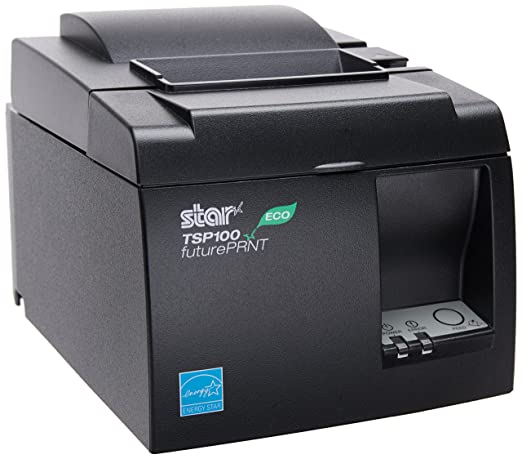 A solid POS platform like Square can help you improve your business efficiencies and, thus, profitability. Although the business world has gradually evolved, with more futuristic businesses adopting email receipts for their customers, some customers still prefer to have them on paper. And while it has been said that the future is automation and digital, the place of paper in our daily lives cannot be totally erased. 
As such, if you are a Square user, it is still important that you consider purchasing a receipt printer for Square. 
There are only two mobile printers that use Bluetooth, and a much wider range of desktop printers. While some are compatible with iOS devices, others are with Android, and some others align specifically with the iPad only. Plus, there are a variety of hookup types, like USB, LAN, and more.  
Most of these models print on thermal paper, meaning no ink is required. 
Square POS Overview
Square is a great and excellent POS system for new and small businesses. This is especially so given its cost. With all the core features your business needs to start processing payments, an impressive array of add-ons and packages, and competitive pricing, Square offers a unique value-add to any business that uses the platform.
What are the Best Features of Square POS? 
Square accepts all payment types, including contactless payment, chip cards, Apple Pay, and Google Pay. You can store payment details for your regular customers and charge them with the simple tap of a button. Square's payment processing is fully secure, with dispute management, fraud protection and monitoring, encrypted payments, PCI compliance, and account protection tools. 
The platform also features an efficient, intuitive, and customizable checkout screen, as well as the ability to generate both print and digital receipts. Square's Customer Directory allows you to store customer information, purchases, and interaction history. Square also automates your inventory maintenance with daily emails detailing items that are low or out of stock.
Square's Add-Ons & Packages
Square also offers several add-ons for a monthly fee that further enhance the usability of the platform:
Employee Management: Allow clock in/out ability, set employee-specific access restrictions, and generate timecard reports.

Square Marketing. Craft & track custom email campaigns

Square Loyalty. Create loyalty programs that customers can easily enroll in after their initial check out.

Gift Cards. Create gift cards, tracking activations, redemptions, and refunds through your POS. 

Additionally, Square offers two packages for retailers and restaurants, each with features specific to those business types. 
How Much Does Square POS Cost? 
Square offers a pricing package that is great for small businesses and those just starting out. Rather than holding customers to a monthly package pricing plan that in most cases are not explicit as to what users' are really paying for, the Square basic package charges a set amount per transaction rather than a flat monthly fee. Here's how the fee structure breaks down: 
2.6% + $0.10 per transaction for swiped, tapped, or inserted transactions
3.5% + $0.15 per transaction for keyed in transactions
2.9% + $0.30 per transaction for online sales
However, Square may not be ideal for you if you run a medium to large scale business that is already running a large scale operation. 
You may also be interested in: Square POS Pricing | Hardware & Software Costs
Does Square Terminal Print Receipts? 
One question you probably have considered as a Square user is this: Can you print receipts with Square? So just in case you are wondering if Square terminals print receipts, the answer is a big yes. Square terminals do come with an inbuilt receipt printer that you can use to print out receipts for your customers.
How to Print a Receipt from Square Terminal 
Setup your Square terminal to print receipts 
This you can do by going to Settings > Checkout > Payments types > Toggle "Cash" on.
Steps to print a cash receipt when processing a transaction
Initiate a transaction

Click review sale

Click charge

Click cash

Next enter the amount taken, and click "Tender."

Select ''print'' when the system asks what method you will like the receipt to be issued in
How Much Do Square Receipt Printers Cost? 
You can expect the cheapest receipt printer for Square to cost as low as $150 for the cheapest model, and as much as $750 for the most expensive Square receipt printer.
Let's dive into the top Square compatible receipt printers that will give you top options you can choose from. 
Mobile Receipt Printers
It is important to note that Square is only compatible with just two brands of mobile printers: Epson and Star Micronics. While some models from both brands work via Bluetooth, others work by connecting a USB cable, and a few others via an Ethernet cable.
One of the greatest advantages that mobile printers have is, fittingly enough, their mobility. Most of them are small enough to be carried and moved from location to location. 
Here are a few of the most popular mobile receipt printers for Square. 
Best Receipt Printers for Square
Mobile Receipt Printers
Epson TM-m10
The Epson TM-m10 thermal printer is one of the smallest printers from Epson. This printer has two size types, the 3-inch version and the 2-inch version. In terms of design, this printer is well designed with a nice smooth body surface. 
The Epson TM-M10 weights about 2 pounds and can be positioned in the smallest of spaces while connecting seamlessly with tablets and Square devices.
One thing to note about this printer is that it is ideal for shops and businesses constrained by space. Because it is so compact, it can fit ideally into small spaces, and as such, make it an ideal solution for anyone looking for printers that are very small. This, however, does not bring down the functionality as it can both print out easily and in seconds. In terms of speed, you can print 6 inches per second on 2-inch paper.
This printer works with a USB interface and it is compatible with: Square Terminal, Square Stand, Square Stand Mount, Square Register, and Android with Square Reader but are not compatible with iOS with Square Reader.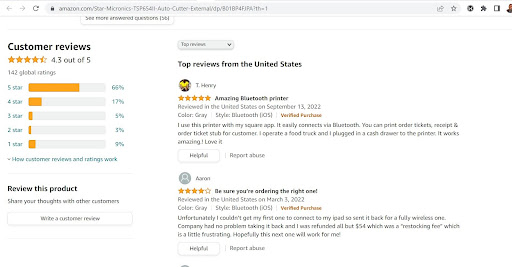 Epson TM-T20III
The Epson TM-T20III printer delivers speed and value as it easily withstands the rigors of tough environments. It is widely used in high volume retail shops and is one of the most affordable receipt printers. However, the tradeoff is that it's not the best performing printer out of the ones we've reviewed.
It features a paper reduction capacity that reduces top and bottom margins and prints at 8 inches per second on 3-inch paper, and features automated paper reduction. It also comes with a print speed of 250mm/sec.
The pack comes with an adapter and power cable, power switch cover, paper roll, rubber feet, USB cable and wall hanging bracket.
Although it's not the most powerful option, it's still a solid choice for smaller businesses looking for a less expensive receipt printer for Square. It is rated 4.6 over 5 on Amazonn and this shows it is a good buy.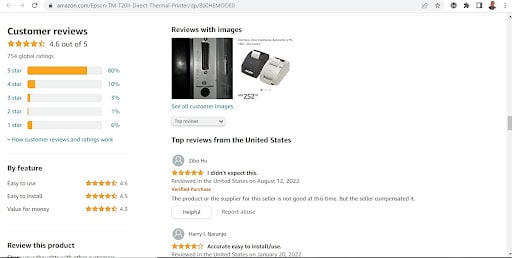 Compatible connections:
LAN by cable – any iOS

USB – iPad + Square Stand together

Bluetooth – any iOS
Compatible with: Square Terminal, Square Stand, Square Stand Mount, Square Register, iOS with Square Reader and Android with Square Reader.
Epson TM-T88V
The Epson TM-88V series is the first Energy Star-qualified thermal-heat receipt printer to be made, with low power consumption and a paper reduction feature. It prints at 12 inches per second, and is reliable for at least four years. It also includes multi-grayscale printing capabilities for more vivid graphic images and logos. 
It is a mobile POS friendly printer, and you can easily set it up. The printer includes a connector cover, a power switch cover, a 58-mm paper guide plate, and a spare roll of paper. It runs at around $300. 
Compatible connections:
USB – iPad + Square Stand together

Bluetooth – any iOS
Users attest to the durability of this printer. A user notes she has been using it for about 15 years. This shows that this is a great product you can bank on. Overall it has a 4.4 out of 5 star rating.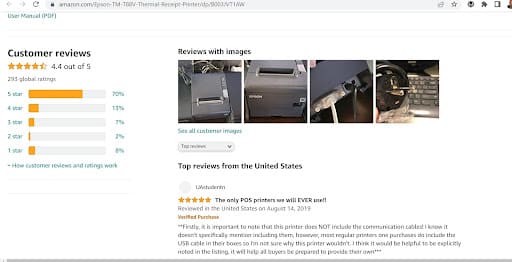 Star Micronics SM-S230i
This compact model is the smallest, lightest, and fastest of the Bluetooth receipt printer for Square. Star Micronics SM-S230i is also the smallest in the Star Micronics range of printers. It measures 1 x 4.5 x 2 in size and weighs just under 8 ounces, including the battery. 
Although it's a small printer, the battery life is the longest lasting of all the mobile printers: up to 19 hours with 5-minute printing intervals. This is partly due to the system's automatic sleep mode, which conserves battery power. It needs no setup as its Bluetooth comes with an auto detect capability that automatically searches and pairs with nearby devices, making it easy to use with both Android and iOS devices.
The Star Micronics SM-S230i prints at a high (203 dpi) resolution, 3 inch-per-second speed on 2-inch paper receipts. It comes with a battery charger and pack, a sample paper roll, a belt clip, and a USB cable. It runs between $275 and $350, depending on where you're purchasing it from.
Compatible connections:
Bluetooth – Windows, Android, and iOS.
Star Micronics SM-230i printer comes highly recommended by users on Amazon. It has an overall rating of 4.2 out of 5 star rating with many acknowledging its ease of use and ease of installation.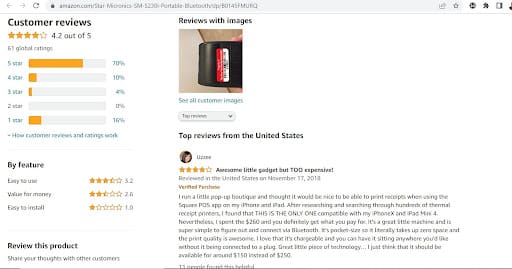 Star Micronics SM-T300i
If you work in a harsh, active environment, this may be your best Bluetooth printer. At 15 pounds including battery, the added weight results in a more durable and sturdy printer. This dust-protected and splash-resistant model is perfect for restaurants and busy retail environments. 
The Star Micronics SM-T300i printer is a stylish, durable and compact printer that will get the job done and in good time too.
It measures approximately 5 x 5 x 2 in, with a print speed of 3-per-second in high resolution on 3-inch paper receipts. The battery lasts up to 11 hours with 5-minute printing intervals. The pack comes with a battery, AC adapter, serial cable and sample roll. 
Compatible connections:
Bluetooth – iOS (iPad, iPhone) and Android

Web browser-based application
How Do Business Owners Rate the Star Micronics SM-T300i?
Users commend its portability and ease of use. It scores a 4.2 out of 5 star overall rating on Amazon.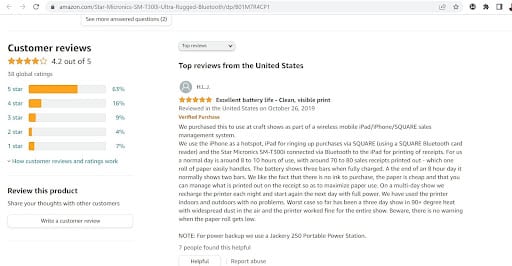 Stationary Receipt Printers
While mobile printers, just as the name implies, are mobile and can be easily moved around, stationary printers, on the other hand, are meant to be stationary largely due to their bulky size.
On top of all that, the USB connections only work on an iPad if you use the Square Stand with the USB socket. It doesn't work on the iPhone at all.
Here are some of the top stationary receipt printers for Square. 
Star Micronics TSP143III
This is one of the best selling desktop receipt printers for Square. It prints at a speedy 10 inches per second on 3-inch-wide paper receipts. Additionally, the auto-cutter and de-curl functions both help to make the checkout experience more efficient. 
If you're using an iPad or iPhone, you can connect the printer to your POS devices via the USB lightning cable. When connected via this cable, both devices will also charge at the same time. This means that you can set up and run the system 24/7 with no downtime.
The downside to this model is that you have to select your connection type in advance. For instance, you can choose whether to purchase the USB or LAN model; once you select your printer, you're stuck with that connection type. 
The pack comes with a wall mount bracket, a 58 mm paper guide, cables, and software.
Read more: Star Micronics TSP143IIIU Thermal Receipt Printer Review
Compatible connections:
USB (TSP100IIIU) – Android, iPad + Square Stand together

LAN by cable (TSP100IIILAN) – Android, any iOS

Wireless LAN (TSP100IIIWLAN) – any iOS
The Star Micronics SM-T300i printer scores an impressive 4.4 overall star rating on Amazon from users and this is indicative of its wide acceptance.

Star Micronics 654II
The Star 654II receipt printer prints at 11 inches per second, which translates to 60 standard receipts per minute. You also have the option of adding a splash-proof cover. It is offered as part of the TSP650II series.
The best part of this printer, however, is the interchangeable interfaces. If you decide to switch from USB to Bluetooth, for instance, you can do that without having to buy a new printer. 
The pack comes with a vertical mount accessory, wall mount bracket, 58 mm paper guide, power switch cover, start-up paper roll and an external power supply. It runs between $250 and $300. 
Compatible connections:
USB – Android, iPad + Square Stand together

LAN by cable – Android, any iOS

Bluetooth – any iOS
This printer scores an impressive 4.3 out of 5 stars on Amazon and, as such, comes highly recommended. You can be sure to get value for your money by using it along with your Square device.

Star mPOP: Receipt Printer with Cash Drawer
Star mPOP is an advanced MPOS solution from the Star brand. For cash purchases, the Star mPOP cash drawer and receipt printer is probably your best bet. The pack comes with a printer, cash drawer, and a device stand.
This model is compatible with the iOS, Android, and Windows operating systems. Retailers can choose to add a barcode scanner too, but this is optional.
The receipt printer prints at 4 inches per second on 2-inch paper. As with other countertop models, loading is an easy drop-in-and-print action, with an auto-cutting guillotine.
The cash drawer contains four bill slots and adjustable six or eight coin slots. There is a hidden space under the removable coin slots for any extra items to store in the till.
Compatible connections:
USB – Apple, Android and Windows tablets or smartphones

Bluetooth – Apple, Android and Windows tablets or smartphones
The price of the Star mPOP system is not listed online. You'll have to reach out to the Star sales team for a quote on this printer.
Conclusion
With a wide variety of printers on the market, selecting the best receipt printer for Square all comes down to which capabilities are a priority to your business.
If you travel from location to location regularly, a mobile printer is obviously the best option for you to buy. Speed of printing may be the variable that makes the difference for you, so be sure to take note of those stats. You'll also need to consider your connection situation, and select a printer that's compatible with your hookup type.
Finally, be sure to keep hidden costs in mind. Make sure that your printer is compatible with the devices you already have or plan to purchase, otherwise you'll be making an expensive mistake. On top of that, some printers will require paper and even ink more frequently, and those costs can add up.
Overall, think carefully about your business' specific needs and which features are the highest priority. Odds are you'll be able to find a printer that's perfectly suited to your needs.
FAQs
Will any receipt printer work with Square?
As highlighted in this review, there are quite a number of options of printers to choose from printer manufacturers Star Micronics and Epson. There are different connectivity types: USB, Ethernet-Network and Bluetooth.
How do I print receipts with Square?
All you need to print your receipts with Square is to connect your receipt printer to a power source. From your Square Point of Sale app, go to your Settings, choose Hardware, then Printers, and select Create Printer Station.
What printers can you use with Square?
There are a wide range of Epson and Star Micronics receipt printers you can use with Square. Some of these include the Epson TM-m10, Epson TM-m30, and the Star Micronics SM-S230i along with many others.
Can Square use any printer?
Square does not work with all printers. However, it works with a wide array of printers from Epson and Star Micronics from which you can select from. Depending on the device that you are using for your Point of Sale, you have a wide variety to choose from.