(Last Updated On: 12/03/2020)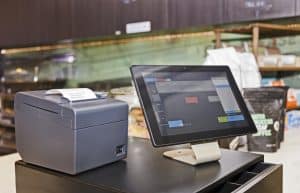 The Star Micronics TSP143III printer is specifically designed to overcome POS connectivity challenges in the work environment.
An increasing number of retailers and restaurant owners are adapting Mobile POS solutions for improved flexibility and mobility.
Not only is the TSP143III thermal printer compatible with numerous traditional POS systems, but also connects directly to iPhones and iPads via the Apple-supplied lightning cable. This makes it a great choice for tablet-based mobile POS systems. 
The printer features the innovative AllReceipts Digital Receipting by the manufacturer and is fitted with an efficient guillotine auto-cutter. This printer had much more to offer your business, as you will learn throughout this Star Micronics TSP143III review. 
Star MicronicsTSP143III Alternatives  
| Star Micronics Printer   | Interface Options | Print Speed | Average Cutter Life  |
| --- | --- | --- | --- |
| TSP143III | USB, Bluetooth, WLAN, LAN, and Lightning | 8.0 ips | 2 million cuts |
| TSP100 GT | USB | 10 ips | 1 million cuts |
| TSP650II | USB, Ethernet, Bluetooth, Serial, and Parallel | 11.8 ips | 2 million cuts |
| TSP100III | Ethernet, Wi-Fi, and Bluetooth | 9.8 ips | 2 million cuts |
Possible Drawbacks 
The printer tends to lose the IP address, requiring you to reprogram the unit in order to re-establish a Wi-Fi connection. 
Star Micronics TSP143III Hardware 
For about $485, you will get the Star Micronics TSP143III thermal printer, along with all the accessories you need to get started.
The packaging will include the TSP143III printer, a vertical wall mount kit, 1.8m power cable, a 58mm paper guide, a sample paper roll, 1m USB cable, and a power switch cover. 
The packaging will also include detailed setup instructions for the printer. Upon request, you may also get such options as a vertical display stand, buzzer, and a splash-proof cover with your TSP143III printer. 
Star Micronics TSP143III Printer Key Features 
The TSP143III is simply a revolutionary thermal printer, the very first one that can actually connect to and print directly from an iPad or iPhone. Additionally, it supports multiple connectivity options that have been proven to be compatible with numerous Android, Linux, Mac, and Windows-based POS systems. 
The unit supports both Bluetooth, and Wi-Fi/WLAN set-up and paring options hence are suited for use with both traditional and mobile POS systems. Discussed below are other features and capabilities that make the TSP143III stand out from other receipt printers;
Software Developers Kit (SDK) 
The manufacturer offers a dedicated modular Software Developers Kit that features a vast array of beneficial tools. This allows system designers to explore all the advantages the TSP 100 printer series software and hardware solutions have to offer. 
For instance, you can literally drag and drop the auto text reversal tool into your Star developer's software. The provider also allows for easy integration of the printer with mobile devices with its dedicated Apple iOS and Android SDKs.
Pre-Installation Set-Up Tools 
The solution allows for easy driver installation for all platforms using the supplied CD-ROM or through the Star designed architecture. The architecture is specifically designed to allow for easy and fast modifications when needed. 
The printer custom filters/features may be easily written by an integrator or OEM. The software features Active X Components—enabling developers to drag and drop items to the OEM software. 
ECO Printing Features
The Star Micronics TSP143IIIU printer boasts of a number of Eco printing features, including both vertical and horizontal text reduction to save paper. These features will help you use up to 70 percent less receipt paper.
The model is also highly-efficient on energy. As a matter of fact, the TSP143IIIUECO printer has been designed to correspond directly to the PC it has been attached to. This means that the printer is only active when the PC or terminal it is connected on is up. 
The rest of the time, the printer will remain in a standby mode to help save on energy consumption. As a result, the unit has bee proven to be fully Energy Star compliant. Other Eco capabilities you will come to like about this printer include: 
Unique Partial Cut
The innovative partial cut feature makes it possible for this printer to achieve a 3mm top margin by default—making it probably the only printer that can do that in the industry. As compared to other receipt printers, this alone will save about 8mm of paper for every receipt you print. 
Auto Reduction 
The TSP143III printer model can automatically reduce receipts from an 80mm wide format to 58mm Auto Reduction without changing original POS Software receipts from an 80mm wide format to 58mm without altering your initial POS software setup. 
All you need to do is select the appropriate paper-reduction option on the futurePRNT software. You will also be able to choose whether you would like to have the receipts reduced vertically by 50%, horizontally to 72.5% of the original size or both. 
Receipts on Demand
The futurePRNT software prompts the customer at the checkout enquiring on whether they would like to have their receipt printed or not.
In this regard, it allows you to either print or cancels a receipt. This option will help you save printing paper, especially on transactions involving low-cost, consumable items such as newspapers, and fast food items. 
The canceled receipts will be saved graphically and may be reviewed or printed later. 
Star Cloud Services Access 
Turn your Star Micronics TSP143III printer into a cloud-connected device with the free access to Star Cloud Services. This connection offers retailers an array of tools and services to help engage and activate their customers. 
Some of the beneficial tools and services you will get from the Star Cloud Service include:
Digital Receipts 
Reach and engage with your customers without having to call, email, or send them text messages. To get this service, you need to connect your TSP143III printer to the internet and register an account through the dedicated retailer website.  
Send promotional images directly to your customer's phones using the Star Receipt Flip Service. The solution makes it possible for you to send alerts and direct customers to your preferred landing page or just feature your logo, receipt, and coupon on their phones. 
The solution also features a customized API for easier integration with your current retailer card or loyalty programs. 
Device Management
This is a Cloud Hardware Monitoring Service enabling the retailer to view connected printers and cash drawers within a Cloud-based portal listing. For faster and easy identification, this functionality allows you to name your receipt printers. The ability to name printers will come in handy for retailers with multiple locations
Engage NOW
A secure, and customizable solution that allows business owners to engage with their customers for enhanced customer loyalty. It features an alarm notification on the customer's smartphone. When opened, the notification redirects the customer to a landing page of your choosing. 
This capability features dynamic URLs and is guaranteed to reach the customer's phone, even if the customer has claimed just one digital receipt.
Data Facilitation
Star Cloud is capable of transforming shopping receipts into valuable digital transaction data. The Data Facilitation feature allows retailers to export digital receipt data to third-party partners, and vendors. The third-party services can then analyze the data to offer your business a wide range of analytics or shopper engagement services like loyalty programs.
Receipt Flip
This is essentially a focused marketing tool that can be changed daily, or even hourly to match your latest market product trends and campaigns. It will attach a motivational full-color image, coupon, or details of an event to a receipt and send it to the customer's phone. 
futurePRNT Software 
The Star Micronics TSP143III thermal printer runs on the innovative futurePRNT software—a solution packed with numerous value-added, and set-up tools. The solution has much more to offer you, as compared to the installation tools that come with most of the leading receipt printers. 
It allows you to install high-volume, custom set-ups as well as pre-determine set-up requirements in accordance with the operating platform. What sets this software from other printers in the industry is that fact that it is loaded with a diverse range of capabilities, including: 
Journal and Multicopy Tool
The multi-copy tool from Star is truly versatile. With this tool, the user can accurately determine the number of copies to be printed. Additionally, it allows you to specify the different text and graphics required for each copy.
These make the feature ideal for retailers, and pizza delivery businesses. 
Receipt Redesign
With the TSP143III futurePRNT software, you do not need to be an IT expert or even re-calibrate the POS software in order to re-design your receipts. The feature allows you to crop out embedded images and text as well as add new profit-taking graphics and messages. 
It works completely independently from the current POS software. The new Receipt Cropping functionality helps you crop unwanted sections in an effort to create more space for new text and graphics.
Font Replacement 
With this feature, you can make changes to the receipt font, without having to use the printer's resident fonts. To use this feature, you need to navigate to the properties page on your printer display. When selected, it will automatically replace any non-TrueType fonts that may be on the receipt with a more attractive and effective font. 
Even so, this functionality will not affect the printing speed. 
Image Import 
This tool is meant to simplify the conventional logo store set-up by eliminating the need for you to prepare images. Through the control panel, you will be able to access, unlimited color or mono .gif, .jpg, and .bmp files and save them by name. 
The solution also allows you to prepare such images for output with a number of dither methods. As such, you do not need to pre-save or pre-size an image file as a mono .bmp format as other printers require you to do. 
AutoText Reversal
The unique auto text reversal feature will come in handy for vertical or wall-mounted operation. To use the feature, you need to tick the appropriate box. The printer will automatically turn the output text upside down in accordance to your requirements. 
With the Smart Micronics TSP143III printer, such settings may be stored in the PC or just mirrored across other networked TSP100 series printers. This may be accomplished through a simplified export configuration feature that is meant for mass system installations.
Coupon Marketing
The free value-added software is designed to works seamlessly alongside your POS software for effective customer motivation. This capability allows for the automated printing of coupons based on purchase valued or retailer pre-determined merchandise. 
Determine certain trigger action keywords on the printer to help address overstocking and seasonal fluctuations. The Wizard-driven software is designed to carry out word searches to ascertain the automatic output of relevant coupons or graphics.
Star Micronics TSP143III Benefits 
Specifically designed to work with POS hardware, capable of connecting and printing directly from an iPhone or iPad.

 Features a 24V DC internal power supply

The model is daily simple to set up as it comes assembled, you just need to plug and play 

Compatible with 0.053 to 0.085mm thin printing paper, and can print up to 250mm/ second

Offers WLAN,  LAN,  USB,  or Bluetooth Interface connectivity options for enhanced compatibility

Features Special Print Flat Technology, and a Guillotine Auto-Cutter

Allows for easy "Drop-In and Print" Paper Loading, and is compatible with PromoPRNT and AllReceiptsTM 

Backed by a 4-year warranty, which also covers the  print head and cutter
Final Verdict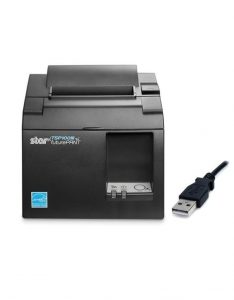 The TSP143III printer is a part of the TSP100III series printers by Star Micronics. The printers are renowned globally form their outstanding connectivity options.
Designed specifically for use with POS systems, this printer is compatible with a variety of iOS, Android, and Windows terminals. 
It has a printing speed of about 43 receipts per minute and features a "Drop-In and Print" clamshell design for easy paper reloading. The patented "De-Curl" feature used on this unit will ensure that you always print flat receipts, even at the end of the paper roll.  
It runs on the powerful futurePRNT Windows software, allowing you to enhance receipts to add graphics as well as print multiple copies. Despite its comparatively higher price point, you can rest assured that the Star Micronics TSP100III printer offers great value for money.