(Last Updated On: 02/03/2023)
Affiliate Disclaimer: Our product review team dedicates hours of research, fact-checking and testing to recommend the best solutions to business owners. We earn from qualifying purchases through our links, but this does not influence our evaluations. Why trust our reviews?
Written by Software Expert Hamza Shahid
The STAR Micronics TSP143IIIU receipt printer is an excellent choice for tablet-based, or mobile POS systems. Mobile POS solutions offer retailers and restaurant owners' greater flexibility.
You may also be interested in:
13 Best Retail POS Systems [Any Size]
Best Restaurant POS Systems [25 Systems Ranked]
STAR Micronics TSP143IIIU Thermal Receipt Printer
Features

STAR Micronics TSP143IIIU is one of the most popular thermal receipt printers. It offers: 

All-in-one package (parts & software included)

Printing directly from iPad or iPhone
250mm/second printing
Data transfer allowance between mobile device & printer via standard lighting USB cable
What is Star Micronics TSP143IIIU Thermal Receipt Printer?
It is the first USB POS printer of its kind to be able to connect directly to an iPad or iPhone using an Apple Lightning cable, enabling both reliable USB communication and simultaneous charging.
The TSP143IIIU is a USB receipt printer that can print directly from iOS devices via the supplied Lightning to USB cable, providing a truly versatile solution when used with traditional POS terminals (including Windows, Android, Linux, MAC). It is now possible for retailers to combine the reliability of cabled terminal POS with the flexibility and advantages of mobile tablet POS without having to worry about Bluetooth pairing issues, network infrastructure issues, and connectivity issues. This printer is compatible with many POS software providers in a wide range of industries. Read the full list of STAR's certified POS software partners. 
Don't have time to read this whole review? Skip to the section that you're interested in:
What Makes it the Best Receipt Printer? STAR Micronics TSP143IIIU Printer Key Features
What Can This Printer Be Used For?
Advantages of the STAR Micronics TSP143IIIU
Specifications
Maximum Printing Speed

250mm/sec

Resolution

203 dpi

Power Supply

Internal (EU and UK cables included). Energy Star Certified

Auto Cutter

Partial Cut (Guillotine)

Paper Width

80mm (58mm using paper guide)

Paper Thickness

0.053 – 0.085mm

Paper Roll Diameter

Up to 83mm

Print Width

72 mm (80 mm wide) 51 mm (58 mm wide)

Emulation

Star Graphic Mode Supports Star Line & ESC/POS™ Mode via futurePRNT software

Sensors

Paper End, Cover Open

Interfaces and Connectivity

USB 2.0 plus direct & unique Data & simultaneous Charging

connection to iPad / iPhone /iPod with Apple supplied lightning cable

ECO Features

Top Margin 11mm

Print on Demand (Windows); 25% & 50% Receipt Length Reduction /

Receipt Horizontal Compression 80mm width to 58mm (Windows)

Drivers

Windows 7,8,10, OPOS, JavaPOS

SDK Support for iOS, Android & Windows

Star IO SDK for iOS & Android CUPS Driver (Linux, MAC OS)

futurePRNT Software

Enhanced Receipt Design tools for Windows

That work above the retailer's software. Sophisticated, easy-to-use tools including Image Import Tool, Receipt Pre-View Tool, Multiple Coupon Marketing & Text Triggered Tools, Auto-Text Reversal Tool for vertical use, Journal & Multi-Copy

Tool can all be set up on one terminal and sent to all other terminals across the estate via a .XML file removing the need to configure each printer before installation, saving both time and money.

Star Cloud services

Digital Receipting –  AllReceipts with Customer App (www.SMCS.io)




Device Management Tool Provides real time status across the installed base of printers with refreshed error status notification on




a comprehensive cloud based dashboard




Customer Satisfaction Survey  included in App for instant feedback.




Engage Now Logo link to retailer URL to close communication loop.




Receipt Flip (Receipt Reverse) Opportunity to upload 4 color promotion / terms & conditions to the customer's smartphone.

Warranty

4 year Warranty including head and cutter (UK and mainland Europe)

Reliability

60 Million Lines  / Autocutter 2 Million Cuts

Dimensions (W x D x H) mm Weight

142 (W) x 204 (D) x 132 (H) mm 1.68Kg

What's included in the box?

Printer, 1.8m Power Cable, Vertical Wall Mount Kit, Sample Paper Roll,




58mm Paper Guide, Power Switch Cover, Set Up Instructions




1m USB Cable (Lightning cable supplied with Apple device)

Options

Splash Proof Cover – SPC-T100 / 650




Desk Boot – VS-T650 / 100 (desk boot)




Integrated Buzzer – BU01-24-A
What Makes it the Best Receipt Printer? Star Micronics TSP143IIIU Printer Key Features 
The TSP143IIIU is the first thermal printer that can be directly connected to and printed from an iPad or iPhone, making it the world's first. The device is also compatible with various Android, Linux, Mac, and Windows-based point of sale systems due to its multiple connectivity options.
There are a number of features and capabilities that make the TSP143IIIU stand out from other receipt printers, including; Bluetooth, Wi-Fi/WLAN set-up and pairing options, making it a perfect option for use with both traditional and mobile POS systems.
Software Developers Kit (SDK) 
A dedicated Software Developer's Kit that features a wide array of beneficial tools is available from the manufacturer, enabling system designers to explore all the advantages offered by the TSP 100 printer series.
With Star's dedicated Apple iOS and Android SDKs, you can easily integrate the printer with mobile devices. It is also easy to integrate the printer with mobile devices with its auto text reversal tool.
Pre-Installation Set-Up Tools
With the Star designed architecture, drivers can be easily installed for all platforms using the included CD-ROM, or by using a Star CD-ROM.
Developers can drag and drop items to OEM software using Active X Components – enabling the printer's custom filters/features to be developed by integrators or OEMs.
ECO Printing Features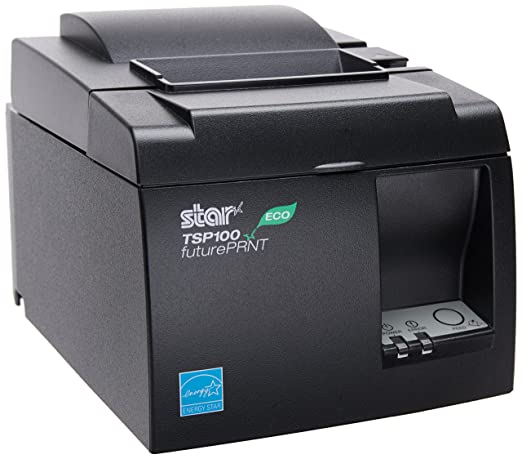 Star Micronics TSP143IIIU printer offers eco-friendly features such as vertical and horizontal text reduction to conserve paper. This feature will reduce receipt paper usage by up to 70 percent.
Additionally, the model is extremely energy-efficient; as it is designed to correspond directly to the PC it is connected to. This means that the printer is only active when the PC or terminal it is connected to is powered on.
As a result, the printer remains in standby mode for the rest of the time, so it meets Energy Star compliance. Other Eco-friendly features include:
Unique Partial Cut
It is probably the only printer in the industry that can achieve a 3mm top margin by default thanks to the innovative partial cut feature. This alone will save you approximately 8mm of paper for each receipt you print as compared to other receipt printers.
Auto Reduction 
As an automatic reduction printer, the TSP143IIIU printer model can automatically reduce receipts from an 80mm wide format to 58mm without altering your original POS software configuration.
The futurePRNT software allows you to choose whether a receipt should be vertically reduced by 50%, horizontally reduced to 72.5%, or both to reduce paper usage.
Receipts on Demand
During the checkout process, futurePRNT asks the customer if they want their receipt printed. This feature enables you to either print or cancel a receipt. This feature will help you save printing paper, especially when purchasing newspapers or fast foods that are low-cost or consumable.
You can review and print the canceled receipts later after they have been saved graphically.
Star Cloud Services Access 
With Star Cloud Services, you can connect your Star Micronics TSP143IIIU printer to the Internet and access a range of tools and services designed to help retailers engage and activate their customers.
With the Star Cloud Service, you will have access to the following tools and services:
Digital Receipts 
Connect your TSP143IIIU printer to the internet, register an account on the dedicated retailer's site, and reach and engage with customers without having to call, email, or text them.
Using the Star Receipt Flip Service, you can send marketing alerts directly to your customers' smartphones or just provide them with your logo, receipt, and coupon. You can also integrate your retailer cards or loyalty programs easily with the solution's API.
Device Management
In a Cloud-based portal listing, retailers can view connected printers and cash drawers. This Cloud Hardware Monitoring Service allows retailers to easily identify their receipt printers. Having the ability to name printers can be useful for retailers with multiple locations.
Engage NOW
Customers receive an alert notification on their smartphones, which redirects them to a custom landing page when opened. It is an easy-to-use, secure, and customizable solution for businesses. Even if a customer has claimed only one digital receipt, this capability guarantees to reach their phones.
Data Facilitation
As part of its Data Facilitation feature, retailers are able to export digital receipt data to third-party vendors, partners, and partners, transforming shopping receipts into valuable digital transaction data. By analyzing the data, third-party services can provide you with a wide range of analytics and customer engagement services.
Receipt Flip
Its purpose is to display a motivational, full-color image, coupon, or details for an event directly on the receipt, which can be changed daily, or even hourly, according to your latest market trends.
futurePRNT Software 
In addition to the innovative futurePRNT software, the Star Micronics TSP143IIIU thermal printer also comes with numerous value-added features and set-up tools. Compared to most of the leading receipt printers, the solution offers a lot more features than their installation tools.
A variety of features make this software different from competing printers in the industry, including: high-volume, custom set-ups, pre-determination of set-up requirements based on the operating system.
Journal and Multicopy Tool
In addition, the Star Multi-Copy Tool lets the user specify the different images and text required for each copy while accurately determining the number of copies to print. These features make the feature ideal for retailers and pizza delivery companies.
Receipt Redesign
You can crop out embedded images and text as well as add new profit-taking graphics and messages with TSP143IIIU futurePRNT software without being an IT expert or having to recalibrate your POS software. With Receipt Cropping, you can crop unwanted sections on receipts to free up more space for new text and graphics.
Font Replacement 
It allows you to change the font of your receipt without having to use the printer's resident fonts. When selected, it will automatically replace any non-TrueType fonts that may be on the receipt with a more attractive and effective font. The printing speed will not be affected by this functionality.
Image Import 
You can save images by name and access unlimited color or mono .gif, .jpg, and .bmp files through the control panel of the tool. As a result, you do not have to pre-save or pre-size an image file as a mono .bmp format, which is required by other printers.
AutoText Reversal
If you are printing vertically or wall mounted, the unique auto text reversal feature comes in handy. Simply check the appropriate box and the printer will turn the output text upside down for you.
The Smart Micronics TSP143IIIU printer allows you to save such settings in the PC or have them mirrored across other networked TSP100 series printers using the simplified export configuration function.
Coupon Marketing
POS software can be easily integrated with free value-added software for effective customer motivation. This software can automatically print coupons based on purchase values or predefined merchandise from the retailer.
The Wizard-driven software automatically outputs relevant coupons or graphics based on certain trigger keywords on the printer. This helps reduce overstocking and seasonal fluctuations.
Used For:
Receipt, coupon & ticket printing

Bar order invoice printing

Restaurant kitchen order printing

and more!
Advantages of Star Micronics TSP143IIIU
Compatible with POS hardware, it allows iPhone and iPad users to print directly from their devices.

An internal power supply of 24V DC is included.

It is incredibly easy to set up, as it comes assembled, all you need to do is plug it in and enjoy.

Can print up to 250mm/second on thin printing paper between 0.053mm and 0.085mm thick.

Provides multiple connectivity options for enhanced compatibility, including WLAN, LAN, USB, and Bluetooth.

It comes with Special Print Flat Technology and a Guillotine Auto-Cutter.

It supports PromoPRNT and AllReceiptsTM and allows easy paper loading.

The print head and cutter are also covered by a 4-year warranty.
Customer Reviews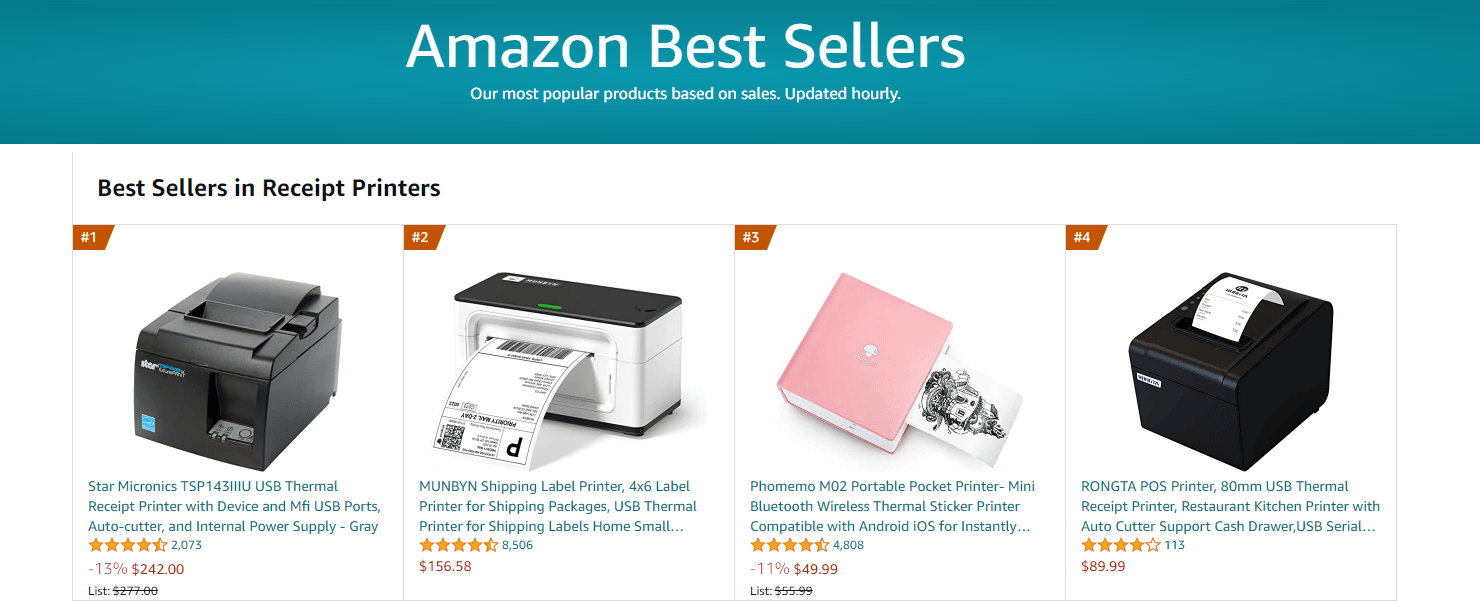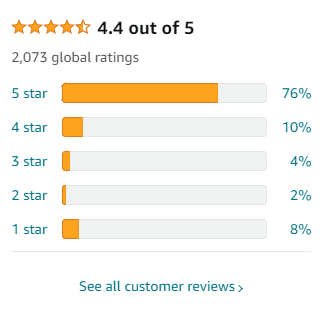 Final Verdict
Star Micronics' TSP143IIIU printer is part of the TSP100IIIU series of printers, which are renowned for their outstanding connectivity. A variety of iOS, Android, and Windows terminals can be used with this printer that is specifically designed for POS systems.
This unit prints receipts at a speed of 43 per minute, and it comes with a clamshell design so that you can reload paper easily. The patented "De-Curl" feature will ensure that your receipts always print flat. The Star Micronics TSP100IIIU printer runs on the powerful futurePRNT Windows software, which allows you to add graphics as well as print multiple copies to your receipts.
With all the great features and specs offered from this printer, and with a price of just over $200, it's an excellent buy. View current pricing on Amazon.
Frequently Asked Questions
What size printing paper do you need for the STAR Micronics TSP143IIIU Printer? 
The paper size needed for the STAR Micronics TSP143IIIU is 3 1/8″ x 230′.
Does the TSP143IIIU printer have Bluetooth?
Yes, the STAR Micronics TSP143IIIU printer offers connectivity via WLAN, LAN, Bluetooth, or USB connections.
What is the best receipt printer? 
The #1 receipt printer available on Amazon is the STAR Micronics TSP143IIIU printer, with over 2,000 reviews and an above 4 star rating.
What type of ink does the STAR Micronics TSP143IIIU need? 
This printer is a thermal printer, so it doesn't need ink!
How long does a thermal printer last?
Thermal printers are very durable and with the right maintenance and care they can be expected to last upwards of 10 years. Thermal printers are a great investment.
How to connect STAR Micronics TSP143IIIU printer to a tablet?
To connect this printer to your tablet, turn on your printer. Next, open the Bluetooth settings screen on your mobile device and ensure that your Bluetooth is turned on. Search for new devices and select the TSP143IIIU.