(Last Updated On: 07/21/2022)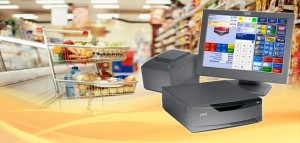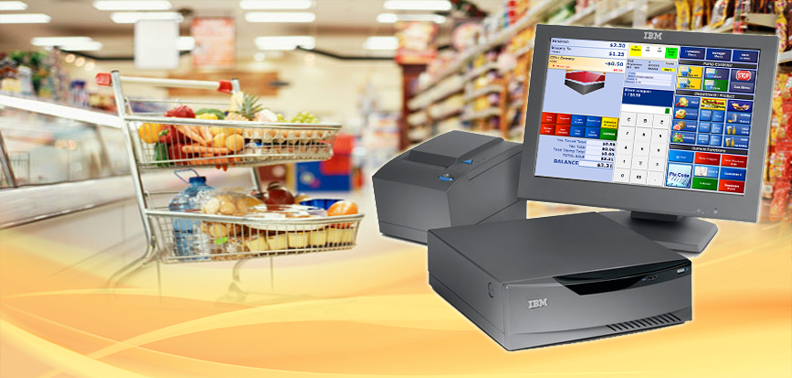 Gone are the days when grocery stores could use cash registers. Cash registers are good for printing of receipts and holding of cash, but not more than that. On the other hand, a grocery POS system can provide the business owner with analytics, accounting, inventory, and loyalty program management.
Grocery stores carry tens of thousands of merchantable items such as vegetables and fruit, meats, pieces of bread, and dairy. Keeping track of inventory and sales volume data will increase profit and help avoid spoilage due to overstock. 
Based on our research, The best grocery store POS system is POS Nation. The three runner ups are Epos Now, Comcash, and Quickbooks.
Top Grocery POS Systems
POS Nation is a retail system that specializes in offering an all-in-one solution for grocery store owners. Their software allows for an overall more seamless business operation. Grocery store owners know that the efficiency and speed of your checkout process can determine the success of your business. POS Nation offers grocery-specific features that will result in faster transaction times, better inventory management, and customer base growth.
Save Time with Hot Keys
A key factor in speeding up checkout time is to make every task as simple as possible. Memorizing PLUs for produce is an error waiting to happen. In the midst of a rush, employees tend to forget or in their rushing mistype a PLU, making customers wait even longer. POS Nation offers hot keys with photos, so employees can simply swipe and navigate to the desired produce by choosing the photo.
Make Your Own Coupons
This feature is really unique to POS Nation. This POS software allows grocers to not only accept manufacturer coupons, but to create your own DIY coupons for your customer base. Simply scan an item with your barcode scanner, and the POS Nation software will give an option to enter your discounts. Both vendor and store level coupons are able to be created.
Unlimited Inventory Database
Particularly for stores with large inventory, it's often a major concern as to whether or not the POS software that you choose is capable of handling all of your inventory input. As grocers test, add, and take away inventory, have peace of mind with their unlimited inventory database that you'll never run out of room.
Advanced Reporting
There are over 55-pre built reports and and additional customization's available through POS Nation's system. Why is this important for grocery stores? Grocery stores typically have extremely thin margins – which means that errors are not an option. When you consider other factors such as shrinkage, perishable products, and tons of SKU's, staying accurately ahead of every aspect of your store is crucial. This software will enable you to run detailed reports on essentially any aspect of your business that you desire to keep better track of.
Employee Management
The turnover rate for grocery store employees is often extremely high. Keeping track of new employees, availability, and hour logs can be an exhausting administrative task. POS Nation makes this process a single-click operation within your POS system. There are features such as employee time clock, individual pay rates, and payroll management.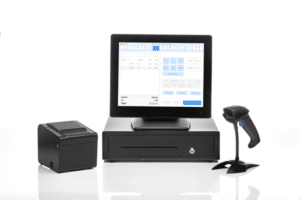 Scale Integration
Your store checkout process will be sped up even more by utilizing the scale integration feature from POS Nation. Their system offers integrated scanner, standalone, and deli scales to automatically ring up weighed items.
EBT Capable
Broaden your customer reach even more through the capability of accepting all forms of payment including credit, debit, and EBT through the POS Nation software.
Mix and Match Pricing
This feature is one of the most appealing from POS Nation that really sets them apart from the competition. The ability to group products with mix and match pricing has the potential to be a major driver of sales for grocery store owners. Grocers will be able to group particular products into mix and match codes for promotional discounts.
Carton/Case Break Counts
No more manually counting broken cartons or cases into your inventory tracking. There is a case break feature built in to the dashboard of POS Nation. The best part is, this feature works no matter how you sell the individual units from the cases. Whether you re-sell items by the case, in a pack, or as a single product – this feature makes tracking the relationship from the case a breeze. The Break Pack Link feature allows grocers to designate the case product and then link any related pack or single items, even if they do not share a common UPC. This will not only save you time, but increase accuracy as well since the items from the case are all tied to one another on the software system.
24/7 Customer Access
POS Nation offers 24/7 customer support and training to their clients. No matter what time your store opens or closes, there is someone available to assist you if you run into a problem with your system.

Pricing 
The pricing for POS Nation is extremely reasonable for the array of features that they offer to their customers. The most basic plan available is known as the Flex Monthly plan. Here's what this plan includes.
Flex Monthly – $99/Month
POS Software, Touchscreen PC, Receipt Printer, Scanner, Cash Drawer, Chip Card Reader
Software and Hardware Included
24/7 Unlimited Support and Training
Lifetime Warranty
No strings attached – Cancel anytime by returning your hardware
Requires POS Nation Processing Agreement
Freedom Plan – $999/One Time Payment
Touchscreen PC, Receipt Printer, Scanner, Cash Drawer, Chip Card Reader
Free POS Software, No fees, and Chip Card reader with POS Nation Processing Agreement
You Own the POS Hardware
30 Days of Free 24/7 Support
Two-Year Warranty
No Long-Term Contract
Custom Build Plan
If neither the Flex Monthly nor the Freedom Payment Plan sound like the right fit for you and your business, POS Nation offers a custom build system option. With the custom build option customers can have peace of mind knowing that there are no contracts, and no hidden fees. Simply discuss with a POS Nation team member your business needs in a POS system to get your custom price quote. There are multiple payment options available with the custom build plan. As an added bonus, new customers get a one-time discount code with this plan.
2. EPOS NOW 
Epos Now grocery POS is a retail management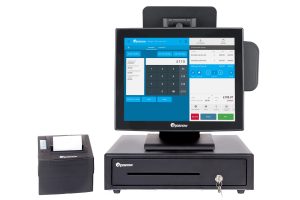 system that works tremendously well for small and mid-sized businesses, such as grocery stores.
It offers a Point of Sale module, integrated stock management, customer management and retail accounting including payroll processing, a general ledger, and purchase orders.
Epos Now is a cloud-based POS system that is iPad compatible with Windows, Android, and Mac. The hardware can be bought directly from the company or a third-party vendor.
Full Stock Control 
Epos Now users are always entirely aware of their inventory levels because the system automatically eliminates unwanted supplies.
With Epos Now monitoring of waste and shrinkage while making sure you still have your best-selling products in stock.
The Epos Now POS system automatically raises purchase orders and manages inter-location stock transfers with ease.
Because of that, the whole stock ordering process becomes a breeze.
Epos Now Accepts All Bank Cards 
Kudos to Epos Now's global network of merchant partners, the system accepts all credit and debit cards.
 If you are worried about misuse, some employee's access can be limited to it till functions such as discounts making funds.
Lastly, you can allocate PINs to your staff and hide sensitive information like profit margins.
Versatile Use
The Epos Now system can be utilized independently, or be connected with thousands of applications, including online ordering platforms, and accounting systems.

Reporting is excellent through a customizable dashboard, giving an instant overview of your store across all devices and locations.
The user can access real-time reports on sales and employees' performance anytime anywhere and from any device.
With the custom dashboards, users can access vital information rapidly without repetition of individual's reports. The system is as responsive and intuitive, and it is fast and easy to learn.
It performs its function in both online and offline mode, so there is no need to close the grocery store when your internet connection is temporarily out.
Epos now caches all sales information and uploads it in the cloud as soon as your grocery store gets back online.
Through the web-based back office, users can add or edit product names and descriptions, access the application store, or start an automatic promotion.
Customizable Promotions 
This system makes it easy for a grocery store overseer to launch, set up and manage and maintain various promotions like meal deals, happy hours, or buy-one-get-one-free, etc.
You can share the robust online booking system over your entire network.

Thus, Epos Now is the suitable system for service-based businesses that need to take care of numerous appointments across different locations.
This POS system also allows you to design custom receipts with images for your store, launch special offers, and track the purchase histories of returning customers.
Loyalty Program & Other Features 
The grocery store managers with integrated Epos Now POS system can add customers quickly as they make purchases, invoice them, give them credit, and gather vital marketing information like mobile numbers and email addresses.
Customer Service
Epos Now also serves US-based clients from their branch in Orlando and Florida. Although several US-based clients claim they don't receive quite the same level of customer support as their British counterparts. They can still reap benefit from the ease of use that all Epos Now system provides. Additionally, Epos Now's inventory application assists to keep track of inventory reports, the supplier database, purchase orders and more.
Epos Now will also migrate all products and stock and customer data from your organization previous Point of Sale (POS) system to the new database as part of the integration process.  Their award-winning retail systems have official satisfaction rating which is almost 100%, well-deserved.
Other features of Epos Now Point of Sale System include the following:
Cloud-Based or Locally Installed

Specific Industry

Specific Size of Business

Hardware & Operating System Requirements: Epos Now is compatible with Safari, Firefox, and Google Chrome

Ease of Use: This POS system makes it easy for their users to log in for 30 days trial
Pricing 
Epos Now system is a subscription-based service. A merchant pays on a monthly rate to use the software and receive product updates.
However, its subscription does not include technical support. Merchants have to pay an additional amount ($39 or $54) monthly to opt-in to personalized help.
Epos Now also provides a free Thirty (30)days trial (it requires no credit cards), so one can try out the software for yourself before you decide to purchase a plan.
The following is a short breakdown of the Epos Now system pricing model.
STANDARD — $39/MO
$24/additional register

Unlimited Products

Cloud Reporting

Email Support

Help with Setup
PREMIUM — $69/MO
Cloud Reporting

24/7 Phone Support

Account Management
ENTERPRISE
Contact Epos NOW for a custom quote

Unlimited Products

Enterprise Reporting

Onsite Support

Enterprise Account Management

The system is affordable and comes with a free trial

eCommerce integration

Strong customer service

It is computer software compatible (Google Chrome, Safari and Firefox)

Epos Now accepts all kinds of credit and debit cards

Epos Now does not cope well with uploading of bulk inventory

The system has no commission management

Limited discount features

Poor customer service, the response from customer service unit may be delayed, and this may cause user panic.
2. COMCASH ERP
Comcash ERP is also a cloud-based retail management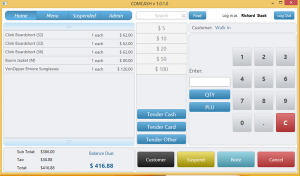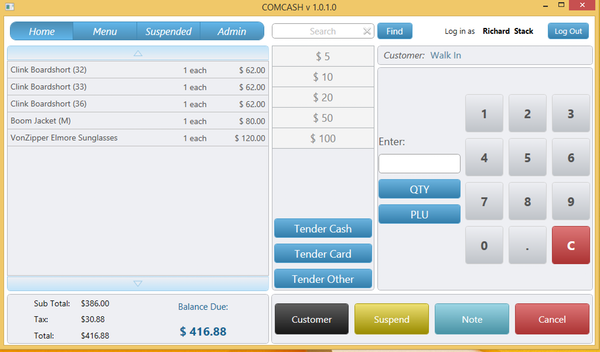 system that works for multi-channel and multi-location retailers. Their Point of Sale module features multi-touch capabilities and makes it workable for users to navigate the system's menu similar to that of their iPad.
It can support lots of necessary hardware, including scanners, payment terminals, attached printers, and scales. This POS system connects to the cloud in real time, but it can also run locally, in case your grocery store suddenly loses its Internet connection.
They created ComCashERP with the intention to provide proprietors with everything they would need to manage their businesses with one inexpensive, stable, and easy-to-use software solution. And they've succeeded on most fronts. ComCashERP is a cloud-based service whose name shows it's more than just a simple point of sale system.
Tender Payments & Real Time Reporting 

Customers can also have "house accounts" with credit lines that it can make procurement and the ability to send out credit statements or invoices. You can access current register totals from all locations at any time.
Shipping Integration 
The shipping module connects to all major shipping carriers like FedEx and UPS, providing real-time quotes based on weight, shape, and shipping methods. Print out labels at the register, affix them on, and send your items on their way. Using ComcashERP does not mean you have to sacrifice company branding. Create custom purchase orders with your company logo and font.
Supplier Database & Automated Reordering 
Keep track of your vendors including necessary contact info, and items purchased. It automatically connects to the POS system for the quick arrangement. Restock levels for products so the system can automatically generate and send purchase orders to your suppliers when your stockpile is waning down.
Keep track of your purchases based on what has arrived, what has been received partially, and what has been gained damage. Take a look at all your purchases for a certain period with easily accessible and understandable purchase reports.
Easy Inventory Management 

View stocks at each store location or all locations combined with the smooth transfer of items between stores.
ComcashERP manages COGS (cost of goods sold) using the FIFO (first in first out) system. You can generate multiple price lists through the inventory module so that pricing can be determined by location, customer groups, or any promotions/sales you might have.
Pricing
All pricing category come with a 14-day free trial, which would not extort a credit card numbers from you. Once you're persuaded, you can then upgrade to one of the paid plans listed below.
Standard Pricing  & Pro
$200/month per location. / $350mo per location for Pro
1-hour training.
EMV payments.
ENTERPRISE
Pricing tailored to your specific situation.

Adequate elite support.

It is compatible with most credit card processors

It has strong shipping integration

Customizable loyalty programs as well

Powerful customer management functions

Higher cost than similar systems

It has a slightly upper learning curve to master

Some users have that stated the system is not entirely intuitive during first set up
3. QUICKBOOKS POS
QuickBooks Point of Sale System is a retail POS system perfect for smaller grocery stores.
Its essential features include, inventory and customer management tools, QuickBooks are tablet-compatible POS, and cloud-based deployments are also available.
QuickBooks POS proffers standard Point of Sale elements such as inventory management, payments, and returns processing.
This function enables users to monitor products that are close to selling out and keep track of inventory and also place orders for items that need to be distributed.
The system also assists the users to track purchase history and purchase attitude by saving customers' data.
Grocery stores with integrated this POS can configure price tags and receipts set promotional prices, manage rewards programs and layaways. Managers can also ship packages using the Shipping Manager module.
The Point of Sale system automatically syncs with QuickBooks accounting software. Besides, license-based pricing and support are available via an online knowledge base.  
While all the fundamental element and functionality of a good POS system are there, along with the clear built-in integration with QuickBooks accounting software, this app continues to lag many of its competitors in many ways.
Despite making some recent improvements, like new pairing lower prices with the Microsoft Surface Pro tablet, QBPOS merely is not adapting fast enough in an increasingly competitive market.
The product is still on the expensive side — and that's before factoring in add-ons for gift cards and inexplicably poor customer service.
The primary consideration for would-be owners of QBPOS v12.0 is whether it stands up when compared to many of the more comfortable, cheaper cloud-based alternatives.
Though there are some benefits to having a locally installed point of sale system, they are few and far between (and growing thinner with each passing year).
Features Of QuickBook POS
EMPLOYEE MANAGEMENT

Only the Pro version of QuickBooks POS will track employee hours and commissions.
sending hours to other QuickBooks financial software such as Payroll or QuickBooks itself to ensure smooth management of payroll.
Additionally, security functioning enables the owners to customize access to specific functions on employee status, e.g.,
Owner, manager, assistant manager, or an associate, with the ability to establish new groups if mandatory.
Cash Management & Dashboard 

QuickBooks Point of Sale system can safeguard income of the organization with no cause to panic. Provides a glance at your best and worst selling items, department sales summary, department sales graph, and sales over time.
Iphone & Ipad Integration 

A great addition with version 12.0 is the introduction of an application which syncs entirely with your back-end managed inventory and allows you to make sales and track stock from your android phone or tablet.
While you cannot download QuickBooks POS onto these devices, you can integrate with them using a mobile sync feature. You will need a "Go Payments" card reader to handle this. One of this system best feature is its flexible rate, it is very easy to understand allows the user to choose the best fit for his/her store.
Pricing Plans
This stage is where we start to see the old guard still functioning well, with pricey license fees and costs to advance from one version to the new trend—the kinds of things you rarely see with the SaaS model.
QuickBooks POS offers a 30-day free trial, no credit card required, but after that, you're looking at the following prices to keep using:
BASIC RATE IS $1,200: They gear the basic for the smallest of Mom & Pop stores.
PRO PRICE IS $1,700:   Pro gets you every feature offered to Basic users, and finally,
MULTI-STORE IS $1,900: This option will give you all the features provided to Pro users but the ability to use QuickBooks POS at multiple stores.
QuickBooks POS is easy to use

It has Built-in loyalty function

It is iPad and iPhone integrated

Ring sales with Barcode scanner

Works with Microsoft surface Pro4

Its customer service and updates are not free

Lack of hardware options

Lack of credit card processing options 

Poor customer service
POS Monitors 
The displays generally covered with the branding for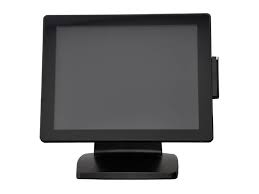 the product they are trying to auction, and are made out of cardboard or a covering over a plastic stand, all intended to be easily replaceable and disposable. This lets designers full use color and printing to make the display visually enchanting.
Some screens are fixed or non-disposable; these may include lighting to make the screen more clear, and it may also contain a cooler, e.g., for drinks or ice cream. Some are not more than a metal basket, with no design on the outside, merely showing a price; these types of display are more comfortable to refill.
Such business owners rarely understand how to use grocery POS software at its fullest and ignore the numerous benefits they could have. If you buy and implement good grocery POS software and if you learn how to how to use it correctly, the benefits for your business are going to be skyrocket immediately.
In Conclusion
There are also business owners, who don't fully understand the importance of software and they buy the cheapest one they can find. Choosing the right grocery POS system for your business can be the difference between going out business and thriving in your business.  So please make sure to give a serious consideration to your next POS system.