(Last Updated On: 07/28/2022)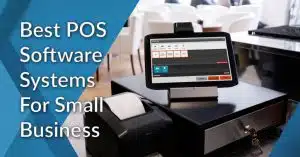 The best all-in-one POS systems are meant to optimize productivity and save on space in your business. The leading brands will offer you sleek, and modern POS components that are rugged and reliable as well as industry-specific POS software capabilities. 
You should get an all-in-one POS system that complements your business environment and meets customer expectations. While shopping for the right one, you should go for a sleek and stylish option that offers the features and capabilities you need in your business. Despite their higher initial cost, all-in-one POS systems are a preferred option for many businesses today.
This may be attributed to their superior ergonomics, enhanced ease of configuration, and use, reduced footprint, and convenience.  Reviewed below are the top five all-in-one POS systems you should consider getting. 
What is an All-in-One POS System?
This is a solution that is tailored to meet the needs of specific business types and comes with all the required hardware components as well as the software.
Rather than having to choose and configure the various components, an all-in-one POS system often comes ready to use right from the box. This will help you avoid the guesswork associated with the choice and configuration of various POS hardware components.
It will also save you a considerable amount of money in the long run. The best all-in-one point of sale systems are better integrated as each component is a part of the same technology.
What Does an All-in-One POS System Include?
In addition to the point of sale software, your preferred all-in-one POS provider will offer you all the hardware components and peripherals you require. Specific components may vary, but most providers will provide you with a cash drawer, touchscreen display, label printer, keyboard, magnetic stripe reader, and a receipt printer.
Some of the leading all-in-one POS providers are also known to offer additional peripherals, such as barcode scanners, and rear pole displays. These are meant to expand the functionality of your all-in-one POS system. 
Depending on your business type, these systems will provide you with all POS Software and hardware components. The components are particularly bundled together to offer you a smartly designed POS configuration.  
Best All-in-One POS Systems
| POS System  | Initial Hardware Cost  | Software Subscription Fees |
| --- | --- | --- |
| Ready2order All-in-One POS System | Depends on the required hardware components  | Starting from $19/month |
| HP All-in-One POS | Quote-Based  | Quote-Based  |
| Korona POS  | Depends on the required hardware components  | Starting from $49/month per station |
| Touch Dynamic POS | Starting from $998.00 | Quote-Based  |
| eHopper POS | Starting from $999.00 | Starting from  $49.99/month per register |
1. Ready2Order – The Best All-in-One POS System for Restaurants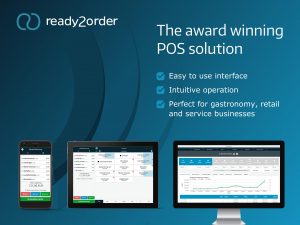 Ready2order one of the best restaurant all-in-one point of sale solutions that are suited for both startups and multi-location chains. It is essentially designed to offer end-to-end solutions for Windows deployment. 
The Restaurant management software offers such capabilities as discount management, electronic signature, and gift card management. The system is offered as a bundled product, along with all the hardware components and peripherals you need to implement Ready2order in your restaurant.
Featuring the latest technologies, Ready2order software and hardware solutions present you with a unified solution for optimized operations. Some of the aspects that make Ready2order stand out from the other all-in-one POS solutions to include:
Handy Management Tools 
Whether you own and manage a single location or multiple restaurant outlets, Ready2order will equip you with the tools you need for efficient management. To make your life easier, the system features an electronic cash journal, extensive warehouse management, and comprehensive employee statistics. 
Additionally, the reporting feature of the software will furnish you with accurate and up-to-date data on the important business metrics, such as sales and product analysis. This ensures that you are well informed to make sound business decisions. 
Inventory Manager 
The inventory manager on this system is industry-specific, allowing you to integrate new products in a matter of seconds.
It will also give you enhanced control over production levels across all your outlets in real-time. The software is capable of defining product variants by size, amount, color and attributes, allowing you to tailor the inventory database to your requirements.
With Ready2order, you can manage products in a unified user interface for all platforms. Inventory reporting will offer you the insights you need to optimize your inventory, hence boost profitability. 
Pricing 
Ready2order offers a great return on investment, regardless of the software, hardware, and add-ons you choose. The pricing of the all-in-one system is very flexible and will mainly depend on what you need. For the restaurant POS software, the provider offers two main monthly subscription plans:
Standard Plan ($19/month) 
This is the basic software subscription plan by the Ready2order provider. Priced at $19/month per station, the plan offers instant-cashing, cash book, in-depth statistics, product variations, and management capabilities. 
Gastronomy Plan ($29/month) 
This plan offers all the features and capabilities offered by the Standard pricing plan. Additionally, you will also get partial payment, table-function, kitchen routing and ability to define responsibilities. 
Card Payments 
With the Card Complete mPOS terminal, you will be able to process card payments through the Ready2order POS system. For this capability, the provider will charge you $9/month per terminal. You will also be charged transaction fees for each transaction you process. 
2. HP All-In-One POS – The Best All-in-One POS For Retail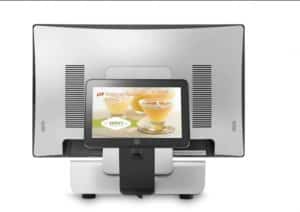 The various HP all-in-one POS systems are designed to optimize space and boost productivity in different retail businesses. The provider produces stylish hardware options, without compromising on system performance and reliability. 
Some of the all-in-one POS systems offered by this provider include the HP Engage One Prime, the HP RP9 Retail System, and the HP Engage One system.
The three options are designed to suit different business requirements. Regardless of your choice, HP guarantees you an elegant design and unmatched POS software performance. Other capabilities you will come to like about these systems include: 
Multi-Core Performance 
The core of HP all-in-one POS systems is designed to boost the performance of certain software products.
As such, the performance and clock frequency will vary based on application workload and the hardware and software configurations. Although not all software applications will benefit from this technology, the multi-core has been proven to boost the performance of the POS system.
Elegant Design 
All-in-one POS hardware components by HP feature a sleek, streamlined design for enhanced visual appeal. Even so, you will find them to be rugged and very durable.
The modern, minimalistic design of these units delivers everything you need at the point of purchase, without clunky boxes and wires.The provider offers a variety of peripherals, allowing you to configure the system to your specific business needs. 
Pricing 
The cost of HP all-in-one POS systems mainly depends on the hardware components you need. The price may also vary slightly from one vendor to another. To get an accurate quote, you should contact the provider directly. 
3. Korona POS – The Best All-in-One Tablet POS System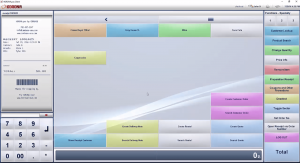 Korona is one of the best cloud-based all-in-one POS systems that may be used on mobile devices and stationary POS stations.
The POS software offers universal features suited for general retailers. The provider also offers tailor-made POS solutions for different industries, including shops, gift shops, and liquor stores. 
The Korona all-in-one POS System is highly customizable to suit established retail workflows. The screen and button layouts are customizable across compatible tablets, Smartphones, and touchscreen checkout terminals. 
Other aspects business owners have come to like about the Korona all-in-one POS System include: 
In-Depth Reporting 
Korona offers some of the best reporting and analysis tools in the industry. It collects important product and sales information to generate detailed reports on the vital processes.
With Korana, you can generate a myriad of insightful reports, ranging from the overall performance to individual product analysis. 
This helps you plan for promotions, determine shelving placement, and make future orders in a precise and efficient manner. Each metric is assed based on a detailed key performance indicator (KPI) reports. 
Integration Support 
In addition to the many features and capabilities, it has to offer, the Korona all-in-one POS system supports several software integrations.The software allows you to integrate with different third-party eCommerce platforms, accounting software, and loyalty programs. 
Pricing 
Korona software is sold as a subscription service (SaaS). However, you will be required to pay an upfront cost for the hardware. In this regard, the provider charges a monthly software subscription cost of not less than $49/month per terminal. 
You may also choose a free-trial plan, which allows you to gauge the software firsthand before making your commitment. The provider also offers several modules to suit different business types, including Korona Retail, which costs an additional $10/month. 
The Korona Plus module is priced at $20/month, Korona Franchise costs an additional $30/ month while the Korona Ticket module costs $50/month. Hardware costs will depend on the components you need, which varies from one business to another. 
4. Dynamic POS –  Touchscreen All In One POS System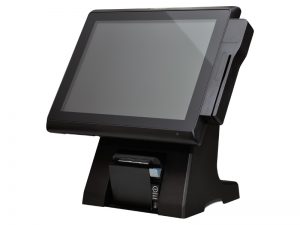 Touch Dynamic produces robust and diverse all-in-one POS solutions to meet different business needs. Ranging from POS terminals to cash drawers and Kiosks, the provider delivers superior quality and innovative technologies. 
Some of the touchscreen POS systems produced by Touch Dynamic include Acrobat All-In-One, Breeze All-In-One, and Breeze Performance All-In-One systems. Here are some of the things that set Touch Dynamic all-in-one POS systems apart from other solutions:
Superior Performance 
Most of these systems use the Freescale iMX6Q Quad Core Processor 1 GHz CPU. The powerful CPU is coupled to a number of IO ports within a rugged hardware design. These make the system powerful enough to handle a vast range of applications. It has been proven to deliver a quick and efficient performance. 
SOTI
This is an Enterprise Mobility Management (EMM) tool often meant for the companies. It is ideal for businesses that need to secure and systematically control a large number of Android devices through the POS system. With SOTI, you will be able to manage, secure, track, configure, and support corporately liable and/or BYOD Android devices.
Pricing 
Varies from one vendor to another and depends on the hardware components you require.  For instance, the  Touch Dynamic Quest II Tablet costs about $998.00 while the Touch Dynamic Breeze Performance all-in-one POS cost starts at $1,399.00.
5. eHopper POS – The Best All-in-One POS System for a Grocery Store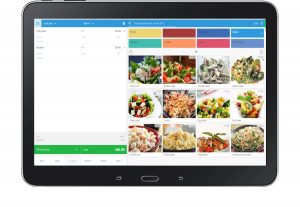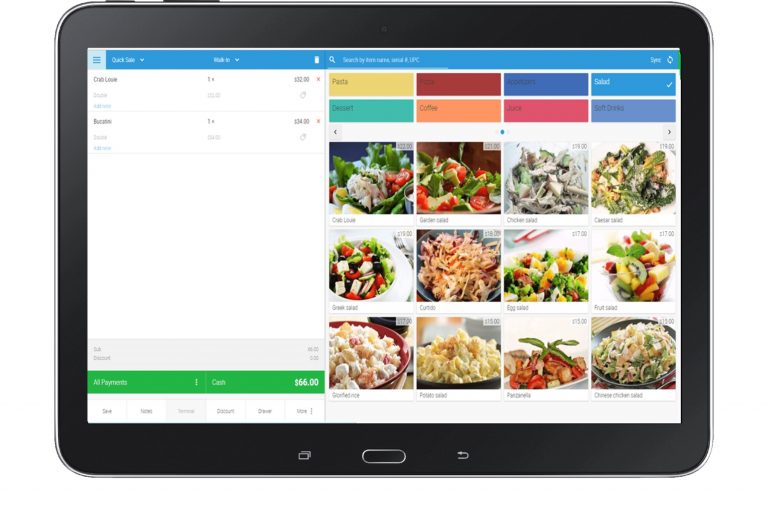 The eHopper all-in-one POS hardware includes a build-in high-speed receipt printer and a 14-inch high-definition register display.
You will also get a durable and robust POS stand that features multiple ports to accommodate additional peripherals. 
These ports may be used to support such components as a barcode scanner, cash register or a payment terminal in your grocery store. The sleek and robust hardware is coupled with reliable industry-specific POS software to deliver optimal performance.  
Other aspects business owners have come to like about the eHopper all-in-one POS system include:
Device Agnostic System 
eHopper POS software is compatible with a myriad of stationary and mobile devices. The cloud-based all-in-one POS system allows you to manage the point of sale across multiple devices. In this regard, you may run the POS on iPad Mini, Android tablets, Windows tablet, and Pc, as well as Poynt terminals.
Regardless of your preferred device configuration, all POS data will be shared across all the connected devices. It will also allow you to process sales on any of the connected devices for improved efficiency and convenience. 
Cash Management 
This feature ensures that you manage your assets appropriately at all times for continued profitability. For instance, it allows you to close your batch at the end of the day and send money to the bank immediately. Input the opening and closing amounts in your register to track your cash flow.
Using the Pay-in/Pay-Out functionality, you can add or subtract money from the register. You will also be able to monitor the quantity of each denomination of bills and coins in your cash drawer. Connect with QuickBooks to instantly manage all sales and accounting data
Pricing 
eHopper all-in-one POS system pricing comprises of the upfront hardware cost and the ongoing software subscription cost.
Hardware Cost mainly depends on the hardware configuration and components you need in your business and starts at $999. This cost includes the Essential Plan of the eHopper POS software. For the Freedom subscription plan, you will be required to pay $49.99/month per register. 
Final Verdict 
Despite their comparatively higher cost of implementation, an increasing number of businesses are opting for all-in-one POS systems. This may be attributed to the ease-of-use, convenience, efficiency, and expanded payment capabilities these systems have to offer. 
Like the five solutions reviewed above, it is advisable to go for a system that is specifically developed for your business type. You also need to ensure that the hardware components are robust and durable.  Other factors held constant, the best all-in-one POS system will offer you great value for money in the long run.