(Last Updated On: 07/17/2023)
Written by Business Expert Wale Ameen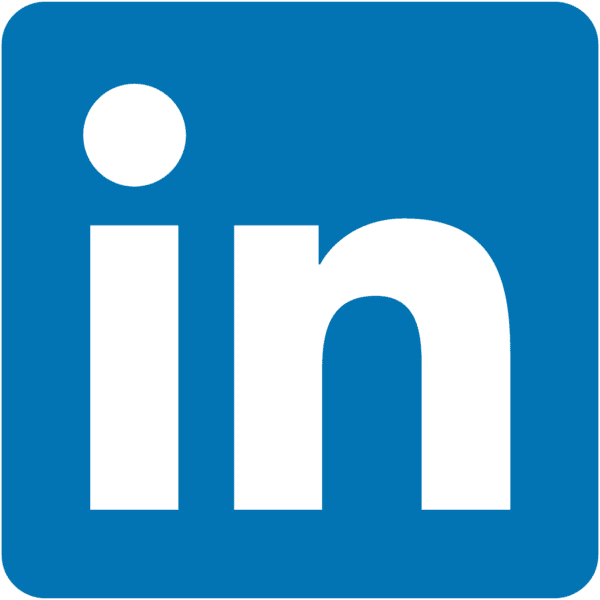 Our product review team dedicates hours of research, fact-checking and testing to recommend the best solutions to business owners. We earn from qualifying purchases through our links, but this does not influence our evaluations. Why trust our reviews?
Self storage point of sale software help storage space managers to effectively run and manage their facilities. This review looks at the top industry specific self storage software and the 5 best storage facility software.
Our Experts' Choice
SiteLink POS
The best self storage point of sale software is SiteLink POS.

Specifications of SiteLink POS include:

Easily accessible on mobile devices

Helps handle revenue management

Supports multi-location management

Billing and invoicing

Supports data import and export
Don't have time to read this whole review? Skip ahead to: 
Importance of a Self Storage Point of Sale Software
As a self-storage operator you must process many transactions per day. A solid POS system can help you process more reservations and manage your facilities more efficiently.
As a storage facility operator you can speed up reservations and purchases, quickly authenticate reservations with electronic signatures, and manage your spaces from one location. Ultimately, this will improve your profitability. 
Self-storage businesses can take advantage of the latest technology to streamline operations and make life easier for employees. With POS solutions, you can keep track of inventory, track payments, and manage customers and reservations. Using a POS system that integrates with mobile devices makes it easy for you to monitor your facility from anywhere.
POS systems for self-storage businesses should have a robust Web-based tenant portal, which tenants can use to check availability and reserve units from anywhere in the world. Online rental portals should also let customers customize their storage plans, pay bills, and add additional services. Payment due dates and amounts should also be easy to check.
Self-storage businesses must also ensure that their POS system supports payment methods such as credit cards, digital wallets, and net banking. These payment options should allow facility managers to avoid human error and maximize revenue across all locations. Additionally, a good self-storage POS system should also offer features to help self-storage companies manage their finances, such as tax calculation and bank reconciliations.
When choosing self storage software, look for lease management features like online renter access, facility maps, and online payments. Other key features include gate integration, remote access, and kiosk integration. 
Out of all the platforms that I reviewed, I found that SiteLink POS is the best self-storage POS system. Its powerful features include comprehensive payment processing support, multi-location management, API integrations, and much more. 
Top 5 Self Storage Software – An Overview
SiteLink POS –  The Best Self-Storage POS System Overall
storEDGE POS –  The Best Self-Storage POS System Interface
WebSelfStorage –  The Most Affordable Self-Storage POS Software
LOU from Evosus – Best Storage POS for Multi-Location Owners
Self Storage Software by 6Storage – Most Customizable Self-Storage POS System
1.
SiteLink POS
–  The Best Self-Storage POS System Overall 
SiteLink is one of the best POS software solutions for self-storage facilities of all sizes. It is an ideal software for storage unit business. SiteLink POS is offered as a cloud-based or on-premise software deployment option.

Compatible with PC, iPad and Mac devices, the solution features payment, rental, and online reservation capabilities. Additionally, the provider offers SiteLink Merchant Services, an integrated payment processing solution.
The software also features built-in document management, and electronic signature, revenue management, Total CRM, text messaging, and TeleTracker phone integration. In addition to being one of the best self-storage POS systems, SiteLink is a SOC 1 Type II, and PCI DSS Level 1 certified provider for security.
Should you need any professional help with your software, OneSupport will offer you the customer support features you need 24/7. 
Features of SiteLink POS At A Glance
Document Management

Electronic Payments

Electronic Signature

Reservations Management

Revenue Management

Multi-Location

Billing & Invoicing

Communication Management

Contact Management

Credit Card Processing

Customer Management

Customizable Reports

Data Import/Export

Document Management

Electronic Payments

Electronic Signature

General Ledger

Late Fee Calculation

Lead Management
Here's What I Like About the Solution: 
The software offers enterprise-level controls for multi-location businesses

Supports integrations with other services feature an API

Offers comprehensive web reports

The provider offers integrated payment processing 

Captures electronic signatures at no extra cost 
What I Don't Like: 
The system requires you to log in after every step.

Although this is meant to secure your data, some users may find it rather tedious. 
How Easy is SiteLink POS to Use? 
Setting up the SiteLink POS is a breeze as the provider has a direct download link right on its website where you can easily download the software for newer versions of the Windows software.
How Do Users Rate SiteLink POS? 
SiteLink POS solution has won the Inside Self-Storage Best of Business Award for "Best Management Software" for 8 years between 2011 and 2019 and has won the most awards as Mini-Storage Messenger of the Year.
It has an overall rating as shown below on these trusted consumer review platforms:
GetApp: 4.7/5
Software Advice: 4.67/5

How Much Does SiteLink POS Cost? 
SiteLink POS does not have its pricing plan publicly available and this I feel is a downside, especially for anyone looking through it to try to make a purchasing decision. You need to reach out for a quote.
2.
storEDGE POS
–  The Best Self-Storage POS System Interface 
Get yourself an affordable self-storage software solution that streamlined interfacing functions across multiple platforms. The storEDGE self-storage point of sale software allows for smooth interfacing across Mac, Windows, and Android mobile devices. 
The solution is primarily designed to help you manage your storage facility with its cloud access control tools, facility management software, and marketing websites. The system also supports online rentals and offers a range of business intelligence tools. It features two-way text messaging, and built-in customer reviews.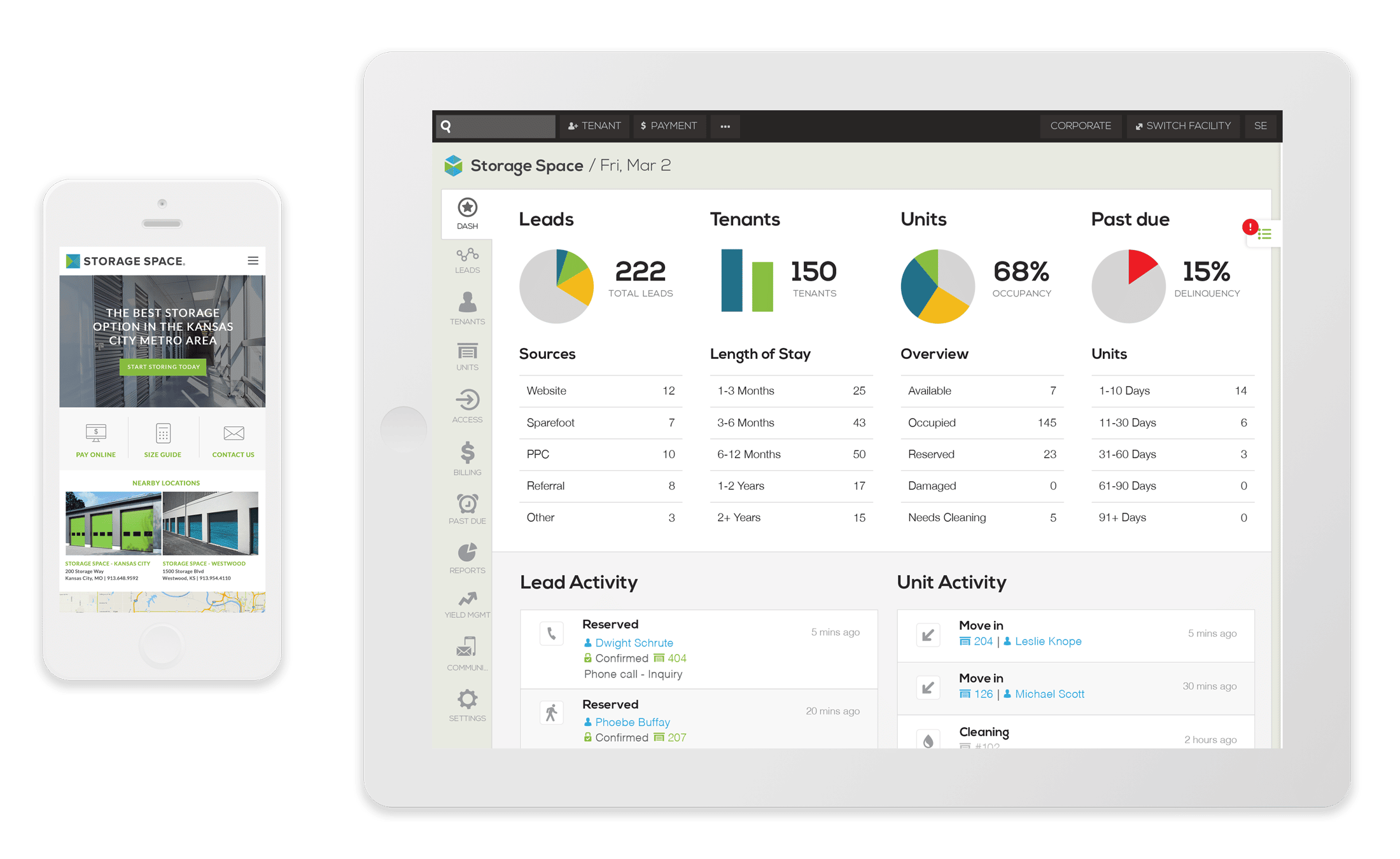 You will also like the in-software automated lien emails, dashboard notifications, postal mail, gate access histories, and e-sign features of the software. With storage, you will also get interactive facility maps and mobile-responsive marketing websites. 
Other Features of storEDGE POS
Customer Management

Easily Export Data

Supports Integration of Third Party Apps

Marketing Automation

Payment Processor

Track Your Inventory 

A Good Tool for Billing Assistance
What I Like About storEDGE: 
Features a streamlined, and mobile-friendly interface

Supports phone and lead integration

Offers an intuitive tenant login functionality

Packed with customizable Smart reporting tools

Equipped with interactive storage calculator tools

Comes complete with Google Map verification, and Google Analytics integration
What I Don't Like: 
You may experience software bugs from time to time;  nothing major though 
Is storEDGE Easy to Use? 
One of the most notable features of storEDGE POS is it's easy to use interface. Users boast about the user-friendliness of their software. It's clear that storEDGE prioritizes providing a seamless experience for their product users.
How Do Users Rate storEDGE POS?
A good point of reference to answer this question is to note that storEDGE is a 2022 winner of the software comparison platform, Crozdesk's best 20 products in 2022 as determined by the platform's unbiased, category-specific ranking methodology. This is a good way to judge the software. It also received the platform's quality choice award and trusted vendor award. In addition, storEDGE has glowing reviews with a 4.5/5 star rating on Softwareadvice. 

How Much Does storEDGE Cost? 
StorEDGE does not offer transparent pricing and requires users to reach out to get a custom price quote.
3.
WebSelfStorage
–  The Most Affordable Self-Storage POS Software 
If you are considering getting an affordable self storage software or self storage point of sale software for your facility, then you should consider WebSelfStorage. With the WebSelfStorage POS System, you get affordable, cloud-based access and management of your storage facility anytime. The system offers you enhanced control over the facility, your rates, and all business operations. 
From your mobile device, you will be able to access management reports, customer data, revenue details, and the current occupancy/delinquency. The eMove reservation platform offers by the provider, you can receive customers from the leading moving and storage reservation system at no extra cost. 
With this self-storage point of sale solution, the payment processor is fully integrated into the system for enhanced efficiency and speed. The provider offers some of the lowest payment processing rates in the industry, starting from 1.29% and charges no hidden fees. 
Top Features of WebSelfStorage
Customer Management

Reporting & Statistics

Client Portal

Late Fee Calculation

Multi-Location

Security Gate Access Control
What I Like About WebSelfStorage: 
I like the fact that the solution gives you ease and with it you can easily manage your facility from anywhere.

It gives you easy access to your customer data and business reports 
What I Do Not Like: 
The contact list could be a bit more intuitive and clear

Their customer support is said to be usually unresponsive
Is WebSelfStorage POS Easy to Use? 
In terms of usability, WebSelfStorage isn't the most user friendly. Other solutions on our list offer a much more simplified user experience with their platform. However; the affordability of their software will justify the learning curve to storage facility managers that are on a budget.
How Do Users Rate WebSelfStorage POS? 
Several users say WebSelfStorage is an easy to use self storage software, and some actually praise the promptness of the customer support, which is rare to see. It has an overall star rating of 3.3/5 on Capterra.

How Much Does WebSelfStorage POS Cost?
WebSelfStorage does not display their pricing publicly; so users have to reach out to get a quote based on the needs of their business.
4.
LOU from Evosus
– Best Storage POS for Multi-Location Owners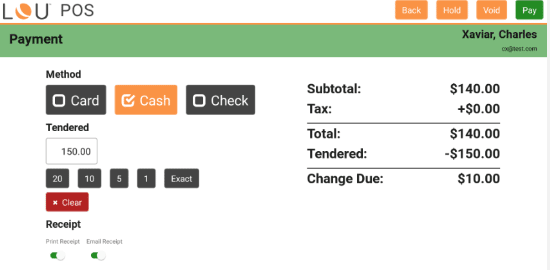 While it is not specifically designed for self storage businesses, LOU from Evosus is a lightning fast and powerful POS system. Their powerful software accepts all forms of payments, and enables card-on-file and tokenization, real time inventory availability and pricing, calendars for scheduling appointments, work orders, customer payments in the field, real-time customer lookup, seasonal min/max order levels, and more.
LOU only functions on their own proprietary hardware. While this does reduce your flexibility, the good news is that their hardware is state-of-the-art. Their POS terminals have receipt printers built-in, and they also offer Zebra scanners, cash drawers, printers, laptops, and other accessories. 
Feature Overview of LOU
Kits & Individual SKUs with Real-Time Reporting 

Equipment Tracking 

Location View and Routing via Google Maps

Previous Customer Visit & Order History Always Available

Partial or Full Order Invoicing 

Store Customer Payment Details for Subsequent Purchases

Mass Invoicing Possibilities

Inventory Management 
What I Like About LOU: 
Ramp up and down for licensed users/seats

Real-time inventory availability and pricing

Work orders, invoicing and on-site customer payments

Access to phone, email, and online support
What I Don't Like: 
Cannot operate on third-party hardware

One-time onboarding fee of $1,999 

No facility mapping features
Is LOU POS Easy to Use? 
LOU POS is not the easiest to use; however, it is a good option for multi-location storage facility owners. It may be a bit difficult to get the hang of it, but in terms of reporting and management features, it really stands out.
How Do Users Rate LOU POS? 
In terms of functionality, LOU POS users rate it highly as they largely say they are pleased with its use. Overall, LOU POS has a score of 4.5/5 stars on SoftwareAdvice.  

How Much Does LOU Cost? 
In terms of pricing, they have a hefty $1,999 one-time licensing fee, but their monthly licensing starts at $49 per month. You have the option of choosing a specific bundle to start with, either retail only, service only, or a retail and service combo. You also have the option of ramping up or down depending on your needs per time. LOU POS is an ideal solution you should consider for software for self storage business.
5.
Self Storage Software by 6Storage
– Most Customizable Self-Storage POS System 
If you have a highly specific setup for your self-storage unit, 6Storage could be a good option. The software has all the basic features that we mentioned above, but each aspect is fully customizable. You can set up specific settings, and those are saved and loaded every time you open the application.
6Storage enables automation of invoicing and payments, with invoices and receipts triggered to the tenant's email after move-in. Invoices are also recurring and automatically billed. 
One of 6Storage's most exciting features is the cloud-based tenant portal, which allows you to build a site map that allows tenants to reserve their units, including self-storage, pallet, container, and more. Additionally, the site map automatically updates when units are under maintenance or not available, as well as when prices change.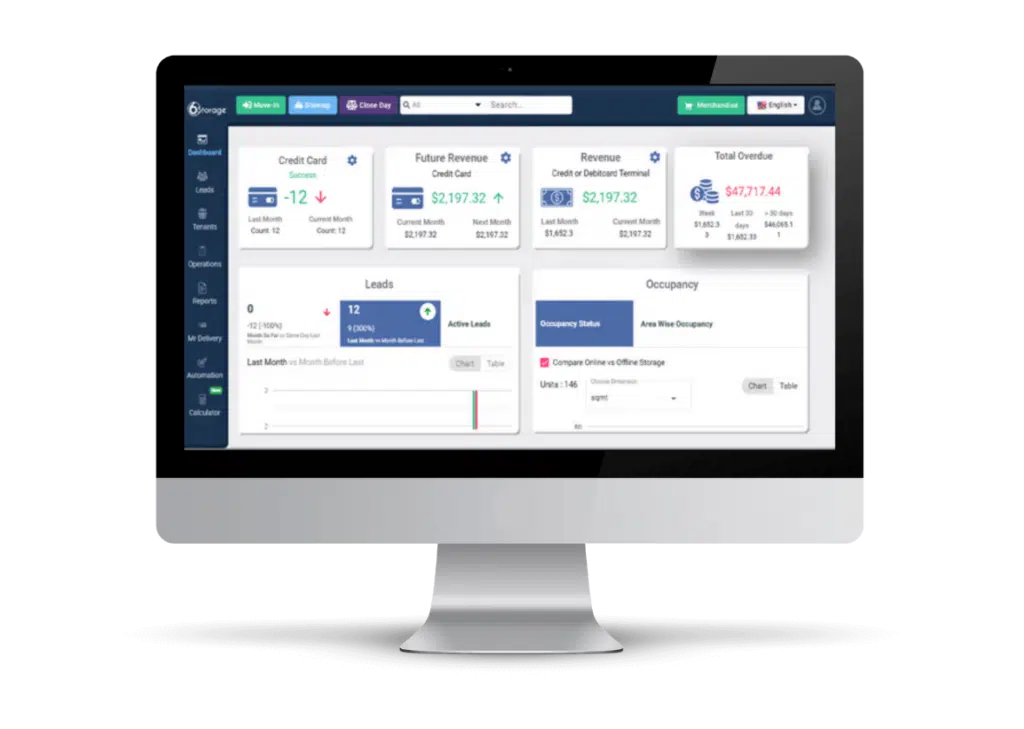 The tenant portal can also integrate directly with your own website via 6Storage's powerful API. This allows for a seamless user experience. Finally, you can manage all of your facilities from one central location, and have access to 2/47 customer support. 
Features of Self Storage by 6Storage At A Glance
Supports Multi-Location

Offers adoption of multiple payment processors

Email/SMS Marketing

Electronic Signature

Electronic Payments

Reporting & Statistics

Client Portal

Late Fee Calculation

Recurring/Subscription Billing

Financial Management

Customer Management

Security Gate Access Control

Document Management

Lead Management
What I Like About Self Storage by 6Storage: 
Offers a powerful, cloud-based tenant portal

Portal can be integrated via API

Automated invoicing and billing

Fully customizable set up for different business use cases

Affordable pricing, as well as a free version

They have promised that their mobile app is coming soon
What I Don't Like:
No built-in payment processing

No built-in gate access systems (plenty of integrations, however)

Limited integrations for email and SMS marketing
Is 6Storage POS Easy to Use? 
In scouring consumer reviews, one of the main praises of 6Storage software is the ease of use. Honestly, this is not very common to see with industry-specific point of sale software. So, this definitely says something about how their software accommodates to be user friendly.
How Do Users Rate 6Storage?
Users score 6Storage high in the areas of adaptability, ease of use, and customer support and many highly recommend it.
It also scores highly in terms of overall star rating. It has an overall star rating of 4.7/5 on Capterra and GetApp respectively.

How Much Does Self Storage by 6Storage Cost? 
In terms of pricing, 6Storage starts at $39.99 per month, plus $0.40 per unit per month, and a one-time setup fee. If you have more than 500 units, they offer a custom pricing package. You can also access limited features and functionality with their free version. 
Buyer's Guide: What To Look For In Self Storage Software 
Self-storage businesses offer such storage options as containers, rooms, warehouses, and lockers on a short-term lease basis. Some self-storage organizations are also known to offer additional services like biometric access, insurance cover, climate control, personal guards and video surveillance.
The best self-storage POS system should allow both single and multi-property managers to view facility maps, manage payments, and facilitate electronic signatures. You may also go for a POS software solution that integrates with CRM, work management, and accounting services. 
To help you get the best software for your self-storage business, here are some of the important considerations you should make while shopping for one:
Self-Storage Payment Options 
The conventional self-storage revenue model requires additional, industry-specific accounting features.
Your preferred self-storage software should be able to accept deposits/payments for rental equipment, as well as support multiple payment methods.
For enhanced owner and tenant convenience, the system should support such options as digital wallets, credit cards, and net banking transactions. Additionally, it should allow you to make sales on your merchandise, and schedule recurring payments in accordance with customer needs. 
Some of the best self-storage point-of-sale systems also facilitate tax calculation and bank reconciliations. Such a system will help you avoid errors in your annual tax computations. To allow for these, the leading self-storage POS software providers are partnering with banks and financial institutions. 
Online Renter Access / Self-Service 
Similar to property management software, a good POS system for self-storage businesses should feature an intuitive Web-based portal for the tenants. With such an inline portal, the renters and prospective renters can view the available units, reserve or even pay their rental fees from anywhere. 
With the help of a facility map offered by some of the leading providers, it will be easier for your customers to review available units and reserve.The tenant online portal should also allow the customers to customize storage plans, check dues, and add additional services. 
The solution should also make it easy for the tenants to check their payment due dates, relevant documents and the amount due. 
Facility Maps 
Some of the leading self-storage software providers integrate color-coded maps to their POS systems. Not only do these give you're a complete overview of the facility, but also makes management rather easier. 
With such a feature, the facility manager will see the status of each unit in the facility at a glance. It will present you with the usage details of each unit, including whether it is in use, vacant or just reserved. The system should also be capable of printing such maps, allowing the new renters to see exactly where their unit will be. 
Campus Systems Integration 
If you happen to manage student storage, you will need a POS system that supports campus system integration as well. In most cases, student housing is tied to their class schedules, utilities, and meal plans. Storage software that integrates with other software programs on the campus will come in handy.
It will make it easy and convenient for you to manage and transfer the required information when the need arises. 
Reporting
Just as is the case with other business types, you need to monitor your self-storage business and make important decisions from time to time. The best self-storage software should equip you with real-time business intelligence and reports to facilitate decision-making. 
Modern self-storage POS systems are capable of generating a number of industry-specific reports. By equipping you with the right business data, this feature allows you to monitor important performance metrics. 
Up-to-date self-storage reporting also makes it easier for facility managers and owners to address challenges, and apply the right corrective measures in real-time. Among other reports, the system should come up with summaries, with all the relevant performance metrics periodically. 
Gate Access Integration 
For enhanced security, you need to restrict facility access to only the people who need to be there. To make this easier, the more advanced self-storage POS systems allow for seamless integration with different gate access systems. 
In this regard, your customers will be issued unique access codes. This allows you to monitor access to the facility by the tenants and your staff. It will also come in handy whenever you need to lock a customer out of the facility, especially when their payment is past due. 
Remote Access
In addition to cloud access and management capabilities, some of the leading self-storage POS providers are also offering mobile applications. Once installed in your mobile device, such an app will give you remote access to the facility for enhanced convenience. 
With this functionality, both tenants and property managers will be able to subscribe to the storage unit service on the go. From the app, your customers will also be able to locate the nearest units you are offering, based on their needs. 
Multi-Location Management 
Do you happen to own self-storage facilities in different locations or want to Branch out in the near future? You should consider getting a system that can manage all the locations centrally. Such a solution will help you keep track of all the storage units in your facilities as their availability changes. Short-term demand for self-storage units is known to vary from time to time, hence the need to manage all your units in real-time.
With multi-location management capabilities, a self-storage POS system will be able to create relevant facility maps. This will, in turn, give you a complete overview of the occupation status of each storage unit across all your facilities.
This has been proven to help facility managers avoid errors and optimize revenue generation across all business locations.
Self Storage Software Cost 
The cost of self-storage point-of-sale software varies from one provider and program to another. On average, you should expect to spend between $30 and $100 a month on a self-storage POS system. This is particularly the case for the cloud-based software options built on a Software as a Service (SaaS) model.
The pricing of these programs often depends on the features and capabilities they have to offer. It will also be influenced by the number of storage units the software can manage. Vendors will also charge you a small fee for processing credit card payments. 
Self-Storage Kiosk Integration 
This is a machine that looks much like an ATM machine, and is designed to generate leases, and take payments for storage units. Featuring an interactive touchscreen display, the Kiosk takes a customer through the entire signup process, assigns them a unique PIN, scans their ID, and prints a map for directions. 
Self storage operators have realized that integrating self-service kiosks into their operations can improve business in several ways. Not only can kiosks improve their customers' experience, but they can also provide an added competitive advantage. By integrating self-service kiosks into their business, they can offer a more convenient way to rent units and process rental payments. To make this possible, self storage operators should consider posting information about the kiosks on their website, newsletters, and social media pages.
In addition to helping customers rent units, kiosks can help them sign up for insurance and change their insurance levels. Some kiosks also connect to a call center. Some of these kiosks have interactive touchscreen displays, allowing customers to take a virtual tour of the facility and make reservations. Some kiosks even allow customers to make online payments and sign lease documents.
Kiosk integration can help you integrate your self storage facility with other software, like your POS system. You can also integrate the kiosk with lighting and security software. Self storage kiosks can also dispense padlocks to customers. Some kiosks can also scan fingerprints and photographs. This allows for 24/7 payment processing.
Self storage kiosks are becoming increasingly popular. They make self-service facilities more accessible for customers and increase profits. Kiosks offer a variety of benefits, including a convenient rental experience and higher customer satisfaction. In addition to offering an improved customer experience, they can help storage owners capture drive-up traffic and attract new customers with self-service options.
The more advanced self-storage kiosks are also capable of dispensing padlocks to the customers after the signup process. If you happen to have one of these in your facility, it is advisable to get a POS system that integrates seamlessly with them. Such integration allows the system to scan customer fingerprints, or even take a photo of them for enhanced security. This allows customers to rent and make payments 24/7 even when you do not have anyone in the office.
Final Verdict 
Your self-storage business model is probably unique, with reporting and management tasks that are just different. This is why you should only get a system that is tailored to meet your unique business needs.  You need a good self storage point of sale software just like the five industry-specific systems reviewed above, your preferred software should offer online renter access, facility maps, gate access integration, and reporting capabilities. Regardless of your specific business model, this guide will help you choose the best self-storage POS system. To get started with our top-rated pick for storage facility owners, get a free quote now from SiteLink POS. 
FAQs
What is self-storage software?
A self-storage management software is a software that enables you to properly manage your facility and is an ideal tool for both single and multi-property managers. It enables you to view facility maps, facilitate electronic signatures and manage payments.
How much does storage software cost?
An ideal self storage software costs as low as $30 and goes up as high as $100 monthly. This largely depends on the use case and what is needed.
What is a self-storage manager? 
A self-storage manager's job involves the overseeing of the operations of a facility whose service offering is that of storage space rentals. He is responsible for ensuring the storage units are clean and that they are functioning optimally.
What are small storage units called?
Small storage units are usually also referred to as mini storage.
Is a self-storage business a good investment?
Self-storage businesses are often a good start-up business choice as they require minimal operating costs and run on a recurring stream of revenue.
How profitable are self-storage businesses? 
The average self-storage business gross profit margin in the United States is $350,000 – $800,000 annually.