(Last Updated On: 07/28/2022)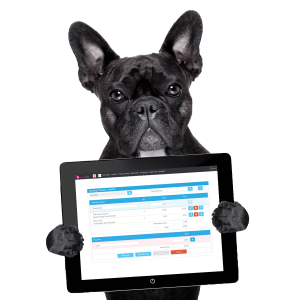 Having a solid pet grooming point of sale (POS) system can help you more efficiently attract, service, and retain customers. The best systems will help you manage and organize pet records and keep a close eye on inventory. Plus, they can also help you engage in targeted marketing campaigns to keep customers coming back for more. 
As you look for a pet or dog grooming POS system, there are some important features to look out for. You need to be able to make appointments and securely store customer and pet records. Accounting integration, electronic signatures, and push notices for low inventory can help you better and more securely manage your resources. Plus, if you want to retain your customers and maximize revenue, marketing and upsell features are also a must. 
 Out of all our research, we found that GroomPro POS is the best pet grooming POS system. The platform provides 24/7 functionality that's specifically designed to run your business more efficiently. The appointment manager feature is intuitive and helps you avoid missed meetings. The platform stores customer and pet records securely, including forms, files, and vaccination histories. And their powerful back-end reports will help you see how each of your groomers are impacting the bottom line. 
When it comes to pricing, most pet grooming POS systems charge a monthly fee starting at roughly $40 per month. There are a number of competitive options on the market that each provide their own unique benefits. Let's take a look at the top pet grooming POS systems so you can find the perfect option for your business.
Comparing Top Pet Grooming POS Systems
| POS System  | Software Subscription Cost | Payment processing Fees |
| --- | --- | --- |
| GroomPro POS | Starting from $39/Month  | Depends on your preferred gateway |
| BarkleyHQ | Starting from $49/Month  | Quote-Based  |
| Pawfinity   | Starting from $45/Month | Quote-Based |
1.GroomPro POS – The Best Pet Grooming POS Software Overall   
GroomPro is among the most preferred software solutions among pet groomers today. The POS system is highly effective at attracting, servicing, and retaining customers in a pet grooming business. Being one of the best pet grooming POS systems, GroomPro features an assortment of industry-specific capabilities. Some of the aspects that pet groomers have come to like about this grooming POS system include: 
Cash Management Tools 
The system will equip you with all the tools you need to keep an accurate track of cash and transactions in your business. Not only does the software keep you informed on the cash flow, but has also been proven to improve accountability among employees.
QuickBooks Integration
The GroomPro pet grooming POS software allows you to integrate into a range of third-party applications. Such integrations allow you to expand the functionality of the software, beyond the basic features and tools offered by the provider. 
One of the important integrations supported by the software is the QuickBooks Accounting software. Integrating QuickBooks to the GroomPro POS system will save you time, and prevent human error in your accounting. 
The software allows you to export important accounting data from the POS system to QuickBooks. At a simple click of a button, you will be able to sync your invoicing and payment data with the integrated QuickBooks account.
Appointment Management 
The appointment management feature of the software allows you to manage the appointments by dog breed or size. It is specifically designed to eliminate confusion when booking new pets. You will also like the customizable appointment tags offered by the system. In this regard, you will be able to add custom reminders or tags to each grooming appointment reserved in the POS system. 
Pricing 
Although the GroomPro grooming POS system is packed with a myriad of industry-specific capabilities, you will find it to be comparatively affordable. The provider offers several monthly subscription plans for the software to suit different applications. 
Each of the plans is backed by a 30-day money-back guarantee by the providers. Some of the GroomPro pricing plans you should consider include:
Good ($39) 
This is a business start-up plan that allows you to manage up to 100 clients and features a single register and one calendar for solo entrepreneurs and professionals.
For $39/month, the GroomPro Good plan will also offer you a customer database, scheduling, invoicing, pet histories, revenue projection tools. 
Better ( $79/Month) 
This one allows you to manage up to 500 clients. It will also offer you 3 calendars, and up to 3 registers for your growing business. , 
Best ($99/Month) 
For $99 a month, this plan allows you to manage 1,000 plus clients. It will also give you access to unlimited calendars and registers. 
2. Barkley HQ – The Best All-in-One Pet Grooming POS System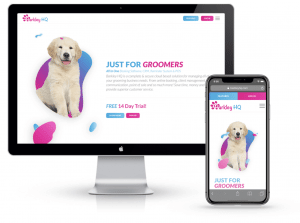 If you are looking for the best all-in-one POS system for dog grooming, you should get the Barkley HQ POS system.
The provider will provide you with the booking software, POS, CRM, and Reminder System in a single software, and hardware package. 
It is an easy to use solution and may be accessed from anywhere on any device. Ranging from online booking,  scheduling, and client management to communication and point of sale the system has it all. Other impeccable features associated with the Barkley HQ pet grooming POS system include: 
Sales Management 
Offers pet grooming salons the tools they need to manage sales, exchange refunds, vouchers, and other sales-related transactions. The POS system will process and record customer payments, helping you organize your sales and payments better. 
You may also connect the Barkley HQ POS station to a cash drawer and receipt printer for improved functionality. 
Products and Services Management 
Track the performance of the products and services offered in your grooming salon. Equipped with the tools you need to keep an accurate track of the inventory, and time. This feature will also help you identify selling trends to help make more informed business decisions.
Pricing 
Depending on the number of users, the Barkley HQ offers a number of pricing plans for its grooming software. The Personal Use subscription plan may be used by a single user and is charged $49/month, while the Small Teams plan is priced at $68/month and may be used by two to five users. 
For a team of up to 10 employees, the Medium Teams subscription plan will suffice. This plan is priced at $87/month and has support for six to 10 users. Priced at $107/month, the Large Teams Barkley HQ plan can support more than 11 users at a time. 
3. Pawfinity POS –  The Best Cloud-Based Pet Grooming POS System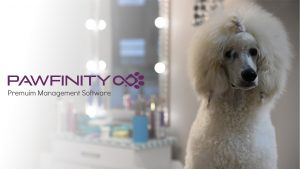 To stand out from other professional pet groomers, you will need a flexible POS system that is exclusively developed for pet grooming salons.
One such software option is the Pawfinity POS system. According to its current users, Pawfinity is a secure, reliable, and intuitive POS system for grooming salons of all sizes. Some of the features and capabilities that make Pawfinity stand out from other dog grooming POS systems include: 
Register Tools 
Built to speed up the checkout process and boost customer experience in your grooming salon. The full-features POS register features integrated inventory controls, full hardware support, payment processing, and credit card storage.All these are meant to streamline operations in your dog grooming salon. 
Time Clock and Payroll
Enjoy a fully-integrated time clock that is designed to streamline tracking employee hours. Combine this with the innovative commission feature, and you will have complete payroll control.
Services and Inventory
Organize your product inventory and service packages from the easy-to-use Pawfinity POS Dashboard. From this Dashboard, you will also be able to carry out quick items, update pricing, and create promotions. 
Pricing 
With the Pawfinity dog grooming software, you will get exactly what you pay for. The provider will even offer you a 30-day free trial o try the system out before spending on it. The provider doesn't require credit card information while registering for the free trial account. After this trial period, you will have three main Pawfinity monthly subscription plans to choose from, namely: 
Royal Package ($80/Month)
This plan is ideal for pet boarding, grooming, training, daycare, therapy, and other related pet grooming service providers. 
Groom & Train ($45/Month)
The Groom and Train Pawfinity plan is ideal for such businesses as pet grooming, nail, and dental services. It may also be used in a dog training business. 
Stay and Play ($45/Month)
This software subscription plan is only suited for pet daycare, boarding, and pet sitting service providers. For all the three plans, you can save up to 10% in subscription costs by paying annually. 
Buyers Guide: Things You Need to Know 
With more Americans treating pets as members of their families, expenditure in the pet suppliers industry is expected to shift. From personalized bowls and collars to grooming products, you should expect your customers to be looking for more than just pet food. 
The best pet grooming POS system should help you manage and sell more of your services and products more efficiently. This is why you should only go for the leading industry-specific software options. In order to get the best pet grooming software, here are some of the considerations you need to make:
Service Department Management 
This feature is meant to help you manage the service department in your pet store more efficiently. With such a capability, you will be able to bill your clients by the hour or by the job, as well as bill for merchandise and materials. Some of the more advanced dog grooming software optional also features user-defined product record fields. These will make it easier for you to track specs, manufacturers, and other pet product and service information. 
Invoices and Quotes
In order to streamline sales in your business, you should get a POS system that features invoice in progress functionality. Not only does it allow to quote services, but it will also allow you to print such quotes for your customers. With the best pet grooming software options, you only need to retrieve on-invoice and process the transaction for your customer. 
Multi-Dimensional Customer Records
The software should allow you to manage one or multiple pets for each customer record you create. This way, you will be able to keep track of multiple pets owned by an individual or family. The right pet grooming POS system should allow you to maintain a separate service record for each pet as well. 
Additionally, the system should be capable of running loyalty programs, track results, market your products, and services and segment the customers. Gathering customer data helps you know the most loyal customers, how often each customer visits and what they buy each time. You may then use such information to guide your marketing and purchasing activities. 
Multi-Dimensional Inventory Grid 
In addition to grooming services, pet groomers are known to stock an assortment of pet products. The inventory manager on your preferred pet grooming POS system should accommodate this diverse range of products. For instance, it should be able to manage multi-attribute products, such as soft items by color, style, and size. Again, it should be able to manage the hard pet products by such attributes as width, height, and length. 
Service Reminders 
Since pets need to be groomed every once in a while, you are likely to have a number of repeat customers. While some pet owners will remember to bring their pets when they are due, others may be too busy to remember.
 As such, a pet grooming POS system that features service reminders will come in handy. This feature is designed to send out automatic messages to your customers, reminding them when their pet is due for grooming. This capability will increase the number of repeat customers in your business, hence boosting revenue in your pet store. 
Offers and Campaigns Management
To boost revenue in your business, you need to implement the right offers and Campaigns aimed at enticing more customers. In this regard, you should consider getting a POS solution that can set up as well as manage offers and Campaigns more efficiently. 
For instance, it should allow you to create relevant discounts, and mix and match offer centrally from your head office. Thereafter, you will be able to activate such offers across all your pet grooming outlets. Once the offers have gone live, the system should automatically manage them and apply the right discounts at the register. Well-managed offers and Campaigns will satisfy your customers and ensure that you do not lose any revenue in the process. 
Appointment Management 
Just as is the case with many other service-based businesses, you need a program to help you manage your grooming appointments more efficiently. Such a dog grooming POS system will help maximize your daily output while reducing the related administrative work.
Your preferred pet grooming software should feature a calendar view of all the appointments scheduled by your customers. This allows you to look further into the workweek and plan your schedule in a better way. 
Dog Grooming Software for iPad 
There are two main Pet grooming POS software types available today: the ones you can download and install in a computer and the ones that can be accessed over the cloud from a mobile device.
For enhanced flexibility and convenience, it is advisable to opt for the best cloud-based dog grooming POS system. With such a system in your business, you will be able to access the POS and manage the business from an iPad, laptop or even a Smartphone from anywhere in real-time. With such systems, your business information will be stored securely in the cloud. 
This ensures that you can access it remotely whenever you need it, and there is no risk of losing it. 
Pet Grooming Bookkeeping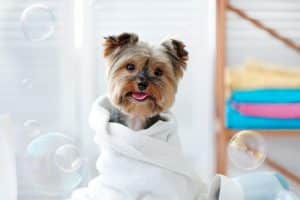 Some of the leading pet grooming POS software options are known to feature basic bookkeeping capabilities.
In most cases, the bookkeeping feature in pet grooming software is only capable of accomplishing basic tasks. 
Some of the best dog grooming software will help you with retail, and services accounting as well as your taxes and payroll. Since these are just basic accounting tools, you should consider getting a system that allows you to export relevant reports to third-party accounting services like QuickBooks. 
QuickBooks for Dog Groomers Integration
A system that allows you to integrate with other apps and programs makes it easy for you to expand its functionality. The right pet grooming software should particularly allow for integration with QuickBooks for dog Groomers service. 
The integration will not only save you time but will also streamline bookkeeping and accounting tasks while eliminating human error in the process. Seamless integration will also mean that you can export vital accounting data from the POS system to QuickBooks for further processing. 
Final Verdict 
Running a successful pet grooming business can be a challenge, without the right software to help you. Accepting appointments, and managing them, managing the growing number of clients and reminding them of their appointments as well as the actual grooming are tasks that need to be accomplished. 
The right dog grooming software will automate scheduling, appointment management, invoicing, inventory management, service reminders, and Campaigns Management. This saves you a considerable amount of time to attend to your clients and their pets. With this guide, choosing the best pet grooming POS system should be easy and straightforward.