(Last Updated On: 08/12/2022)
Most business owners understand the importance of implementing a POS system in their operations. From the tiniest kiosk to the largest store out there, a fully functional point of sale system is the essential tool every retail or wholesale company needs.
Having any POS system is not enough to make the cogs of your operation turn faster, though. If you are a business owner, you need to choose the best provider and make sure the solution you've adopted has all the features you need. Recognizing your needs and making the right choice is key. Combining a device you already use with the appropriate POS product may be the best option for you. This is where laptop POS systems come in handy.
Laptop POS systems bring you most, if not all the advantages and features of a traditional point of sale solution while saving you the cost of acquiring additional hardware. Small and medium-sized businesses seeking greater efficiency and optimized performance should consider utilizing such software.
Before we share our top 3 laptop POS system picks for business owners in 2022, let's dwell on what these products are all about.
What is a laptop POS system and why should you go with it?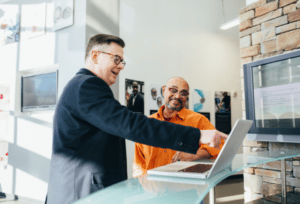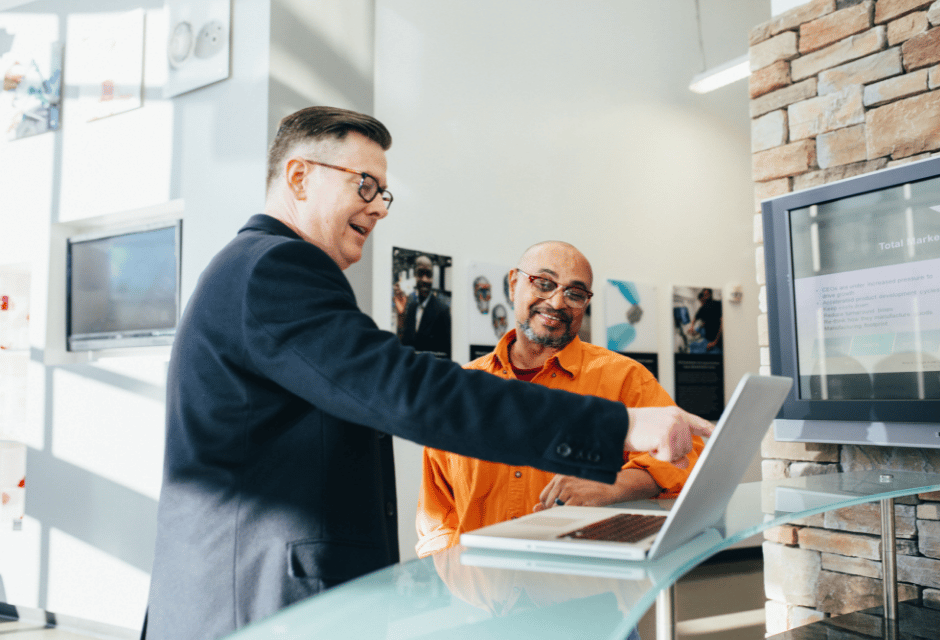 The traditional point of sale system includes a plethora of gadgets. You typically have a display terminal, a cash register, a barcode scanner, and more interconnected devices. By choosing a modern POS terminal instead, you greatly optimize the billing process.
The most suitable POS solution for your business will:
Reduce operational time: Having such a solution at your disposal is equal to shorter queues at your checkout point.
Result in a better customer experience: An efficient sales process is always related to building a better relationship with your clients.
Increase ROI in the long run: Due to the increase in the overall performance, you are very likely to notice and enjoy a greater revenue.
Provide you with higher security levels and analytical data: Encrypted transactions and stored data are key benefits of utilizing a laptop POS system.
All those pros would be even more notable if you choose to convert a laptop you have into a POS system. Such a transition is always easy and cost-effective. This is why more businesses are shifting to a laptop POS system or a mobile-based one. Most products in this niche boast all the features you would ever need, not to mention the significantly lower initial investment.
Enter: The Laptop POS System
Laptop POS systems are an affordable way for you to stay up-to-date with the advancement in billing technology. Of course, it is never a universal solution, but small and medium-sized enterprises would find it to be a fitting solution. Having such a system will enable you to provide your clients with better service quality and a broader range of payment means, resulting in a greater probability for the client to return.
Laptop POS systems use a specific app or a web browser. When you upgrade the computer with such a system, you will be able to connect additional hardware in case you need it: credit card readers, barcode scanners, etc. In short, you could use the laptop as a fully functional cash register. This is why retail stores and restaurants, for example, love laptop POS systems. It allows them to accept and record cash, gift cards, checks, and more. Of course, most laptop POS systems support connectivity to a terminal, allowing the system to operate just like any traditional point of sale setup.
Typical features of laptop POS systems
Most of the solutions you could find on the market today offer similar features, including:
Customer relationship management (CRM): Engaging in transactions via a POS terminal involves stored information that is always important in terms of proper CRM. Such data includes names, email addresses, phone numbers, etc.
Inventory management: Most POS solutions are compatible with inventory management software. This means that each sale would immediately update your inventory, allowing you to keep track of stock quantities by following the live data.
Reports: Generating automated reports thanks to the above-mentioned features is key for any business owners. It allows them to implement an organized management process.
Paperless transactions: While not all retailers and vendors offer this, having a proper laptop POS system will enable you to email the payment receipts to your clients. That's great news for the environment.
Some features may not be typical for certain POS solutions available today. For instance, having the option to run a virtual POS system will allow you to process card-not-present payments via email or phone.
How to shift to a laptop POS system?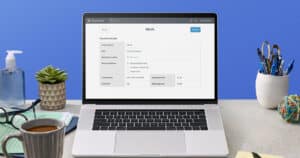 As mentioned earlier, the conversion of your computer into a functional laptop POS system is not rocket science, which is another reason to choose such a solution.
Laptop POS systems are affordable, meaning they are the perfect solution for new businesses or tight budgets. Saving money while acquiring a new POS system is a win-win situation.
Once you choose the point of sale solution provider, you are only a few steps away from implementing it. The process usually consists of the following steps:
Installing the software needed on the laptop: Installation may vary depending on the laptop's operational system (Windows, Mac, etc.).
Installing the gadgets: Based on your preferences, you will need additional hardware such as a receipt printer, credit card reader, barcode scanner, etc. Connecting them is also straightforward.
Setting up the laptop POS system: Another simple stage of the installation involves the fine tuning of the product: data entry, product details, etc.
Final checks: Before launching your laptop point of sale solution, you should run a couple of tests.
First, you need to choose the one solution that would suit your business best. This brings us to our top 3 suggestions. Let's take a look.
Which laptop POS system should you choose?
Not all POS providers offer a solution to convert your laptop into a POS system. We've listed some of the ones that do below, based on several factors, including price, availability, ease of use, support, and more. Square is on top of that short list.
Square
As a leader in the FinTech industry, Square offers a solution that could turn your laptop into a virtual POS system referred to as VPOS.
The virtual point of sale solution offered by the company allows your business to operate without the need for specific hardware such as a credit card reader because it supports card-not-present payments. You will have the means to key in and charge debit or credit card payments, utilizing the web browser of your choice.
Such virtual laptop POS systems are the pinnacle of point of sale solutions. Using your computer, you will be able to let clients process payments using bank cards, checks, or services such as Google Pay and Apple Pay. The ability to bill them remotely would turn into an advantage for your business.
Using Square's laptop POS solution also results in a dash of extra privacy: a separate checkout terminal while keeping their safe distance.
A plethora of different businesses could benefit from Square's VPOS product. All they need is a laptop and a good Wi-Fi connection. Wholesale and retail stores that are used to processing large orders could benefit from the remote billing options provided, not to mention the faster and more efficient transaction processes. Overall, the need for non-typical payment means would likely be covered by this VPOS solution.
How does Square's VPOS system work? It's simple. Setting up and using the company's laptop POS system is a seamless string of easy-to-follow steps. You will not need additional software or hardware to engage in transactions. Plus, there are no monthly fees. You would only pay transaction fees. Discover more: Square POS pricing
Nova
Nova POS is a popular cloud-based point of sale solution known for improving the sales process, thus generating more revenue for retail and wholesale enterprises. The system supports all the features related to customer relations and inventory management your business would ever need.
The web-based product allows vendors and business owners to access it via a range of devices, including laptop computers. The POS system boasts sales management and operations management, and CRM features, as well as electronic signature processing and the all-so-important offline mode. As a business owner, using Nova POS on your laptop or mobile device will allow you to have 24/7 access to current inventory, sales stats, and overall performance through a dashboard.
The CRM options featured in this POS system will allow you to reinforce the relations between your business and all clients. Email marketing campaigns would also benefit from the data analytics provided by the platform.
An important note to make about this laptop POS system would be the lack of integration. Integrating with a partner company would only be possible if they run the Nova POS as well. This means that no third-party tools would be supported. On the other hand, you don't need any additional hardware to get the system up and running.
Nova POS has a key advantage worth mentioning: the immaculate 24/7 live support via phone, chat, or email. Overall, the laptop POS system delivered by Nova is a great solution for any business, particularly retailers. Check out: Nova POS Affordable Pricing Plans
Erply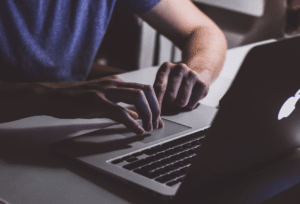 Erply is another cloud-based POS system that's equally effective online and offline. It can be installed on different devices, including laptops. The software can be integrated with various types of hardware through an API. The highly customizable nature of the system allows for impressive flexibility, especially when it comes to branding, partners, franchises, and more. The scalability of Erply sets it apart from all other laptop POS systems.
As a popular POS system widely used on Windows laptops, the software is intuitive and easy to handle from the start. The seamless installation procedure and the simple utilization of any existing hardware you might already have are typical for Erply.
The innovative Cloud Hybrid technology allows for offline use. While not connected to the internet, the system simply stores the data and synchronizes it the second it goes back online. Offline use is one of the best advantages of every point of sale system that features it. Not relying on a stable internet connection to keep the business running is something retail and wholesale businesses need. The switch between online and offline modes happens seamlessly thanks to the smart software. This guarantees that any connectivity disruptions would never result in data loss.
Erply is one of the laptop POS systems that are anything but slow. The friendly user interface is complimented by fast-responding commands and sufficient working speed. The system can also be operated via a touchscreen if available or the classic keyboard and mouse combination. You can choose whatever works best for you.
Last, but not least: the system features an automatic setup helper that would make installing the software as easy as it could be. Find out more: Erply's Key Features and Prices
The conclusion
Point of sale systems have come a long way in the past couple of decades. Today, mobile and laptop POS systems take the cake in terms of usability, popularity, accessibility, and implementation features. Most of them offer a low-budget point of sale solution that offers everything a business owner could wish for, starting with the widest range of payment means possible, including cardless and remote transactions. Just throw in the additional hardware you need and your laptop would easily turn into a fully functional POS system with no drawbacks.
Square, Nova POS, and Erply are leading brands in the world of point of sale solutions, including laptop POS systems. Square in particular seems to offer it all: their system supports multiple payment options and means and allows business owners to analyze their enterprises and plan ahead while building a better relationship with their clients. That's about everything you could ask from the POS system of your choice.
Author: Martin Nikolaev. Martin has 5+ years of experience in reviewing various tech gadgets, FinTech solutions, crypto markets and products, and all IoT-related products.
FAQ:
Q: Is there a difference between mobile POS systems and laptop POS systems?
A: The main difference is that laptop POS systems can often be used without additional hardware.
Q: How can I put the laptop POS system to good use?
A: Except for charging clients, you can set up recurring payments and optimize your inventory management and CRM.
Q: Can laptop POS systems' features vary a lot?
A: Every laptop POS system is different in terms of compatibility with computer operational systems, features, and integration.
Q: How do laptop POS systems affect security?
A: Thanks to data encryption, all transactions completed via a laptop POS system or a mobile POS system are secured.