(Last Updated On: 02/12/2023)
Written by Software Expert Hamza Shahid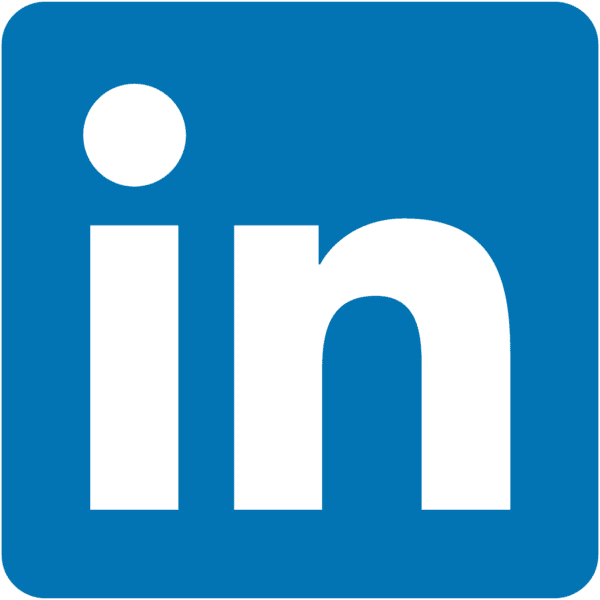 Affiliate Disclaimer: Our product review team dedicates hours of research, fact-checking and testing to recommend the best solutions to business owners. We earn from qualifying purchases through our links, but this does not influence our evaluations. Why trust our reviews?
So you're a shop owner looking to get a point of sale system for your business. You've looked up quite a number of reviews, especially on wisemallbusiness.com. 
You've taken notes and picked out the ideal set of features you'll want in your POS machine.
But you're looking for that point of sale solution that will not bore a hole in your pocket.
As more and more merchants dump traditional cash registers for modern point of sale machines, one option many of them are turning to is that of Java based point of sale (POS) systems.
So what is Java? I hear you ask. What role does it play in the choice of a point of sale system and how does it influence the choice you are about to make or will make?
You may also want to check out the 25 Best POS Systems For Small Business.
Our Experts' Choice
Floreant Java POS Software

The best Java POS System is Floreant POS. It offers:

Offline mode

Robust reporting

Restaurant specific features

24/7 support and more!
Don't have time to read this whole review? Skip ahead to: 
Java POS Systems – An Overview
Retailers are increasingly replacing their aging cash registers with Java POS systems. A number of retailers are either deploying or piloting Java POS systems, and they say the software runs on any hardware or operating system and is easy to modify as their needs grow. Depending on the additional systems choices made, some have reported decreasing implementation and support costs.
JavaPOS is a standard for interfacing point of sale software using the Java programming language. These desktop applications help facilitate payments from customers and track sales. The Java programming language is designed to have very few dependencies, meaning software developed with it can run anywhere and on any device.
Java is a general-purpose programming language that allows programmers to build programs that can run on all platforms without the need to recompile.
This essentially gives applications built using Java the advantage of seamlessness and easy adaptability within a wide range of working environments. So, JavaPOS applications are built to run easily on all kinds of hardware.
This, in turn, means reduced POS terminal costs, platform independence, scalability, and reduced administrative costs.
The modern retail POS system in Java fulfills a lot of roles and integrates with virtually all aspects of your business's operations. It usually comes with a clean interface and a cloud-based operating system, which allows multiple users to use it at any point in time.
It saves a lot of man hours in the areas of employee management, inventory and account reconciliation. It also supports virtually every back-office technology such as QuickBooks, Freshbooks, Salesforce, and so on.
The brand you decide to go for will depend largely on your business needs and specifications. From restaurants to bars and all models in between, choosing the ideal Java POS system for your business will be based on your specific needs.
History
JavaPOS was developed by a committee consisting of Sun Microsystems, IBM, and NCR. The committee first met in April, 1997, and the first release of Java POS 1.2 was issued on March 28, 1998.
The final release as a separate standard version (version 1.6) was released in July 2001. Starting with the release of version 1.7, a single standard document was released by its UnifiedPOS committee.
Top 3 Java POS System Options
To help you make the best decision for your java POS System, we've rounded up the 3 best Java POS open source systems. 
Floreant POS

– Our Best Pick for Java POS System [Restaurant Specific]

OneStep Java POS

– Best Java POS System for Specialty Retailers 

Chromis POS – Most Feature Rich Java POS System
How We Evaluated 
To come up with the top 3 Java POS software options, I reviewed over 10 POS systems on trusted review websites such as Capterra, G2, and Trustpilot based on their features, pricing, and pros and cons.
Floreant POS – Our Best Pick for Java POS System [Restaurant Specific]
Floreant POS is a free open-source point of sale system by Orocube. It is built on a client-server architecture powered by Java, Apache Derby/ Java DB, JavaPOS API, etc. It runs well on Windows, Mac, Linus and Java-based tablets, and PCs.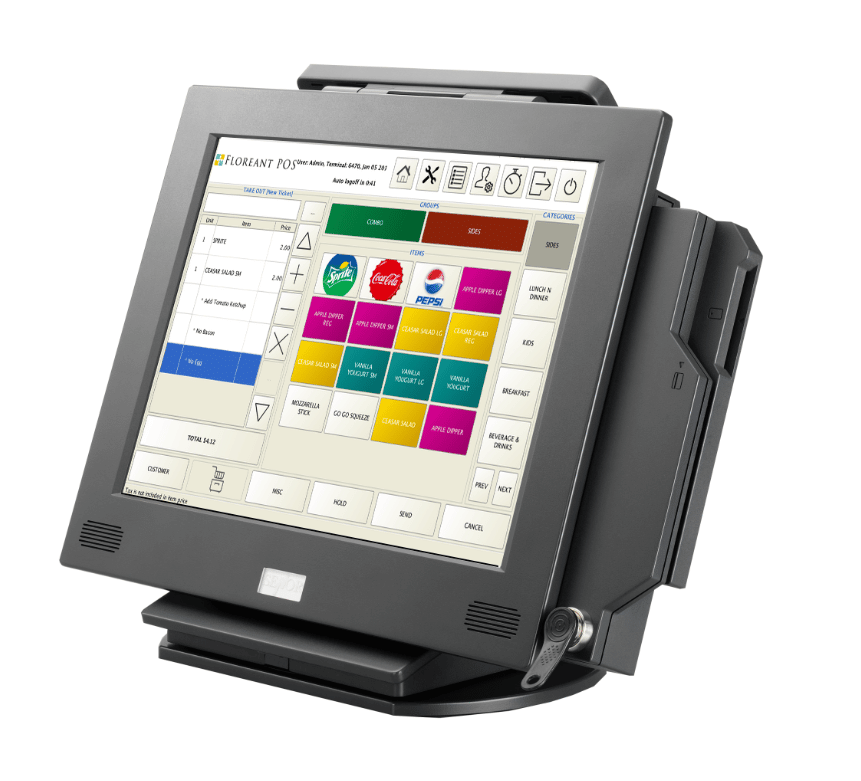 Floreant POS offers a no hassle easy setup process which takes just about 90 secs and was voted Best Free Open Source POS Solution on Capterra. It is an ideal system for restaurants, bars, and pizza shops.
Read: Discover the Best Restaurant POS System | 25 Systems Reviewed
Designed primarily for food businesses, Floreant POS was developed in 2008 to update the POS software of a popular restaurant. A Floreant POS system can run offline and is locally installed, allowing anyone to modify the code after downloading. In addition to offering basic restaurant POS features like kitchen display and table service, this software has very light system requirements.
Pros
Easy to set up and use

Can work without internet

It's stable and does not crash often

It allows mobile POS

It offers back-office operation management features
Cons

Its advanced features may be hard to configure

Bugs has been reportedly found during use
Why Choose Floreant POS? 
It helps to simplify order management, automate kitchen processes, and adequately keep control of cash.
Floreant POS is also cloud-based, which makes it a great choice for retailers as it enables cloud storage. It integrates most of the standard features needed in the industry. You can route orders to multiple kitchen printers. Stores can also utilize KDS to show kitchen orders on touchscreen monitors.
Floreant is popular among retailers and businesses in the hospitality industry. Floreant POS supports many commercial and third-party plugins, which makes it a great tool to use.

Salient Features
It can run on any platform and it has also been tested on Linux, Windows, and Mac

It has a client-server architecture powered by Java, Apache Derby/ Java DB, JavaPOS API, etc.

It enables you offer coupons and gift cards

It handles different forms of payment both cash and all types of cards

It offers kitchen automation and order management

It boasts front-of-house functions to help manage orders

It supports multiple printers
Floreant POS Pricing
As pointed out earlier, Floreant POS is a Java POS open-source software, thus it offers a free version as well as a user-pay model. With Floreant POS, you can access the software's basic features, including point of sale, table service, kitchen control, and user-level permissions. A monthly fee is charged for add-on modules.
Floreant Cust (home pickup and delivery): $9.99/month

The Floreant Inventory costs $9.99/month

The Floreant Floorplan (visual floor planning) costs $9.99/month
Although Floreant POS has very basic features, it is worth trying before upgrading to a paid platform if you are just starting out. 
With ORO POS, Floreant's paid version, you get more features, including a customer-facing display and online ordering integration. Tips payout, more flexible reporting, and splitting tabs are included for $34.99 per terminal (paid annually).
For its user-pay model, it starts at $50 for a one-time payment per user. There is a trial version option with which you can check out premium features. Reach out for a quote in line with your specific business needs.
OneStep Java POS – Best Java POS System for Specialty Retailers
OneStep Java POS and Distribution was developed by Business Control Systems to meet the needs of Retailers and Distributors. As part of the Java POS Consortium, IBM, NCR, Sun Microsystems, Home Depot, Sears, JCPenney and other retail industry leaders developed specifications.
There are three databases available with OneStep: Xbase, MS SQL, and Oracle. The OneStep product is based on the Java programming language. With it, it works on a corporate network, a standalone PC, and a mobile phone at the same time. OneStep Java POS is intuitive and stable, requiring minimal setup, training, and support. Functions are logically arranged and accessible.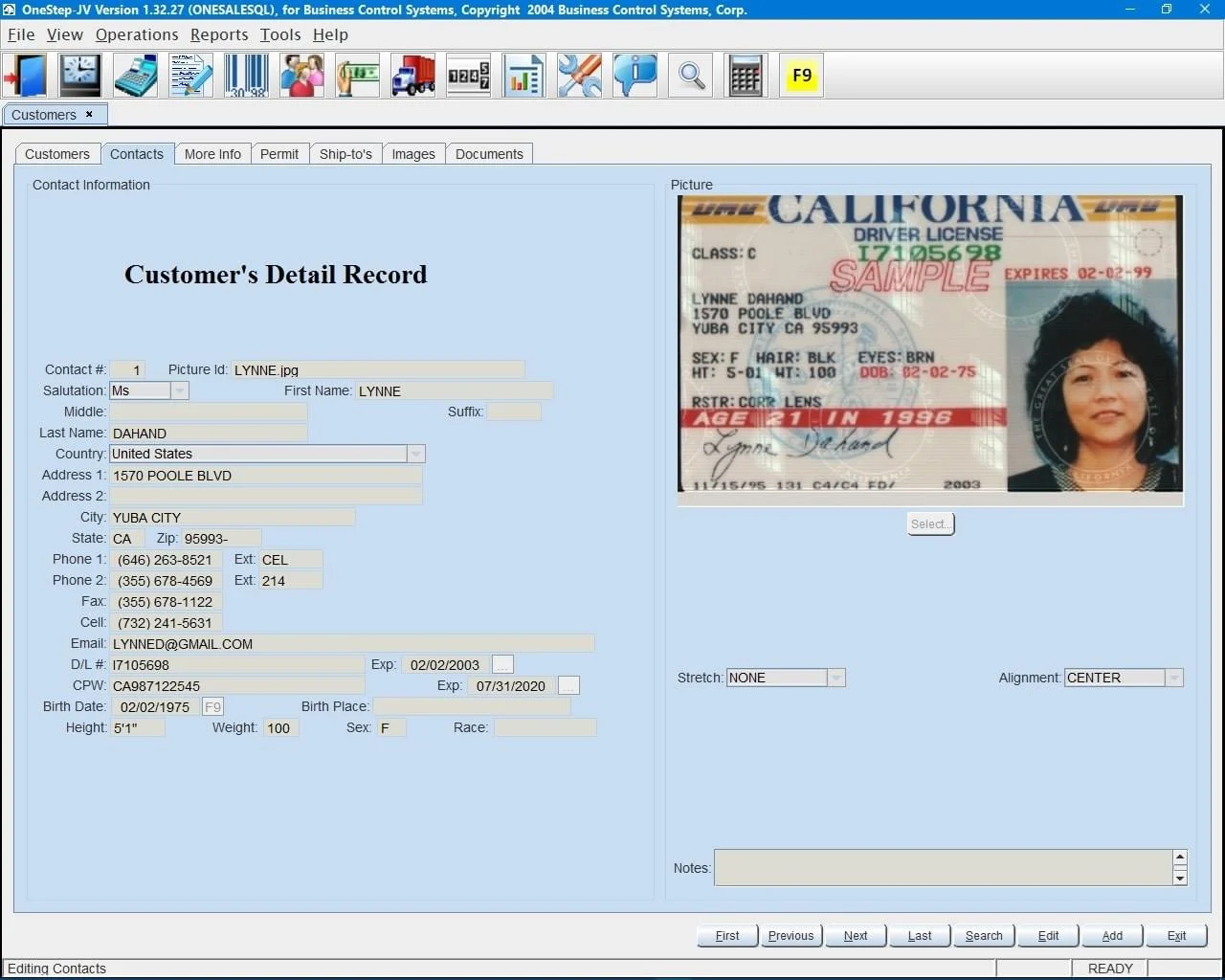 OneStep Java POS consists of the following basic modules:
Point of Sale / Order Entry

Inventory Control

Customer Management

Purchasing

Accounting interface – QuickBooks 
Along with the above it has additional expansions such as:
Web Interface

Accounts Receivable

Rentals

BATF Compliant Tracker

MSA Compliant Reporting

Natural Products Module

Deli Scale Interface

Extended Price and Cost

Formula Based Commission Tracking
Pros
Simple and easy way of tracking

Directly integrates with QuickBooks Pro

Easy tracking of customer's purchase

Easy to implement and Use

Available with a Touch Screen and Form
Cons
Don't have a clear pricing plan
Why Choose OneStep Java POS System?
OneStep Java POS is a multi-module management system developed in Java and designed by Business Control Systems for retail, wholesale, and distribution companies.
The OneStep Java POS is in compliance with specifications developed by the Java POS Consortium, which consists of the National Retail Federation, IBM, NCR, SUN Microsystems, Home Depot, Sears, JCPenney, and many other retail industry leaders.
OneStep is available with Xbase, MS SQL, and Oracle databases. This means that it is scalable to your specific needs. With the system developed with Java capabilities, it gives it the ability to function on a business corporate network, on a standalone PC and on mobile phones.
It is seamless to run as it requires a minimal amount of setup, training, and support. Its functions are logically structured, easily accessible, and executable.
Special presets for specific industries are included in OneStep Java POS. There are special presets and functions required specialty retailers like grocery stores, hardware stores, jewelry stores, liquor stores, etc. Your industry specifics are considered when designing OneStep Java POS.

Salient Features
Easy to use accounting interface

Customer management tools

Inventory control

Customizable POS 

Wide range of reports for purchase orders
OneStep Java POS Pricing
Business Control Systems Corp offers a quote based pricing structure based on the number of employees in your business and where it is to be installed. You can request a quote or demo. 
Chromis POS – Most Feature Rich Java POS System
An open source point of sale application for small, medium, and large businesses, Chromis POS is free and open source. By using its own custom installer, users are provided with a fast, easy way to install it on any operating system. There are a number of open source database solutions that work with Chromis POS.
A Derby embedded database can be used by users with Chromis POS in its standard form. With Chromis PS, users can migrate a multiuser database using the built-in database, as well as using a product like MySQL.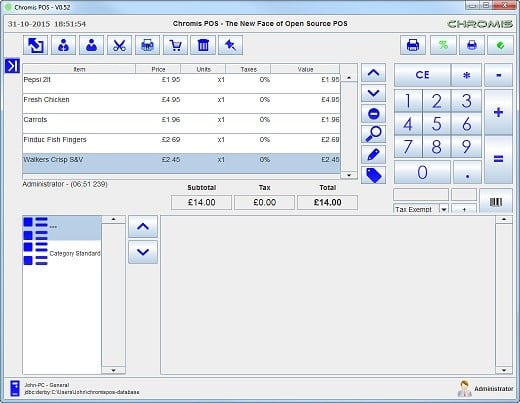 With Chromis POS, small, medium, and large businesses can all benefit from the support for USB printers. This removes the need for serial ports. Support for Derby, PostgreSQL, and MySQL databases. Chromis POS is built on powerful scripting language, supports a wide range of hardware, and supports GS1-compliant price and weight barcodes, and a barcode reader.
Users can customize the point of sale system using scripting languages. It also supports Java 1.8 applications and multi-sale modes because Chromis POS runs on Windows XP, Vista 7, 8, and 10. In addition, Chromis POS supports resolutions of 800×600. Businesses can import CSV files to create product lists. The kitchen display screen is presented by Chromis POS. POS orders can be sent to the remote kitchen from this screen, and remote kitchen printing can be enabled as well.
Pros
It is well documented and so easy to install and use

Has an excellent support forum

All features are easy to use
Cons
The software card payment system does not provide support for all countries

Reported to crash after recent update
Why Choose Chromis POS?
Its features can be easily customized by users, and it comes with a kitchen display screen to track live orders and a CSV import function that helps import product lists from other programs. Chromis POS won Software Suggest Best Value Software for Winter 2022 and can run on any hardware capable of running on Java 1.8. 
Chromis is a better solution for businesses such as quick server stores rather than fine dine-ins. This is because it has somewhat limited features for table service and server cash out.

Salient Features
Java 18 supported

Multi sale modes

Built in powerful scripting language allowing user customization

Runs on Windows XP, Vista 7,8 and 10ina

Supports extensive range of hardware

CSV import for product list

Supports range of open source database platforms

Built in reporting and reports

Supports USB printers

Barcode supported, including variable price or weight

Ability to migrate from Derby (Single user) database to MySQL or PostgreSQL

Customer database
This is because it has somewhat limited features for table service and server cash out.
Chromis POS Pricing
The Chromis POS is free for download at the moment. It also appears to be receiving a number of feature upgrades so you can expect that you might be needing to upgrade the software frequently.
Buyer's Guide:
4 Reasons Why Java POS Solutions Are Preferred
Flexibility:

 Many retailers and business owners opt for Java-based POS systems due to their flexibility. They are sure that such POS systems can run on virtually any operating system.

Scalability:

 Java POS solutions are ideal in the area of scalability. The Java POS code is easy to modify when there is a need to expand. Users have reported that using Java-based POS systems lowers the cost of implementation and support.

Cost effective:

 Many small and large-scale retailers are opting for Java based POS systems as it reported to be cost effective when compared to non-Java POS systems.
Java-based point of sale systems can run on servers as well as on clients; this translates to fewer hardware and IT support needs, thus ensuring cost effectiveness in setup and maintenance.
Hardware:

 Java POS systems can easily be used to access various types of POS hardware.  A few of these that can be controlled with Java POS are: Barcode scanners and readers, cash drawers, coin dispensers, pole displays, PINpads, electronic scales, printers, and magnetic stripe readers (MSRs).
How to Build a POS System in Java
Here are the steps on how to run a POS system in Java:
Step 1: Download source code. First, download the source code given below.
Step 2: Extract file. Next, after you have finished downloading the source code, extract the zip file.
Step 3: Click open project. 
Step 4: Run the project.
How to Choose Features In Your Java POS
Yes, it can be pretty confusing to decide on which features/components you need in your Java POS software, as the technology space is rapidly evolving.
Our recommendation for you is to start with the core features by asking yourself what the absolute necessities are for your business in a point of sale system. Questions like, do you need it to be mobile and handheld or okay with just a stationary device? Do you need a very rugged system, or do you want a sleek machine? What is the volume of transactions you are looking at processing in a day?
Some common features being searched for by users include:
Customer Management 
The benefits of understanding customers can be up to 20% every year, according to different published studies. Java POS systems offer an easy way to track customer purchases. Additionally, they email the assets that need immediate attention. Furthermore, government agencies and manufacturers can manage controlled products and substances easily by verifying customer IDs and capturing data.
Retailers can predict the next purchase based on customer purchase history. Furthermore, Java POS automates incentive permits for items not on their shopping list. Moreover, Java POS solutions allow tracking and calculation of sales commission. The system adds potential customers automatically by scanning their driver's license and photo proof.
General System Settings
There are industry-specific presets available in an advanced Java POS, such as appliances, grocery, hardware, jewelry, natural products, vitamins, and supplements, sports and archery products. The general system feature offers a user setup option. Retailers can control what users can see based on the presets and functions for each industry.
Purchasing
With Java POs, retailers save time and money by providing reports. The reports can be used to generate purchase orders, and purchase advice reports are created based on sales and inventory levels. In addition, it allows retailers to forecast their sales probability, adjusting past customer purchase history and future purchases accordingly.
Accounting Interface
This integration helps accounting-specific products to generate generic outputs from Java POS systems.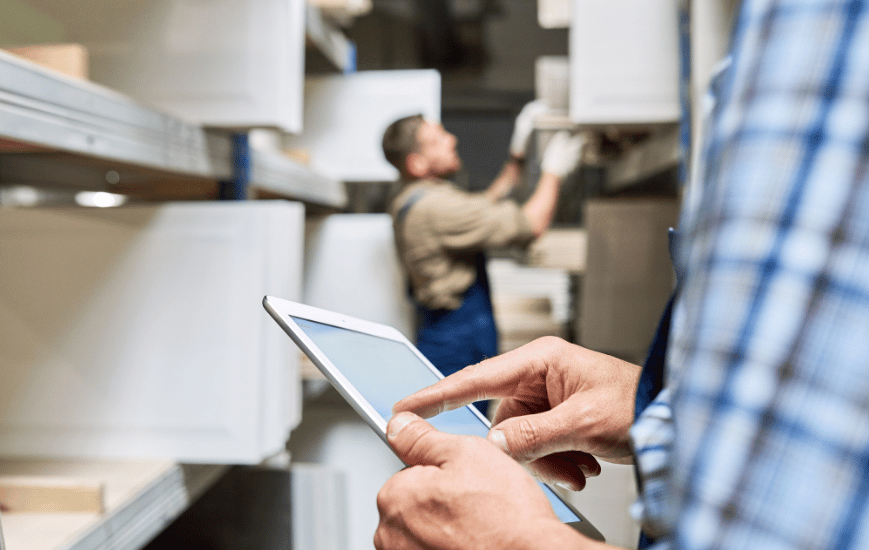 Inventory Management
Besides having multiple warehousing and unit measurements with separate unit pricing, Java POS provides automatic price updates from various suppliers. It can be used for inventory transfer and physical count via handheld Java POS systems. It also includes multiple warehousing and unit measurements with separate unit pricing. In addition to barcode label generation, items can be specified, described, and multiple pictures.
Point of Sale / Order Entry
The cash register and order processing functions of a Java POS solution are easy to use. It offers several security levels, so operators cannot perform management-level actions. Adding customers, scanning and entering products, receipts, and invoices is easy with integrated credit card processing, driver's license scanner interface, and scale interface.
Final Thoughts
As a small business owner just starting out or someone operating a small-to-medium-scale business, one of the ways to gain a foot in the door early is with the adoption of a Java POS system. This will go a long way toward lowering the operational costs associated with setting up your point of sale system. And as highlighted in this review, these three Java-based point of sale systems are a good option to start with. Get started with our best pick, Floreant Java POS System. 
Frequently Asked Questions
What is JavaPOS ADK?
JavaPOS ADK (for Windows OS) is an industry standard windows printer driver that helps to control POS peripherals by making use of device interface API. This allows you to develop applications that are based on JavaPOS.
How do you create a point-of-sale system in Java?
Here are the steps on how to run a Point of Sale System in Java:
Step 1: Download source code. First, download the source code given below.
Step 2: Extract file. Next, after you have finished downloading the source code, extract the zip file.
Step 3: Click open project.
Step 4: Run the project.
What is OPOS driver?
The OPOS specification is a technical analysis that explains how a two-layer open-driver software architecture between a POS application that runs on a Microsoft WIndows operating system and the physical hardware device is connected.
What is a POS service?
A POS system essentially is a payment processing system that allows your business to accept payments from customers and keep track of sales. While the set-up can work in different ways, they all basically have the same structure which is a store front device where payment is processed from buyers.
What is OPOS on my bank statement?
The term POS on your bank statement or online transaction history often refers to a purchase you made with your debit card. It might indicate the amount you paid to a merchant, or better still signal that you were charged additional fees for using your card.