(Last Updated On: 02/07/2023)
Affiliate Disclaimer: Our product review team dedicates hours of research, fact-checking and testing to recommend the best solutions to business owners. We earn from qualifying purchases through our links, but this does not influence our evaluations. Why trust our reviews?
Written by Software Expert Hamza Shahid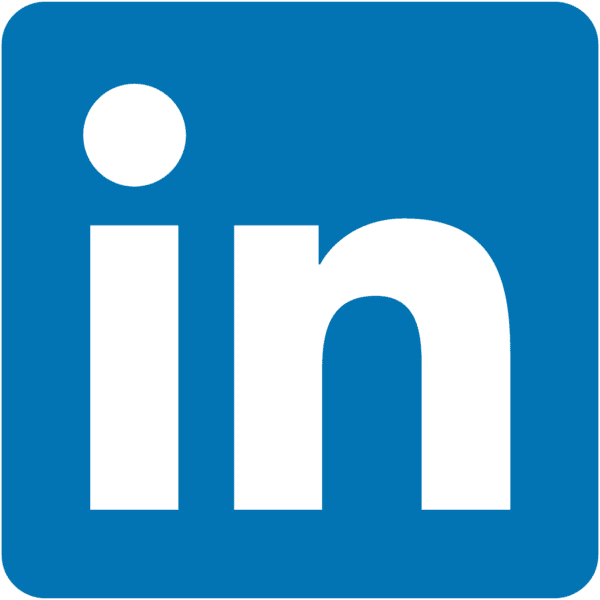 The value of jewelry stores' merchandise is exponentially higher than other retailers. They have unique needs, operating practices, and challenges. A jewelry POS system needs more features than the standard retail POS system. More importantly, it needs functionality that integrates with ERPs and creates custom orders. Jewelers are still using manual processes that expose them to expensive risks. Employee theft and false charges are a few risks associated with not using the right POS software.
To develop these top 5 best POS systems for jewelry stores, I reviewed over ten products on Capterra, G2, and Trustpilot products based on their features, pricing, and pros and cons.
Our Experts' Choice
Clover POS System

The best jewelry store POS system is Clover. It offers

Outstanding Hardware

Customization

Customer Management

Invoicing

Online Ordering, and much more!
Don't have time to read this whole review? Skip ahead to: 
Jewelry Store POS System – Overview
Retailers can spend their spare time doing more important tasks by using point-of-sale solutions, such as analyzing business performance and retaining customers.
A jeweler's retail software evaluation should include several unique requirements. A jeweler's inventory is typically large, diverse, and high value-to-size, so robust inventory tracking functionality is crucial to their success. In addition, jewelers depend on strong customer relationships for repeat, high-value sales, making the customer relationship management (CRM) functionality embedded in these systems even more essential. Upon hours of hard work and extensive research, we have concluded that Clover POS jewelry store is the best POS system. 
Clover POS – Overall Best POS System for Jewelry Store
Clover POS jewelry store software is a significant player in the retail industry. On the surface, Clover POS systems do some things better than virtually any of Clover's competitors. The system is highly intuitive and straightforward to set up and learn. In my opinion, that is precisely what I would look for if I were a small business owner just starting.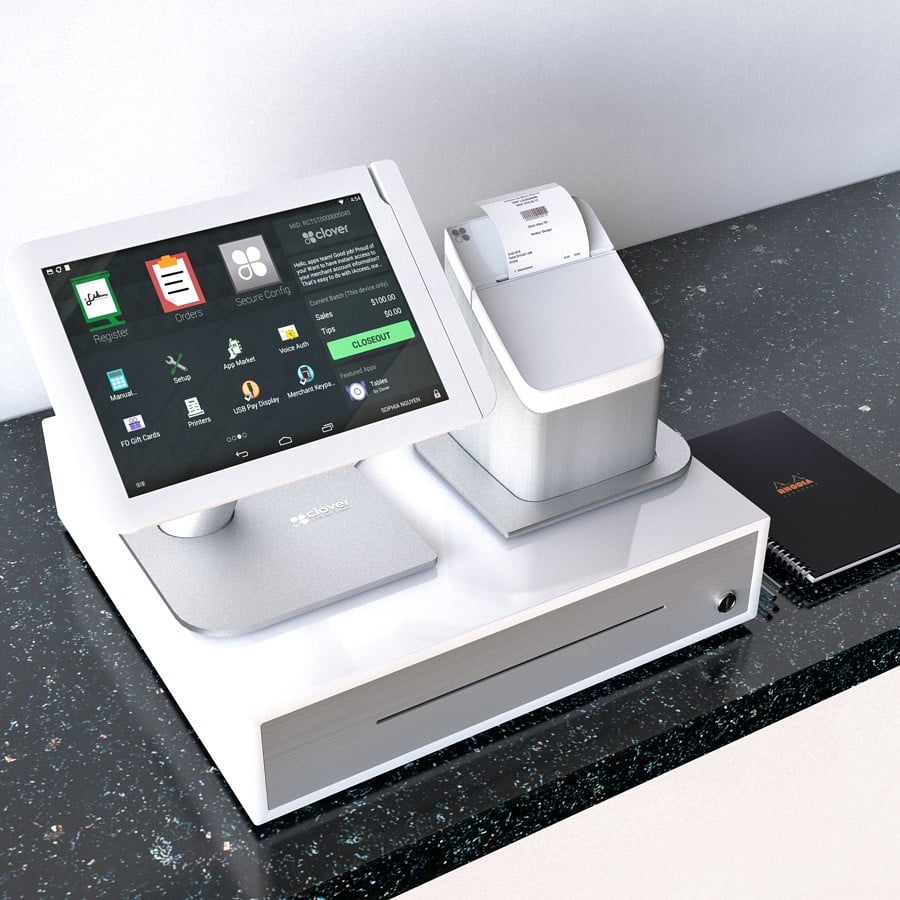 Clover, a Fiserv company, provides various POS software and hardware options for any business and allows you to upgrade as your business grows.
Clover's App Marketplace delivers a lot of useful apps that enhance its functionality. With Clover jewelry store iPad POS software, you can easily manage your employees, customers, inventory, generate reports, and monitor your revenue stream through your iPad. Most of these apps can be purchased for a small fee or free.
The Clover Mini countertop POS, the intelligent Flex Clover terminal, or the Clover Go reader for taking payments on your smartphone is available in a free, no-frills plan with no monthly software fee from Clover. The Clover virtual terminal allows you to accept payments online without any hardware at all using Clover.
Pros
Competitive flat rates for payment processing.

Hardware performs well and is well designed.
Cons
Customer service is reported to be lacking.
Why Should Jewelry Stores Choose Clover? 
Within a customer record, you can see multiple jewelry purchases – so you can track separate pieces of jewelry owned by the same customer.

The labels can be printed in a variety of sizes and types, including butterflies.

The item can be searched by name, ID, size, color, category, brand, vendor, and other attributes.

The Orders in Progress module allows managing phone orders for pickup, shipment, or delivery.

You can track all your organization's inventory in one dashboard with Clover's Inventory Management System.

You can track all vendor relationships, send and receive purchase orders, set alerts about low stock levels, and more with ease.

A jeweler's business is about selling and selling jewelry. Clover Jewelry POS Software Solution is designed to organize both your inventory and sales processes as well as your service side.
Clover Pricing
There is a lot of transparency about Clover's operations in its software and hardware pricing. The Clover POS hardware and software packages are tailored to meet the unique needs of each industry. The cost of Clover depends on the POS plan that best fits your business. Clover offers a range of software and hardware packages for each industry.
Here are some of the starting prices for Clover plans:
Retail shops – $749 plus $9.95 per month (or $250 for three months)
Professional services – $9.95 per month
Personal services – $499 plus $9.95 per month (or $166 for three months)
In addition to its standard features, Clover offers a variety of optional add-ons, such as payroll integration, the Clover Go reader, barcode scanners, printers, and weight scales. We have found that the standard method for vendors in the industry to charge credit card processing fees is a flat fee per charge with a percentage added.

2. PIRO – Best for Comprehensive Order Tracking
A jewelry-specific enterprise resource planning system, PIRO can be used in a variety of ways and is available on-premises, and via cloud access.  A number of tools can be integrated with PIRO, including QuickBooks, Rapnet diamond prices, and GIA certificates. PIRO can also be used to integrate with CRM tools like HubSpot and Shopify. PIRO is a powerful tool that can boost your profits and improve your business overall.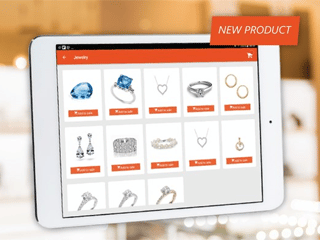 With its intuitive interface and ability to work on most modern browsers, PIRO Retail is a comprehensive jewelry point of sale system. With PIRO Retail, you can easily sync sales data with your back-office accounting software. It's portable and allows you to work with both manufacturer-owned retail stores and retailer-manufacturer businesses. Installing it requires an internet connection, but once you do, you are ready to go.
Pros
Provides end-to-end tracking capabilities

Automated notifications

Efficiency optimized workflow

Provides maximum transparency and efficiency
Cons
Customer Support can be lacking

No free Options
What Makes PIRO Stand Out for Jewelry Stores? 
PIRO's system is compatible with several web browsers and is compatible with Windows operating systems, including Vista and 8. Jewelry prices are affected by precious metals. You can make price corrections with this software by keeping track of these changes. There is no learning curve for this software, and it is compatible with most Windows-based computers.
PIRO Pricing
PIRO offers 3 types of license packages. Starter – 2 users, Pro – 5 users, Enterprise – 10 users. 
Starting price: $299.00 per month.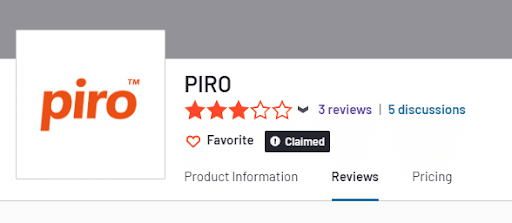 3. ChainDrive – Best for Tracking Custom Jewelry
An Omni-channel retail management solution, ChainDrive caters to retailers, e-tailers, and wholesalers. It is suitable for apparel, footwear, sporting goods, jewelry, home goods, department stores, and specialty retailers. ChainDrive offers customer relationship management (CRM) features that help retailers capture all customer data and then design targeted offers to drive loyalty. With this POS system for a jewelry store, users can identify which products to push and which promotions to extend based on analytics and reporting features. As well as viewing their merchandise details, users can make decisions regarding allocation, purchasing, and replenishment.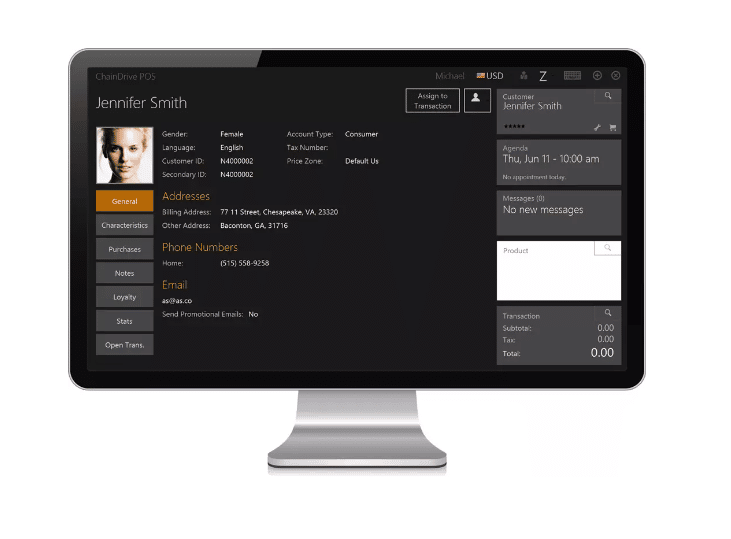 It is possible to monitor key performance indicators with ChainDrive, rank stores based on targets, draw graphs for selected data, create variance reports and evaluate store performance on a regular basis with its store budgeting features.
Pros
Workforce management, including scheduling and time and attendance

Advanced, user-definable action, and security settings, providing control over your POS environment

Supports gift certificates, gift cards and registries

Credit notes, integrated petty cash, exchanges, layaway and special orders

Receipt, transfer, and drop shipment ready

Built-in reporting, statistics, sales target tracking, inventory and KPI indicators
Cons
No backup video training available

Slow process

Receiving module is more confusing
Why is ChainDrive Suitable for Jewelry Stores? 
You can add a photo and other attributes when the customer drops off a piece for appraisal, then print the record and hand it to them when they drop off the piece. If the owner comes to collect the piece, there will be no disputes over who owns what, or what condition it is in. This feature distinguishes it from other jewelry POS systems.
ChainDrive Pricing
Starting Price: $1000 per user (perpetual license)
To calculate the cost of customization, you can use the following estimates:
Minimal customization – integrate with 1-2 systems: $2,500
Standard customization – integrate with 3-5 systems: $10,000
Fully customized system – integrate with more than 5 systems: $25,000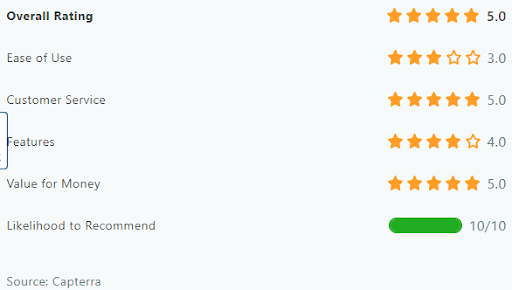 4. Smartwerks POS: Specifically Tailored to Jewelry Retailers 
The Smartwerks USA software application is a POS system for jewelry stores and an accounting program aimed at small and midsize specialty retailers. As a cloud-based application, Smartwerks USA can be accessed from multiple locations.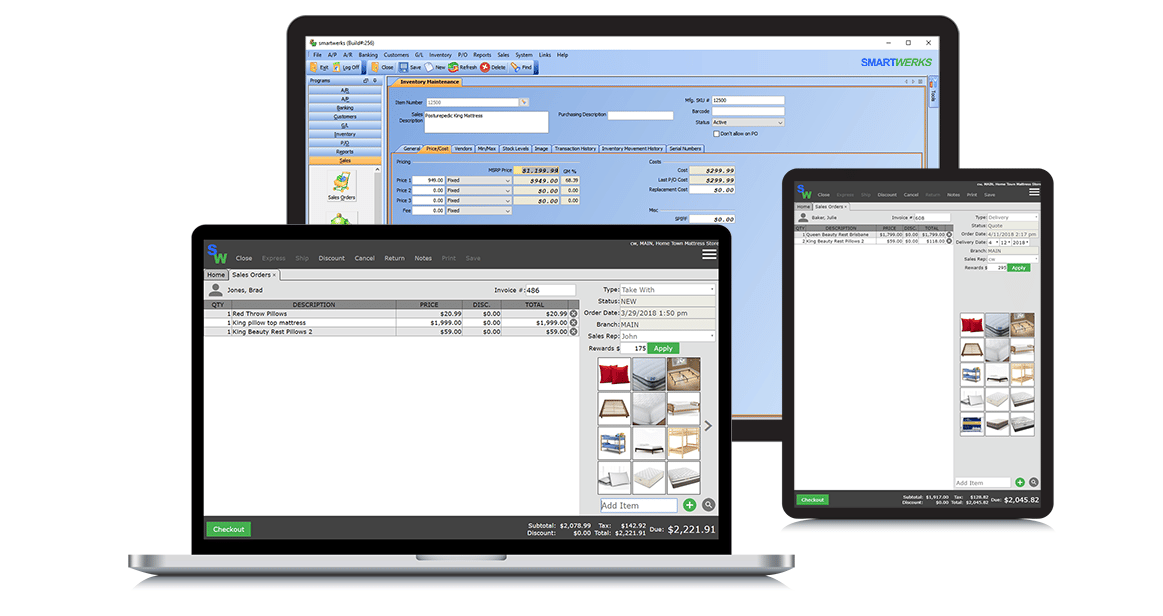 Businesses use Smartwerks to save time on everyday tasks and focus on tasks that grow their business. Smartwerks is an integrated point of sale system, inventory system, and accounting system for small to mid-sized businesses.
Pros
Available for Android Tablets

No need of third party software

Support for work order management

Employee time clock
Cons 
Why SmartWerks for Jewelry Stores? 
With Smartwerks, independent jewelers can manage their jewelry stores more efficiently and effectively. Smartwerks POS allows jewelers to optimize sales and investments while maintaining a strong cash flow by maintaining a balanced inventory. It manages repair orders, special orders, gold & Diamond purchases, Gold and Gems inventory management, dashboards and analytics.
Smartwerks Pricing
Smartwerks offers three plans that all differ in included services: Light, Pro, and Premiere.
The Light Plan costs $75/month with an initial setup and training fee of $500. This includes inventory tracking, a customer database, and a time clock.
The Pro Plan is $99/month with an initial setup fee of $1,200. It comes with everything the Light Plan comes with, plus added features like commission reporting, customer service/repairs, and sales quotes.
The Premiere Plan is $130/month with an initial setup and training fee of $1750. This gives you access to all Smartwerks features, including a complete accounting system with financial reporting. 

5. Lightspeed – Best for Multi-Location Jewelry Store
One of the best POS systems for jewelry stores like Lightspeed Retail emphasizes customer retention and gift cards. This system may not suit you if you sell high-end items requiring production tracking.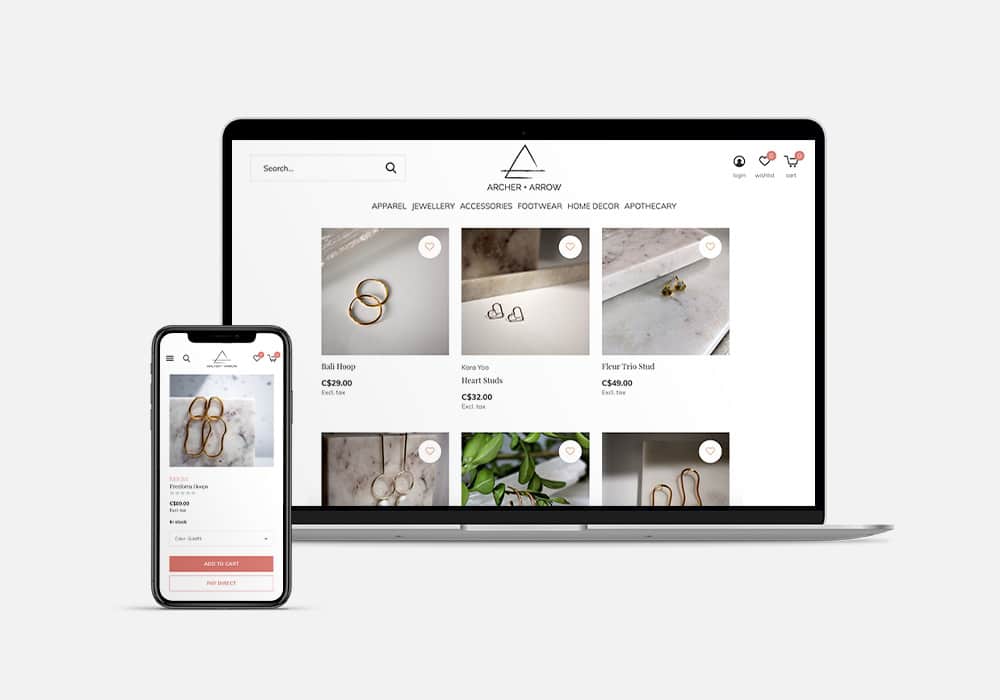 Small jewelry businesses benefit from this software because it is easy to implement and manage. The Lightspeed POS system is compatible with desktop kiosks, tablets, and smartphones. In addition to advanced reporting, table ordering, and customer loyalty programs, the registers provide real-time data so you can see where your customers spend their money. In addition to monitoring your sales, managing your inventory, and optimizing your operations, Lightspeed can also handle your finances.
Pros
Offers 24/7 support

Each account gets an account manager

Inventory management is superb
Cons
It's expensive compared to other POS systems

Lengthy contracts

It's not easy to cancel
Why Should Jewelry Stores Choose Lightspeed? 
Your jewelry case will stay stocked up with your customers' favorite products with Lightspeed Retail's inventory management tools.

With our intuitive product import tools, you can quickly add thousands of products to your catalog.

Make sure you're aware of low stock alerts and reorder points in order to minimize out-of-stocks.

Using order fulfillment features such as click-and-collect and shipping, you can deliver products to your customers

Track inventory across multiple stores and transfer inventory easily between them.

Shop on Amazon, eBay, Walmart, and Google Shopping to take advantage of the power of online marketplaces

Using local delivery zones, click-and-collect, and shipping services, fill orders faster
Lightspeed Pricing
Software Cost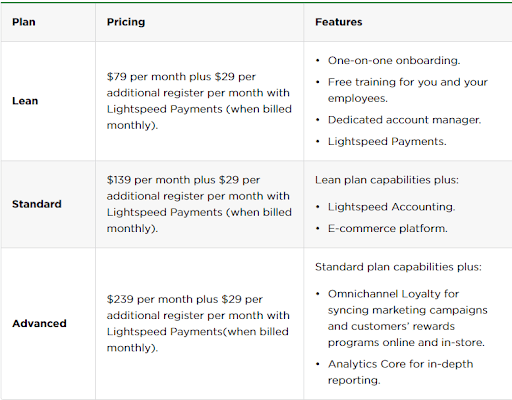 Hardware Cost
There are two types of hardware kits offered by Lightspeed Retail: iPad hardware kits and desktop hardware kits, which include a cash drawer, scanner, and receipt printer. The iPad and desktop must be purchased separately. Hardware items include label printers, contactless card readers, and iPad stands.
Payment Processing Cost
The Lightspeed Payments service includes free PCI compliance and fraud prevention, and funds will be deposited into your business bank account within two business days. Upon signing up, a Lightspeed representative will set up your new payment processor, and after that, you'll receive 24/7 support. For businesses processing more than $250,000 per year.
Tapped, inserted, and swiped rate: 2.6% plus 10 cents per transaction.

Keyed-in rate: 2.6% plus 30 cents per transaction.
Get a free quote from Lightspeed.

Buyer's Guide: 
Why Do Jewelry Stores Need a POS System? 
When you run a jewelry store with high-value goods, point-of-sale systems are handy for accounting for inventory. You can minimize theft and loss, maximizing your bottom line with enhanced inventory control.
POS systems for jewelry stores can also provide valuable business information, including sales trends and revenue totals. In addition to making informed business decisions about inventory and purchasing, the best point of sale systems are also quick and easy to use, so your employees can concentrate on serving customers and making sales.
What to Look for in a Jewelry Management System
If you are shopping for a jewelry store POS system, look for the following features to maximize your investment. Jewelry stores have unique needs, so there aren't many POS systems that meet them all.
Robust Sales and Inventory Tracking
A jewelry store's inventory and sales tracking is vital given the merchandise's value. The loss of a valuable item due to a system glitch can cost a jewelry store thousands.
To ensure that all sales are accounted for, jewelry management software must align inventory and sales by subtracting each t is sold from inventory totals.
Mobility
If you have mobile data, you can access cloud-based POS systems anywhere in the world. That's why mobility is an extremely important feature for jewelry store mobile POS software. A great example where the mobility is needed is trade shows. Rare gemstones and jewelry collectors fill these events, so you want to be there. You can reach a wider audience by bringing your POS system to events.
Customer Tracking and Management
Customers who buy fine jewelry are usually repeated. Customers' purchase histories, interests, most-purchased items, and so forth are all tracked by customer relationship management features. When a new thing that matches their interests becomes available, you can reach out to the right buyers with this data.
Accept Multiple Payment Types
An excellent and versatile point of sale software, Lightspeed POS can help your jewelry store by allowing you to accept different payment methods.
While not apparent, Lightspeed POS also will enable you to process different types of payments. These include cash, credit card, debit card, check, gift card, and store credit.
Marketing Features
Using your CRM data to market can be valuable as well. For example, you can reach out to customers based on what they've shown interest in with special offers, promotions, and discounts.
This targeted outreach can be automated if your system includes integrated marketing capabilities, or you can use external systems like MailChimp to automate it.
ERP Integrations
A jewelry store's ERP integration is key in managing order transfers between retailers and manufacturers and tracking their progress. This information is synced back to your POS so you can see orders in progress clearly.
Additional Integration Options
Adding other systems can save you a lot of time while improving your data accuracy and increasing revenue. Here are two essential integrations you should consider:
Ecommerce Integrations
When maximizing revenue, you need to put your product in front of as many people as possible. Creating an Ecommerce site is one of the best ways to do this. As more consumers shop online, jewelry retailers with an online store sell more merchandise.
Accounting Platforms
QuickBooks integrations are beneficial because solid accounting capabilities eliminate manual work, freeing up your time. Additionally, they decrease inaccuracies by removing human error risks. You could lose a lot of money if you make one mistake in your books.
Centralized Material Tracking
Materials like gemstones, gold, and other metals and materials that go into making fine jewelry must be tracked by jewelers. The best Jewelry store POS systems offer centralized material monitoring so that you can keep track of the materials that go into making jewelry, their prices, purchases, and usage.
Intuitive Interface
The PIRO software solution is an excellent example of jewelry store management software with a highly user-friendly interface. It keeps the frontend clean and easy to navigate while storing most settings and controls in the backend.
You must provide an attentive, personalized customer experience when a gold or jewelry customer walks into your store. When you are bumbling around in your system trying to check prices or item availability, it is very difficult to deliver this to your customers. 
Repairs
A system that tracks the materials used in repairs is essential for jewelry repair stores. Find the best POS software for jewelry repair stores, and start using it immediately.
Casting Management
With casting management, you can track casting trees and metals you mix, their amounts, and the amount of material lost during a casting at a granular level. As a result, raw material expenses can be regulated, and inventory levels can be maintained appropriately.
Employee Management
In an environment that's high risk for theft, like a jewelry store, it's crucial to know exactly when employees are coming and going. 
That's why tracking their hours doesn't just ensure they're on time; it can also help you investigate suspicious activity.  To compensate employees somewhat based on their performance, you might also want to consider a POS system that automatically calculates the commission they receive on the items they sell.
Final Thoughts
There are a lot of excellent POS systems out there with incredibly intuitive software and state-of-the-art hardware. However, not all of these are necessarily the best choice for a jewelry business. 
Choosing a jewelry store POS system could affect many other aspects of your business, so you want to make sure you're making an educated choice.
To ensure your POS system integrates seamlessly with your CRM, e-commerce site, and payment processor, speak with any of these companies. Any of these jewelry store POS systems will help you maximize profits, effectively manage your employees, and ensure your business runs smoothly. As recommended by our experts, Clover POS is the best fit for any jewelry store. View the latest price on Amazon.
Frequently Asked Questions
What is the best jewelry store iPad POS software?
Clover POS is the most recommended choice for jewelry store iPad POS software. Their system is easy-to-use, intuitive, iPad based, and mobile-friendly for busy jewelry retailers.
What are the important features of jewelry store software? 
Customer Relationship Management

Inventory Management

Imaging

Appraisal Tracking

Precious Metal and Stone Pricing

Anonymous Sales

Compliance

Tax Reporting
What third party software does Clover POS integrate with?
Clover POS can be integrated with QuickBooks, Xero, Big Commerce, Shopify, WooCommerce and Mailchimp.
How can you make a jewelry inventory list?
Jewelry inventory can be maintained by:
Jewelry Type

Appraised Value

ID Number

Small Description

Date of Ownership

 
Why do you need to keep a list of jewelry inventory?
There are times when it's important to be able to quickly access a record of all the jewelry you own, whether you have a large or small collection. If you lose jewelry and it's recovered, you may need to provide proof of ownership to claim it. Occasionally, you can provide proof of ownership by taking a picture of yourself wearing the item, but even that may be a challenge.
How does Lightspeed POS help manage your jewelry inventory?
Lightspeed lets you customize reorder points and inventory levels for each of your items individually. You won't have to worry about running out of stock or losing revenue if your inventory levels drop below a certain threshold. Lightspeed will notify you when inventory levels drop below a certain threshold of your choosing.