Last updated on September 7th, 2019 at 05:30 pm
For many small businesses, Shopify is the best way to set up an online retail store quickly and easily.
They offer tons of solutions to help you manage every aspect of your business, making it easier to reach your target audience.
However, Shopify offers tons of different plan options for their customers. This can be very confusing for many people, as each plan offers different features.
You also want to make sure you are getting the best bang for your buck, with the lowest pricing but the best features for your needs.
Shopify is designed to grow with your business, so you can start with a lower level plan and continue to upgrade to support new levels of traffic.
Here's a basic overview of Shopify plans and their prices. Keep in mind that Shopify does offer discounts on annual and biannual plans (10 and 20 percent, respectively) when you pay them in full upfront.
Shopify Pricing and Plans
In order to not incur transaction fees, you must use the Shopify Payments app. If you use an external payment processor, you will incur transaction fees on top of credit card fees.
There is also a high volume plan available. It is called Shopify Plus and is very pricey, at $2000 per month. And it is intended to support larger sellers and has a different range of features.
It is also marketed and sold separately, so we won't be discussing it in this article. To help you decide which plan is right for you, we'll go into the features and everything else you need to know about each plan.
#1. Shopify Lite

This version of Shopify is designed specifically for entrepreneurs who only need basic sales features.
It caters to social media marketing efforts and sales. This Shopify plan costs just $9 per month.
It has the same credit card fees as the Basic plan: 2.9% and 30¢ per transaction. You'll also be charged a 2% transaction fee if you don't use the Shopify Payments processing system.
There are several ways you can sell with the Shopify Lite plan. You can put a 'buy' button on your website, set up a Facebook store, or use an in-person credit card swiper that attaches to your phone.
The credit card swiper is included free with this package if you are interested in selling in person. It plugs into the headphone jack on your mobile device.
Your Return
You get one owner account and one staff account to use with this plan, so you and an employee can sell. This plan also allows you to create invoices for customers, so you can easily bill them and accept their payments directly.
This plan allows you to sell an unlimited number of products, and your online store has unlimited data storage.
You'll get access to customer discount codes, as well as discounts on shipping labels. These are great marketing tools that make your products more accessible to new customers. Additionally, Shopify offers round-the-clock technical support on all of their plans.
This is ideal for anyone who is just getting into product sales and doesn't want to spend too much money to operate their store. The credit card swiper for your phone makes it easy to sell in person when the opportunity arises as well.
#2. Basic Shopify

The Basic Shopify plan costs $29 per month and offers everything the Shopify Lite plan does.
But with much more flexibility and the ability to set up your own online store.
This plan is ideal for the entrepreneur who's business is expanding quickly and needs an online retail space they can call their own.
The rates for this plan are the same as Shopify Lite – 2.9% and 30¢. You also incur a 2% charge per transaction if you are not using Shopify Payments. Additionally, you get the free credit card slider for your phone so you can sell in person.
This plan allows you to create your own online store for your products. You can add an unlimited number of products and product variations. You can also sell in person with your mobile card reader.
Additionally, you can set up a store on Facebook to capitalize on your social media following. You can also sell via Pinterest and Twitter, a very handy function that helps you build your audience.
You can set up one owner account and two staff accounts with this plan, which is ideal for many small vendors. Just like the Lite plan, you have the ability to easily create invoices and send them to your customers for easy payment processing.
What You Will Get?
Just like the Shopify Lite plan, you get access to 24/7 customer support, discount codes for your store, and shipping label discounts.
You also get to set up your own website and blog for your store using Shopify's technology, and you get a free SSL certificate.
This plan is ideal for Shopify users who have a variety of products that they need to market and want to develop a recognizable brand using their own custom store and social media sales.
If you don't need access to specific sales reports or higher-level processing features, this plan offers the best bang for your buck.
#3. Shopify

This mid-level plan provides all of the features that most small to mid-size retailers will need.
It takes a step up from the Basic Shopify plan and offers a variety of features to help you better promote and manage your business.
This plan is significantly more expensive than the basic plan, at $79 per month. However, the credit card fees are lower – 2.6% and 30¢ online.
As well as 2.4% in person. Because of this, businesses with significantly higher transactions per month may actually save some money on the credit card fees.
This plan offers the same sales features like the basic plan – you get your own online store as well as the ability to sell with social media networks Facebook, Twitter, and Pinterest.
You can also sell in person using the free audio jack credit card swiper that Shopify provides. This plan allows you to sell an unlimited number of products, and you get access to one owner account and five staff accounts.
Which is ideal for a growing business with rotating sales employees. The plan allows you to build your own website and blog, offers a free SSL certificate, and gives you discount codes for your customers as well as shipping label discounts.
With this plan, you can also offer gift card sales and abandoned cart recovery, which help entice customers back to your store for multiple visits.
Additionally, this package provides professional reports. This is a great feature for any entrepreneur who wants to grow their business and attract investors.
Overall, this is an ideal package for any established retailer who wants to take their business to the next level. With this package, you can manage your shop professionally and easily reach a wide potential audience using a variety of sales tools
#4. Advanced Shopify

This plan is perfect for the established high-volume retailer who needs sophisticated store management technology.
It offers everything you need to maintain steady growth in a successful business. At $299 per month, this is the most expensive Shopify plan available.
This package has the lowest credit card processing rates, at 2.4% and 30¢ online, and 2.2% in person. Like all plans, it includes the smartphone credit card swiper.
The plan offers a full range of sales options. You get your own website and blog, as well as the ability to sell on Facebook, Twitter, and Pinterest. Also, you can sell in person using the smartphone credit card swiper.
You can sell unlimited products with this plan, and you get one owner account and 25 staff accounts, the most available on Shopify.
This package offers all of the previously mentioned features, as well as some new features. You have the ability to generate advanced sales reports, which allow you to view your store's activity in detail and plan for the future.
You also get real-time carrier shipping access, which allows you to calculate exact shipping rates to save money. Overall, this plan is great for any established business who needs an easy way to organize their sales and manage their products.
What is the Shopify retail package?
Every Shopify plan also gives you the
option to add the Shopify retail package for an additional $49 per month.
This package is designed for sellers who have a more sophisticated in-person sales setup.
This package gives you the ability to manage a physical store with several employees by giving them their own personal identification numbers.
You also have the ability to accept a variety of payment types, such as cash, chip/swipe cards, and gift cards.
You will need to purchase additional hardware for this package as well. The software runs on an iPad, so you will need to already have one in order to set up the app.
Shopify sells an iPad stand, cash drawer, and receipt printer to mimic the functionality of an old-fashioned cash register. Additionally, you can purchase a bar code scanner and card reader to enable you to take any kind of payments.
For those who run a physical store in addition to their online store, the Shopify retail package is a must-have.
What is Shopify Plus?
For mass retailers, Shopify Plus is the
ultimate sales management solution.
They offer a huge amount of cloud sales solutions, and the Shopify Plus technology can handle up to 10,000 checkouts per minute.
They also use advanced security technologies to prevent bot attacks and fraud.
Additionally, Shopify Plus allows you to sell using a huge range of channels and websites, not just your own site or basic social media sites. This allows you to target sites in your industry niche to connect with your ideal demographic audience.
This technology also provides you with access to a huge range of exclusive apps and tools to help you manage your store. You can completely customize your site and your customer's experience.
There are also many tools to help you switch over to Shopify Plus seamlessly, something that is very important for bigger retailers.
Pricing for Shopify Plus varies depending on your individual needs. If you are interested, you can contact them via online live chat to learn more.
What is the Shopify App Store?
All Shopify customers get access to the Shopify App Store, which allows you to customize
your site even further with unique apps.
There are many apps available in this store, but we'll just list some of our favorites.
Sweet Tooth: Allows you to set up your own customer loyalty program
Privy: Helps you develop email popup advertisements
ReCharge: Allows customers to set up recurring billing for efficiency and increased sales
Pics: Creates Instagram photo galleries to promote sales
AfterShip: Gives customers easy ways to track their order shipments with a variety of carriers
Chatra: Allows you to live chat with customers
These apps range in price. Some are free, and some charge a low monthly fee for use.
How to Sell With Shopify
There are many ways to use Shopify to promote your business and products. Some are included at all plan levels, while others are only included at certain plan levels. Here are each of the ways that you can sell your products using Shopify.
Buy Button
This is included at all levels of Shopify. It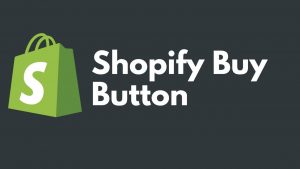 gives you a code that will create a little button that says 'Buy Now' next to any product listed on an existing website of yours.
If you already have a website where you sell your products, this is one of the easiest ways to make it more cohesive and easier to use.
When customers click the buy button, they will be able to select how many of the product they want and which variation if that choice is applicable. It also adds the product to a shopping cart, which enables users to buy multiple products.
The coding for the Buy button is completely compatible with many different common web hosts. These include WordPress, SquareSpace, Wix, Tumblr, and more. All you have to do is copy and paste the code in the correct places to add the buy button.
Facebook Store
The Facebook store is also included at all
plan levels. If you have an active Facebook following.
This feature is particularly convenient because you can set up a shop directly from your page.
The feature will allow you to integrate the existing page with Shopify, creating a store feature on your page that is located in the bar under your cover photo.
Customers will then be able to browse and buy products directly from the social networking site.
Pinterest/Twitter Sales
With Basic Shopify and above, you can
easily sell your products on Pinterest and Twitter too to capitalize on an even larger social media following.
With this option, you can add a 'buy now' button to any post on these two sites. This is one of the easiest ways to sell to a wide variety of customers.
When they click the buy button, they'll be able to view purchasing information for the product, select the quantity they want, and then enter their payment and shipping information. This is all done without ever leaving the site.
Personal Web Store
Another very important sales method you
can use with Basic Shopify and above is your own online store.
This is the main way that most Shopify users sell their products.
Shopify allows you to create your own customized ecommerce site.
You can choose from a variety of themes and using coding to add your own touches. You can also choose to add any of the apps that are available for customization in the Shopify app store.
With your own site, you can not only feature products, but also add customer reviews, FAQ/about section, and even start your own company blog.
Having your own retail site increases your company's professionalism and makes it easier for new customers to learn about your products.
Mobile POS
Shopify also includes an easy way for you
to sell in person with all plan levels. You get a free mobile credit card reader with your plan.
This reader plugs into the headphone jack of your phone and works with an app to help you process card payments.
When taking mobile payments, you also have the option to add discounts and take custom taxes to comply with your state's laws.
This is an ideal sales option for anyone who's business runs mainly online, but needs to be able to sell in person on certain occasions, such as local markets, conventions, or other networking events.
Full Retail POS
If you opt to purchase the complete retail POS system, you will have the ability to set up
your own store.
Although this does cost extra money, it is perfect for any business that hopes to do most of their sales in person.
The retail POS provides you with the ability to support a large number of employees, and you can take a variety of payment options, such as cash and gift cards in addition to debit and credit cards.
The POS system runs completely from iPad. Shopify sells a hardware package consisting of a cash box, iPad stand, card reader, receipt printer, and barcode scanner.
Pros and Cons of Using Shopify
Overall, we love Shopify as a retail management option for retail businesses of all sizes, particularly smaller companies.
Looking to keep overhead low while still managing growth and expansion. Here are some of the pros and cons of using Shopify.
Pros:
The stores run very quickly and allow for a fairly large volume of customers. This means that shoppers won't ever be turned off by slow load or checkout times.
The Shopify servers are extremely secure and are designed to minimize fraud. And it is so important consideration for anyone taking online payments.
Shopify stores are highly customizable with tons of great apps and add-ons available. Although you may initially be working from a template, you can create a site that is uniquely yours. The themes are also quite intuitive to use, even if you haven't worked with web design in the past.
Shopify offers tons of social media integration, which makes it very easy to market your products on several different platforms. The templates also include SEO-friendly code to help your shop do better in Google rankings.
Cons:
While Shopify stores are very social media and SEO friendly, they don't offer much in the way of other content marketing tools, forcing you to be creative.
You'll likely end up paying more than the sticker price for Shopify due to the huge number of add-ons available. This can be a turn-off for some extremely small businesses just starting out. Especially businesses that might not have the funds to support this every month.
Although the Shopify set-up process is very intuitive, it can also be very time-consuming.
Overall, we really love Shopify because it offers something for every type of business owner. Entrepreneurs can try Shopify Lite to get a taste of online sales and reach new customers.
Small companies can start with Basic Shopify to build their own store. And can upgrade to the full plan as they grow to enjoy a full range of features.
Mid- to large-sized businesses can use Advanced Shopify to manage tons of aspects of their store. And these aspects usually are from sales reports to customizing the shopping experience.
Large brands can use Shopify Plus to manage huge volumes online sales traffic and integrate sales on hundreds of platforms.
We recommend starting with the lowest plan that supports your needs, and upgrading periodically as your business continues to grow. Shopify is designed specifically to grow with your company and offers tiered pricing to reflect that.