(Last Updated On: 02/03/2023)
Find out what it takes to get a startup business credit card with no credit in this detailed 2023 guide. I'll highlight the differences between personal and business credit cards, alongside the important aspects of business credit cards to consider when signing a deal. I'll also add tips on how to build a credit score when you need it.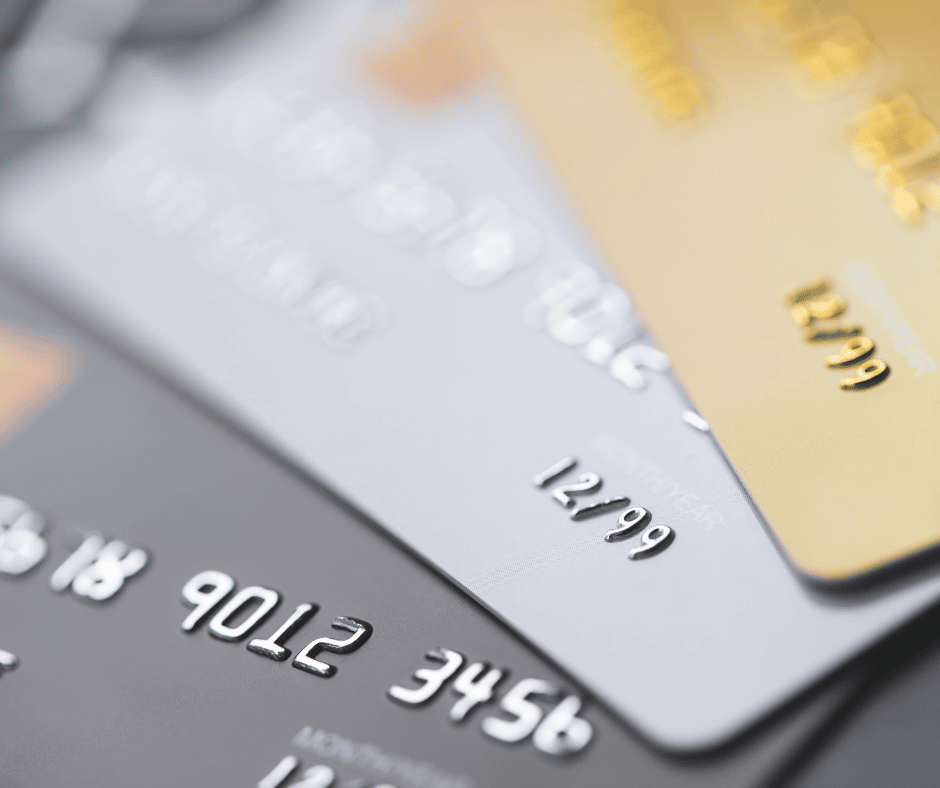 Our product review team dedicates hours of meticulous research, fact-checking, and testing to recommend the best solutions to business owners. We earn from qualifying purchases through our links, but this does not influence our evaluations. Why trust our reviews?
Written by Martin Nikolaev: Point of Sale Expert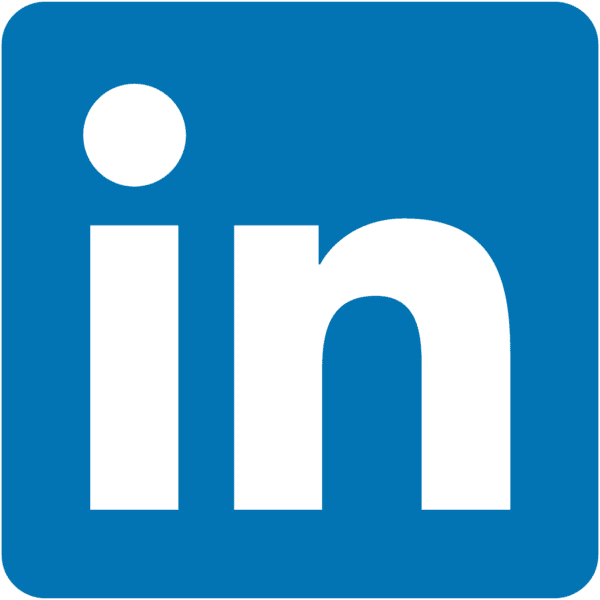 A startup business credit card with no credit is key when starting a new online small business. This type of financing is often among the handful of ways in which entrepreneurs can source funding for their projects. But why does this matter a lot?
20% of all startups fail before the end of their first year. Ultimately, just one of 10 startups survives after the first decade. 16% of all failed startup projects reach the point of no return because of financing issues.
Understanding this is one thing, but trying to avoid such a fate is a completely different story. Finding the ultimate startup business credit card with no personal or business credit check is one way to do it, but it can be more difficult than expected, which is why I put together this guide. 
I'll explain everything there is to know about this funding source and what to look for when comparing different options. I'll also suggest the top 10 business credit cards with no credit to choose from. 
Startup Business Credit Cards With No Credit: Summary Guide
Don't have enough time to go through everything in this guide? Jump to a relevant section below:
Top 10 Startup Business Credit Cards with No Credit
There are more than enough business credit card providers to choose from, but your choice becomes limited once you realize your credit history and other aspects are part of the requirements. Worse, these make you nearly ineligible to apply for one. Therefore, I chose the options you'll see below.
Methodology 
To compare the existing options for startup business cards with no credit, I considered a good combination of fees, interest rates, benefits as a business owner, and liability (which usually comes down to personal guarantees). Then I narrowed down the list to the top 10 existing offers from large and reputable issuers who would likely approve your application for a business credit card with no credit check. 
1. American Express Blue Business Cash™ Card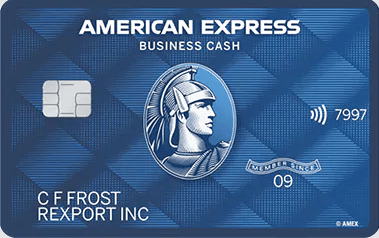 The American Express Blue Business Cash is a reliable funding source that brings a lot of rewards: 
$500 cashback (statement credit) yearly (if you pass the $15,000 spending mark)

2% cashback on all eligible business purchases (there's a $50,000 limit)

a welcome offer of $250 cash back if you spend at least $3,000 in the first three months

no annual fee
These cash back rewards set American Express Blue Business Cash apart from the rest. You can benefit from an upped credit limit that depends on your credit history (in case you have any) and how frequently you use the card. Plus, once you're approved, you can use the card instantly. 
Except for the cashback rewards, the intro APR (Annual Percentage Rate or the yearly interest rate if you carry a balance on your credit card) on purchases for the first year is 0%. The rate will change after that: it varies between 17.49% and 25.49%, and the exact amount would depend on several factors. It will be determined during your application and it will be part of the offer you will receive. 
On top of these, Amex offers some of the most widely used credit cards in the U.S. In 2021 alone, over 56 million credit cards have been issued in the U.S. alone, and approximately 9 million additional ones in the rest of the world. American Express Blue Business Cash stands out from the other financial products that are part of this statistic.
Pros
0% APR on purchases in the first 12 months

Welcome bonus

No annual fee

Instant use after approval
Cons
Fees for foreign transactions

Limit on purchase cashback
2. Chase Ink Business Unlimited®
The Chase Ink Business Unlimited Credit Card is a very competitive choice for a business credit card with no credit. Choosing the Chase Ink Business Unlimited credit card would be beneficial for all those business owners who have good personal credit (670+) but have no business credit whatsoever. This perk, alongside its other advantages, has secured its place in today's ranking.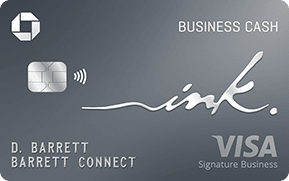 You can enjoy these benefits with this business card: 
a fixed cashback rate on all purchases (1.5%)

a 12-month period of zero-interest financing (the first year after getting the card)

a welcome bonus of $900 (valid for a spending volume of at least $6,000 for the first three months) 

no annual fee
The list of additional perks typical of the Ink Business Unlimited credit card includes the rewards you can redeem using the points you earn when using the card. You can swap these for activities such as travel or merchandise. The fact that you can opt for additional employee cards means you will collect points faster. Also, getting additional cards with preliminary set spending limits is free.
The Ink Business Unlimited credit card boasts high-end security means, including 24/7 monitoring for possible fraudulent activity. In case of unauthorized transactions, you won't owe anything thanks to the Zero Liability feature.
Pros
Free employee cards with options for spending limits

State-of-the-art data protection features

1.5% guaranteed cashback on all purchases with no limits

No monthly fee
Cons
Balance transfers require a 5% 

Having a good personal record may be a must-have aspect to apply
3. Capital One® Spark® Classic for Business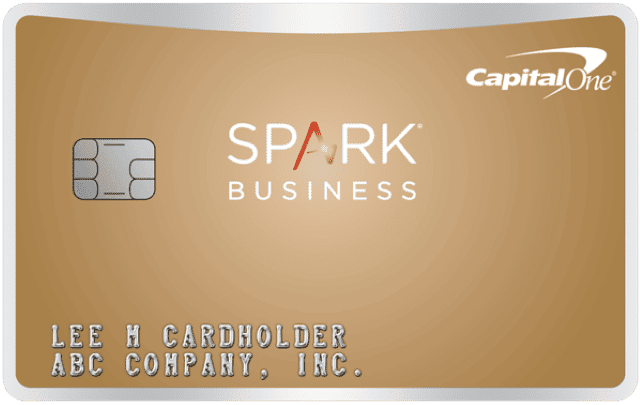 Capital One Spark Classic is a great product designed for business owners, especially if you aim to create a healthy business credit score. The reason is simple: all of your payment history logs, while using this credit card, would be processed by most of the renowned business credit bureaus. Plus, the credit score threshold for this financial product is just 580.
This business credit card offers the following benefits:
a guaranteed 1% cashback on all purchases. 

cashback rewards that you can claim anytime and no expiration dates on the points you collect for as long as you use the card

no annual fee
Other perks typical for the Capital One Spark Classic include an automatic payment feature (AutoPay) that eliminates the need for constant signing into your account. The $0 fraud liability policy is also a nice addition to the list of perks: it guarantees a cash advance in case of theft or loss of your credit card. The APR is 29.74% on all purchases, which may not be the most competitive value in this industry, but it's average. 
Pros
Business credit generation

Additional employee cards for free

1% cashback on all purchases

Unlimited rewards

No annual fee
Cons
4. Brex Credit Card 
Brex is a curious financing solution for startups and small businesses, but it can take care of enterprises' needs as well. There is no personal guarantee needed, which is good news, because you won't be personally liable in case your startup is not a success and you need to shut down the whole thing.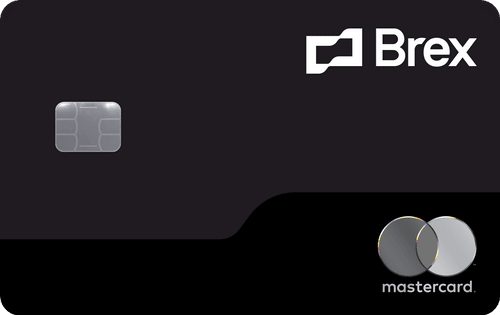 Having no annual fees and giving you the chance to build your business credit score are among the primary perks of Brex. On the downside, you're probably not going to be able to qualify for monthly payments because there are requirements: you must have at least $50,000 in your account if you want to opt for monthly payments. This requirement is only valid if you've gathered a pool of investors. As a solopreneur, you need to have a million U.S. dollars in your account, which would make having such a business credit card pointless.
Being stuck with daily payments can be limiting. Not only that, but your credit limit is tied to the cash flow of your business, meaning that it can decrease as your sales go down, and vice versa.
Pros
No personal guarantee requirement

       

No fees
You can build your business' credit history when using the card
Rewards program
Free unlimited employee cards
Cons
No intro APR period

Extremely tough requirements for monthly repayments eligibility
Doesn't support revolving balance (debt is repaid day-to-day)
5. U.S. Bank Business Triple Cash Rewards World Elite VISA®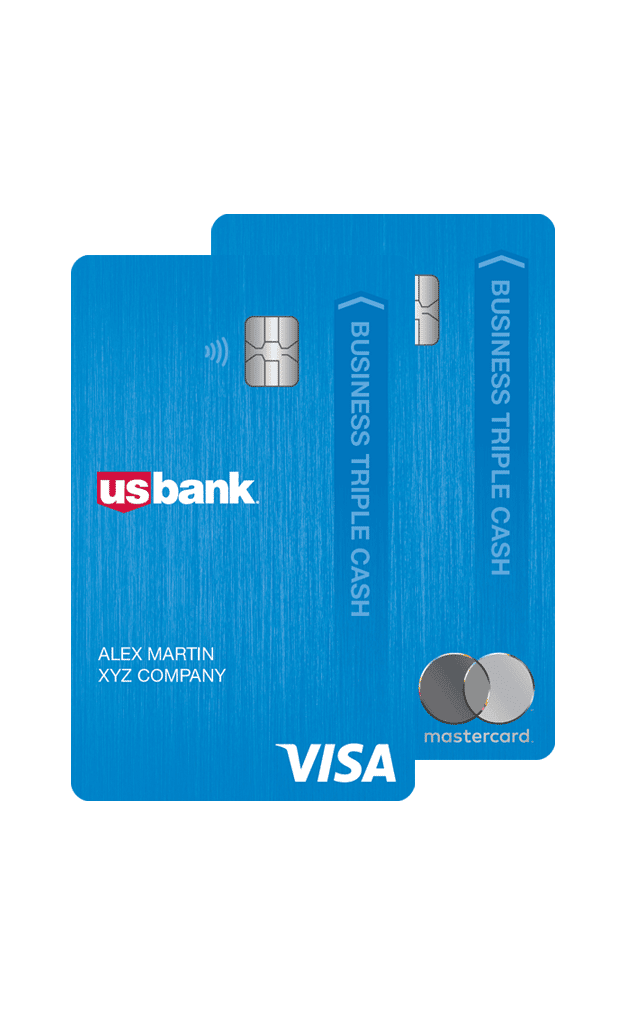 The U.S. Bank Business Triple Cash Rewards World Elite VISA is one of the best startup business credit cards to choose if your business needs a financial push or some kind of costly asset to take off properly. This credit card offers interest-free funding for the first 15 months. The offer is valid for both purchases and transfers, which means that you can transfer funds to another account instead of buying the assets you need directly.
The 5% cashback on certain services such as rent-a-car is valid for every client. You can enjoy 3% cashback on other services, supplies, and commodities as well. When you spend at least $4,500 in the first three months after creating an account, you get a $500 cashback bonus.
Pros
No annual fees

0% APR period on balance transfer and purchases
1%-5% cashback on different purchases and services
Purchase assurance related to stolen or damaged purchases
Cons
Balance transfer fees are available

No intro APR on cash advances
6. Discover It® Secured Credit Card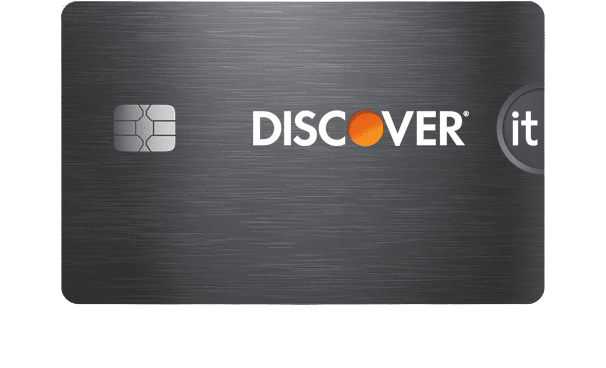 The Discover It Secured Credit Card is another great choice for everyone with no or even bad credit. Being a secured card, it offers a lot more than an average alternative. For example, you'll get notified if your SSN pops up somewhere in the dark web, which is an intriguing functionality.
There's a security deposit required ($200), which is an affordable threshold. Your credit limit depends on the deposit, but it can't exceed $2,500. There is also an attractive bonus offer to consider: the cashback you earned throughout the year will be matched, which is very generous, considering that there are no maximum reward limitations.
Pros
No annual fee

Credit record reports that help you build a credit score
Low onboarding requirements
Lucrative bonus offer
Cons
Deposit required

Above-average APR (27.24%)
7. Chime Credit Builder VISA® Credit Card

The Chime Credit Builder VISA Credit Card is one of the easiest to get if you're looking for a startup business credit card with no credit check. It doesn't calculate interest, and it doesn't require a security deposit either.
It works similarly to a typical secured credit card, meaning that you can build your business credit history from ground zero. There is also no annual fee to worry about, and the best thing is that you get to alter your credit limit, which I like the most about this credit card.
There's no interest required because the card works in a slightly different way. You will be required to leave a portion of your balance to the side in your secured Credit Builder account before you begin using the card, which resembles the way debit cards work.
Pros
No interest

No annual fee
No credit checks
Flexible credit limit
Cons
8. Bank of America® Business Advantage Unlimited Cash Rewards Secured Credit Card
The Bank of America® Business Advantage Unlimited Cash Rewards credit card is the next best thing for startup business owners who can't qualify for an unsecured credit card. Having an insufficient credit score would often force you to opt for a secured alternative. This credit card boasts unlimited cashback on all purchases (1.5%). The required security deposit of no less than $1,000 can be a bit steep for some, but it's reasonable.
The lack of annual fees and the chance to boost your credit score are good reasons to consider this card to be a good option. If that's not enough, you should know that there are unlimited rewards as well. Also, the issuer offers a zero personal liability option. The average APR is variable, but it's around the 23% mark.
Pros
No annual fee

Unlimited cashback
Unlimited rewards
Cons
Minimum $1,000 security deposit

No welcome bonus
9. First National Bank Business Edition® Secured MasterCard®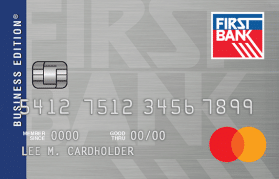 The Business Edition® Secured MasterCard® is a business credit card that might be a bit tougher to qualify for, but it's still one of the best choices to consider. You can opt for a relatively high credit limit of up to $100,000. There's a security deposit requirement, but it could earn interest.
The APR on balance transfers and purchases is variable, but it's below average (21.74%). There are no bonuses or rewards, but there's an annual fee of $39, slightly reducing this card's competitiveness.
Pros
Credit limit of up to $100,000

You earn interest on your security deposit
Cons
$39 annual fee

No bonuses
10. OpenSky® Secured VISA® Credit Card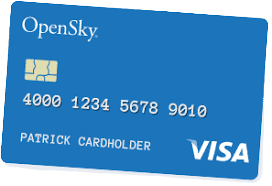 The OpenSky Secured VISA Credit Card is a good solution to consider when you need financing for startup purchases. Although there's a $35 annual fee, the card's other perks turn it into a considerable choice.
Similar to some of the other entries on this list, a security deposit is a must here. It's refundable, and your credit limit will be based on its size. The main thing to consider is to keep your finances separated because this is a personal card. It's on the list because it's a good tool to help you launch your business if you have no other options for sourcing funds without credit checks. Plus, it offers a plethora of enhancements, such as automatic payments and email payment alerts.
Pros
No credit checks

Low application threshold (credit score of 580 would be enough)
Reports to credit record bureaus
Cons
$35 annual fee

No rewards
A security deposit is required
Startup Business Credit Cards for New Businesses with No Credit – What Are They Exactly?
Not every aspiring business owner or entrepreneur can boast a substantial credit score. Still, they almost always need capital to launch their project, meaning that they must have access to a funding solution that's not related to credit checks. Thus, business credit cards with no credit exist. 
This type of startup business credit card is a good alternative funding source if you have no impressive proof of business credit. Since a borrower's lack of credit puts off most lenders, such a financing option has a higher-than-average risk calculated: 
Some would review your personal credit.

Others would ask for a guarantee, such as a deposit. 
This is how individuals and business owners who need funds for their startups but have no way to back up a loan with no credit can still get the resources they need for their big launch. These cards also often come with different perks. Some offer cashback options, additional insurance, no annual fees, and other goodies.
Is Having a Bad Credit Record Worse Than Having No Credit History?
The short answer to this question is "yes", but even if you have bad credit, you could still be eligible for some startup business credit cards with no credit. Your emerging online business would require some funds to get rolling, but there's a good chance that the capital needed would be much less than compared to a land-based operation. This means that a credit card limit could be sufficient.
What I should mention is that not every new business owner will be able to get such a credit card. Sometimes, the lack of credit would be too big of an obstacle, and the lack of credit history ‌would make it impossible for business credit card approval. 
What's the Difference Between Personal Credit Cards and Business Credit Cards?
The two types of credit cards are very different. Business credit cards are designed to serve small business owners, therefore, they boast specific perks and protections. Personal credit cards could also be used to fund a startup, but it's pointless to do it. Plus, mixing personal and business finances may cause issues at one point. It's best to separate the two and fund your startup the right way. 
What both types of credit cards have in common are the approval mechanisms and the risk calculation methods. Lenders will try to evaluate if you, the borrower, are trustworthy and reliable enough to receive funds.
Overall, business credit cards with no credit history are the ideal solution for new business owners, especially if they need resources fast. Most lenders offer steep interest rates, but this is part of their strategy to mitigate the risks they take. 
8 Important Factors in Choosing a Startup Business Credit Card with No Credit 
Chances are, you might be eligible for this type of funding and approved by several lenders. This would be the time to compare their offers and pick the best of them all. To do this, you need to know the important aspects you should consider, which I've listed below.
The first consideration to make is to recognize your needs: the amount of funds you need, the type of payment plan and terms you'd be comfortable with, and the interest you're willing to pay. Once you assess it all, it's time to pay attention to other factors.
1. Check the APR Period
If you find a deal with a 0% intro APR period, then you're good. APR stands for the interest rate you will pay. Since you'd be dealing with a credit card, you might as well take advantage of the best terms possible. If there is a 0% APR period, you'll be able to repay the amount of funds you initially took without paying interest, as long as you do it on time. Here's a side note: when calculating APR, remember that lenders most often highlight its yearly value, so you need to recalculate it by dividing it into 12 portions, one for every month. This is how you get the exact amount of monthly interest you will be forced to pay.
Even if you find such an offer, keep in mind that once the 0% APR monthly period passes, you'll be billed with a variably rising interest rate based on the specific terms and conditions of your deal, and it will be taken from the balance in your credit card. Business credit cards with no credit usually have high APR, which is understandable. 
2. See if the Business Credit Card You Choose Comes with Rewards and Welcome Bonuses
Using a startup business credit card with no credit not only brings you the funds you need but also helps you build credit. Still, there are other positive aspects to look for, such as rewards. Some credit card issuers offer reward programs you can enjoy. Whether it's cashback or travel bonuses, it all comes down to your personal preferences. 
As for the welcome bonuses you could also enjoy, there are plenty of options to choose from as well. Most often, you'll get cashback as a welcome bonus, but there are reward point programs to consider as well. These bonuses will be accessible after you cover specific requirements related to spending a certain amount for a predetermined period.
3. Find the Least Business Credit Card Application Requirements
There are differences in the thresholds lenders determine when they issue business credit cards. Since it always plays a role (even if you don't have proof of credit), the lower it is, the more likely you are to be approved. 
In some cases, your personal credit score could become part of the equation, although not all business credit card issuers demand this or offer it as an alternative. Being able to guarantee the business credit card with your personal credit history would affect the latter. This is something to consider carefully, and it's also one reason to read all the terms and conditions before applying for a credit card.
4. Compare Annual Fees
Business credit cards with no credit usually come with annual fees, while others don't. While these fees are most often affordable, you might get an unpleasant surprise if you don't look through the terms and conditions in advance. I already mentioned the importance of reading the fine print before applying, and this is just another reason to do it.
Some business credit card issuers decide to allow for no annual fee for the first years, creating attractive offers for borrowers. This is one of the best options to pick, because it will give you enough time to decide if you're comfortable with the terms and conditions you agreed on, and it will not cost you extra if you want to switch to another provider.
5. Check the Interest Rates
Startup business credit cards with no credit offer different interest rates, which is why you need to gather all the offers you are eligible for and compare the interest rates. In some cases, you may be quoted a custom offer, depending on your credit record and the terms and conditions.
Sometimes, business owners choose credit cards with higher limits than they need because they are tempted by the lower interest rates. But the more they spend, the more interest they pay. This presents a trap that you want to stay away from. You need to find the right combination of low annual fees, low interest rates, and enough credit limits.
6. Don't Forget to Check the Spending Limits
This is one important aspect of getting a credit card that often gets neglected by users. Having a low spending limit can be a problem when it comes to business credit cards.
On the other hand, if you need funds for small, repetitive purchases rather than covering a lot of expenses at once, then a preset spending limit can help you control the process and make sure you don't overspend.
In most cases, avoiding business credit cards with spending limits would be the right choice, but it still depends on your particular preferences.
7. See if You Can Get the Additional Cards You Need
Not all businesses would need this, but it's an important option to check if several of your employees would need to use the card. As you can imagine, this option often comes to mind when it's too late, and business owners regret not confirming that getting additional cards would be an option. Therefore, checking that the number of additional cards you would need would not be a problem for the issuer and it would not cost you extra. Most banking institutions you would consider will impose limitations on the number of possible credit cards. Make sure that such limitations will not get in your way.
8. Additional Features and Benefits to Consider
There are several extra perks to look for when researching startup business credit cards with no credit. Most of them, however, seem to be designed to fit solopreneurs or individuals who need to travel frequently to run their startups. These perks can come down to discounts at various locations or lack of extra fees when you are abroad and need to pay for something using your business credit card. 
To make the most of these advantages, make sure the credit card issuer offers the type of benefits that you could use day-to-day. The more perks a credit card offer to you as an online small business owner, the better for you. Still, these extra benefits are not the most important aspect of choosing a business credit card.
4 Ways to Get a Business Credit Card Without Credit
Since it's already become apparent that you have a chance to get a business credit card with no credit, I might as well give you a few suggestions on how to do it. The right approach is equally important as knowing what you're looking for. 
1. Consider Prepaid Business Credit Cards
If you have no budget at all, you can still opt for a prepaid business credit card by using your savings. Yes, it's still your money and you won't use an actual credit line from the issuer, but it still makes sense to use such a service. First of all, you'll be able to provide your business with a means of payment that an employee can later use. Second, you get to control the expenses better, since it's a prepaid card and you can't go over the set limit. Last, but not least: this is a way to separate your finances and not confuse your personal spending with your business expenses, despite that the financial boost comes out of your own pocket.There are plenty of options available: even MasterCard offers a prepaid business credit card. However, you need to find an offer that you can grab that suits your needs the best.
2. Credit Cards with Personal Guarantee Are a Possible Option as Well
You can opt for such a credit card as your last resort. It might come as a surprise, but some offers in this field are appropriate for startups, even when they have no proof of credit. It all comes down to individual assessment and applying for the right offer. The difference comes from the fact that a personal guarantee is nowhere near the same as personal credit. Instead of checking and approving your credit score, the lender requests a signed personal guarantee. 
3. Apply for a Secured Business Credit Card
Secured business credit cards are a possible option for entrepreneurs with no credit. They work in a simple way: there's no credit history requirement, but there's a deposit you need to make instead. This would also serve as collateral, which is how the business credit card issuer would reduce their risk. 
Given the deposit requirements, it's easy to guess that secured business credit cards are much easier to get, but aspiring business owners don't always have funds to cover such terms. Plus, secured business credit cards don't offer additional benefits when compared to the rest of the cards you would consider opting for.
4. Consider Applying for a Business Credit Card with a Cosigner
In some particular cases, you may find it impossible to be approved for a business credit card with no or bad credit. This would leave you with choices to make, and one of the most obvious ones is to find someone willing to become a cosigner. This is a person whose good credit record would serve as a guarantee for the business credit card you need.
The trouble is, the cosigner needs to be someone you know well because they need to trust you. Since they would guarantee that you would not default on your credit card, they would need to be sure you won't fall short of your obligations; otherwise, their credit score would also suffer.
4 Ways to Build Business Credit When You Have None 
Sometimes, building business credit is the only way to secure a business credit card. Having this in mind, you should focus on this task if you want to properly manage the financial side of your endeavors. The majority of lenders will continue to see this as a primary guarantee when they assess the risks they'd take. Having good enough business credit will allow you to apply for loans and business credit cards without having to narrow down your options. 
Let's look at some of the ways to improve your credit. They may take time to do it, so either of them is not always going to be a working solution for you, meaning that you'd still need to find a startup business credit card with no credit. 
1. Use Your Business Identification Number (EIN) To Open Accounts
Here's the most obvious thing you could do to boost your business credit. When you register a company and apply for an EIN, you can use the latter everywhere you would use your SSN instead. This will help you build business credit.
2. Get Store Credit
Several of the biggest store chains you can think of allow credit to businesses. It may be a small start, but it counts. As long as you take advantage of these supply credits and repay them when you should, this would greatly benefit your business credit record.
3. Apply for Business Loans
If the steps above get you where you want to be and your business becomes eligible for small loans, then choose them first. Business loans will improve your credit history more than any credit card will. You can still take advantage of the latter once you've secured the former. Having a business credit card is a solution to your funding needs, as long as you can repay it on time and avoid owing a hefty interest. 
4. Get All Your Business Payments Noted by Credit Record Bureaus 
Another way to become eligible for a startup business credit card, you can make arrangements for all your business expenses (such as rent, utilities, and so forth) to be recorded and later included in special on-demand reports by independent credit bureaus such as Experian. Every little expense counts, and the more payments are included in these reports, the higher your chances of being eligible for a business credit card with no credit would be.
Additional Considerations to Make Before Applying for a Business Credit Card
Even if you manage to get a business credit card with no credit, you'd still need to improve your business credit. This means that all the above advice would be valid after you get such a card and start using it. 

The APR you'd owe can either be fixed or variable, which is another aspect to be aware of. Knowing what you sign up for is important, because you can get a bad deal without even knowing it. 

Also, the usually high APR might put you off at first, but it could be the only way for you to secure funds for your startup business, so it might be a reasonable price to pay when compared to the alternative of shutting down before you even launched your operation properly.
Startup Business Credit Card with No Credit: FAQs 
Is getting a business credit card possible without a personal credit inquiry?
Doing this may be possible, but almost every banking institution or credit card issuer will perform a personal credit check in case you don't have business credit.
Is getting a credit card for a new business possible?
You can apply for a new business credit card even if you're just starting out. If you have a good personal record, you have every chance of getting a business credit card with no credit.
Are business credit cards related to your personal credit?
Business credit affects personal credit, and vice versa. Applying for a business credit card will most often initiate a check on your personal credit.
How can you build credit for the first time?
You can build credit by paying your business-related bills on time and making sure that an independent business credit bureau keeps a record for them. Checking your credit frequently will reveal your progress.
Which credit card issuer offers the fastest approval?
Some of the faster application and approval processes are offered by Chase, Amex, Capital One, and Bank of America, among others.
Business Credit Cards for New Businesses: Final Thoughts
When starting a new business, you will probably encounter a lot of challenges, one of which would be securing the funds you need to launch it. This struggle has a few possible solutions, one of which is finding a startup business credit card with no credit. As I mentioned in this article, you have a good chance of getting such a deal, despite your financial situation. The key is understanding what you're getting yourself into and being able to use it to your advantage.
While credit card issuers and lenders will continue to assess your credit record and accept is as the main factor for your credibility, it's not always an obstacle. With some research and planning, you will be able to get a business credit card with no credit and make the most of it until you're ready to take the next step and further develop your online small business.