Disclosure: This Website is Reader Supported. As an Amazon Associate I earn from qualifying purchases.
Last updated on April 23rd, 2020 at 05:47 pm
The best GPS for truckers is first and foremost accurate. Additionally, the GPS unit needs to be durable enough to absorb shocks and rough handling. In this detailed buyer's guide, we reviewed the best trucking GPS units for small fleet owners. 
Distracted Driving 
As you may very well know, distracted driving is a major issue in the trucking industry. The most important function of the system should be easy to use user interface. Moreover, trucking gps units should be able to switch screen with one click since truckers are sometimes operating the unit while driving.
Why Do Trucking Companies Need a GPS Unit?
Drivers should buy a truck GPS because Truck GPS systems help professional drivers avoid low clearances, narrow roads, and other obstacles. Those benefits are essentially the main difference between car gps units and truck gps systems.
Truck GPS units in 2020 must-have compatibility with e-logging systems, and the ability for the device to stay current.
When you drive a truck for a living, getting lost isn't just an inconvenience. It is simply not a luxury that you can afford. In A Study by Cerassis,  It was found that GPS Devices can make small fleets more efficient. As an over the road driver(ODR) , You are in charge of making sure the freight you're carrying gets to where it needs to, and it makes it there on time. This is where having a good GPS unit comes in handy.
Best Trucker GPS Devices 
The Rand McNally OverDryve 8 Pro- has 8" has a widescreen display and a built-in voice assistant. It includes onboard navigation functionality, as well as a trip planning feature. The GPS device includes Bluetooth hands-free calling and texting and is SiriusXM ready.
It can stream music, audio books, newscasts, sportscasts, and podcasts while in operation. A built-in dash cam records trips and takes footage of accidents if an incident occurs on the road. Drivers will receive real-time weather, traffic, and fuel price updates according to their current route.
Advanced Lane Guidance 
Navigation features include advanced lane guidance, toll and fuel costs, fuel logs and hazard warnings.  These features allow for accurate reporting and the ability to avoid significant traffic delays. The built-in Rand McNally DriverConnect logbook app allows drivers to keep up with ELD requirements by logging drive-time hours and hours of service.
ELD Ready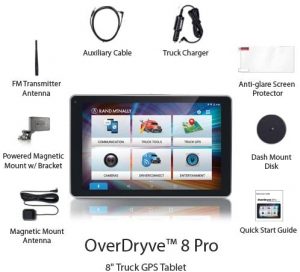 The OverDryve Pro is ELD-ready, and the app can be connected to the Rand McNally ELD 50® or DC 200® device. The OverDryve system is also on the high range price-wise and the GPS device is only compatible with Rand McNally ELD systems, which means that the same brand will need to be purchased for tracking purposes.
What We Liked 
8″ high-resolution screen
Built-in SiriusXM
Bluetooth hands-free calling
Preloaded DriverConnect logbook
Easy-to-use functionality
Ready For ELD Device Integration
What We Didn't Like 
Device is too Bulky 

Will not stay mounted on particularly rough roads. 

The bracket is fragile and breaks easily
Some reported poor battery life
Inaccurate data being reported
The Rand McNally TND740 GPS system is a fully redesigned and updated device that is easy to operate on the road. It comes with many convenient and desirable features including hefty storage capacity, a quick processor, and an updated user interface with customizable features, and a magnetic mount.  
Wi-Fi services include current weather reporting, a fuel price guide, the ability to search for local restaurants, businesses, and other pit stops, and traffic updates. These features allow drivers to avoid obstacles on the road and navigate to points of interest.
Highly Customizable  Trucking GPS 
The device also comes equipped with advanced land guidance designed to warn drivers about approaching turns or difficult intersections. Drivers can set specific warnings for speed limit adjustments, sharp curves, and other conditions and can personalize display preferences, so they can quickly view the most pertinent information.
Additional safety features include the ability to adjust the display brightness for day and night driving. This way, the display is not too distracting. The TND740 will calculate toll costs and allows drivers to choose between a primary or alternate route regardless of where they're at on the road.
The fuel log tracks purchases and calculates fuel economy, while an additional feature calculates mileage. Drivers can also preset their destination using an address, zip code or coordinates, and customize search capabilities.  
Saved Routes & DriveConnect 
This feature allows for saved routes that can be accessed at a later time. Users can select between one-box search to find a destination by inputting the address in a single space or classic search by selecting a city, street, or other destination.  The TND740 comes preloaded with the Rand McNally DriveConnect app for use with a Rand McNally ELD device.  In the Rand McNally DriverConnect portal, a user can view and print up to six months of e-logs.
Pros
Easy Navigation Screen

Continous updates based on road condition  

Road construction or closed roads alerts  

Extensive storage Capabilities 

Easy-to-clean touch screen 

Durable Magnetic Mount 

Processor is particularly quick
Cons
TND740 is expensive

Requires external Wi-Fi connectivity for full features use 

Cannot be integrated with any other ELD Device
Only Works with

Rand McNally ELD system
The Garmin dezlCam LMTHD 6" is equipped with a 6" pinch to zoom display. It comes with a built-in dash cam to record drives and automatically saves all needed files, including accident footage, as well as lifetime updates on maps.
The customizable truck routing feature adjusts for the size and weight of the vehicle, and the TruckDown Directory features businesses and places of interest as well as truck-friendly hotels, restaurants, and parking lots.
Major Advantages of Dezl Trucking GPS
An onboard Trip Planner lets drivers create multiple-stop routes and helps with planning future trips.These trips can be saved on the device and accessed at a later date.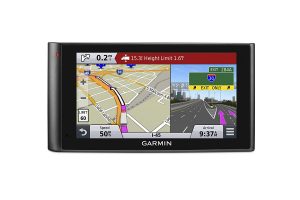 The dezlCam LMTHD 6" also includes information on weight limits, bridge heights, sharp curves, and other warnings so a driver can quickly be rerouted if necessary. It comes with a suction cup and magnetic mount with a swivel lens for optimal view of the road. A user can adjust the view as needed. It also comes packaged with a USB cable, and 8GB microSD card for extra storage.
The TruckDown Directory is helpful for locating trucker points of interest and navigating to rest stops and trucker-friendly parking lots or accommodations.  The routing feature adjusts for the size and weight of the vehicle, which ensures the most accurate reporting.
Truckers simply enter individualized vehicle profile information and the device will find truck-preferred routes suitable for its size and weight. The onboard Trip Planner lets users create multiple-stop routes and plan and save future trips. One of the Drawbacks is if drivers are attempting to navigate rough terrain, the unit will indicate that there have been several accidents back-to-back.
Pros
TruckDown Directory Major Adavantage 

Customizable Routing Options

Multiple-stop routes 

Let You Save Direction For Future Trips

8GB microSD card for extra storage
Cons
A tendency to freeze up

Reports significant road bumps as accidents 

May

not hold a charge even when plugged in 

Accident Images May be Lost due to system glitch

High price tag
The Garmin dēzl 780 LMT-S is a 7" navigator with a powered magnetic mount. It includes continental mapping, traffic, and weather updates via a free Smartphone Link app.
The custom routing feature allows drivers to adjust for the size and weight of their vehicle, and the GPS system comes equipped with alerts for upcoming low bridge heights, hazardous curves, and steep grades.  
The Truck & Trailer Services directory is searchable by amenity or business type or name and allows drivers to navigate to truck-friendly rest stops and accommodations. A Bluetooth hands-free calling feature keeps drivers focused on the road, while built-in Wi-Fi allows for software updates without the use of an external computer.
The unit is compatible with Garmin eLog compliant ELD, which is sold separately.  Since it is ELD-ready, hours of service reporting can quickly be accessed once the Garmin eLog unit is purchased. Drivers have reported highly accurate mapping and routing, with the most desirable feature of this device being the vehicle customization option. This option allows for accurate routing based on the particular vehicle being driven.
Trucking Services Directory A Major Help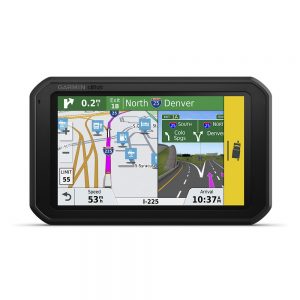 The Garmin Truck & Trailer Services directory conveniently locates truck-friendly stops, including restaurants, rest areas, and truck-friendly hotels and parking lots.
Drivers are able to type in simple requests such as "showers" or "bathrooms" if they are unaware of specific business names and all rest points with showers or bathrooms nearby will automatically appear on the screen.
Errors & Omissions 
Drivers have also reported the dēzl 780 LMT-S doesn't show weigh stations or changes in speed limits, both vital for ensuring safety and compliance.  Updating the software can cause the device to freeze up and become temporarily unavailable, which takes away from drive time.
The GPS needs to be shut down and rebooted when this occurs.  The system also has a tendency to reboot itself over and over again while on the road, and the footage taken on the dash cam can be shaky and unusable, especially on rough terrain. 
The Pros
Precise Mapping & Routing

Nationwide Garmin Trucker Directory
The Cons
Only compatible

with Garmin eLog compliant ELD,

Size may be distracting if placed to close to the wheel
Requires Frequent Software Updates
The Garmin Dezl 770LMTHD is in the number one spot on our list for good reason. Coming equipped with a 7-inch glass screen display, full touch control screen, and WiFi capability, this GPS system is simply a joy to play with.
And the audio on this unit is exceptional. It is loud and clear, as it gives you turn by turn directions. But the navigation features of this powerful GPS unit don't stop with turn by turn directions. With the Dezl 770LMTHD you also get access to custom truck routing. The system can customize your driving route based on the size and weight of your truck.
In addition to the routing features, you can also receive route warnings such as being alerted to weight limits, bridge heights, sharp turns and more. If knowing the best places to stop for a quick bite to eat or a hotel to stay in is important to you, you are in luck.
The Dezl 770LMTHD comes equipped with Foursquare, allowing you to search for the best places to check out while in town. At just over $500, the price may be steep for some. However, you should take into consideration its superior quality and highly rated reviews.
Additionally, as someone who is always on the road, you shouldn't settle for less than the best GPS system. The most important feature offered with this GPS unit is the free lifetime maps, traffic information, and weather for USA, Mexico, and Canada.
The folks over at Rand McNally have released a new version of their popular IntelliRoute TND 525. More than a slight upgrade from the previous model, the IntelliRoute TND 730 LM is a complete overhaul.
This GPS unit comes with a beautiful 7-inch touchscreen display, WiFi capability, and custom routing tools. Together with an updated, much faster processor, this GPS unit is a powerhouse. Arguably, two of the best features that this unit gives you are custom routing and the address book.
Rand McNally has done something with the custom routing option that many units still have yet to incorporate. With the routing options on the IntelliRoute TND 730 LM, you can estimate your toll costs based on your chosen route. You can then compare it to other routes to give you the best price versus time.
The second feature that really catches the eye is the ability to neatly organize you POIs and address book. As any truck driver will know, an address book can quickly become a lengthy, often times unorganized, ordeal. With the InelliRoute TND 730 LM, it doesn't have to be.
You can now search your addresses by name, making getting your route setup as easy as a few clicks. For those of you who don't want to sit in your truck and map out your route, you are in luck.
With Rand McNally's TripMaker service you can map out your route ahead of time from your computer and then send it over to your GPS unit. And as long as you own your TND, you also get free lifetime maps. If you are looking for a great GPS unit but don't want to spend too much, you can't go wrong with the Rand McNally IntelliRoute TND 730 LM.
TomTom has been a long-standing name in the GPS business, and it's really no wonder why. They are typically inexpensive, reliable and easy enough for an entry-level user to navigate.
Now, TomTom has created a new entry-level GPS unit. This one is great for anyone who needs to save a few bucks. Be aware though that it doesn't really come with all the bells and whistles. The TomTom VIA 1535TM comes with a 5-inch touchscreen display, voice recognition, and advanced lane guidance features.
With the voice recognition features of this GPS unit, you tell TomTom where you want to go. It then will pull up your route, letting you keep your hands on the wheel. The one area where TomTom falls short with the VIA 1535TM is with the lack of searching for new POIs. The points of interests on this unit are handled directly from your pre-installed maps.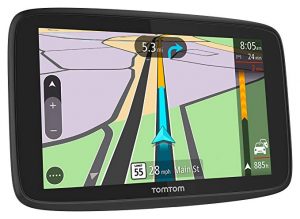 This means, pre-added POIs. But if your goal is to be able to get from point A to point B, then this is no deal breaker. IQ Routes is a technology that you get with pretty much all TomTom devices. It contains the world's largest database of real travel times.
This service allows you to quickly and fairly easily find the fastest routes to your destinations as well as the most accurate estimated arrival times. Free lifetime traffic and map updates can be downloaded to your device for as long as you own it. Your device will receive these updates every three months.
Garmin has taken two spots on this list already. So it is no surprise that what we have yet another product by Garmin featured. If you want to save some money and don't mind losing a few updated features, you can't go wrong here.
This Garmin with a 5-inch touchscreen, dual-orientation display. Unfortunately, this model does not come with the capability to zoom in by pinching your fingers on the screen. There are on-screen buttons for doing this very thing, however.
Luckily, the display is clear enough to read easily. And the maps are zoomed into a scale that is already easy to view by default. Furthermore, you have the ability to view your maps and routes from a bird's eye perspective.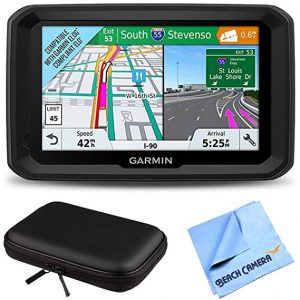 With the up ahead feature, you can be alerted to things like upcoming restaurants or gas stations, all without leaving the map. School zone alerts can also be set to notify you when driving your route. Foursquare capability is also present on this device. With Foursquare you can easily search through millions of points of interests that are along your route.
You also get the extremely helpful lane assist with junction view feature. This allows you to display upcoming junctions and helps you stay in the proper lane for your route. This truck gps is cheaper than other systems on this list, and if you're on the road a lot – you'll certainly want to invest in the lifetime option.
View On Amazon
How To Choose The Best Truck GPS
Choosing the right GPS navigation system means considering what features are needed for your company, specifically, and purchasing a device that is both budget-friendly and easy-to-install and use.
Updates Are Super Important 
Regular and accurate updates are vital, so drivers can receive real-time information and avoid long delays due to weather, traffic, or other obstructions. Built-in safety features such as road hazard warnings and hands-free calling and texting are ideal and make for safer drive time.  Some GPS systems also come with fuel economy and mileage features that allow companies to accurately account for on-the-road expenses. 
ELD Ready

It is important to note that most trucking GPS systems which come ELD-ready require users to purchase ELDs from the same company. Additional features that may be desirable included a built-in dash cam for capturing drive time and accident footage as needed, and points of interest technology for route planning. Devices that allow drivers to input and customize their features based on the size and weight of the vehicle will provide the most accurate information, and those with e-logging capabilities allow users to stay in compliance.
Challenges With Trucking GPS Units
Some problems noted with trucking GPS systems include the tendency of certain units to freeze up, especially during regular software updates, and not hold a charge.
Drivers have also reported inaccurate mapping and road conditions. There should always be a back-up method for trip planning and routing available in case the device becomes defunct while on the road and the issue cannot easily be fixed.
When opting to purchase a GPS navigation system for your trucking company, first determine which features and functionality are most important for your business' needs, including tracking and reporting capabilities. If multiple reports need to be stored and accessed regularly or over an extended period of time, a GPS system with larger storage capacity will be most desirable. Some come equipped with advanced internal memory or microSD cards for additional storage.
Truck GPS Accessories You May Need
While it isn't an absolute necessity that you have any or all of these items, you may find that they come in very handy. This is just to give you an idea of what might help you get started off on the right foot.
Every GPS device is different and may require different parts than another. Because of this, I have not listed specific products but rather you should research your device and find the best fit for it.
If you are going to be using a GPS device in your truck, you are almost certainly going to need to mount it somewhere you can easily access it. Both standard and magnetic mounts are available, and some come with a swivel screen.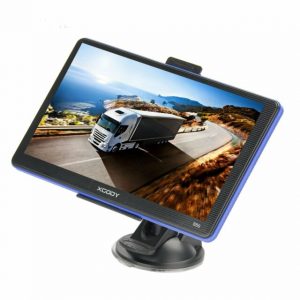 This usually ends up being somewhere like the dashboard, windshield or door jam. No matter the location, you need to find a sturdy mount. Not every road or terrain that you will be trucking over is going to be flat and smooth. You will indeed hit potholes, debris or other obstructions on your trips. With your truck taking the jolts, your GPS device is also going to feel it. You need to be sure that the mount that supports it isn't going to fall down or allow the device to bounce around wildly.
Truck GPS Replacement Charger
You are going to need some way to keep your device powered while you are out on the road. The simplest way to do this is with a truck charger. You are probably already familiar with this concept if you own a smartphone.
It is simply a charger that you plug into your cigarette lighter port in your truck or another power source. The difference with a GPS truck charger is that it will be specific to your make and model of GPS device.
Hard Carrying Case
There will probably be many times that you are away from your truck. For instance, when you stop to eat, grab a room at a hotel or run into a store for a quick minute.Yet while you are away from your truck, thieves might like to snoop out your truck to see what they can take.
Truck GPS devices are more expensive than regular GPS units. Therefore, they are more prone to theft.This is where hard carrying cases come into the picture. Anytime you are going to be away from your truck, you can take your GPS device off its mount and put it in the case. You can then hide it away safely in your truck, out of sight. Or you can always take it with you if you are going to be away for a while.
Always Room For Improvement
In this article, we have looked at some of the best-selling and highest quality GPS for truckers on the market today. While they each have their pros and cons, we have picked out the best units, based on our collective opinions. If you feel otherwise, feel free to comment at the bottom.