Disclosure: This Website is Reader Supported. As an Amazon Associate I earn from qualifying purchases.
Last updated on September 26th, 2019 at 07:59 pm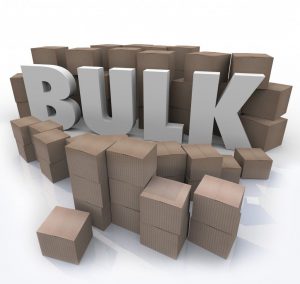 Amazon business account benefits are not marketed enough in our opinion. Therefore, many people find themselves asking a simple question– is it worth it to get an amazon business account?
An Amazon business account is a must-have for every business owner.
In this detailed amazon business review, we will explore the benefits, the cost, and even the few drawbacks.
What is An Amazon Business Account?
Amazon revenue in the fiscal year ending on March 31, 2019 amounted to the impressive $241.545B.
Amazon Business, the retail giant's business marketplace, offers your business easy access to millions of products.
If your business still hasn't opened an Amazon business account yet, this article will convince you to do by listing all of the benefits of such account.
Of course, it has its downsides like everything else – we'll talk about them too.
Amazon Business Account Benefits
Amazon Business combines the selection, value, and convenience customers have come to respect the corporation for with new features and unique benefits customized to businesses.
In addition, amazon business users enjoy fast shipping, approval workflow, multi-user business accounts, payment solutions, tax exemptions, dedicated customer support and much more.
Let's begin reviewing each of the benefits.
#1 Business Only Product Selection & Pricing
Amazon account for business provides easy access to hundreds of millions of products, spanning across different sectors.
Many of those products are available strictly for business account holders.  Furthermore, exclusive price savings options are available for registered business members.
Accountholders get discounts on millions of business products and multi-unit purchases and can compare prices from multiple sellers.
Amazon Business customers say business-only prices are key to solving spending challenges, which can otherwise be costly and time-consuming because they often require managing as many as thousands of different suppliers.
#2 Two Day Shipping – A Must In Business 
Among the advantages of an Amazon business account are shipping benefits. In other words, Amazon Business account holders get access to free two-day shipping on millions of eligible items,.

The great news is that anyone with a business-user account can buy via Amazon.com.
Users can apply their existing accounts with Prime to Amazon Business at no extra charge.
However, this is reserved for the business accounts of a single user. It comes with unlimited two-day shipping on items eligible.
Amazon Prime Shipping On Amazon Business Account 
You can add a Prime shipping account to your business account based on how many users or employees you have. This is the price:
Up to 10 users: $499 a year

Up to 100 users: $1,299 per year

Over 100 users: $10,099 per year
There is also a free 30-day trial.
#3 Flexible Payment Options Across Multi-User Application 
Amazon Business account admins can add either individual or shared payment options. The latter include debit or credit cards or an Amazon.com corporate credit line.
Any authorized user of your business account can apply the payment method of choice to buy goods for the business. Authorized users will only be able to see the last four digits to ensure security and will be able to use the card registered.
Amazon's Corporate Credit Line offers enhanced user and management options, including the ability to download order history reports, pay by purchase order, and authorize multiple buyers on a single account.
It is also possible to get easy-to-understand statements. There is no annual fee. Administrators make ordering seamless for all buyers by managing shared payment methods.
#4 Amazon Tax Exemption Program
Another one of the many Amazon Business account benefits is tax exemption under the Amazon Tax Exemption Program (ATEP), which many businesses have as an option.
Amazon provides a tool that helps clients determine if they qualify for the program.
You can find out about the states, in which your business qualifies for a tax exemption and the type of exemptions you qualify for.
The account administrator goes through the process of setting it up for the business account.
ATEP allows customers to apply their tax-exempt status to items eligible from Amazon and all of its affiliates.
You don't have to have an Amazon Business account to take advantage of this.
#5 The Ability To Analyze The Business Spending 
The analytics dashboard introduces transparency into the supply chain purchasing process.
Users can look at their spending activity and total expenses on purchases at the individual level and purchasing group or type of spending, thereby being able to improve their control of the bottom line.
Small business sellers on the platform can increase their sales by reaching millions of business customers worldwide.
Amazon Business Account Review
So, is an Amazon Business account worth it? In other words, has the retail giant made good on the promise of Amazon Business four years after its launch? Its growing number of customers certainly agrees.
According to Rob Boirun, chief executive officer at The Reviewster Network, they use their Amazon Business account to mainly take advantage of the Amazon Tax Exemption Program.
In addition to getting tax free purchases, we love the program's ease of use in ordering and reordering our most common items," Bourin says.
When we run out of printer toner, or other office supplies, we can easily order within a few seconds and the items are in the office two days later."
Bourin adds that his company has also used the platform to make bigger purchases, leveraging payment options.
This way the company can split up the payments between different people. For example, they bought a new Wi-Fi router and were able to divide the bill so that four different people using it would each pay 25 percent.
According to business experts, Amazon Business is more helpful to some companies than others, and everyone needs to be aware of that before signing up for the program.
According to e-commerce business experts, Amazon Business account works the best when you have products that can be purchased in bulk for businesses.
This is a huge benefit. Furthermore, the business owner can utilize bulk pricing to boost sales and/or provide a discount to their clients.
In addition, Amazon Business customers can reach a new audience that tends to spend more when they use bulk pricing.
This is mainly true regarding businesses and corporate accounts. 
In particular, it is advantageous to manufacturers, because they can reach buyers directly.
The first route to success on Amazon is having at least a 275% markup over cost, with her experience being based on a $30 price point. If the markup is lower, Amazon's high seller fees can deplete the profits.
As Fabregas says, there are pros and cons to using Amazon Business for your company, but the former are much more.
Amazon Prime Vs. Amazon Business Prime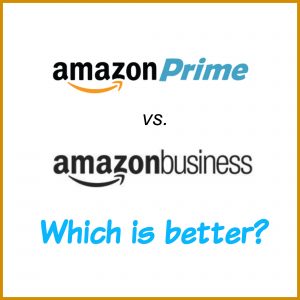 Below are some additional benefits of Amazon Prime:
Free same-day delivery (vs. free 2-day shipping and free same-day delivery in eligible zip codes for Business)

Amazon Prime Rewards Visa Signature Card

Instant access to video streaming

Music streaming

Prime Photos

Access to Lightning Deals

Kindle Owners' Lending Library

Prime Now
Amazon Business account holders have the same fast, reliable shipping as Prime users if their order exceeds $49.
Amazon Business is the better choice if you want to leverage the Amazon Prime distribution channel without extra consumer services. Therefore, we would suggest utilizing the amazon free upgrade to business account.
Using Amazon Business Account For Personal Purchases 
Using Amazon Business for personal purchases is not recommended. However, you can share your personal Amazon Prime membership with your business account.
A lot of small businesses use Prime instead of Business, but it presents a challenge when you have to share your login with an employee or colleague. The fact that Prime is single-user is a distinct disadvantage.
Amazon Business' multi-user capabilities are causing its popularity among different businesses to rise. In essence, Amazon Prime is Amazon's heart, but Amazon Business brings Prime-like advantages to businesses of all sizes.
Amazon Business Account Fees vs. Free Amazon Business Account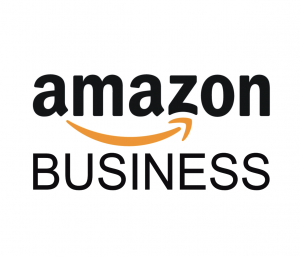 Amazon Business is free to sign up for, and there is no annual fee to shop on it unless you want access to Business Prime Shipping.
You will need to pay a fee based on the number of users if you need that access.
It's possible to combine a business account with your personal Amazon Prime membership, but this account can't be used for personal purchases.
It's also not allowed to use this to resell products that were shipped to another buyer using Amazon Business prime shipping.
Amazon Prime Vs. Amazon Business Account 
You go to Amazon's Prime Free Trial page to sign up for the Amazon Prime free trial and the Manage Amazon Prime Membership page to change your membership.
Amazon Business advantages include free two-day shipping on eligible items in the US and free same-day delivery in eligible zip codes.
There is free release-date delivery on eligible pre-order items in the US and no-rush shipping at no charge, whereby customers get rewards for purchases they don't need right away.
Amazon Prime 's main benefits come down to streaming options. Prime Video offers access to movies and TV episodes to US-based members. Some more features:
Prime Music: Ad-free access to Prime playlists and songs for members in the US.

Amazon Channels: Watch content from HBO, SHOWTIME, and STARZ channels for an additional $4.99 to $14.99 per month, depending on the channel.

Amazon Music Unlimited: Discounted Amazon Music Unlimited monthly plans.

Prime Reading: Borrow books, magazines, and more from the Prime Reading catalogue and read them on your Fire tablet, Kindle e-reader, or the Kindle reading apps.

Twitch Prime: Discounts on physical games pre-orders and new releases. Plus, Twitch.tv users who link their Amazon Prime account get ad-free viewing on Twitch, a free Twitch channel subscription every month, and exclusive access to free game content.

Amazon First Reads: Early access for members in the US to download a new book for free every month from the Amazon First Reads picks.

Washington Post free trial: Six-month free trial.

Audible Channels for Prime: Unlimited listening to original audio series and playlists.
Amazon Prime Benefits for Shopping
Amazon Dash for Prime: The ability to use Amazon Dash Buttons or the Dash Wand.

Whole Foods Market: Exclusive savings and two-hour delivery via Prime Now.

Amazon Fresh: Pay an additional monthly membership fee to receive free shipping on all Amazon Fresh grocery orders of $50 or more, or pay a flat delivery fee.

Prime Pantry: Members in select regions can shop for groceries and household products and pay an additional delivery fee.

Prime Wardrobe: Try on clothes (eligible items only) before you buy. You will only be charged for the items you decide to keep.

Prime Early Access: Get 30-minute early access to Lightning Deals on Amazon.com.

Amazon Elements: Access to Amazon's own line of everyday products.

Prime Day: Access to deals during Amazon's annual summertime sale event.

Deals: Regular discounts on diapers, baby food, and 15 percent off eligible products from your baby registry.
Additional Benefits of Amazon Business Account
Two adults in the same household have the option of Membership sharing, where they create an Amazon Household to share certain advantages of Amazon Prime.
You can also share your shipping benefits with your Amazon Business user account if you have a paid Prime membership under your personal account. With Prime Photos, there is unlimited photo storage in Amazon Drive.
Users can apply their existing Amazon Prime account to an Amazon Business account for free if they intend to use it as a single-user business account.
Account Promotions 
15 percent off Meeting Owl Pro video conferencing cameras

20 percent off Modway office chairs

20 percent off HP OfficeJet Pro printers

32 percent off BIC pens

68 percent off Rolodex Deep Desk Drawer organizer

44 percent off Oreck Commercial Orbiter Floor Machine
Installment Services 
Amazon is also offering installment services from its Business Services arms. This includes professional installation for offices scheduled at your convenience.
You can get assistance with everything from whiteboard wall mounting and desk assembly to cell signal booster installation.
Amazon Business account gives users purchasing options for their registered business of any size.
Each business can assign users that are allowed to go in and buy business supplies on Amazon on behalf of their employer.
The main administrator can add or remove authorized users, manage payment methods and shipping addresses based on the needs of the business.
The Downsides of Amazon Business Account
There's just one downside. As stated right above, users can apply their existing Amazon Prime account to an Amazon Business account for free if they intend to use it as a single-user business accounts.
If you want to add a user, it's not possible. Mixing personal purchases and business could complicate your tax return.
Talk to an accountant before signing up if you aren't going to use this account strictly for business.
How to Cancel Amazon Business Account
To cancel an Amazon business account, go to Your Account, then click on the Business Prime Shipping icon. You can cancel under "Manage" or "Cancel Membership."
Amazon Business Account FAQ
Our last section is "Amazon Business Account FAQ". We've tried to be as exhaustive as possible.
Can I cancel my Prime membership anytime?
Yes, if you signed-up for your Prime membership directly through Amazon Prime. Just go to Your Account and adjust your membership settings.
How does the Amazon business model work?
Amazon retains a portion of the sales price as commission. It does not charge retailer partners a fee to list items for sale.
Amazon also maintains a small electronics product line and a subscription-based business model through its Amazon Prime service.
What is sold on Amazon business?
Amazon Business offers special features to business sellers, including business pricing, quantity discounts, integration with procurement software, and tax-exempt purchasing.
How do I change my Amazon business account?
To change your account (business profile), go to Settings and click on Account Info. Then, click Edit next to Business Profile Amazon Pay.
Choose or enter any updates, and then click Update. They are saved. If you want to remove your changes, just click Cancel.
How do I change my Amazon business account to normal?
You either need to create a new business account on Amazon or change your existing personal account on Amazon to a business account to register your business.
You'll have to add an email address if you're converting your Mobile Only Account (MOA) to a business account.
How do I contact Amazon business?
To contact Amazon Business, there are several steps to take. You need to register as a seller and log in with your personal details, then contact seller support.
There is also a toll-free number you can call that was valid at the time of writing, which is 1-800-419-7355.
Can I cancel my Prime membership early?
You're eligible for a full refund if you haven't used your Amazon Prime membership since your credit card was charged even though your trial period has already ended.
Amazon might charge you the regular prices for any Prime benefits you used during that three-day period if you cancel early.
Does Amazon Prime cancel immediately?
Yes, and paid members who have used their Amazon Prime benefits may get a partial refund based on use.
You can cancel a free trial at any time by clicking on Do not continue on the left-hand side of the page or Cancel free trial.
How do I switch off auto renew on Amazon Prime?
Go to Manage Prime Membership if you've decided to discontinue your membership. If that's the case, it's easy to turn off your automatic renewal.
Look at the renewal date listed on the left-hand side of the page and click on End Membership.
How do I pay for my Amazon business account?
Normally, payment is made online. Go to Business Settings in your account, then Invoice preferences in the Billing & Shipping section.
Choose "New invoice template", save and continue to select the group or groups that will use this invoice template.