Disclosure: This Website is Reader Supported. As an Amazon Associate I earn from qualifying purchases.
Last updated on March 1st, 2020 at 05:06 pm
The medical spa industry is worth about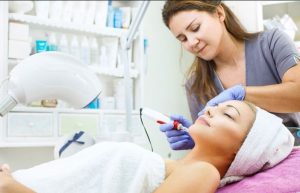 $3.6 billion, spread out between 10,000 spas.
That means it's an amazing opportunity for an entrepreneur looking for a small niche with a lot of growth potential.
If you own or are looking to join this industry boom, you will need medical spa software that will be appropriate for your needs and budget.
You want a system to balance the beauty and the medical while also handling your clients, employees, sales, appointments, and records.
Our Top Pick: Booker
Booker is a cloud-based salon and spa system that works with your business and clients. Many businesses consider this software to be POS System for spas.
From initial contact with marketing and booking to engendering loyal customers and tracking reports.
Booker offers the best price for their comprehensive suite of features, unlimited document storage, and client-based support.
#1 Booker – Best Web Based Medical Spa Software 
Booker serves salons and spas of all types, including medical and cryotherapy spas. They are an all-in-one system that both runs and grows your business in tandem.
From booking appointments to taking payments, and from marketing customers to getting positive reviews on social media.
Key Features
Marketing
Booker manages your medical spa business from beginning to end. Their Marketing Network advertises unfilled spots on sites like Google, Yelp, Yellow Pages, and Spa Finder to get you more bookings.
They focus on social promotion through social media as well, which is a huge save on marketing costs for your business.
Booking
They offer an online schedule and booking page—on your website, Facebook, the marketing network, and mobile. It's simple and easy to use for customers and administrators alike.
Sales
The POS software links to the schedule and customer profile to track customers' shopping habits and transactions over time.
It also accepts credit cards, cash, gift certificates, and even loyalty and membership points with your medical spa. If you sell products online, the Ecommerce software is included in Booker as well.
Inventory Management
Take physical inventory, and track and optimize trends and buying patterns of product lines. In addition, it also centralizes purchase orders online and in-store.
Employee Management
You can even schedule your employees and create compensation structures, centralizing all of your employment HR processes.
Customer Management
It tracks customers' visits, total sales, marketing campaigns, appointment history, preferences, and more. It also helps you to retain your consumers with their tool "Frederik."
This works with your current client book to fill up your schedule and improve customer satisfaction and relationships. It boosts customer retention and employee engagement by filling up slots and encouraging customers coming back.
Price
Booker provides a lot of standard features for a low price. Their standard plan is $135 per month, which includes a comprehensive suite, unlimited document storage, and membership management.
There is a more basic plan for $85 per month as well as a custom plus plan for multi-location businesses. In addition, there is the option for a Booker Custom App for $30 per month.
Limitations
The only limitation of Booker is that it is not a medically-specific software. This means that in comparison to other options, it does not focus on HIPAA compliancy, medical records, or doctor management.
Verdict
Booker is our number one pick because it offers the most extensive features for the best price. Although not specifically for the medical spa, Booker has an unparalleled ability to move a salon client through the sales funnel from point A to point B.
#2 AestheticsPro Online – Best all-in-One Medical Spa
AestheticsPro Online is an all-in-one medical spa software that is user-friendly, safe, and compliant.
They get high-rated reviews and testimonials that claim high-quality speed, usability, security, experience, and reliability.
Major Features
Marketing
Their marketing suite tracks leads, marketing costs, and return on investment by generating client demographic reports, integrating call centers, and assigning leads to those who can create client conversion.

Booking
They offer an extensive calendar suite that tracks client appointments, necessary resources, and everything that goes into each appointment.
It includes email confirmations and offers web-based access to calendars on all operating systems.
Sales: You can make any computer a POS suite. AestheticsPro offers built-in credit and gift card processing with no need for third-party fees.
Accounting: Their accounting suite tracks transactions, cash/sales breakdown reports, and it reviews taxes, deferred revenues, and uncollected payments. No need to buy or integrate separate accounting software!
Employee Management: Schedule and run employee payroll, time clocks, time cards, and commission. You can also track staff performance and management in a central interface.
Customer Management: AestheticsPro offers a client portal where customers can view appointments, see invoices, track their history, update their info, and even fill out electronic medical forms.
E-Records: Get access, with the Plus edition, to medical records that are comprehensive and HIPAA-Compliant.
Price
There are three levels of pricing. The Premium Edition is $69 per month and it includes the basic software.
The Enterprise Edition is $149 per month and it has most of the above-listed features listed will want for your medical spa. The Enterprise Plus Edition has more electronic records.
Limitations
AestheticPro offers significant features that are great for a medical spa specifically. However, customer management features—especially in regards to marketing and retention—are not available.
If you feel you have these skills and resources on your own, though, this is a great option for medical spas.
Verdict
AestheticPro is branded for the medical spa business in particular. As a result, this specific niche gives it a unique offering of features that are based on both the traditional salon experience mixed with medical processes.
You'll have to do some marketing on your own, but the forms, tracking, and management systems are extensive nevertheless.
#3 Shore – Best Software For Medical Firms
Shore has over 9,000 customers, with a 93% satisfaction rate, and their focus is on digitalization of entrepreneurial ventures.
They emphasize their strong team and their simple, beautiful software interface. They operate within several industries, including beauty and health.
Features
Marketing: Shore helps you create personalized newsletters, updates, and special offers to send to past and present clients. Their website is modern and mobile-accessible, and their online exposure is included in 35 directories, helping you to get noticed.

Booking: Online appointments are easy to make on the website 24/7, and the software sends automatic appointment reminders to reduce cancellations and no-shows. There is an online calendar that helps to manage all existing appointments.
Customer Management: Shore offers a client database to view notes, see upcoming appointments, and track preferences. They also offer an easy-to-fill-out feedback function to continuously improve your client experience.
They are also HIPAA compliant.
Price
Shore's basic plan is $35 per month for the first user and then $5 for every additional user. This includes the online calendar, customer management, and marketing solutions.
Then, you can purchase supplementary add-ons at an additional cost, such as booking, web, employee management, and a personalized web app. Consequently, you can customize your price and your software depending on your needs.
Limitations
Shore is a more basic software than the other two listed options. It has no marketing functions that pull in new customers, no extensive POS system, and less customer management tracking.
Verdict
The simple interface of Shore is great for smaller businesses or those who have other software for accounting and sales. This is an easy, inexpensive digital system that is great for basic use of the software.
Thus, it is great for customization and personalization for your business' needs. It is also a solution for niche businesses that fall into several industries, such as a beauty and health salon.
Cloud-Based is The Future 
In conclusion, you want medical spa software that will help create long-term, loyal clients from marketing to sales to retention tracking.
Booker is our top pick for cloud-based medical spa software due to its extensive list of features for a flat-rate price.
AestheticPro is another great all-in-one medical system that will ensure you are focusing both on beauty and health, and Shore will give you a simplistic platform for great customer management.