(Last Updated On: 07/23/2022)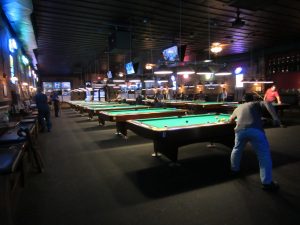 A pool hall business has multiple aspects that you have to manage: pool tables, dartboards, the bar and restaurant, and more. Having a solid POS system can help you centralize and manage all of these various business processes.
Pool hall POS systems should feature powerful table and menu management tools, including the ability to customize room layout. It should specifically allow you to make reservations on pool tables, offer discounts, and monitor player standings. You should be able to schedule league games, including opponents and locations. Table timers and digital menus are also a plus, as they allow the customer full pricing transparency. 
Although there are several solid options out there, we've found that the best pool hall POS system is SoftTouch POS. The platform has a plethora of features that help to handle dartboards, pool tables, tables, bars, menus, and more. One of its best features is self-checkout, which allows customers to place orders directly from their mobile devices. It also features state-of-the-art security to keep your transactions and customer information safe. 
For most of the billiard and pool room POS systems, it's difficult to track down pricing information. You'll have to reach out to each provider to figure out what it's going to cost you. There are a handful of solid POS systems that provide all the necessary features that pool rooms typically need. Let's walk through each of them and see how they stack up.
Best Pool Hall POS Systems 
POS System 
Hardware Cost 
Software Pricing 
Softtouch POS
Works with third-party hardware components
Quote-Based 
Definitive Synergy
Complete touchscreen/

tablet POS system

start at $2,995
Starting from $395/Month 
Alliance Bundle 
Depends on the required Hardware components
Quote-Based 
1. Softtouch POS– The Best Pool Hall POS System Overall
Softtouch offers one of the best pool room POS systems available today, with regards to flexibility, security, and convenience.
The solution is equipped with a myriad of specialty features and capabilities to handle dart boards, pool tables, and rental entertainment needs. 
Ranging from rentals and house accounts management to loyalty and gift cards, this software is ready to run your facility right out of the box. Some of the things that make Softtouch a desirable POS system for pool halls include:
Self-Checkout and Payments
The Softtouch billiard POS system comes with a proprietary mobile ordering application—DineBlast. Having installed DineBlast in their phones, the customers will be able to place orders right from their mobile devices. 
As such, they may place their orders from anywhere in the facility, as well as checkout and pay for their table on their own. Your customers will have to wait for a check to make their payments.
Security Features
Softtouch features a number of technologies, that have been implemented to improve the level of security offered. It will protect all vulnerable data, ranging from the database to customer payment information. 
To begin with, the system features PCI PA-DSS payment security, a technology being used by just a few POS providers. This technology protects credit card information at the point of sale. EMV certification allows customers to use chip-enabled cards to make payments in your billiard hall. 
The system also supports touchless sign-on with wristbands. This prevents your staff from leaking their login credentials that may be used to access the POS system without their knowledge. 
Pricing 
Softtouch billiard POS system pricing is Quote-Based and will mainly depend on your business requirements. Softtouch POS software is exclusively sold through the Softtouch Authorized Guidance Experts (SAGE) program. 
As such, the price may also vary from one reseller to another. 
Possible Drawbacks 
The POS system requires too much configuration to suit your business model requirements. Despite this, their customer support team is readily available to hell you at any given time. 
2. Definitive Synergy – The Best Specialty Billiard POS System
Get yourself a specialty POS system that is designed for pool rooms, upscale billiard parlor, poker clubs, and other related businesses.
In addition to innovative pool table management, the system is capable of handling rentals, food and beverage operations as well. 
This makes the software sited for pool halls, pool rooms or upscale billiard parlors that couple as bars, restaurants or retail establishments. In addition to table assignments and rentals, this system has a lot more capabilities to offer, including: 
Custom Table/Room Layout 
Similar to managing a dining room, sales and revenue management in a pool room require you to know who is occupying which table at any given time. The software keeps you updated on table Status, letting you know when to schedule more players to a table in the hall. 
To allow for these, the system makes it easy for you to map your floor plan, along with pool table positions, onto the POS system. The virtual table interface lays the entire game room out with all the tables in their respective positions. 
As such, you will be able to assign customers to a specific table for limited or unlimited time slots. You will also get the tools you need to create and manage tournaments as well as keep track of player standings.
Staff Management
Running a billiard hall requires much more than just managing the tables, food, and beverages. Your preferred pool table POS system should also give you a detailed overview of your employees. Definitive Synergy makes it easy for you to manage all the staff, including servers, bartenders, bouncers, and other security, personnel. 
It presents you with varied options for managing all these positions more effectively, ranging from a time clock, and hourly management to salary adjustment settings. The intuitive interface allows for easy management of employees across all the sectors. 
Possible Drawbacks 
Although the Definitive Synergy POS system supports retail operations, its retail management capabilities are limited. 
3.Alliance Bundle – The Best Pool Hall Management Software
Effectively reduce operational costs, and keep monitor every aspect of your business keenly with the Alliance Bundle billiards POS system. With this solution, you may carry out bookkeeping, inventory tracking, and sales reports tasks with ease. 
The system also supports stick rentals and allows you to charge the players by time. Elevate customer service in the venue with swift retail and food purchases. Other industry-specific capabilities of then Alliance bundle pool hall POS system include:
Customization 
Do you have a hospitality center, retail or bar, and nightclub within your billiards lounge? If so, you probably use a unique business model. In order to streamline operations in such businesses, Alliance Bundle allows you to customize POS features around your business model.  
Staff Training 
Alliance Bundle features an easy-to-use interface that makes it easy for new employees tom learn and operate. The provider offers Onsite Training on how to use the software for you and your employees. This way, you can train the employees to use the POS system without spending a dime.
This has been proven to reduce staff training time and expenses in Pool rooms significantly. The system features a simple design for all the screens, including POS, Hostess, CRM, Inventory, and Labor Control. This being the case, you will have an easy time implementing and using the solution in your business. 
It will dramatically streamline your daily operations, retain guest loyalty and increase return business.
Possible Drawbacks 
The provider does not disclose any pricing information on its official website. Instead, you are required to contact the provider directly and wait for a quote. 
Things You Need to Know Before Choosing a Billiard POS System
As a Karaoke-Billiards hall owner or manager, you need to manage all aspects of the business simultaneously. This can be daunting, bearing in mind that some of the leading billiard halls offer pool table rentals, equipment rentals, food and drinks under one roof. 
The right pool club software should streamline all operations in the establishment and simplify management tasks. Ranging from table or room status to digital menus for then rental, retail and restaurant operations, the system should furnish you with the right tools. To help you get the best pool hall POS system, these are some of the things you need to consider while shopping for one:
Customizable Table/Room Layout
The leading pool hall POS software developers will allow you to create and customize a table layout that corresponds to the actual floor layout in the establishment. Most of the best billiard POS systems come preloaded with pool tables that you may use to create a pool table layout.  
The more advanced solutions will even allow you to use your own images. Get a solution that makes it easy for you to customize the background as well. The right layout will make it easy and convenient for you to manage and assign the tables.
You will get to know whether a table is occupied or not and when it is appropriate for you to schedule more players to the table. It should let you assign customers to any of your tables for limited or unlimited time slots. 
Pool Table Management Tools 
With the right software, you will get a virtual interface that allows for easy laying out of the game room layout. Additionally, it should present you with the right pool table management tools and Capabilities. Your preferred billiards POS software solution should give you enhanced control over the entire hall.
For instance, it should make it convenient for you to manage reservations, offer discounts, monitor players' standings as well as manage short-term and long-term rentals. The system should also be capable of tracking players for various events, such as special deals and tournaments. 
Security
Owing to technological advancements, there are several techniques that providers may use to secure their POS systems. Ranging from payments processing encryption to EMV chip support, your preferred solution should offer enhanced security. 
Some of the leading providers are known to use PCI PA-DSS payment validation to protect your customers' credit card information. You also need to regulate access to the POS system by your employees based on their roles. 
Register Tools 
The POS system you get should allow the customers to order at the counter or from any of the mobile billiard POS stations you may be having. From the register, you should be able to send the player's bar/deli or retail items to the same receipt. This simplifies billing and prevents errors while processing transactions.
Having entered all order details, the system should be capable of applying the relevant tax rules and work out the total automatically. From then register screen, you should also be able to void/credit, add changes, tip and discount transactions.
Other Billiard halls POS register capabilities that will come in handy include:
Waiting List
Get a system that displays customer waiting lists in a clear and easy-to-understand manner. It should also make it easy for you to delete, add or send players to any of the tables in the establishment. 
Table Status 
Most of the leading pool room POS systems use color coding to show whether a table is occupied or not. Additionally, it should show the number of regular-rate players, flat-rate players as well as the total number of players per table. 
Table Rates 
In the event that the table Rates in your billiard hall are not dependent on the number of players, the system should allow for easy customization of the rates. You should be in a position to set up rates or change them in a matter of seconds from the register or the management portal. 
League Scheduler 
This is a must-have feature for billiard or pool league organizers. In some of the best billiard POS systems, this feature allows you to schedule game opponents and locations. This capability will come I  handy in any sports league that requires a Round Robin type game schedule.
Table Timer
An integrated clock will help you manage table times and related transactions more efficiently. In most cases, entering the first player to the system will automatically turn the table light on. After checking the last player, the light should go off automatically. 
 The player list on your preferred billiards hall POS system should be able to display such customer details as player name, number, starting time, period played, and the running total. Since table Rates may change several times throughout the day, an integrated timer will help you work out the total amount accurately. 
Rentals 
The pool POS system you choose should also make it easy for you to follow up with and track rental pool tables and equipment. In this regard, most of the leading solutions time the rentals automatically. It should also allow for convenient management of individual rental items through the POS system or remotely through the manager's portal. 
Final Verdict 
A great billiards hall POS system should include table management features as well as support for retail, food, and/or bar service. Just like the three POS systems reviewed above, a good pool hall solution should support flexible POS and mobile order and payment processing. Depending on your specific business model and POS requirements, you should get a POS system that is best suited. The best pool hall POS system should tie all your operations to offer a holistic experience to the customers.