(Last Updated On: 02/12/2023)
Written by Business Expert Wale Ameen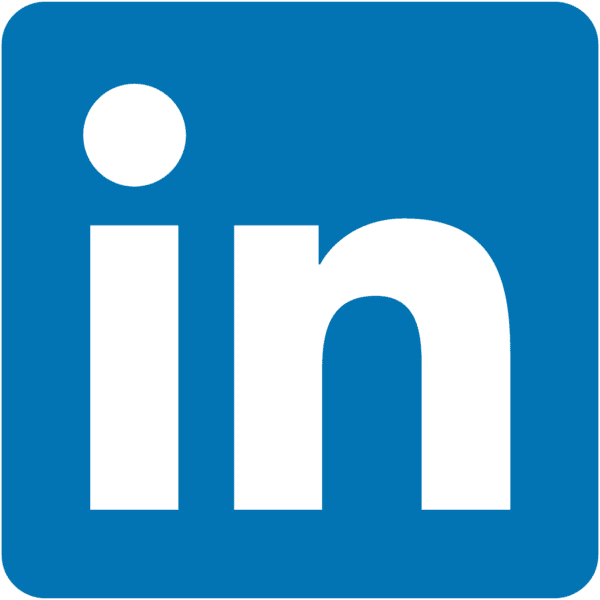 Affiliate Disclaimer: Our product review team dedicates hours of research, fact-checking and testing to recommend the best solutions to business owners. We earn from qualifying purchases through our links, but this does not influence our evaluations. Why trust our reviews?  
An enhanced electronic store is one with the right electronic store POS that delivers value and makes operation seamless. In this review, I have reviewed the top four best electronic store POS systems, as they come with the features required by electronic stores to streamline operations.
Our Experts' Choice
Lightspeed POS
The best electronics store POS software is Lightspeed. Lightspeed offers:

Electronic store specific features

Very robust and adaptable system

Supports large inventory management
Don't have time to read this whole review? Skip ahead to: 
Capabilities of Best Electronics Store POS
The best electronics store POS system should be capable of tracking inventory, warranties, specials and repair orders. A solution that can set up kits, reduce operational costs and protect your margins will also come in handy. 
A good POS system should include a number of features. For example, the software should be user-friendly, be able to process Apple Pay and EMV payments, and include a time clock for your employees. The software should also be easy to install, train employees on, and be transparent.
A good POS system should be customizable, allowing you to make changes based on your needs. Customization can save you time and money. However, it can also result in additional expenses. POS software and hardware can cost thousands of dollars, and you may have to hire an employee to make necessary changes to the software. You may also need to sign a contract for the software, which can add up over time.
A good POS system can also simplify inventory management. Whether your business has a single store or several, a POS system will help you manage your stock more efficiently. Some of these systems even allow you to create purchase orders and transfer stock between locations. Ultimately, this will help you save money and boost your sales.
Another good electronic store POS system should include features to reward loyal customers. LightSpeed Advanced Loyalty Engage program, for example, allows you to reward customers who purchase more than one item. In addition, the software also lets you create special orders and manage layaways.
For the best ROI, it is advisable to go for an industry-specific POS solution that automates the important processes, including accounting, billing, VAT calculation, inventory and store management. To get the right one, you should consider aspects such as serial number tracking, specialty inventory service, and exchange management. 
Reviewed below are the top four electronics POS systems you should consider. 
Best Electronics Store POS Systems Compared
| | | |
| --- | --- | --- |
| POS System | Software Subscription Fees | Payment Processing Rate  |
| LightSpeed | Starting from $69/Month | Flat 2.6% + 10¢ per transaction and 2.6% + 30¢ when the card is not present |
| Vend | Starting from $99/Month | 2.90% + $0.30 for swiped transactions and 3.30% + $0.30 for keyed-in transactions |
| CashierLive | Starting from $75/Month  | Flat 2.7% rate per transaction |
| LS Retail  | Starting from $99/Month  | Varies from one payment service provider to another  |
1.
Lightspeed POS
– The Best Electronics Store POS System Overall 
With Lightspeed POS you get the best of services and virtually all you require to effectively manage your electronic store. Unlock your electronics store's potential with the all-in-one inventory management and innovative cloud-based features offered by LightSpeed.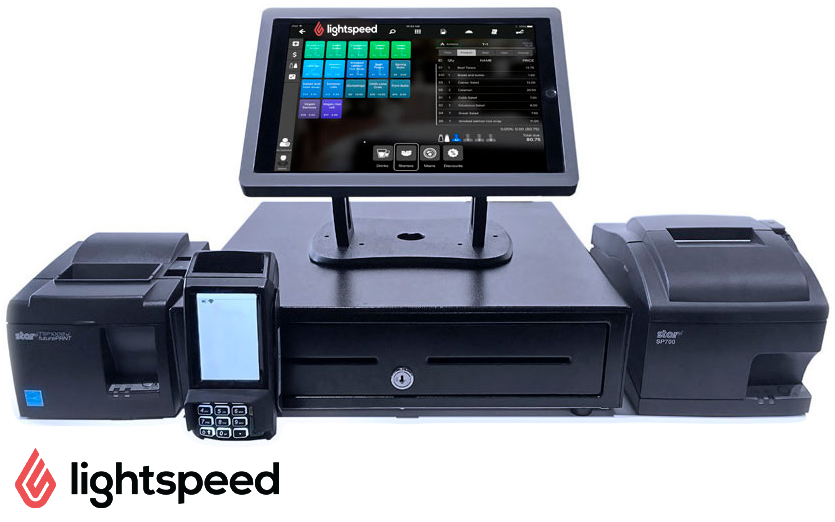 The beauty of Lightspeed POS is the fact that it is multi-industry specific and that means it can be tailored to specifically meet the requirements of various industries including, retail, restaurants, ecommerce, and golf. It prides itself as not just being a point of sale brand but a total ecommerce solution. 
Lightspeed is quite a popular POS brand among electronics retailers, and this can be attributed to its intuitive design and industry-specific capabilities. I have chosen it as the top most recommended electronic store pos system due to its adaptability and robustness in providing rich features that are specific to electronic stores. Some of the aspects that make LightSpeed one of the best electrical and electronics POS systems include:
Electronic Store Specific Features of Lightspeed POS
Innovative Register Tools
LightSpeed POS register is packed with an assortment of innovative tools for enhanced customer service. Ranging from work orders and layaways to special orders and electronic receipts, LightSpeed ensures that you have all the features you need to impress the customers. 
The purchase history log of the system keeps track of the products and brands a customer has purchased from your store in the past. Offer repair services with built-in work orders, and monitor a multitude of serial numbers and warranties with a serialized inventory.
You may also manage layaways for the large big-ticket items directly from the LightSpeed electronics store POS system. 
Multi-Location Support 
LightSpeed allows for easy scaling of the POS system to include Multi-Store management capabilities as your business grows. The Cloud-based POS solution will easily let you manage all your stores at once from a central location. 
It will also keep you informed on the strategies you need to apply to each outlet for it to succeed. Save time by restocking all your stores at once with master orders. It will allow you to easily adjust prices for all locations from one product sheet and set regional tax rules.
Pros and Cons of Lightspeed POS
Pros
Wide array of customizable report types

Robust platform

In-depth and robust inventory management system

Offers 14 day free trial

The brand offers 24/7 customer support

Gives you the option to choose preferred payment processor
Cons
Due to its array of features, the learning curve can be a little bit steep for new users

Contract based

It is expensive compared to others
What I Like About Lightspeed POS
One thing that stands out about Lightspeed POS for me is the robustness of the solution. It is adaptable to quite a number of industries and business types and has such a wide range of uses.
What I Do Not Like About Lightspeed POS
Two things I do not particularly like about Lightspeed is its expensiveness and a drawback which is that special orders on this system are poorly organized. It also does not feature SQL connectivity. 
What Type of Business is Lightspeed POS Ideal For? 
Lightspeed POS is an ideal solution for electronic stores with a large amount of inventory, as it features a robust inventory management system that can be easily adapted for such use cases. It is also an ideal solution for retailers and has an integrated solution for multi-channel businesses. As such, it is an ideal solution for electronics stores, which usually come with a large inventory.
Is Lightspeed Easy to Use? 
Lightspeed POS is one of the most intuitive point of sale solutions on the market.  During my walkthrough of the cloud based web solution, I especially liked its design and layout which makes it a very easy solution to start out with.
How Do Retailers Rate Lightspeed POS? 
Retailers rate Lightspeed POS highly. Users point to the fact that it is easy to use and the excellent service usually rendered by the provider's customer service team.
It has an overall score of 4.0/5 and 4.18/5 on Trustpilot and Software Advice respectively.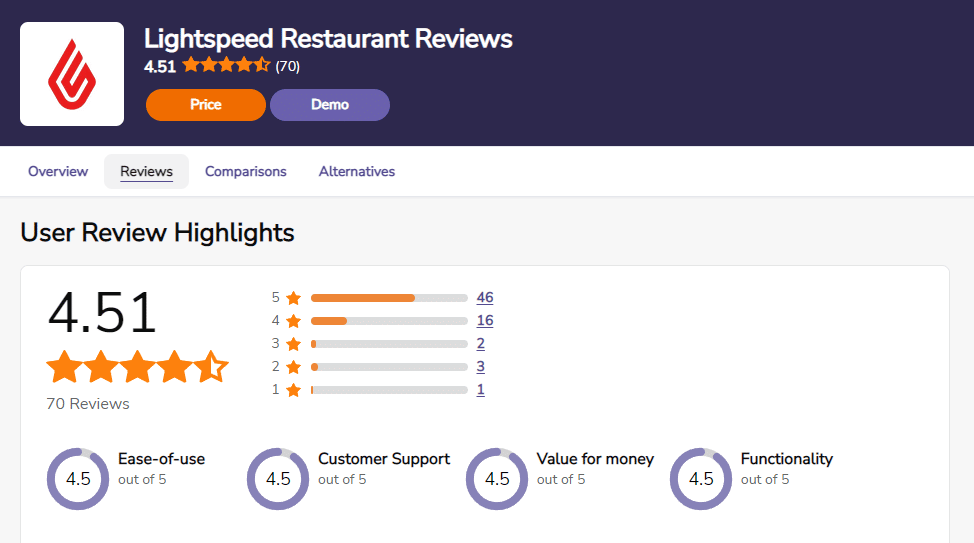 How Much Does Lightspeed POS Cost? 
Get one of the most powerful electronics store POS systems at an affordable price. The provider offers a number of POS subscription plans to suit your business requirements and budget. These are the three main LightSpeed price plans you should consider:
This plan is suited for startup electronics retailers and offers retail POS and payment processing capabilities. The plan is priced at $69 per month if billed annually. If you were to be billed monthly, you will be charged $89/month. 
This amount is only for the first register, with additional registers costing an additional $29/month each.
The $119/month rate is only applicable to retailers who are billed annually and includes all the features offered by the basic plan. Additionally, this plan offers eCommerce Sell capabilities to your business. If you are to be billed monthly, you will be required to pay $149/month. 
As your business grows, you may need to reward your loyal customers and entice them to buy more from your store. In this regard, the LightSpeed Advanced software subscription plan will come in handy. It features Loyalty Engage—a gift and loyalty program featured by the provider. 
2.
Vend POS
– The Best iPad-Based Electronics Store POS
Get an aesthetically appealing, intuitive, flexible, and powerful POS system for your electrical and electronics store. The system is meant to offer memorable customer experiences and seamless sales in-store, online, and on-the-go.
Vend is a dedicated solution for the iOS operating systems and as such supports iPad, iMac, and also supports Windows based PCs. So you are not really limited as to the choice you can make in terms of devices and operating systems.
Some of the innovative capabilities of the Vend Electronics POS system  include:
Electronic Store Specific Features of Vend POS
Vend Register iPad App 
This mobile application is designed to help you process transactions on the go and save swipes, touches and keypad taps. This results in a faster checkout experience and elevated customer service. Create a custom interface using Quick Keys, hence access your most popular products faster. 
The App will also offer you wonderful tools to start conversations with your customers and keep them engaged. 
Swift Checkout 
A speedy and accurate checkout process will keep your customers happy and allow you to sell even more per unit time. With the Vend Electronics store POS system, you can create custom buttons for your most popular products and speed up checkouts.
Quickly add products to the sale by typing in keywords or using a barcode scanner. You may also add notes regarding care instructions, special discounts, or other targeted offers, in the customer's receipt with ease. 
Multi-Store Compatibility
Vend supports multi-store operations and affords electronic stores with multiple locations the opportunity to effectively manage the various outlets from one single central point. This helps you easily scale your business and manage all aspects like inventory control, reporting, etc., seamlessly.
Friendly User Interface
Vend is both a modern, intuitive and user friendly interface point of sale solution. It is easy to use and does not need much training. You can also be assured of the safety of your data as they are all backed up in the cloud in real time.
Powerful Inventory Management Capability
Vend comes with a robust and powerful inventory management capability, which every electronics store will find very useful in running and managing their stores. 
Pros and Cons of Vend POS
Pros
Easy to use

iPad based solution

Responsive customer support

Supports multi-store operations

Supports integration with tons of third party apps
Cons
No built in e-commerce capabilities

Expensive
What I Like About Vend POS
I like the fact that Vend point of sale supports multi store operations and as such growing electronics stores with multiple outlets will find it very handy.
What I Dislike About Vend POS
A possible drawback of the POS system is that it features a steep learning curve, especially for new users, and may require professional assistance to learn how to use the software.
What Type of Business is Vend POS Ideal For? 
Vend is an ideal point of sale solution for small and medium scale electronic stores, in particular, and retail stores in general.
How Easy is Vend POS to Use? 
This is probably one of Vends strong points, as it is an easy to use system with an easy to use interface. Although its reporting capabilities can be said to be basic, especially when considered along with others in its league, it is nevertheless still a great point of sale solution.
How Do Other Retail Store Owners Rate Vend POS? 
User reviews analyzed on Software Advice show that users rate Vend quite highly, as a good portion of reviewers commend its ease of use and great customer support.

How Much Does Vend POS Cost? 
The provider allows you to choose a software subscription plan that meets your needs. These are the three main subscription plans offered by Vend:
This plan equips small electronics retailers with basic POS features to streamline operations and manage the business more effectively. For $99/Month, billed annually, you will get an Intuitive point of sale and basic store management tools. 
Ideal for established single or multi-store retailers. The plan is priced at about $149 per month per register and is billed annually. It offers you a complete platform to manage operations and grow sales.
This plan features more advanced tools and is for those looking for more options. Priced at $229/month.
This plan is suited for large multi-location chain retailers. It is tailored to suit your business needs and is quote-based. With this plan, large multi-store retailers and franchises get a tailored solution supporting multi-store operations.
3.
CashierLive POS
– The Best All-in-One Electronics POS System
With the CashierLive electronics store POS system, you will have an affordable, functional, and easy-to-use solution to power business success.
It will keep track of inventories, sales, and receipts, offering added convenience for the manager and employees. With CashierLive, you also don't have to worry about losing your data when migrating as the provider will assist you with importing your inventory data. 
Other admirable electronics retail POS features offered by CashierLive include: 
CashierLive POS Electronic Retail POS Features 
Inventory Management 
It allows you to add, edit, and manage an accurate inventory database with ease. You can monitor inventory levels in real-time and get low-threshold warnings, prompting you to order more stock. Manage all of your categories so you can see what types of items are most popular.
Powerful Reporting 
CashierLive Dashboard gives you a real-time, at-a-glance look at important data, including sales data, top suppliers, best selling items, and who your loyal customers are. Such powerful reporting and analytic tools will keep you updated on business performance at all times. 
It will also ensure that you have the right data to influence decision making in your business. 
Pros and Cons of CashierLive POS
Pros
Offers free trial

Integrated credit card processing

Customer management

Multi-store support

24/7 support
Cons
Occasional glitches with the solution

Limited integrations supported
What I Like About CashierLive POS 
I like the fact that CashierLive offers a fair plain pricing plan which compares nicely with others in its league. I also like the fact that it offers a free 14-day trial with which you can get along with the system and try it out.
What I Don't Like About CashierLive POS
A possible drawback I do not fancy is the fact that it does not have offline capabilities and really only offers basic reporting tools.
What Type of Business is CashierLive POS Ideal For?
CashierLive specializes in retail POS software, with a focus on niche businesses. This makes it an ideal solution for electronics stores.
Is CashierLive POS Easy to Use? 
The answer to this question is yes. It is an easy to understand and embrace point of sale system. Many users agree with this submission too, across the various review websites.
This is also evident in its user rating across GetApp and Capterra that I monitored.
The solution scores an impressive 3.8/5 on both platforms.
How Much Does CashierLive POS Cost? 
As one of the leading all-in-one POS providers, CashierLive offers complete packages as well as individual items at an affordable price. These will get your electronics store running in no time. To begin with, the provider offers a range of hardware solutions to suit different budgets and business needs. 
For instance, you can get the PayPoint all-in-one POS hardware package for just $2,599.00. As for the software, the provider offers a basic plan that may be tailored to your needs, as described below:
The provider offers a free trial period of 14 days for this plan. It is the basic plan you can get, offering basic electronics retail POS and management capabilities. The $75/month per location rate includes unlimited registers, inventory, and support. 
You may upgrade this plan to include the hardware and software capabilities you require at an additional cost.
4.
LS Retail
–  The Best Electronics Store Software
The LS Retail electronics POS system with integrated omni-channel capabilities will help you remain competitive, regardless of the size of your business. You can rest assured that it will offer your customers seamless and quality service online and in-store. 
The LS Retail electronics POS system with integrated omni-channel capabilities will help you remain competitive, regardless of the size of your business. You can rest assured that it will offer your customers seamless and quality service online and in-store. 
LS Retail is an ideal solution specifically built for the retail, restaurants, pharmacy, and hospitality industries with a good demand for inventory and stock management. LS Retail rides on the popularity of its brand as the adopted POS solutions provider of leading brands such as Adidas, Forma Ideale, Praktoker and many others.
Other aspects that make LS Retail one of the best electronics shop POS system include: 
Electronic Store Specific Features of LS Retail
Personalized Recommendations
Delivers meaningful product recommendations, based on the customer's shopping history. This not only improves customer service but will also grow profitability in your store. Product suggestions may be delivered in the e-commerce site as well as in-store, at the stationary and mobile POS.
Real-Time Data Lookup
With LS Retail, your back-office will be communicating with the main POS system in real-time. This has been proven to facilitate the processing of returns in electronics stores. You will also find important transactions, such as payments by gift card, loyalty transactions, and refunds, to be easy and quick. 
Pros and Cons of LS Retail
Pros 
Free demo available

Unified POS solution

Easy and seamless access to reports
Cons
Occasional bugs experienced on the solution

Some challenging usability experienced when accessing platform across devices

Users have complained about customer support and the onboarding process
What I Like About LS Retail
The robust reporting features found within LS Retail's software make it a very attractive software solution for electronics store owners.
What I Do Not Like About LS Retail
Although a great solution to consider, one issue I do not like about the system is its comparatively difficult nature to understand and operate. 
What Businesses is LS Retail Ideal For? 
Just like its name implies, LS Retail is an ideal solution for businesses in the retail industry—in this case, electronic stores. It is suitable for both small and large electronic retail stores as it helps them handle their inventories quite nicely.
Is LS Retail an Easy to Use Solution?
My survey of users' submissions on G2 shows that the answer to this is positive. Although not as popular as some other POS brands like Lightspeed POS, it is nevertheless a great option for electronic store owners to consider when looking for an electronic store specific point of sale system.

How Much Does LS Retail Cost? 
The provider offers a scalable POS system, whose cost depends on what you need. With the LS Express pricing plan, you will get the POS software bundled with Microsoft Dynamics 365 Business Central. For the first LS Express POS package, you will be charged $99/month (not inclusive of VATA).
Every additional LS Express POS package will cost you an additional $75/month. To add Essentials User, you will be charged $70 per user and $8 for each additional team member. 
Buyers Guide: Things You Need to Know Before Choosing Electronics Retail Software
Certain factors must be considered in choosing an electronic store POS system. This is due to the nature of the industry.
A specialty electronic store POS system should support the sale of products and appliances within the consumer electronics market. Additionally, the leading electronics retailers are known to offer repair and diagnostic services as well as rental items like games. 
Such businesses are characterized by high costs and rapid turnover, hence the need for efficient inventory management. The software you choose should equip you with all the tools you need to transact, liaise with your customers, manage, and Up-Sell. 
While shopping for the right solution, here are some of the important considerations you need to make:
Things to Consider When Choosing an Electronics Store POS System
Smart Inventory Manager 
Managing the complex stock in your electronics store can be challenging without the right inventory management tools. The software you choose should make it rather easy for you to add, edit, and even remove items on the inventory database.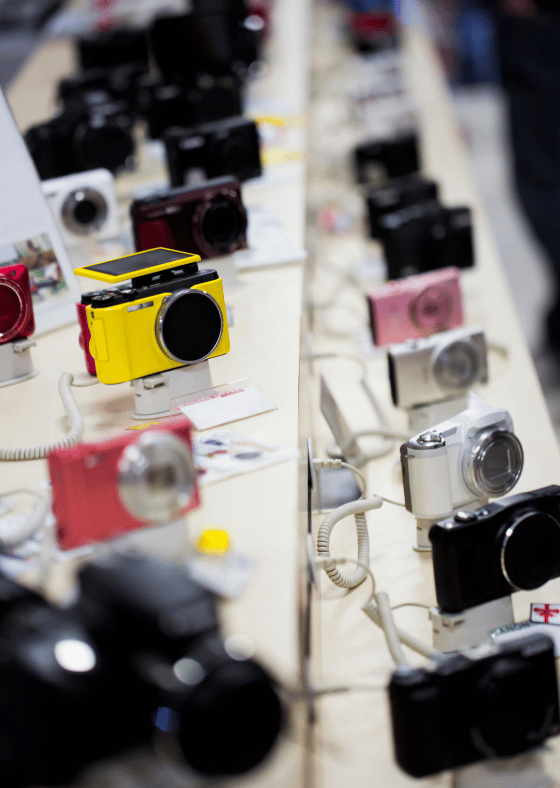 The leading electronics shop POS systems also support product images, price details and variations by size, and color. A comprehensive POS system should also help you keep things organized in the store and the warehouse as well as optimize the inventory. 
The system should offer you a detailed overview of orders, allow you to manage your vendors and monitor performance. It should allow you to restock directly from the POS system, accept special orders, and manage multiple warehouses centrally. 
Up-Sell and Suggested Items 
Prompt your customers to buy other electronics and accessories that are related to the item they are buying. To achieve this, you will need a POS system that supports up-selling at the register or on the integrated customer display screen. 
For instance, you can prompt a TV or stereo customer with a message regarding an offer you have on the related peripherals. 
Serial Number Tracking
Assigning unique serial numbers, such as battery numbers or IMEI, to your inventory items makes it easier to track them. Entering such IDs into your electronics store POS system will help you keep track of sales and warranties on your merchandise, even when you do not have the receipt or invoice at hand. 
This capability will also allow for items to be searched by their IDs at the checkout, which speeds up transactions. Unique identification of inventory items also offers convenient access to information on each item, including warehouse location, supplier details, buyer's details and when it was sold. 
Such information will make it easier for your staff to process returns and refunds when the need arises. 
Service and Exchanges 
It allows you to manage the service department in your business more efficiently. The system you choose should equip you with features you need to maintain a customized workflow. It should keep you updated on the status of every item undergoing repair or service in your business. 
The system should make billing easy and straightforward, allowing you to bill by job or hour and even bill for the parts used. 
Powerful Analytics
All the leading POS systems are designed to automatically collect data and generate relevant business reports. Your preferred system should go a step further and digest the collected data into valuable details and insights. 
With powerful analytics on your POS software, you will learn such things as the busiest hours, best and worst selling products, biggest spenders and the overall business performance. In addition to real-time reporting and Analytics, it should feature built-in dashboards. 
These will give you a snapshot of all the relevant business data for the selected timeframe, such as a day, week or month. It should also allow for secure, real-time access to your business data from anywhere, preferably over the cloud.
Quotes and Invoices 
The leading electronics store POS software provider is now offering invoice in progress in their systems. With such functionality, you can quote a customer, and print the quote. When the customer comes to your store for the purchase, you may then retrieve the invoice on hold and swiftly process the transaction. 
Kits and Bundles 
Bundled products have been used as an incentive, encouraging customers to buy, in different businesses. Your preferred electronics store POS system should also support such offers. In this case, you will be able to group related electronic appliances and peripherals and offer a unit price for them. 
When it comes to selling bundles, it pays to promote them in ways that will attract more customers. This can be done through paid advertising, in-app promotions, and social media. One effective way to market bundles is to use landing pages that display individual products and the bundle pricing. This way, customers can easily discover the bundles and decide whether or not to purchase them. ThirdLove, for example, offers personalized bundles that are curated by customer feedback.
When it comes to choosing which items to bundle, remember that the best ones are those that complement each other. For instance, a computer will be more likely to sell if you also include a game or an accessory with it. Bundled products also help you eliminate dead stock and minimize inventory holding costs. Additionally, you can use them to promote new products.
Bundled products are also a good way to boost eCommerce sales. You can offer customers a 15% discount for buying multiple items. Bundled products can be called a package deal, box set, or anthology. The goal is to create a memorable experience and make it easier for customers to make a purchase. In addition to promoting bundled products, you can also include them in the checkout process to encourage more purchases.
Bundled products are also helpful for customers to understand the products they are purchasing. Often, customers are confused about which products they need and which ones they don't. With this approach, customers can buy all the products they need in a shorter amount of time, without having to deal with the complexity of choosing among different products.
Final Verdict 
Whether cloud-based or on-premise POS systems, you should go for a solution that allows you to interact, serve and transact with the customers seamlessly. The four POS systems reviewed above have what it takes to complete a service-led sale with every consumer electronic purchase. 
Regardless of your budget, this guide will help you get the best specialty electronics store POS system. Get started by getting a free quote from our experts pick for the best electronics store POS system, Lightspeed POS.
Frequently Asked Questions
What is the most popular electronics store right now?
In the United States Amazon.com is dominating the electronics ecommerce market.
What does an electronics store sell?
Electronics stores can sell anything and everything related to consumer electronics products including but not limited to computers, tablets, phones, TVs, stereos.
Is Best Buy the largest physical electronic retail store?
In terms of physical retail locations, Best Buy is largest consumer electronics retailer in the world.
What is the best electronics products brand?
Some of the top brand names in the consumer electronics industry include Samsung, LG, Apple, Microsoft, Panasonic, Intel, and Fujitsu.
Are electronics stores profitable?
Electronics products generally have high profit margins making the electronics industry a profitable one to get affiliated with.