(Last Updated On: 07/23/2022)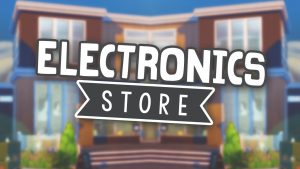 The best electronics store POS system should be capable of tracking inventory, warranties, specials and repair orders. A solution that can set up kits, reduce operational costs and protect your margins will also come in handy. 
For the best ROI, it is advisable to go for an industry-specific POS solution that automates the important processes, including accounting, billing, VAT calculation, inventory and store management. To get the right one, you should consider such aspects as serial number tracking, and specialty inventory service and exchange management. 
Reviewed below are the top four electrical and electronics POS systems you should consider. 
Best Electronics Store POS Systems
| | | |
| --- | --- | --- |
| POS System | Software Subscription Fees | Payment Processing Rate  |
| LightSpeed | Starting from $69/Month | Flat 2.6% + 10¢ per transaction and 2.6% + 30¢ when the card is not present |
| Vend | Starting from $52.5/Month | 2.90% + $0.30 for swiped transactions and 3.30% + $0.30 for keyed-in transactions |
| CashierLive | Starting from $75/Month  | Flat 2.7% rate per transaction |
| LS Retail  | Starting from $99/Month  | Varies from one payment service provider to another  |
1.LightSpeed POS – The Best Electronics Store POS System Overall
Unlock your electronics store potential with the all-in-one inventory management and innovative cloud-based features offers by LightSpeed.
The popularity of this solution among electronics retailers may be attributed to its intuitive design and industry-specific capabilities. Some of the aspects that make LightSpeed one of the best electrical and electronics POS systems include:
Innovative Register Tools
LightSpeed POS register is packed with an assortment of innovative tools for enhanced customer service. Ranging from work orders and layaways to special orders and electronic receipts, LightSpeed ensures that you have all the features you need to impress the customers. 
The purchase history log of the system keeps track of the products and brands a customer has purchased from your store in the past. Offer repair services with built-in work orders, and monitor a multitude of serial numbers and warranties with a serialized inventory.
You may also manage layaways for the large big-ticket items directly from the LightSpeed electronics store POS system. 
Multi-Location Support 
LightSpeed allows for easy scalping of the POS system to include Multi-Store management capabilities as your business grows. The Cloud-based POS solution will let you manage all your stores at once from a central location. 
It will also keep you informed on the strategies you need to apply to each outlet for it to succeed. Save time restocking all your stores at once with master orders. It will make it easy for you to adjust prices for all locations from one product sheet and set regional tax rules.
Pricing
 Get one of the most powerful electronics store POS systems at an affordable price. The provider offers a number of POS subscription plans to suit your business requirements and budget. These are the three main LightSpeed price plans you should consider:
Basic ($69/Mo)
This plan is suited for startup electronics retailers and offers retail POS and payment processing capabilities. The plan is priced at $69 per month if billed annually. If you were to be billed monthly, you will be charged $79/month. 
This amount is only for the first register, with additional registers costing an additional $29/month each.
Starter($99/Mo)
The $99/month rate is only applicable to retailers who are billed annually and includes all the features offered by the basic plan. Additionally, this plan offers eCommerce Sell capabilities to your business. If you are to be billed monthly, you will be required to pay $119/month. 
Advanced (($169/Mo)
As your business grows, you may need to reward your loyal customers and entice them to buy more from your store. In this regard, the LightSpeed Advanced software subscription plan will come in handy. It features LoyaltyEngage—a gift and loyalty program feature by the provider.  
Possible Drawbacks 
Special orders on this system are poorly organized. Again, it does not feature SQL connectivity. 
2. Vend POS – The Best iPad-Based Electronics Store POS
Get an aesthetically appealing, intuitive, flexible and powerful POS system for your electrical and electronics store. The system is meant to offer memorable customer experiences and seamless sales in-store, online and on-the-go.
Some of the innovative capabilities of the Vend Electronics POS system  include:
Vend Register iPad App 
This mobile application is designed to help you process transactions on the go and save swipes, touches and keypad taps. This results in a faster checkout experience and elevated customer service. Create a custom interface using Quick Keys, hence access your most popular products faster. 
The App will also offer you wonderful tools to start conversations with your customers and keep them engaged. 
Swift Checkout 
A speedy and accurate checkout process will keep your customers happy and allow you to sell even more per unit time. With the Vend Electronics store POS system, you can create custom buttons for your most popular products and speed up checkouts.
Quickly add products to the sale by typing in keywords or using a barcode scanner. You may also add notes, regarding care instructions, special discounts, or other targeted offers, in the customer's receipt with ease. 
Pricing
The provider allows you to choose a software subscription plan that meets your needs. These are the three main subscription plans offered by Vend:
Lite ($52.5/Mo)
This plan equips small electronics retailers with basic POS features to streamline operations and manage the business more effectively. For $52.5/Month, billed annually, you will get an Intuitive point of sale and basic store management tools. 
Pro ($73.5/Mo)
Ideal for established single or multi-store retailers. The plan is priced at about $73.5 per month per register and is billed annually. It offers you a complete platform to manage operations and grow sales.
Enterprise (Quote-Based) 
This plan is suited for large multi-location chain retailers. It is tailored to suit your business need and is Quote-Based. With this plan, large multi-store retailers and franchises get a tailored solution supporting multi-store operations.
Possible Drawbacks  
The system features a steep learning curve and may require professional assistance to learn how to use the software.
3. CashierLive POS – The Best All-in-One Electronics POS System
With the CashierLive electronics store POS system, you will have an affordable, functional, and easy-to-use solution to power business success.
It will keep track of inventories, sales, and receipts, offering added convenience for the manager and employees. 
Other admirable electronics retail POS features offered by CashierLive include: 
Inventory Management 
It allows you to add, edit, and manage an accurate inventory database with ease. You can monitor inventory levels in real-time and get low-threshold warnings, prompting you to order more stock. Manage all of your categories so you can see what types of items are most popular.
Powerful Reporting 
CashierLive Dashboard gives you a real-time, at-a-glance look at important data, including sales data, top suppliers, best selling items, and who your loyal customers are. Such powerful reporting and analytic tools will keep you updated on business performance at all times. 
It will also ensure that you have the right data to influence decision making in your business. 
Pricing
As one of the leading all-in-one POS providers, CashierLive offers complete packages as well as individual items at an affordable price. These will get your electronics store running in no time. To begin with, the provider offers a range of hardware solutions to suit different budgets and business needs. 
For instance, you can get the PayPoint all-in-one POS hardware package for just $2,599.00. As for the software, the provider offers a basic plan that may be tailored to your needs, as described below:
Standard Plan ($75/Mo)
The provider offers a free trial period of 14 days for this plan. It is the basic plan you can get, offering basic electronics retail POS and management capabilities. The $75/month per location rate includes unlimited registers, inventory, and support. 
You may upgrade this plan to include the hardware and software capabilities you require at an additional cost. Contact the provider for an accurate quote, based on your business requirements. 
Possible Drawbacks 
The system does not have offline capabilities and only offers basic reporting tools.
4. LS Retail –  The Best Electronics Store Software

The LS Retail electronics POS system with integrated Omni-channel capabilities will help you remain competitive, regardless of the size of your business. You can rest assured that it will offer your customers seamless and quality service online and in-store. 
Other aspects that make LS Retail one of the best electronics shop POS system include: 
Personalized Recommendations
Delivers meaningful product recommendations, based on the customer's shopping history. This not only improved customer service but will also grow profitability in your store. Product suggestions may be delivered in the e-commerce site as well as in-store, at the stationary and mobile POS.
Real-Time Data Lookup
With LS Retail, your back-office will be communicating with the main POS system in real-time. This has been proven to facilitate the processing of returns in electronics stores. You will also find important transactions, such as payments by gift card, loyalty transactions, and refunds, to be easy and quick. 
Pricing
The provider offers a scalable POS system, whose cost depends on what you need. With the LS Express pricing plan, you will get the POS software bundled with Microsoft Dynamics 365 Business Central. For the first LS Express POS package, you will be charged $99/month (not inclusive of VATA).
Every additional LS Express POS package will cost you an additional $75/month. To add Essentials User, you will be charged $70 per user and $8 for each additional team member. 
Possible Drawbacks 
The system is comparatively hard to understand and operate. 
Things You Need to Know Before Choosing Electronics Retail Software
A specialty electronic store POS system should support the sale of products and appliances within the consumer electronics market. Additionally, the leading electronics retailers are known to offer repair and diagnostic services as well as rental items like games. 
Such businesses are characterized by high costs and rapid turnover, hence the need for efficient inventory management. The software you choose should equip you with all the tools you need to transact, liaise with your customers, manage, and Up-Sell. 
While shopping for the right solution, here are some of the important considerations you need to make:
Smart Inventory Manager 
Managing the complex stock in your electronics store can be challenging without the right inventory management tools. The software you choose should make it rather easy for you to add, edit, and even remove items on the inventory database. 
The leading electronics shop POS systems also support product images, price detailed and variations by size, and color. A comprehensive POS system should also help you keep things organized in the store and the warehouse as well as optimize the inventory. 
 The system should offer you a detailed overview of orders, allow you to manage your vendors and monitor performance. It should allow you to restock directly from the POS system, accept special orders, and manage multiple warehouses centrally. 
Up-Sell and Suggested Items 
Prompt your customers to buy other electronics and accessories that are related to the item they are buying. To achieve this, you will need a POS system that supports up selling at the register or on the integrated customer display screen. 
For instance, you can prompt a TV or stereo customer with a message regarding an offer you have on the related peripherals. 
Serial Number Tracking
Assigning unique serial numbers, such as Battery number or IMEI, to your inventory items makes it easier to track them. Entering such IDs into your Electronics store POS system will help you keep track of sales and warranties on your merchandise, even when you do not have the receipt or invoice at hand. 
This capability will also allow for items to be searched by their IDs at the checkout, which speeds up transactions. Unique identification of inventory items also offers convenient access to information on each item, including warehouse location, supplier details, buyer's details and when it was sold. 
Such information will make it easier for your staff to process returns and refunds when the need arises. 
Service and Exchanges 
It allows you to manage the service department in your business more efficiently. The system you choose should equip you with features you need to maintain a customized workflow. It should keep you updated on the status of every item undergoing repair or service in your business. 
The system should make billing easy and straightforward, allowing you to bill by job or hour and even bill for the parts used. 
Powerful Analytics
All the leading POS systems are designed to automatically collect data and generate relevant business reports. Your preferred system should go a step further and digest the collected data into valuable details and insights. 
With powerful Analytics on your POS software, you will learn such things as the busiest hours, best and worst selling products, biggest spenders and the overall business performance. In addition to real-time reporting and Analytics, it should feature built-in dashboards. 
These will give you a snapshot of all the relevant business data for the selected timeframe, such as a day, week or month. It should also allow for secure, real-time access to your business data from anywhere, preferably over the cloud.
Quotes and Invoices 
The leading electronics store POS software provider is now offering invoice in progress in their systems. With such functionality, you can quote a customer, and print the quote. When the customer comes to your store for the purchase, you may then retrieve the invoice on hold and swiftly process the transaction. 
Kits and Bundles 
Bundled products have been used as an incentive, encouraging customers to buy, in different businesses. Your preferred electronics store POS system should also support such offers. In this case, you will be able to group related electronic appliances and peripherals and offer a unit price for them. 
Final Verdict 
Whether cloud-based or on-premise POS systems, you should go for a solution that allows you to interact, serve and transact with the customers seamlessly. The four POS systems reviewed above have what it takes to complete a service-led sale with every consumer electronic purchase. 
Regardless of your budget, this guide will help you get the best specialty electronics store POS system.