(Last Updated On: 02/12/2023)
Written by: Software Expert Hamza Shahid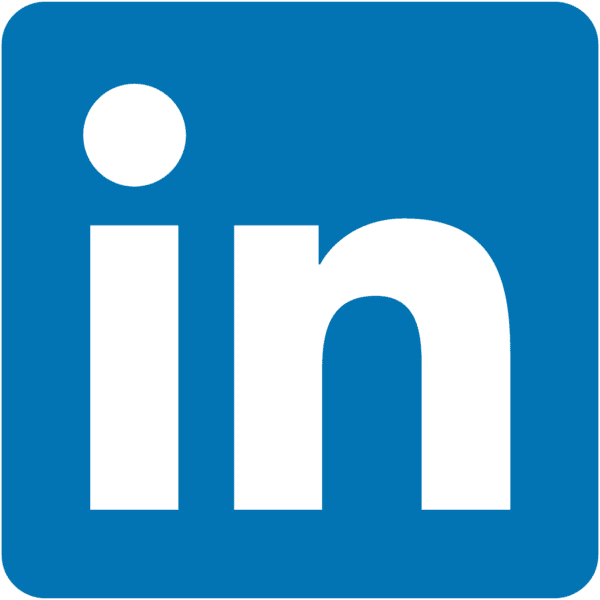 Affiliate Disclaimer: Our product review team dedicates hours of research, fact-checking and testing to recommend the best solutions to business owners. We earn from qualifying purchases through our links, but this does not influence our evaluations. Why trust our reviews?
The best pawn shop POS system will help you buy and sell merchandise faster. Automated price estimates can help you figure out how much an item is worth within minutes. Inventory categorization allows you to sort through all the various categories of items that your store may contain. And automated reporting and compliance features will help you stay on top of federal and local laws and regulations.
It's important to have a platform in place that organizes all of these transactions and data in a pawn shop, since not only are you managing loans and sales, but you're also keeping inventory information.
According to the latest statistics, the pawn shop industry is worth just under $3 billion. The more administrative and financial tasks you can automate, the better.
In this review, we rank the three best pawn shop POS systems on price, features, and support, sorting out their top features and drawbacks.
Our team of experts has scoured several pawn shop POS systems to find the three we believe deserve your attention. To come up with this top 3 pawn shop POS software, I reviewed many POS software options on Capterra, G2, and Trustpilot based on their features, pricing, and pros and cons.
Our Experts' Choice
Bravo Pawn Shop Management System

The best pawn shop management system is Bravo Pawn Systems. Bravo offers:

Gift Cards

Customer Value

Driving Traffic

Simplified Search

Accurate Assessment and Much More!
Don't have time to read this whole review? Skip ahead to:
Best Pawn Shop POS System – Overview 
A business that lends money at high interest rates in exchange for collateral such as jewelry, electronic items, or anything else deemed resalable. If the collateral is returned, the item is returned to the pawn shop, but if the money is not repaid, it is sold and the pawn shop keeps the proceeds. The majority of people who borrow money from pawn shops are low-income individuals who lack other forms of credit, such as credit cards or a bank account.
Running a pawn shop is much more complicated than a standard retail business. Not only do you have to manage items going out to customers, you have to manage items coming in. An additional challenge involves having to keep identification and other information of the people whom you buy the items from, in case the items were stolen or otherwise illicitly obtained. This requires a special type of POS system that's specifically geared to your pawn shop's needs.
You may also be interested in: 5 Best Jewelry Stores POS Systems
Comparing the Top Pawn Shop POS System Options
| | | | | |
| --- | --- | --- | --- | --- |
| System  | Pricing  | Price Estimation | Layaway  | ATF |
| Bravo Pawn Systems | Per-transaction fee, varies for each merchant service provider | Yes | Yes | Yes |
| Pawn Master POS | Starts at $60 per month + a one-time activation fee | Yes | Yes | Yes |
| Moneywell Software | Est. $79 per month | No | Yes | Yes |
Bravo Pawn Systems: Best Overall Pawn Shop POS System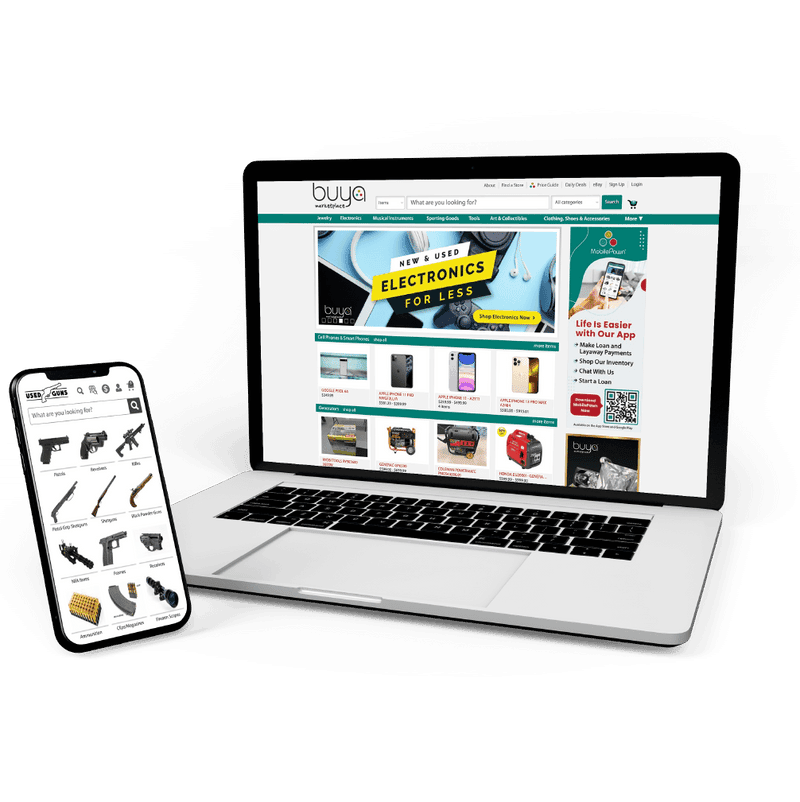 Bravo Pawn Systems is the best pawn shop POS system on the market. One of the reasons it's so successful is because it offers employees autonomy. At the same time, it provides owners and managers comfort in the knowledge that they've given their staff the tools they need to close their deals. This cloud-based software offers clients automatic updates. That is, you don't have to actually shut down the system to process an update.
The system lines up goods that need to be priced in one screen, making it easy to price anything. It also captures and stores images of goods, IDs, clients or staff.
Bravo lets you split commissions so all of your staff gets credit for their sales efforts where credit is due. There is no limit to the number of employees you can add to a transaction. Also, many employees can share a workstation using a lock screen, which makes it possible to put several transactions on hold.
Salient Features
Gift Cards

Customer Value

Driving Traffic

Simplified Search

Accurate Assessment

Inventory Management

History

SMS Messaging

Extended Live Support

Data Conversions

Training Packages

Consignment

Website Customization

Industry-Leading Customer Support

The Jewelry Master

Multi-Store Management

Scalability

Listing Items on Third-Party Sites
Pros
Cloud based software platform

Cloud storage

A&D Books

Ecommerce Marketplace
 Cons
Due to its non-modular architecture, you have to purchase the entire system, even if you don't require every feature

Managing a multi-location business requires constant internet connectivity, since the software is browser-based

Mobile phone apps are not available for the software, which limits its use

Bravo POS does not support Mac OS based operating systems

Among Bravo POS's limitations are graphical reports and transaction hold
Why Choose Bravo POS System? 
With Bravo Pawn Systems, you can run your business more efficiently whether you run a small pawn shop or a chain. With mobile commerce, you can delight your customers, increase loan and layaway activity, and improve employee satisfaction. In addition, you can drive in-store traffic and increase online sales with it.
The Bravo Pawn Systems platform allows you to manage both your pawn shop operations and point of sale operations through a single, integrated system, in addition to providing customers with a customer-centric digital experience. As the first provider to offer a comprehensive pawn shop system, Bravo Pawn Systems uses the industry's most sophisticated technology stack to help you grow your business rapidly and profitably.
Bravo Pricing
The Bravo POS software cost starts out at $129/month. The hardware cost is based on custom pricing, so it's best to reach out and get a quote.
PawnMaster: Best Pawn Shop System for Compliance
PawnMaster is the top POS system on the market today. It features industry-leading pawnshop hardware and software, excellent support, and reduced-cost business supplies.
The system boasts a text message and e-commerce platform and is compliant with all federal, local, and state laws. Their Classic software platform is suitable for all pawn shops, not just those that need a cloud-based solution.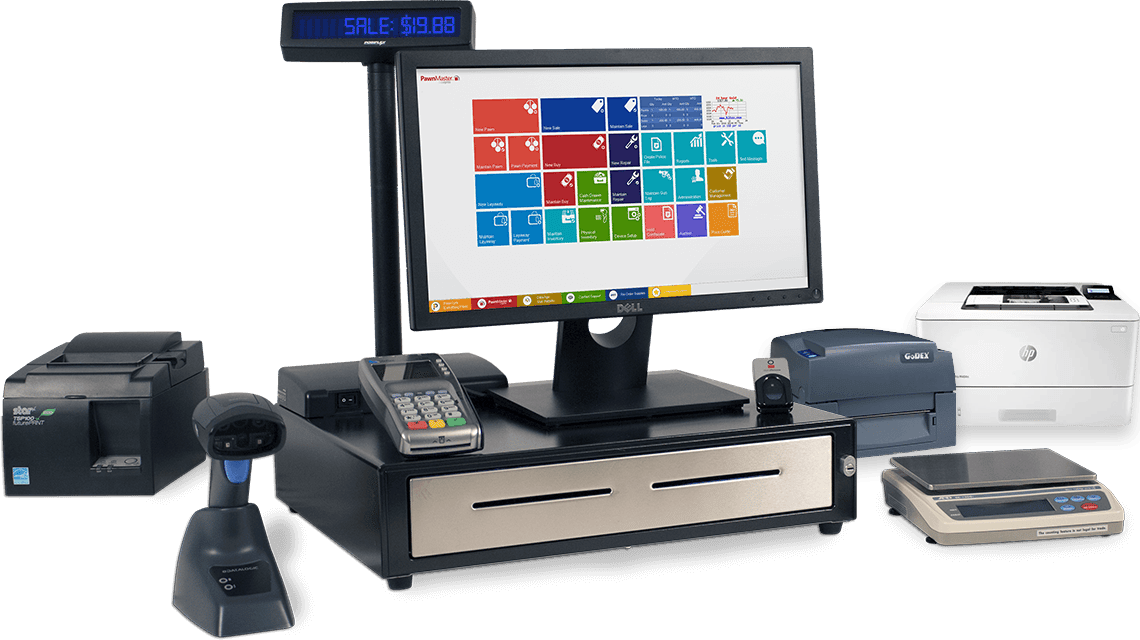 With Pawnmaster, you can manage inventory and day-to-day transactions effortlessly. The system is completely scalable, and as your business grows, your capabilities can be enhanced by means of add-on modules. Pawnmaster is the most-used pawn management system in the sector. It is appreciated for its easy-to-navigate interface, the opportunity to maximize counter speed.
And the ease with which pawnshop staff learns to operate it. Services and features include data conversion, custom setup, text valet, off-site backup, credit card processing, pawnbroker development program, and business supplies.
Salient Features
Accounting

Alerts/Notifications

Barcode / Ticket Scanning

Cash Management

CRM

Customer Database

Ecommerce Management

Email Marketing

Employee Management

Inventory Management

Loan Management

Merchandise Management

Multi-Location

Order Management

Payment Tracking
Pros
ATF Compliance

Loan audit automation

OFAC Compliance
Cons
Some parts are a little un-intuitive
Why Choose Pawn Master
It's imperative that pawn shops continuously monitor multiple aspects of their operations to comply with federal, state, and local rules and regulations. There's nothing more important to a pawn shop owner than a POS system that takes care of compliance, which is exactly what PawnMaster does. The other systems on the list also handle compliance, but PawnMaster's number one advantage is that it does it all for them.
Pawnmaster boasts the quickest response time in the sector with great training and support teams. The reports are aimed at making your shop as efficient and profitable as possible. The built-in marketing tools help your shop attain higher revenue.
PawnMaster Pricing
Pawnmaster doesn't provide you with a price upfront.  You need to contact PawnMaster to get a quote.
Moneywell: Most Feature-Rich Pawn Shop POS System
Since 1985, Moneywell has developed the first, rudimentary pawn shop point-of-sale system that its founder, Bill Greer, wrote. Moneywell features an innovative approach to tracking budgets – by visualizing your spending. You allocate money in buckets for different things, such as eating out or buying groceries.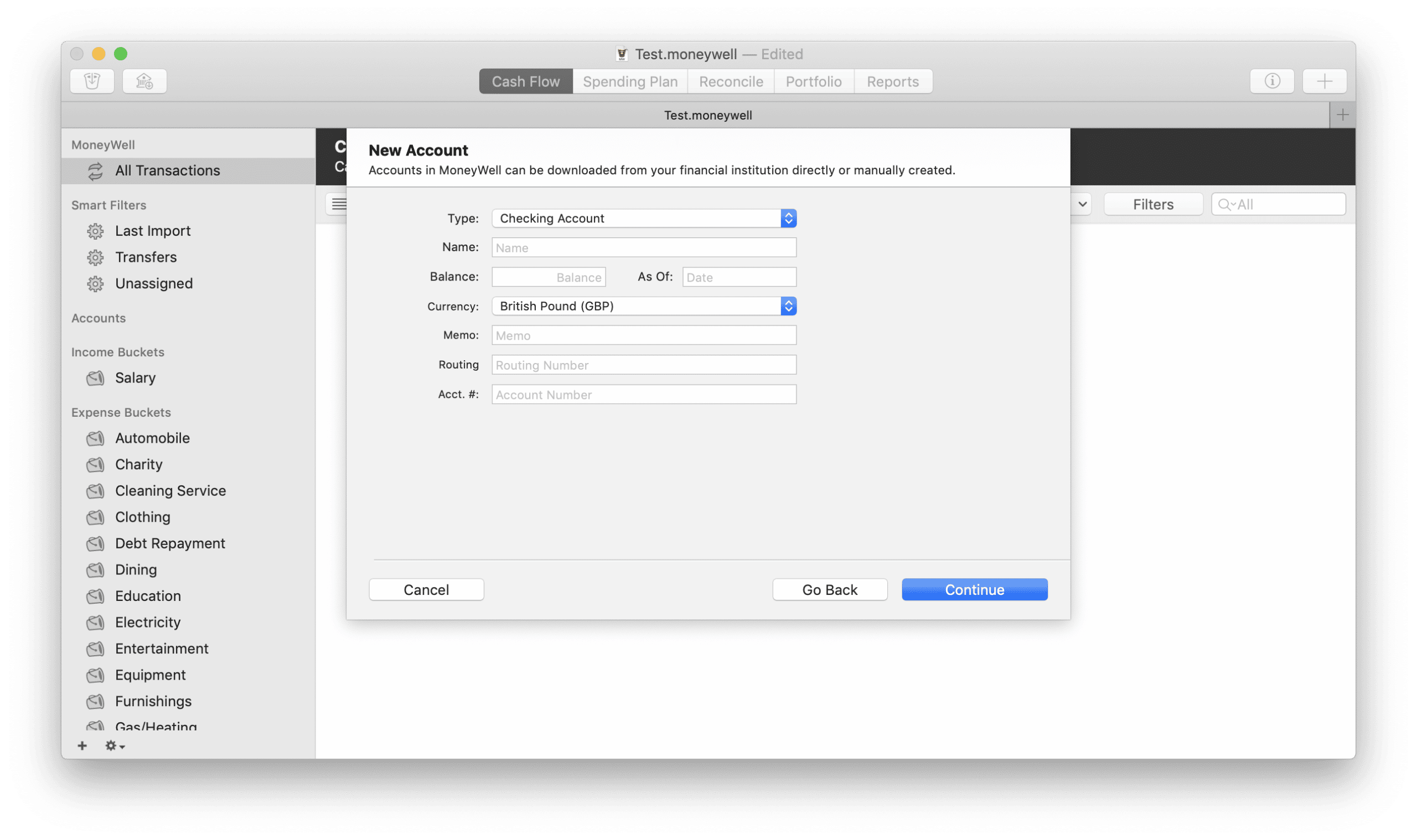 The bucket tips over once the money has been spent. This is a nice way to keep track of where your money goes. The system's personal finance software comes with solid reporting features which makes it great for budgeting, but if you have a lot of investments that you want to manage, it's not a very feasible option.
This Mac financial software connects with all financial institutions you work and/or communicate with, so you can add transactions from your checking, savings, investment, and credit card accounts.
It is fast and easy to connect to your accounts – all you need to do is input the routing number and account information. You can download new transactions to keep Moneywell current after you've connected your accounts. Moneywell offers an app compatible with both an iPhone and iPad. The app enables you to keep track of your budget and add transactions even when you're not at your computer. Your information is always up-to-date because these apps sync automatically with the desktop version.
Salient Features
Accounting

Alerts/Notifications

Barcode / Ticket Scanning

Cash Management

Customer Database

Inventory Management

Loan Management

Payment Tracking

Point of Sale (POS)

Police Reporting

Price / Margin Management

Reporting & Statistics

Customer History Display
Pros
Locking Suspicious Patrons Out of the System

Granular Purchase Detail Storage

Forfeiture Management
Cons
This program has very little support for investments.

This does not offer in-depth analysis, but it does give you an idea of your investments' position in your financial scheme.

Tax information from this program can be exported to Numbers or Excel. MoneyWell does offer useful reporting, but it does not feature the visual presentation of the other two systems that we reviewed.
Why Choose Moneywell? 
The Moneywell POS system is a cloud-based point of sale system that helps pawn shops manage inventory and sales. As well as managing loan transactions and credit card payments, it has features for handling customer data, managing cash drawers, tracking employee activity, and tracking sales costs. It also features a customer database for quick access to customer information.
The Moneywell POS lets users play sponsored games to earn money. A single game can earn up to $0.44 in some countries. You can get a certain number of tickets for each minute played in each game. After some time, players can cash out for real cash. You can redeem tickets in several ways, including buying a prepaid card that can be used to redeem real money.
Moneywell Pricing
Moneywell's basic pricing plan starts out at $79/month. To get a quote for your individual pawn shop business needs, reach out here.
Buyer's Guide:
Reasons Why You Need POS Software in Your Pawn Shop
Get a handle on inventory
Pawn shops are all about inventory, but strangely enough, it's not yours! That's to say, you don't really own the inventory. It cycles in and out of your store rapidly and rapidly changes hands. How do you keep all of these goods in check? For your pawning business, a comprehensive and efficient point of sale system can help. Using a point-of-sale system simplifies the process, as well as reduces risks and liabilities for your company. It is imperative to update the quantity of products you're selling instantly and constantly. In our top-three review, we mentioned three point-of-sale systems that do this extremely well.
The cloud-based software serves as a payment network, syncing real-time data and information while connecting your sales-related aspects of your business.
Law Enforcement Integrations and Regulations
A pawn shop is a unique establishment. Like all regulated businesses in the United States, they must comply with various federal and state laws. Due to the nature of their business, they have to go even further in this regard.
If you want to keep your shop functional and in compliance with all applicable laws, you need a point of sale system that makes it easy.
Keep track of employee hours
In order to create a successful POS system, you must consider adding employee management features. You can keep track of who is always late as well as who comes in on time. In order to enhance the level of security in your pawn shop business, you should be able to login with either a user ID or biometrics.
Risk Management
Most pawn shop POS systems include LE reports (also known as location-specific reports) as standard features. Handling stolen goods is one of the biggest risks of pawn shops.
By generating reports on-demand, you will never have to worry about whether or not your state-specific forms will be acceptable. These reports enable you to keep your inventory legal and protect you from any prosecution.
What to Look for in a Pawn Shop POS System
A pawn shop is a type of retail store (better called a hybrid store), so it needs all the features that are available in POS systems for retail stores, but it also requires several features that aren't available in other retail stores.
Pawn shops are essentially hybrid retail stores that require all the standard features that typical POS systems deliver. However, because of their unique business model, there are other features that other retail stores wouldn't need. Here are some of the key features to look for in a pawn shop POS system.
Automated Price Estimation
When a new item comes into your store, you need to quickly and easily find out its market value. A good pawn shop POS system should include built-in price estimation as a feature. This enables you to check eBay and other popular second-hand sites within minutes. That way, you know exactly what other stores are charging for that merchandise. With this automation, you can save time and improve the accuracy of your price estimations. This, in turn, can help you attract and retain new business. 
The Automated Price Estimation Feature helps users estimate the price of several items simultaneously. It incorporates a list of predefined calculations and provides the ability to add custom calculations. This feature can be useful when you need to estimate multiple items in a single project. The tool is easy to use and has a user-friendly interface.
It is similar to a standard Excel sheet and contains built-in formulas that help you estimate labor and material costs. The software can also account for the costs of unforeseen risks and site conditions. This makes the entire process much easier for contractors and saves them a great deal of time.
ATF Compliance Features
If your pawn shop re-sells firearms, and many do, you have to maintain compliance with the U.S. Bureau of Alcohol, Tobacco, Firearms, and Explosives (ATF). Here are some of the compliance requirements that your POS system should help you with. 
Federal Firearm Licenses (FFLs)
First, you need a license to legally sell firearms. There are nine types of federal firearm licenses (FFLs), so check to be sure which one you'll need. Then, make sure you're selling within the parameters of that particular license. 
Compliance Recordkeeping
After acquiring your FFL, you must register each gun sale with ATF and maintain meticulous records of each sale. In most cases, the buyer must also pass a background check. Although this sounds tedious, a solid pawn shop POS system can help you stay compliant while also saving you time and effort. Look for a system that integrates with the ATF's database and provides digital A&D bound books. Features like fingerprint identification and automatic firearm registration and recordkeeping are also a must. 
Federal vs. State Gun Laws
Firearm sale compliance is made doubly tricky in the fact that it's the state governments, not federal, that record firearm sales. Each state has its own laws regulating gun ownership. At the federal level, you're required to run background checks and buyers must have licenses. This is only the case if these transactions are "part of your business."
However, gun purchase transactions between private parties can take place without these requirements. So, if selling a gun is not "part of your business," then you can do so without a background check or an FFL. 
But this is only the case if there's not a state law in place that adds additional restrictions on gun ownership and sales. If you do business in multiple states, it's helpful to have a system in place to track each state's compliance requirements. And, of course, it should help you maintain the documents and licenses you need to remain compliant. 
Inventory Categorization
Different pawn shops have different specialties. Yours could be pawned firearms, electronics, or instruments. Alternatively, you could focus on antique coins, jewelry, and precious metals. 
If your POS system has inventory categorization tools, it makes it easier to check and confirm inventory levels. Plus, if you're better organized, you can expedite your inventory audit process.  Without these features, you could be managing all these different categories on a spreadsheet. This isn't a useful or actionable way to manage your shop. Plus, it just takes more time and keeps you away from other important tasks. 
Layaway Capabilities
It's not uncommon for pawn shop customers to find an item they want, but be unable to pay on the spot. You don't want to miss those opportunities simply because the customer doesn't have the money on hand. This is where POS layaway functionality is important.
With layaway features, you can accept partial payment and set the item aside. Then, set an amount of time for the customer to return with the balance due. The system can then automatically send notifications to the customer as the layaway expiration gets closer.
Pawn Shop Inventory Categorization
In your pawn shop, you might mainly process antique coins, jewelry, and precious metals. Or, you may pawn firearms, electronics, and instruments. By categorizing inventory, you can better organize merchandise and check and confirm inventory levels more quickly. In addition, custom inventory categories make inventory auditing easier.
A spreadsheet with 500 items that cannot be sorted would exponentially prolong the time needed for an inventory audit without customized categories.
Which Pawn Shop POS Solution Would Work Best for You?
In order to select the right system for your needs, we recommend that you start by determining the system requirements that will meet your needs.
At any rate, point-of-sale software should do more than record sales, print tickets, and calculate interest. You do much more than that as a pawnshop operator. Facilitation of day-to-day operations is key to the success of your business, and that's what a system must help you with.
This is where Bravo Systems comes out on top, as their team won't have you resorting to tutorial videos to answer your questions. A good support team should be able to help you with printers, reporting, rate issues, program reinstalls, and network problems among other issues.
Frequently Asked Questions
What are the items at a pawn shop? 
A good pawn shop has:
Precious metals

Watches

Electronics

Power items

Musical instruments

Sports items

Bikes

Spare parts

Jewelry 
What will a pawn shop not buy?
Replica items (such as fake designer purses) are usually not accepted at pawn shops. Clothing and books are also not accepted, unless they are very valuable, such as a first edition or signed copy of a popular book. When you bring items in for pawning, they should be in full working order.
Which mobile phone devices does Bravo POS support? 
Bravo Platform supports the following devices: 
Does PawnMaster POS offer hardware setup?
Hardware setup and standard support is included with your purchase of hardware. If you already have hardware or purchased it elsewhere, there is an additional fee to support 3rd party hardware.